The most scenic rail journeys in Scotland
Scotland can be a little tricky to navigate: single track roads, steep gradients, unpredictable weather and underprepared fellow road users can all make for a fairly challenging journey at the best of times. Thankfully, the Scottish railway network is as enticing as it is practical, with a number of world-class routes on the cards for those looking to ditch the car in favour of a hassle-free holiday by train. Here are seven of the best...
West Highland Line: Glasgow to Mallaig
Consistently lauded near (or at) the very top of the world's most desirable railway journeys, this 164-mile (264km) route breathes in Loch Lomond, Ben Nevis, Fort William and the Glenfinnan Viaduct as it meanders between Glasgow and Mallaig.
You'll need to account for around five-and-a-half hours to experience this trip in its entirety – though it would be wise to break it up by joining the Jacobite Steam Train (Fort William – Mallaig, via the Harry Potter-famed viaduct), or follow the branch off to Oban (at Crianlarich) for epic views across Argyll and connecting CalMac ferries to islands like Mull and Barra. Carriages on this route rattle down a single-track railway line, bypassing sweeping landscapes, imposing mountains and often brooding skies. If there was one Scottish train journey you had to take, this would be it.
Corrour station on Crianlarich – Fort William branch (Image: Michael Lazor/Shutterstock)
READ MORE: Beautiful train journeys that don't cost a fortune
The Highland Main Line: Perth to Inverness
Rail enthusiasts and those looking to explore the nooks and crannies of the Cairngorms should look no further than the Highland Main Line. Stretching 118 miles (190km) and transiting the southeastern Highlands, this scenic route starts in Perth, just north of Edinburgh, and snakes around the western Cairngorms before heading northwest to Inverness.
Picture-perfect towns like Pitlochry, Aviemore and Carrbridge provide suitable stopovers for sightseeing and leg-stretching, but there's plenty to see from your seat, too. The train crosses the world's only wooden viaduct at Aultnaslanach and swooshes past breathtaking landscapes on the UK's highest main line railway pass at Drumochter, nearly 1,500 feet (452m) above sea level. Journeys in winter, when the Highlands are coated in brilliant white and the road snow gates are closed, are particularly special.
Pass of Drumochter (Image: john paul slinger/Shutterstock)
The Kyle Line: Kyle of Localsh to Inverness/Dingwall
Whether you travel from Kyle to Inverness or vice versa, this 80-or-so-mile (128km) railway journey is one of Scotland's most dazzling. Begin your travels in Inverness and you'll be treated to sweeping views of Skye at your final destination – or head in the other direction for Inverness, the capital of the Highlands, and the quintessential Scottish market town of Dingwall.
Either way, this arcing route takes in the Highlands at its very best: from the mighty (and often snow-capped) Torridon Hills and pretty harbourside towns like Plockton, to the still waters of Loch Luichart and the rolling Ross-shire heather moors. Tip: do stop off in Plockton – a popular filming location for movies including The Wickerman – for coastal walks, boat trips and lunch by the harbour. If you're lucky, you may even spot a seal or two.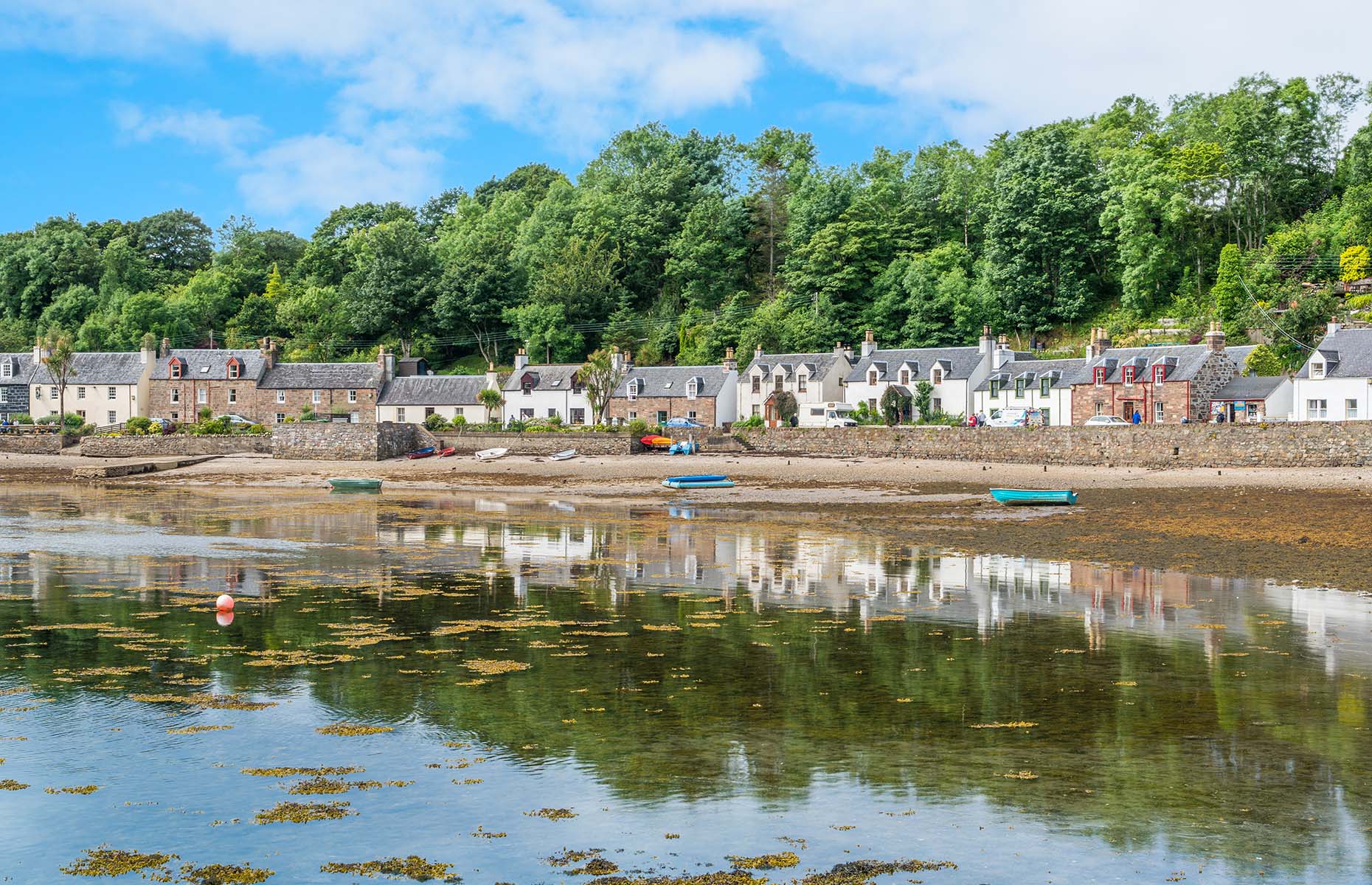 Plockton (Image: Stefano_Valeri/Shutterstock)
READ MORE: 10 life-affirming experiences you can only enjoy in Scotland
The Borders Railway Line: Edinburgh to Tweedbank
With a one-way journey time clocking in at just under an hour, this is one of Scotland's shortest train routes but don't let that fool you though, as the Borders Railway Line is every bit unassuming as it is captivating.
Hop on this 30-mile (48km) journey from the country's capital Edinburgh and be taken on an enchanting journey across sweeping Midlothian landscapes, important mining villages and those influential Scottish Borders landscapes that inspired much of Sir Walter Scott's writing. This short but sweet train line has something for everyone: Melrose Abbey, the burial site of Robert the Bruce's heart, the Borders Loop for keen walkers and the National Mining Museum in Dalkeith.
Melrose Abbey (Image: Richard Semik/Shutterstock)
The Strathspey Steam Railway: Aviemore to Boat of Garten and Broomhill
Proudly the most northerly steam train line in the British Isles, the Strathspey Steam Railway is a must-do for all fans of railway locomotives. This is another of Scotland's short railway lines – three stops, taking around 40 minutes in total – but it is certainly one of the UK's most unique.
A team of local railway devotees have meticulously restored this 1950s-style steam train which saunters between Aviemore, Boat of Garten and Broomhill in the Cairngorms. The staff are even dressed in 1950s attire and there's also a traditional restaurant service on board. Visitors sit comfortably on this 10-mile (16km) jaunt, enjoying the stunning Spey Valley views year-round (though there is a much more frequent service in July and August) with the three towns extremely popular with walkers and cyclists. Feeling lavish? Upgrade your ticket to first class for vintage-style dining in your own private four-seat booth.
Strathspey Steam Railway (Image: Sandy Harvey/Shutterstock)
READ MORE: Incredible images that capture the history of train travel
The Far North Line: Inverness to Thurso and Wick
The Far North Line traverses much of the Flow Country, an area in the far north of Scotland with vast swathes of blanket bog. To some this may not be the most aesthetically pleasing train window view – at least in comparison to the famed lochs and hills spotted on the West Highland Line – but these far-reaching peat landscapes are protected and regularly maintained by the RSPB, making them a spectacular sight not often seen elsewhere in the UK.
Trains on this 110-mile (177km) route clatter along the track beside bogs, valleys, hills and salmon rivers on their way from Inverness to Thurso, the most northerly railway station on the UK mainland, and Wick, a lovely fishing harbour just 20 miles (32km) east of there. This route is particularly popular for ongoing travel to the famous John o'Groats along with ferries across to the Orkney Islands.
Blanket bog near Forsinard on the Far North Line (Image: Shzphoto/Shutterstock)
The Stranraer Line: Glasgow to Stranraer
Start this journey in Glasgow and take a trip down to Stranraer, on the lesser-visited Rhins of Galloway peninsula. Trains on this 73-mile (117km) route roll down the west coast of Scotland, with near-immediate views across the Firth of Clyde to Arran and the Mull of Kintyre, before taking in Ayr: the heart of Burns Country.
The journey then bypasses the Galloway National Park as it swoops towards Loch Ryan in Stranraer, the end of the line and the point for ongoing ferry connections to Belfast. From start to finish, the journey takes around two-and-a-half hours and provides ample opportunities to stop off for an afternoon on the beach in Girvan, a round of golf at Troon or a few hours of castle exploring at Culzean.
READ MORE: What to see and do in Scotland
Lead image: Martin M303/Shutterstock
Be the first to comment
Do you want to comment on this article? You need to be signed in for this feature