Seven of the best Scottish winter walks
Extraordinary days out are guaranteed when discovering Scotland's great outdoors – and the most satisfying are often in winter.
Why winter is best
Picture this: the snow-covered track is more demanding than you thought, your day pack – stuffed with spare clothes and surplus Irn Bru – jostles against your back, and a blustery gust is plaguing you across the moorland. Yet the thought of delving into Celtic mythology on your journey, then reaching the pub at the trail's end, where you'll coorie down with a fireside pint, drives you on.
There's no doubt that Scotland's landscapes can be bracing in the winter months. But the rewards for getting out there? Crowd-free pathways, mountain-fresh national parks and Caledonian forests to tingle every sense.
Due to COVID-19, check travel restrictions and details of pub/restaurant openings before you head out, and only embark on a walk outside your local area if it's safe to do so.
Assynt: hike through 3,000 million years of history
The sense of visceral connection with the past is everywhere in Assynt, the stunningly remote corner of southwest Sutherland. Sugarloaf peaks spike skywards and geological riddles are written across the landscape in Torridonian sandstone and Lewisian gneiss.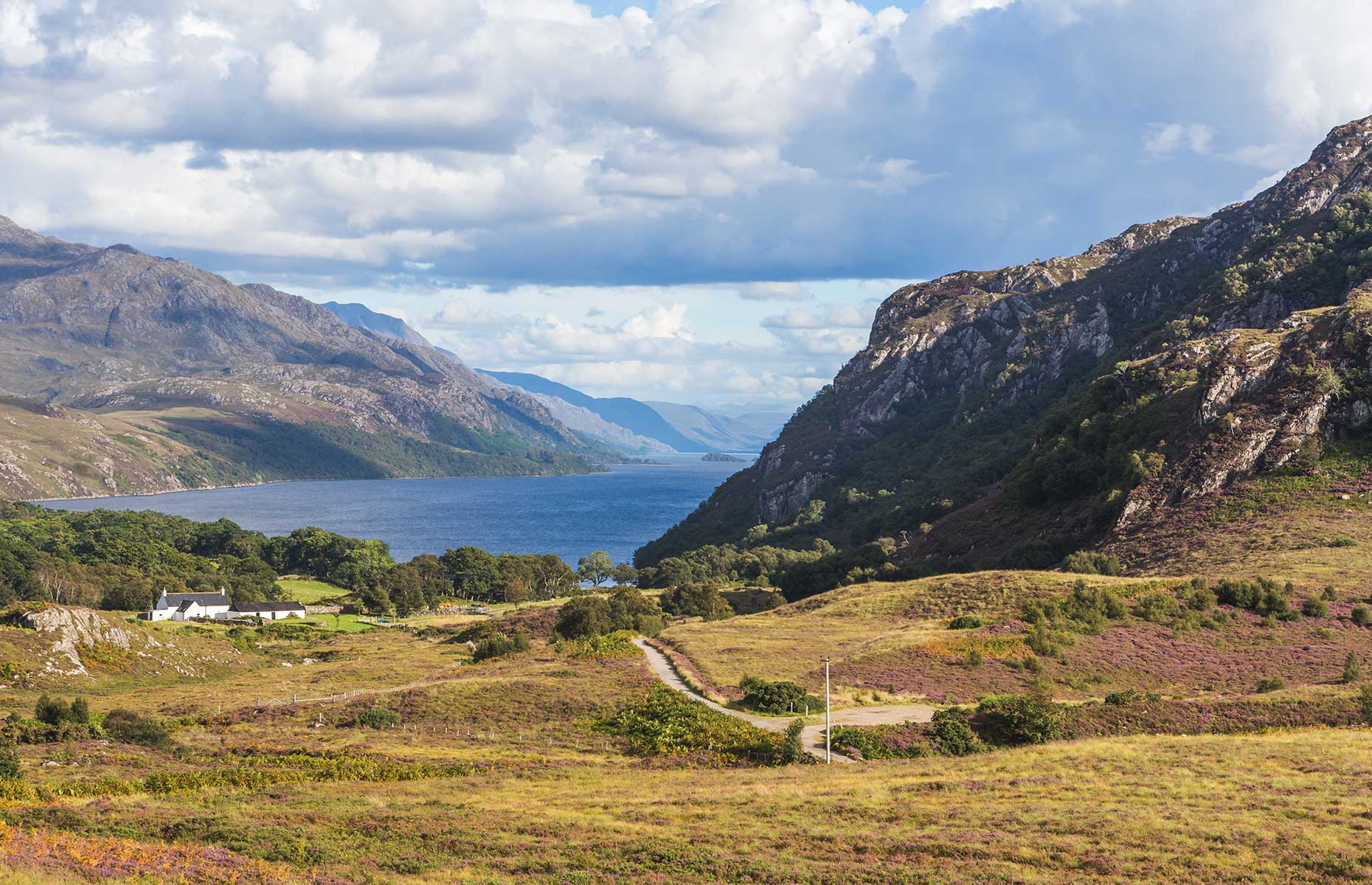 EyesTravelling/Shutterstock
It's no wonder that this UNESCO-worthy hideaway of treeless hills is a popular hiking spot, but it's the circuit around steeply-pitched mountain Stac Pollaidh (with an elevation of 2,007 feet/612m) that's the star turn. Busy in summer, thanks to the proximity of the North Coast 500, it's eerily quiet in winter and a reminder of how easy it can be to find yourself rooted in emptiness and spectacular beauty so near to home.
READ MORE: Find our complete guide to a North Coast 500 road trip
The summit hike takes around an hour (1.5 miles/2.4km), but to see stags and spiralling eagles, as well as exploring a 3,000-million-year-old plateau, continue anti-clockwise around the peak (2.7 miles/4.3km; 2 hours). Afterwards, refuel in nearby Ullapool at The Seaforth or Ferry Boat Inn on the harbour front.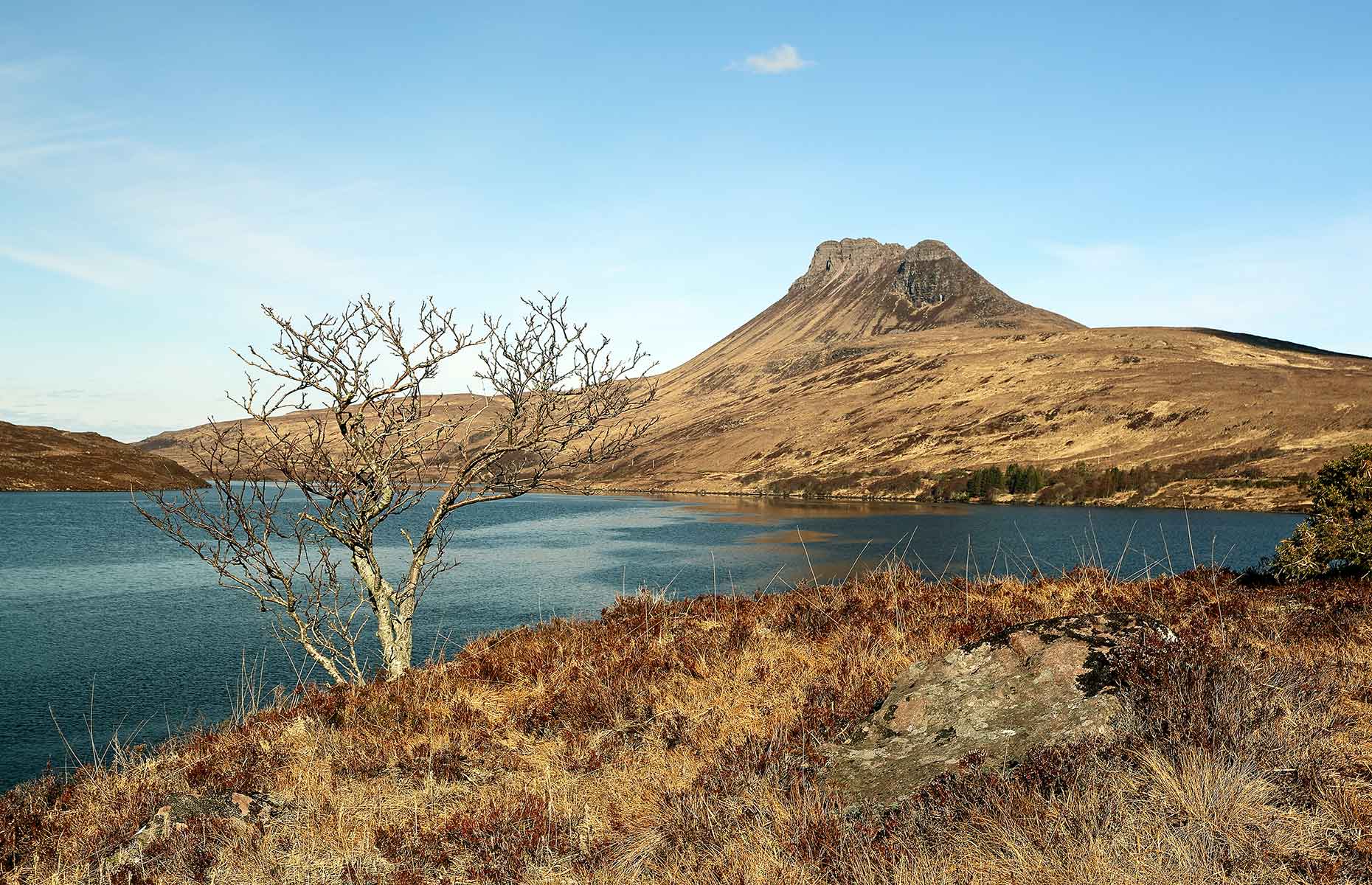 Binson Calfort/Shutterstock
Pentland Hills Regional Park: go on safari outside Edinburgh
The Scottish capital is always in motion, with year-round festivals from Hogmanay to the Fringe ensuring visitors usually concentrate in its flawless, medieval Old Town. Most scramble up once-upon-a-time volcano Arthur's Seat to escape the crowds, but venture into the rolling Pentland Hills Regional Park instead and you'll see the city and its environs at their rawest.
READ MORE: Explore Edinburgh – what to do, where to eat and where to stay
These quintessential Lothian hills are ideal for intrepid nature lovers, with heathery terrain home to some of the UK's most surprising wildlife-sightings, including roe deer, grouse, otters, badgers, mink and mountain hare. To see icy reservoirs, boggy moorland and the odd snow-fuzzed peak, tackle Scald Law (10 miles/16km; 5 hours), the Pentlands' highest summit at 1,900 feet (579m). Start and end at the Flotterstone Inn and reward yourself with beer, and haggis and whisky sausages.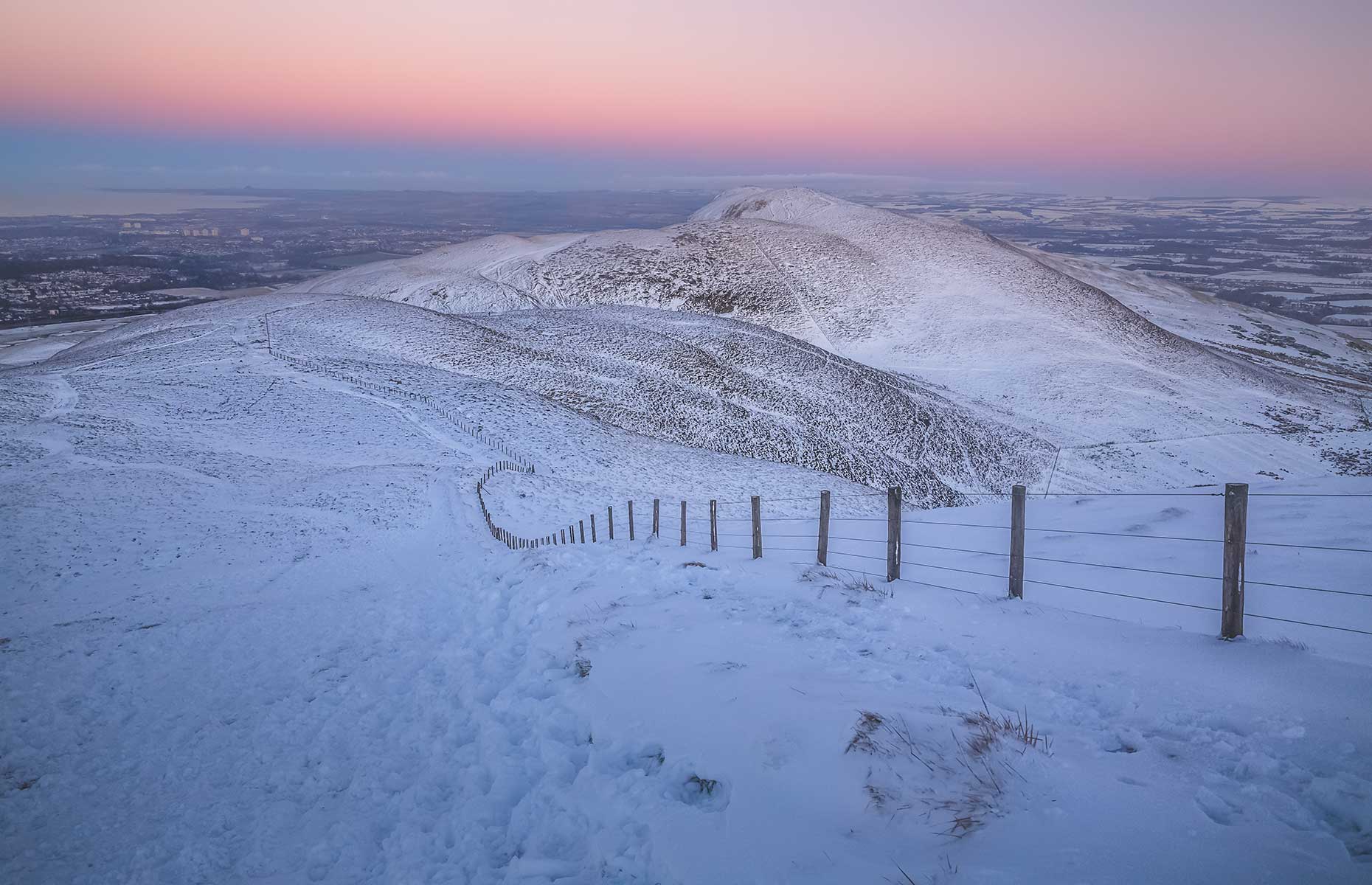 Stephen Bridger/Shutterstock
Cairngorms: explore the UK's largest national park
In winter, Glenmore Forest in the Cairngorms National Park undergoes an elemental transformation. Frosted Caledonian pine branches dangle beside icy burns. Silver beaches give way to waymarked paths. Heather vanishes beneath bald summits crusted with snow.
READ MORE: Discover the UK's stunning national parks
At the heart of this Narnia-like scene is Loch Morlich and its glorious 4-mile (6.4km; 2 hours) shoreline path that burrows deep into pinewood with peekaboo views of mirror-image peaks. Along the way, you may encounter shy forest inhabitants like osprey, red squirrel and capercaillie, but what's more likely in midwinter is to see your breath sparkle in the fresh air.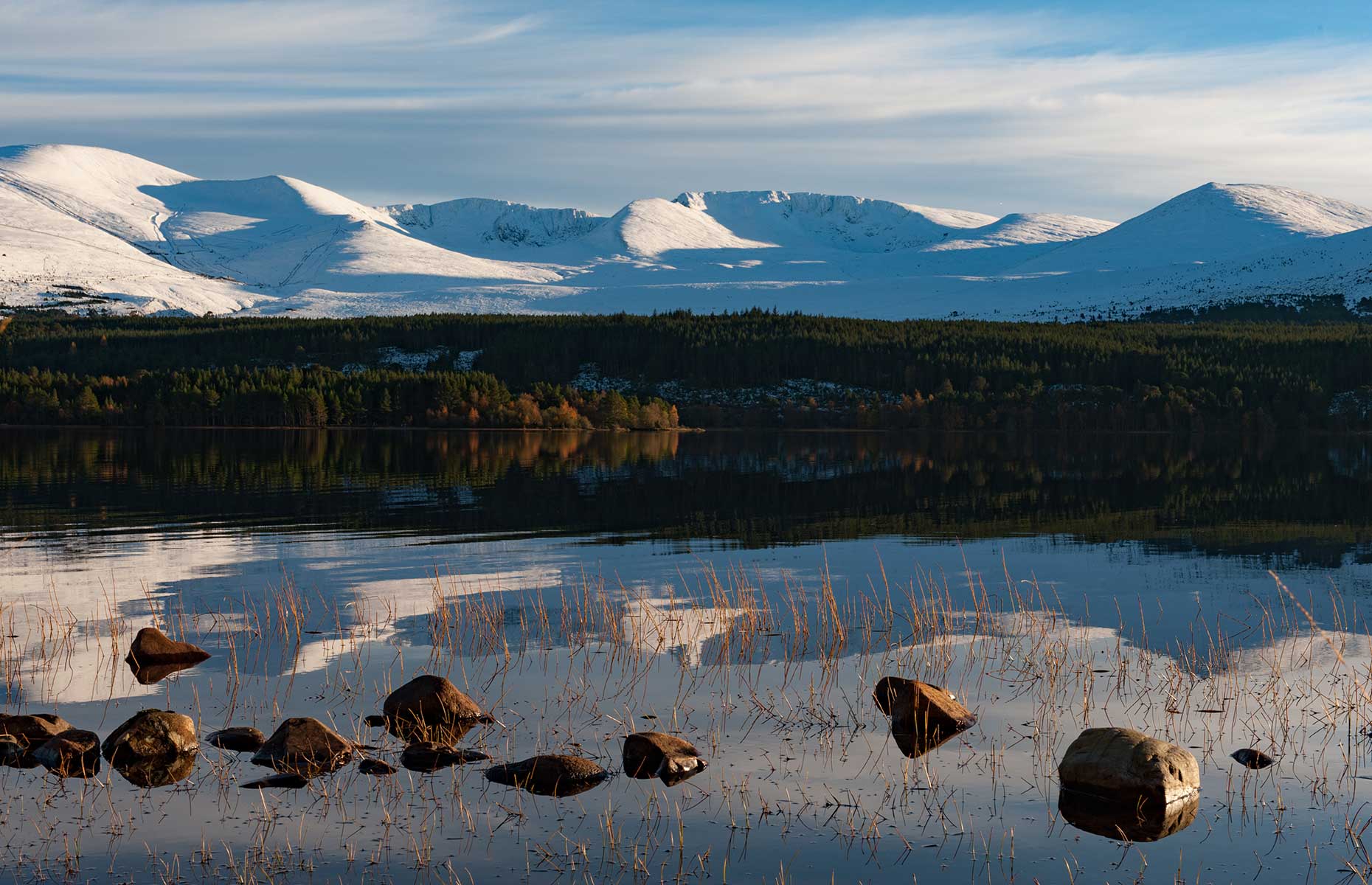 Blythe Storm/Shutterstock
Aberfeldy: pay tribute to Scotland's heroes
Scotland's beloved bard Robert Burns indelibly left his mark across Ayrshire and the Central Belt, but he also did so in a number of lesser-known places. One of these is the Birks of Aberfeldy, a fairy-tale forest named after the poet's late 18th-century song lyric. The 2-mile (3.2km; 1 hour) walk first reveals hangars of oak, ash, elm and birch (or 'birks'), before you meet steep-sided Moness gorge and its spray of misty waterfalls.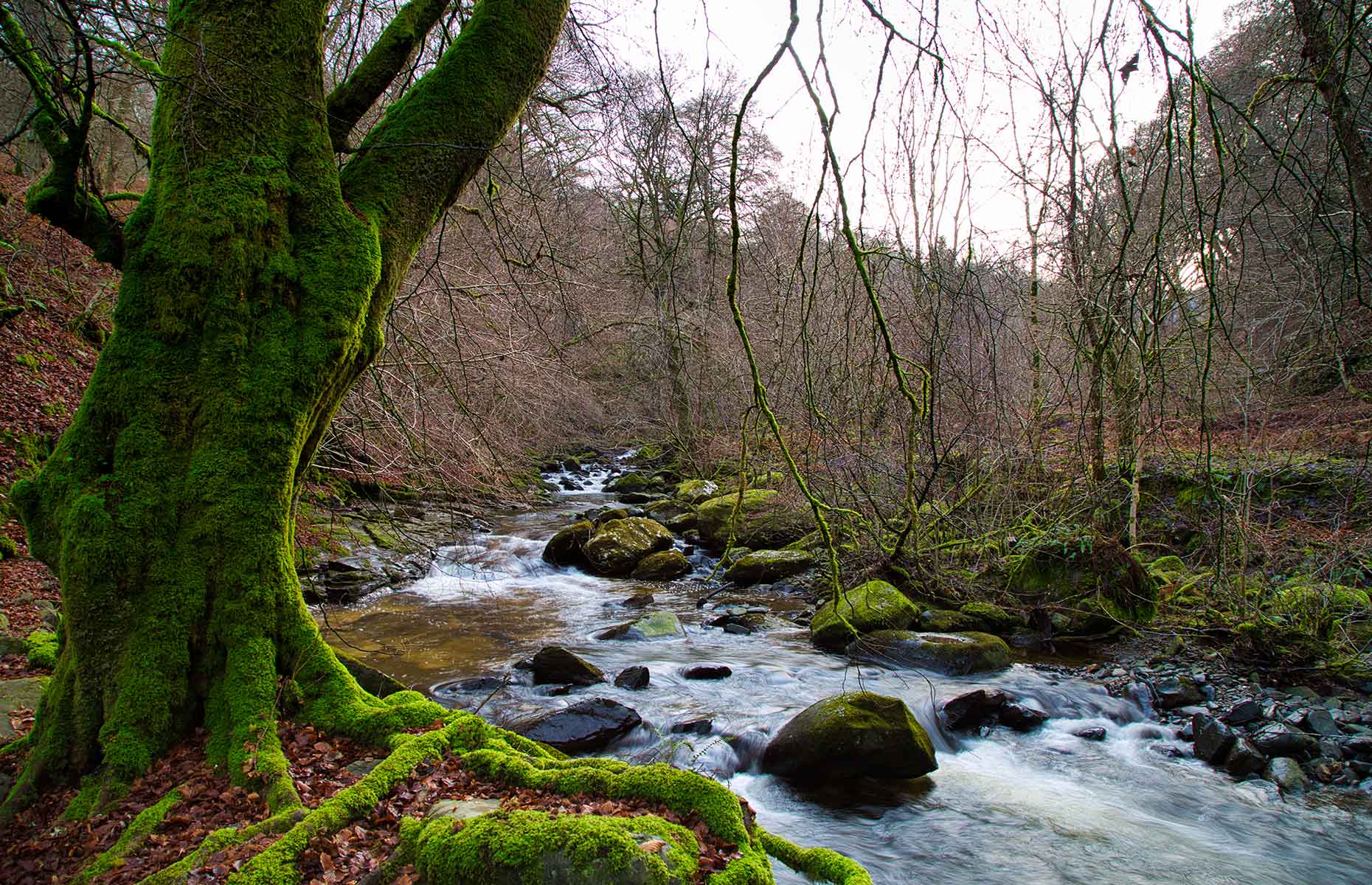 Alex Nicol/Shutterstock
On a clear day, there are views across to Strathtay, where another hero of Scottish folklore travelled frequently. This swathe of Perthshire was once the stomping ground of notorious outlaw Rob Roy MacGregor and for a trickier hike in his footsteps, plan a week for the endurance-testing 77-mile (124km) Rob Roy Way, from Aberfeldy to Drymen, north of Glasgow.
Glasgow: get spooked in a graveyard
Glasgow is a dream to wander in, an unwritten rule that can surprisingly be applied to strolling its vine-tangled cemeteries. The highlight is the broodingly-grey Necropolis, a Victorian-era wonder of more than 3,500 Gothic monuments erected on a vast hilltop plot east of the equally marvellous St Mungo's Cathedral.
READ MORE: 6 Peak District walks to inspire you
It might not sound like a heavenly ramble, but a wander among the memorial columns, architectural tombs and tributes to the merchants and provosts who helped build the city is the perfect soul soother on a winter's day. As well as resetting the mind, a hour's wander helps trace a timeline through Glasgow's socio-economic history, with many of the 50,000-odd graves telling insightful personal stories about Scotland's largest city.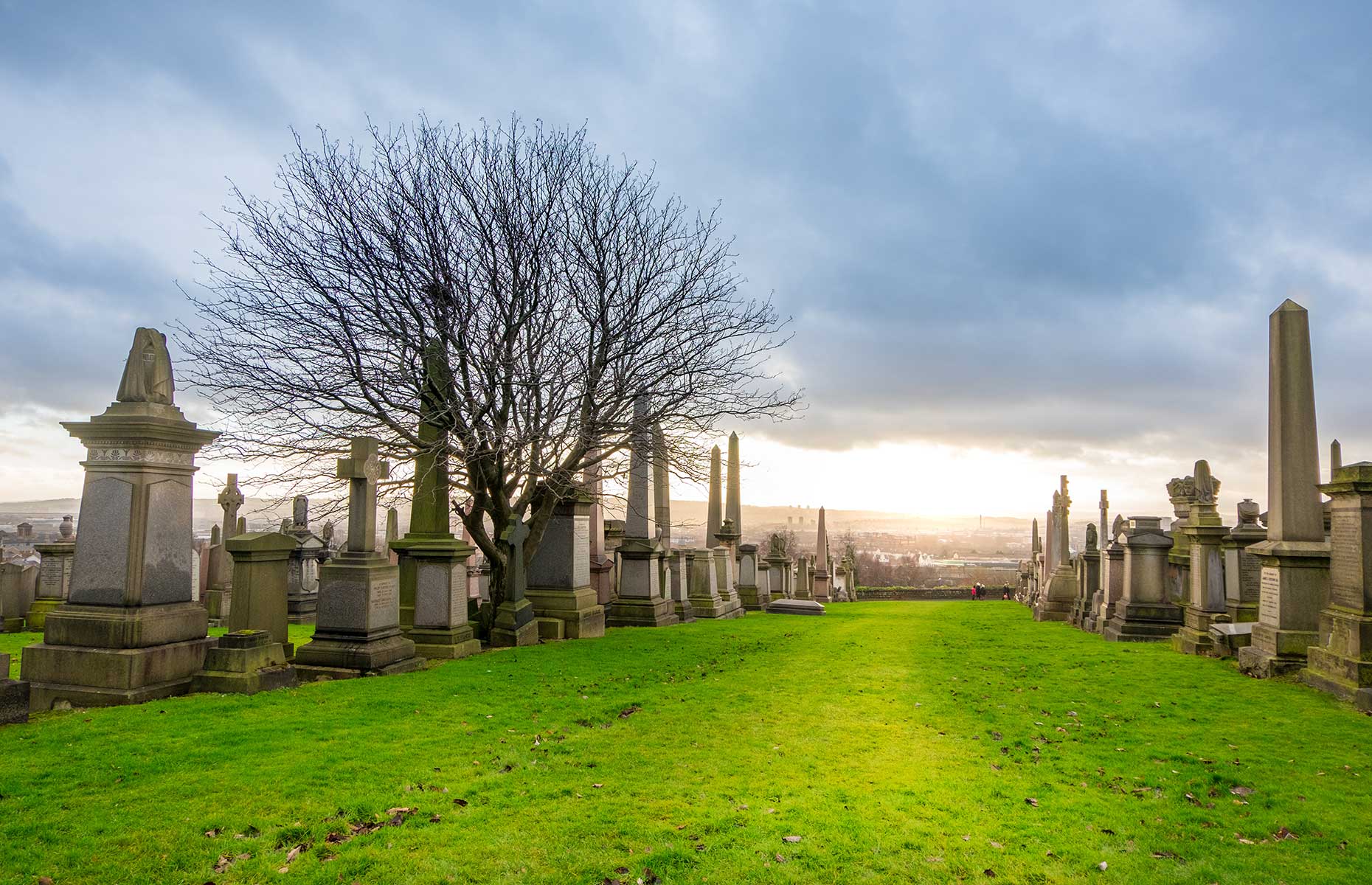 Moomusician/Shutterstock
The views of the Merchant's City and beyond are spectacular, of course, as are the nearby restaurants and pubs. For a short, sharp spirit-lifter, consider McChuills or Drygate, next to Tennent's Wellpark Brewery.
Isle of Skye: hunt for dinosaur fossils along the Quiraing
If a visit to Skye can teach you one thing, it's that there is no such thing as an ordinary hike. This is the place of the otherworldly Black Cuillin and Fairy Glen, after all, but Skye has also recently developed a reputation among palaeontologists and fossil hunters. Since 1982, the Trotternish Peninsula has become a portal to another world, rewriting history with incalculable sauropod and therapod finds.
READ MORE: Your guide to the Isle of Skye
It's tempting to see a winter's walk along the metamorphic ridges of the Palaeocene-era Quiraing above the village of Staffin as a journey back in time. The name of the landslip derives from the Old Norse for 'round fold', but its accumulation of thick lava is more reminiscent of a scene from Jules Verne's novel Journey to the Center of the Earth.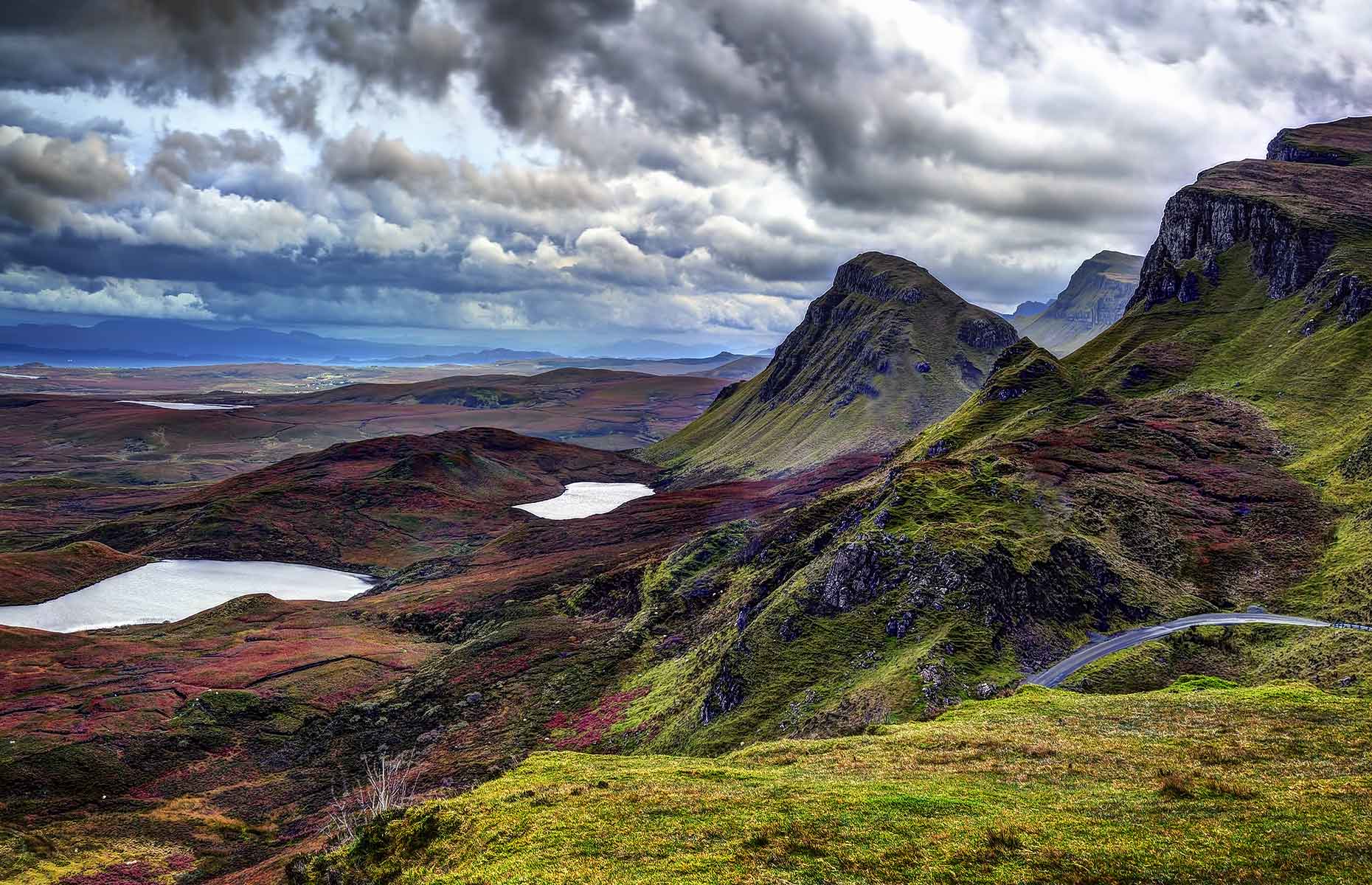 Sergejus Lamanosovas/Shutterstock
Leave your car at the hilltop carpark west of Staffin, then head north into the hill's geological theatre, following a circular route that's interrupted by needle-like pinnacles and sheer escarpments (4 miles/6.4km; 2 hours). Afterwards, discover Scotland's most impressive Jurassic-era fossils at the Staffin Dinosaur Museum in nearby Ellishadder (note it's temporarily closed due to COVID-19).
Fife Pilgrim Way: follow the road to St Andrew's
Scotland is crisscrossed by plenty of long-distance walking trails, with the newest on offer being the 56-mile (90km) Fife Pilgrim Way. Fife, home of swanky St. Andrews and the seductive East Neuk fishing villages, is wilder than most people think. This religiously waymarked route winds through as much wilderness as it does bucolic forestry and farmland. Add to the picture a treasure trove of abbeys, priories and churches that have drawn pilgrims since the Middle Ages, and the appeal is clear.
READ MORE: What to see and do in Scotland
If you're tackling the entire route from start to finish, start in either Culross or North Queensferry, or alternatively focus on one of seven bite-sized sections. Walking in winter is exhilarating, particularly along Clatto Reservoir between Markinch and Ceres (13 miles/21km; 5 hours), and the route is arguably most evocative of all when nearing the princely realm of St. Andrews with its spirit-rousing cathedral. As they say in Fife, the kings have gone but the kingdom lives on.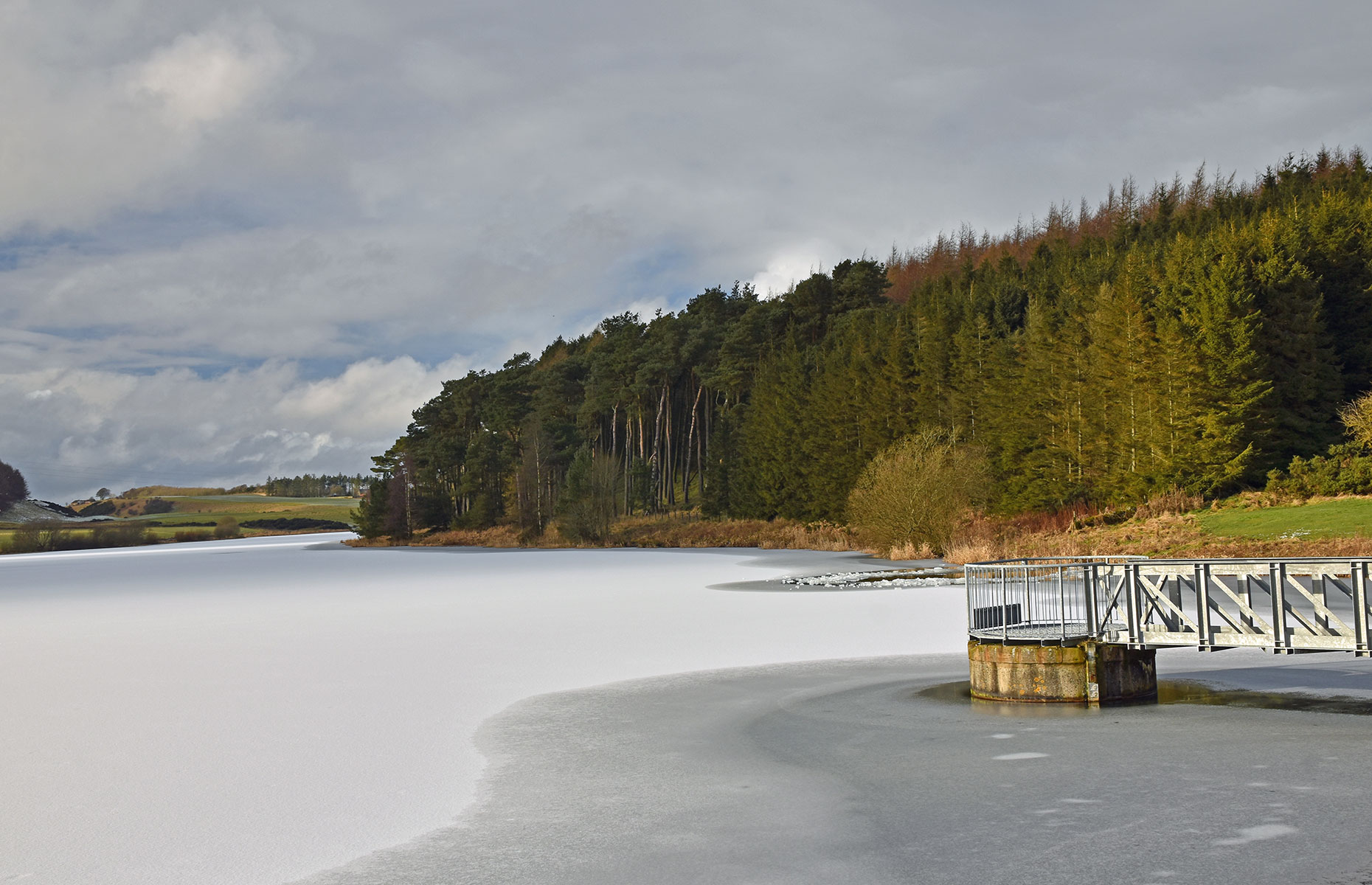 D MacDonald/Shutterstock
Lead image: Lukassek/Shutterstock
Be the first to comment
Do you want to comment on this article? You need to be signed in for this feature