6 Peak District walks to inspire you
The wild, windswept landscapes of the Peak District have long been favourite for hikers looking to test their mettle on famously demanding slopes like Kinder Scout and the Great Ridge. This beautiful region, however, is not all about the physical challenges. Covered in a rich tapestry of history, mythology and folklore, many walks here promise gorgeous views and witches, mermaids and headless horsemen for walking companions.
Worship at Lud's Church
A vast mossy-walled cleft in the millstone grit bedrock of the Dark Peak, Lud's Church resembles a scene from Jurassic Park. Ferns and algae cling to its bright green walls and condensation hangs in the cool air even on the stuffiest summer's day. It's not hard to see why this peaceful hideaway was chosen as a place of worship for persecuted religious groups: the Lollards, a 14th-century Roman Catholic splinter group, would gather here to worship in secret. Unsurprisingly for a place of such natural beauty, Lud's Church is also important to pagans and bundles of dried herbs can still be spotted on the chasm's rocky shelves as relics of their ceremonies. This place has long been celebrated by writers and poets too. It's claimed that this is the site of the Green Chapel in the 14th-century Arthurian romance Sir Gawain and the Green Knight. You can reach Lud's Church from the brilliantly named village of Flash or as part of a longer trek from the spectacular Roaches rock formations.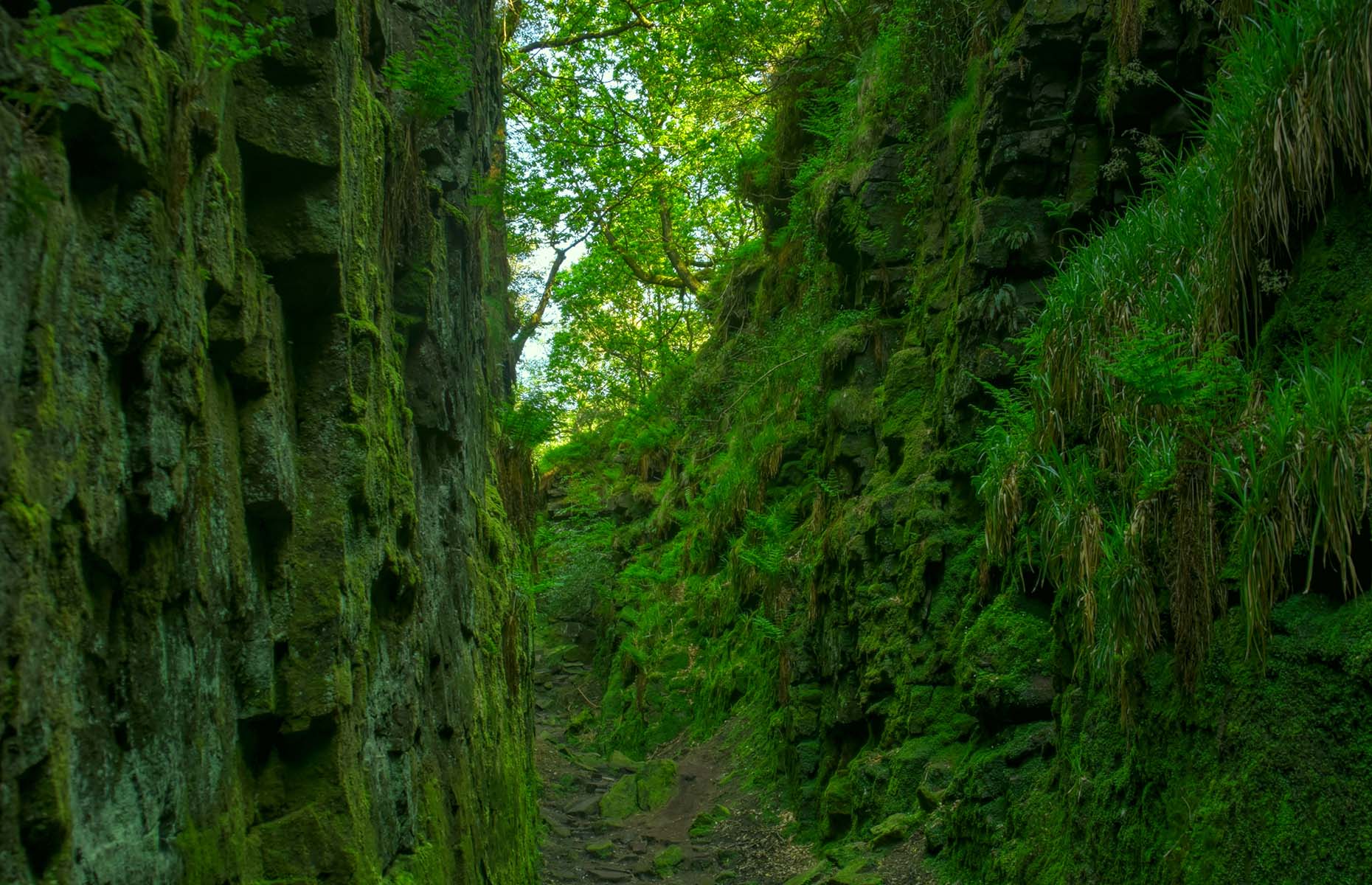 August Schwerdfeger/Wikimedia/CC BY 4.0
Spot ghostly mermaids in the moorlands
Occasionally, while hiking through the undulating uplands of the Staffordshire Moorlands, the boulder-strewn paths are broken up by shimmering pools and ponds. As calm and inviting as they look, local legends hold several of these tarns to be home to ghoulish mermaids, waiting to lure unsuspecting walkers to a watery grave. A six-mile hike from the town of Leek might see you stumble across the murky depths of Blakemere Pond, said to be haunted by the spirit of a young woman who was murdered by a jilted admirer. Doxey Pool, meanwhile, sits framed by photogenic rock formations along the Roaches escarpment, and supposedly harbours a sinister water spirit of its own. Jenny Greenteeth is described as a terrifying water nymph, who bites children with her seaweedy fangs and drags them beneath the surface.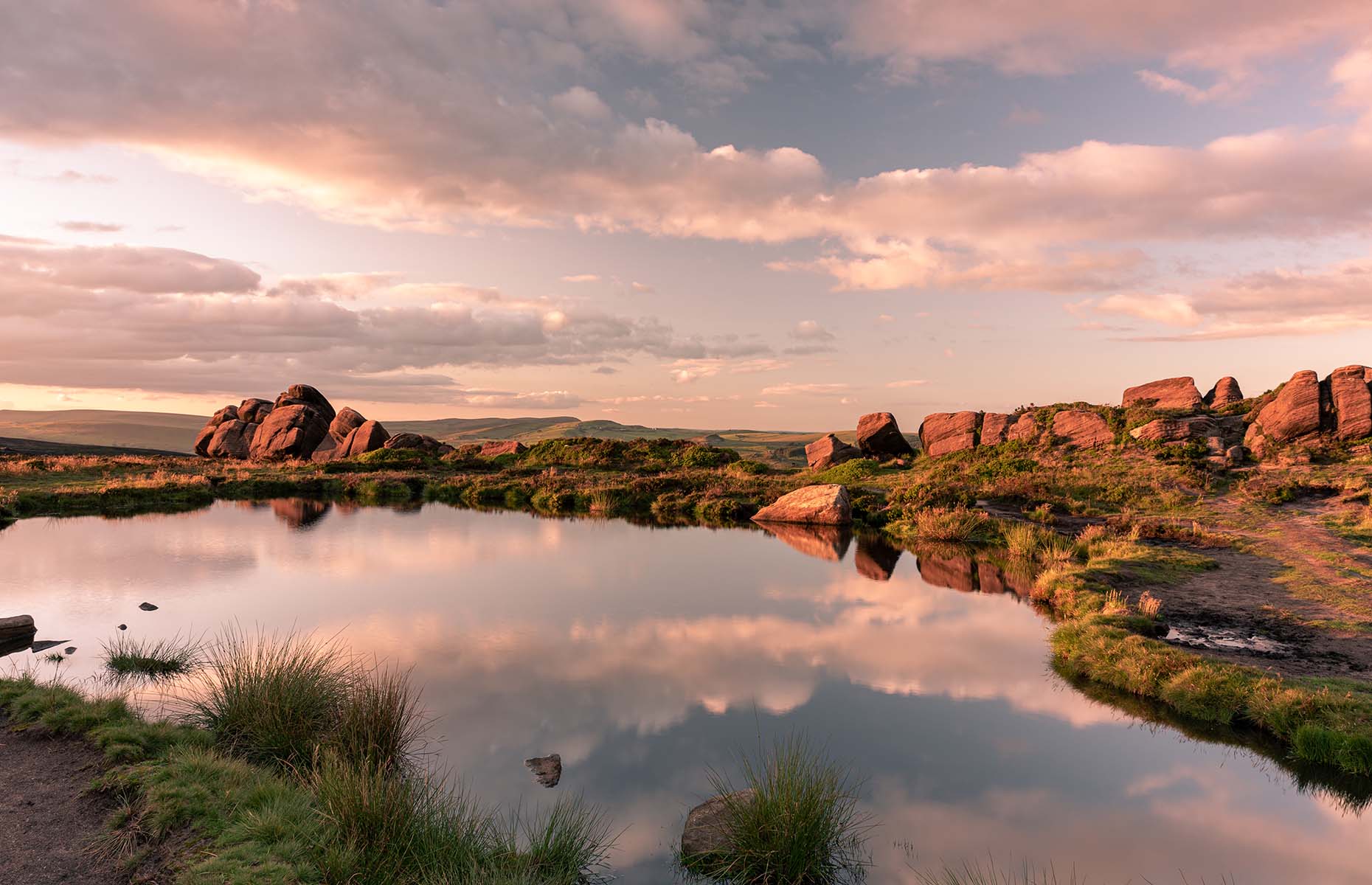 Rob Thorley/Shutterstock
Not all of the Peaks' ponds have quite such ominous associations, however. Mermaid's Pool, on the slopes of the famous Kinder Scout plateau, is believed to be home to a beautiful water nymph, who bathes in the pool every day. It's claimed that if you look into the water at sunrise on Easter Sunday, you will see her – and either death or immortality will be your reward, depending on her mood.
Explore the Peak District: the top things to do, where to stay and what to eat
Beware the headless horseman of Onecote
Hiking alongside the burbling River Hamps, crossing farmers' fields on the approach to the quaint village of Onecote, supernatural terrors are likely to be far from your mind. If local myths and legends are to be believed, though, you should be wary – a ghostly apparition is said to stalk the lanes around these parts. On moonlit nights you might spot a pale horse carrying a pale rider, whose most prominent feature is something he is lacking, namely, his head. Various origin myths swirl around the headless horseman – some say he was a criminal beheaded for his crimes who roams the countryside seeking revenge against his executioner, or even that he is one of the biblical Four Horsemen of the Apocalypse. The legends vary, but they all agree on one thing: if you see him, it's not good news.
One story describes a farmer who, having indulged in a few ales at the pub in Leek Market, was picked up by the horseman and swept back to his home in Onecote at great speed – he died three days later. Another tells of animals dropping dead of no apparent cause after their owners had seen the ghostly rider. It's thought the horseman legend was used as a cover by highwaymen, who would rob and sometimes kill people wandering these roads at night. Thankfully, these days Onecote is home to no highwaymen – just the historic St Luke's Church and a pleasant old pub Jervis Arms.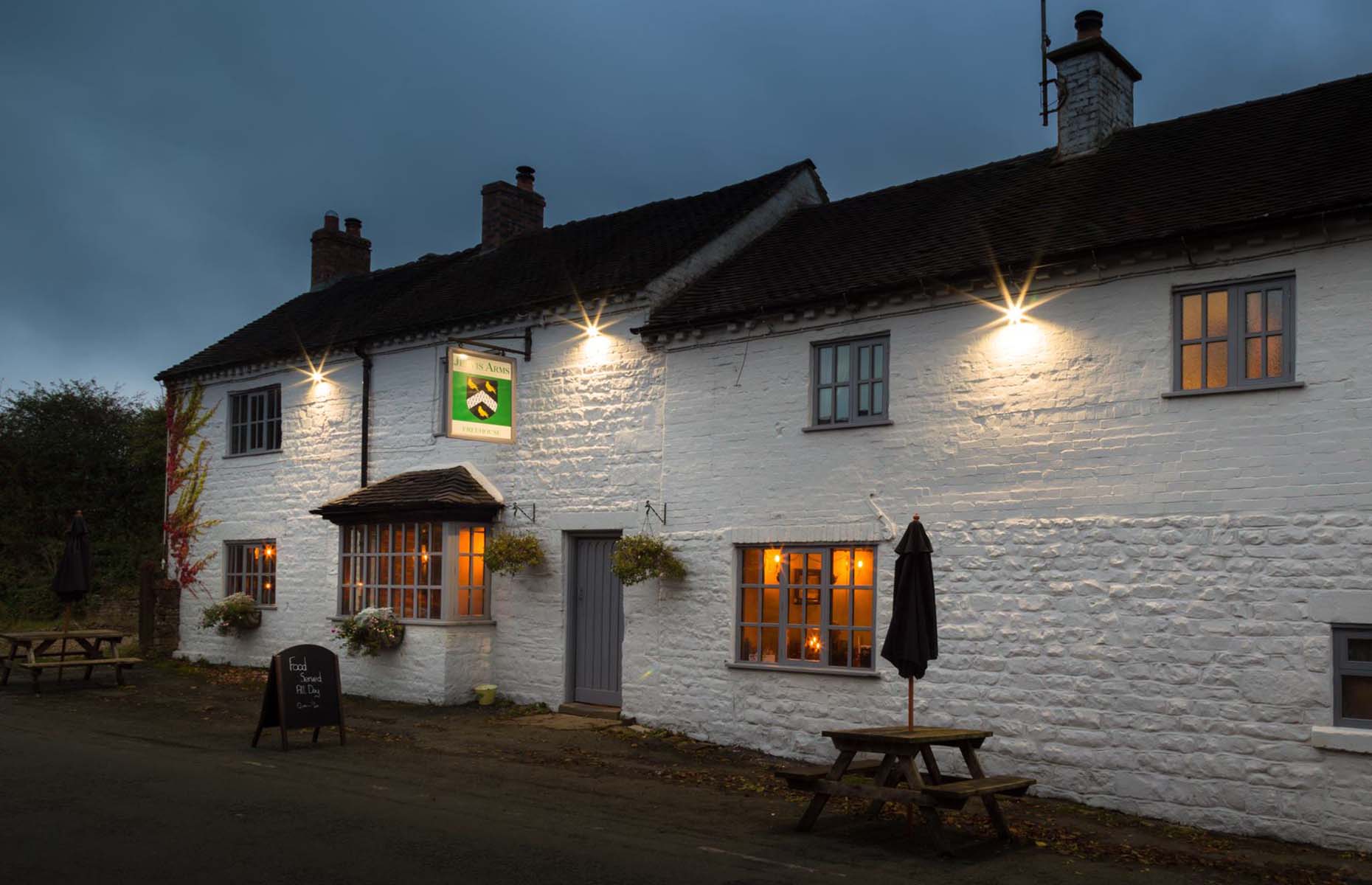 Jervis Arms/Facebook
Harness the power of ley lines
The wonders of the Peaks are not confined to the mythical beings said to lurk in its ponds and roam its country lanes. Even the stones here are thought by some to have magical powers, with certain rock formations said to cure sickness thanks to their position on powerful ley lines. One such rock is the Bawdstone, which can be found between Hen Cloud and the Roaches in the southwest corner of the Peak District National Park. Balanced on two smaller rocks above a murky pool, the Bawdstone has a striking appearance. It seems to defy gravity and has clearly been arranged by human hands, which has led to the suggestion that it is the remains of a dolmen, or Neolithic tomb. Crawling through the narrow gap beneath the stone is said to throw the devil off your back and thus cure you of any illnesses – but in the likely event you don't want your whole front getting wet and muddy mid-hike, just touching the stone is said to be enough to bring curative effects.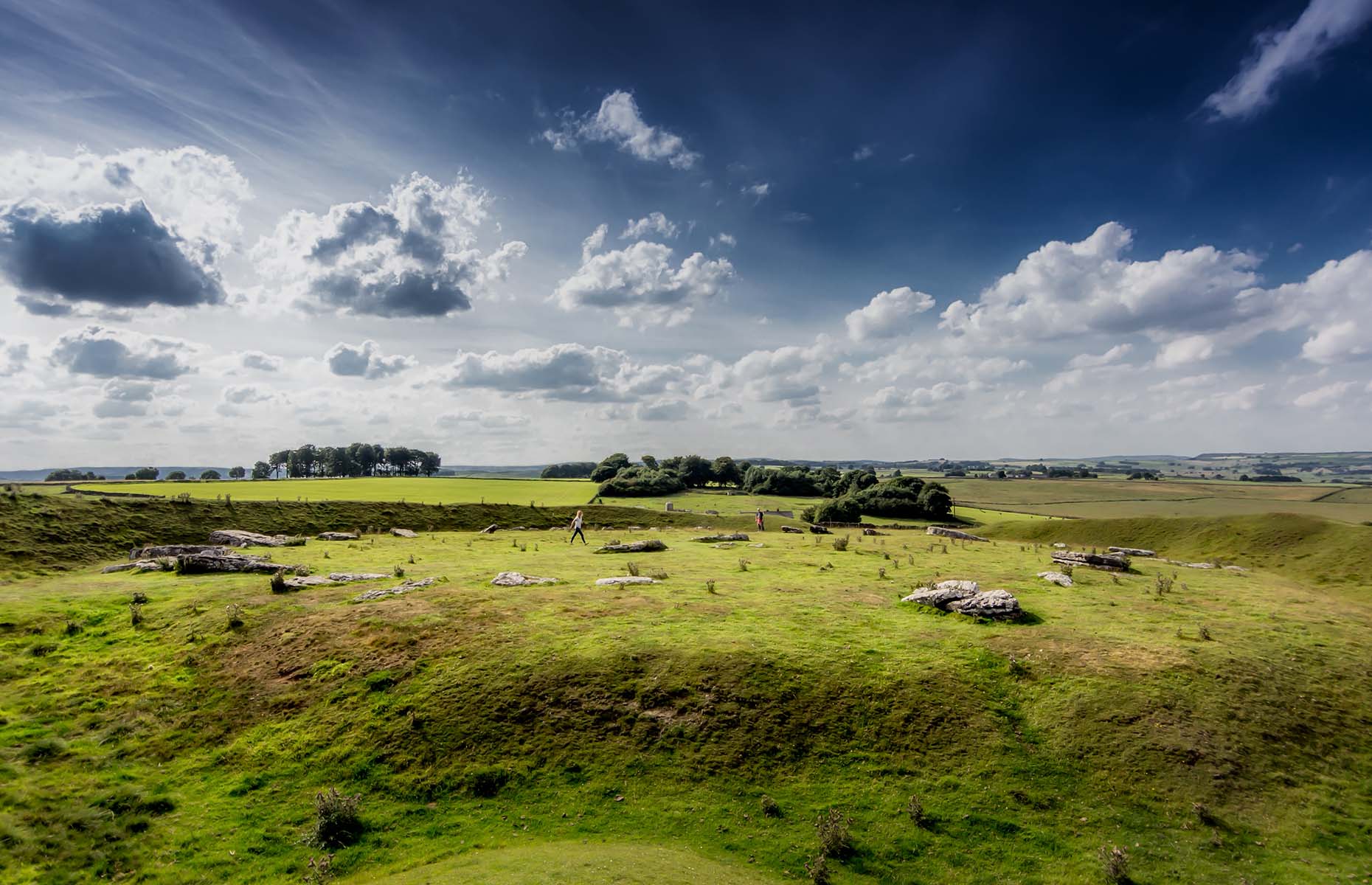 Darren Flinders/Flickr/CC BY-ND 2.0
Another mysterious monument of Neolithic origin is Arbor Low, which can be found in the Derbyshire White Peak. Sometimes described as the Stonehenge of the North, this, like its southern counterpart, is a stone circle surrounded by a deep ditch and probably served some ritual purpose thousands of years ago.
READ MORE: The world's most mysterious stone circles
Explore atmospheric underground caves
The Peak District's natural wonders do not end above ground. A network of underground caverns winds through the rocks, harbouring melted waxwork-like formations of stalagmites and stalactites – home to a body of myths and legends all of their own. Walk south from the village of Castleton and you'll soon reach Peak Cavern, which has the largest cave entrance in Britain. Until 1915 this was home to one of the last troglodyte (cave dweller) communities in Britain. Traditionally known as the Devil's Arse because of the flatulence-like noises that emanate from its depths, the cave was renamed Peak Cavern in order to spare the blushes of a visiting Queen Victoria in 1880.
Near Peak Cavern, Winnats Pass is riddled with caves and mineshafts, many with their own stories to tell. One tale concerns two young lovers, Alan and Clara, who were ambushed and murdered as they were on their way to Peak Forest Chapel to elope. Their bodies were thrown down a mineshaft, but their spirits still haunt the area – as you walk, keep an ear out for their screams, said to still reverberate through the pass.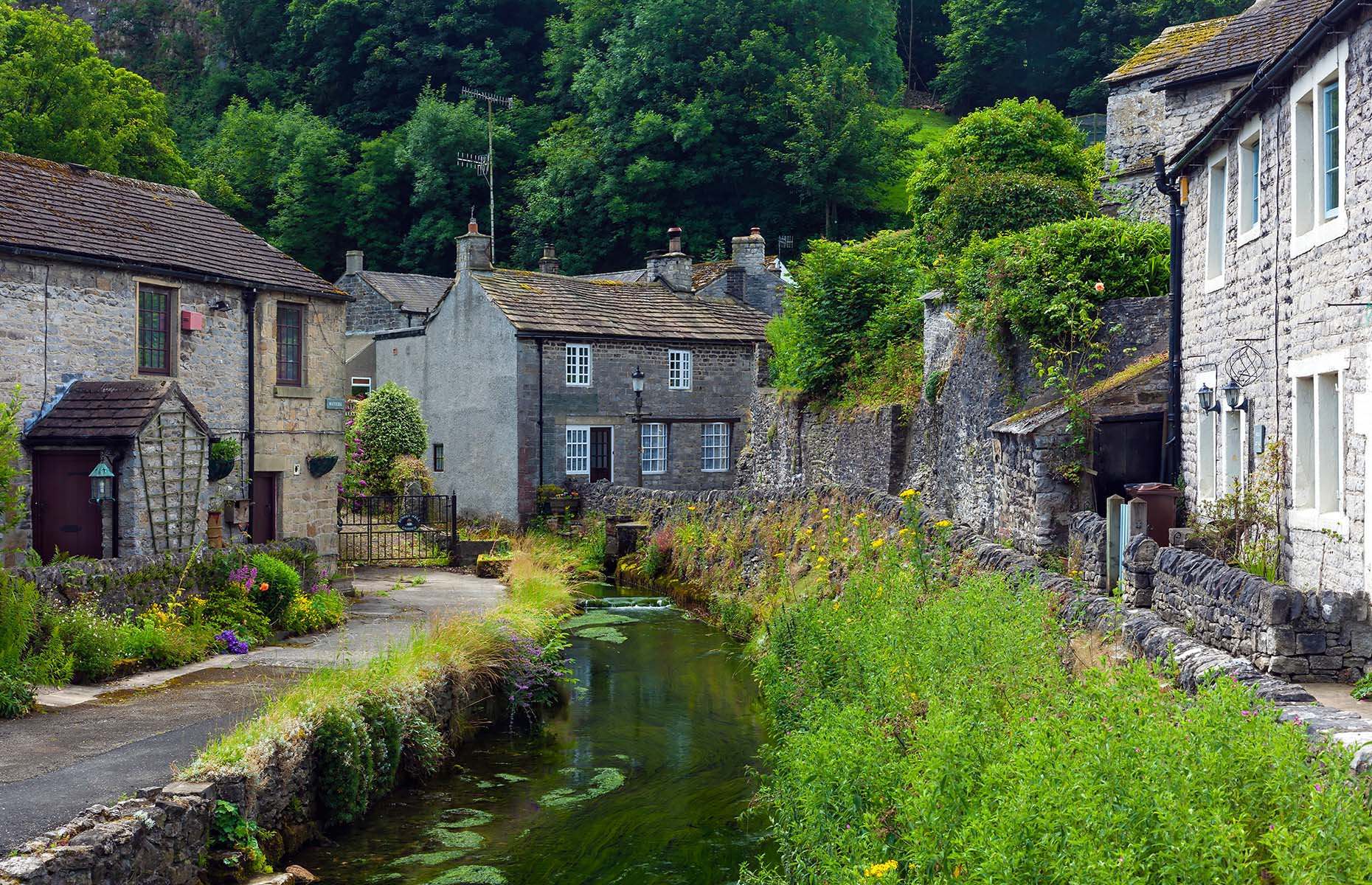 Eugene Ivanoff/Shutterstock
Discover the tragic history of Eyam
Supernatural flights of fancy aside, the attractive village of Eyam in the Derbyshire Dales is one of the most poignant places to visit in the Peak District. During an outbreak of plague in 1665, the villagers made the ultimate sacrifice and quarantined themselves, cutting off the outside world so the contagion would not escape. As many as two thirds of the villagers died, but their actions confined the disease.
Visiting the church and museum is a must for history buffs, but ghost hunters can also get their fix on a spooky tour of the village's most haunted attractions. The so-called plague cottages, where many of the villagers lived and died, are said to harbour several ghosts, including an elderly woman dressed in blue who likes to wake people up in the middle of the night. The historic Eyam Hall includes a room upstairs said to be so haunted that it is kept permanently locked, while ghostly footsteps can often be heard creaking the floorboards in the local inn The Miners Arms.
READ MORE: The UK's most stunning national parks
Main image: Winnats Pass (Daniel_Kay/Shutterstock)
Be the first to comment
Do you want to comment on this article? You need to be signed in for this feature