The best places to see puffins in the UK and Channel Islands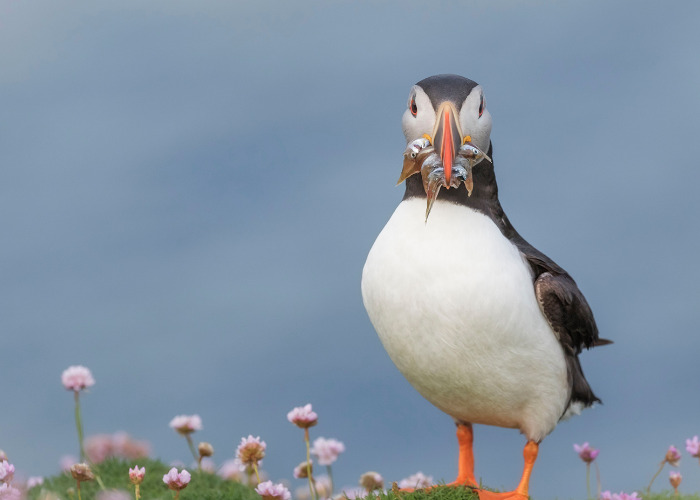 As a project gets underway to track the UK's puffin population, we find out where you're most likely to see these adorable seabirds this summer
Puffins are surely Britain's most loveable birds. The black and white seabirds are instantly recognisable, thanks to their bright orange bills displayed during breeding season (they shed the outer layers later in the season revealing a duller beak), their distinct emotionless eyes, and their small squat bodies, which give them a cute toddler-esque gait.
However, climate change is affecting their numbers, with warm waters pushing their main source of food, sand eels, further north. The Royal Society for the Protection of Birds (RSPB) is so concerned it says if nothing is done to stop the decline, puffins could face global extinction, with figures suggesting there will be over 50% fewer puffins by 2067.
To aid its research and hopefully protect the puffin population, the RSPB is asking members of the public to form a photo-gathering collective, nicknamed the Puffarazzi.
Sally Coffey
This isn't the first time the Puffarazzi has been called upon. In 2017, 602 people sent in 1,402 photos of almost 40 puffin colonies and the RSPB is now hoping to build on this research. It's asking people to help track feeding habits by visiting a colony, taking photos of puffins with food in their bills (it's really important the photo includes the food) and uploading them to the RSBP website. You'll need to note the time of the photo and the location too.
For the first time, the RSPB is also asking for photos from previous years, so it can track how feeding habits have changed over time and gauge whether puffins are finding fish large enough to feed their pufflings.
Puffins tend to return to their colonies from early April, where they breed until late July, before returning to life at sea, so now is a good time to get your camera at the ready and visit beautiful coastline while you're at it.
The RSPB has a full list of puffin colonies and more information about how to send in your puffin pictures. Plus, here we've selected some of our favourite spots to see puffins around the coastline of the UK and Channel Islands.
St Kilda, Outer Hebrides
Britain's most remote corner may take some getting to, but with almost 184,000 puffin pairs, it's also one of the best places to see puffins in the whole of the British Isles. St Kilda is an archipelago 41 miles west of its nearest neighbour, the Outer Hebridean isle of Benbecula, and it is both a UNESCO World Heritage Site and a National Nature Reserve.
Martin Payne/Shutterstock
Cut-off as it is, there are only a few ways to get here – on your own boat or as part of a cruise or charter trip. Day trips with Go to St Kilda set off from Stein Pier in the north of Skye at 6.50am arriving in Village Bay around four hours later before taking a short transfer to the main isle of Hirta, where you can see the haunting remains of a village deserted in the 1930s, when residents requested evacuation.
READ MORE: 9 things you mustn't miss in the Scottish Highlands and Islands
Herm, the Channel Islands
Puffins are rare in southern England but they can be seen in the Channel Islands on this pristine isle.
Herm is impossibly beautiful with no shortage of empty white beaches surrounded by vivid turquoise waters and a wildflower-rich coastal path that encircles the island.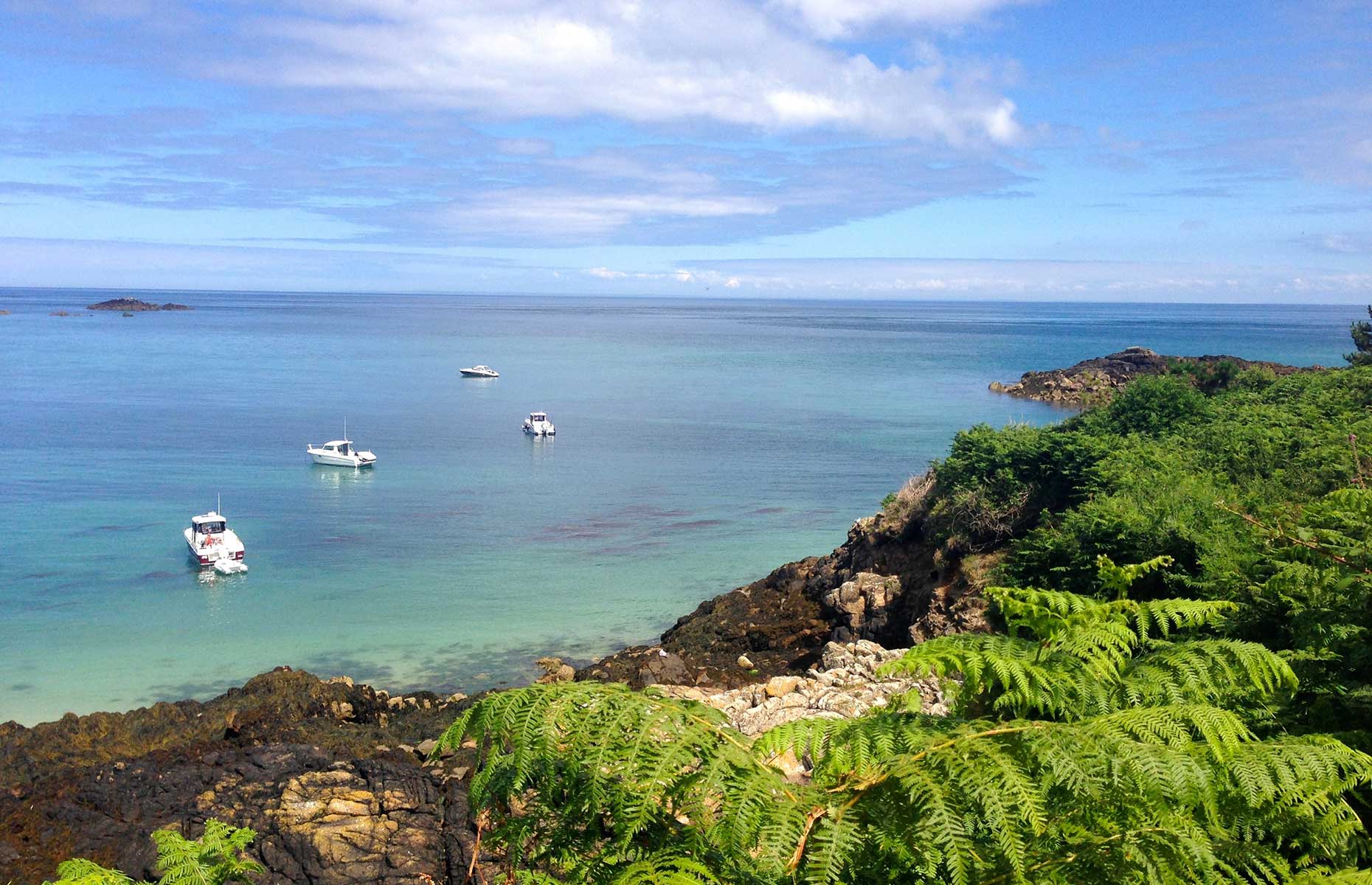 Elisatatu/Shutterstock
Between April and July, from Shell Bay on the east coast you can kayak south with Puffin Patrol, past Belvoir Bay to Puffin Bay for the best chance to see the smile-inducing black and white birds.
READ MORE: Discover what to see during a weekend away on Herm's neighbour, Guernsey
Staffa, Inner Hebrides
At the time of the RSPB's last census, 2,000 puffin pairs were recorded in the Inner Hebrides. One of the best spots to see them is on Staffa, a small uninhabited island off the west coast of Scotland. Staffa's name comes from the old Norse for 'pillar' – a reference to the strange hexagonal basalt columns found on the island (similar to those found across the water at the Giant's Causeway) most notably in Fingal's Cave, famed for its natural acoustics.
Sally Coffey
Staffa Tours runs trips to Staffa and the nearby Treshnish Isles from Mull or the beautifully serene isle of Iona, and if you visit from April-July you are pretty much guaranteed to see puffins. Once landed on the isle, follow the puffin signs to a clifftop bay marked by a flag where if you sit nice and quietly, camera at the ready, you will soon be surrounded by the birds as they dash back to their burrows, hopefully with mouths full of fish for their pufflings.
Fair Isle, Shetland
Located halfway between Shetland and Orkney off the northeast coast of Scotland, Fair Isle is both a puffin stronghold and one of Britain's most remote communities. A green isle, just three miles long and one and a half miles wide, Fair Isle is home to just 60 residents and is one of the most calming spots in Britain.
Giedriius/Shutterstock
Aside from picking yourself up a nice knit made right here on the island, you can arrange to help round up and clip sheep in summer, view an Iron Age fort, and of course, go birdwatching. Sadly, the popular Bird Observatory on the isle, which provided B&B accommodation, was destroyed by fire in March of this year but there is limited availability elsewhere.
Farne Islands, Northumberland
Home to probably the largest puffin colony in England, this group of islands is just a couple of miles off the Northumberland coast from the fishing village of Seahouses, from where there is generally one sailing an hour in summer. Aside from puffins, you can also expect to see razorbills and guillemots all crammed on the islands, as well as seals basking on the rocks or flopping into the water.
gabrisigno/Shutterstock
Rugged, natural and with an intriguing history – the Farne Islands have links to early Christianity, as well as being the former home of Victorian heroine Grace Darling and her father – there's little not to like. In fact, David Attenborough says it is his favourite place in the UK for wildlife spotting.
Skomer, Wales
Almost 10,000 puffin pairs were recorded in South Wales at the time of the last national seabird census. The most accessible colony is on Skomer, a lovely little island less than a mile from off the Pembrokeshire coastline that is buzzing with wildlife. Puffins are here from May through to July and once the last day tripper has left for the day, it becomes a wonderfully peaceful place to be.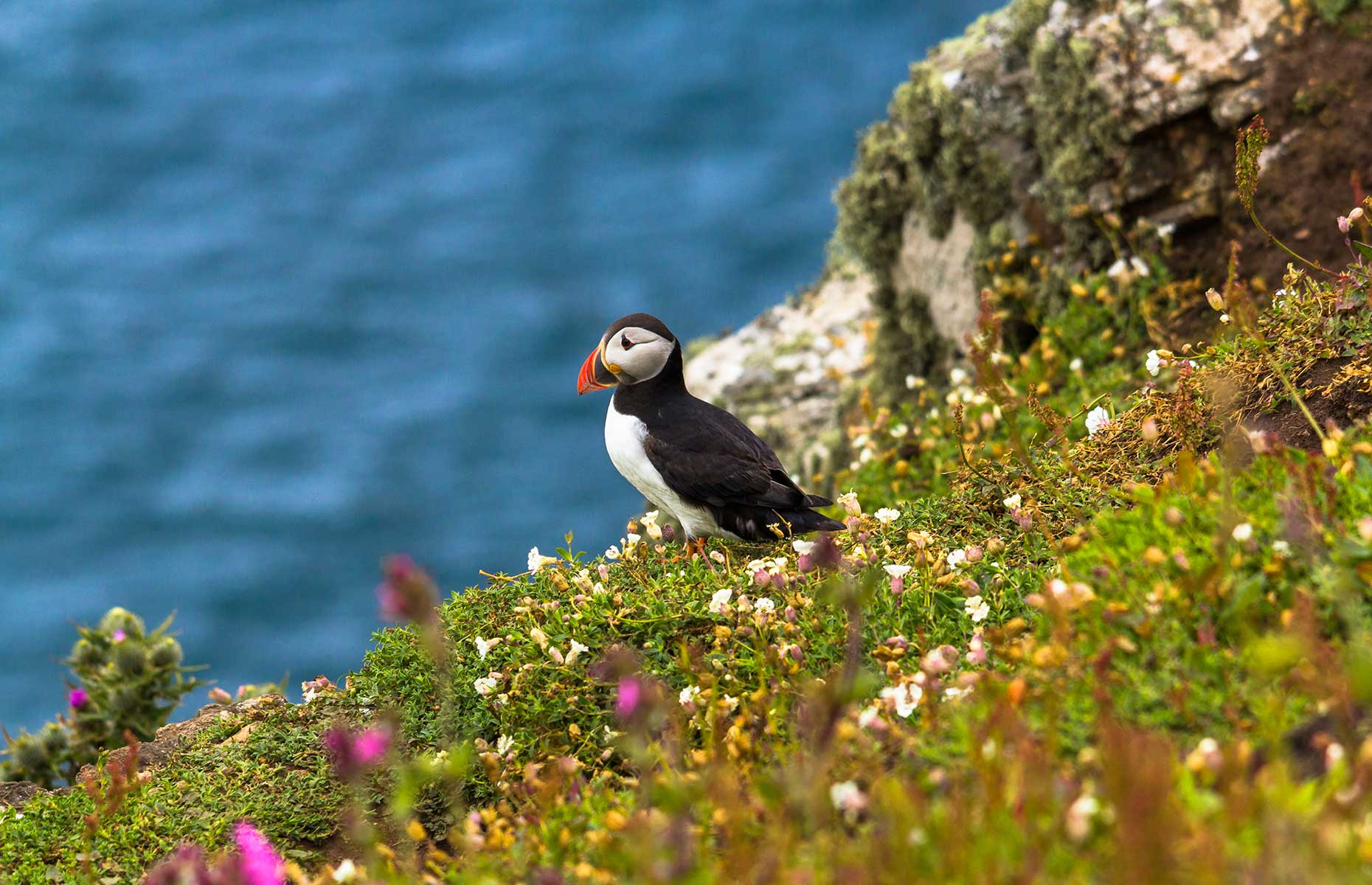 Ramon Harkema/Shutterstock
Watch the sun set before settling down for the night at the island's cosy hostel.
READ MORE: Walking the southern section of the Wales Coast Path
Rathlin Island, Northern Ireland
Numbers are more modest across the sea in Northern Ireland, but nonetheless, puffins can still be seen. Rathlin Island is reached by ferry from Ballycastle and once here the best way of getting around is by bike. Unlike some of the locations, you are unlikely to get up really close to the puffins here so you might want to bring a long lense with you, but there's a good chance of spotting seals in Mill Bay.
MikeDrago.cz/Shutterstock
You can find out about the history of the island in The Boathouse visitor centre, including the enduring myth of Robert the Bruce who is said to have been convinced of returning to Scotland to reclaim the crown after watching the dogged determination of a spider spinning its web on the isle.
Main photo: Oliver Prince/RSPB
Be the first to comment
Do you want to comment on this article? You need to be signed in for this feature