6 of the best family-friendly hotels in the Algarve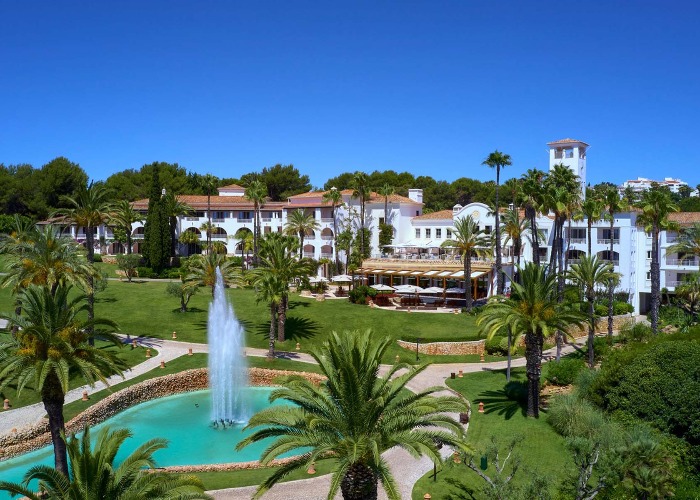 Start planning the ultimate family break with this rundown of the best hotels in the Algarve in Portugal.
As a travel writer who has spent time in over one hundred countries, there is one place in Europe that I choose to take my own family to every year. And the reason is simple – Portugal's Algarve region stacks up for an unbeatable family holiday, with plenty of great places to stay.
Here are the best hotels in the Algarve, from big resort hotels with all the frills to small, quieter quintas and an off-grid active adventure wonderland.
The original family option with no serious rival for many years, Pine Cliffs is arguably the best hotel in the Algarve and still wins many awards. For 30 years this expansive resort has spread across a clifftop in a wash of greenery and swimming pools, with a lift on hand to sweep you down to the sands, where the superb Mare restaurant awaits with boat-fresh seafood.
For a special meal, Piri Piri Steakhouse is great with kids and is the perfect place to introduce them to the joys of chateaubriand. For lunch Café Corda is a relaxed option and there's also O Grill – a buffet with live cooking stations that kids will love.
Porto Pirata, the 75,000-square-foot (7,000sqm) children's village for children aged six months to eight years, delights kids with its massive duo of wooden pirate ships, go-kart track and basketball court. The whole family can learn to play tennis and padel tennis at the Annabel Croft Tennis Academy, plus there's also golf for older children and spa treatments for families with teenagers. The best option for families is staying in Pine Cliffs' Ocean Suites, which offer lots of space and inter-connecting bedrooms.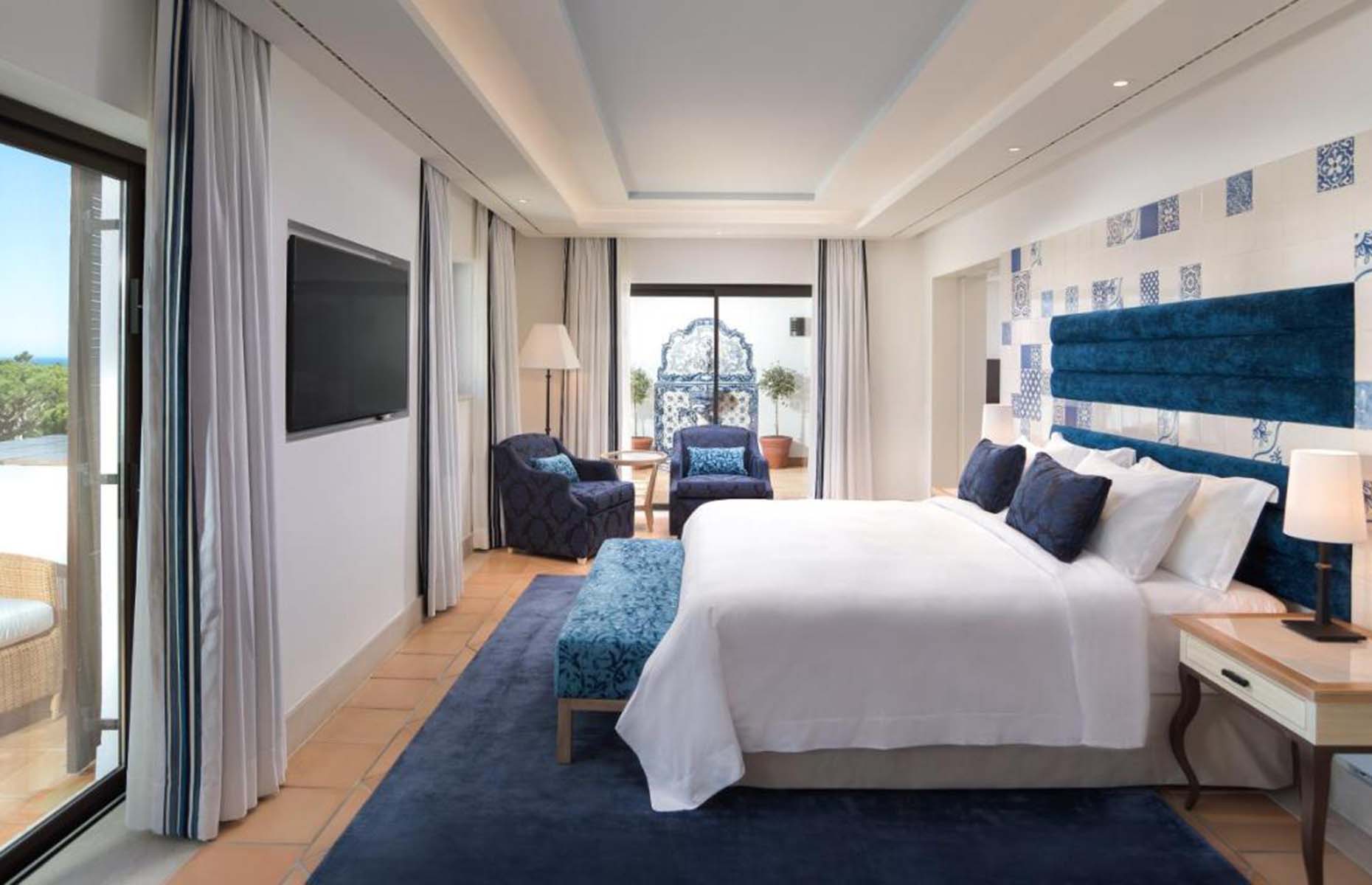 Courtesy Pine Cliffs Resort
READ MORE: Explore eastern Algarve, Portugal's best-kept secret
This oasis rivals Pine Cliffs in the 5-star family luxury stakes and enjoys a similar location on cliffs set above a sandy Atlantic beach. With its Bali beds and louge music, it feels a little more adult and so works better for older children – though there is still a superb nursery. Older kids can go wild at Annabella's Kids Park while the Teen's Club welcomes 10- to 15-year-olds. The hotel's Oasis Family Suites are the place to stay – book one with either a ground floor or rooftop terrace.
The choice of restaurants is excellent too. Two standouts are Bela Vita – with its bright French brasserie fusion – and Adega. Both are spot on with families and the latter offers traditional meat and seafood dishes from the Algarve and neighbouring Alentejo, so little ones can try local produce. They also source their own Alentejo wines. One of the heated pools has a handy swim-up bar that kids find a real novelty as they splash up for soft drinks.
This rebranded hotel is the best place for families to stay in Vilamoura. It spreads around the lake, which you can kayak on as a family, while a wide Atlantic beach awaits just across the dunes – home to the excellent new Sora restaurant. Tuck into octopus salad, fresh grilled fish and introduce the kids to chicken piri piri (which hails from the Algarve). The hotel's recently revamped Tropical Family Retreats interconnect and offer loads of space, plus you also get access to the hotel's kid-friendly Haute lounge, which offers complimentary snacks and drinks throughout your stay.
The KiEPOS Club is free of charge, with the KiEPOS Mini Club on hand for more dedicated time for those under four. On gloomier days borrow an Xbox for free and snuggle in the room or go wild in a waterpark when it rains – in autumn 2022, the Algarve's first indoor waterpark, Aquashow, opened a 10-minute drive away, making this a tempting low-season option.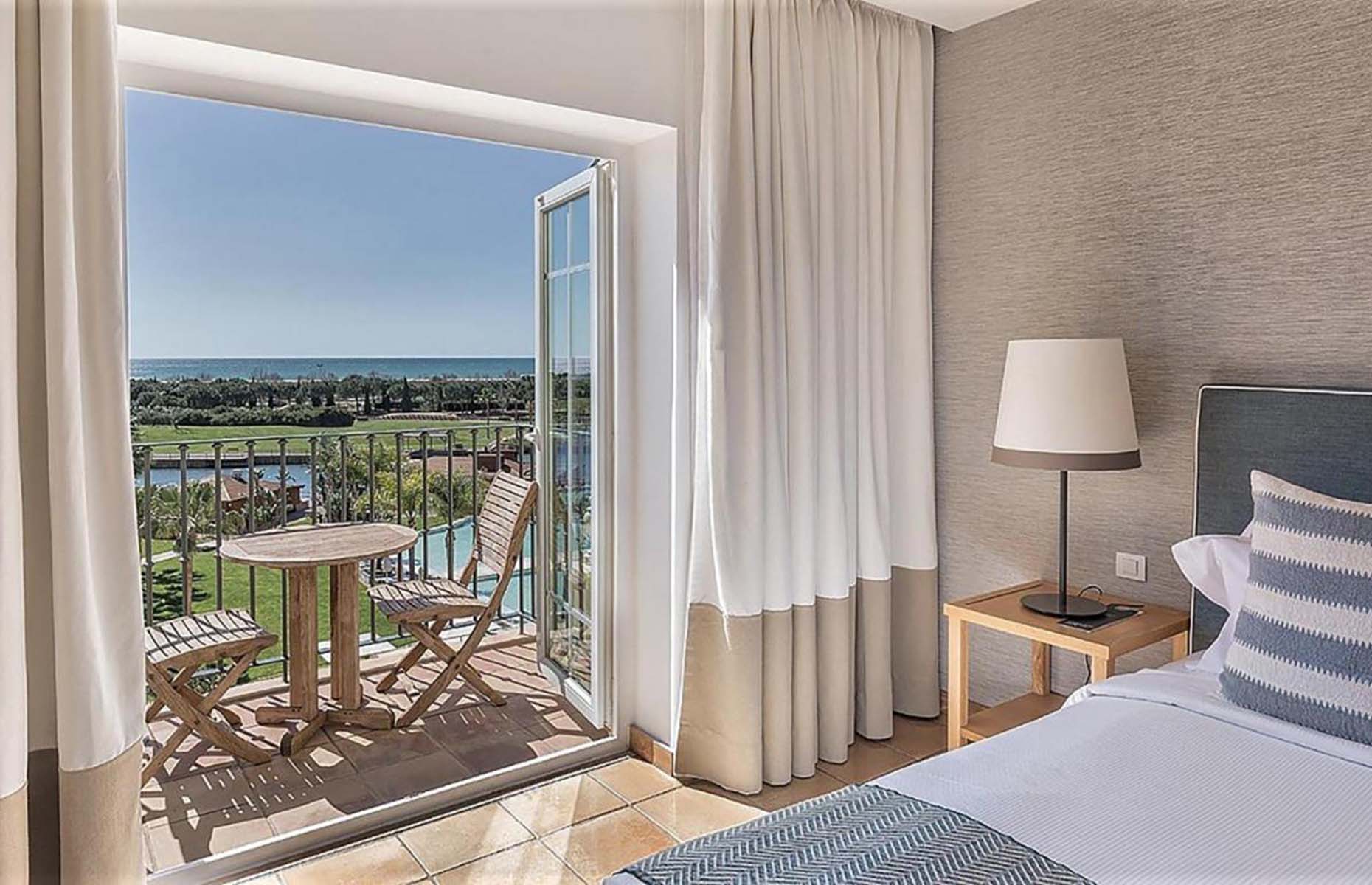 Courtesy of Domes Lake Algarve
What do you do when you can't find a luxurious hotel that caters for kids as well as adults? In the case of the remarkable force behind Martinhal, CEO Chitra Stern, you build your own.
Set right on the beach out west in Sagres, this slick bolthole spreads out across a large area and offers five kids' clubs, catering from babies as young as six months to 14- to 17-year-olds at the Blast Club. The Blue Room (a dedicated play area) has PlayStations, internet and other more traditional pastimes such as table tennis and table football. For kids who want to hone their bike skills, the pump track with BMX bikes awaits.
The hotel's children's menu includes a choice of fresh purées for babies while the breakfasts in the main restaurant overlooking the beach are family-friendly. There are also three other restaurants to choose from, plus a number of street food and takeaway options.
Courtesy of Martinhal
READ MORE: Best foodie experiences in the Algarve
Fancy something more small scale and low-key? This eight-bedroom retreat reclines inland away from the nearby busy resort of Lagos. The hotel also takes kids, who can share the 108-square-foot (10,000sqm) oasis that's been lovingly created by owners Chantelle and Fraser over the last four decades.
The two-bedroom cottage is the best option for families. It's a joy here just easing around the gardens, slowing down and appreciating the flora and fauna by the trickling fountains. Stressed-out parents can join yoga retreats too. If you're looking for a unique, seriously exclusive venue for a family event, or a child-friendly wedding venue, Quinta Bonita works well too.
Courtesy of Quinta Bonita
This off-grid escape in the rugged cork-tree-strewn countryside north of Sagres is utterly unique. South African owner Jonathan (it's very much first name terms here) is seriously creative and talented and has forged his family wonderland of wooden cottages, swinging hammocks and giant swings by hand. It feels like flicking through the pages of a fairytale rather than staying at a hotel.
Hide away in your own little cocoon and then join everyone for tasty vegetarian food cooked up by Jonathan's Spanish wife Violeta. His pizza and table tennis nights are legendary too, as is his ability to teach all the family new skills like bodyboarding on the wildly beautiful Costa Vicentina beaches. You'll do plenty of walking here too, as well as family bonding.
Aqua Ventura is very good at ensuring adults get time to chill away from their kids too, allowing them to gain confidence in their own abilities. This is a life-affirming, rejuvenating oasis for families looking to grow closer.
READ MORE: The best places to visit in Portugal
Lead image: Courtesy of Vila Vita Parc
Be the first to comment
Do you want to comment on this article? You need to be signed in for this feature