10 outdoor adventures in Guernsey
With rugged coastlines, miles of sandy beaches and crystal-clear water, Guernsey is a nature lover's dream. Here's how to make the best of the island's great outdoors.
Lying in the English Channel a hop from the French coast, the Channel Islands are distant enough for an overseas adventure, but close enough for a long weekend away. Arriving in the British-speaking archipelago by ferry or plane, clocks here tick on island time, with beautiful bays offering water sports and wild swimming, pretty villages with historic churches and inns, and easy-going eateries where even doggies are welcome to stay all day.
The main town of St Peter Port has unique boutiques to browse and some of the island's buzziest restaurants and bars, while around the coast you'll find tea rooms and beach shacks to replenish after a paddle or hike.
The only part of the British Isles to be occupied during the Second World War, the Channel Islands carry the remnants of German rule, with bunkers and towers still standing, and museums like the German Naval Signals HQ and the German Occupation Museum revealing stories and mementos from five challenging years.
But in Guernsey today, freedom reigns and along with its neighbouring islands of Herm, Alderney, Sark, Jethou, Brecqhou and Lihou, there's no better place to pull on your hiking boots – or flip flops – and go. Here are 10 of the best outdoor adventures to enjoy in Guernsey.
MyIslands/Shutterstock
1. Take a safari
The island's famous dairy cows may be the largest animals you'll see, but a safari in a custom-built Land Rover with Tour Guernsey is a fun way to learn the lie of the land while feeling the wind in your hair. Your driver and guide Ant Ford Parker will take you to the best viewpoints, stop off at The Little Chapel – an ornate miniature version of the famous pilgrimage site at Lourdes in France – and fill you in on the island's customs and quirks, including the Hedge Veg scheme where locals leave home-grown produce for sale outside their house, paid for with cash popped in an honesty box.
Vinai Suwanidcharoen/Shutterstock
2. Step back in time
Guernsey is scattered with historical sites, from Second World War bunkers to 14th-century chapels and forts dating from the time of Napoleon. But delve deeper and you'll uncover incredible artefacts from Neolithic times too, including 6,000-year-old burial chambers, and the intriguing La Gran'mère du Chimquière. This granite 'menhir', or standing stone, is carved in the shape of a woman and guards the entrance to St Martin's Parish Church, frequently adorned with flowers to bring good luck to newlyweds.
Meanwhile, fairies, elves and witches make mischief at the Table des Pions or Fairy Ring, a circle of stones marking a lunch spot for patrolling island officials until 1837, which visitors now walk around three times before making a wish.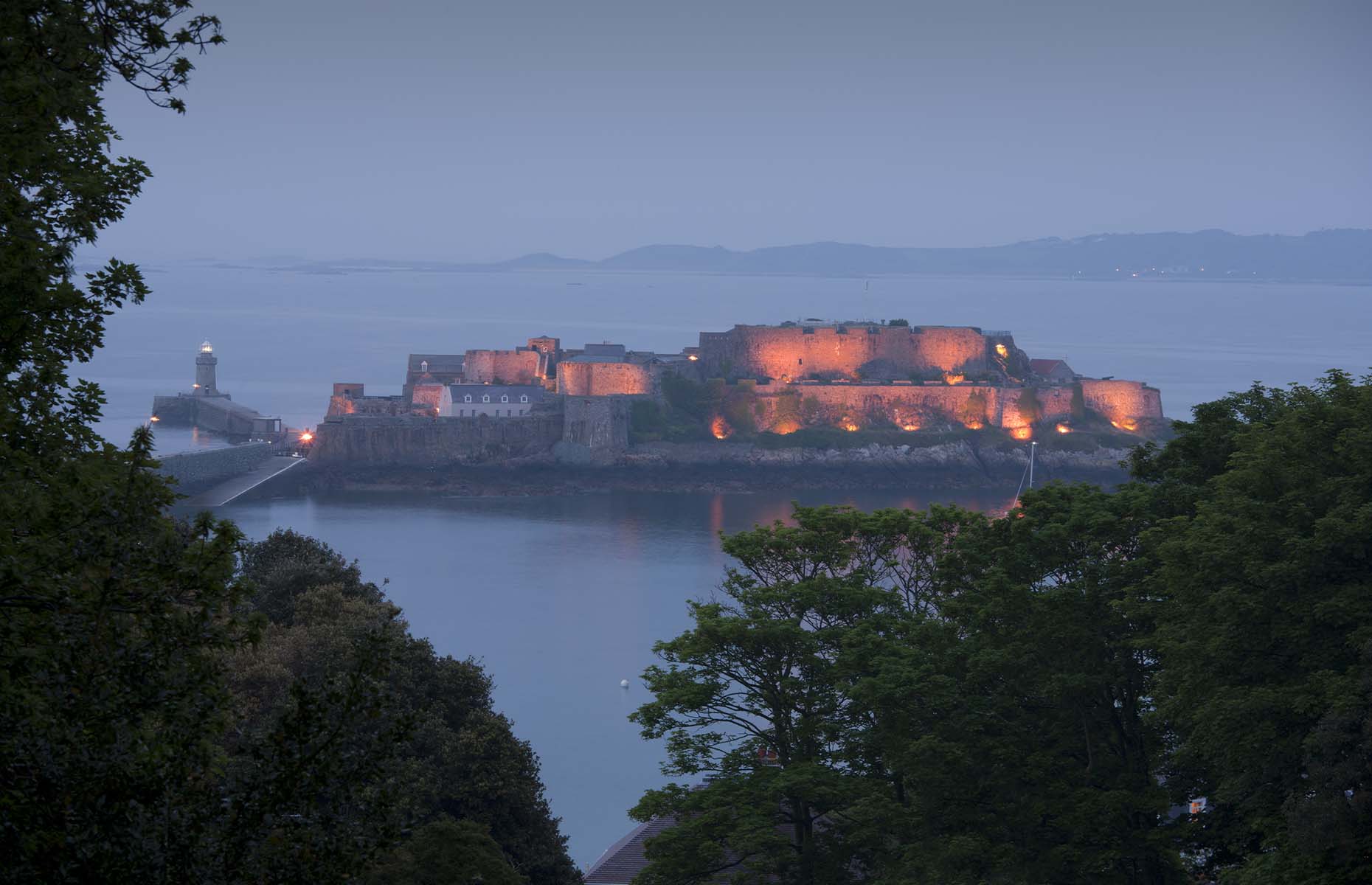 Visit Guernsey
3. Go car-free on Sark
The Isle of Sark Shipping Company runs hour-long ferry trips from Guernsey to the isle of Sark, a car-free haven where visitors explore its narrow lanes on foot, by bicycle or by horse and carriage. Sark Carriages offers guided tours of the most beautiful spots, including the fairy-tale house and grounds of La Seigneurie Gardens, home to the Seigneurs (Lords) or Dames of Sark since 1730.
Stocks Hotel is an idyllic spot for lunch or a longer stay, with 23 bedrooms and suites and a restaurant overlooking the pool in the shade of the oldest mulberry tree in the Channel Islands. Stay the night to see the dazzling skies above the world's first designated Dark Sky Island, and before you leave, take a heavenly dip in the Venus Pool and pick up a box of the stellar hand-made Caragh Chocolates.
Allard One/Shutterstock
READ MORE: How to plan a weekend break in Guernsey
4. Hit the waves
With almost 30 miles (48km) of coastline and plenty of sheltered bays, Guernsey is a great place to explore by kayak or stand-up paddleboard (SUP). Outdoor Guernsey offers plenty of options to get out on the water, including kayak hire and guided tours of the bays and offshore shipwrecks. They also offer coasteering adventures around the rugged rock formations of The Pea Stacks, as well as SUP lessons, SUP Yoga and Jumbo SUPs: giant boards that hold up to eight adults. If surfing's your thing, Guernsey Surf School at Vazon Bay runs group and private lessons for all experience levels and has wetsuits, surfboards, bodyboards and SUP boards for hire.
Visit Guernsey
5. Walk with Renoir and dine with Hugo
Guernsey's rugged landscapes have drawn many artists and authors to the island's shores, including French Impressionist painter Pierre-Auguste Renoir, who stayed here with friends for just over a month in the summer of 1883, painting 15 of his best works. Join tour guide Gill Girard for the Renoir Walk around the stunning Moulin Huet Bay – you'll visit five locations marked with elaborate empty picture frames, cleverly allowing you to view the bay from the artist's precise perspective.
In St Peter Port, visit the Guernsey home of exiled French author Victor Hugo, who lived in Hauteville House for 15 years, penning many of his famous works here including Les Misérables. In front of the town's church, take a seat next to a bronze statue of the scribe, who sits alongside an octopus. Then head for dinner at island favourite Octopus overlooking Havelet Bay, a restaurant inspired by the giant cephalopod in Hugo's novel The Toilers of the Sea.
Jon Arnold Images Ltd/Alamy Stock Photo
6. Picnic on the beach
An easy walk along the coastal path from St Peter Port, which offers gorgeous views of Guernsey's smaller islands Herm, Sark and Jethou, the secluded Fermain Bay is a lovely spot for a swim in clear aquamarine water, followed by a picnic under the sun on the pebbly beach.
The Guernsey Hamper Company offers a range of hampers filled with locally produced treats, from delicious afternoon teas with scones, Old Guernsey Vinery Jam, Guernsey Dairy Cream and blends from the Guernsey Tea Company to artisan cheeses with biscuits and chutneys, foraged seaweed tapenade from The Seaweed Food Co. and Rocquette fresh-pressed apple juice or cider.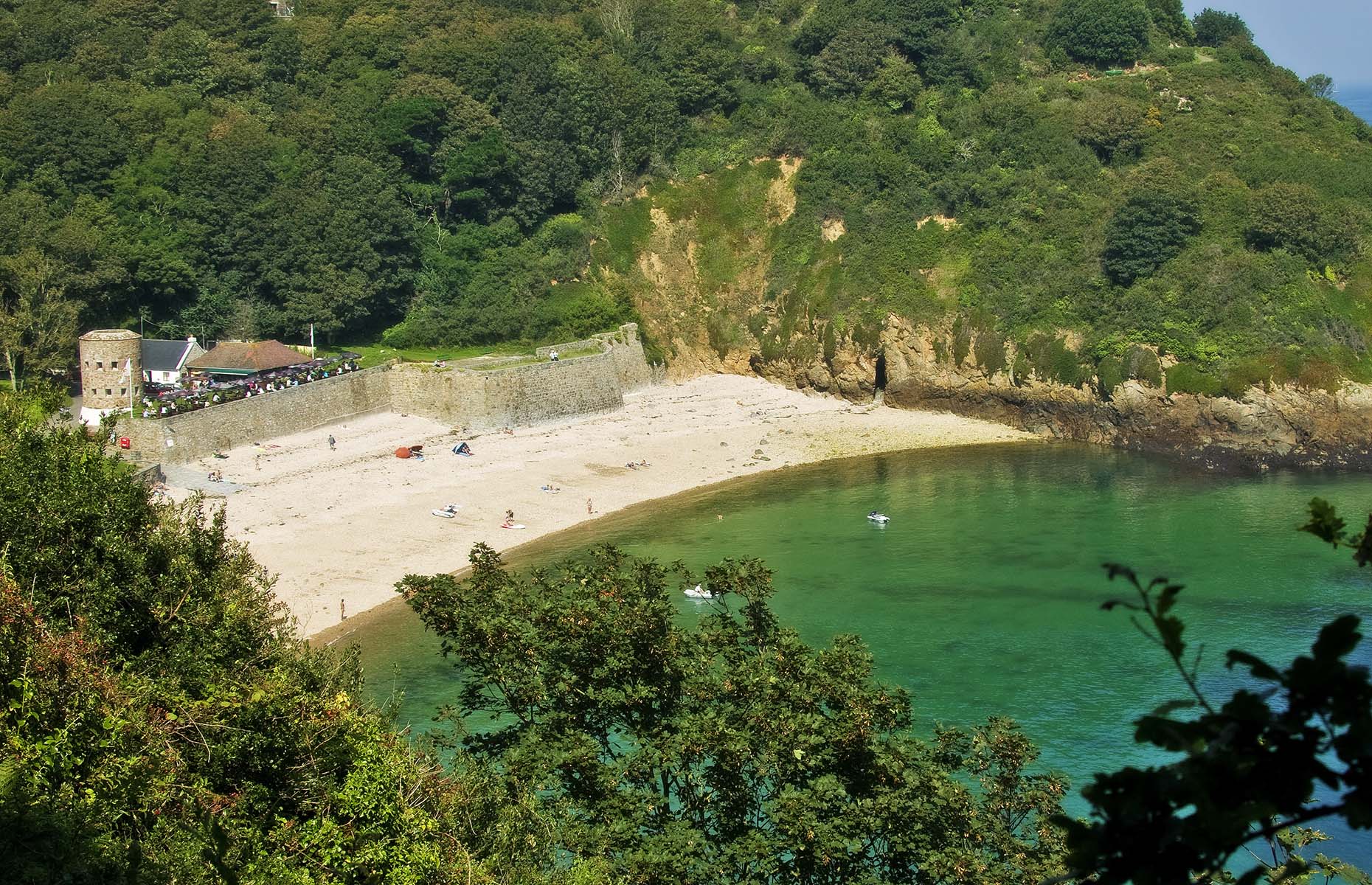 Visit Guernsey
7. Wild swim in style
Guernsey has some great beaches for swimming, with locals and visitors taking the plunge year-round on stretches like Pembroke Bay, where the Beach House restaurant serves hearty meals and drinks to refuel after a dip. Kiosks serving snacks and drinks are found on many of the bays, while Cobo Bay is a popular spot with locals for swimming, rock pooling and watching the sunset.
Guernsey Swim Adventures offers guided wild swims in some of the island's most scenic locations, but for those who prefer their swimming a little less wild (but just as salty), The Bathing Pools at La Vallette have four enclosed tidal pools, filled by the ebb and flow of the ocean. Built in 1865, the pools reopened after an extensive renovation in June 2022, with bright changing rooms and a modern café offering fantastic views of Castle Cornet, Herm and Sark.
READ MORE: 6 reasons to visit Alderney
8. Hike the coast
Download the Visit Guernsey app and explore miles of trails on the island. From easy walks in town to more strenuous coastal hikes, the app includes routes for all fitness and experience levels. Take in the stunning views from Guernsey's rugged south coast on a self-guided cliff walk, starting at Icart Point and passing the golden coves of La Bette and Le Jaonnet – on a clear day, you can see France. In autumn you can choose to do this and other walks with a guide as part of the Autumn Walking Festival, to learn more about the island's natural history and fascinating past.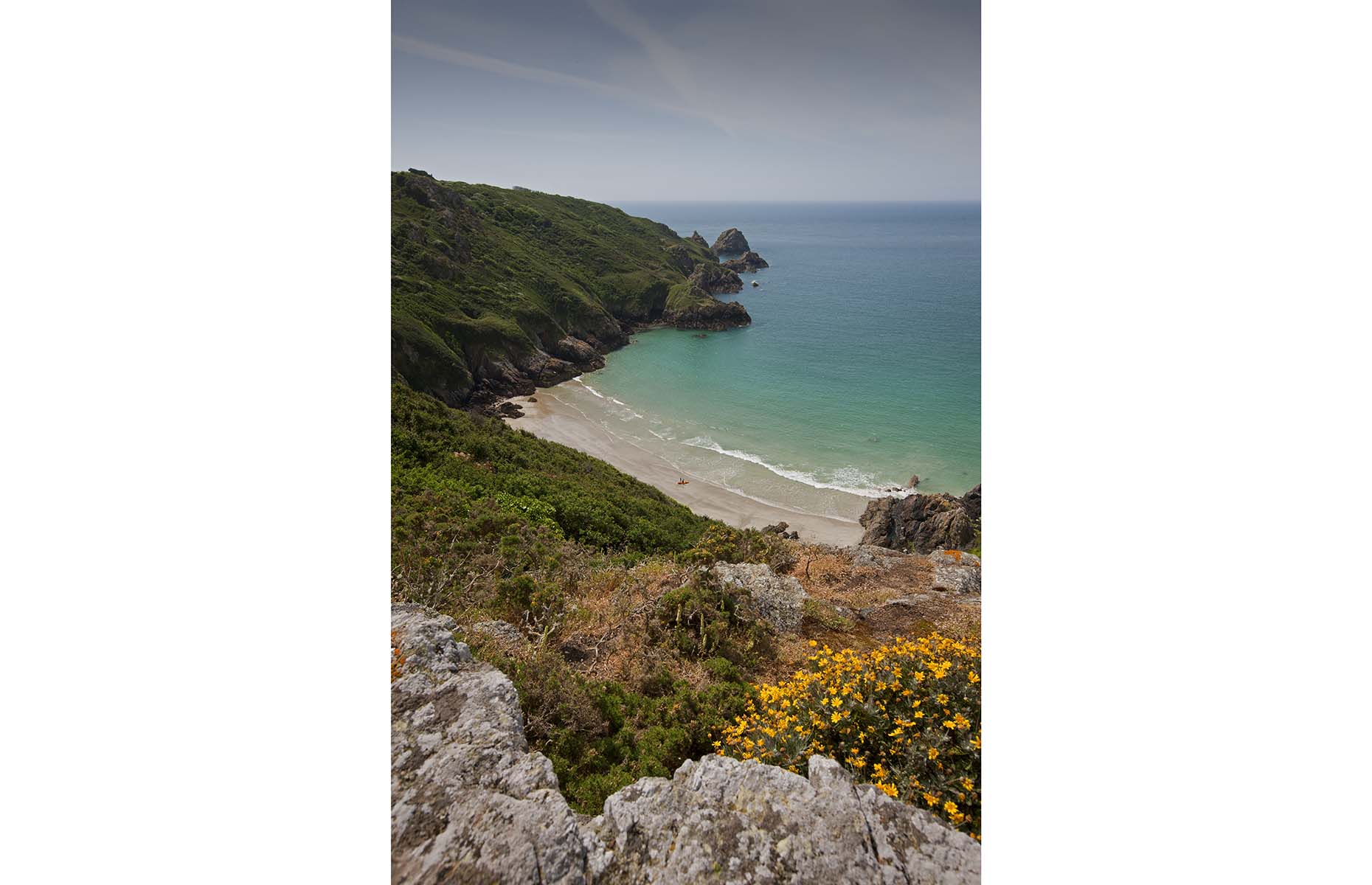 Visit Guernsey
9. Explore a wild island
Accessible only by sea, Guernsey's neighbouring isle of Herm is easily reached by a 20-minute ferry ride from St Peter Port. With a campsite, a handful of self-catering cottages, eateries and just one hotel – The White House Hotel, which has no televisions, telephones or clocks, but a swimming pool and a double AA Rosette restaurant – Herm offers a truly wild escape, away from cars and crowds.
An easy walking trail takes in the island's natural highlights, including two of the most beautiful beaches in the Channel Islands, Shell Beach and Belvoir Bay: stretches of golden sand slipping into the turquoise sea. Outdoor Guernsey offers a range of activities here too, including archery, kayaking, SUP and coasteering, and from April to July, visitors can join a guided two-hour Puffin Patrol tour to see Europe's most southerly puffin colony. Watch out for the island's resident pod of dolphins, or join a kayak tour to see seals around Herm's offshore archipelago, the Humps, from April to September.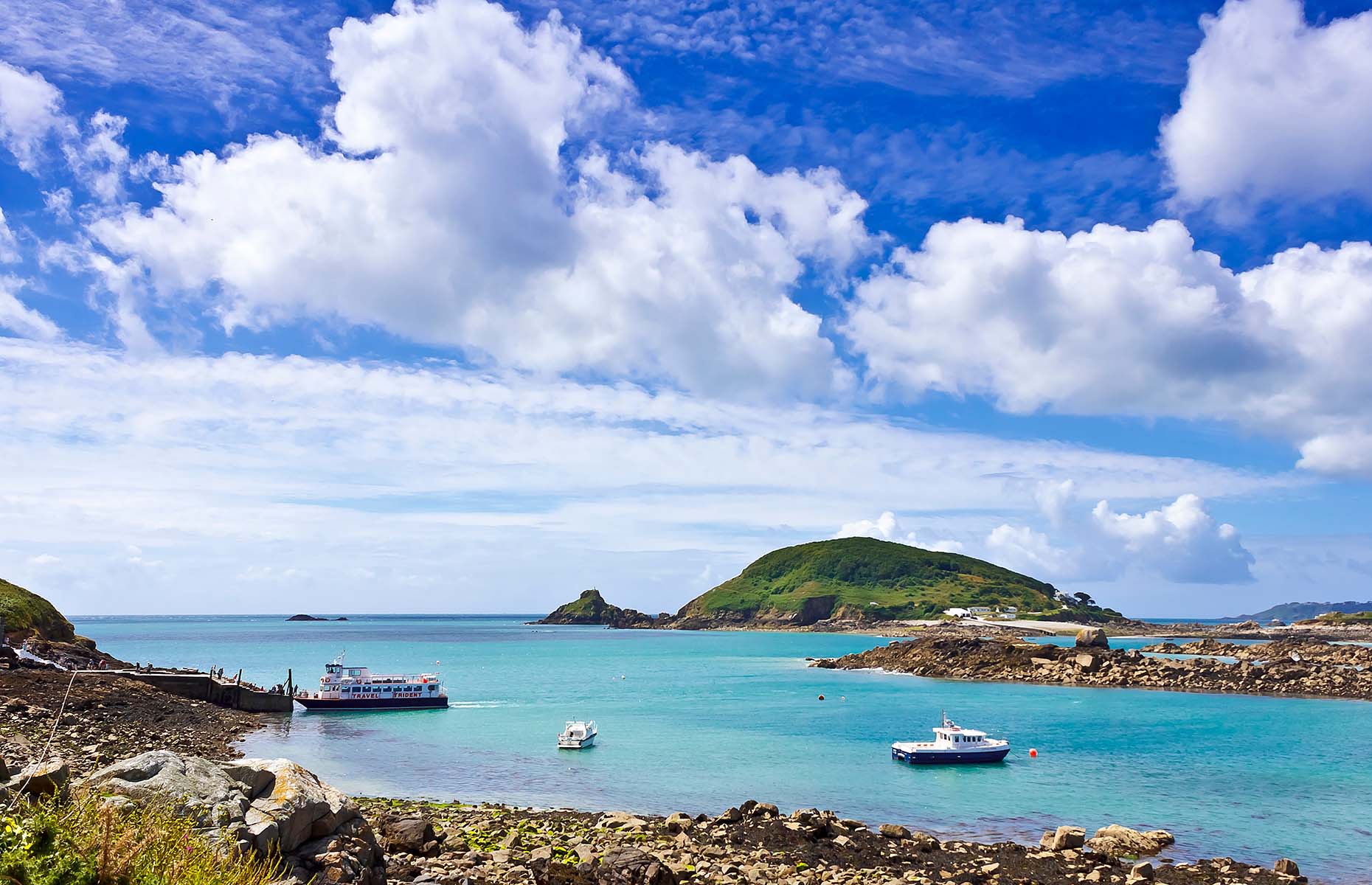 Agenturfotografin/Shutterstock
10. Tap into some spiritual healing
Spectacular Cobo Bay is a serene backdrop for a beach yoga session with Emma Després from Be Inspired, and a gentle way to ease into island life, as you lie back on your yoga mat and breathe in the fresh, salty air. Emma's Hatha yoga sessions are suitable for all ages and experience levels and draw on Tantric teachings to strengthen the spine, increase the body's freedom of movement and tap into the emotions.
Emma also offers one-to-one reiki sessions – a Japanese form of hands-on palm healing to improve the flow of energy through the body and encourage emotional or physical healing. After a session or two in her cottage studio, Guernsey will begin to feel a lot like home.
READ MORE: 6 reasons to cruise around the British Isles
Getting there
A three-bedroom apartment for six people at The Bay Guernsey starts from £1,200 per week (Saturday to Saturday), with an additional £60 charge for pets. A return trip from Poole to Guernsey with Condor Ferries starts from £460 for four adults and one car, and return flights from Poole to Guernsey with Guernsey's Airline Aurigny start from £182 per person. To find out more about Guernsey and its islands, head to VisitGuernsey.com.
Lead image: FantPhotos/Shutterstock
Be the first to comment
Do you want to comment on this article? You need to be signed in for this feature