6 reasons to visit rugged Alderney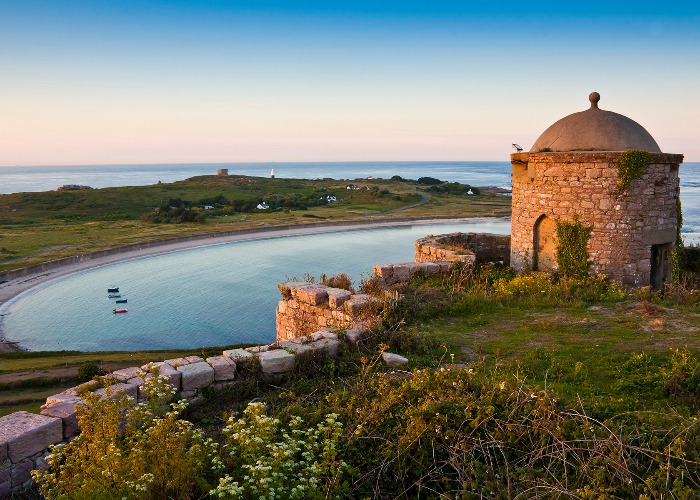 This compact Channel Island surprises visitors with unique wildlife, deserted white-sand beaches and excellent farm-to-table dining
Arriving in Alderney feels like putting the rest of the world on hold and taking a deep breath. A deep, invigorating breath of salty sea air thick with the fragrant aroma of blooming wildflowers.
The island is just 1.5 miles wide and 3.5 miles long so you're never too far from Alderney's breathtaking coast. Secluded coves with wind and water-battered cliffs give way to pristine beaches and azure waters. It's all about the raw and the rugged here, making Alderney the ultimate wildlife escape. If you're ready to get away from it all, here's why Alderney should be at the top of your must-visit list.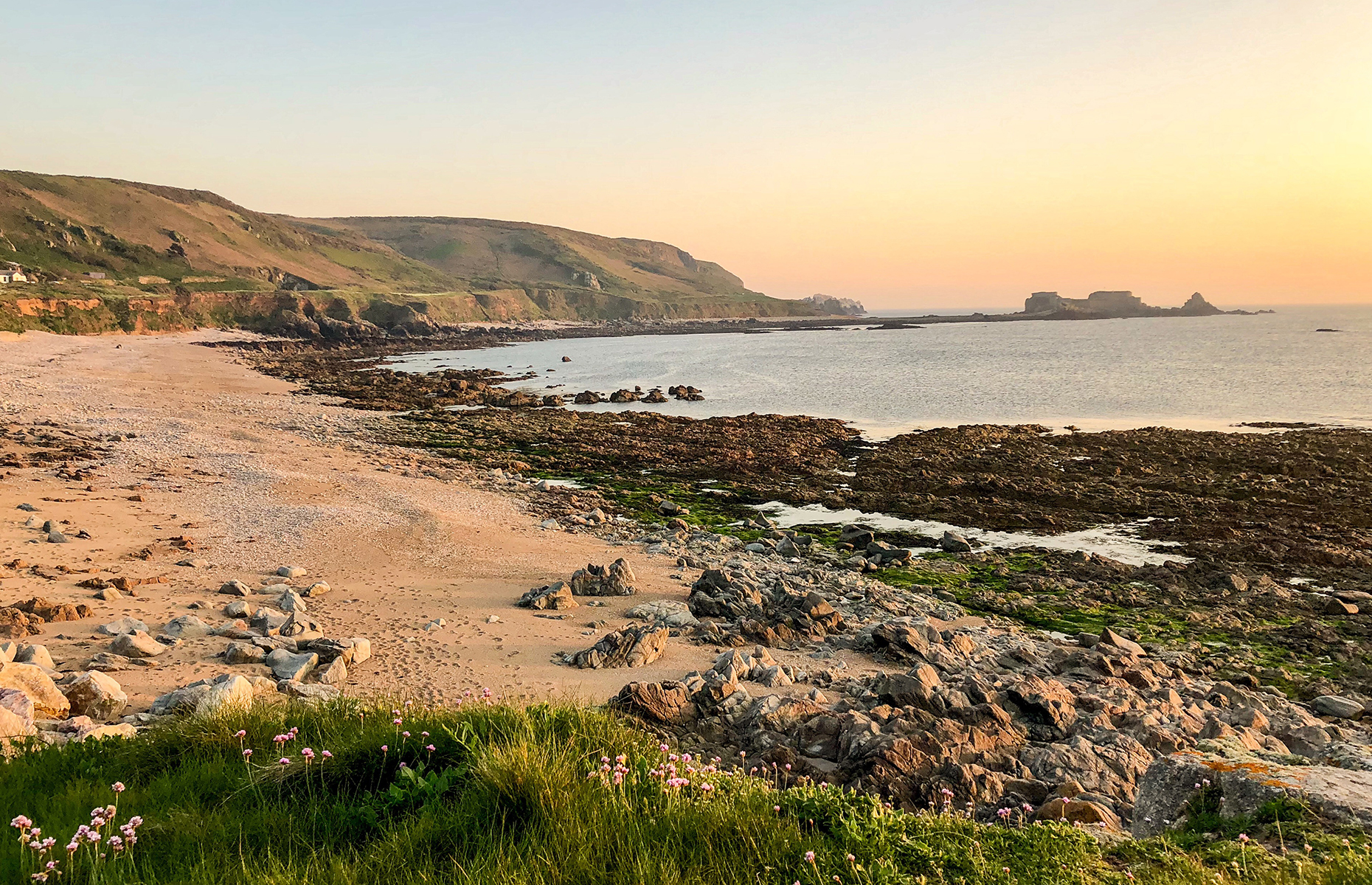 CPhilip/Shutterstock
1. See history come alive
Alderney has been seen as an island of great strategic importance throughout the centuries. As early as 300AD, the Romans built a small fort known as The Nunnery at Longis Bay. Since then, it was turned into a fortification to protect and deter possible attacks from France during the Victorian era and in the Second World War, the island was occupied by German forces and locals were evacuated off the island.
Get your bearings and learn more about Alderney's history and wildlife with an island minibus tour. On the informal ride, you can stop off wherever you want as you're driving around with your guide. A top spot for history buffs is Fort Tourgis. Out of the 18 forts and batteries on the island, it's the only one open to the public thanks to conservation work by volunteers (others are privately owned or in varying stages of disrepair). Its Battery No.3 is a green space with picnic benches and a barbecue area.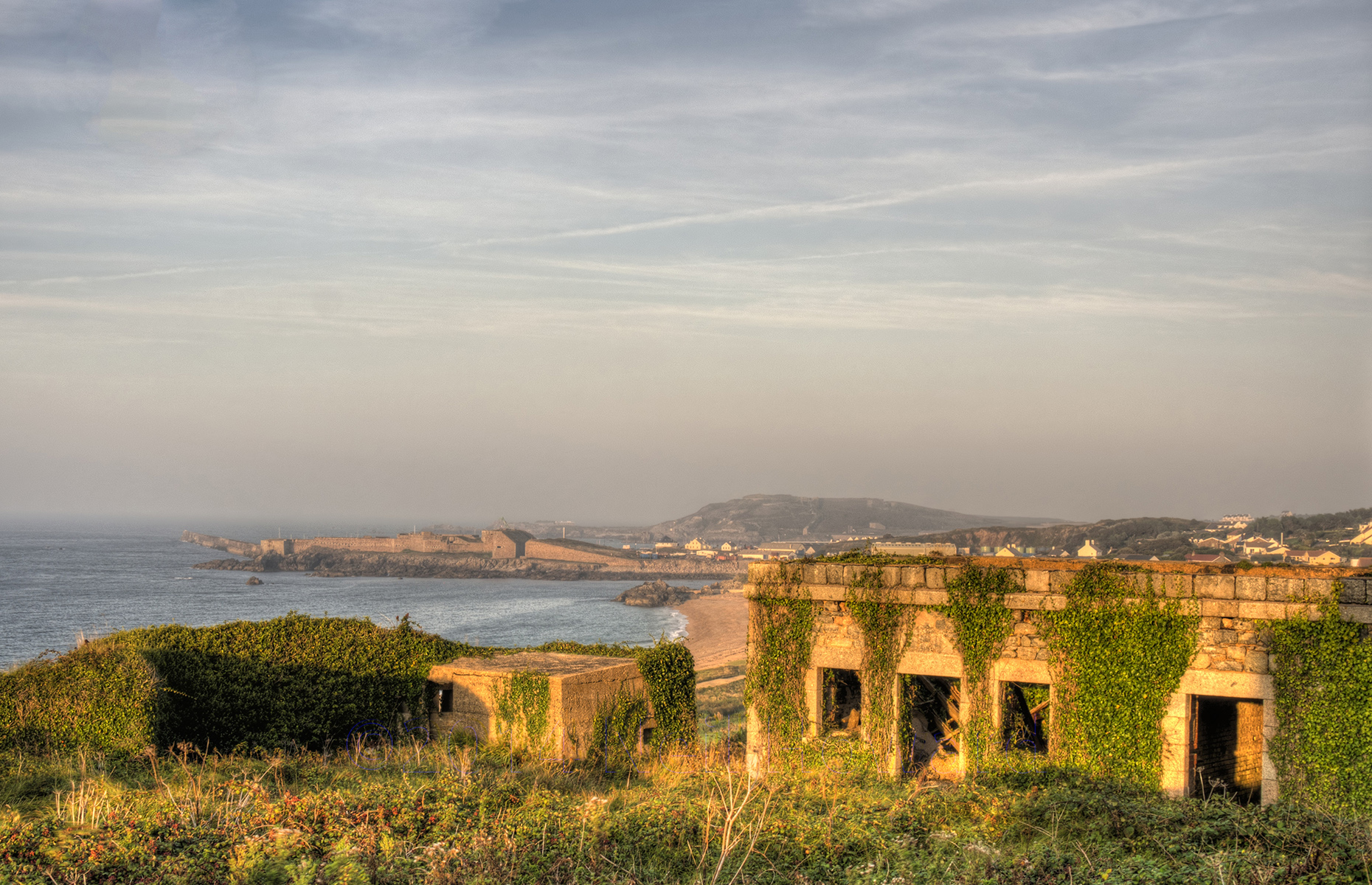 Neil Howard/Flickr/CC BY-NC 2.0
2. Spot incredible wildlife
Alderney's compact size is by no means an indication of how diverse the flora and fauna is on the island. There are 1,042 recorded species of plants, unique animals like the blonde hedgehog and it's home to more than 270 species of bird that are either common residents or passing migrants.
Burhou, a small uninhabited island just off the coast of Alderney, hosts the largest population of Atlantic puffins in the Channel while on the rocky outcrops of Les Etacs and Ortac, you'll find 2% of the world's northern gannet population who come here to breed.
A boat tour is a great way to spend a couple of hours and learn more about the diversity of seabirds in Alderney. Hop aboard Sula (the Alderney Wildlife Trust workboat) and get up close to puffins, gannets and even a few seals lazily sunbathing on the rocks. Tours take place every Wednesday and Saturday between March and October.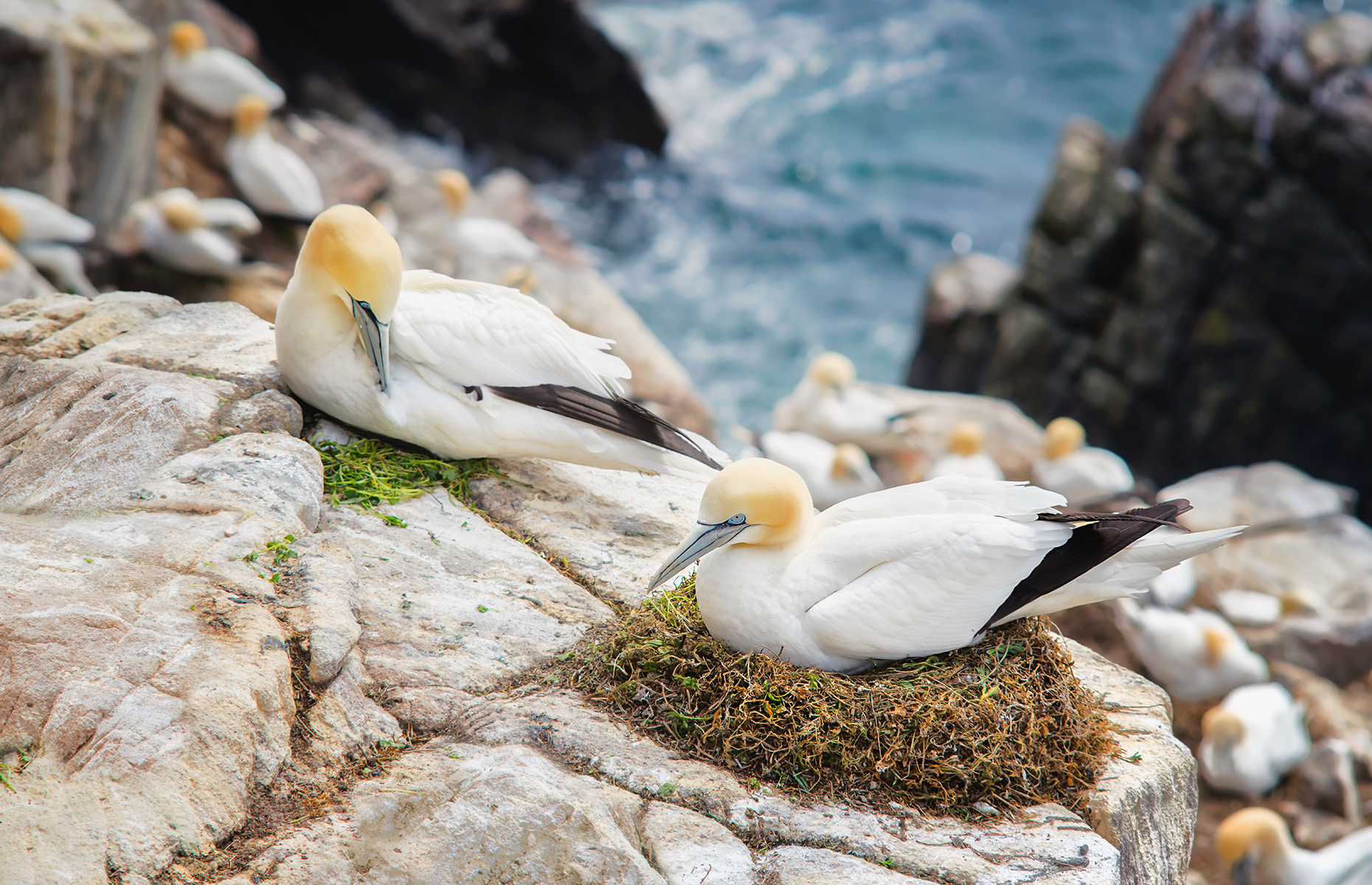 Algirdas Gelazius/Shutterstock
3. Truly take a break from the world
From 4-star hotels to camping, there's something for everyone on the island. Braye Beach Hotel offers a peaceful and luxurious escape. Its good-sized rooms come with beautiful sea views – leave the window slightly ajar and let the waves lull you to sleep as you sink into the comfy bed. Hearty breakfasts served on the terrace overlooking the white-sand Braye beach will set you up for the day.
Braye Beach Hotel by Jake WoodnuttPhotography/Visit Alderney
The Georgian House is another 4-star option that's located right on St Anne's high street. This cosy inn has charming bedrooms with calming coastal decor and inviting king beds.
If you're looking to fully get away from the trappings of the modern world, head straight to Saye Beach Campsite. Tucked away in the sand dunes, the campsite has everything for the perfect holiday including a shop, a picnic area, a bathroom block and a play area for children.
4. Indulge in plenty of excellent produce
You can guarantee you'll be fed well on Alderney. From bright yellow butter to wildflower honey, the island is bursting at seams with flavour and great produce.
The chefs at The Vaults at the Braye Beach Hotel know how to serve up a feast. There's finger-licking duck bonbons and a selection of succulent and flavoursome steaks. The creative cocktails shouldn't be missed here either – for a fun night out, book a cocktail-making experience and mix your perfect drink.
Located on the cobbled Victoria Street in St Anne, the pub at The Georgian House is open to non-guests as well, serving dishes that showcase local produce. On a sunny day, sit out on the terrace at the back and enjoy a glass of cold white wine and a crab sandwich for lunch or a smoked Alderney pork chop for dinner.
Before leaving Alderney, stop by The Butchers for lip-smacking pork and leek sausages, and the family-run Kiln Farms farm shop for the freshest dairy produce, including milk, cream and ice cream. Look out for their milk vending machine – an important step towards plastic-free Alderney.
5. Get the whole family involved
From walks and cycle routes to electric bike tours and a top museum, there's something for everyone to get excited about. The Alderney Museum gives an insight into the island's history from the pre-historic period to the present day. Take your pick between nine self-guided walking routes, half-day or full-day cycling tours, or tackle the Coast Path Challenge and embark on 10 miles of history, wildlife-spotting and scenery.
Stop by the Mannez Lightouse for pictures and if you happen to be there on a Sunday, don't miss a chance to climb the 105-foot-tall tower.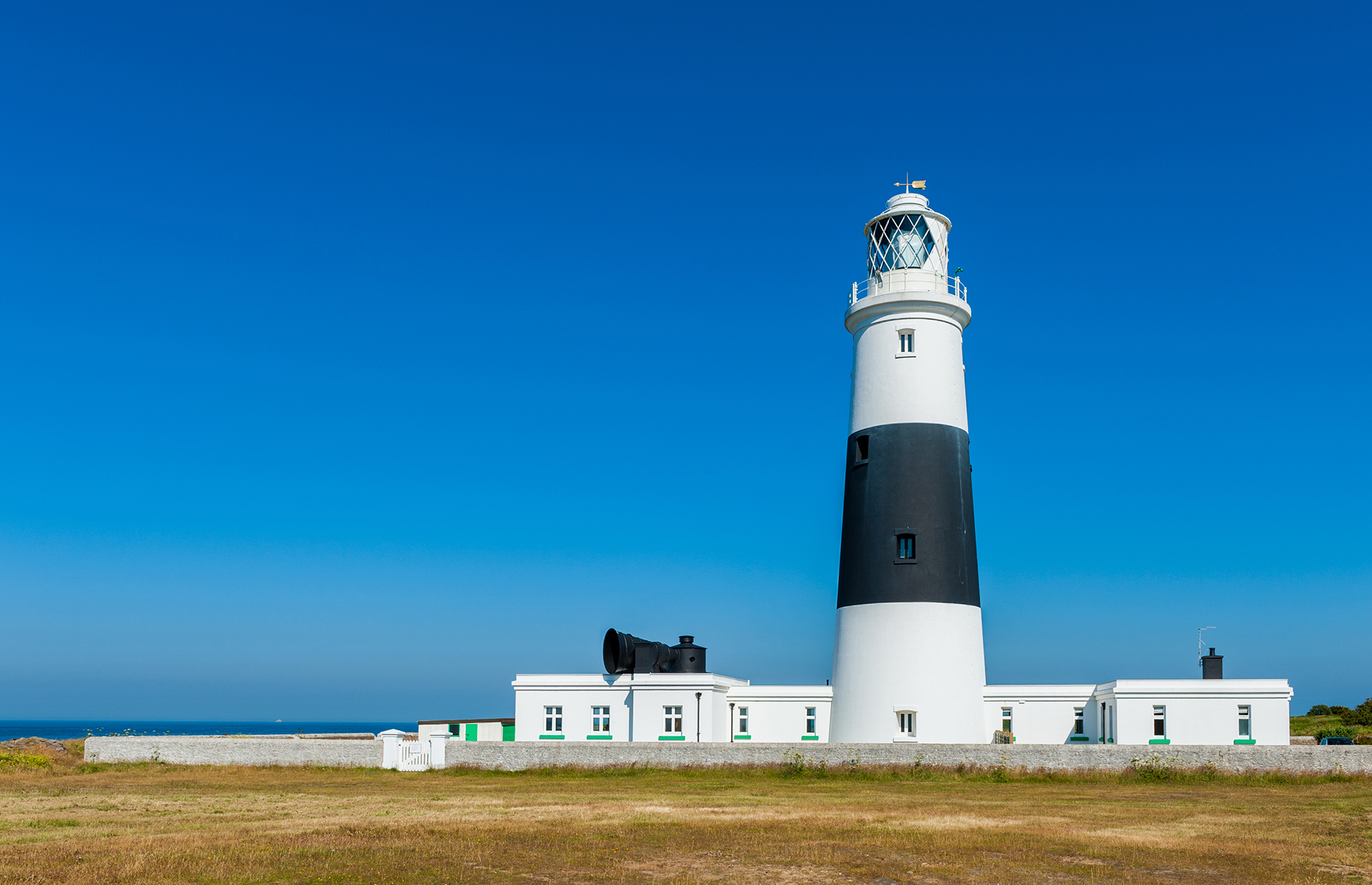 Allard One/Shutterstock
6. Go island-hopping
Although you could happily spend all your time on Alderney, it's an excellent destination to incorporate into a Channel Island-hopping holiday. Use Guernsey as your starting point and explore Herm, Sark and Alderney before returning back to Guernsey for your flight home.
Guernsey's airline Aurigny operates daily flights between London Gatwick and Guernsey. While there is a flight service between Guernsey and Alderney, you'll want to take in the sea views aboard The Little Ferry Company's passenger ferry. The service runs twice a day, every day from the end of May to the end of September – check the exact start and end dates closer to the time of travel as they vary each year.
Return flights from London Gatwick to Guernsey with Aurigny start from £100pp, including 20kg hold baggage allowance. Platinum room rates at The Braye Beach Hotel start from £131 per night, including breakfast. For more information head to Visit Alderney.
Be the first to comment
Do you want to comment on this article? You need to be signed in for this feature