6 exciting activities you won't want to miss in Tenerife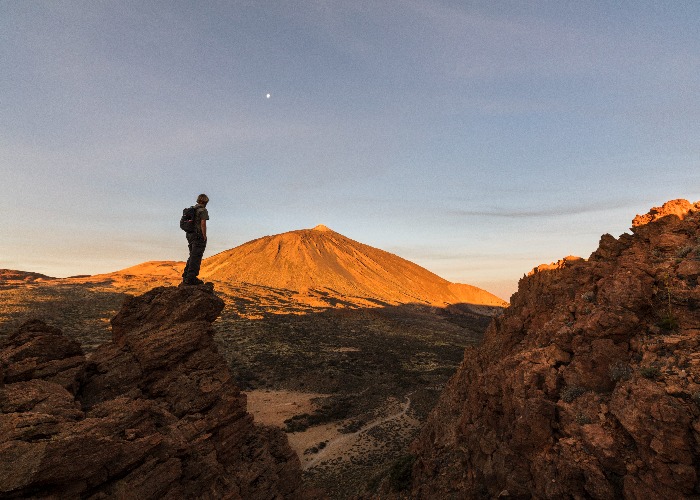 Leave the sun-drenched beaches and resorts of Tenerife behind and make the most of the largest Canary Island by getting active: on shore in its gorgeous nature parks, in the waters of the Atlantic Ocean and – if you're brave enough – high up in the air.
With an average annual temperature of 23°C (73°F), the volcanic Canary Island of Tenerife is the perfect destination to get your heart pumping, no matter the time of year. Just a short drive from the beach resorts (nowhere is more than 1.5 hours away), distinct microclimates and extraordinary landscapes await, from lunar-like rock formations to dense cloud forests. Here are six of the best activities to enjoy in Tenerife, both on land and in the water.
Hiking
Tenerife is a hiker's paradise thanks to its 620 miles (1,000km) of official trails, and there's no better way to experience the diversity the island has to offer. Above all else, you can't miss dramatic Mount Teide, rising like a pyramid 12,200 feet (3,718m) from the centre of the island.
Spain's tallest mountain is surrounded by the almost surreal moonscape of Teide National Park, offering myriad hiking trails of various difficulties. There's a cable car to the top, but if you want to climb all the way, you'll need a good level of fitness. You'll also require a special permit, as the number of daily visitors is restricted.
Travel across to the remote northeast of Tenerife and the landscape seems a world away. Here you'll find the prehistoric subtropical forests of the Anaga Mountains. Laurel forests have survived here for millions of years (they once covered large parts of southern Europe) and they form the enchanted fairy-tale world of El Pijaral Integral Nature Reserve. Access to this protected area is limited to 45 visitors a day, so make sure to reserve a permit well ahead of time.
Tenerife Tourism Coporation
Off the busy tourist trail, in the northwest's Teno Rural Park, you'll find some shorter hiking trails that don't require extensive experience, such as the route from the sleepy village of Teno Alto to the lighthouse of Punta de Teno (about four hours). The rocky landscape is covered with agaves, Cardón succulents and prickly pears and feels exotic even to locals. Upon your descent, be sure to look up and enjoy the views out over the ocean with neighbouring Canary Islands of La Palma and La Gomera visible in the distance.
READ MORE: The best Tenerife hiking trails
Mountain biking
Get pedalling and cycle along sloping forest tracks while taking in the terrain of the higher parts of the island. There are more than 124 miles (200km) of forest trails open to mountain biking in Tenerife, and many of them can be found in the Corona Forestal Park. The trail network connects most of the north with the area of Tacoronte and the south, so you can often begin and end in places that offer public transport and parking.
Tenerife Tourism Coporation
A short and easier route between Las Lagunetas and Las Raíces has you cycling through tranquil pine forests and emerging at atmospheric viewpoints. Have a break and enjoy the vistas over the Anaga Mountains, the Atlantic and the island's capital, Santa Cruz. Several bike companies, including Bike Point Tenerife, offer day and half-day tours in the area. And if you want to make sure you get up those hills, ask for an e-bike – after all, you're there to enjoy it.
READ MORE: 8 things you probably didn't know about Tenerife
Sea kayaking
The towering cliffs of Los Gigantes (The Giants) are one of Tenerife's most spectacular sights. The best views of the dark 2,000-foot (610m) crags, right on the edge of the eponymous port town, are from out at sea. So, hop into a kayak, start paddling and get close to the volcanic titans. If you're lucky, some dolphins or pilot whales will keep you company along the way. The area is also the fishing ground of the island's last remaining osprey couple – the most endangered raptors in the Canaries. Be sure to keep your eyes peeled.
Specialist shops and companies such as Teno Activo will organise the activity for you and know where it's safe to go. The east and southeast regions of Tenerife, where the sea is usually calmer, are also ideal for kayaking.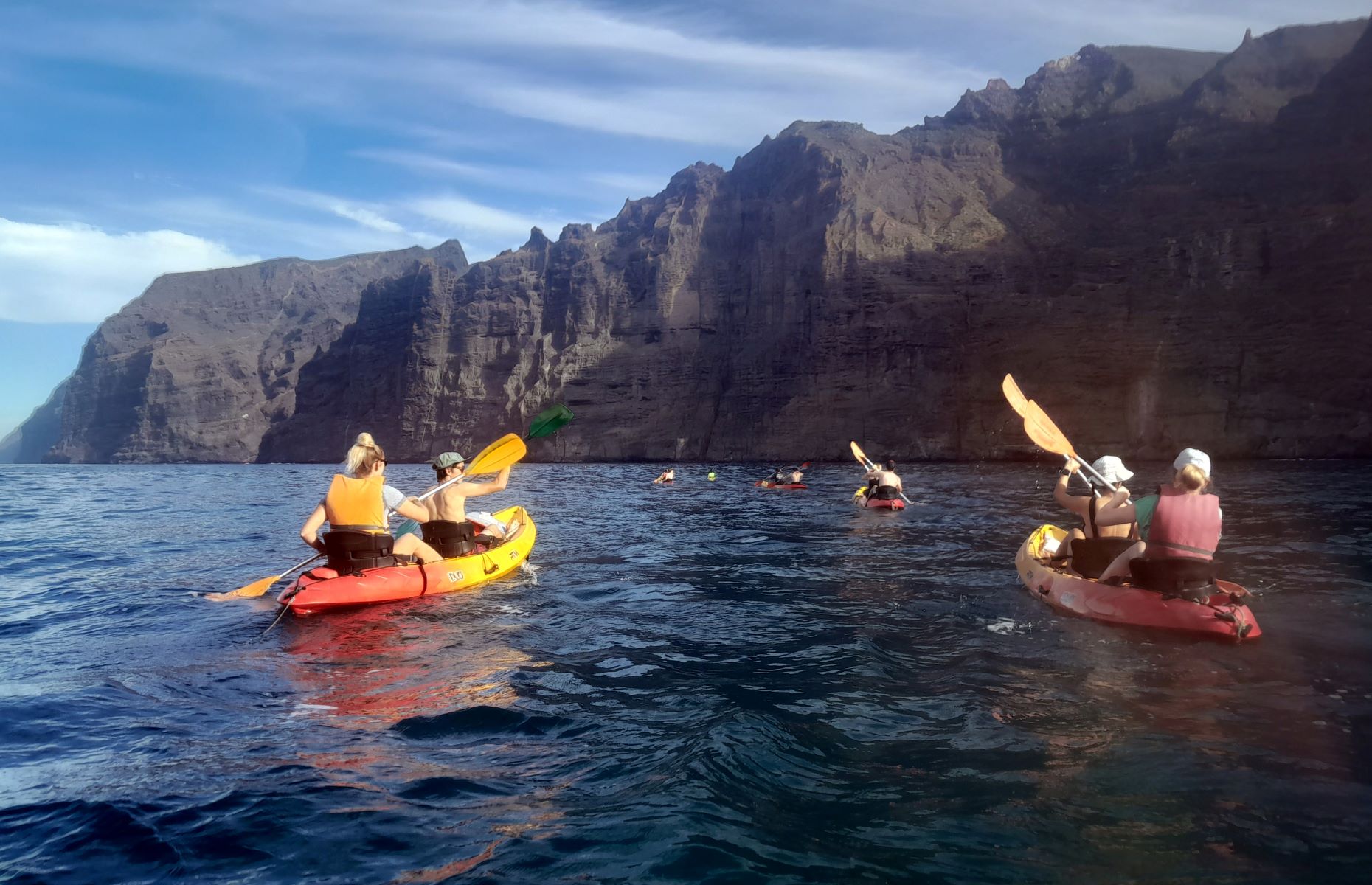 Tenerife Tourism Coporation
Surfing
It's not just Fuerteventura and Lanzarote that get the waves in the Canaries. Tenerife has some excellent breaks as well. Whether it's windsurfing, kitesurfing or regular surfing and bodyboarding you're after, the island has spots for people of all levels. Thanks to the low Atlantic pressure in winter and trade winds in summer, you can catch the waves all year round. As a rule of thumb, you'll find the biggest swells in the north and northwest of the island; in the south and southwest, they're much weaker.
If you're a beginner, enjoy a surf lesson in Playa de las Américas with It's On Private Surf Coaching. Get a feel for the board and find your balance with amazing views of Mount Teide right in front of you. El Médano resort is famous for windsurfing and kitesurfing (international and world cup events are held here) and attracts adrenaline junkies from around the world.
Tenerife Tourism Coporation
READ MORE: Explore Tenerife – things to do, where to stay and what to eat
Paragliding
There is always wind in Tenerife, so why not explore the island from the skies – if you dare? Paragliding has become a popular activity across the Canary Islands, with Tenerife offering more than ten take-off sites. Where exactly you get to fly to on your chosen day always depends on the weather conditions. In the north, the main area for the activity is Los Realejos; in the southwest it's Adeje, and Güímar in the east.
Tenerife Tourism Coporation
Authorised specialist companies such as Parapente Canarias offer tandem flights, from which you'll get to see pine-tree covered hills and valleys of banana plantations, before touching down on one of the black-sand volcanic beaches. You can also learn how to fly by yourself by taking a course or bring your own equipment if you're already experienced.
Canyoning
Can you imagine what the deepest corners of Tenerife look like? Join a guided canyoning tour with Canarias Nature Guides to find out. You'll be surprised how some of the island's gorges resemble Utah's world-famous slot canyons – majestic red cliffs squeezing down to a sliver.
The canyon of Los Arcos de Chimoche is exactly that. The 4-mile (6.5km) route takes around four hours to complete, during which time you'll walk, jump and abseil through forests, volcanic rock formations and down nine descents of up to 65 feet (20m) each.
If you're advanced in canyoning or climbing, get an authorised guide and explore the natural water park Los Carrizales near Masca village – you'll abseil through waterfalls and slip down impressive slides that'll leave you in awe.
Tenerife Tourism Coporation
READ MORE: The best cities to visit in Spain
Lead image: Tenerife Tourism Coporation
Be the first to comment
Do you want to comment on this article? You need to be signed in for this feature