A guide to Croatia's idyllic islands
Loved the world over for its stunning scenery, Croatia is a country that everyone raves about. But how many of its islands have you visited? We leave Dubrovnik and co. behind and delve into the country's floating wonders.
Croatia has well over a thousand islands – home to beautifully preserved medieval towns, gorgeous beaches, wild rocky coastline, oodles of history, lip-smackingly good wines, and landscapes so beautiful they'll take your breath away. But which ones should you visit? Here's a rundown on which Croatian islands you should head for.
Hvar
Hvar has long been held as the most glamorous of Croatia's islands, or pretty much anywhere on the Adriatic coast for that matter. With its large square, quaint harbour and luxurious hotels, Hvar Town is one of those essential stops on any tour of Croatia – and on the Paklinski otoci (also known as Pakleni Islands), just a short way offshore from here, you'll find some of the country's best nightlife.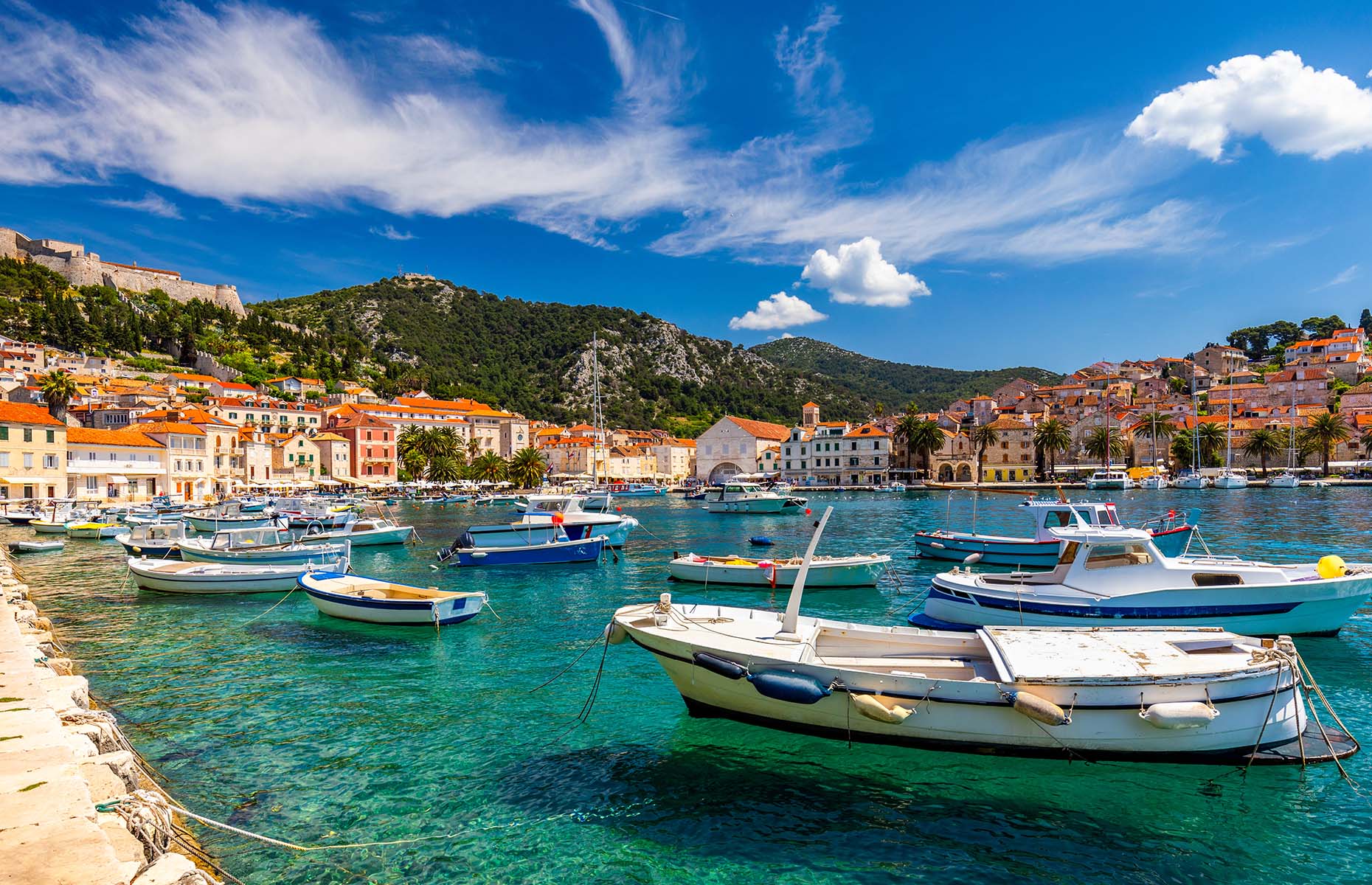 DaLiu/Shutterstock
For a different side of Hvar, head for UNESCO-listed Stari Grad Plain, an area cultivated and barely altered since the Ancient Greeks arrived here in the 4th century BC. The pattern of land use hasn't changed for over two millennia – the walled olive groves and vineyards still conform to the measurements of land division used by the Ancient Greeks, the chora. Hire bikes to explore this area and visit Stari Grad and Vrboska, or head up Sveti Nikola, the island's best hike, for stupendous views which, on a clear day, stretch all the way to Italy.
Catamarans run between Split and Hvar (see schedule), and ferries cover the route from Split to Stari Grad. There are buses between Hvar Town, Stari Grad and the town of Vrbovska.
Korčula
The highlight of this island, which runs parallel to Hvar, is the walled medieval town of Korčula itself, with its neat pattern of narrow streets and alleys, and beautiful cathedral, crammed onto a small headland. The town's most famous resident was the medieval traveller Marco Polo, and you can visit his house – though whether or not he really did live here, or somewhere else on the Dalmatian coast, is up for debate. Watch the Moreška, a traditional sword dance, performed in the old town, take a passenger boat over to the island monastery on Badija, or for a big, sandy beach, head for Lumbarda. If it's good wine you're after, try Pošip, the island's best-known white – or Grk, an autochthonous variety grown around Lumbarda.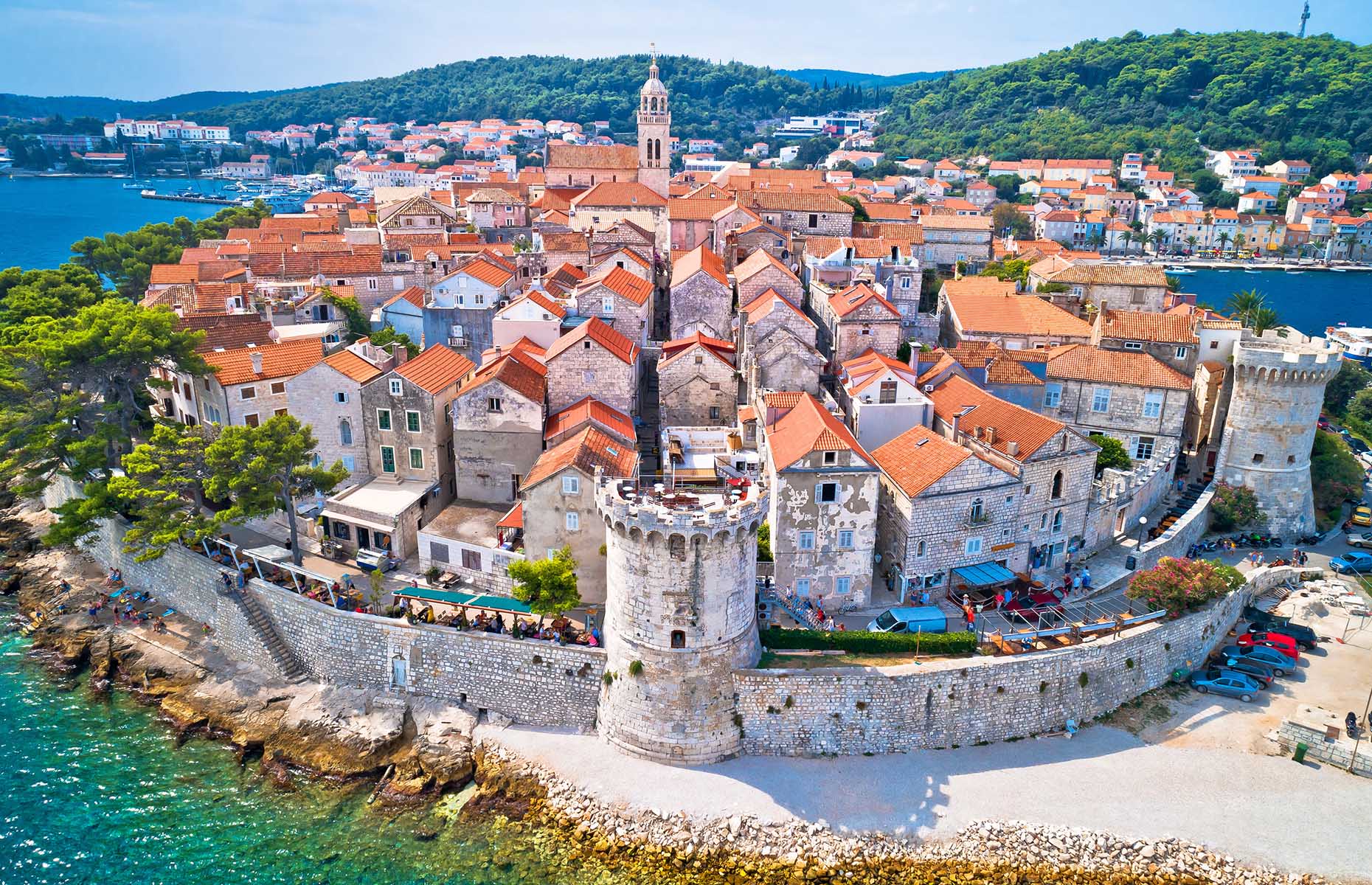 xbrchx/Shutterstock
Korčula is only a 10-minute boat ride from Pelješac – a long, slender peninsula recently connected to the mainland at its northern end by the new Pelješac Bridge. Pelješac has some stupendously good wines – oenophiles should head straight for the steep slopes of the Dingać region – while the sprawling medieval walls at Ston are some of the longest continuous fortified walls in Europe, running for over three miles (5km). And if that doesn't impress you, it's also the number one place in Croatia to indulge in a dozen fresh oysters.
There are good connections to Split and Hvar by catamaran and ferries from Split to the island's other main town, Vela Luka, plus connections to Dubrovnik in the summer, and a small passenger boat as well as a car ferry to Pelješac. Bus services connect Korčula Town with Vela Luka.
READ MORE: The world's most beautiful walled towns and cities
Vis
Vis was settled by the Greeks in the 4th century BC, and with the exception of a lighthouse on Palagruža (a tiny islet halfway to Italy) it's the furthest inhabited island from the Croatian mainland. The two main towns are Vis Town in the northeast – a lovely place, its rambling streets enclosed between the fortress-peppered headlands of a deep inlet – and Komiža on the opposite side of the island. Tiny Biševo is home to the so-called Blue Cave, a very popular boat trip from Komiža.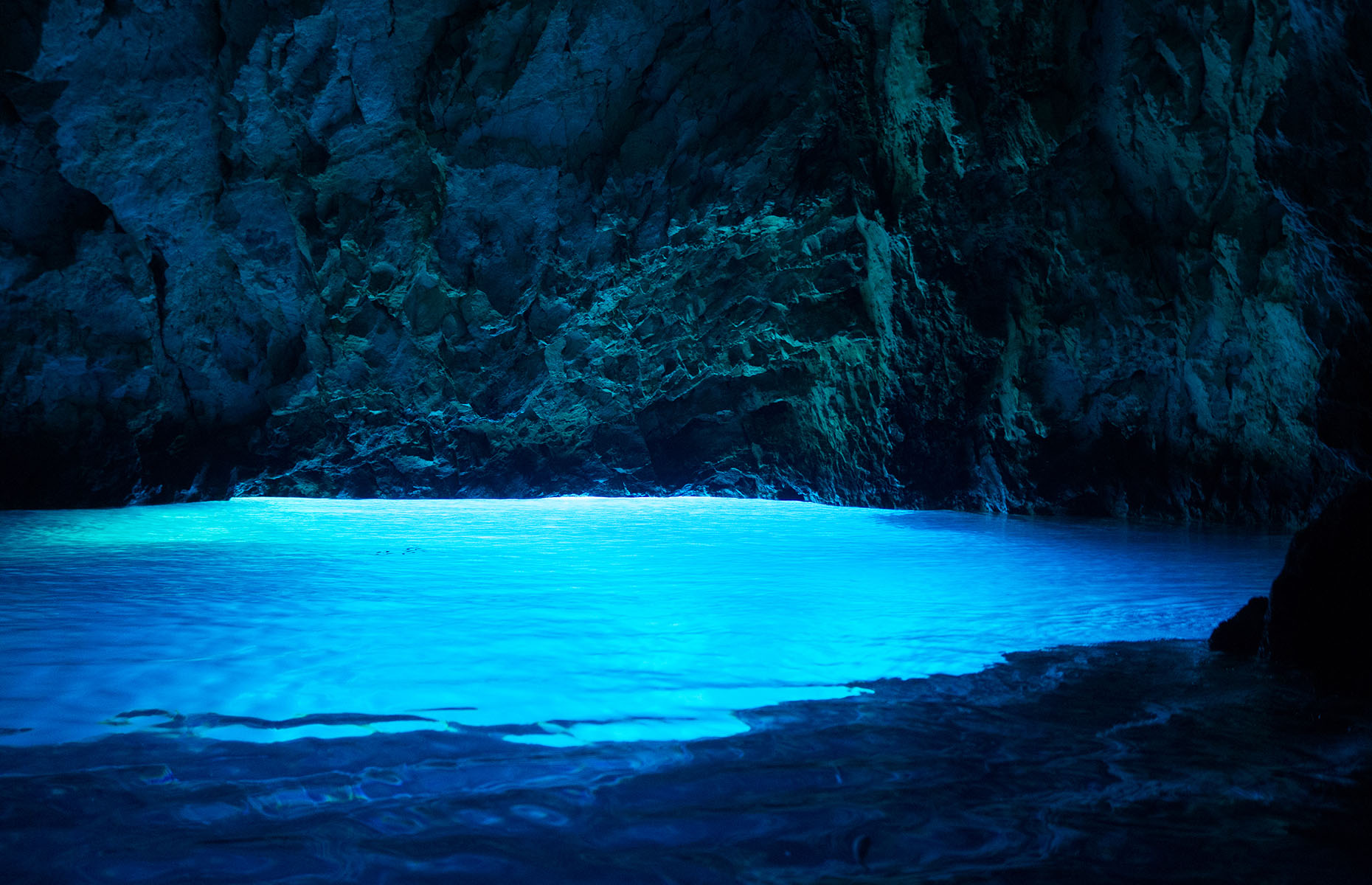 bkolodziej/Shutterstock
Far-flung Vis can be a great place to escape the crowds, particularly once you look beyond the Blue Cave, Vis Town and Komiža – try some kayaking on the rocky southern coast of the island, or have a go at stand-up paddleboarding.
Catamarans and ferries cover the route from Split to Vis, calling at the island of Hvar, and there's a regular bus service between Vis and Komiža.
Brač
The island of Brač is home to one of the most iconic landmarks in Croatia – Zlatni rat, a long, slender spit of pale fine shingle near Bol. It's hugely popular, and deservedly so – there's no other beach in Croatia quite like it, and this stretch of the coast opposite the island of Hvar is great for windsurfing too.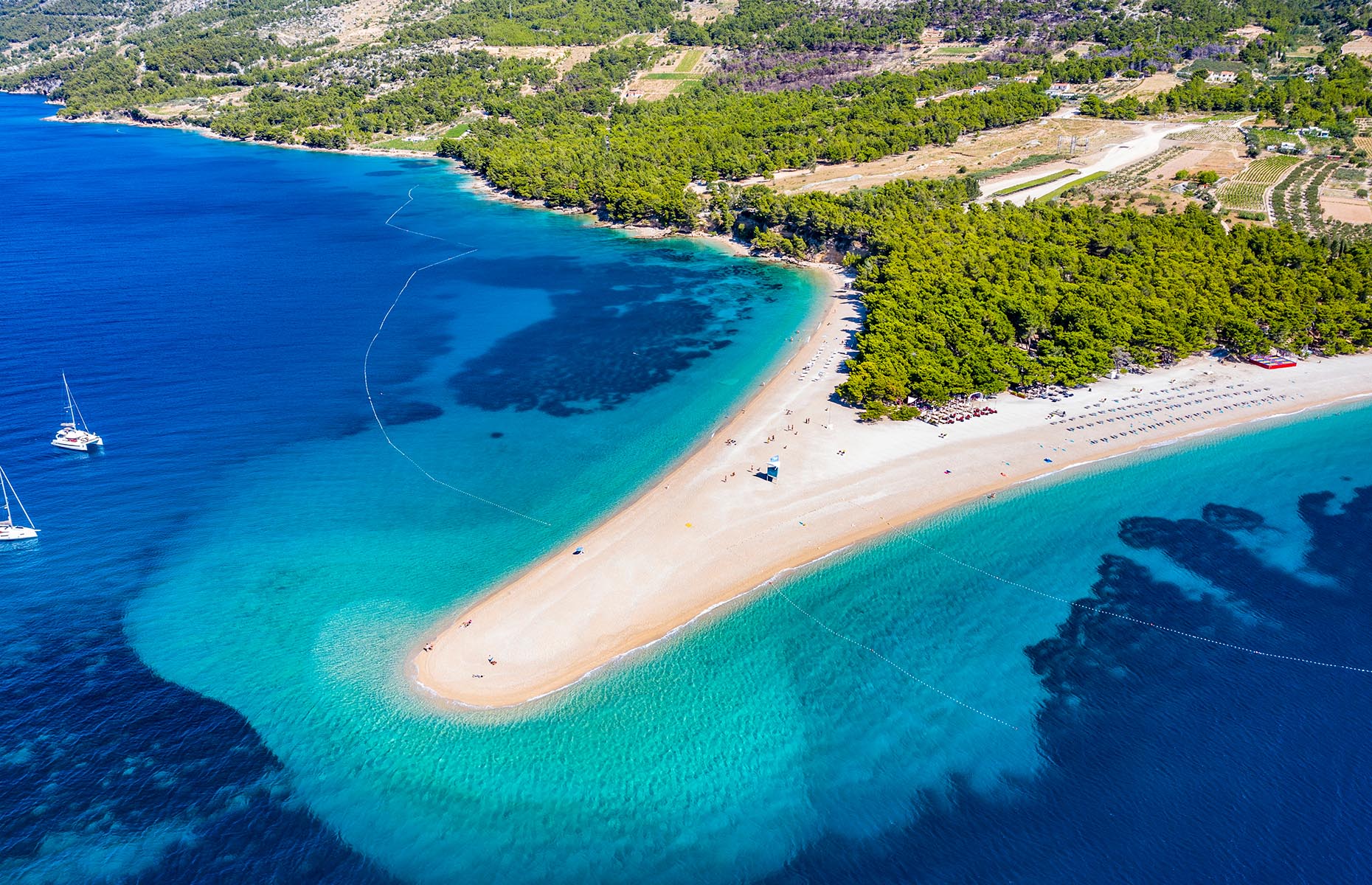 mislaw/Shutterstock
Head inland and you'll find a more rural side of the island, with agrotourism having developed in several places over recent years. Vidova gora is the highest point on any of the Croatian islands, and you can reach the top by road, or on foot following a well-trodden rocky path from Bol. It's also well worth making a visit to the old monastery and hermitage at Blaca.
Brač is just a short ferry ride from Split – there are ferries to Supetar and catamarans to Bol (continuing to Jelsa on Hvar) – and buses run between Supetar and Bol.
Krk
The largest of Croatia's islands (actually it's pretty much a tie in this respect with neighbouring Cres), Krk sits at the head of the Adriatic, and is connected to the mainland by a road bridge. It's famous for the huge beach at Baška – 1.1 miles (1.8km) of fine shingle in a broad, sheltered bay. Head for the small town of Krk for somewhere quieter – or to Vrbnik, the island's best wine producing region, to try some delicious Žlahtina.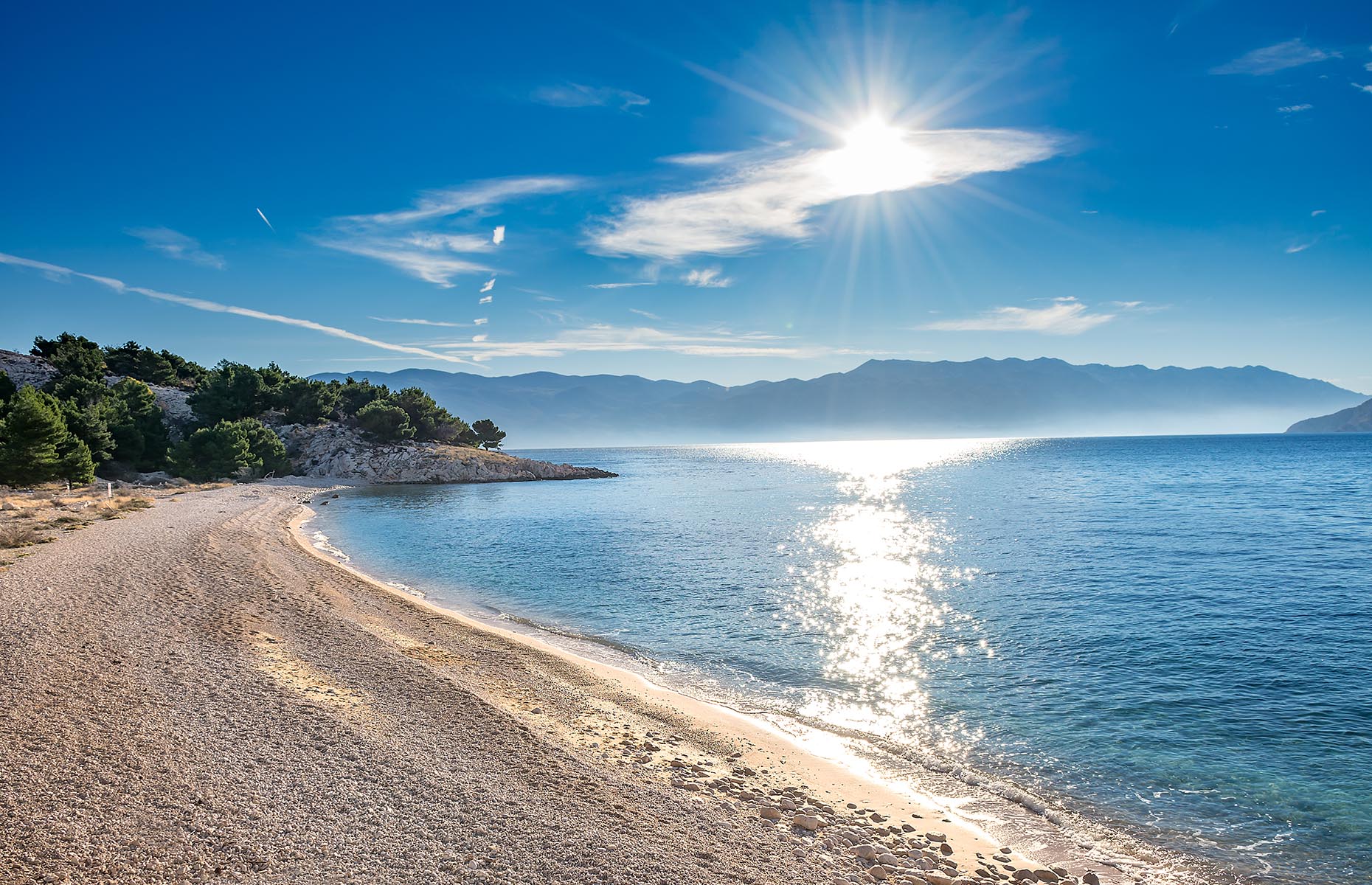 Natasa Kirin/Shutterstock
Krk was a centre of learning in the medieval period, associated in particular with the Glagolitic script, the oldest known Slavic alphabet. It's also one of the best islands for hiking, with lots of marked trails meandering across the rocky hillsides and almost lunar plateaus above Baška (but be warned, there's little or no shade, so take plenty of water and sun protection, and avoid hiking in the middle of the day in summer).
Ferries connect Krk with the island of Cres, and buses run between Baška and Krk, as well as on to Rijeka and Zagreb on the mainland, and to Mali Lošinj. Krk is also the location of Rijeka's international airport.
READ MORE: 27 hiking mistakes you won't want to make
Rab
At the opposite end of the coast from Korčula, Rab is another island with a particularly beautiful walled medieval town to rival the better-known Dubrovnik. If you're lucky you might catch Rab's medieval crossbow tournament, one of only two such competitions in the world, in the town square.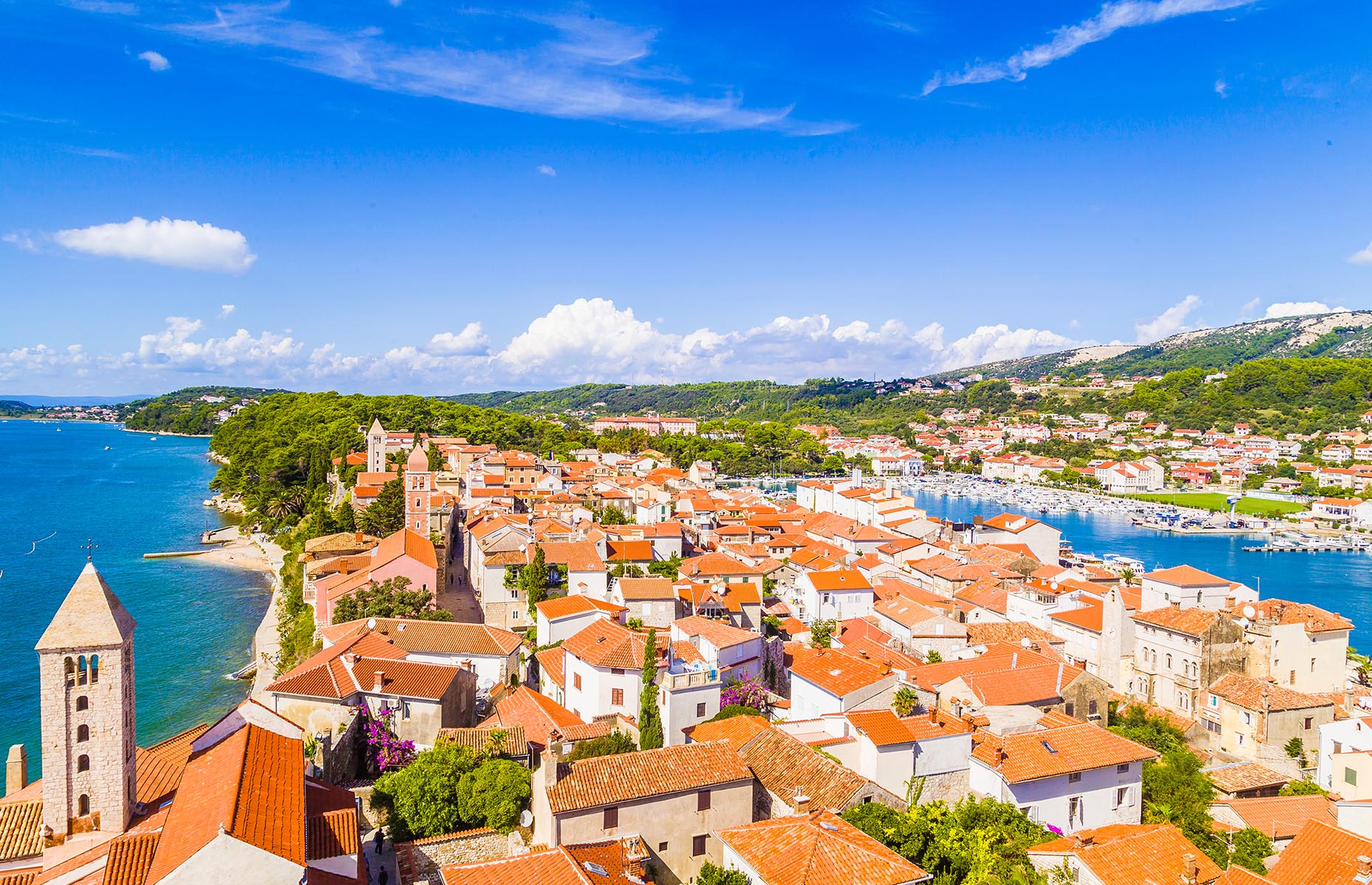 Barabasa/Shutterstock
The most popular beaches are in the north of the island, around Lopar – in particular Rajska plaža ('Paradise Beach'), one of Croatia's few genuinely sandy beaches, gently sloping and great for kids. Closer to Rab Town, the Kalifron peninsula is a lush, forested area, criss-crossed by cycle trails and fringed by secluded rocky coves – perfect for a bike ride or a quiet swim.
The catamaran running between Rijeka and the island of Pag stops at Rab Town, and there are buses to Lopar.
READ MORE: How to spend 48 hours in Dubrovnik
Lošinj
A road bridge connects Lošinj to the neighbouring island of Cres – the two are so close you could almost jump across. In fact, they were the same island until the Romans dug a channel across the middle to create a shorter route for shipping.
Ferries arrive at Mali Lošinj, the largest town on the island, while nearby Veli Lošinj remains a beautiful little fishing port, surrounded by cafés, and is also home to the Blue World Institute, which works to protect dolphins, sea turtles and other marine life in the Adriatic.
Harald Florian/Shutterstock
The sheltered beaches and bays at Cikat are particularly good for families, while Osoršćica might just win the prize for best hike on the Croatian islands – a long rocky ridge with breathtaking views.
Ferries connect Mali Lošinj to Zadar, and a catamaran service runs from Pula (and on to Zadar). Buses run from Mali Lošinj to the island of Cres, while a ferry can take you from Cres to the Istrian coast on one side and to Krk and the mainland on the other.
READ MORE: Explore incredible Istria
Kornati Islands
You'll need a boat to explore the Kornati Islands archipelago, a national park of 80+ impossibly beautiful little islets and splinters of rock scattered across an area of around 124 square miles (320sq km).
With the exception of the miniscule village of Vrulje on Kornat – the largest of these islands at 12.4 square miles (32sq km) – there's little here except sun-bleached rock, scattered vegetation, a few vineyards tended by people from the mainland, and some wandering sheep – all surrounded by the indescribably beautiful blue of the Adriatic. Leaving you with nothing to do except sail, swim, dive, sleep, swim some more, forget about the rest of the world and gaze at the stars.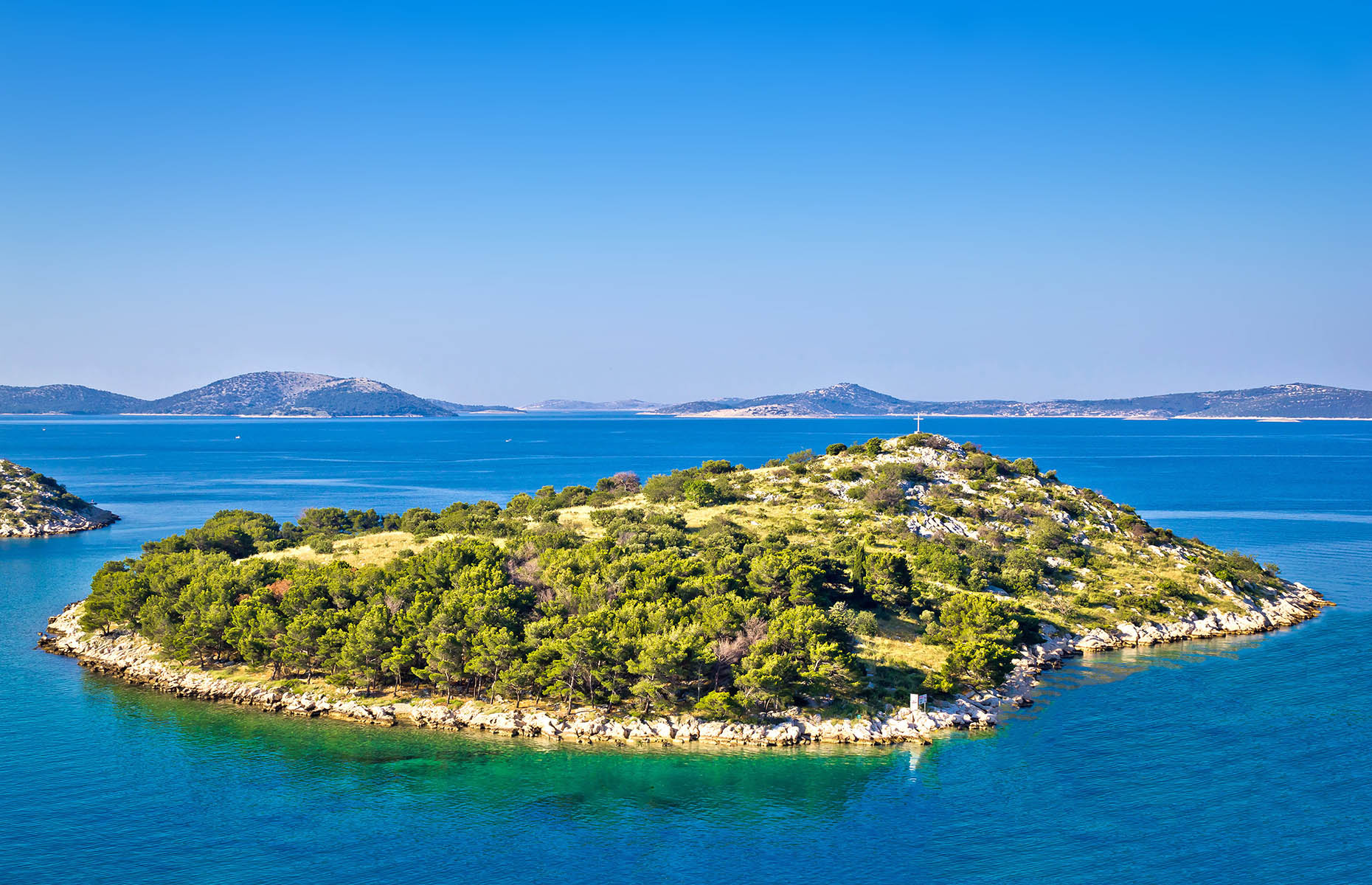 xbrchx/Shutterstock
See the Kornati Islands National Park website for more information.
Lead image: Ajan Alen/Shutterstock
Be the first to comment
Do you want to comment on this article? You need to be signed in for this feature