How to save money on multi-destination visits to the USA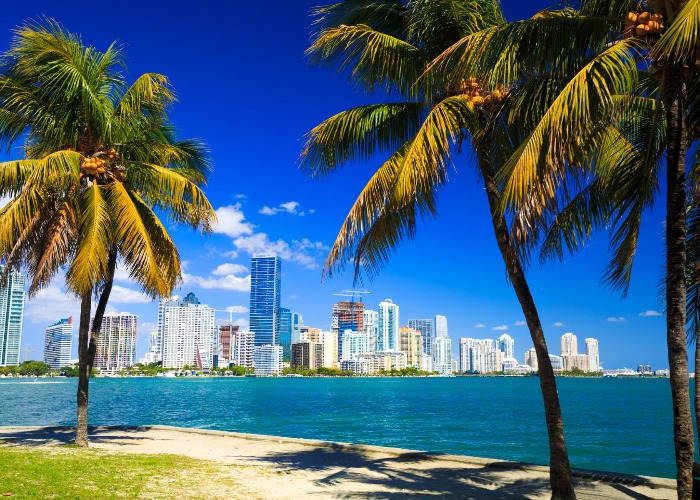 Heading to the States but can't decide which part to explore? Visit more than one area – it's cheaper than you think.
If you're considering heading to America on a trip which involves multiple destinations, it's easy to be put off by additional costs. The good news? With a little careful planning, multi-destination US holidays can offer great value for money. We've got the lowdown on the cheapest ways to incorporate multiple locations, whether you're planning on an all-American road trip or an Amtrak-based exploration of your favourite states.
Don't tie yourself to the same arrival and departure city
You don't have to fly in and out of the same destination. Travel agents can come in especially useful if you're planning on this approach. Although a growing number of airlines and flight comparison websites (such as Skyscanner and its multi-city flights option) will allow return tickets which include a departure from a different destination to the one you flew into, you'll still often pay more when booking online, rather than with a travel agent.
Overall, flying out of a secondary destination can save you huge amounts of money – it means you don't have to dash back to the destination you arrived at in order to catch your flight home, and makes it easier to incorporate road trips or long-distance train journeys.
Bag a park pass
America's got some of the world's most beautiful national parks, many of which are likely to be on your radar if you're planning a multi-destination visit to the USA. Consider buying one of the National Park Service's Park Passes, which can be purchased by international visitors as well as Americans.
An annual pass for just $80 (£60) will grant you access to 2,000 federal recreation sites, including national parks, national wildlife refuges and national forests. It will quickly prove its worth – entry to Yellowstone National Park, for example, starts at $20 (£15) for single entry on bike or on foot, and $35 (£26) for private vehicles.
Anders Riishede/Shutterstock
Rent a motorhome (for less)
Americans love motorhomes (or RVs, as they're referred to stateside). Which means there are an awful lot of the things gathering dust on driveways and in garages (research suggests the average RV spends 90% of its life on a driveway). For this reason, renting an RV from an owner – rather than an RV hire company – can result in huge savings.
Rent your RV through sites like rvshare.com, which lists thousands of privately-owned RVs all over the US, and you'll have a direct line of communication with the owner, who will meet you and take the time to give you a guided tour of your new home on wheels.
There's plenty of flexibility too, including options to have the RV driven to your desired location.
melissamn/Shutterstock
READ MORE: This is the best place to stay with your motorhome in every US state
Choose slow travel
Travelling around the USA by train or coach isn't just a fantastic way to save money – you'll gain a whole new perspective on America, and will pass through areas you'd never experience if you'd simply hopped on a flight.
Greyhound's coaches have come a long way in recent years – passengers get free Wi-Fi and entertainment systems similar to the ones found on airplanes, and the reclining seats all have power outlets. And then there's Amtrak – the preferred mode of transport of President Joe Biden, who's investing billions in America's rail infrastructure over the coming years.
Ken Wolter/Shutterstock
If you're travelling with companions, it's worth considering Amtrak's Share Fares which are designed for groups of up to six people. The principle is simple: the more people you travel with, the more you save. Book with one other person, and you'll save 15% on the second ticket. The discount increases incrementally – in a group of six people, one person will get a 75% discount on their fare.
READ MORE: America's most incredible train journeys
Consider relocation rentals
Another great way to save money on RV hire is to rent a relocation vehicle. Most RV rental companies will, at some point or other, need to reposition their vehicles – often to the other side of the country.
Always ask what relocation rental offers are available if you're renting an RV, and don't discount offers which require the RV to be driven to a destination which might be a short train ride from your intended destination – this option can offer such huge savings that you'll still be quids in. To find some of the best relocation deals in one place, check out websites such as imoova.com.
Fly to smaller airports
When booking internal flights, don't just consider the larger airports you'd fly into if you were travelling to the US from another country. You're more likely to bag cheap flights if flying between smaller airports, which are often serviced by a wider range of airlines (including budget ones) and you'll still be within easy reach of your destination.
Ronald Reagan Washington National Airport, for example, is much closer to the centre of Washington DC (just a six-minute drive) than Dulles International Airport (a 31-mimute drive).
Orhan Cam/Shutterstock
Even if a smaller regional airport is further away than the larger international one, flying to the smaller one can pay huge dividends. Queues at border control are likely to be shorter and you'll typically pay less for extras such as car hire at smaller airports too.
READ MORE: 11 tried and tested ways to get cheap flights
Think about timing
If you're taking multiple internal flights during your trip, avoiding peak travel times can save you huge amounts of cash. Knowing which cities roll out their highest rates for hotels can also help you cut costs.
"Know which cities are the most expensive at weekends, so you avoid them and plot your itinerary accordingly," says Theresa Wilson from USA specialist Bon Voyage. "Las Vegas, for example, can be 50% cheaper between Sunday and Wednesdays."
If you're desperate to visit a certain city at a certain time, consider staying in near cities or towns which have great transport connections with the destination you're keen to visit.
READ MORE: 7 ways to avoid paying too much for your holiday
Ditch the flight comparison websites
Only temporarily, we should add. The point is that smaller airlines might not necessarily be listed on larger price comparison websites such as Expedia or Skyscanner. Research which smaller airlines offer routes between the destinations in question and consider booking direct with the airline.
Use websites like fi-aeroweb.com to check out a list of American airlines, and bear in mind there are plenty of regional airlines worth considering. Silver Airways, for example, is a Fort Lauderdale-based airline which covers destinations in southern states such as Charleston, Orlando and New Orleans, as well as various destinations in the Bahamas.
Sean Pavone/Shutterstock
Embrace the stopover
Don't assume that you have to stick with traditional stopover destinations. "Most people fly to Hawaii via San Francisco or the west coast, but you can just as easily fly via New York or other USA destinations if you'd prefer to combine those places," says Theresa Wilson from Bon Voyage.
This is another situation where travel agents can come in incredibly useful. They'll be able to find the cheapest flights at the right times, and will often have suggestions for great money-saving stopover destinations which weren't even on your radar.
READ MORE: 7 secrets you need to know before booking with a travel agent
Lead image: Agnieszka Gaul/Shutterstock
Be the first to comment
Do you want to comment on this article? You need to be signed in for this feature