Dog-friendly travel tips: everything you need to know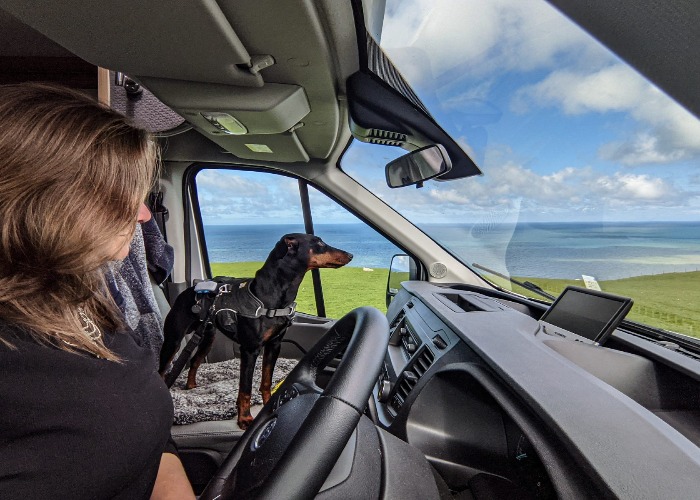 Dog-friendly travel is taking off thanks to a pandemic puppy boom, but travelling with your pet isn't always straightforward. It is always rewarding, though, so use our guide to make your dog-friendly holiday a breeze. 
Forget kennels and dog sitters and home boarders – taking your dog on holiday is always the best option. Whether it's a weekend away in Britain or a week-long beach holiday in France, there's little reason to leave the dog at home when there are so many spectacular dog-friendly places to visit and stay. Not only that, but it's rewarding for both of you too, allowing you to bond by exploring a brand new environment. 
While it might require some forward planning and a few extra considerations, travelling with your dog can be an enriching experience. You'll see more on your daily dog walks, talk to more people, and get to see your destination in a different light as a dog owner. Here's how to make dog-friendly holidays work for you.
Responsible & stress-free travel with your dog 
Before booking anything, you need to ensure you've mastered some basic commands to keep your dog safe while you're on the road. Good recall is key wherever you are, especially if you're walking near wildlife or likely to be on busy beaches, but another essential is "lie down" or "settle". This is most important for when you're in the pub, having breakfast in the hotel or using public transport. If you can get your dog to settle on command, you'll have a much more pleasant meal and so will the other diners around you.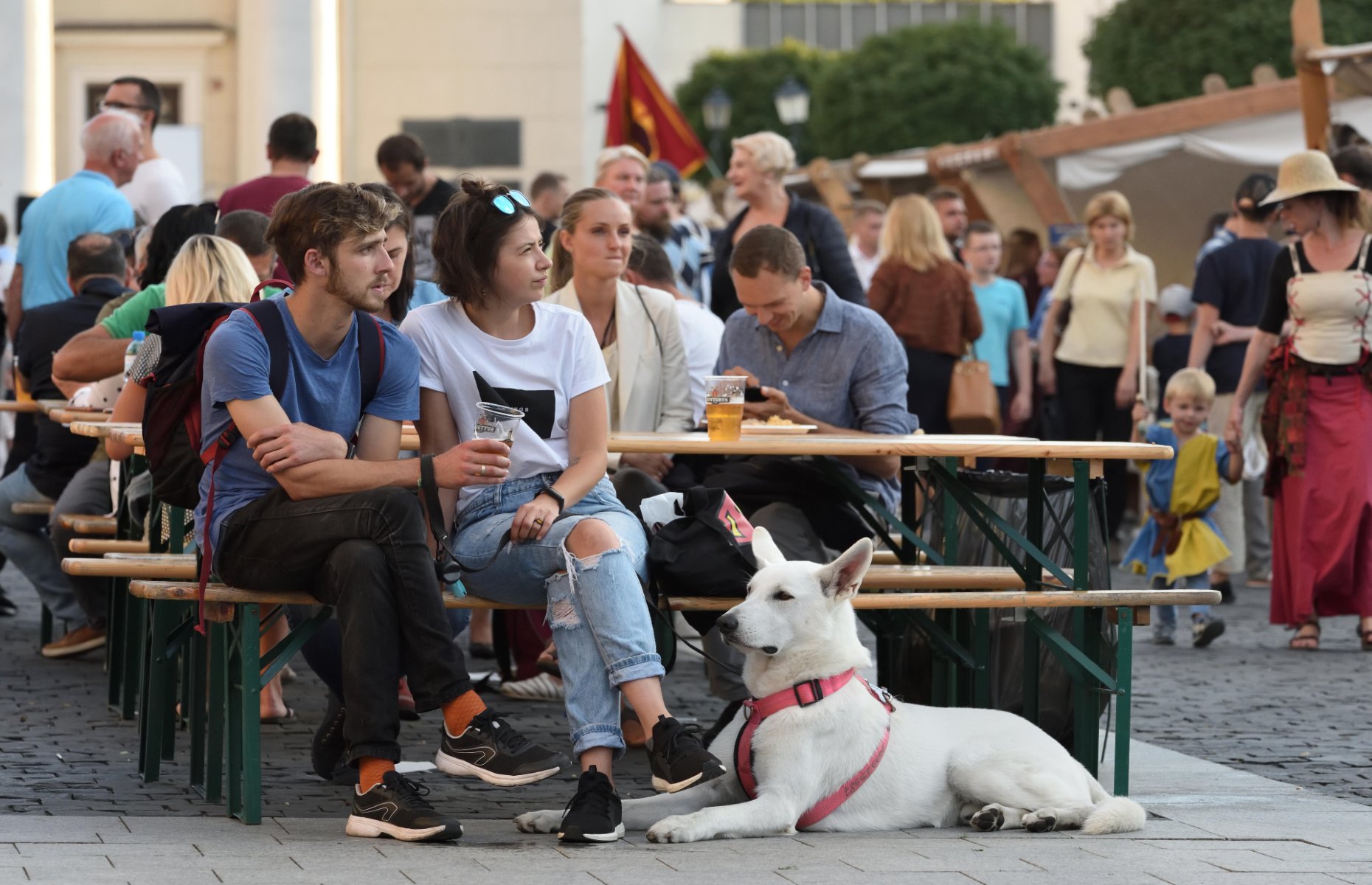 studio4a/Alamy
Generally, dogs should be kept away from all wildlife and livestock, but if you encounter cows on a walk and begin to sense they're a little too interested, drop your dog's lead and head for safety (the cows might see the dog as a threat and so letting your dog run away from the cows is the best solution in this instance, then they'll likely leave you alone). Be aware of the wildlife that might thrive in your destination, whether it's ground-nesting birds in fields between March and September, or seals on the coast. 
READ MORE: 9 ways to save money on self-catering holidays
Pet passports for dog-friendly holidays 
Post-Brexit travels with the dog are a little more complicated than previously. Pet passports are now a thing of the past in Britain and instead, you've got some form filling and a health check to complete. For travel within the EU, you need to get an animal health certificate from your vet – usually between £100 and £250 depending on your practice – and you must be able to provide proof of their microchip, rabies vaccination and tapeworm treatment. To return to the UK from some EU destinations like Spain, you'll need to get an antiparasitic treatment before travelling home. 
Peter Kirillov/Shutterstock
Regular travellers to the EU might prefer to obtain an EU pet passport from their destination during a holiday. They can cost as little as €15 (£12.50) and can be used for multiple trips, rather than paying for a new travel certificate each time you go on holiday. 
For travel to the USA, your pet only needs to have a health check to prove they're fit to travel. Rabies vaccinations are recommended but not required. 
More information on travelling abroad with your pet can be found on the gov.uk website.
Driving with your dog 
Road tripping with a dog can be hugely rewarding. The freedom to stop for a walk wherever you like and the ability to hop out for loo stops whenever necessary make road trips one of the best ways to travel with a dog. But there are some rules around having your dog in the car that you need to be aware of, particularly around restraining them. If they're loose in the vehicle, you could be fined up to £5,000 for breaking the Highway Code, so purchase a dog seat belt and harness, a travel crate or a set of bars to stop them from hopping in the car from the boot. 
dezy/Shutterstock
Travel sickness in the car can be an issue for some dogs, but ginger biscuits can do the trick, or you could try Travel-Eze tablets. If these fail, simply refrain from feeding your pet up to four hours before you travel. 
READ MORE: Everything you need to know about road tripping in Europe
Flying with a dog
If your dog is small enough, flying with them in the cabin is the best way to travel by air, but in Britain it's not always possible unless they're a service animal; all pets must be kept in the hold when arriving or departing the UK. This can be a deeply stressful experience, but tranquilising your pet isn't advised. Instead, try to get them used to spending time in their travel crate, and ensure they have all their favourite toys and bedding on the flight if you have to check them into the hold. Alternatively, travel by car or ferry to another country such Ireland or France to be able to fly with your dog in the cabin. 
EQRoy/Shutterstock
In the US, American Airlines and JetBlue have the best dog-friendly policies – the latter even has a points programme for your pet (JetPaws) – and tend to charge less than £95 for the privilege of flying with your dog. Small dogs are usually allowed in the cabin, providing they can fit in a carrier that sits under the seat in front of you, and larger pets can be checked into the hold.
Taking the dog on a ferry & cruise ships
The only cruise operator to accept dogs on board is Cunard, who have a special kennel on their Transatlantic crossing to New York City on the Queen Mary 2. They have an open deck area – complete with lamp post and fire hydrant for marking territories – for exercising the dogs, and you can visit during specific hours.
For travel to Europe from the UK, the ferry is one of the best ways to travel. Most operators are happy for you to keep the dog in the car during the crossing, and many have specific areas where you can take them to toilet and exercise. 
On longer crossings, such as the DFDS Newcastle–Amsterdam route, P&O's Hull–Rotterdam or all of Brittany Ferries' crossings, you can book pet-friendly cabins for overnight journeys.
How to book dog-friendly holidays
When it comes to taking dog-friendly trips, it's always sensible to book through an operator who understands the needs of dog owners, such as PetsPyjamas. While many hotels will add on a fee for bringing your dog – sometimes upwards of £50 per night – they'll always get to sleep for free with PetsPyjamas, plus they'll get water bowls and treats in the room on arrival. Other operators like Canine Cottages and Dog Friendly Cottages also offer great search and booking functions.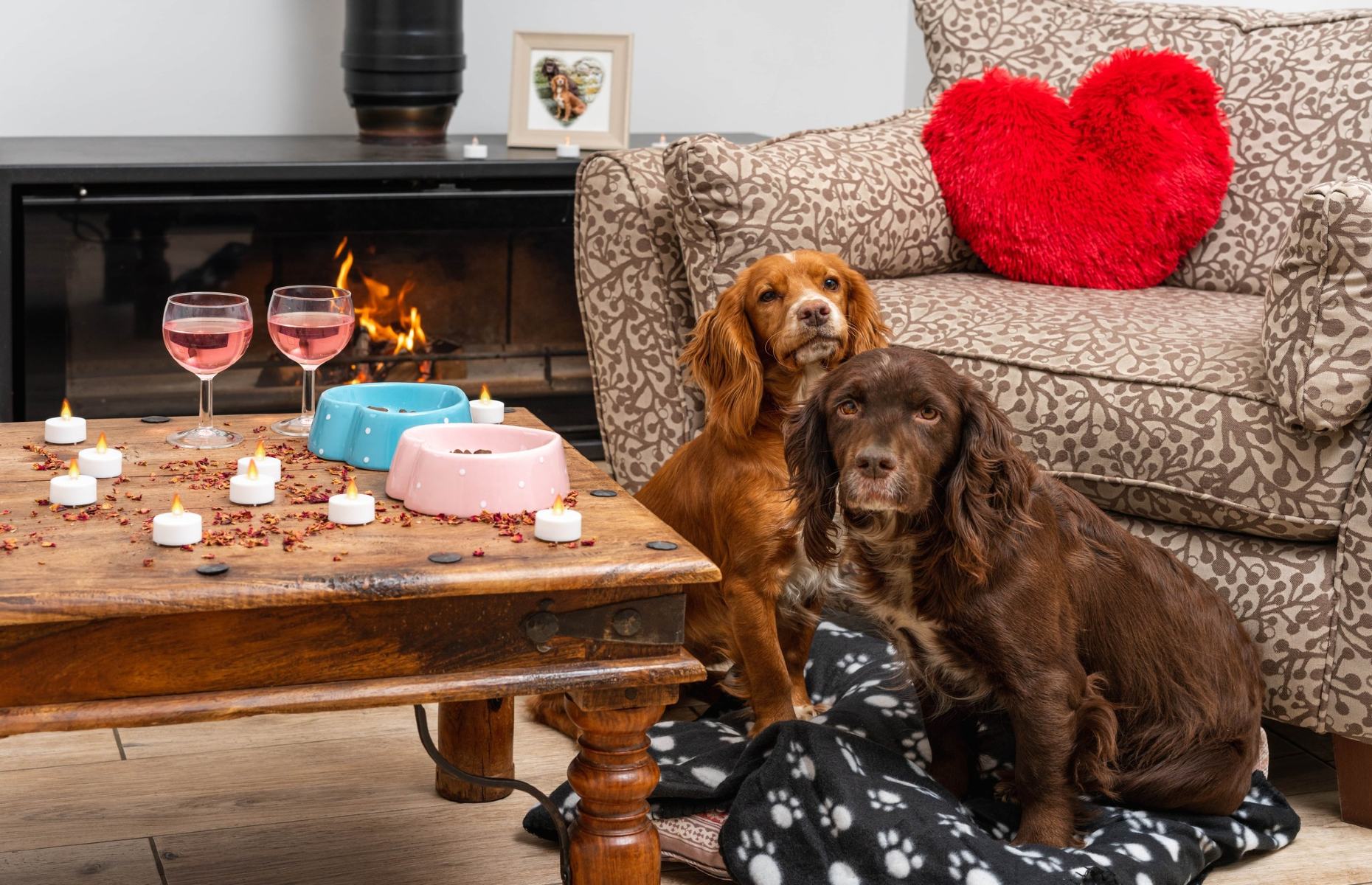 Canine Cottages/Facebook
When booking transport, it's always best to go directly to the airline or ferry company and ensure they know you're bringing along a dog in case there are extra charges or specific dog-friendly areas you need to be seated in. Don't forget to check if your pet's insurance covers trips abroad too. 
Which are the best dog-friendly destinations? 
Britain is a nation of dog lovers and there are hundreds of hotels, restaurants, pubs and even attractions that will let you explore with the dog. Destinations like the Yorkshire Dales, North York Moors, Snowdonia National Park and the New Forest are ripe for dog-friendly breaks, with plenty of walks and a few exciting attractions too.
But city breaks can also be brilliant. Lincoln is a surprisingly dog-friendly city, and London has plenty to offer urban pooches. Families will love a trip to the Welsh capital where you can camp right in the city centre and visit the fantastic St Fagans living museum. Bradt's Dog-Friendly Weekends guidebook is a brilliant resource for British holiday inspiration.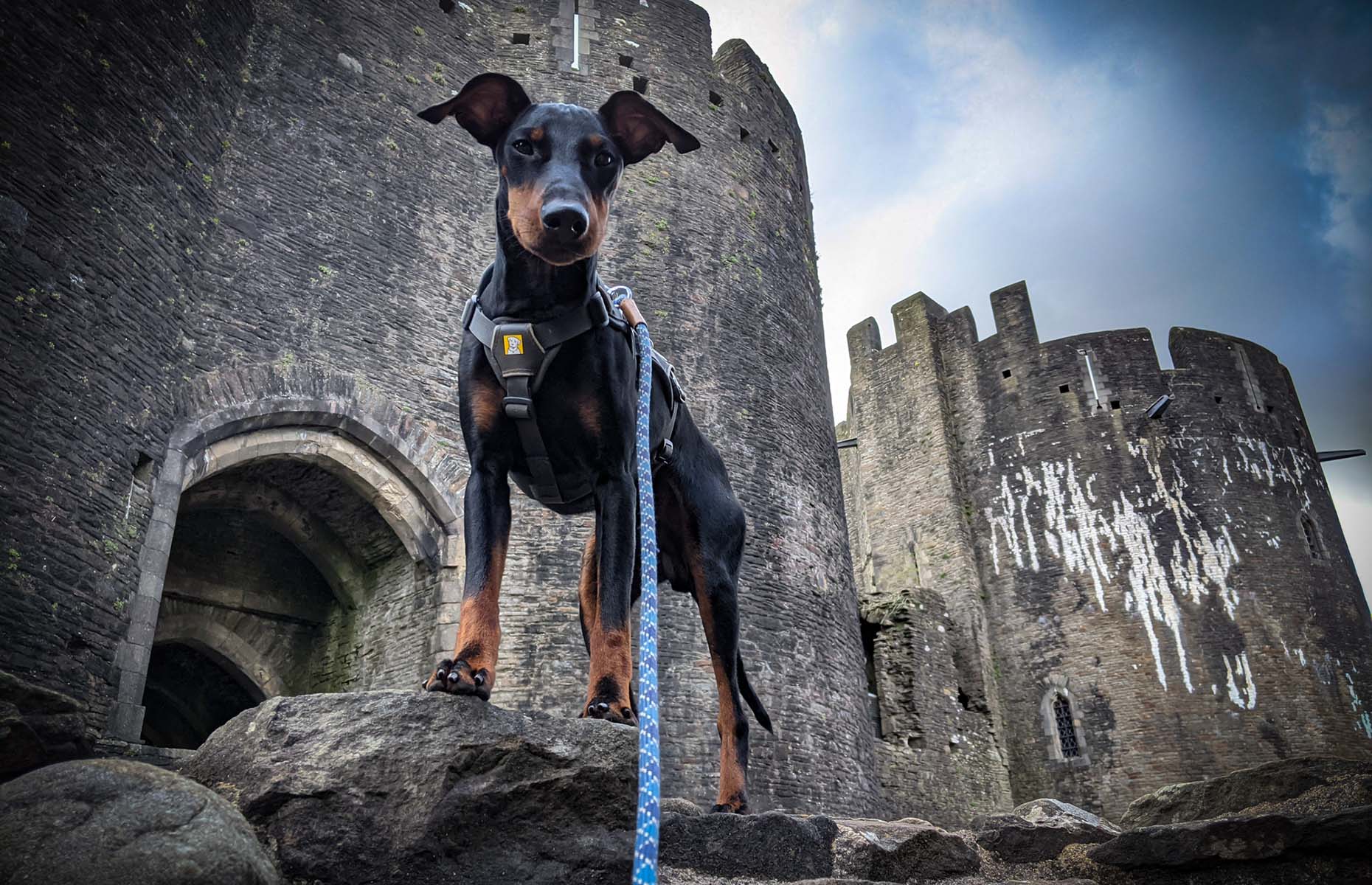 Lottie Gross
In Europe, France is a popular destination for dog owners, with plenty of beaches around Pas-de-Calais that allow dogs year-round. The US is also an incredibly dog-friendly country, and there's a brilliant guidebook to New York City for dog owners by Hoxton Mini Press.
Packing essentials for your dog-friendly trip
Beyond your dog's food, bedding and other everyday items, there are a few essential bits that will elevate your dog-friendly holiday. Pack these essential accessories: 
A spare blanket – If you've got a dog that loves to jump on the bed or snooze on the sofa, it'll be worth packing a travel blanket you can use to cover soft furnishings in case of muddy paws or shedding fur. If they sleep in the bed with you, bring a spare sheet or duvet set if their fur sticks to everything.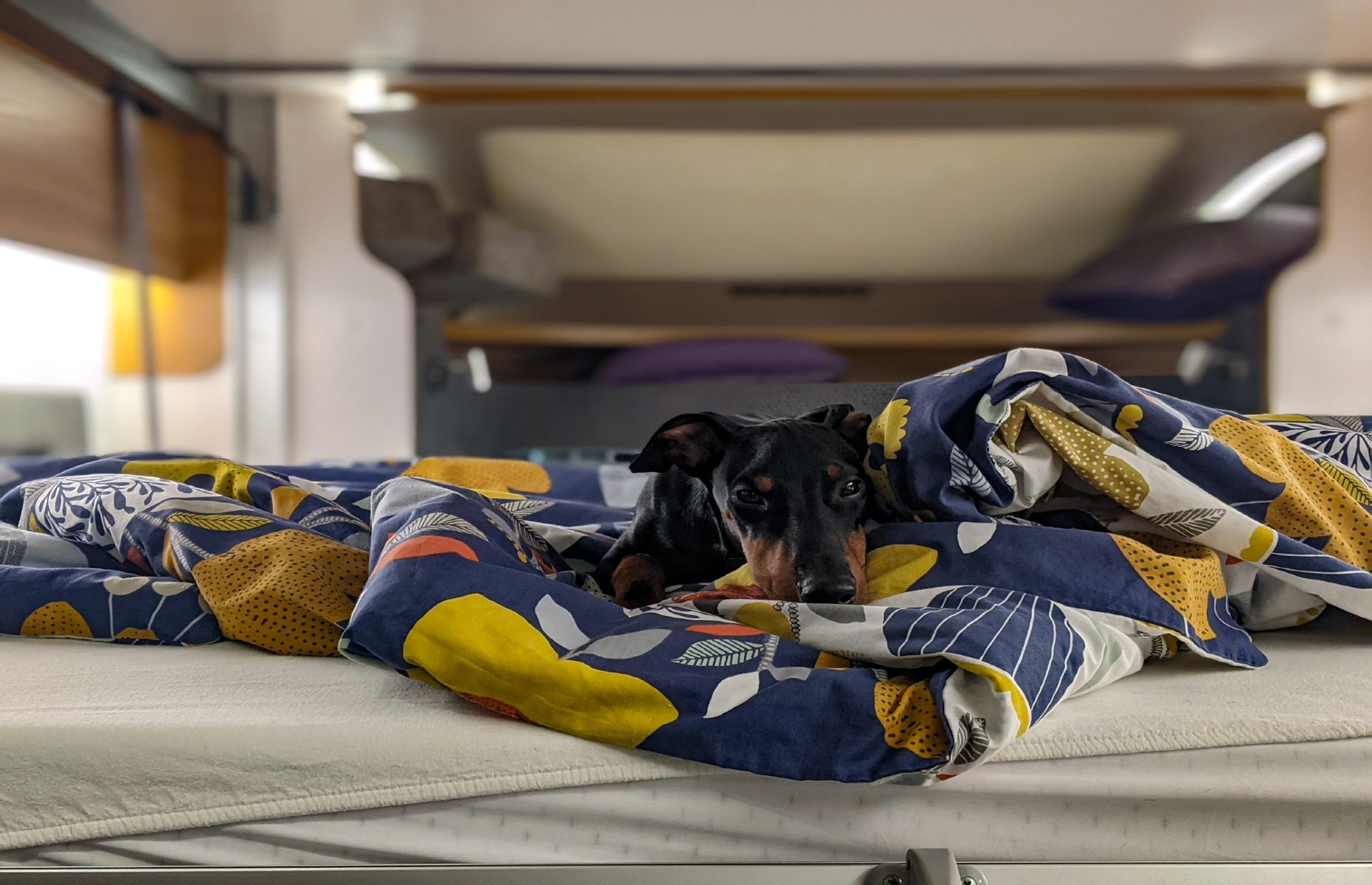 Lottie Gross
A first aid kit – Accidents happen, and when your pet is unwell or injured, there's nothing worse than being unprepared. This dog first aid kit from Simply 2 Pets has everything you need to help treat your dog in the event of an accident. It's still always best to get a professional veterinarian examination, though, so only use this as a stop-gap before seeking medical advice.
A Dicky Bag – This zippable pouch is great if you're likely to be walking long distances away from waste bins. It can attach to bag straps or via a carabiner to belt buckles, and provides a place to pop the poo once you've picked it up so you can carry on hands free. 
Chews – If you've got a dog with lots of energy, it's important to ensure they've got something to do while you're imbibing in the pub. Long-lasting chews like pizzle sticks, antler horns, pig's ears and camel skin strips are a really great way of keeping them busy while you're dining. JR Pet Products has a fantastic range of natural chews. 
Enrichment toys – New places, new people and so many new smells – holidays can be overwhelming for some dogs. Enrichment toys like this travel pack from Ruffle Snuffle are important for keeping your dog's stress levels low, as sniffing out treats and completing puzzles (such as trying to get treats out of a ball) help to keep them calm. 
Buoyancy aid – If you're likely to be kayaking, canoeing or boating in some way, packing a dog buoyancy aid could be a good idea as not all watersports hire companies will offer them. Red Original's is fully adjustable and has a useful handle for plucking your pup out the water if they do end up splashing around. 
Tie tether – An essential for campers, this will ensure your dog can enjoy a little freedom on your pitch while you needn't worry about them running off to secure a free sausage from your neighbours' barbecue. 
READ MORE: Everything you need to know about ETIAS (new European visa)
Lead image: Lottie Gross
Be the first to comment
Do you want to comment on this article? You need to be signed in for this feature