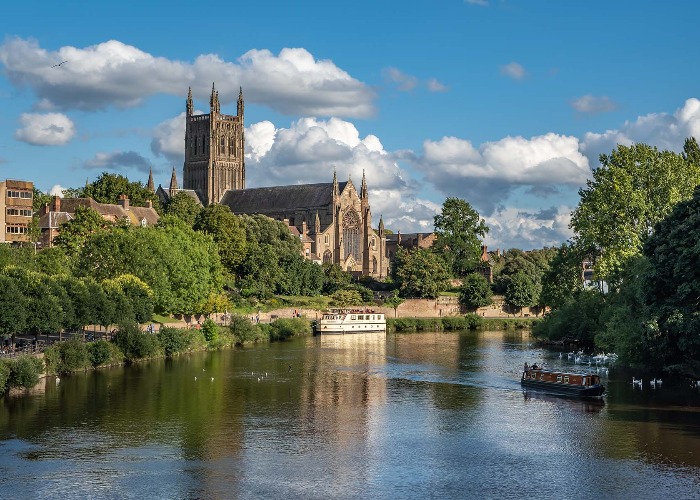 Look beyond its famous sauce and you'll find a stunning cathedral, peaceful swan sanctuary and a legacy of world-famous porcelain manufacture.
Located on the banks of the River Severn, Worcester is all too often overlooked as a destination for a rewarding city break – which is a shame, because it's a lovely place.
It's not too big to explore in a weekend and has oodles of history. There's a handful of first-rate museums – all of which include excellent interactive areas, making them as immersive and interesting for children as for adults – as well as a good choice of restaurants (including some great vegetarian and vegan options), and convenient rail links make it a doddle to get to. It also makes a perfect gateway for exploring the surrounding countryside, from riverside strolls to walks in the Malvern Hills.
Friday
Check-in at: Diglis House Hotel. Situated on the riverbank just a five-minute walk from the cathedral, the Diglis has 29 rooms, 12 of these in the main house – the four-poster suite is particularly nice, with plenty of space and river views on two sides. There's also a terrace, perfect for enjoying a sundowner, and a big bright conservatory where breakfast is served overlooking the Severn.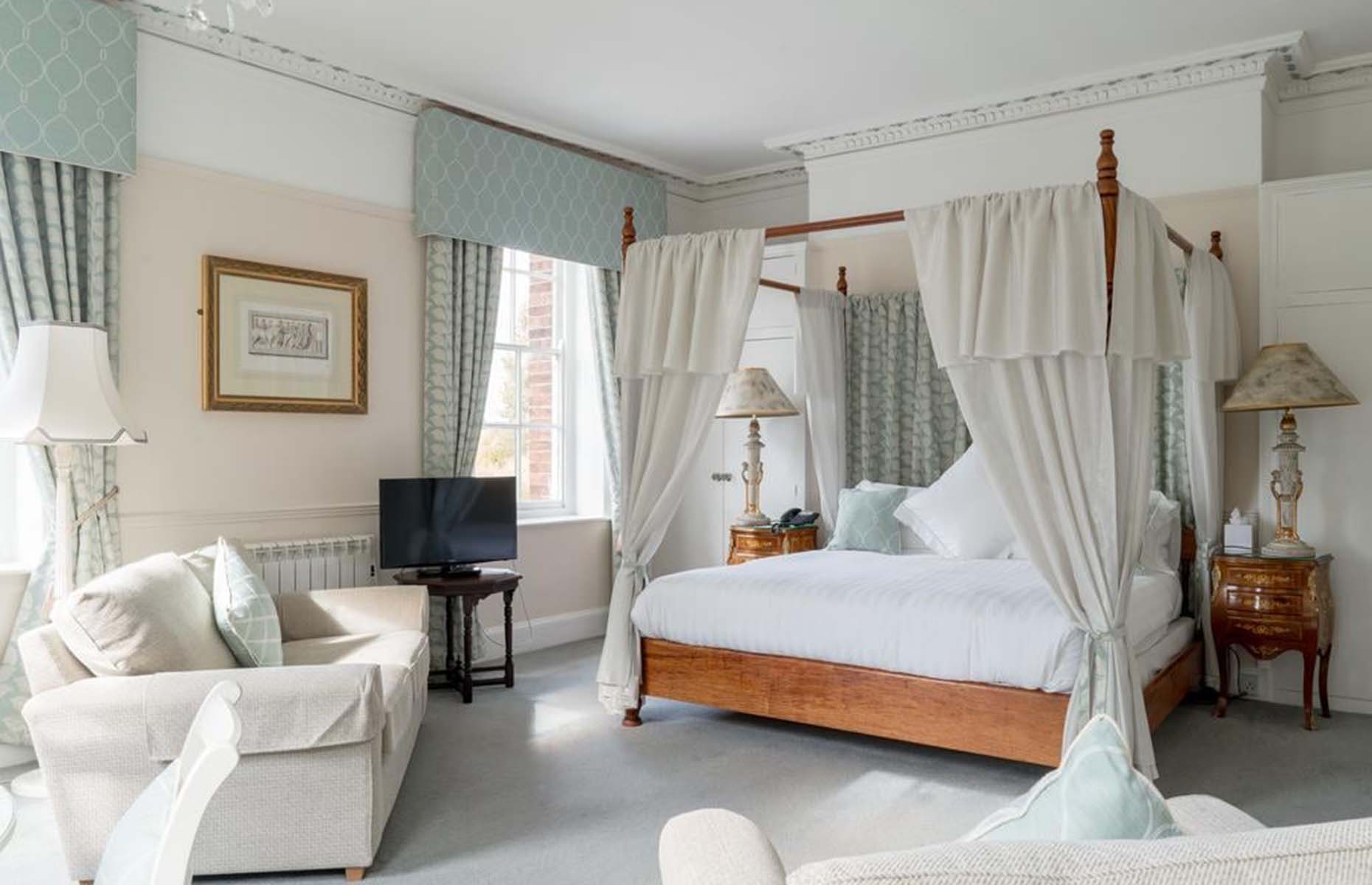 Diglis House Hotel/Facebook
READ MORE: 9 of the UK's most spectacular Areas of Outstanding Natural Beauty
Explore the riverside: Follow the riverside promenade towards the historic 18th-century bridge, rebuilt in the 1930s. This whole stretch of the river is a designated Swan Sanctuary – you can see up to 200 of these huge, majestic birds here. If you feel like feeding the swans, you can buy small bags of 'swan food' (far closer to their natural diet than chunks of bread) from the cathedral shop. Head through the Water Gate – and on your way check out the sobering sight of flood levels recorded on the sandstone walls. Walking uphill then left from here takes you to the cathedral.
Visit: Worcester Cathedral. Founded nearly 1400 years ago, with work on the present building starting in 1084, it's one of the most interesting cathedrals in Britain. It covers a whole slew of different architectural styles – from Norman to Gothic (both Decorated and Perpendicular styles) and even some re-used material from an earlier Saxon building – and the earliest round chapter house in the world, dating from the 12th century.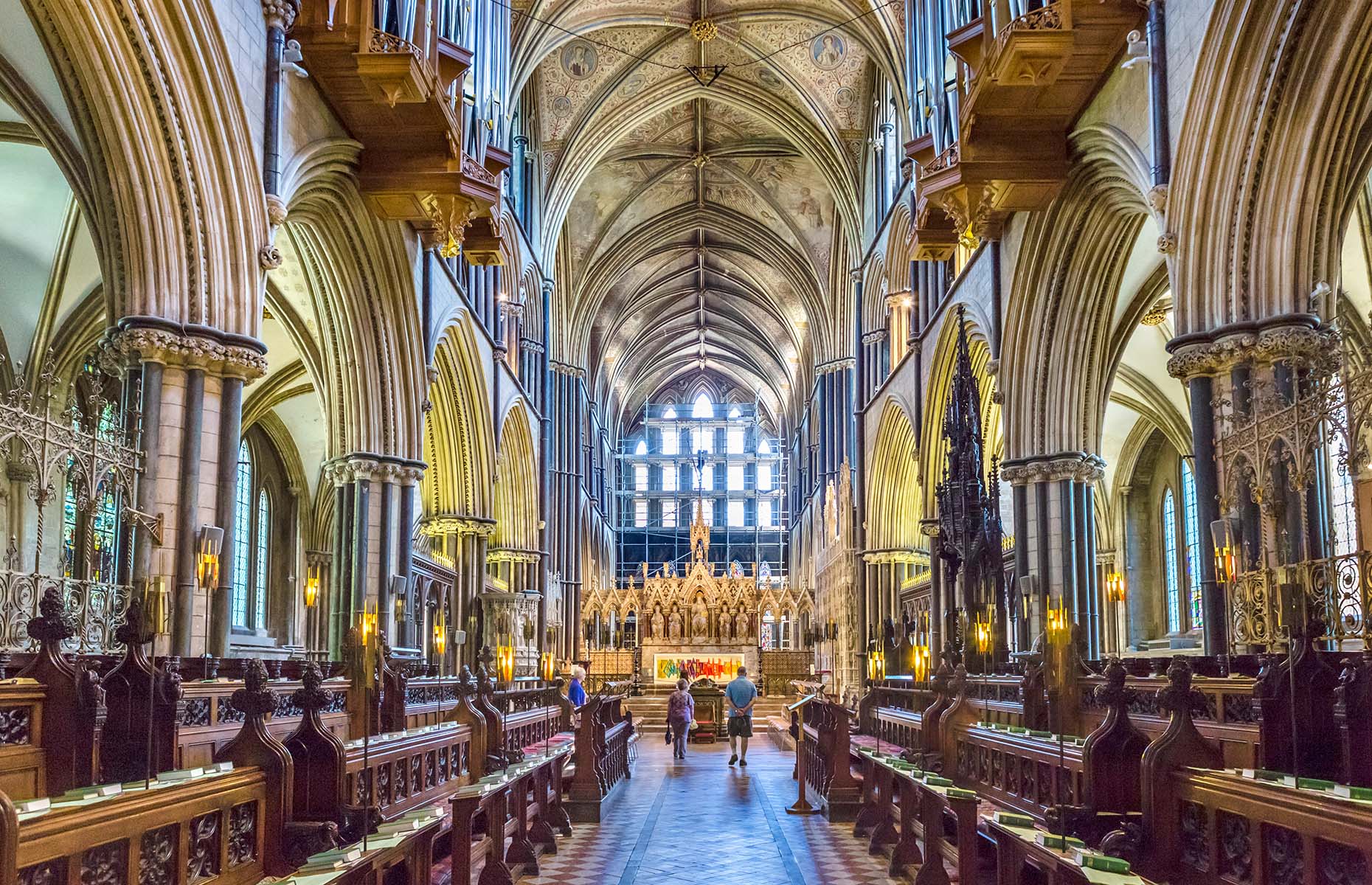 Ian Dagnall/Alamy Stock Photo
It also has a royal burial – King John, whose tomb has the oldest royal effigy in England. There are carved wooden misericords dating from the 14th century – and don't miss the cloister, with its striking Millennium Window and small café, and the crypt. It's definitely worth catching one of the tours (11am and 2.30pm, Monday-Saturday), which will give you a better insight into the building's history and highlights.
See the Glover's Needle: This local landmark, which still dominates the city's skyline, originally formed part of St Andrew's Church, which was demolished in the 1940s – however the slender, 246-foot-tall (75m) spire was left standing. The name refers to Worcester's historic gloving industry, which once employed some 30,000 people in and around the city.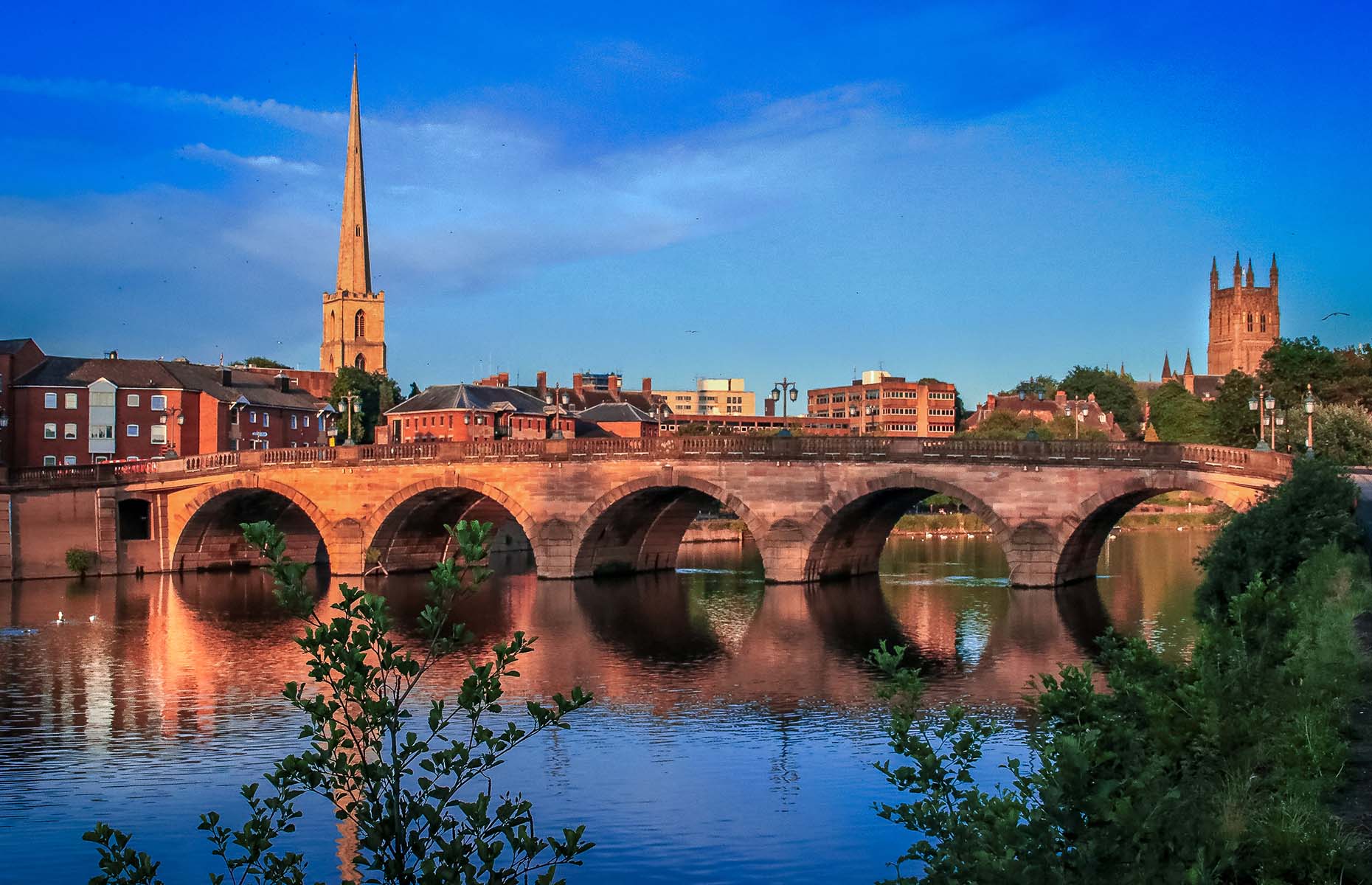 Harry_W/Shutterstock
Catch an exhibition at: The Worcester City Art Gallery and Museum.This small museum and art gallery puts on some excellent temporary exhibitions with Hokusai's Great Wave and a Canaletto exhibition both scheduled for 2022. The museum's permanent collection includes natural history and an entire 19th-century chemist's shop and is also a good place to learn more about Worcester's gloving industry.
Have dinner at: The Olive Branch. It's an excellent Mediterranean-inspired restaurant, serving tapas and mains ranging from the likes of lamb tagine to several different paellas. There are some delicious sharing boards, perfect as an entrée for two or a main for one – including a fabulous vegetarian board heaped with sweet potato tortilla, courgette fritters, tapenade, grilled flatbreads and other goodies – and the drinks list includes a wickedly extensive list of gins.
READ MORE: 48 hours in Birmingham
Saturday
See a priceless porcelain collection: The Museum of Royal Worcester is home to the world's largest collection of Worcester porcelain. It's an outstanding museum, showcasing some 250 years of porcelain manufacture here on Severn Street, brought to life by the stories of some of the artists and master craftsmen and women who created it.
Objects are beautifully displayed (the galleries were all refurbished in 2018) and there's a good audio guide. There's also a ceramic studio where you can have a go at painting your own pot or tile, which the museum will glaze and fire for you.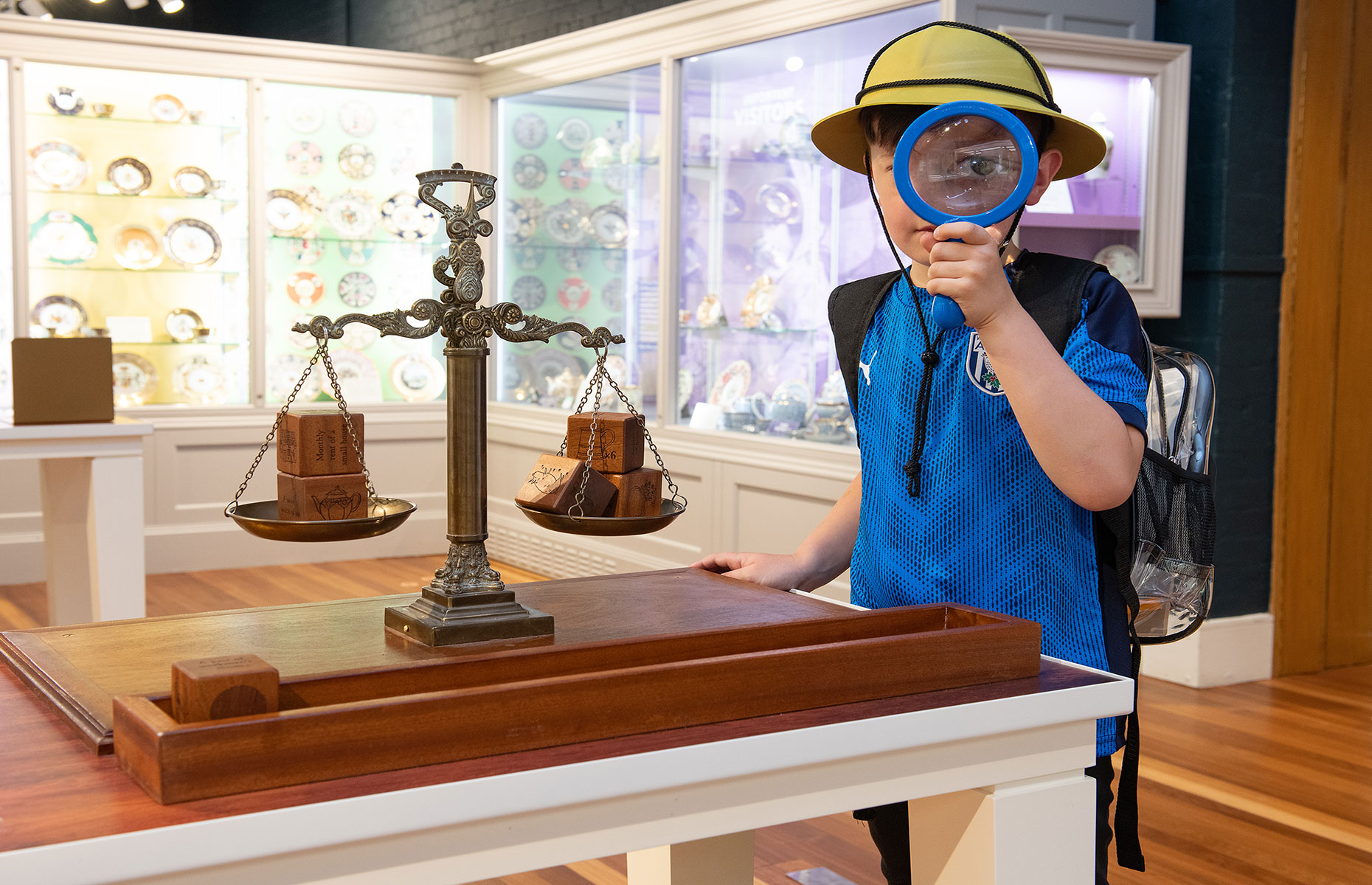 Courtesy of The Museum of Royal Worcester
Lunch at: King Charles II. This is an excellent local pub, located in the house from which King Charles II made his escape following the Royalist defeat at the Battle of Worcester in 1651. Friendly and welcoming, with character in spades, it does some famously good pies (including vegetarian, vegan and gluten-free options), served with plenty of mash.
Discover Worcester's Civil War history: The Commandery is the best place to learn about Worcester's pivotal role in the English Civil War – the decisive battle of which was fought just beyond its back garden. The Commandery began its life as a monastic hospital in the early 13th century, just outside the city gates, and as well as being used as the Royalist Headquarters in the Civil War, it has been home to Tudor cloth merchants, a college for the blind and a print works. Inside it's a marvelous rambling maze of a place, starting with the truly stunning 15th-century Great Hall.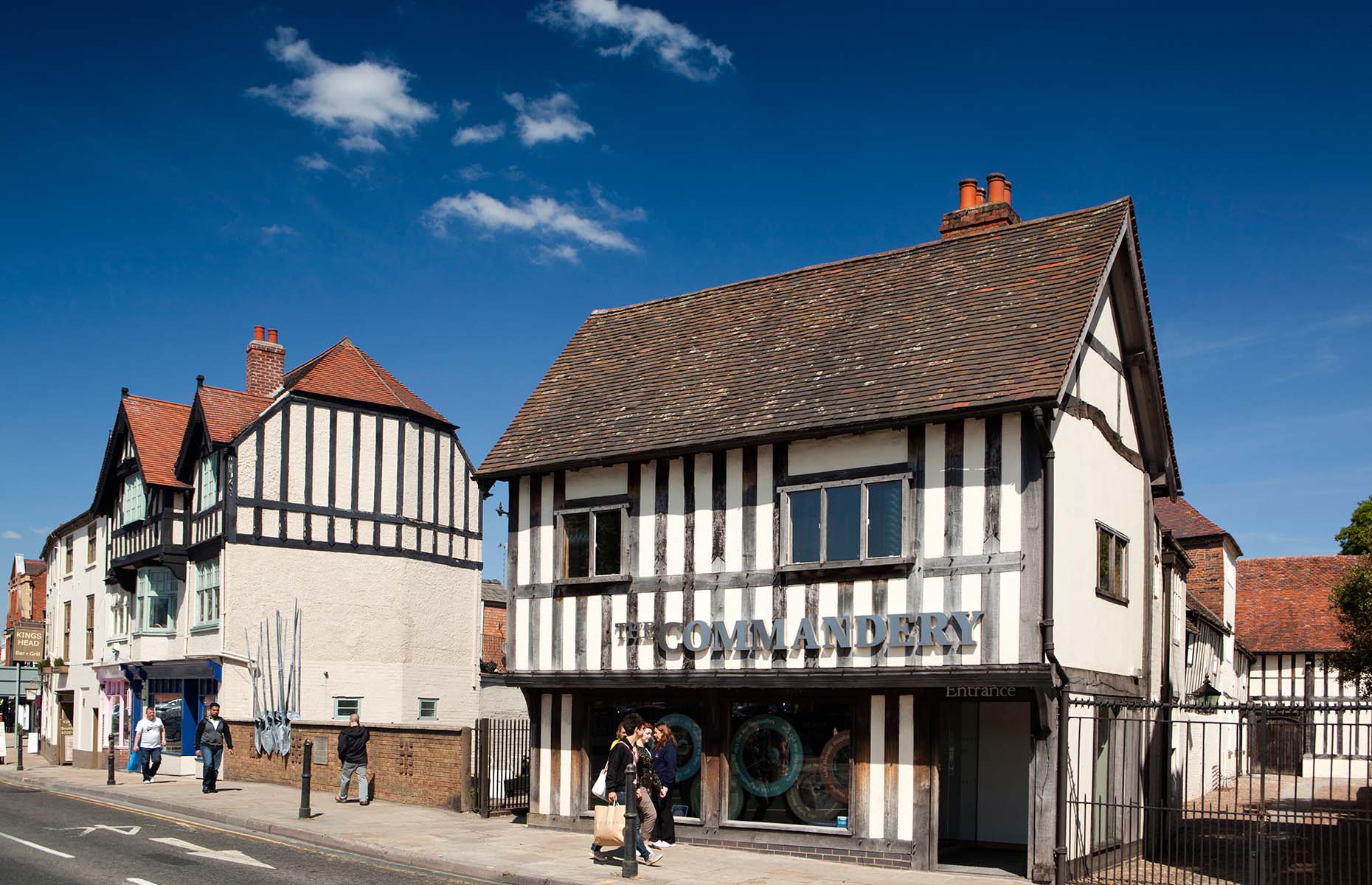 travelib/Alamy Stock Photo
Stop for coffee and cake: Commandery Coffee is a lovely little café inside the Commandery, serving impeccably good coffee and delicious homemade cakes.
Stroll around the city centre: Spend some time wandering along The Shambles, Cornmarket and New Street. Keep an eye out for the statue of Edward Elgar (who lived much of his life in Worcester). On Friar Street, visit the Tudor House Museum, a beautiful 500-year-old timber framed building, and Greyfriar's House and Garden, a late medieval merchant's house which was saved from demolition in the 1930s.
Have dinner at: Ounce Bar & Kitchen or Be the Change. Ounce Bar & Kitchen focuses on serious artisan steaks – matured for 28 days, cut to order, chargrilled to perfection, and ordered by the ounce. Add sauces and sides like buttered woodland wild mushrooms and honey roasted heritage carrots.
For something a lot less meaty, Be the Change is Worcester's first 100% vegan restaurant, opened following the success of their bakery and café just round the corner on Cornmarket. Small, friendly and relaxed, with mains along the lines of vegan thali feast or vegan tagliatelle carbonara.
Be The Change Foods/Facebook
Enjoy a nightcap: Paradiddles is a hip little café bar with live music most Friday and Saturday evenings.
Sunday
Visit: The Guildhall.This beautiful building dates back to 1721 and boasts extensive wooden panelling and a huge painted ceiling. It's free to enter and you can ask at the tourist office next door to get someone to show you round, including the former courtroom and holding cells.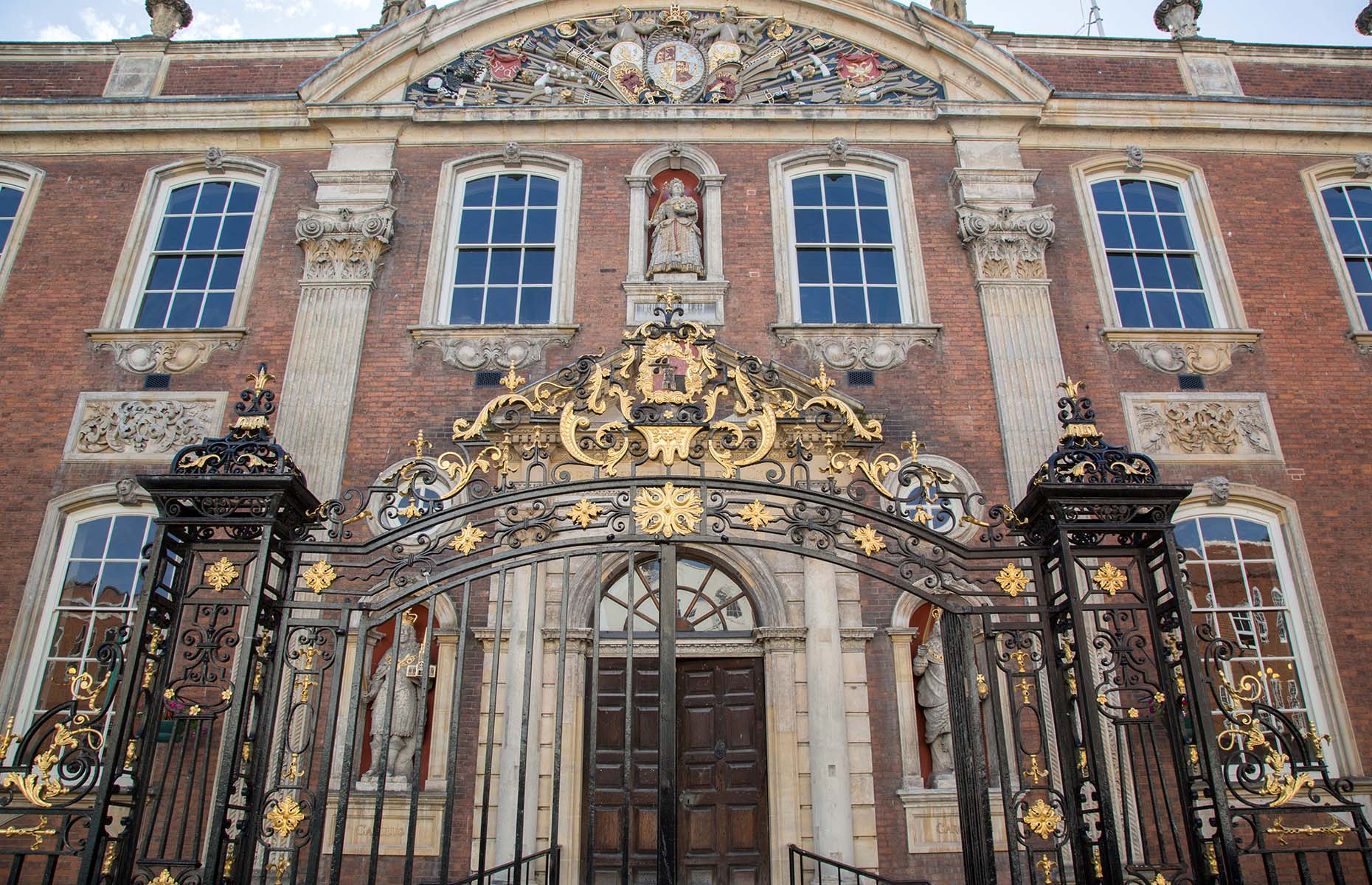 Kevin George/Shutterstock
Take a hike on Worcestershire Beacon: Yes, you could do a very enjoyable walk along the river – but for a really memorable half day out in the hills, head for the Malverns. Jump on a train to Great Malvern (under 15 minutes away), then head up Avenue Road, with North Hill ahead of you. Walk up St Anne's Road and straight ahead on a broad, paved path, then bear left following signs to 'The Beacon'.
There are several paths but you can't really miss the top – just keep heading uphill towards the big, knobbly summit. Expect great lungfulls of fresh air and stupendous views in all directions from the top – Worcester is clearly visible to the northeast. Allow a good two hours (round trip) from Great Malvern station.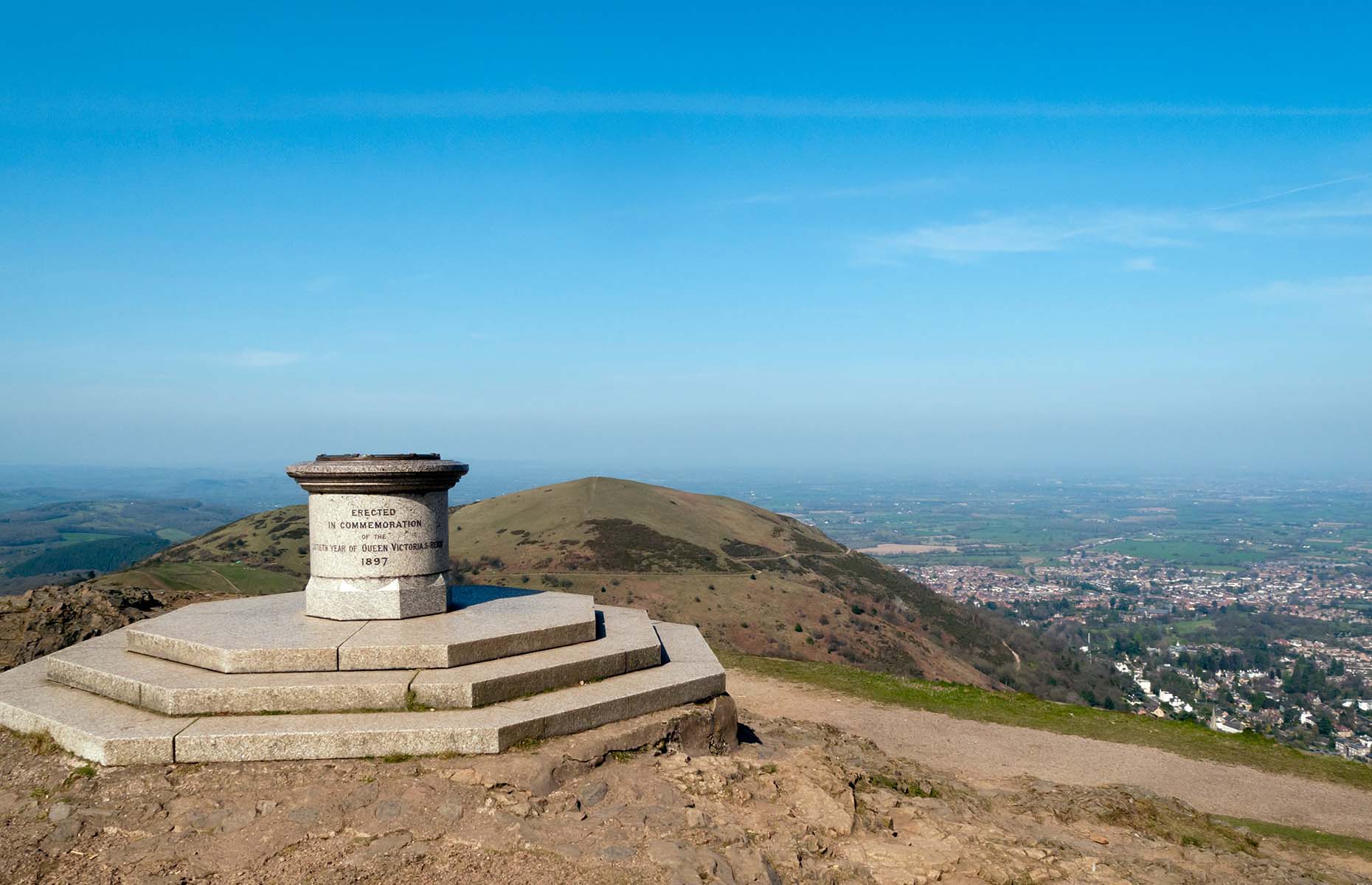 chrisatpps/Shutterstock
Visit: Great Malvern Priory Church. Make sure you stop to see this exceptional building, with its Norman nave, on your way back to Great Malvern station. There's a huge amount of stained glass, including some wonderful Millennium Windows by Thomas Denny, and original 15th-century tilework around the south wall. Annie Darwin, eldest daughter of Charles Darwin, is buried in the churchyard.
Stop for a pint at: The Weavers. Just a couple of doors downhill from the Priory Church, this is a great little place serving a good range of real ales, ciders and other drinks in a very chilled out setting. They do a limited range of bar snacks or you can take in your own food and they'll give you cutlery and a plate.
If you want to pick up a hoard of local cheeses, fresh sourdough and other goodies to take to The Weavers, head up to Faun on Worcester Road.
Explore the Marina: If you still have time when you get back to Worcester, have a look at Diglis Basin and the Marina, where the Worcester and Birmingham Canal meets the Severn.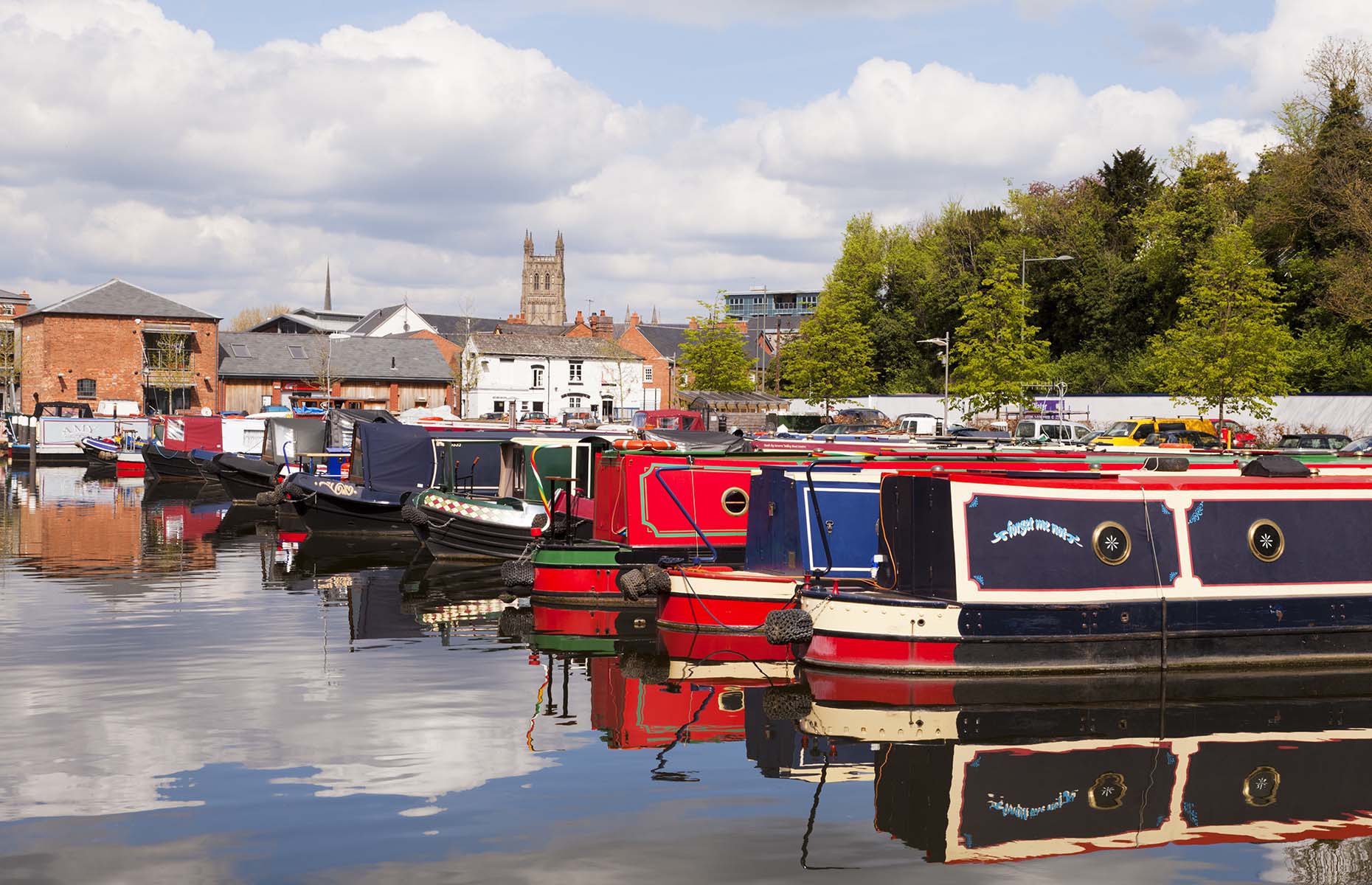 travellight/Shutterstock
READ MORE: Your guide to the Cotswolds
Getting there and around
The best way to get to Worcester is by rail. GWR operates fast, direct services between London Paddington and Worcester Foregate Street (journey time 2h 15min, return fares from £59.50), calling at Reading, Oxford and other major interchange stations, and continuing to Great Malvern and Hereford.
There are also direct trains from Bristol Temple Meads, while trains to Birmingham connect Worcester with stations further north. Worcester Foregate Street station is right in the city centre, which you can easily get around on foot.
For more information on Worcester and its surroundings visit the Worcestershire tourism board and for further English city break inspiration head to Visit England.
Lead image: InPerspective/Shutterstock
Be the first to comment
Do you want to comment on this article? You need to be signed in for this feature