48 hours in wonderful Windsor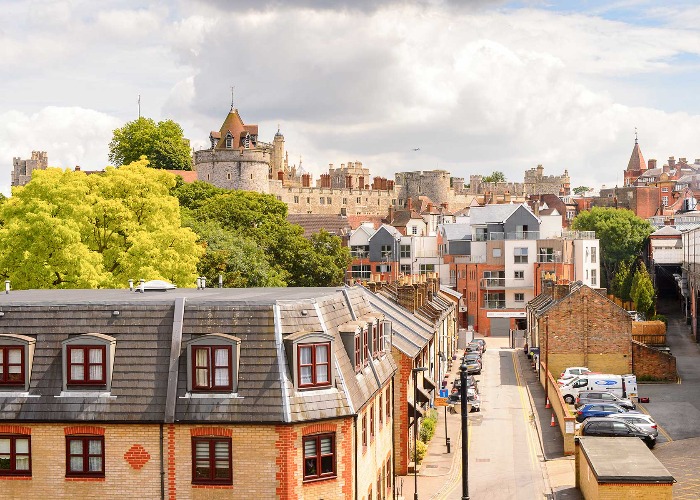 The castle may be Windsor's crowning glory, but the town itself deserves the royal treatment too.
A mere 40-minute train journey from London Paddington, Windsor is the perfect place for a weekend trip. It offers a cobbled cluster of stately highlights, gastropubs frothed in flowers, charming cafés and independent shops to potter about in, all set on the picturesque banks of the River Thames.
On the tip of its neatly compact centre lies Windsor Great Park. Fizzing with green for some 4,800 acres, you can go on deer-filled strolls, encounter remarkably ornate gardens or wander through pine-scented woodland. Plus, there are also excellent restaurants and a couple of spas dotted around the park.
Here's how to spend 48 hours in wonderful Windsor.
Friday
Check-in to: The Castle Hotel. It's a Champagne cork-pop away from Windsor Castle, with the hotel's Georgian façade looking directly onto the Windsor Guildhall, designed by Sir Christopher Wren and where Prince Charles and Camilla Parker-Bowles got married. A number of rooms also offer grandstand views from their balconies, ideal for soaking up the town's royal ambience.
Dating back to 1528, the hotel has been lovingly restored with relics and plush nods to its noble past. Notably, the Duke of Wellington toasted his victory over Napoleon at the Battle of Waterloo here.
READ MORE: Britain's most historic towns and cities
Explore the famous fortress: Learn more about the castle's 1,000-year history and marvel at its display of serious palatial oomph. The State Apartments are particularly special, where gilded oil paintings adorn the walls and elaborate frescoes dance above on the ceilings.
Another highlight is the Queen Mary's Dolls' House, a palace in miniature complete with running water, electricity and working lifts. It's painstakingly detailed – you'll even find tiny reproductions of Colman's mustard!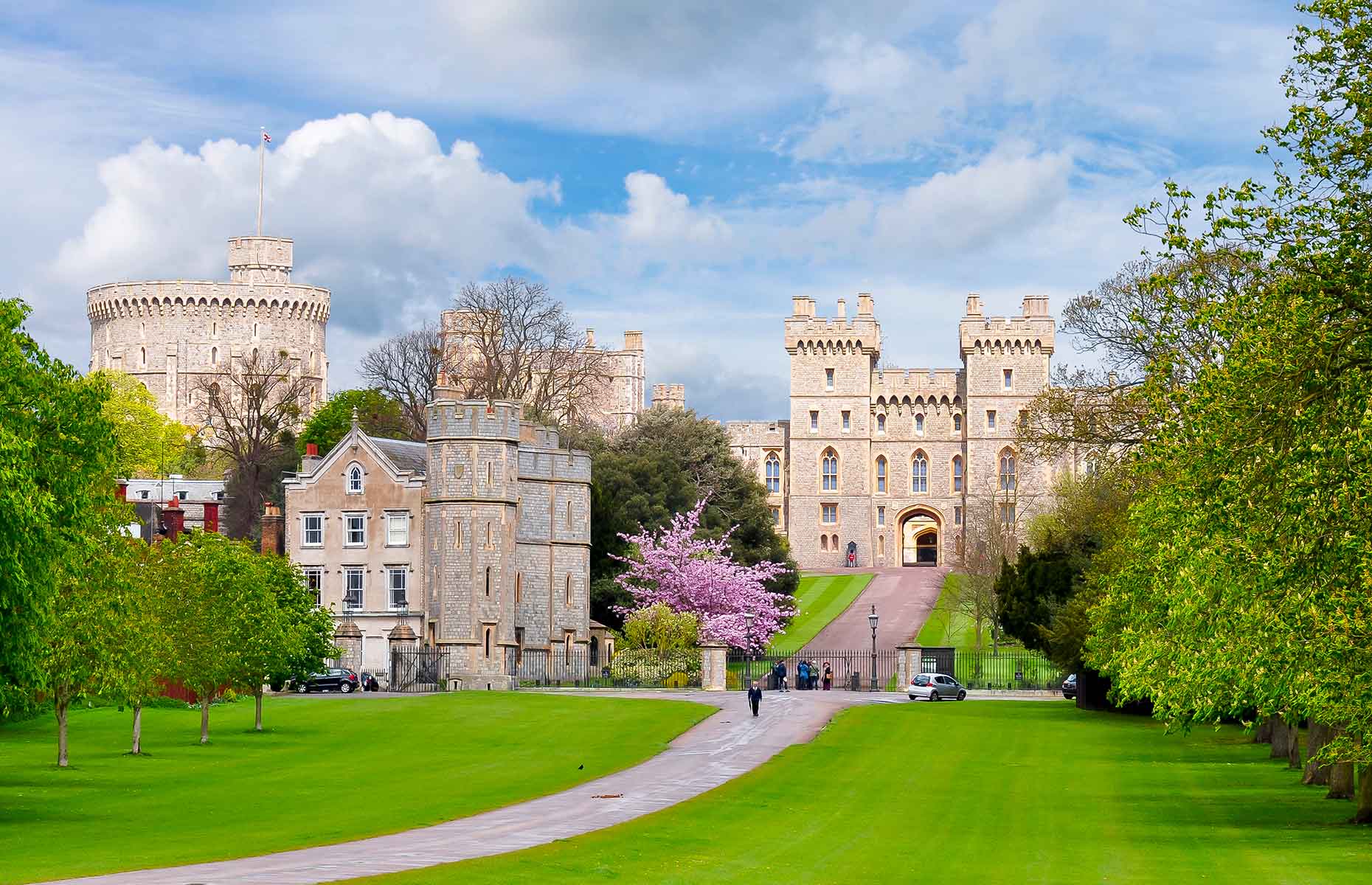 Mistervlad/Shutterstock
St. George's Chapel is included in your ticket too, where many royal ceremonies of life and death take place. But it's at its most magical during choral evensong (5.15pm) when the choristers' harmonies fill the vaulted ceilings.
READ MORE: Europe's most beautiful castles
Cross the bridge: into Eton, a few minutes downhill from the castle. The village's grandeur dwarfs its actual size – it pretty much consists of one lovely street plus Eton College. Meander, spot the schoolboys shuffling along in their coattails like penguins, then go for a late lunch to much-loved bistro Gilbey's. Nab a seat in the courtyard if the sun is shining.
Cap off the afternoon; with a scenic boat ride down the river, surrounded by swans and lush meadows. If you want to work off a hearty lunch, kayaking is also an option.
For a dinner to remember: visit Bray, a sleepy village five miles (8km) away from Windsor with major gastronomic credentials. It has three Michelin-starred restaurants, the most famous being Heston Blumenthal's The Fat Duck: a sensory whirlwind that begins the moment you hold a map and a magnifying glass instead of a menu.
READ MORE: 48 hours in stunning St Albans
But be warned, tickets are released months in advance and prices are steep. The other two star-spangled dining spots, The Hind's Head and Michel Roux's The Waterside Inn, are equally superb and considerably less expensive.
Saturday
Have an alfresco Americano: while watching the colourful pomp and ceremony of the Changing of the Guard from your hotel balcony. Then, make a beeline for Windsor's Independent Food Market (held every third Saturday and Sunday) on Peascod Street close by, scoffing anything from pillow-soft baos to matcha chocolate-covered churros.
For something unique to take home, support local artisans and stop by Craft Coop further down the street.
READ MORE: Explore Ely and the Fens
Revel in the everchanging blooms and woodland: of Savill Gardens, located within Windsor Great Park. Make a pit stop at The Loch and the Tyne on your way, which offers a playful take on sustainable luxury. Think black-truffle flecked potato flatbreads and BBQ lobster wagyu, all enjoyed alongside their own brand of sparkling wine.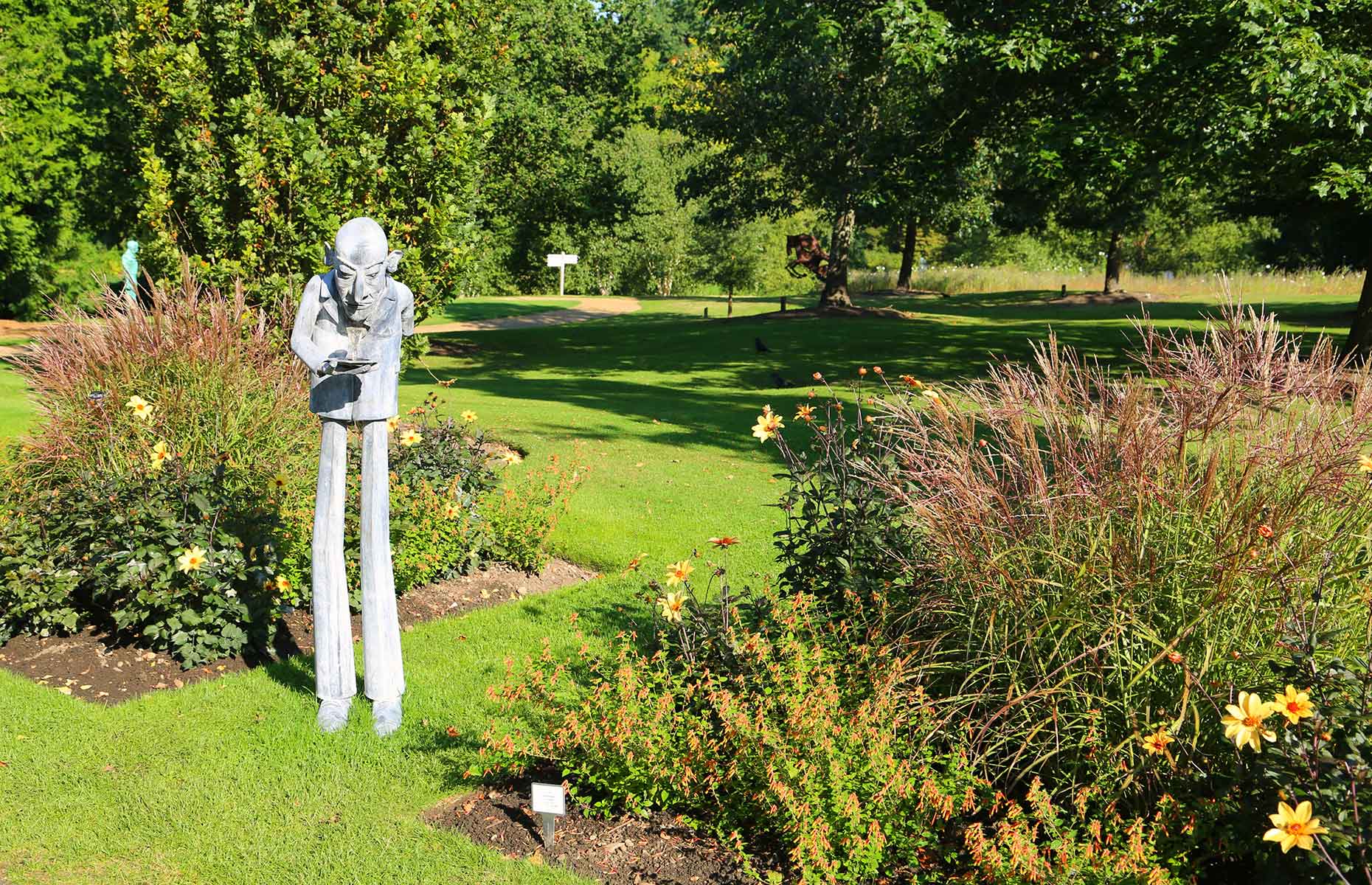 JR P/Flickr/CC BY-NC 2.0
Soothe tired limbs: at the award-winning The Runnymede on Thames Hotel spa nearby. Slink into its eucalyptus-scented steam room or bubbling outdoor hot tub and admire boats bobbing along the riverfront.
Practically float towards dinner and check out The Runnymede on Thames Hotel's glossy restaurant Leftbank afterwards. If you still have energy later, see the velvet curtains go up at Theatre Royal Windsor, or curl up for a cinema night at hip The Old Court.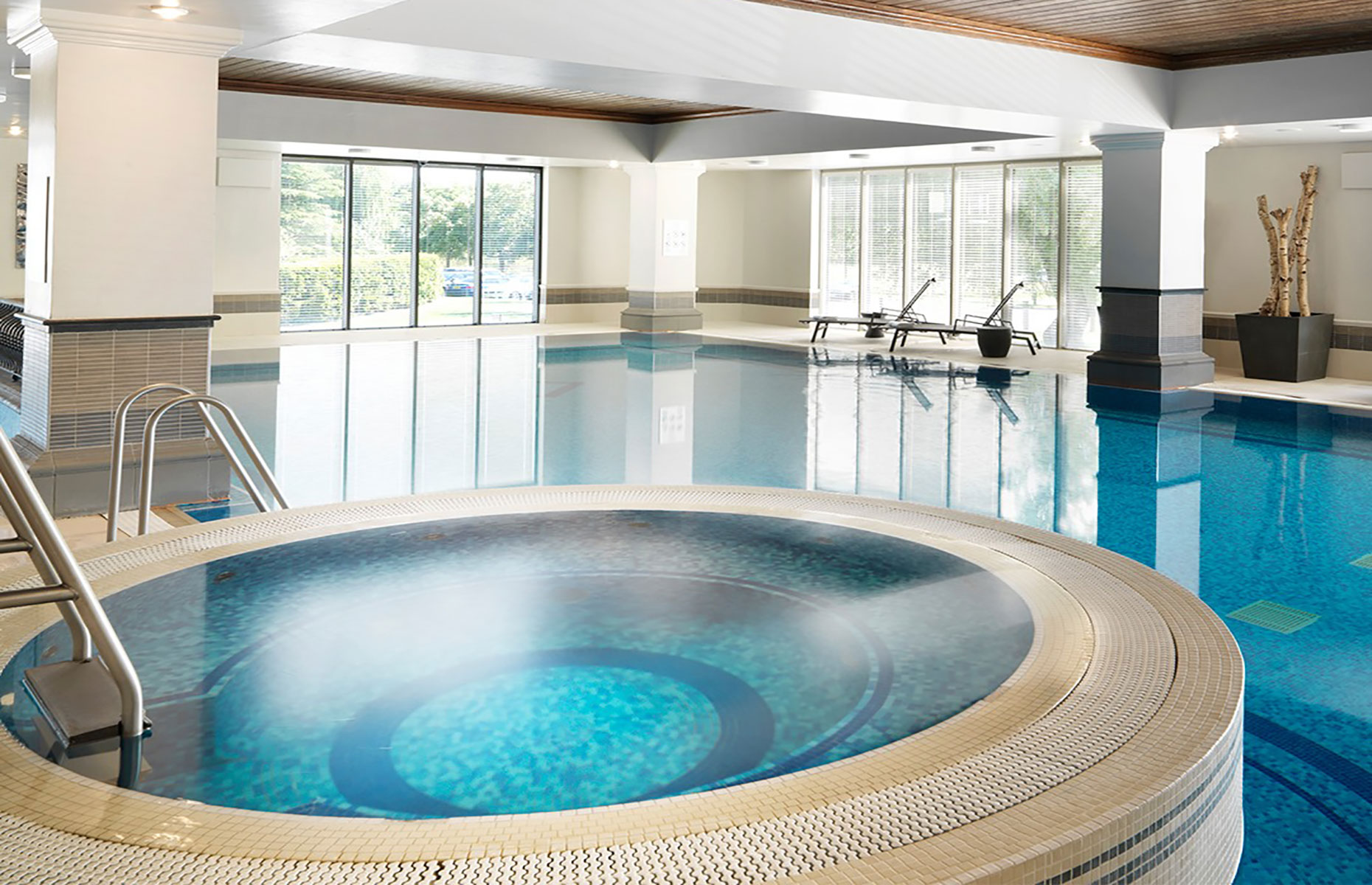 The Runnymede on Thames/Facebook
Sunday
Amuse yourself: visiting Windsor's cobblestoned warren of curiosities opposite the hotel. This includes the wonky Crooked House of Windsor built in the 17th century, which reportedly has an old secret passage connecting to the castle once used by Charles II's mistress, Nell Gwynn.
Quench your thirst following an exhausting journey down Britain's shortest street (also found here on Queen Charlotte Street) by grabbing a pint and a bite to eat at local favourite the Two Brewers.
READ MORE: Your complete guide to Suffolk
Walk off lunch: and head to the Long Walk, next to the pub. Beautiful in any season, this sprawling tree-lined avenue is almost three miles (5km) long and was once packed with wildly waving crowds greeting Prince Harry and Meghan's carriage on their wedding day.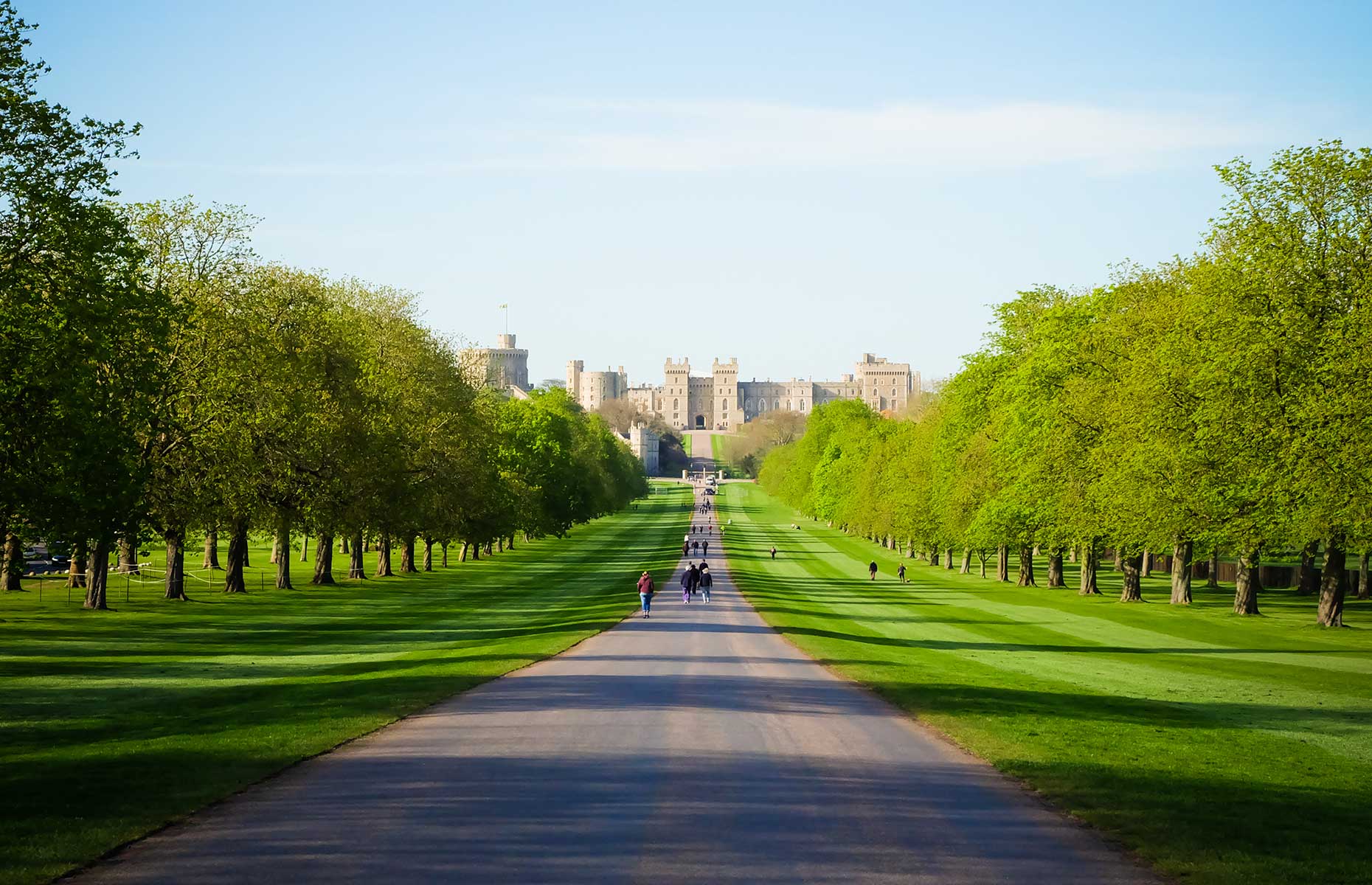 Thayut Sutheeravut/Shutterstock
Around 500 deer roam freely further down the Long Walk. They tend to be a little distant, but on a quiet day, you might see them throw caution to the wind and proceed to slowly cross in a large herd from one side to the other. It's a truly incredible sight and often takes place just feet away from you.
Lead image: Anton_Ivanov/Shutterstock
Be the first to comment
Do you want to comment on this article? You need to be signed in for this feature