6 of the best vegan spots in Portland, Oregon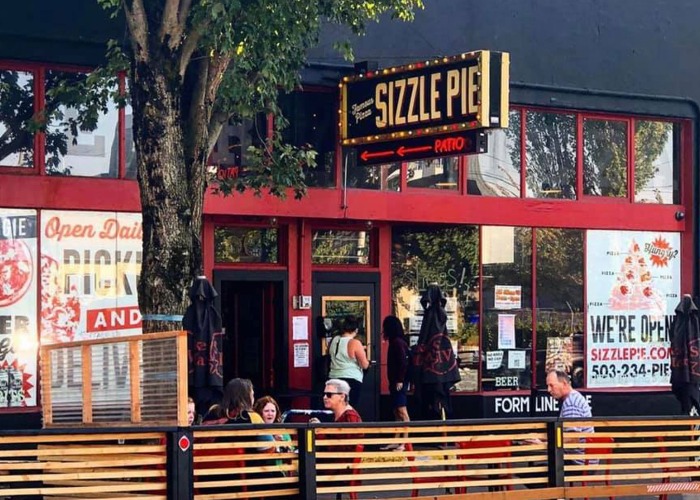 Whether you're flexitarian, vegetarian, part-time plant-based, or a fully-fledged vegan, Oregon's ice-cool capital has all your ethical eating options covered
As hipster capital of the USA, Portland brags more vegan eating options than you can shake a carrot-stick at.
Plant-based wonders await on every corner in the city that spawned the world's first vegan mini mall (complete with a vegan supermarket, animal-friendly clothes stores, and a tattoo studio that uses all-vegan inks), and the planet's only vegan strip club (don't ask).
There are vegan late-night pizza joints, and round-the-clock fried chicken stops; vegan burrito bars in vintage pinball parlours, and vegan cops hanging out in vegan doughnut shops. So, from organic soda pops and street eats at hip food carts, to urban wines in fine-dining restaurants, we've got the lowdown on where to chow down.
There are too many great options to list, but here are six of our favourites. As always do check individual opening times and COVID-19 arrangements.
1) Best for fine dining: Farm Spirit
What's the vibe? Showing that the vegan scene is perfectly capable of producing haute cuisine, Farm Spirit is one of the city's most exclusive dining experiences.
Showcasing produce exclusively from the Cascadian bioregion (that means all ingredients sourced from within 120 miles of the restaurant from Oregon and Washington State), dining is certainly a theatrical affair, with set degustation menus served in one seating each night, arranged around an intimate bar that accommodates only 14 guests.
Just like a concert, meals at Farm Spirit are ticketed events that go on sale two months in advance, so get in quick if you're planning a trip.
What to order? As my grandmother used to say, "You'll eat what you're given," and that's pretty much the case at Farm Spirit, which serves multiple, fixed courses focusing on seasonal, local produce, (which they can adapt to take allergies and intolerances into account).
Expect numerous, diminutive, playfully creative, delicious dishes, served on funky crockery (I received a tiny potion bottle labelled 'Drink Me,' for one memorable course), paired with local, urban wines. It's really quite a production, and even the kinds of carnivores that see their veg as no more than a sideshow have to admit that this is one if the city's culinary main attractions.
What's the vibe? FOTM really only does three things: fries, beers, and wings. Starting out in 2005 on Interstate Avenue, FOTM now has three Portland locations, all a little different, but expect exposed brick and beer flights, like a hipster version of Hooters… but staffed by beardy guys and rock chicks. Talking of which, this place isn't strictly vegan at all, serving free-range chicken and burgers, but they still serve mean vegan wings that you won't want to miss.
What to order? Erm, how about wings, fries, and a beer? Seriously though, what sets this fri'cken (that's a contraction of fried chicken, of course) place apart is its own-brand craft ales, deep-fried pickles, and 12 award-winning varieties of dipping sauces, like Bourbon Chipotle, Spicy Peanut, and – of course – three types of buffalo sauce.
We recommend you slather the raspberry habanero sauce on your vegan chicken drumsticks (they use sugarcane for the bone) or maybe try the insanely-hot El Jefe sauce (as seen on the Food Network) on your vegan fri'cken tenders. All this and not a family bucket in sight.
READ MORE: Discover what else to see and do in Portland with our full city guide
3) Best for doughnuts: Doe Donuts
What's the vibe? Visitors to Portland will struggle to miss the lines of patrons that snake around the block outside of landmark Old Town doughnut destination, Voodoo Doughnut, which offers awesome vegan doughnuts alongside American beignets topped with Canadian bacon.
Vegans looking for more choice though — and doughnuts prepared in a kitchen utterly devoid of animal products — should definitely head out of the city centre to the cute, little, all-female, plant-based bakery, Doe Donuts in the Hollywood neighbourhood.
What to order? With a head-spinning array of all-vegan doughnut delights on offer, you'll want to buy a box and stock up on enough treats to last a few days, unless you're staying nearby. With a daily-changing menu of offbeat creations though, hardcore vegan doughnut fans will likely make more than one visit.
Start with their classic, Doe!, a Homer-esque strawberry-milk-and-sprinkles topped doughnut, before trying their signature 'nut, Portland Fog, with its organic earl grey glaze, fresh whip, and fair trade vanilla bean.
What's the vibe? A food cart, located at 4255 SE Belmont Street, Dinger's Deli serves Portland's best vegan sandwiches from an unassuming, white box adorned only with chequer kick plates, and a condiment shelf. They don't really have to shout about sandwiches that speak for themselves.
What to order? Dinger's Deli serves all the awesome sandwiches you used to love before you went vegan – like vegan meatball subs, and vegan ham, salami, and cheese sandwiches – along with hipster classics like smashed avocado on toast. What makes them extra special is that they produce all their vegan meats themselves.
Make sure to grab the vegan Philly cheesesteak when it's on the specials board, and indulge in the ultimate hoagie that we know you've been missing.
READ MORE: Discover more foodie feasts in Bilbao's amazing pintxos bars
What's the vibe? If you're anything like us, you're prone to spending the whole day sightseeing, exploring, and shopping, and then you struggle to find anywhere to eat dinner because you've left it too late. There's no need to get hangry if you're looking for late-night vegan food and drink in Portland though: the Bye and Bye is a bar (yes, a vegan bar!), serving all-vegan beers, booze, and cocktails until 2am, and a full, all-vegan menu until midnight.
The venue itself is spacious, laid-back, and doesn't take itself at all seriously, with polished concrete floors, a large, covered patio, and walls lined with offbeat art, such as the portrait of Evel Knievel in full Elvis-style, '70s stunt-bike-riding regalia.
What to order? Don't expect anything too fancy: this is stick-to-your-ribs bar food that goes great with a few brews. For a mouth-watering treat, try their Weeping Tiger sandwich, which is stuffed with tofu cutlets, salad, avocado, jalapeños, sriracha and miso mayo on artisan bread. Their spaghetti and vegan meatballs is also great, while their super-but-simple BBQ Brussel Bowl (barbecued tofu, brussels sprouts, and brown rice) will make you fall back in love with the much-maligned sprout.
6) Best for pizza by the slice: Sizzle Pie
What's the vibe? Bill, Ted, Wayne, Garth, and their throwback, trucker-cap-and-band-T-shirt-clad ilk sling New York-style pizza to a death metal soundtrack in this very Portland pizzeria. So popular, it's now added six branches to its original East Burnside Street location, there's a slice to suit all tastes in this casual pre-and-post-gig pizza pitstop. With vegan, veggie, and even meat options, there's no need to split from your non-vegan buddies when the munchies strike – so, party on, guys!
What to order? With vegan pizzas named The Ripper, Spiral Tap, New Maps Out of Hell, and Vegan Angel of Doom, among several others, there's no lack of imagination or choice for diners following a plant-based diet.
Buffalo 666 is a strong option, sprinkled with shredded buffalo jackfruit, vegan 'mozzarella,' and red and green onions, then drizzled with hot wing sauce and vegan ranch dressing. Meanwhile, the Steve Caballero (presumably named in honour of the legendary skateboarder) is topped with vegan pepperoni, Italian sausage, green peppers, and onions, dotted with chunks of tofu cheese. No-cowabunga!
Be the first to comment
Do you want to comment on this article? You need to be signed in for this feature