Explore Portland: what to see, what to eat and where to stay
Oregon's biggest city is full of surprises. Long before its transformation into a hipster hot spot this West Coast gem was known as the City of Roses, thanks to its beautiful gardens. Pay a visit today and you'll find Portland's blooming with all the artisan makers, culture and wine you'd expect – and some fabulous green spaces too.
Key neighbourhoods in Portland
Famous for its alternative culture, an independent spirit oozes from every pore of Portland. An epicentre for innovation, this is where brands including Voodoo Doughnut and Wildfang clothing originated and the city's hobo fashion, street art and existential theatre transform this urban landscape. Throw in a bucket load of natural beauty (like Washington Park), easy cycling routes and around 600 food trucks and you have a recipe for laid-back city break bliss.
The Pearl District
This previously down-at-heel warehouse district has had a facelift and is now an upmarket area. Expect a limitless amount of great shopping, entertainment and coffee (such as at Barista pictured below) in this up-and-coming precinct.
Travel Portland
It's also where you'll find one of the biggest book emporiums in the world, Powell's City of Books, covering an entire city block with nine huge rooms.
The Downtown District
Downtown Portland is packed with historic properties living alongside modern high rises. The Pioneer Courthouse Square, a park built into the hillside, is at the heart of the area. You will also find Portland State University here, the Portland Art Museum, the Jubitz Center for Modern and Contemporary Art and the Northwest Film Center.
Brooklyn
East of the Willamette River, Brooklyn was a formerly industrial neighbourhood. Honouring its history, many of the warehouse buildings and businesses have been preserved and the area is known for both its urban wineries and working trainyards.
Alberta Arts District
The modernisation of Portland in the late 1950s, including the building of the Veterans Memorial Coliseum, saw low-income people displaced to the northeast Alberta District. This residential neighbourhood is now a community celebrating individuality and diversity.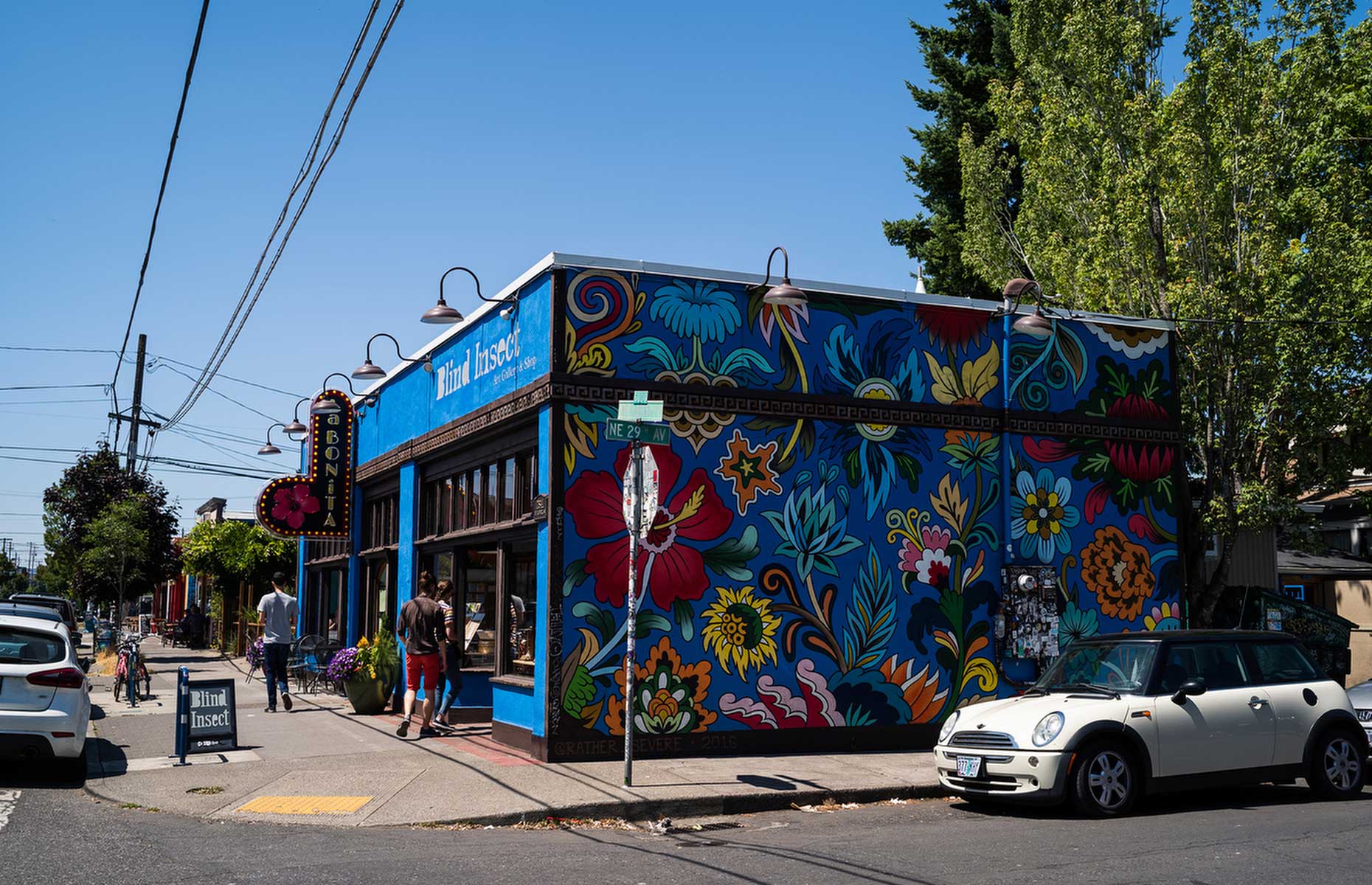 Justin Katigbak/Travel Portland
There are locally owned boutiques, galleries, restaurants, bars and coffee shops with many displaying original art. Businesses here are often sustainability-focused and restaurants offer vegan-friendly options.
READ MORE: These are America's coolest neighbourhoods
Nob Hill
Another beautiful suburb, Nob Hill, is known for eateries, heavenly retail shops and proximity to Forest Park's hiking trails. Visit Via Raiz for Mexican-influenced jewellery and also Betsy and Iyas for bags, accessories and gifts – both great places to take advantage of Oregon's 0% sales tax.
Justin Katigbak/Travel Portland
Arlington Heights
This enormous. forested suburb in Northwest Portland has some of the most charming homes in the city.
The big draw is Washington Park, which encompasses several of Portland's key attractions: the Japanese Garden, International Rose Test Garden, Oregon Zoo and the Oregon Holocaust Memorial.
Where to stay in Portland
For upmarket and historic: choose either the Mark Spencer Hotel opened in 1907 or, for those with a bit more dosh, the Benson Hotel which opened in 1913 and is famous for its two ballrooms and exquisite wood-lined lobby.
Benson Hotel/booking.com
For a downtown location: the centrally located Paramount Hotel is excellent (when a hotel's restaurant is named Swank and Swine, you are likely in for something a bit different).
The Hi-Lo Hotel Autograph Collection property is also impressive with underfloor heating (perfect if you're in the city in the winter) but book ahead for rooms under £200 ($275).
For offbeat and unique, it can only be the Kimpton Hotel Vintage Portland which has an eclectic design with cork-lined walls, nightly wine tasting sessions and a games room for grown-ups.
Paramount Hotel/booking.com
For great views: the River's Edge Hotel offers pristine roomy bedrooms and an on-site spa with vistas over the river. The Portland Marriott Hotel Riverside commands a location facing the Willamette River too and many rooms have balconies.
Where to eat in Portland
Fast becoming the foodie destination on the West Coast, Portland embraces the farm to fork trend with enthusiasm while also serving up spectacular seafood.
Equally inspiring trendsetters are its superb coffee shops and cafés. Trailhead Coffee Roasters delivers by bike and is housed in Cup and Bar (a joint project of Trailhead and Ranger Chocolate) and home to the best avocado toast and mochas around.
Voodoo Doughnut has gone viral with shops opening worldwide. Yes, it's worth queuing for flavours such as guava colada complete with a toothpick umbrella and Oh Captain, My Captain, topped with Cap'n Crunch breakfast cereal.
Food trucks are a very big deal with 600 across the city grouped in 'pods' and feature kebabs, Mexican and more. Everything is reasonably priced: entrée and a drink will be under £7 ($10).
Downtown has many great seafood places worth trying such as Jake's Famous Crawfish and Dan and Louis Oyster Bar.
Kenny and Zuke's Delicatessen make the best pastrami sandwiches this side of NYC.
Sizzle Pie has five branches in the city, but the one across from Powell's City of Books, is known for fabulous pizza with many vegan options.
READ MORE: 6 of the best vegan restaurants in Portland, Oregon
Where to drink in Portland
On the city's former industrial eastside, many urban wineries serve wine as well as food. Cooper's Hall, is an urban winery with a conscience as everything is served from a keg with the goal of cutting down on single-use bottles.
READ MORE: Discover more of America's wineries here
If spirits are your thing then Nob Hill's Freeland Spirits Distillery is the place to sip a wee dram or two. Founded in 2017 by a trio of female entrepreneurs, including a distiller trained in Scotland and a grain farmer in Eastern Oregon, there are tours and tastings daily.
This being the West Coast, breweries are on-trend and ubiquitous, but here are two really worth trying out:
Ex Novo Brewing is the world's first benefit brewery opening in 2014. It has expanded its pub offerings, its beer output and its charitable outlets with the creation of Communitas, an employee-conceived volunteer wing of the business.
Great Notion was founded by three friends in 2015 in the vibrant Alberta Arts District of Portland. Today the brewery has won a clutch of awards for their fruity IPAs and tart but drinkable sours, plus the distinctive artwork on their cans too.
5 things not to miss
1. Taking to the skies
The only reason you'd really need to hitch a lift on the Portland Aerial Tram from the South Waterfront is to get to the city's main hospital (OHSU) on the hill. But assuming you're in fine health, it's still worth the fun of the four-minute cable car ride, taking you to 3,330 feet (1,114m) and gliding along at 22 mph. (Please note COVID-19 restrictions are in place).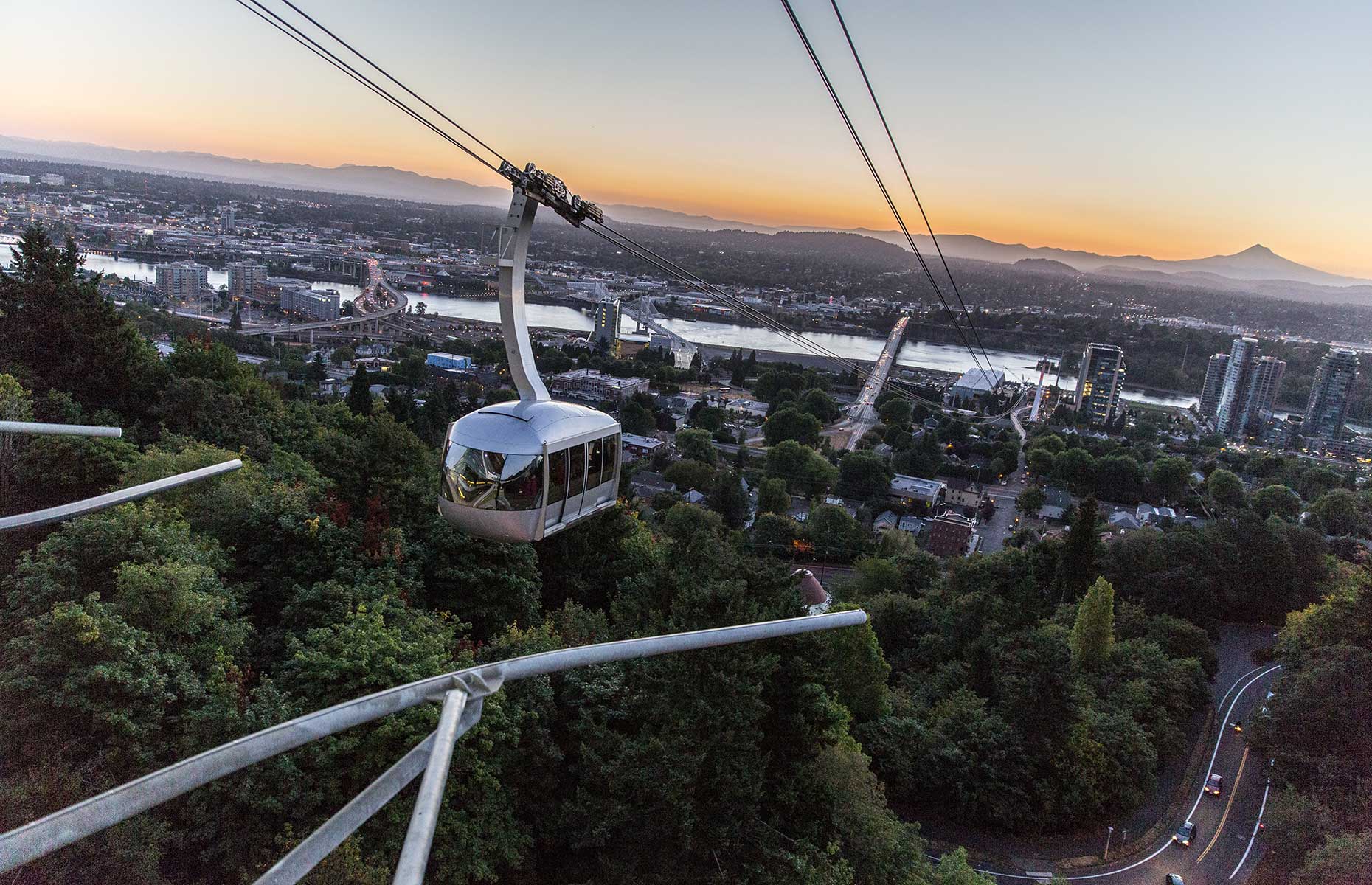 Travel Portland
2. Visiting a quirky museum
Freakybuttrue Peculiarium has an unusual but fascinating collection of Sci-Fi art exhibits, historical oddities, and artefacts based around urban legends. It's no exaggeration to say there's nothing like it elsewhere in the world. (Note the museum is temporarily closed due to COVID-19).
3. Shopping for arts and crafts
Meander around the Saturday Market on the Waterfront. It's a great shopping experience with clothing, crafts, artwork, jewellery plus much more and a peek into the creative hive mind of the city.
Justin Katigbak/Travel Portland
4. Exploring further afield
Washington Park and Forest Park are within the city limits yet offer wonderful hiking, biking and even horse-riding trails. The Columbia River Gorge, with its waterfalls and scenic Highway 30 is only 20-minutes' drive away.
5. Taking in the blooms
When a former Japanese ambassador claimed the Portland Japanese Garden was the best he had ever seen outside of Japan, he wasn't just being kind. The views over the city and out to Mount Hood are truly breathtaking. Next door is the International Rose Test Garden which has spectacular displays too.
Ultimate Portland itinerary
Here's how to take in the big sites when you've only got two nights in the city.
Day 1: tour downtown on two wheels
Check into: the Benson Hotel which is a great spot for exploring downtown.
Get in the saddle at: West End Bikes on SW Harvey Milk Street, to rent a bike and zoom around downtown.
Don't miss the Pioneer Courthouse Square then make a bee-line for the famous Voodoo Doughnut. Freestyle or follow one of the official bike routes ranging from 11 miles (18km) to 51 miles (82km). The Sellwood Bridge Loop takes in lots of the city's incredible steel structures including Hawthorne Bridge (pictured below) and is a great option for river views on the flat.
ARTYOORAN/Shutterstock
Tip: don't miss a photo opportunity to snap the Welcome Portland neon sign with the White Stag near Burnside Bridge.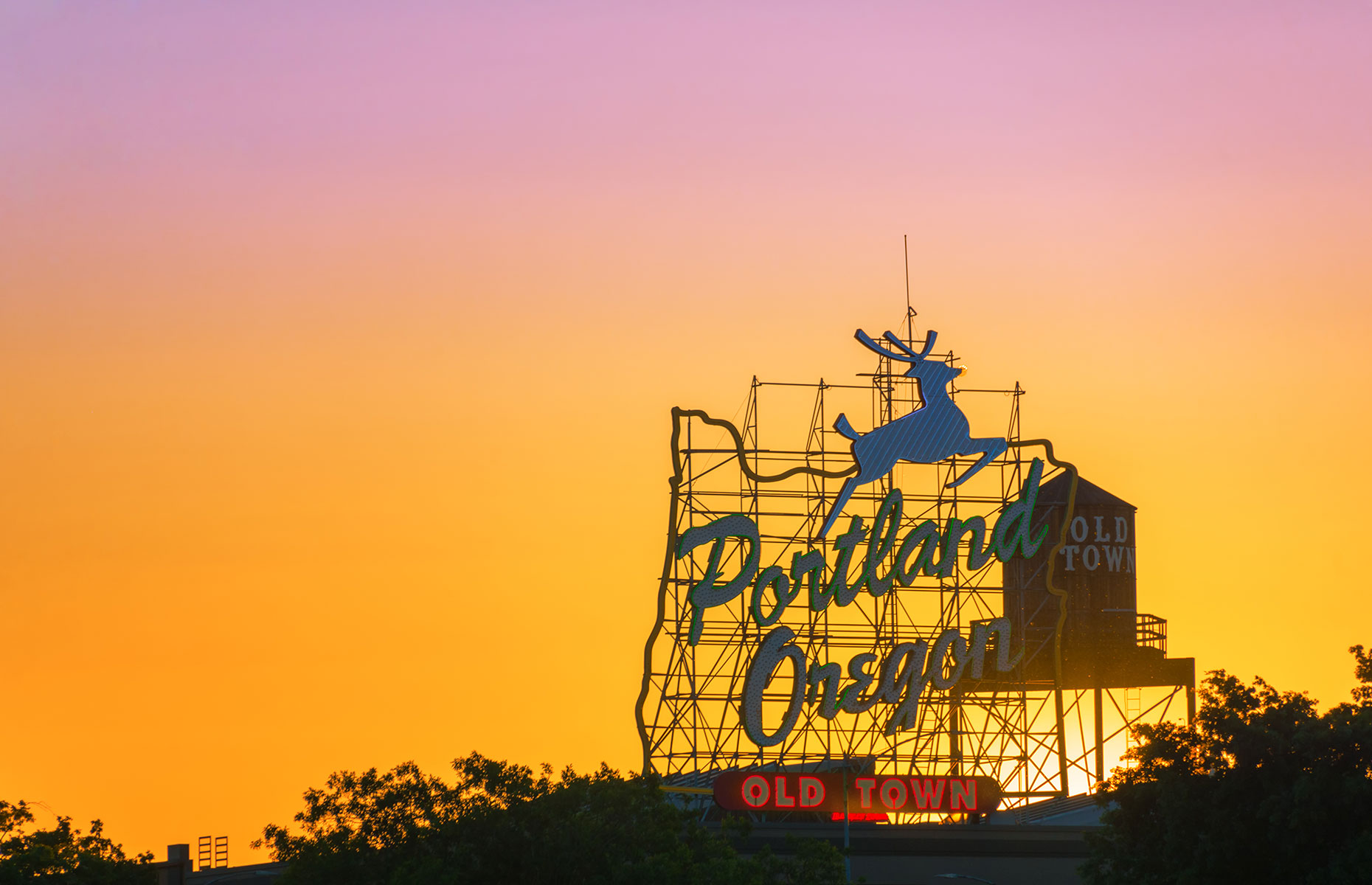 Jess Kraft/Shutterstock
Enjoy lunch: at one of the many food trucks on the corner of Pioneer Courthouse Square. You'll find everything from Tacos to breakfasts but our pick is the Portland Hero sandwich from Melty & Meaty – as its name suggests it's an oozing stack of ham, two types of salami and provolone cheese.
Indulge in retail therapy: by heading over to Powell's City of Books. At least the largest bookstore in North America, if not the world, it's worth setting aside an hour here simply because you're likely to get lost among the shelves. Happily, maps are supplied.
Michael Gordon/Shutterstock
Also pop into newly opened Tomboy chic boutique Wildfang and bag a beanie (all the rage). This is the town for ethical bargain hunting and the Goodwill Boutique charity shop is loaded with upmarket finds. There are several other outlets offering recycled clothing including Buffalo Exchange and Artifact: Creative Recycle too.
Catch a play: at the remarkable Portland Centre Stage at the Armory. One of America's best regional theatre companies puts on around 10 productions every season, in this historic setting.
Justin Katigbak/Travel Portland
Before, after, or indeed both, hit Jake's Famous Crawfish, a five-minute walk away. There is a full happy hour food menu (times vary depending on the day) and the sangria is recommended.
Day 2: explore the districts
Grab a coffee and a donut: at Blue Star Donuts. There are a couple of locations downtown and its flavour-packed creations rival Voodoo's causing divided loyalties among Portlanders. Which is better? You decide.
Head to: Washington Park on the MAX tram to check out both the spectacular Japanese Garden and the International Rose Test Garden.
B Brown/Shutterstock
For animal lovers and families, the Oregon Zoo is also worth visiting for the chance to see unusual animals such as kinkajous as well as black and white-ruffed lemurs and cougars.
Meet local artists at: Morning Ceramic Studio on SE 6th Street to see pottery making in action. Across the street is Cooper's Hall urban winery where you can sample keg wine fresh from the tap.
Have dinner at: St. Jack Restaurant & Bar. One of the standout names in the north of the city with a focus on Lyonnaise cuisine, tuck into steak tartare, oysters and duck au poivre served informally at wooden benches.
Day 3: day trip out of town
See famous falls: The great outdoors awaits on the Columbia River Gorge, only 20 minutes east by car from downtown Portland.
Make your way to the epic Bridal Veil Falls (check out the tiny historic post office) and then the spectacular Multnomah Falls. Travel along old Highway 30 for jaw-dropping scenery of the gorge and stop at Crown Point for views over the river.
Stephen Moehle/Shutterstock
Visit the Willamette Valley: only an hour's drive south from the city. This is the place for Pinot Noirs and those at the Willamette Valley Vineyards are exceptional. Stop at the estate's tasting rooms for either a wine flight (90 minutes, $15 per person) or linger over the pairing menu featuring Gulf shrimp mac and cheese matched with a 2017 chardonnay.
READ MORE: The best weekend road trip in every state
Visiting in June to August? The Willamette Valley is home to a number of u-pick lavender farms during the season, such as Mountainside Lavender, just 30 minutes' by car southwest of the city.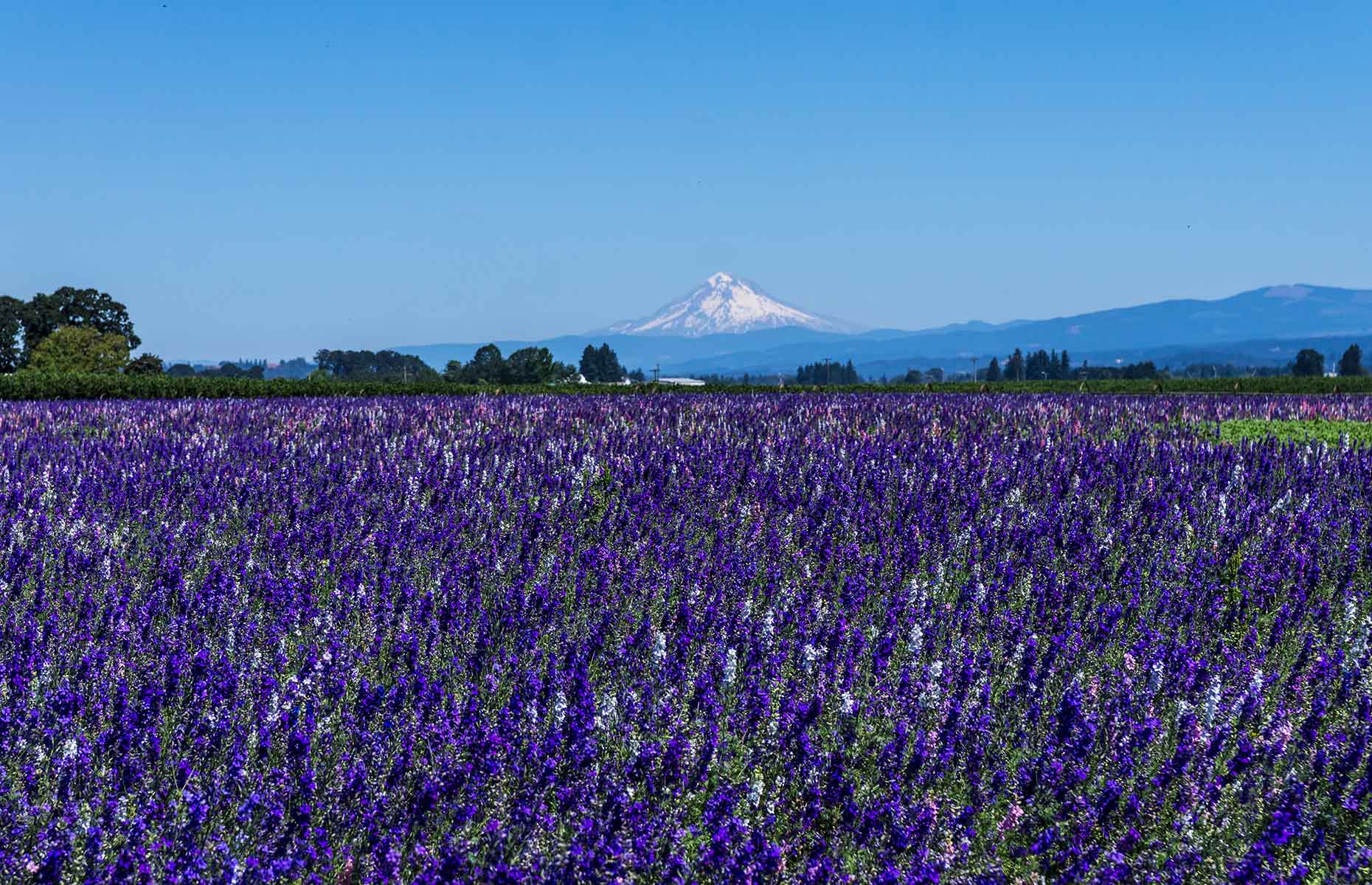 Cynthia Liang/Shutterstock
Map
Be the first to comment
Do you want to comment on this article? You need to be signed in for this feature