A weekend away in Lucerne, Switzerland
Lucerne's spectacular setting – think of a Norwegian fjord at an altitude – has inspired some of the best European minds: Goethe, Turner and Wagner to name but a few. Like them and millions of other visitors, however high your expectations, you won't be disappointed.
With its four-fingered lake serving as backdrop, the singular peak of Mount Pilatus looming over the town and an eminently photogenic medieval centre, Lucerne pioneered Swiss tourism in the 19th century. One of the first satisfied customers was Queen Victoria who spent six weeks grieving for Prince Albert in the summer of 1868 and kickstarted a love affair between the British and the Swiss city that's endured for over 150 years.
Lucerne's decorated baroque churches aren't found elsewhere in the country because alone among the major Swiss cities – all Protestant – Lucerne wears its Catholic faith on its sleeve. Not only is it the recruitment ground of the Pope's colourful Swiss Guard, but it also voted against the constitution of the modern Swiss Confederation in 1848. As a result, it lost the siting of the capital to Bern, but that may well have been to its advantage, as it remained pristine and preserved in time, an immaculate Alpine jewel, free from modern overdevelopment.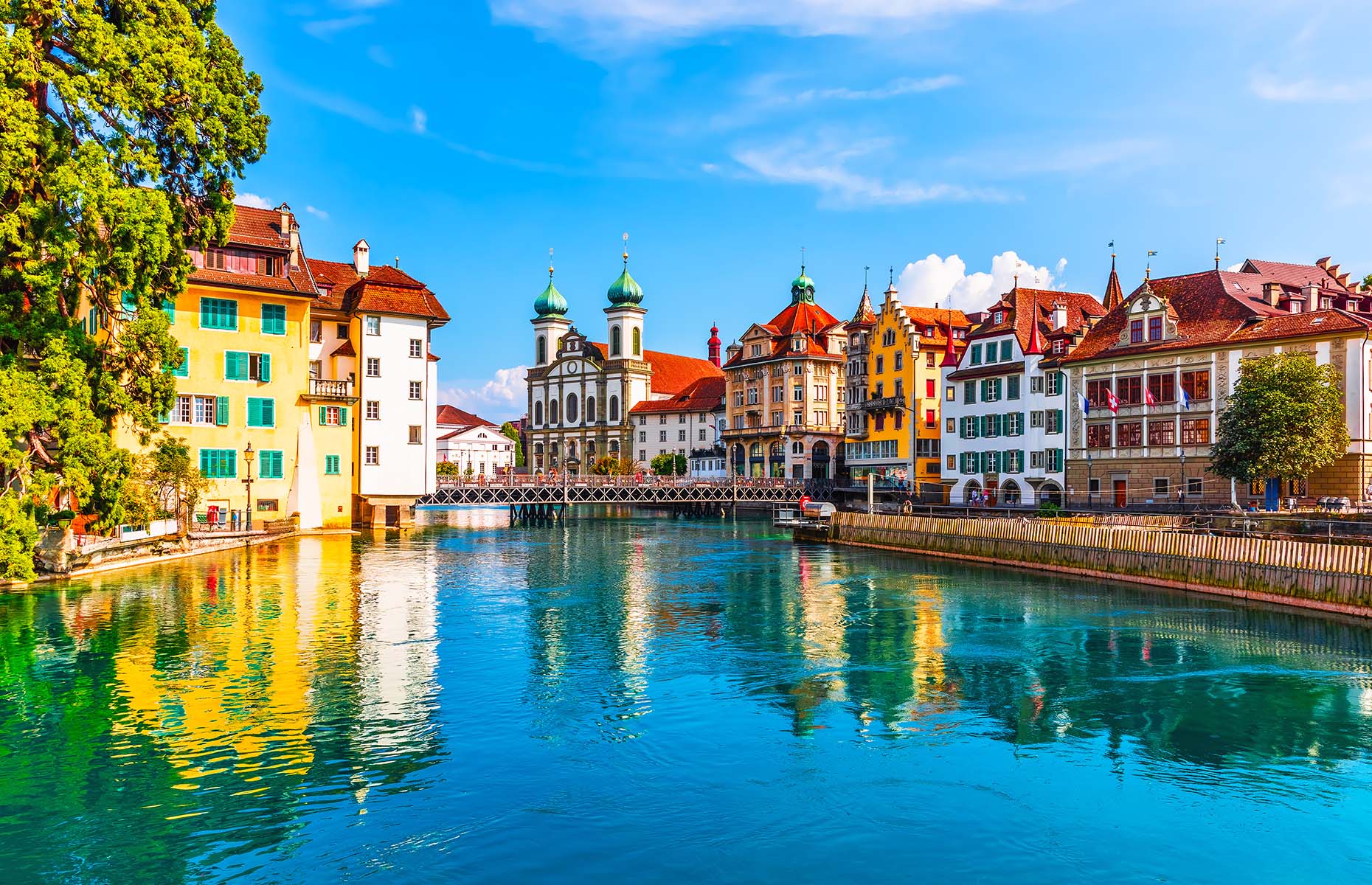 Oleksiy Mark/Shutterstock
READ MORE: What to see and do in Zürich
Friday
Get there: that lack of overdevelopment includes airports, so Lucerne can only be reached by road or rail. EasyJet, BA and Swiss fly from London to Zürich, the nearest international hub. Lucerne is around an hour by train from Zürich airport. When you book into a hotel, you'll receive a pass for free travel in the whole city. Note that many attractions, including the Pilatus cogwheel railway, close for the winter, so best visit between April and October.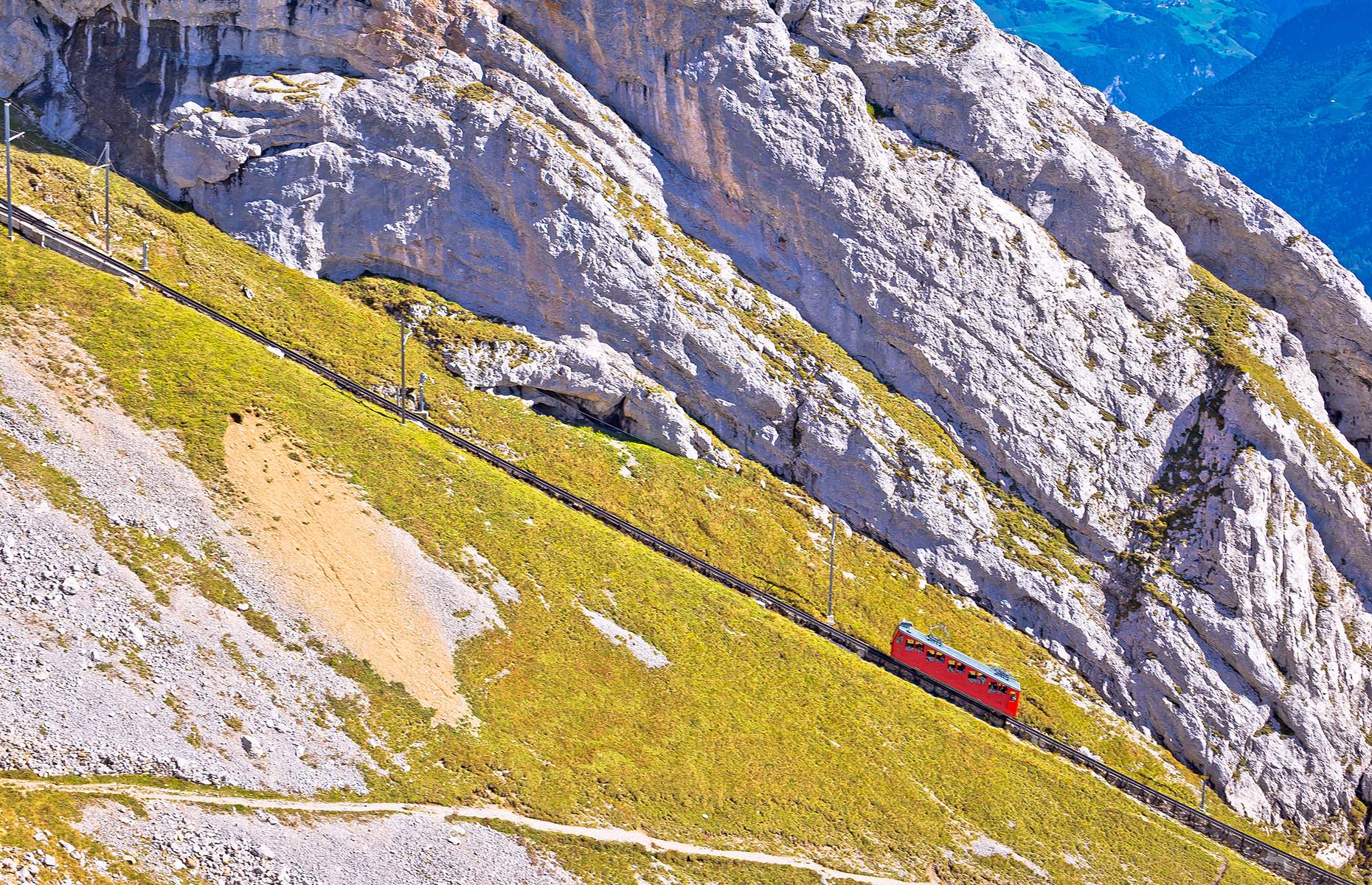 xbrchx/Shutterstock
Check into: Hotel Waldstätterhof. Lucerne is not cheap, but there are bargains. This down-to-earth hotel within spitting distance of the railway station is cheery and glossy with a restaurant that specialises in local corn-fed chicken. Hotel Central nearby is relaxed, modern and comfortable in a quiet side street. If price is your sole criterion, however, try Hotel Barabas on the site of a renovated 1860s prison at the edge of the Old Town. The cells have been converted into rooms and, although the hotel may feel like a superior hostel, no one can argue about the prices.
Immediately rush to: Kapellbrücke (Chapel Bridge). Lucerne's symbol, the bridge spans the mouth of the Reuss river. Built in the 14th century, it claims to be the oldest wooden footbridge in Europe. Although partly destroyed by a fire in 1993, 43 original ceiling paintings depicting the history of the town have been saved and 30 fully restored.
Beyond the bridge, small alleys lead you to the Altstadt (Old Town), where handsomely painted façades huddle around cosy squares adorned with fountains while the guild houses ­– decorated with flags, seals and wrought iron signs – have delighted photographers since the invention of the camera.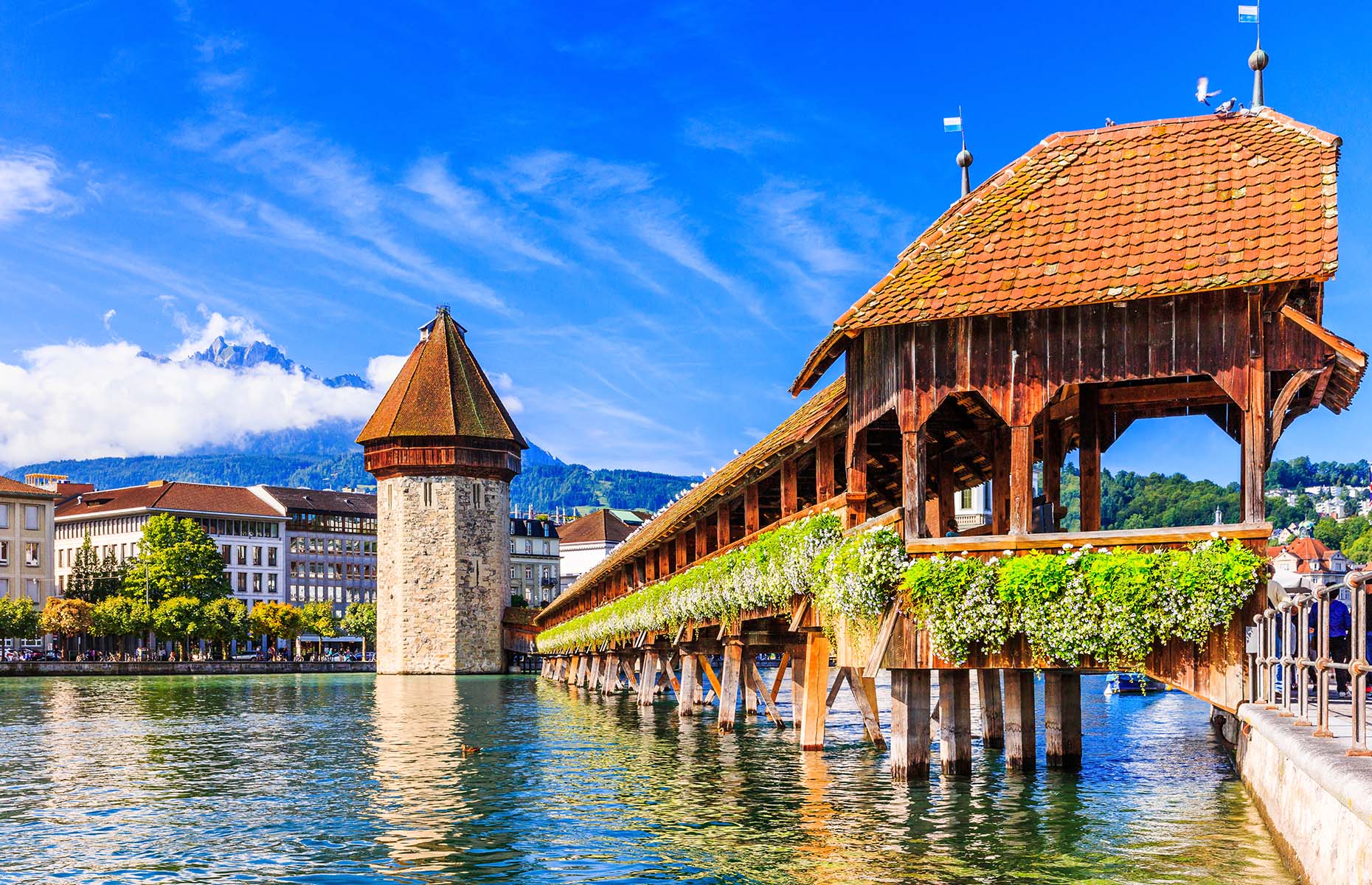 emperorcosar/Shutterstock
Dine at: Restaurant Pfistern. Located on the riverbank with views to the Kapellbrücke, it occupies the old headquarters of the Bakers' Guild, established in 1408, and offers farm- and lake-to-table fare as well as raclette, fondue with regional cheese and special vegan dishes. In summer, make sure you book a table on its balcony.
Saturday
Get up early for: Golden Roundtrip. From the pier outside the railway station take a slow boat to Alpnachstadt. From there, climb up Mount Pilatus via the steepest cogwheel railway in the world – commissioned in 1889, the gradient reaches a dizzying 48%. Stay at the top as long as you want and return via cable car and gondola to Kriens, from there bus #1 will take you back to Lucerne centre. Surely to be the highlight of your stay.
Lunch at: Mount Pilatus. Here you can find restaurants for any budget: the fin-de-siècle Pilatus Kulm dating from 1890, the self-service Bellevue with its sun terrace, the Ibex Bar for light refreshments and snacks, and finally the Panorama-Grill – a simple sausage stand with outrageous 360-degree vistas.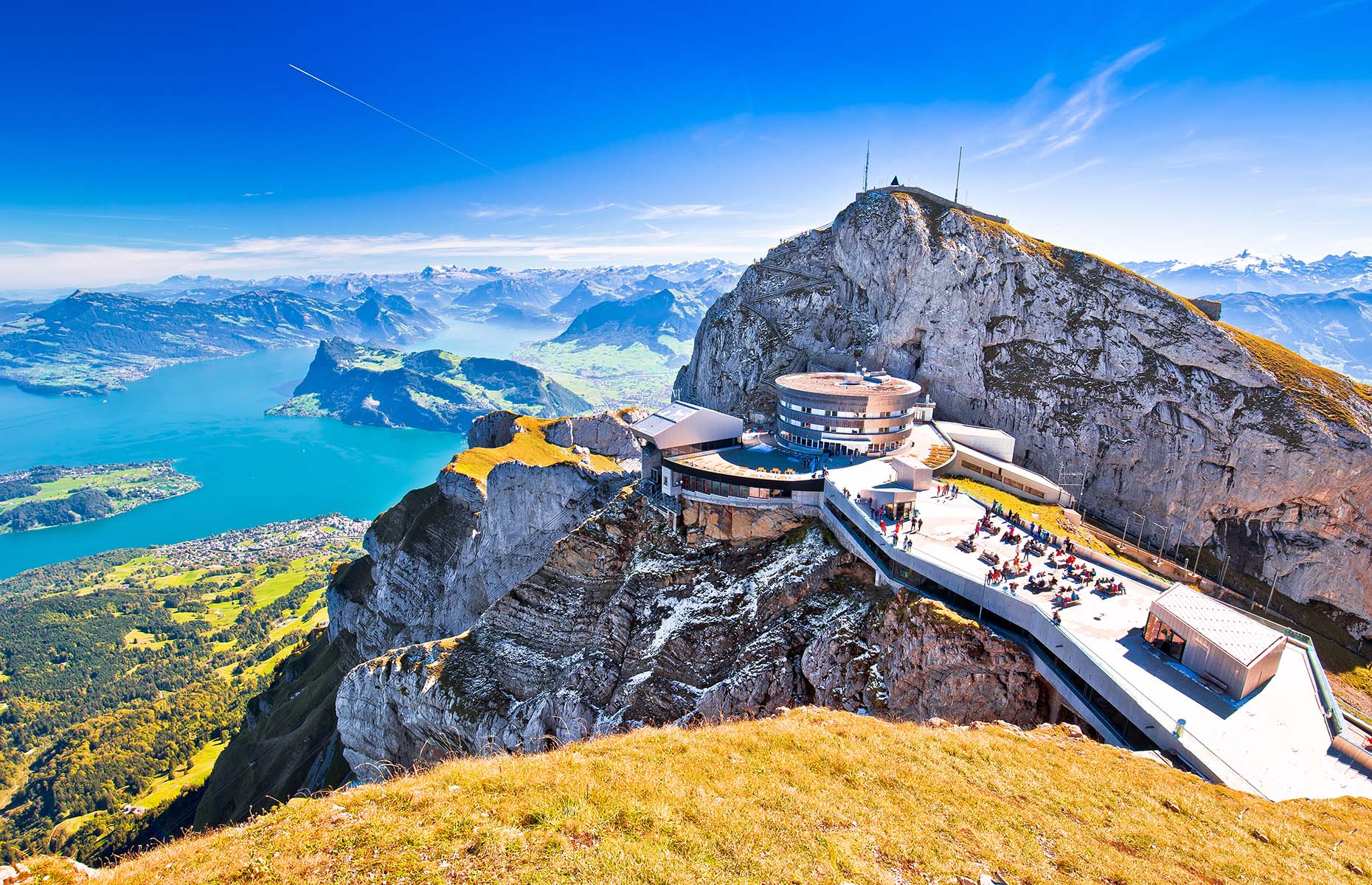 xbrchx/Shutterstock
Check out the art at: Rosengart Collection. A gallery with a surprisingly large compilation of modern art you'd never think you'd find. There are 125 works by Paul Klee in the basement, 80-odd Picassos on the ground floor and a section on impressionism on the first floor with paintings by Monet, Pisarro, Renoir, Cezanne and Matisse among others.
Let your hair down (gently) at: Netzwerk Neubad. A new entertainment complex that's seen a swimming baths compound transformed into hipster central, there's so much happening you'll definitely find something to your liking, be it a jazz quintet, a live punk band or an ambient electronica concert. It all revolves around the excellent bistro that's open late on weekends.
Sunday
Walk to: Löwenplatz. The Lion Monument, completed in 1821, commemorates the Swiss guards who were massacred defending the Royal Palace during the French Revolution and is easily one of the most moving sculptures ever carved.
Spare some time to check out the Glacier Garden opposite. During the construction of a cellar in 1872 builders discovered an impressive underground grotto formed by glaciation 20,000 years ago during the Ice Age – the same process that produced the lake itself.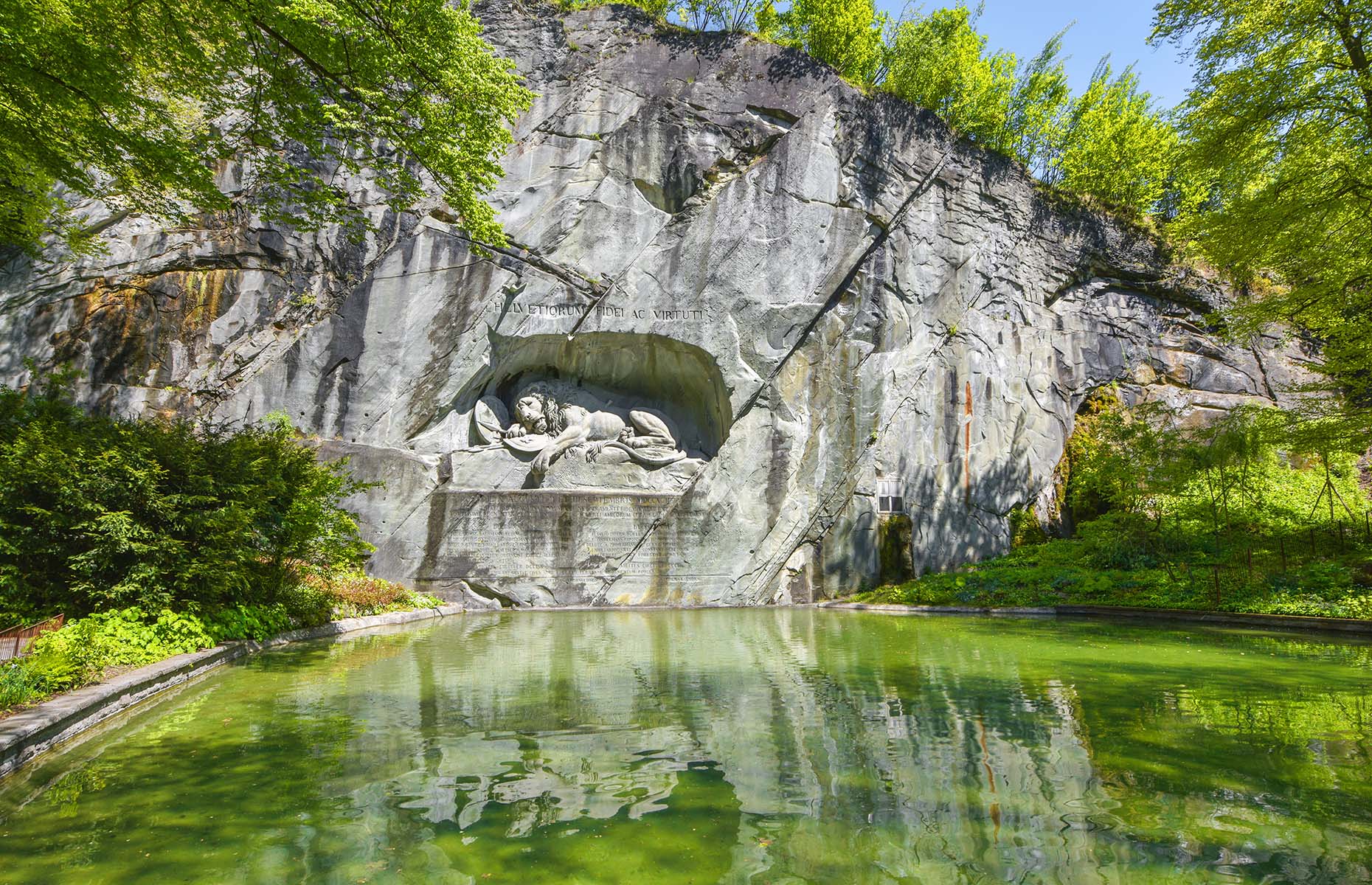 Yuri Turkov/Shutterstock
Top tip: Shops in Lucerne close early – on Saturday everything is shut by 5pm and nothing opens on Sunday. Except, that is, the sly Swiss have decided travellers on the move must surely be able to have a meal and buy necessities, right? As a result, all 60+ shops inside the railway station – for all intents and purposes a massive mall – are open throughout the week. They include no fewer than 13 restaurants and takeaways, so worry not: you will never be caught hungry.
Follow: the Musegg ramparts, the considerable remains of the city walls, for about half a mile back to the river; cross the Spreuer bridge to admire its Dance Macabre ceiling pediments. On the opposite side you'll find some extraordinary buildings next to each other: a 13th-century Gothic Franciscan church, a Jesuit church that brought baroque to Switzerland and a Renaissance palace that houses the cantonal government.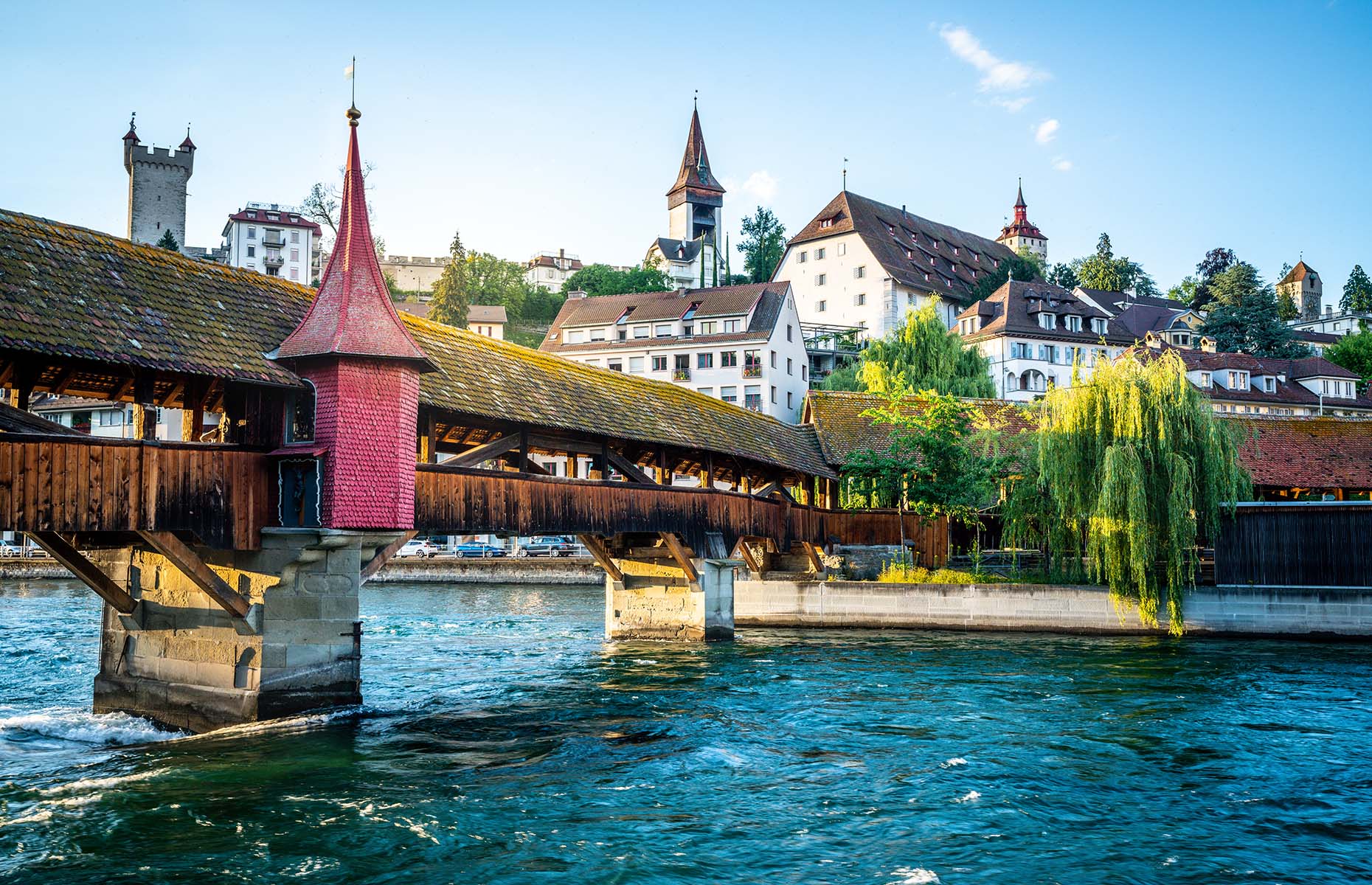 Keitma/Shutterstock
Refuel at: Crazy Cupcake Café. It's wholly vegan (even coffee is served with oat, soy or almond milk) and the freshly baked cupcakes range from chocolate and raspberry to carrot and coconut via pistachio and passion fruit. On Sundays it offers a filling brunch buffet for 33CHF (£27.50). It's so popular, reservation is obligatory. If you don't manage a booking, just pop in for a coffee and cupcake.
Take a final stroll: along the lakeshore to Wagner's museum in Triebschen in the middle of a landscaped park if only for the views to the Alps across the lake. The composer lived here between 1866 to 1872 and his piano is displayed in the living room. The villa stands far from the centre because he co-habited with his muse, Cosima von Bülow, while she was still married. It was only after she gave birth to Wagner's third child here that her husband granted her a divorce. Despite such personal upheavals, Wagner managed to finish his Master-Singers of Nuremberg and Siegfried, as well as begin on the Twilight of the Gods.
READ MORE: A weekend away in leisurely Lausanne
Be the first to comment
Do you want to comment on this article? You need to be signed in for this feature