Explore Greece's Peloponnese: what to see, where to eat and where to stay
When you think of Greece it's often the islands that spring to mind. But the Peloponnese, a three finger-shaped peninsula that hangs from the mainland, offers all the romantic ruins, dramatic beaches and quiet hotels you've been dreaming of too.
Why go to the Peloponnese?
If you're looking for the real Greece, rent a car and drive around the leaf-shaped peninsula of the Peloponnese – it's proudly declaimed its Greekness since time immemorial.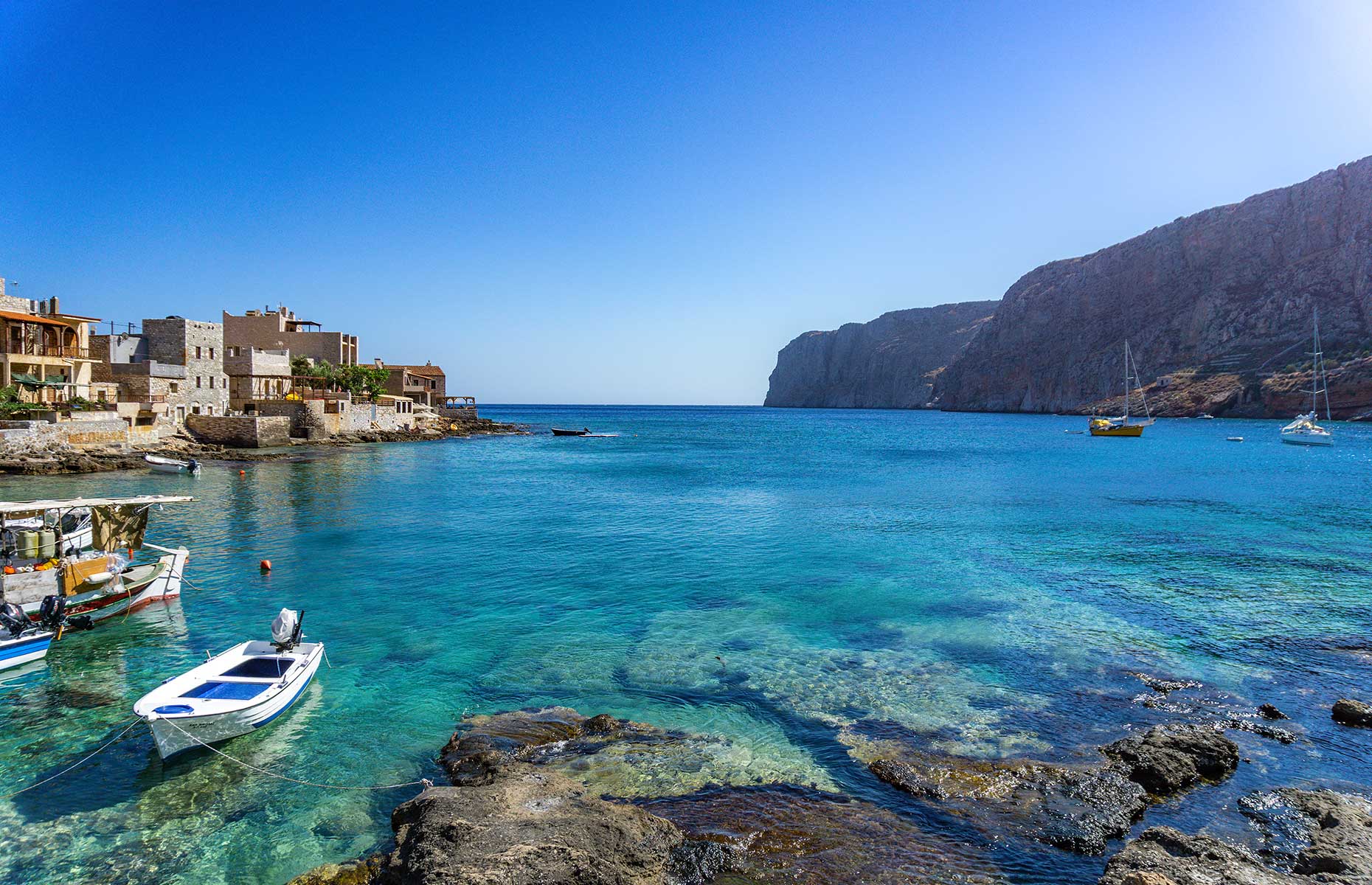 Pit Stock/Shutterstock
Familiar names such as Olympia (the birthplace of the Olympics) and Mycenae evoke the Homeric legends of ancient Greece, yet it's lesser-known towns like Monemvasia and Mistras that show the centuries' Hellenic continuity.
Mountains are high yet benign and passes are spectacular, valleys are lush and fertile while the coastline is mottled with ports, fishing villages and arcs of fine sand. The best thing about it? The Peloponnese caters for Greeks who demand top value from their holidays. You're sure to return.
READ MORE: How to plan a Greek island-hopping holiday
Highlights
Nafplio and the Argolid
The port of Nafplio was the first capital of modern Greece from 1828 until 1834 when King Otto decided to decamp to Athens. We should be grateful for his move because it ensured that Nafplio retained its nineteenth-century charm. Today it ranks as one of the most delightful towns in Greece and competition is stiff on that front. Not content in being superbly sited under two castles – the Venetian fortress of Palamidi and the ancient acropolis of Akronafplia – Nafplio also claims a third: the photogenic fort of Bourtzi set on an island in the harbour.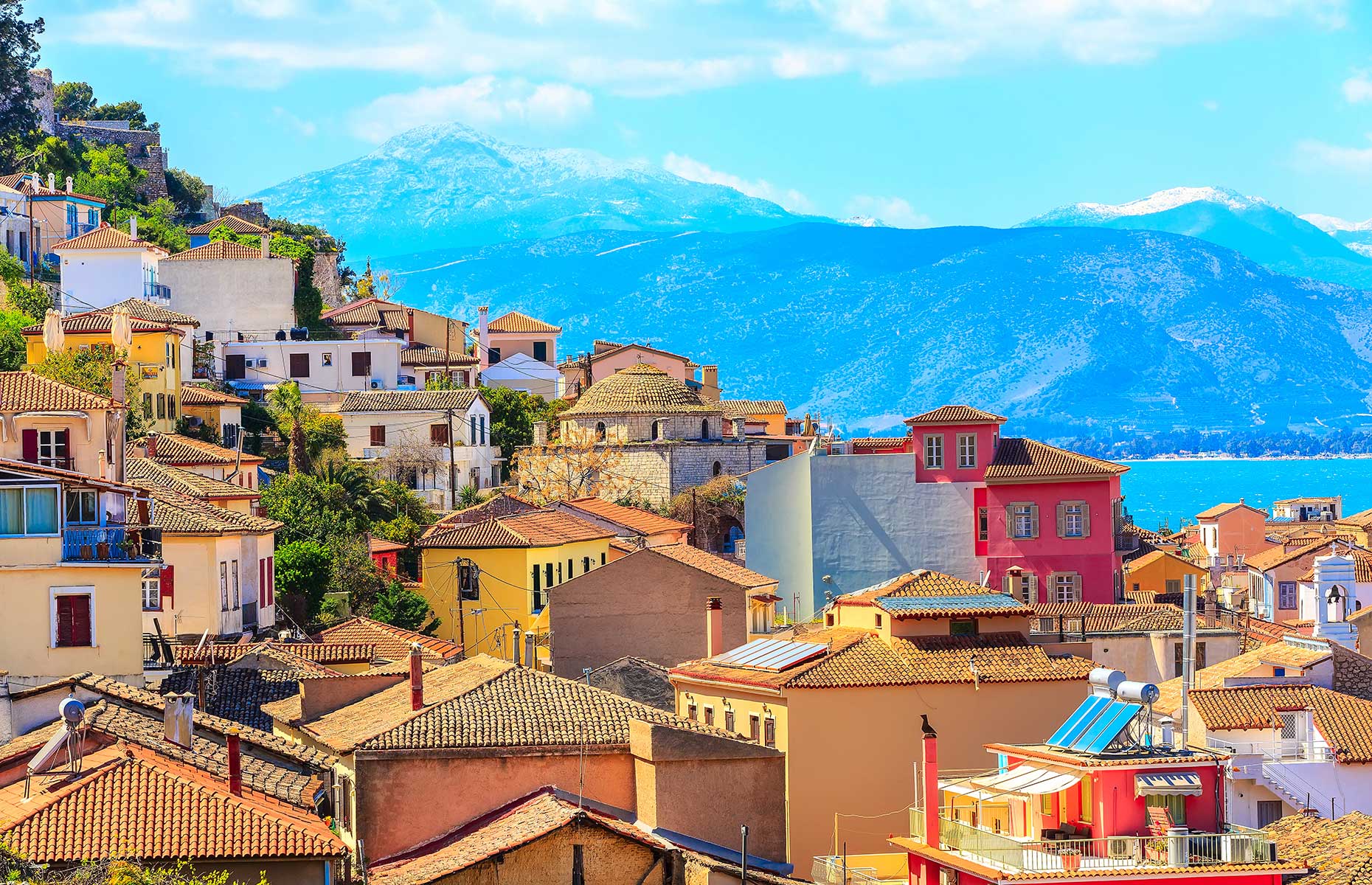 Nataliya Nazarova/Shutterstock
Sparta and Laconia
Given that this region has bequeathed the words "laconic" and "spartan" to the world, it's no surprise to find that the warlike Spartans didn't leave much behind, so there's not much to see in the modern capital of Laconia. Stay here for a range of sights nearby, most notably Mistras, reached by bus in half an hour.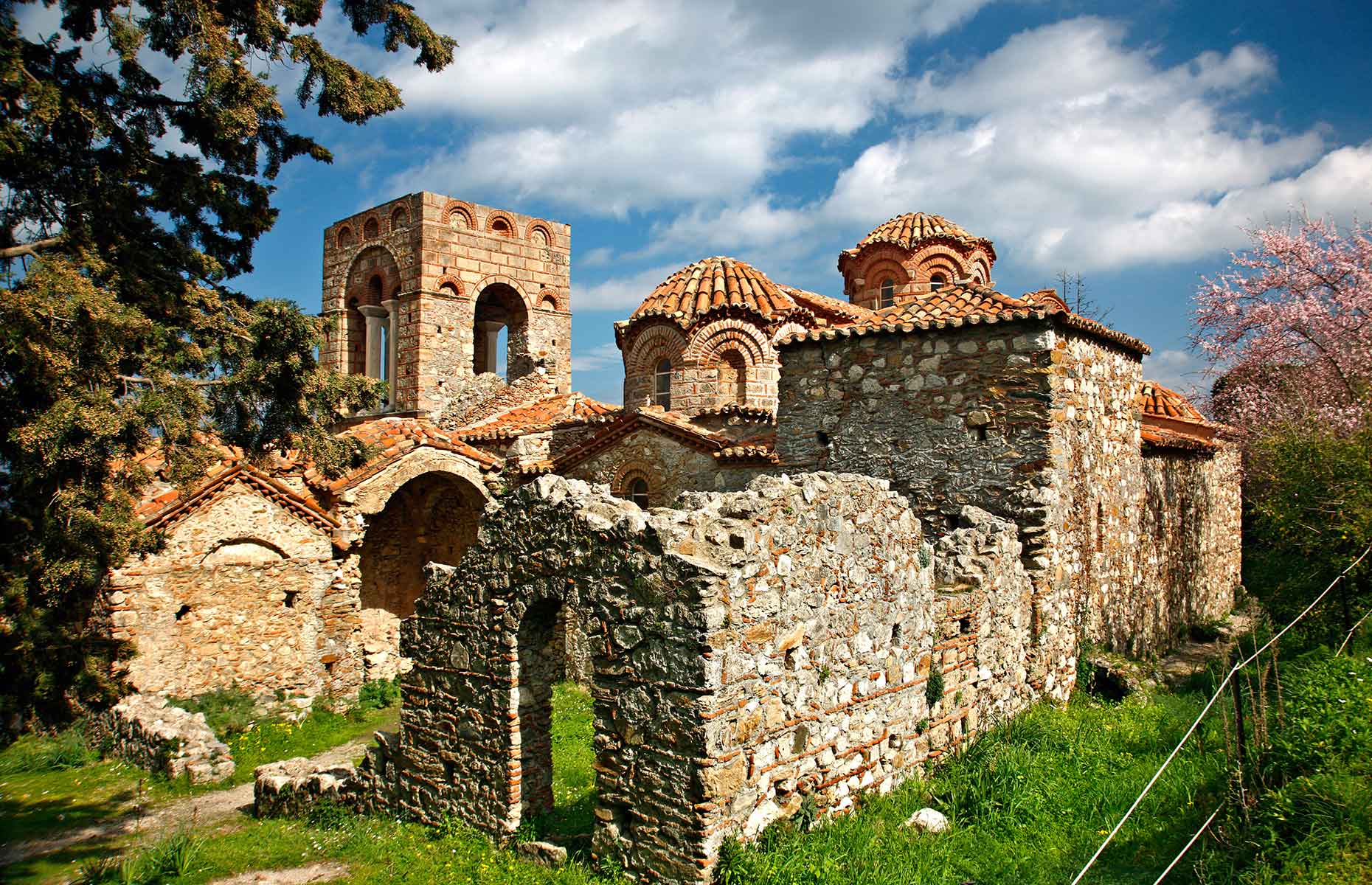 Heracles Kritikos/Shutterstock
This is a stunning, never-to-be-forgotten Byzantine ghost town complete with cobbled streets, frescoed churches, medieval mansions and Imperial palaces. Although the climate is perfect in spring and autumn, avoid high summer, as Sparta regularly clocks the highest temperatures in Greece.
Kalamata and Messenia
Kalamata, the capital of the district of Messenia, may be famed for its olives, but, once there, you'll fall in love with the longest city beach in the whole of Greece spanning just under two miles. Kalamata also claims the only international airport in the Peloponnese, the gateway to Sparta and the Laconic coast, the Mani peninsula and the Messenian gulf resorts. Yet, before you set off, linger on for a bit to enjoy the city's California-style unfussy disposition.
Pit Stock/Shutterstock
Mani
Famed Mani, the long middle "finger" of the three-pronged Peloponnese peninsula is dominated by imposing Mount Taygetus that gets a namecheck as far back as the Odyssey. Spectacular mountain passes, deep limestone caves, vast pelagic views, evergreen citrus trees and tall defensive towers dot the land of the Maniots, a tough mountain people who kept their autonomy even under the Ottoman occupation in 1770. Despite its ruggedness, tourism is well developed in resort towns such as Kardamyli, Stoupa and Gerolimenas.
Patras and the North
If you're arriving by ferry from Italy, then your first impression of Greece will be formed in Patras and it's going to be a pleasant one. Greece's third-largest city has much to commend it, including the ruins of a castle, a Roman Odeon, a museum with no fewer than 14 Roman mosaics and a 600-year old Turkish bath, the oldest in Europe still in operation. Plus, as the large university can vouch, it has a more than decent nightlife centred around a large, pedestrianised street grid.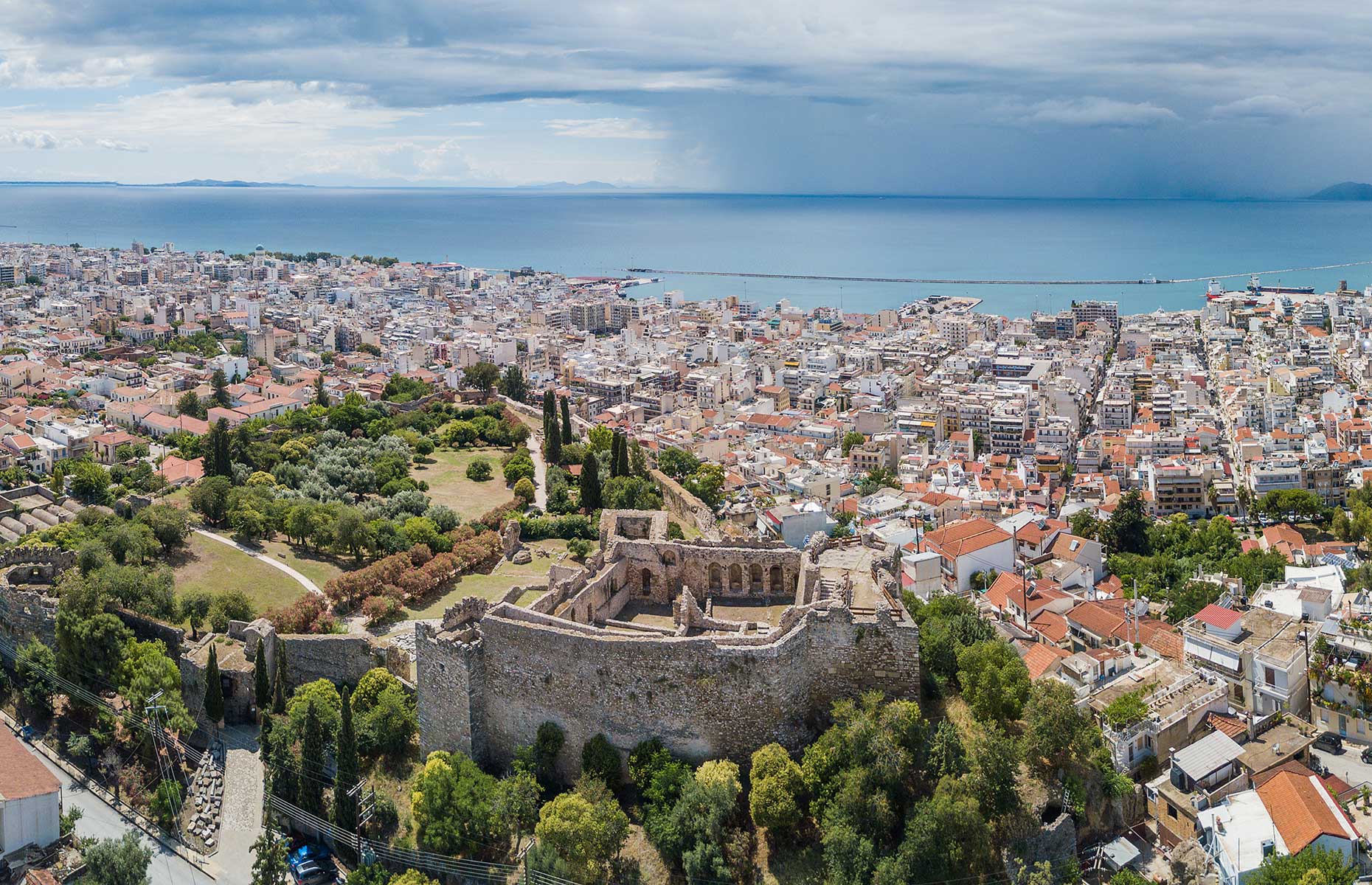 Max Topchii/Shutterstock
What to eat and drink in the Peloponnese
The Peloponnese is one of the most fertile areas in Greece so you should expect gallons of freshly squeezed fruit juices along with kayanás (scrambled eggs with tomatoes) for your breakfast. Indeed, oranges are in such supply that they're used to flavour sausages in Kalamata as well as syrupy sweets like portokalópita (orange pie). Olives and olive oil are plentiful and are used liberally in salads and in cooking, including delicious vegetable dishes called laderá.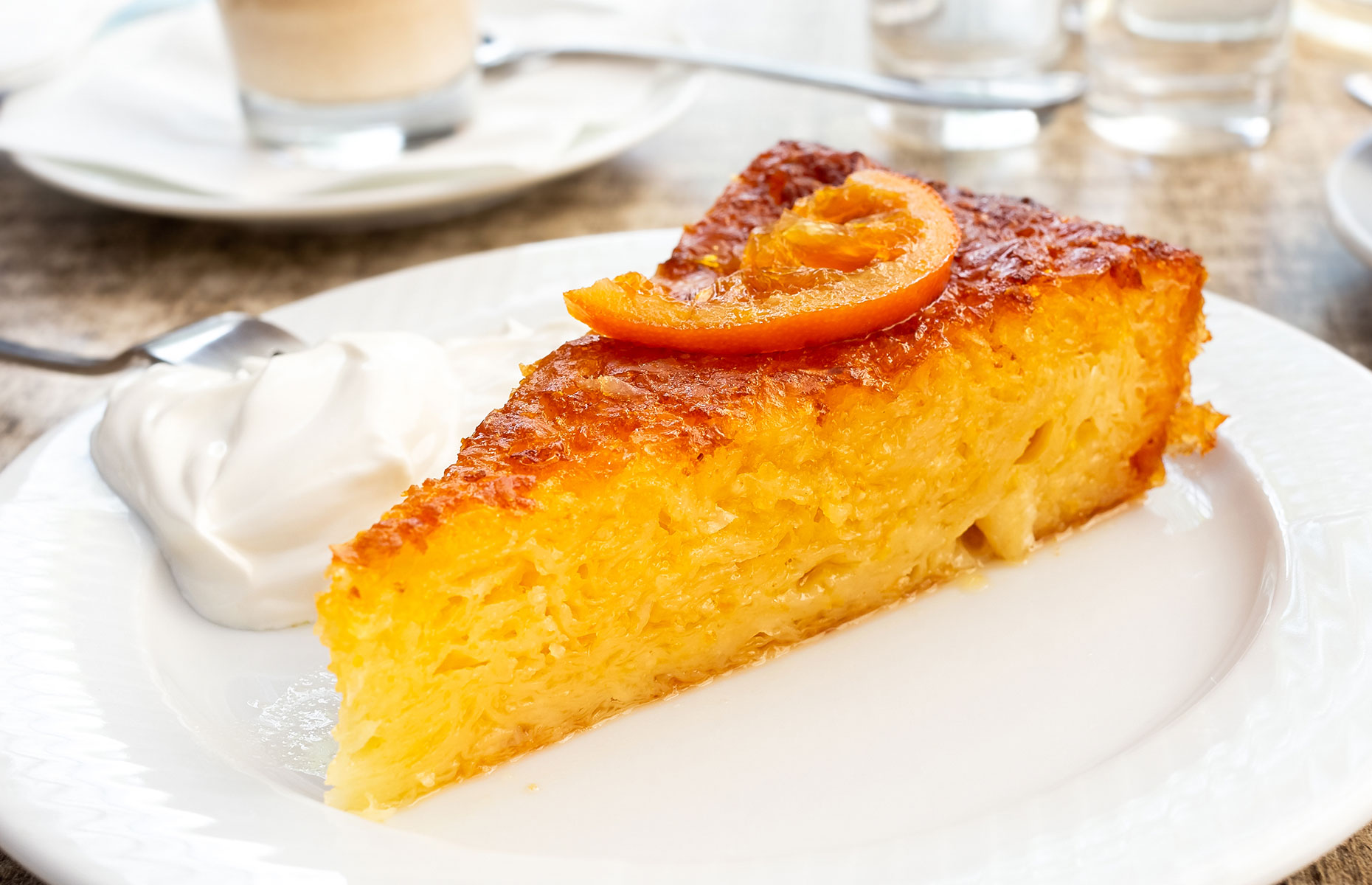 Moving Moment/Shutterstock
Wine features heavily alongside olive oil. The plain of Nemea grows the famed Agiorgitiko variety (red, dry) while Mantinia in the interior produces Moschofilero (white, dry). The region around Monemvasia gave its name to malmsey wine – a corruption of "Malvasia", itself a Venetian corruption of "Monemvasia" – which is currently making a comeback. The biggest wine region is, however, Achaïa, the department around Patras where you can taste aromatic white Muscats and sweet Mavrodafni reds.
Itineraries
1. Best for history & romantic ruins
Athens-Nafplio-Mycenae-Tiryns-Epidavros
Less than two hour's drive from Athens, Nafplio welcomes Athenian families during weekends so try to come here midweek to beat the crowds.
Apart from its three magnificent castles, Nafplio also claims a wondrous worry-bead ("komboloï") museum and Karonis one of a few ouzo factories on the mainland that you can visit for a tasting.
The town is also the perfect base to explore a slew of historic sites nearby. It's a short drive to two UNESCO World Heritage sites, both stemming from the era of the Iliad and the Odyssey: small but impressive Tiryns and unmissable Mycenae itself, the town that named that whole epoch. The ancient theatre of Epidaurus nearby is, remarkably, still in use and during the summer you can attend a concert or theatre performance under a balm evening's moonlight.
S-F/Shutterstock
You want to stay in the centre of Nafplio, so choose among inexpensive Family Hotel Latini, boutique Hotel Ippoliti, the only one in town with a pool, or swish, luxurious 3 Sixty Hotel & Suites in a converted neoclassical town house.
3 Sixty Hotel & Suites/Booking
2. Best for wine lovers
Ferry to Patras-Kalogria-Olympia
Patras is in the middle of Greece's largest wine area and the city is the headquarters of the giant Achaia Clauss winery, established in 1861 open for tours and tastings. In Patras stay at the elegant, modernist Olympic Star hotel between the castle and the pedestrianised centre but if you want a hotel close to the port try the bright-coloured Airotel Patras.
For a stunner of a beach, drive an hour west of the city on to the sand dunes of Kalogria that border Strofilia National Park and rest at Verde Al Mare, a boutique hotel whose range of activities is staggering.
About an hours' drive from Kalogria lies Olympia, the birthplace of the Olympics. It's a very evocative site that doesn't disappoint: you can run on the exact track used by the ancient athletes, visit the temples they made offerings to and marvel at the marble statues in the museum, equal to the Elgin marbles in artistry and quality.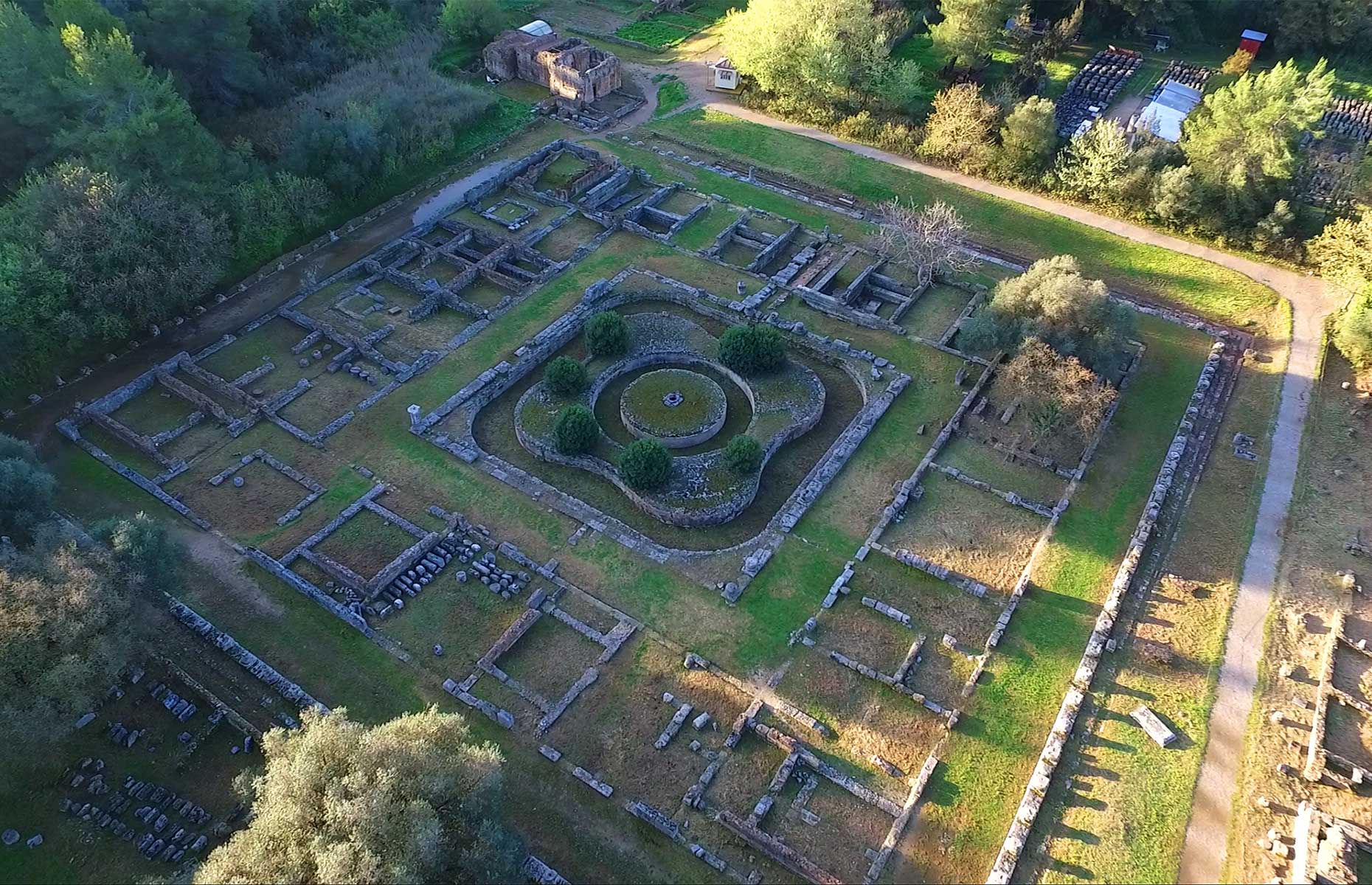 Aerial-motion/Shutterstock
Do stay overnight in the adjoining new town; it's worth it. Try Hotel Neda for its pool or Hotel Pelops for its food.
3. Best for beaches
Kalamata-Koroni-Finikounda-Methoni-Gialova-Costa Navarino
If you lust after the archetypal Greek island vibe, then the Messenian coast offers resorts and beaches aplenty. Costa Navarino is the most developed with Caribbean standards of service but try also Gialova just below for a more intimate experience. Between the two lies one of Greece's main birdwatching wetlands featuring a chameleon sanctuary and Voïdokoilia, a perfect semicircle of a beach.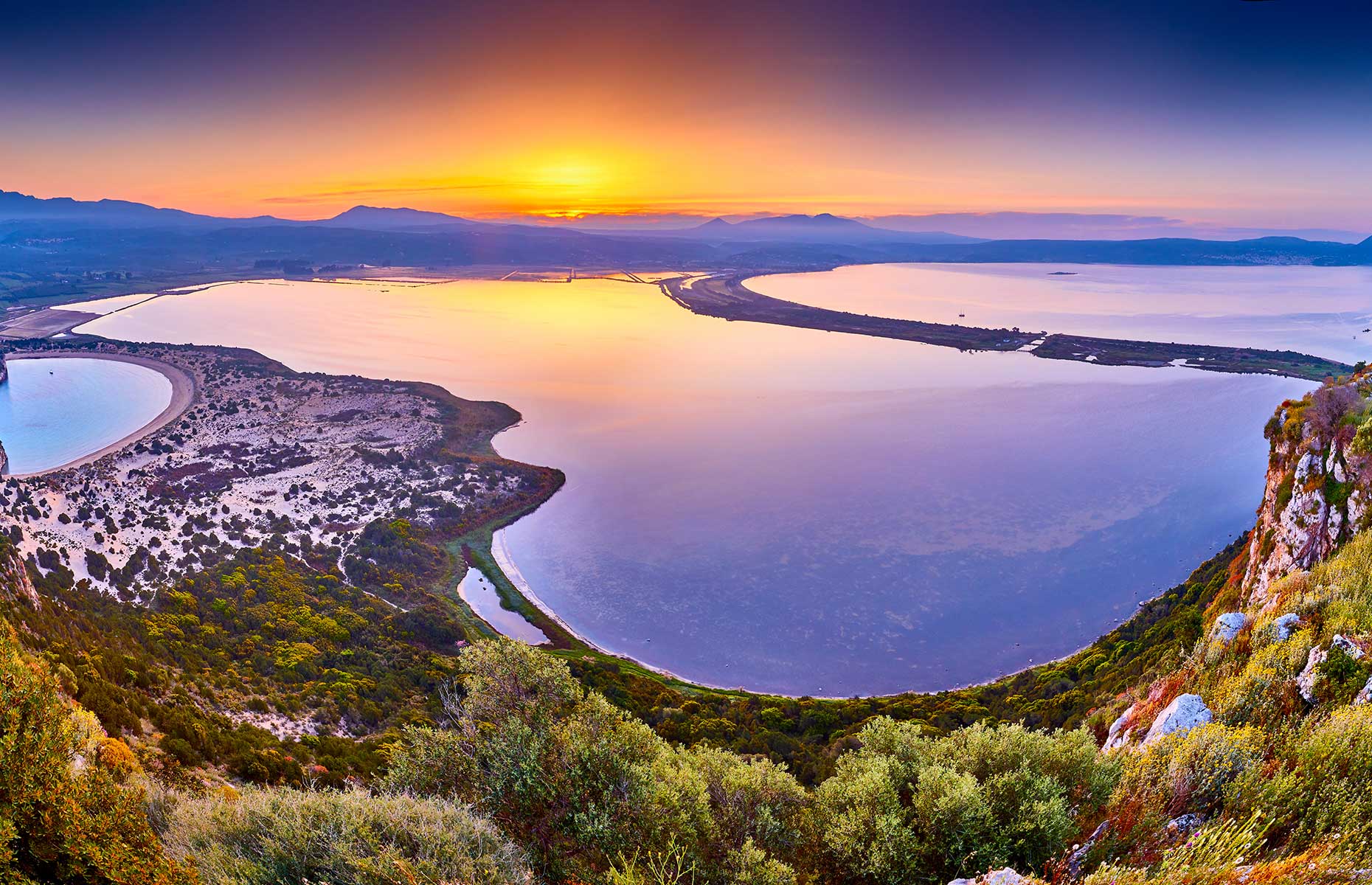 Zebra-Studio/Shutterstock
Further south, Finikounda offers wide, wild stretches of sand, while the smaller towns of Pylos, Methoni and Koroni score high on charm with picturesque harbourfronts, medieval fortresses and small-scale summer laziness.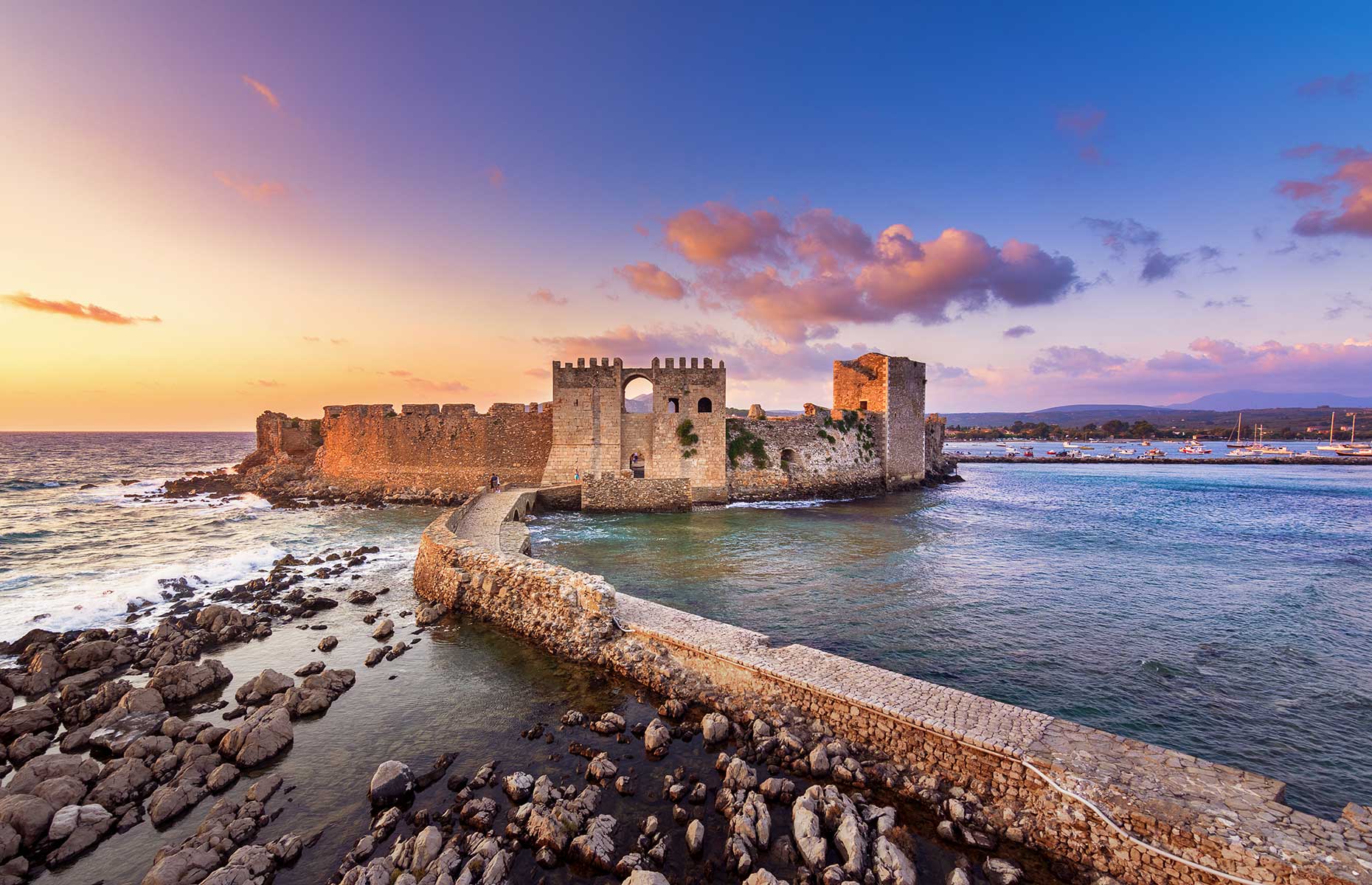 Georgios Tsichlis/Shutterstock
Your first choice here should be Westin Costa Navarino which is rather pricey but worth it – we're talking two golf courses and five restaurants. The seaside, family-friendly Zoe Resort by Gialova and the stunning boutique hotel Camvillia Resort Messinia inland from Koroni can hold their own against any luxury hotel in the Med, while the modern, self-catering Niriides Luxury Villas in Methoni is an American embassy favourite and gets block-booked by its employees during holidays.
4. Best for small towns and tiny islands
Kalamata-Sparta-Monemvasia-Neapoli-Elafonissos
Fly into Kalamata and take the Langhada pass to Sparta, a dramatic 38-mile (60km) hairpin-rich road over Mount Taygetus and one of Greece's great road trips. A few hours' drive further on rises "The Gibraltar of the East": the rock of Monemvasia. Joined by a small causeway with the mainland, the rock hides the medieval, fortified town of Monemvasia, a Byzantine time bubble if ever there was one.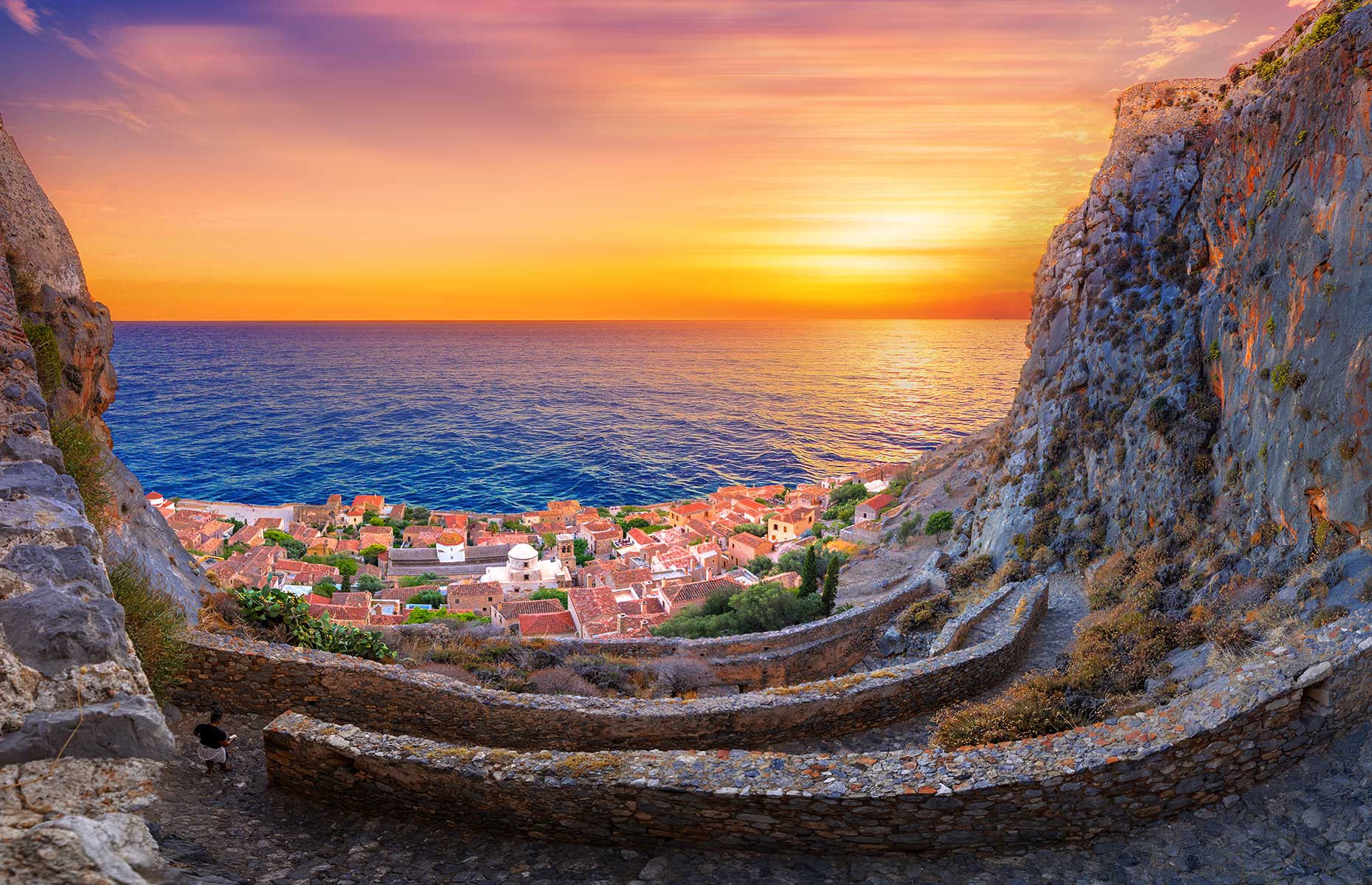 Georgios Tsichlis/Shutterstock
A new road south takes you to the lovely fishing village of Neapoli, best known as a hop-off ferry point to the island of Elafonissos, whose long sandy beaches are legendary among the cognoscenti.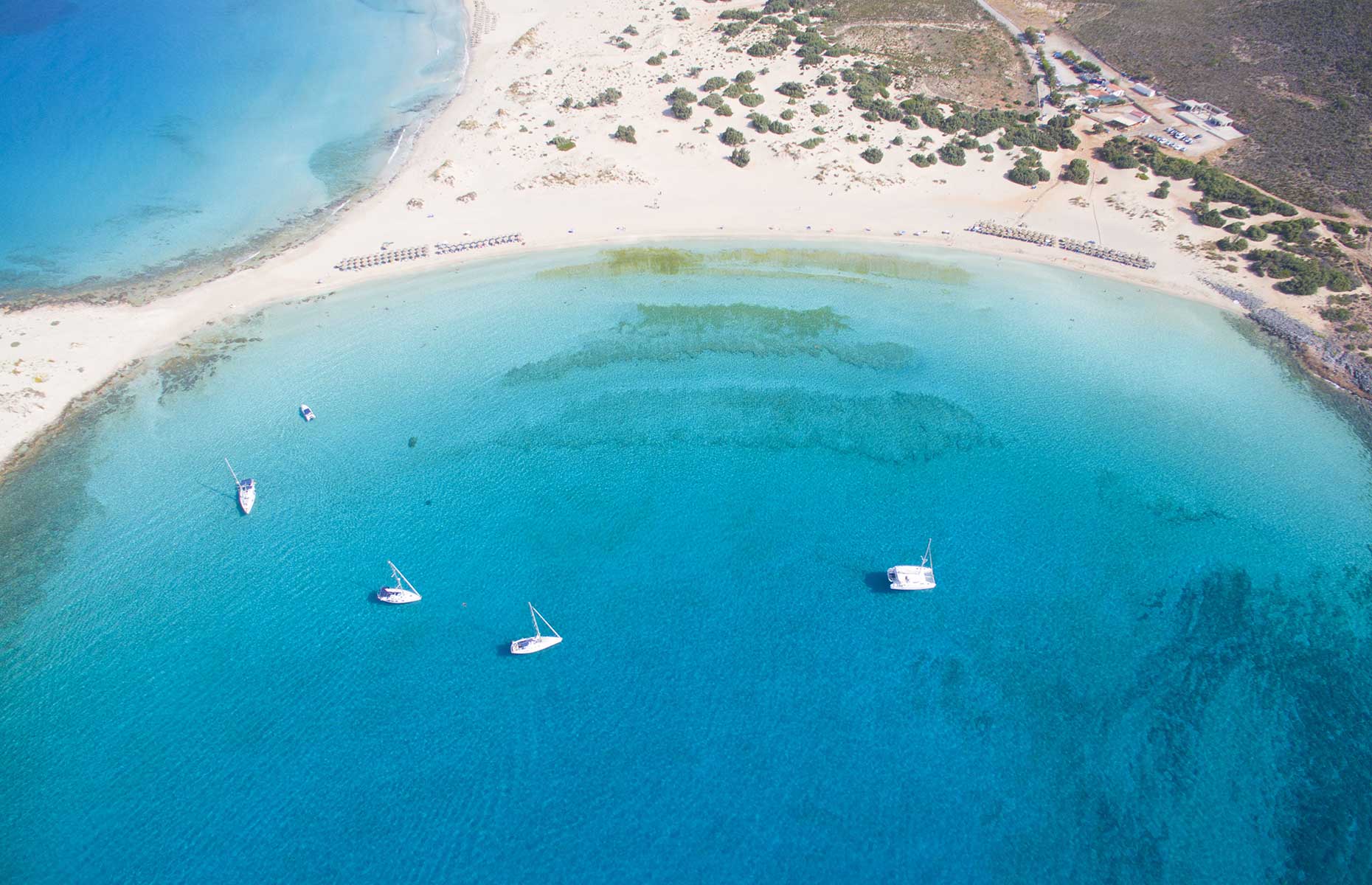 experiencecollector/Shutterstock
In Sparta there are few hotels as comfortable as Menelaïon, a shiny modern converted neoclassical mansion right in the middle of town with an excellent breakfast. But the one hotel you must stay in lies on a slope opposite the rock of Monemvasia: Kinsterna Hotel occupies a centuries-old farmhouse with a restaurant, pool and spa is a destination in itself.
5. Best for crowd-free vistas
Kalamata-Kardamyli-Stoupa-Gerolimenas-Cape Tainaron-Areopoli-Gytheio
Stay in Kalamata long enough to enjoy its city beach and then slowly make your way to Cape Tainaron the European continent's southernmost tip. Its bare and dry landscape feels like a setting for a spaghetti Western – maybe this is why the Ancient Greeks thought that it led to the Underworld.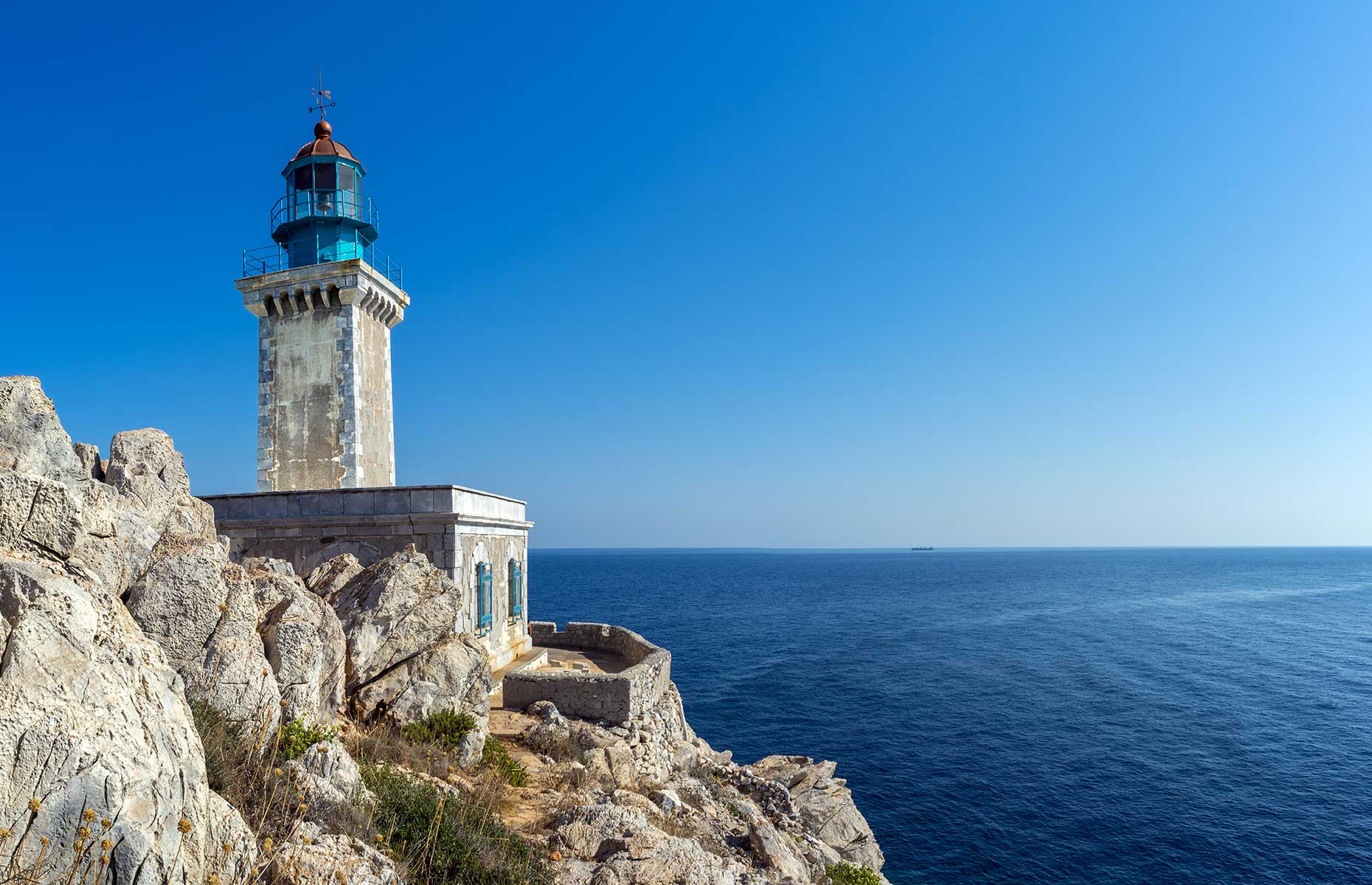 Dimitris Panas/Shutterstock
A southern mountain pass leads via the austere stone-built town of Areopolis to Gytheio, a beautiful, unspoiled port facing the picturesque island of Marathonissi in the middle of the bay. The five-mile beach at Mavrovouni, outside Gytheio is one of the most remote sandy stretches in Greece; not even in high summer do the shoulder-to-shoulder campsites and hotels feel overcrowded.
In Kalamata stay either at central Elektra Hotel and Spa or at Hotel Filoxenia a resort at the end of the city beach.
Kardamyli boasts Hotel Kalamitsi, where novelist and travel writer Bruce Chatwin wrote his "Songlines"; his ashes are buried at Exohori, a village 6.2 miles (10km) up Mount Taygetus where he used to hike most evenings.
Finally spend at least one night at Hotel Kyrimai an old stone customs house now an atmospheric 5-star hotel, overlooking the tiny port of Gerolimenas if only for its gourmet dinner.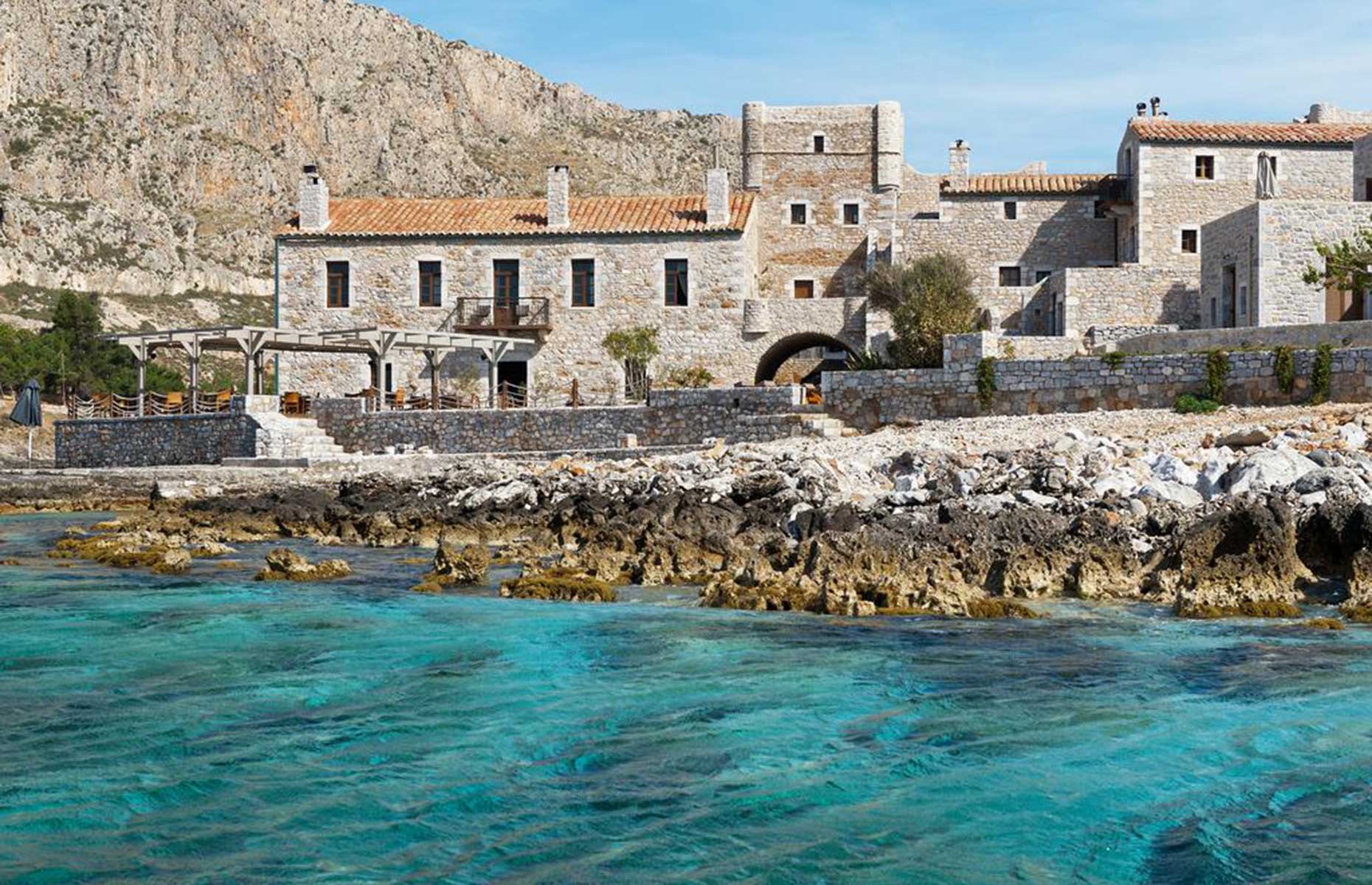 Hotel Kyrimai/Booking.com
Map
More information
Be the first to comment
Do you want to comment on this article? You need to be signed in for this feature