Explore Santorini: the top things to do, where to stay & what to eat
Whitewashed houses clinging on to the rim of a volcanic abyss, cyan-domed churches rising over sparkling seas and beaches with baking black sand. Santorini's views over its cliff-cupped caldera – a submerged volcanic crater – add up to an awe-inspiring spectacle. And this is not all: with two archaeological sites, a string of superb vineyards matched with a slew of gourmet restaurants and a small archipelago of its own, Santorini has emerged as the Queen of the Aegean.
Key locations in Santorini
Fira
The capital of the island and centre of nightlife was one of Greece's poorest areas until the turn of the 21st century when cruise ships discovered Santorini's peculiar volcanic geology and rich history. As the only village with access to safe harbours – one for line ferries and one for cruise ships – it's likely to be your first port of call. Busy but never overwhelming and modern without losing touch with its tradition, it's the perfect introduction to the island.
Oia
The jewel in the island's crown, this small village at the northern tip of the Santorini demilune has developed into one of Europe's holiday hot spots, sporting luxury hotels with balcony hot tubs, cocktail bars with vertiginous views and art galleries exhibiting the best contemporary art Greece has to offer. They've all sprung up because of its fortuitous geography, as Oia has the best spots to watch the famed Santorini sunset (around 8pm in the summertime).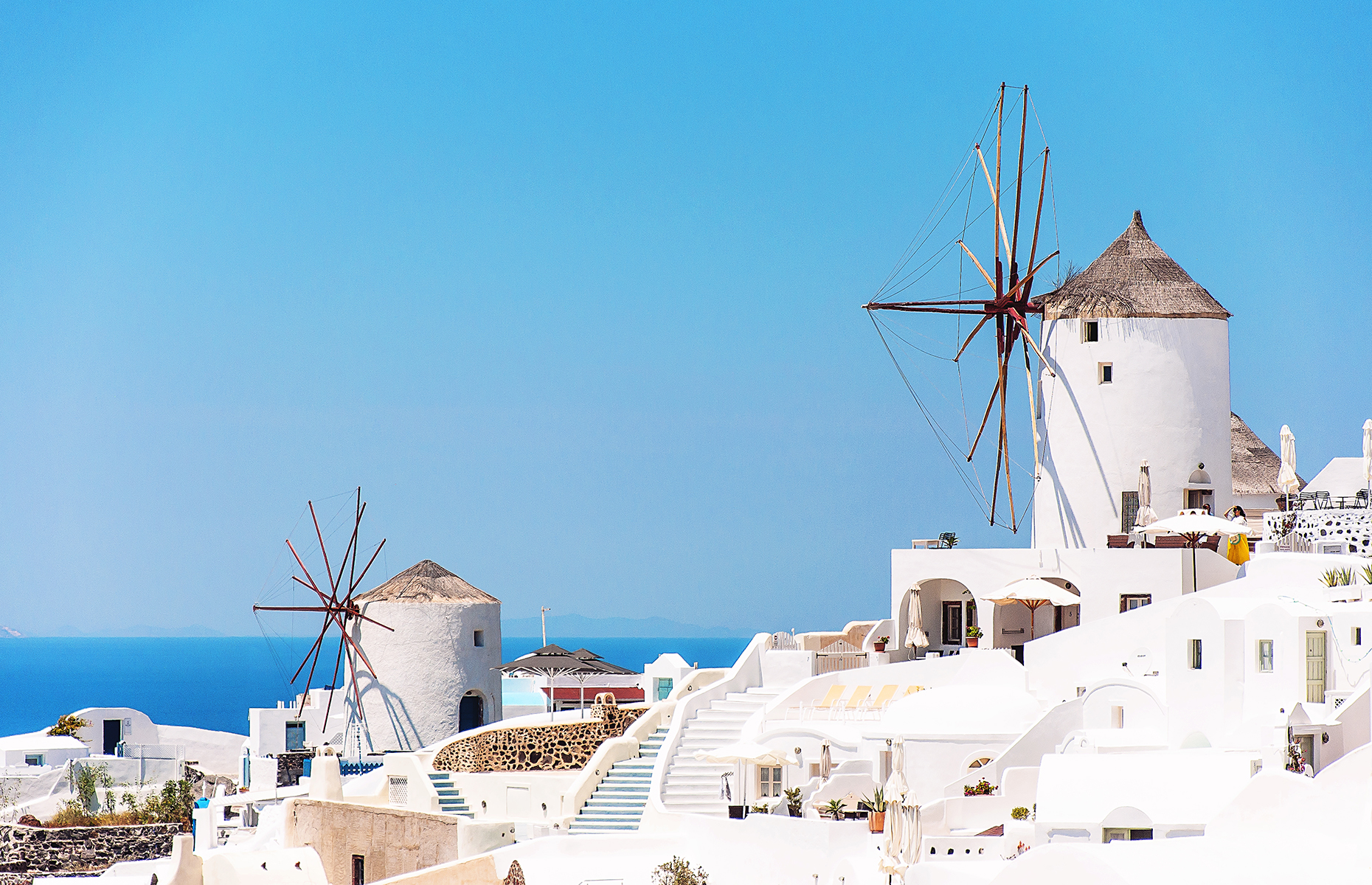 Arkhipenko Olga/Shutterstock
Thirassia
The second largest island of the Santorini archipelago is sparsely populated and it's not easy to get to unless you're part of an excursion – there's only an infrequent local ferry from Ammoudi, near Oia. However, it gives off those slo-mo vibes of pre-mass-tourism Greece. There are beautiful paths to hike in, crowd-free coves for swimming, unfussy tavernas, and, of course, totally different vistas of the caldera than from the main island opposite.
READ MORE: 7 Greek islands you've probably never heard of
Kamari
Concentrating, as one does, around the caldera, it's often easy to forget that Santorini actually has many beaches in the eastern part of the island. Kamari is the most mature resort whose safe, long stretch of black sand is much appreciated by families. If you want variety, a boat leaves half-hourly in season to Perissa on the other end of the rocky promontory and a bus can take you up to the ruins of classical-period Ancient Thera.
Zocchi Roberto/Shutterstock
The best hotels in Santorini
There are no cheap sleeps in sought-after Santorini where caldera views will add £100 to a room price. On the plus side, unlike most Greek islands, it has an extended season with frequent pre- Easter or post-September bargains. One of the first hotels to open (in February) is Hotel Majestic just outside Fira. With its two heated pools, sleek horizontal lines, a convenient central location plus a carpark, it's a good base to explore the rest of the island.
If you have a car, and views rather than proximity to bars and restaurants are your preference, then Avant Garde Suites in the south of the island offers airy rooms with pop-art furniture, an infinity pool with eye-watering views to Fira and Oia, as well as a path to the only beach inside the caldera. In the north, try Myst, a boutique hotel to out-boutique any other, with an excellent in-house restaurant and easy, albeit steep, access to Oia.
If you want to be in Oia itself and experience the delights of a permanent panorama from your own balcony, nothing compares to Andronis Luxury Suites – one of the best hotels in the Aegean with one of the top restaurants in Greece. If you can pick up a posse to share four bedrooms, Oia Mansion at the tip of the island is hard to beat. It's an old sea-captain's villa with high ceilings, traditionally furnished dining and living rooms, modernised bathrooms, a roof terrace enjoying the best sunset views on Santorini as well as your own, personal cook.
Finally, if you absolutely must have a beach holiday, go for the modest but no less attractive Chez Sophie. One block from the beach in Kamari, it benefits from an illuminated kidney-shaped swimming pool to inspire David Hockney, reasonable prices and Greek family hospitality.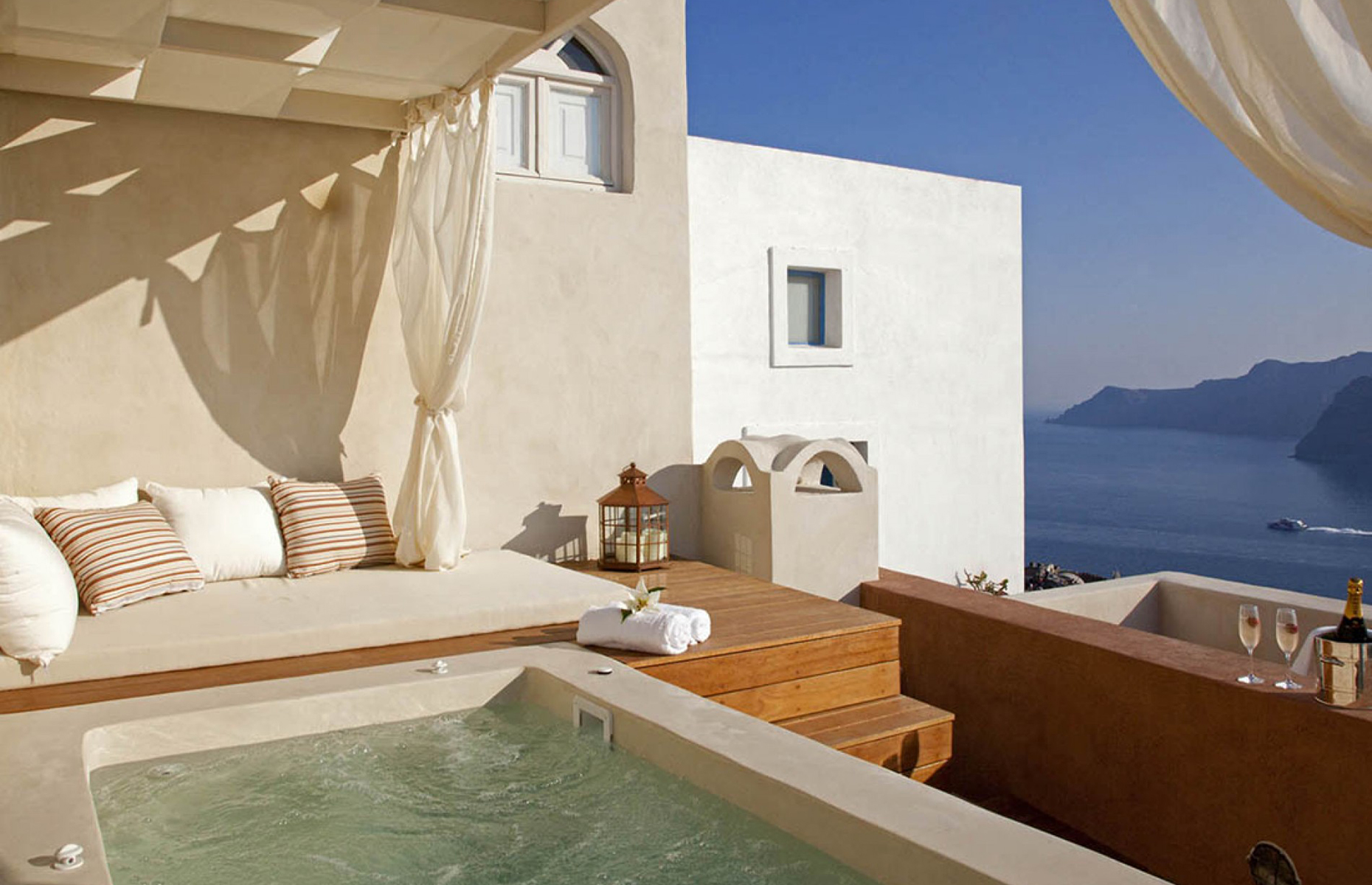 Oia Mansion/booking.com
Top tip: If you're not hiring a car, book a transfer to your hotel with Get Your Guide here.
READ MORE: Explore Greece's Peloponnese
What to eat & drink in Santorini
Start your wine exploration with the oenotourism or wine tourism centre of Santo Wines just south of Fira. Santorini's Assyrtiko is a lemony, acidic wine that's taken the US and Europe by storm. Vinsanto, a sweet red wine, works as a Madeira-like postprandial aperitif and is known as 'holy wine' from its use as a communion wine by the Orthodox Church.
Island specialities comprise fava, a silken split-pea purée, eaten with onion and olive oil. Capers that grow wild in the rocks, as well as tomatinia, stunted sweet cherry tomatoes, adorn the regional variety of Greek salad. Try them at Metaxi Mas that specialises in creative island cuisine. It's run by brothers Dimitris and Kostas by the bus stop at Exo Gonia.
Santorini's high wages attract Greece's best chefs and two of its award-winning restaurants are worth scrambling a reservation for. Selene at Pyrgos takes on classic Greek recipes and adds a sublime twist – think sautéed squid with fava, dried scallops and lemon confit in mussel broth. Lycabettus, on a caldera-facing platform, offers a nine-course tasting menu that's a work of art, plus a 500-strong wine list that can all be ordered by the glass.
The top things to do in Santorini
Caldera trip
There are many quick excursions inside the caldera, from a two-hour cruise to a day trip that includes trekking by the fumaroles on an active volcanic islet, swimming in hot springs bubbling in the sea and a visit to Thirassia. If you can afford the time, the all-dayer ticks all the worthwhile boxes.
Atlantis visit
It says a lot about Santorini that the prehistoric site at Akrotiri is 12 centuries older than the Parthenon. You can walk the village streets, gawp into still-stocked cellars and take photos of the irregular-shaped squares. The volcanic eruption in 1645 BC, that caused today's submerged crater, buried the village in lava and preserved it in remarkable detail, giving rise to the legend of Atlantis.
Wineries Tour
There are no fewer than nine indigenous types of grape that grow in the volcanic soil of Santorini. Aside from Assyrtiko, other whites are Athiri, a delicate ancient Greek variety and medium-bodied Aidani. From the reds, Mandilaria is highly aromatic while Mavrotragano is a deep-coloured wine high in tannins that reminds you of claret. They grow in thirteen separate wineries, some of which (Domain Argyros, Karamolegos, Canava Roussos) are as good as any you'll find in Burgundy or Bordeaux. They're all easily accessible by car, but if you're not the spitting kind, book a tour with Santorini Wine Tours.
Sunset Gazing
Yes, it is legendary and the colours and setting are magnificent, but the crowded, impassable upper edge of Oia – traditionally the domain of camera clickers – can diminish the overall experience. As the day dims, settle in a bar at Fira or Imerovigli or, better, anywhere on the road to Faros in the south-western corner. Looking north, you'll have a wider view that includes Fira, Oia and both volcanic islets of Palea and Nea Kammeni.
Georgios Tsichlis/Shutterstock
Black Sand Beaches
The east of the island is completely different from the caldera-facing western crescent as it slopes gently to a number of beaches with coarse black sand. Kamari is the best known, but the bays of Perivolos and Perissa are as popular, offering an abundance of water sports. Vlychada on the other hand is the exact opposite – its white, lunar landscape is what a beach might look like on the Moon, should we ever succeed in terraforming it.
READ MORE: 6 essential experiences on Sifnos, Greece
Book a tour with an expert guide
Our partners at Get Your Guide offer a range of tours with local experts. Here's our pick of the best:
The ultimate Santorini itinerary
Day 1
Hike on the crater's rim: Walk along the streets of Fira and have a stroll along the gentle 11km (6.8 miles) walk to Oia on the caldera rim to take in the full magnificence of the landscape and pose for a few selfies.
Beat the crowds: By booking a balcony table at Passagio, a laid-back café right at the edge of Oia which, uniquely, has terrace views both west to the caldera and to the Aegean expanse in the east.
Boogie through the night: Start your evening in Fira by listening to some eclectic jazz at Kira Thira and finish your night dancing at Enigma or Koo Club both of which attract famous DJs from Athens and beyond.
kavalenkava/Shutterstock
Day 2
Tan on a cruise: Drift along the dreamy waters of the caldera with Dakoutros travel, who offer an A-list experience with an all-inclusive cruise on their glass-bottomed boat.
Sample the wines: Drive to the Koutsoyannopoulos Wine Museum to learn all about winemaking on this inhospitable terrain, especially how Santorini's vines have to be twisted into crown-shaped baskets so that the grapes can grow inside, protected from harsh winter winds. Congratulate yourself with a tasting afterwards.
Abandon the buzz of bars: Be part of a small, select audience enjoying the pastoral trills and warbles of ancient Greece at Symposium in Megalochori, where musician-cum-historian Yannis Pantazis plays his symphonic poem Ulysses using ten different ancient Greek instruments he constructed himself.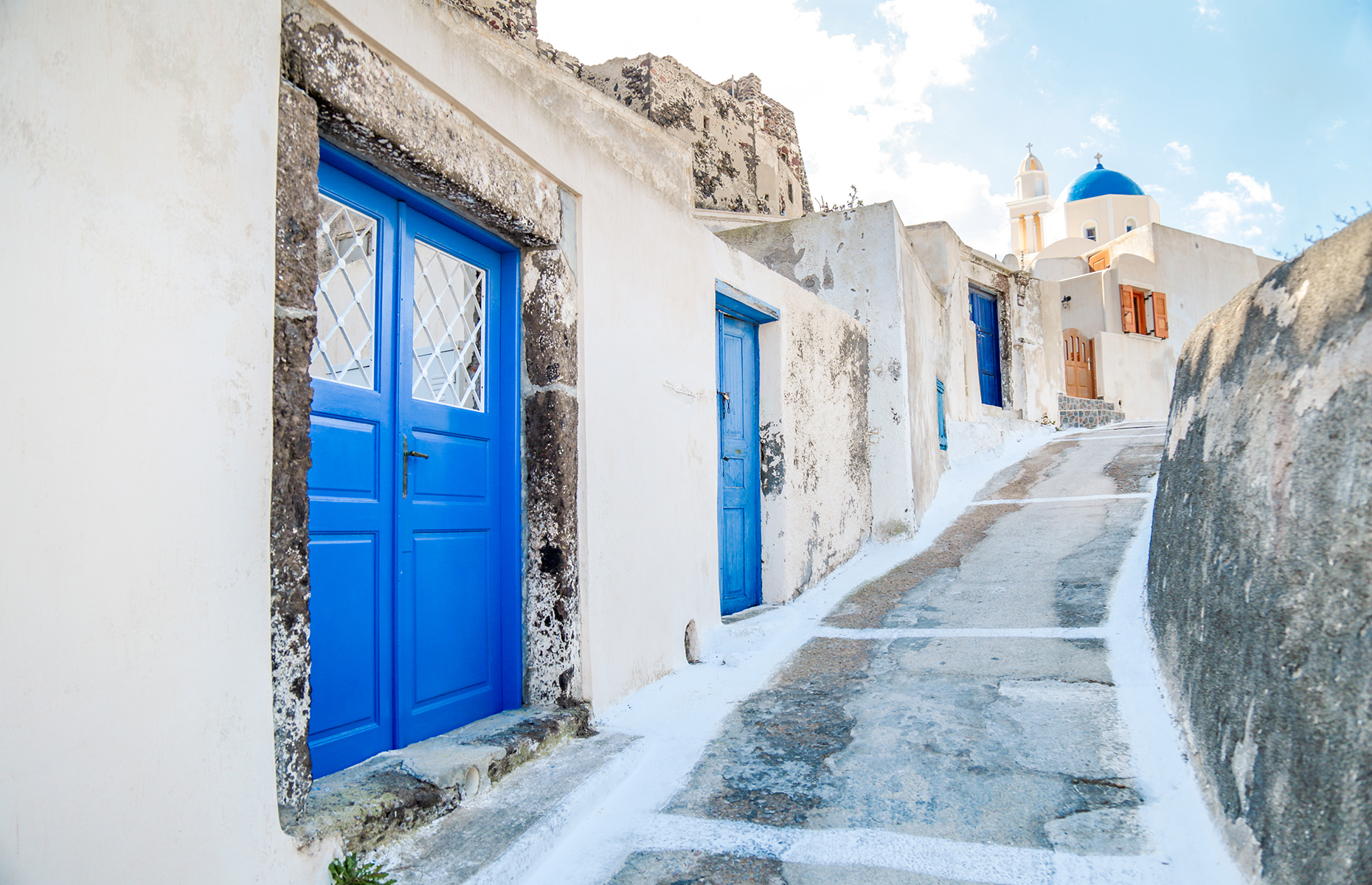 Andrea De la Parra/Shutterstock
Day 3
Marvel at 3,500-year-old frescoes: Before you visit the prehistoric village of Akrotiri, pop in at the Museum of Prehistoric Thera to gawp at the stunning frescos were discovered buried under the volcanic lava.
Go for gold: Shop in the Gold Street of Fira where island artisans offer not only their own designs in 18-carat gold but can also copy the ancient rings and pendants you admired in the island museums.
Swim in colour: Have a dip at Vlychada beach with its lunar backdrop, go barefoot on the black sand in Perivolos or wander on to the Red Beach. Here blood-red cliffs come down abruptly on a carmine-coloured coastline – beware of rockslides, so obey any warning signs.
Feast on fresh fish: Local Assyrtiko goes well with fish and you can see the boats bringing in the day's catch at the port of Vlychada. Order the best of the day's haul at To Psaraki, the locals' favourite seafood taverna.
Map of Santorini
Be the first to comment
Do you want to comment on this article? You need to be signed in for this feature