6 essential experiences on Sifnos, Greece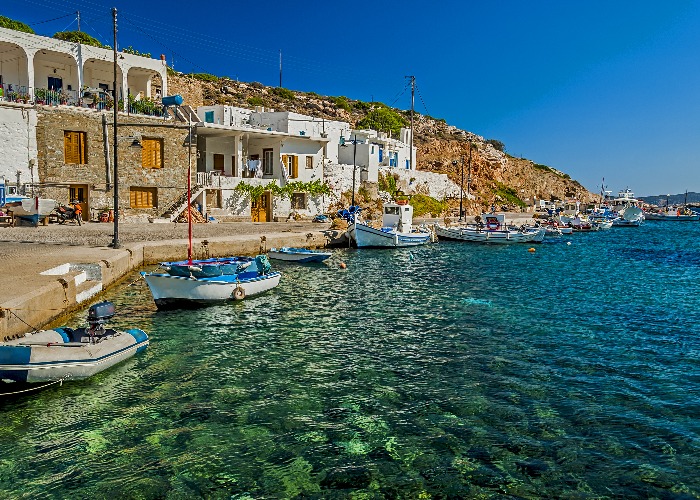 Part of the Cyclades chain that includes Santorini and Mykonos, this Greek island is pretty small and relatively unknown. But, with an outsized culinary reputation, an extensive network of hiking trails and secluded swimming spots tucked below blue-domed churches, it certainly packs in the experiences – and flavours. Here are a few of the best things to do while on Sifnos.
You can see why Sifnos is famed for its food even as the ferry pulls in. Steep hillsides have been tamed by agricultural terraces, carving the landscape into giant steps. Low stone walls divide plots where olive, fig and almond trees grow, while thyme bushes bloom with tiny purple flowers, pollinated by bees that produce a herbaceous, almost savoury honey.
Kamares, where ferries arrive from Athens, Milos and Santorini, has none of the chaos and chain eateries found at many other ports. Instead, sunbathers lounge on the sandy beach, kids splash in the water and people eat and chatter on the terraces of seafood restaurants and tavernas.
Every bite here is delicious. So it's just as well the landscape is so inviting, from seemingly endless hiking trails to gloriously quiet swimming spots.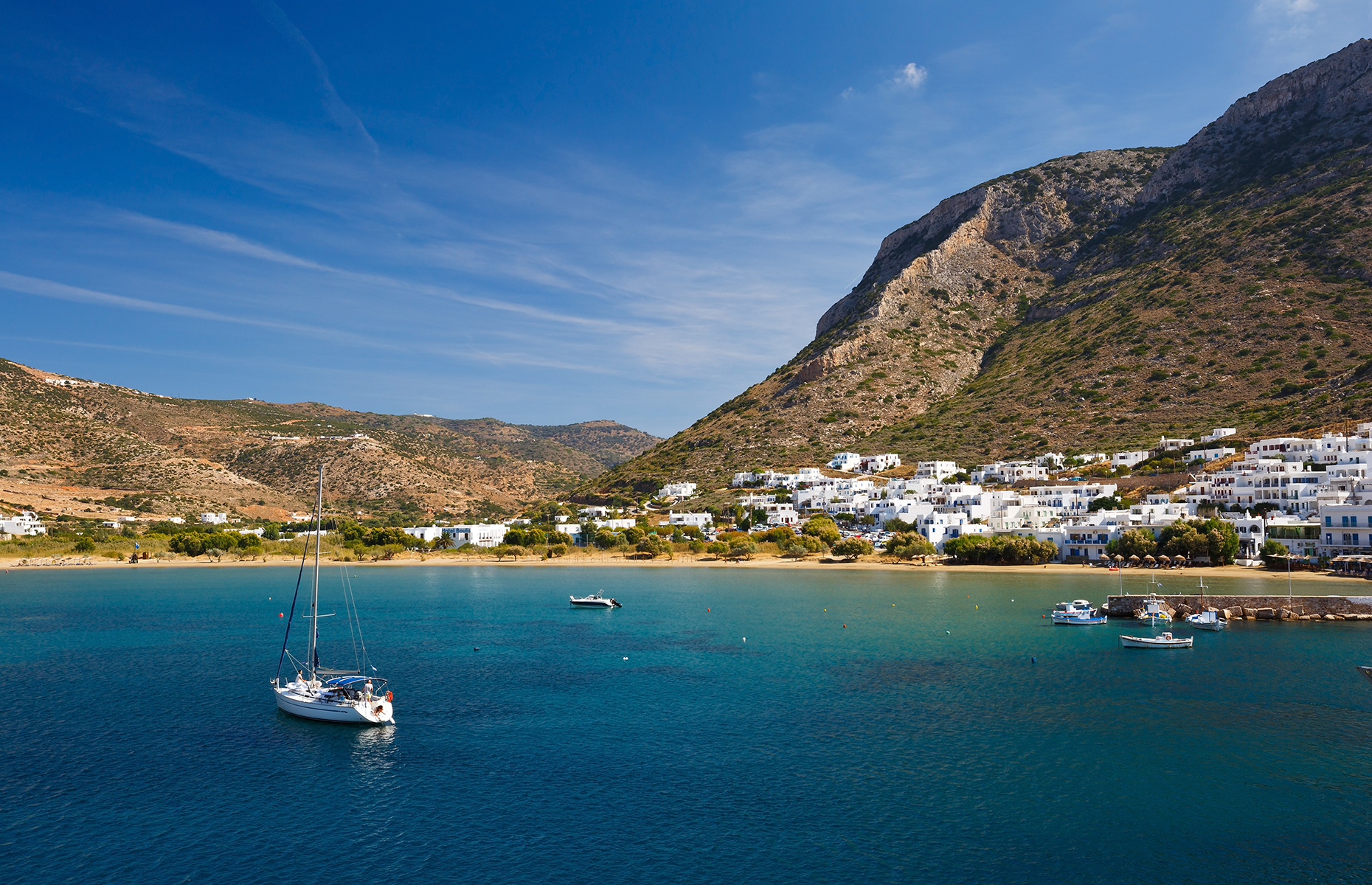 Milan Gonda/Shutterstock
1. Try the two-day chickpea soup
Sunday lunch begins on Friday night, when chickpeas are left to soak in water. Then, on Saturday, they're added to an earthenware pot with olive oil, onions and water, to be baked overnight in the depths of a wood-fired oven.
If it sounds like a faff, Sifnians don't view it that way. Many undertake this two-day process every weekend, using the ovens of neighbours or restaurants if they don't have their own. They're rewarded with a surprisingly complex and smoky dish of soft chickpeas and caramelised onions in a silky broth, eaten with a squeeze of lemon, a glass of wine and baskets of bread.
At Narlis Farm near Apollonia, owners George and Dina Narlis offer traditional meals and lessons in cooking the centuries-old dish and other Sifnian classics.
READ MORE: 7 Greek islands you've probably never heard of
2. Visit a pottery workshop
Sifnian clay, from earth fed by rainwater, is renowned. The island's tradition of pottery stretches back to 3,000 BC, when wares were sold from workshops right on the coast. Many believe the clay pots produced here make the food taste even better.
There are several workshops where you can browse ceramic pots, mugs and decorative pieces, and traditional designs sit alongside more expressive sculptures. Apostolidis, on a hilltop just outside Kamares Bay, is run by third-generation potter Giannis Apostolidis. He makes clay from the earth right outside his door, the same spot his grandfather discovered.
Tucked above the tranquil bay of Vathi, Atsonios Handmade Ceramics dates back to 1870 and sells beautiful homeware and objets d'art.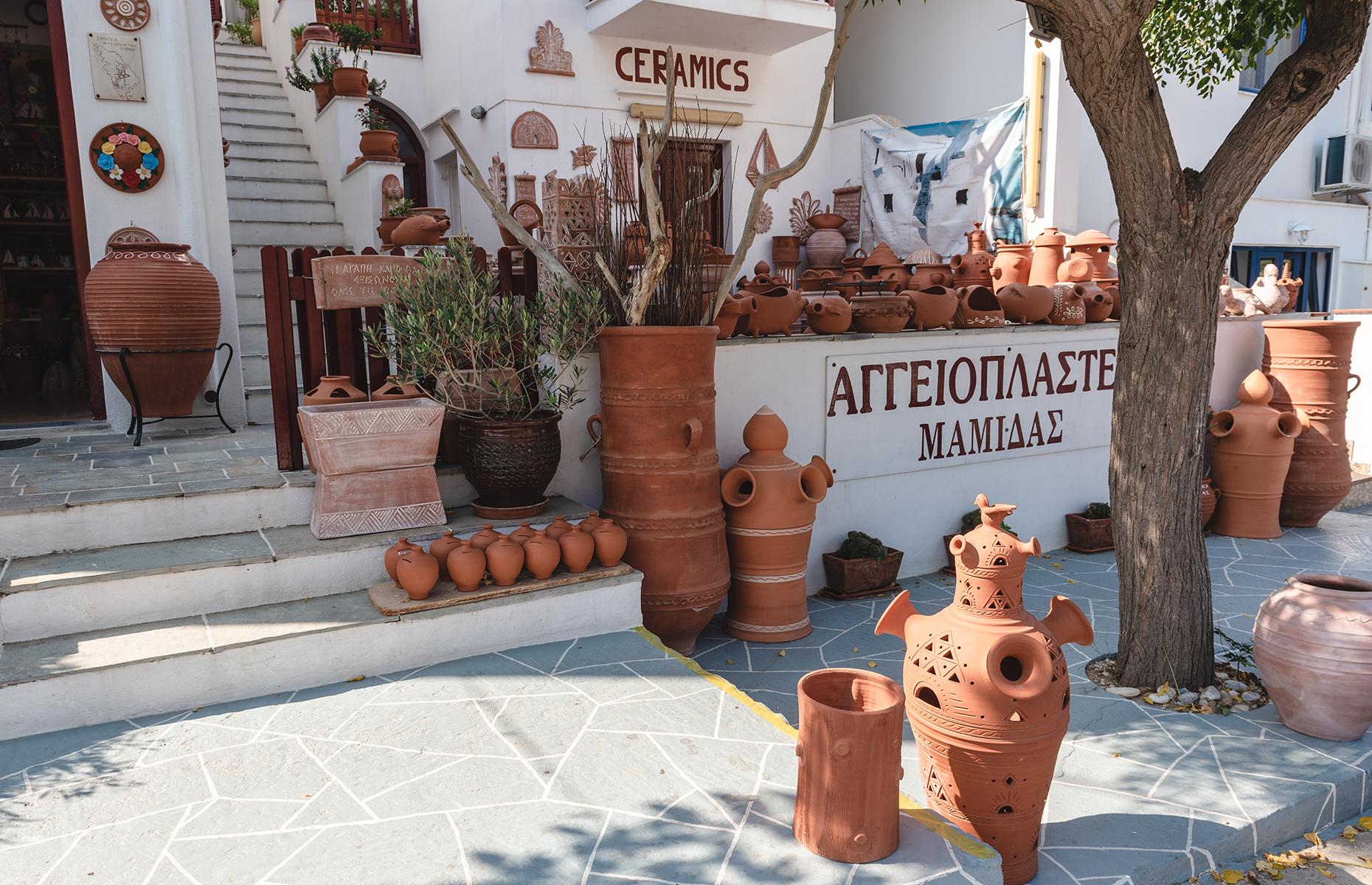 vivooo/Shutterstock
3. Hike past olive groves and chapels
There are around 62 miles (100km) of marked paths, known as the Sifnos Trails, to pound on the island, and many take you to places that can only be reached on foot.
Popular routes range from a mile-and-a-half (2.5km) long trail around the rocky and less easily accessible north, passing the island's only lake and ending at the fishing village of Cherronissos, to a nine-mile (15km) loop starting and ending at the capital, Apollonia. The latter skims past terraced slopes, olive groves, churches and monasteries, weaving steeply to hilltops with 360-degree views over the island.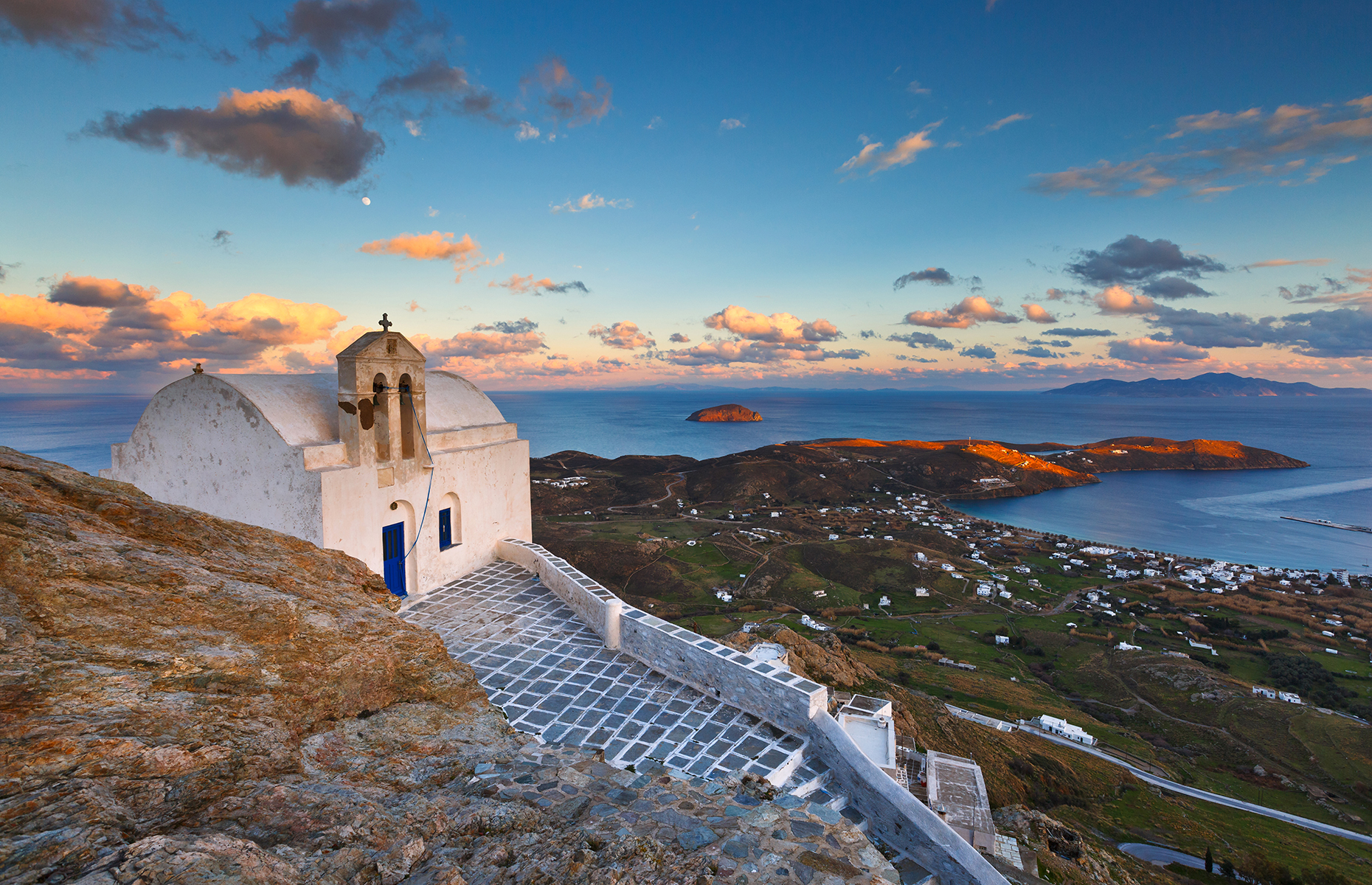 Milan Gonda/Shutterstock
4. Explore a medieval walled village
Kastro looms bright and white above the bay on the east coast. The name means castle, though you won't find one here – instead, the entire village is built like a fortress. Labyrinthine alleyways wind through arches and rise steeply past tiny chapels, stone cottages and walls that date back millennia.
There are charming ouzeries (small tavernas serving ouzo and finger foods) and tavernas tucked in corners and perched over the sea. Tiny beer and rum bar Kavos Sunrise is one of the best, with chairs and cushions scattered on steps with steep views down to the bay. Nearby Leonidas Tavern is the spot to try traditional dishes like mastelo, where lamb is marinated in red wine before being baked overnight in a clay pot.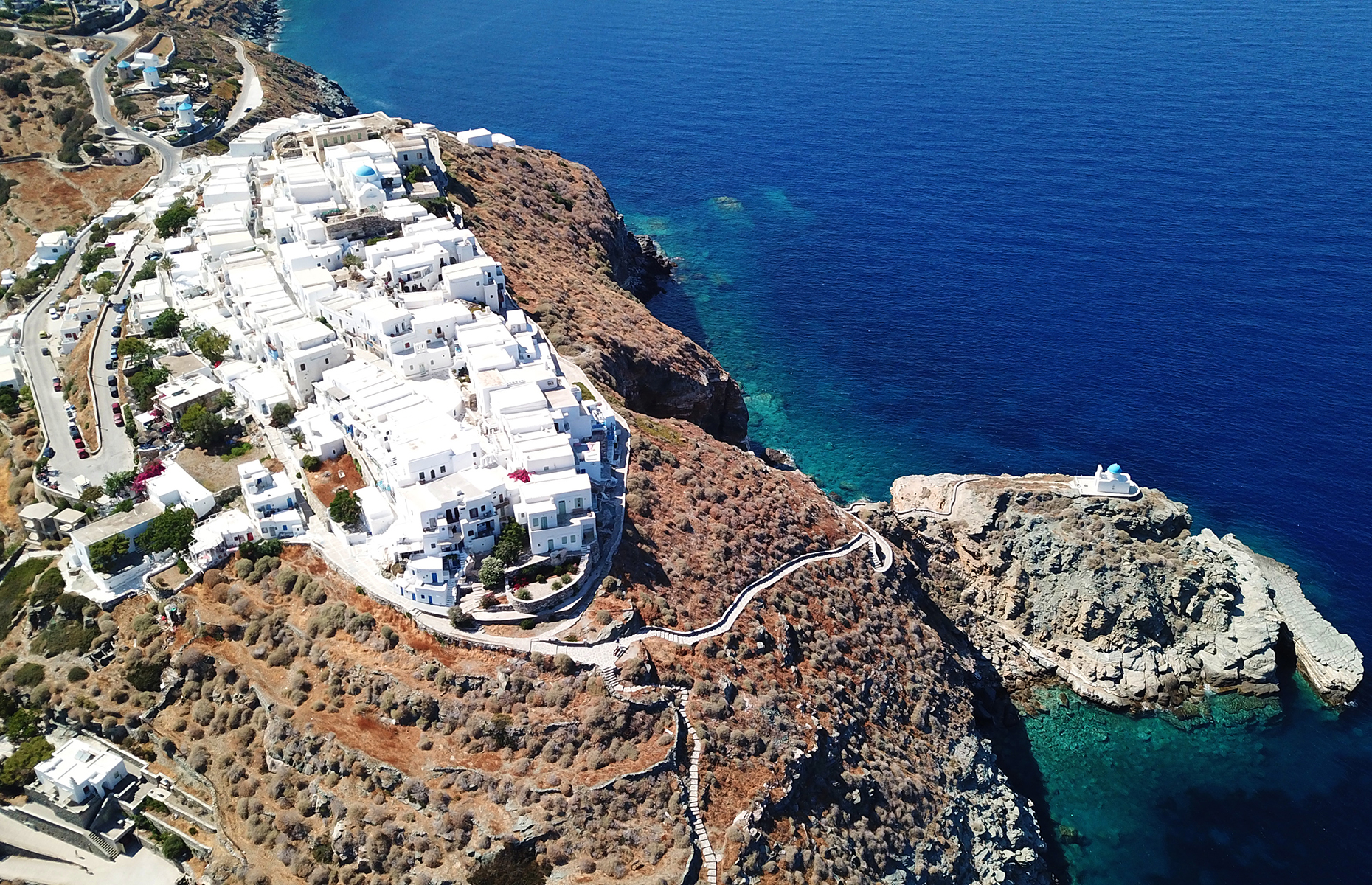 Aerial-motion/Shutterstock
5. Swim from hidden beaches and coves
The water that laps the island's rocky coves and sandy beaches is clear as raki, a grape-based spirit served at pretty much every occasion (or non-occasion). It's also great for soothing sore heads after overindulging in said drink.
The beach at Vathi, on the southwestern coast, is long and so narrow it all but disappears at high tide. But it's a gorgeous, uncrowded spot to wade into the sheltered bay, with only a few other swimmers and yachts for company.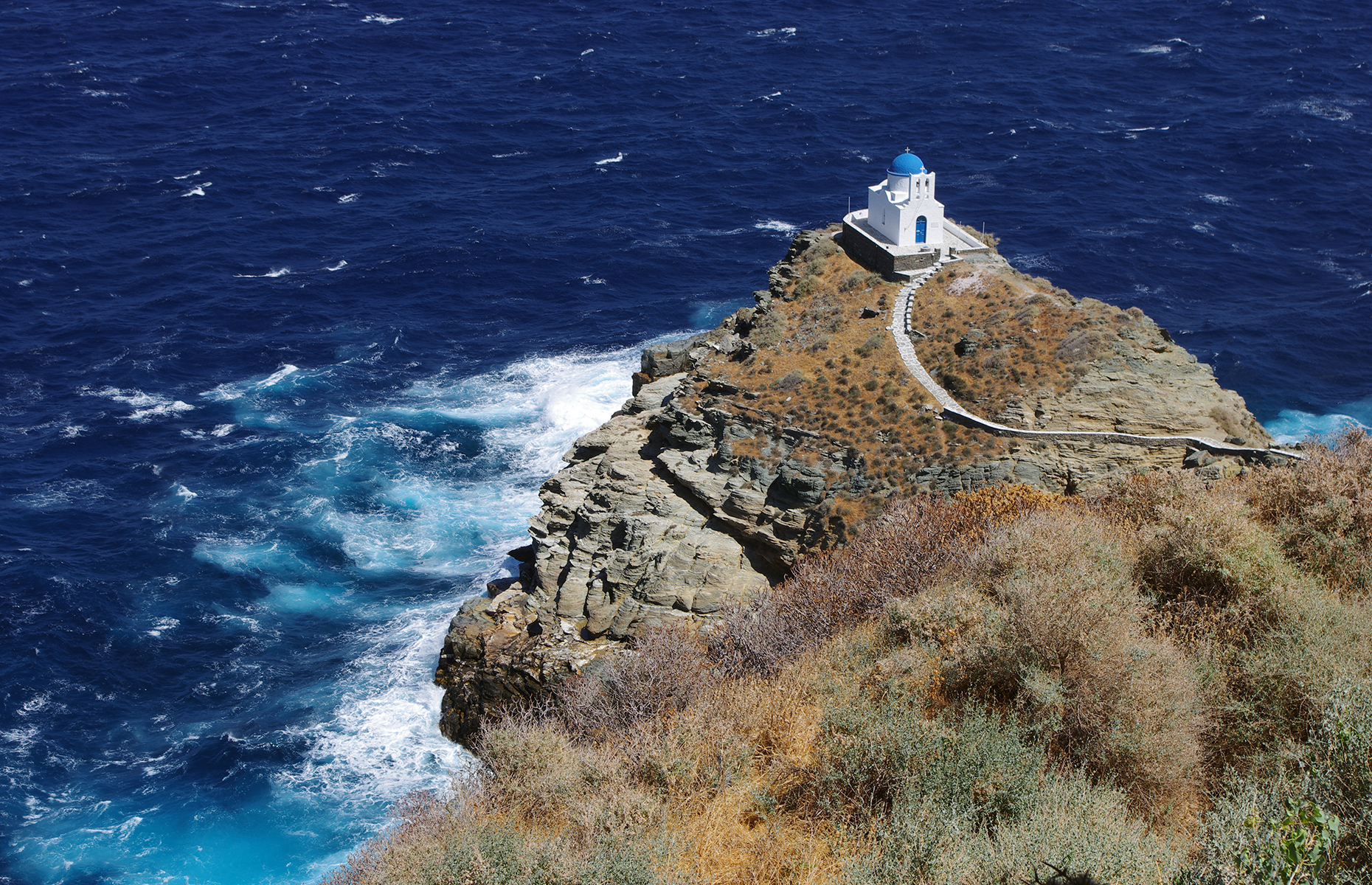 sarikosta/Shutterstock
Another local-favourite swimming spot is just below Panagia Poulati, one of the island's seven azure-domed churches. It's a steep, 15-minute hike down, which makes sliding off the smooth rocks into the crisp water all the more joyful. The Church of the Seven Martyrs, beneath the walled village of Kastro, is equally gorgeous.
For softer sunbathing and more facilities, head to Platis Gialos beach. This is the longest stretch of sand in the Cyclades, steps from chilled-out cocktail bars and one of the island's most upscale restaurants, Omega 3. Local produce and seafood conspire with chef Giorgos Samoilis' background in molecular biology with delicious results like orzo pasta with salty-sweet crayfish and ouzo sauce and tiny biscuits made with manoura (local cheese fermented in red wine sediment).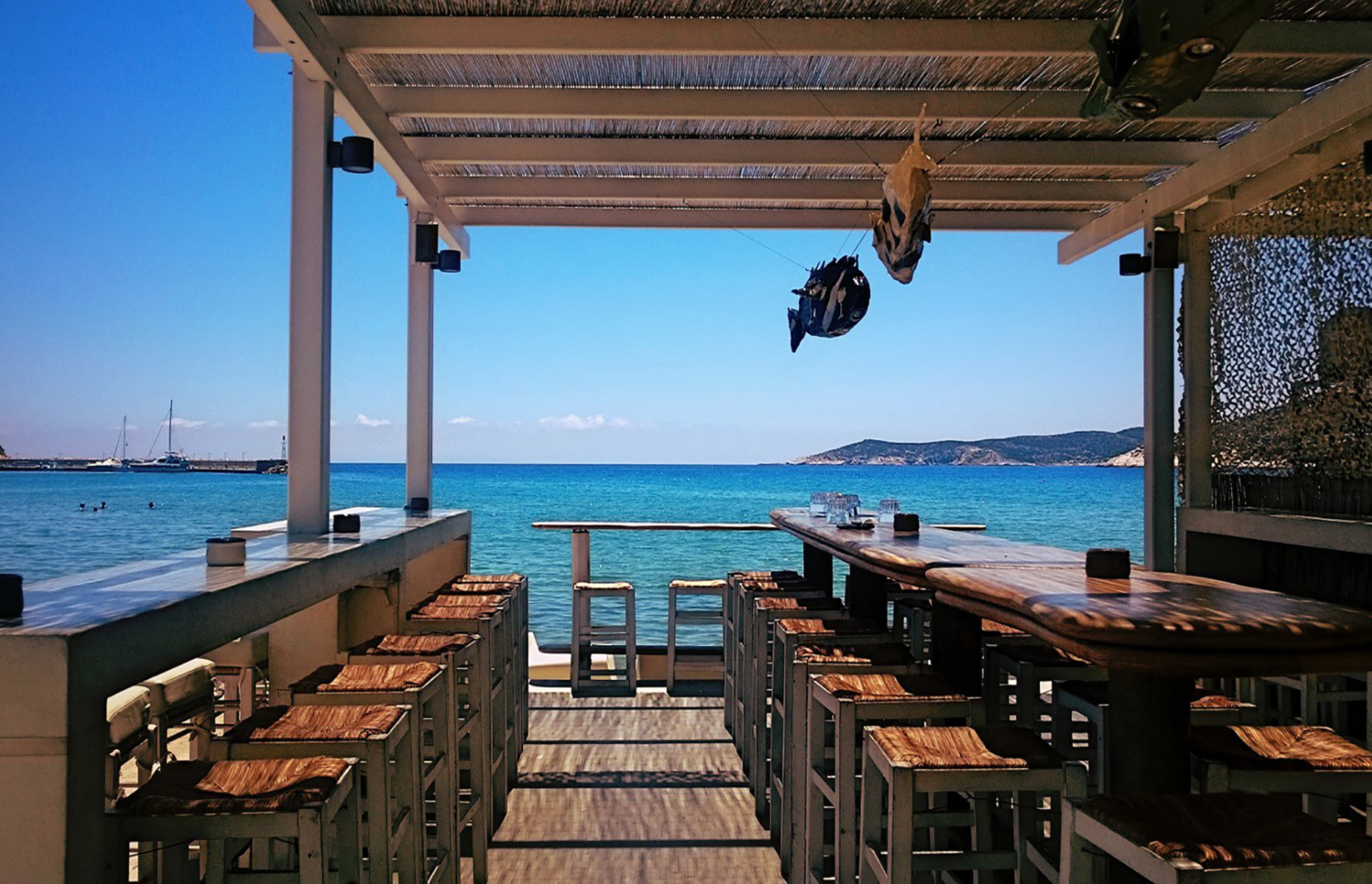 Omega3/Facebook
6. Taste fragrant, hand-rolled sweets
Artemonas is one of the island's prettiest villages, with cobbled streets lined with white and pale-lemon mansions, brightened by sprays of fluoro-pink bougainvillea. It's home to Theodorou, an old-fashioned sweet shop with hand-painted sign and lavender shutters.
Shelves are stacked with boxes of Turkish delight, pasteli (bars with sesame and honey, handed out at weddings) and tubs of 'submarine' – a gooey, sugary paste slurped with a spoon.
It's best-known for amygdolata, fragrant almond sweets prepared in a wood-fired copper pan with lemon-laced syrup. Owner Vasilodimos Theodorou and his nonagenarian mother, Katina, hand-roll around 500 of the sweets each day with hands dipped in rosewater, giving the thimble-shaped sweets a delicately floral taste.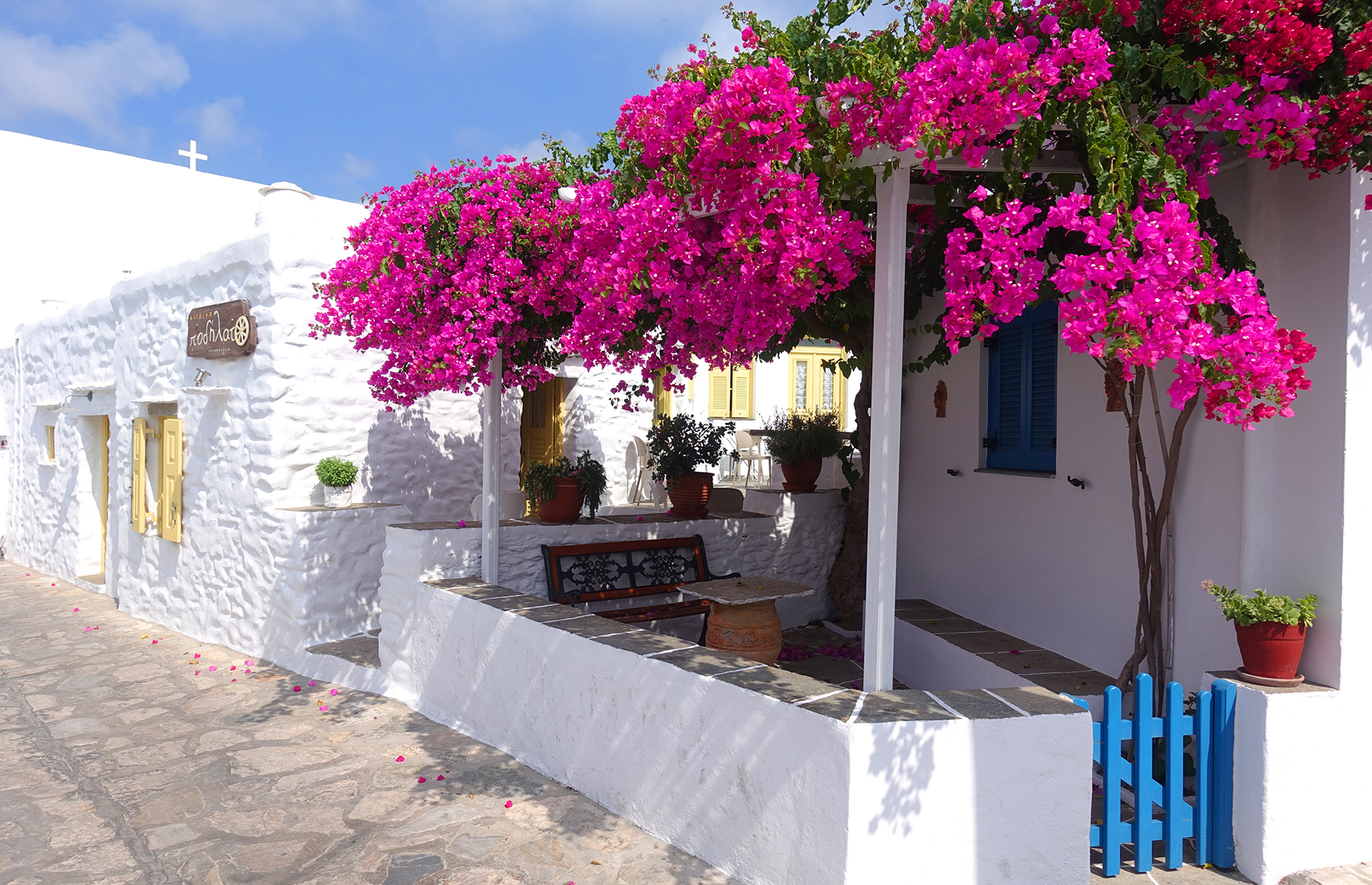 Aerial-motion/Shutterstock
READ MORE: How to plan a Greek island-hopping holiday
Getting there
Aegean flies to Athens from Heathrow, Manchester and Edinburgh. Once there, catch a ferry from Piraeus Port in the city – SeaJets runs 14 journeys per week. Verina Astra, between Artemonas and Kastro, is one of the loveliest hotels, with breezily decorated rooms and sunrise views from the terrace restaurant and infinity pool.
Be the first to comment
Do you want to comment on this article? You need to be signed in for this feature