Explore the Heart 200 route: central Scotland's new circular road trip
Heart-rending views, pit stops at distilleries and world-class fish and chips can mean only one thing: a Scottish road trip. And the country's latest route – the Heart 200 – is sandwiched between two national parks, Loch Lomond and The Trossachs and The Cairngorms, offering an easy tour of Scotland's central region. Here's our guide to the highlights.
Why the Heart 200 route is a must-drive
A consortium of local tourism interests has just launched the Heart 200, a road trip around the heart of Scotland. The 200-mile circuit connects the likes of Stirling, Crieff, Callander (pictured below), Aberfeldy, Pitlochry, Dunkeld and Perth, and it comes hot on the heels of the successful North Coast 500.
TreasureGalore/Shutterstock
But while the latter is mainly wild and coastal, the Heart 200 straddles huge variety. Its southern areas are rolling, verdant heartlands, with cattle farms, spa hotels and golf courses such as at Gleneagles.
READ MORE: What to see in Scotland in 2020 and beyond
To the west lie the Trossachs, a land of lochs and steep forests, threaded with walking and biking trails. To the east is aristocratic Big Tree country, much loved by Queen Victoria, along the banks of the silvery River Tay. And to the north lie the heather-clad hills of Highland Perthshire.
The route isn't intended to be proscriptive – and you won't find it waymarked – but it's a veritable taste of Scotland, with castles and distilleries dotted throughout.
Top Towns on the Heart 200 route
Perth
You don't come to the heart of Scotland for its urban settings, but for essential services the region's biggest town is an invaluable pit stop. Perth is where you can find both cinema and theatre, plus the Black Watch Museum with all the history of Scotland's oldest regiment, and a Museum and Art Gallery whose exhibits include the largest ever rod-caught salmon (64lb), landed by Miss Georgina Ballantine, back in 1922.
Marco Bicci/Shutterstock
The Tay, where she caught it, flows through the heart of town, and is best seen from steep and wooded Kinnoull Hill on the far bank; from here you can track the river's course from northern hills to where it curls around Kinnoull and exits to the sea towards Dundee.
Also on this bank just outside town is Scone Palace, where many Scottish kings were crowned on the Stone of Scone, an oblong of sandstone which has since been relocated to Edinburgh castle.
Pitlochry
A Victorian railway-based resort now busy with buses, Pitlochry is a cheerful place stacked with hotels and opportunities to buy tweed and tartan, and it has the likes of Morton's and Hetties' for tea and cake. It hosts an annual arts festival and a repertory theatre, and the Enchanted Forest sound and light show takes place in adjacent woodland every autumn.
Harald Lueder/Shutterstock
The town is also the location for a hydropower dam across the River Tummel, well worth walking across to witness the autumn colours reflected in Loch Faskally. A salmon ladder sits alongside the dam, although the best chance of seeing passing fish is on the screen in the new (and free) visitor centre, which is principally a spectacularly-located café with a bit of hydro science thrown in.
READ MORE: Why Scotland's Tay Country should be on your wish list
Stirling
This dramatically-sited gateway city rears up on a rock out of Scotland's Central Belt. It's a natural location for a fortification, and most of the Stuart kings and queens grew up in its Castle, which dates to AD 1110.
Craig Duncanson/Shutterstock
It's a mini Edinburgh, with 360-degree views from its walls, a peach-coloured lime-washed Great Hall and palace rooms that were home to the young Mary Queen of Scots.
Below it are ranged a set of rather lugubrious dour-stoned noble houses with crow-stepped gables, along with the Church of the Holy Rude, which once had a wall dividing its congregation down the middle as the result of a dispute between ministers. From here, downhill's shopping streets are an easy walk away. Look out for the Stirling Arcade, the House of Henderson kiltmaker and Made in Stirling, a shop with an eclectic collection of local arts, crafts and foodstuffs.
Top 5 highlights
1. Blair Castle
The powerful Dukes of Atholl regularly hosted royal visitors at their magnificent 750-year old castle at Blair Atholl, set in capacious gardens seven miles north of Pitlochry.
The Dukes were so well connected that they were given permission by Queen Victoria to establish their own private army, the Atholl Highlanders. Today, a bagpiper welcomes a steady stream of less noble visitors, who proceed through its 30-odd public rooms.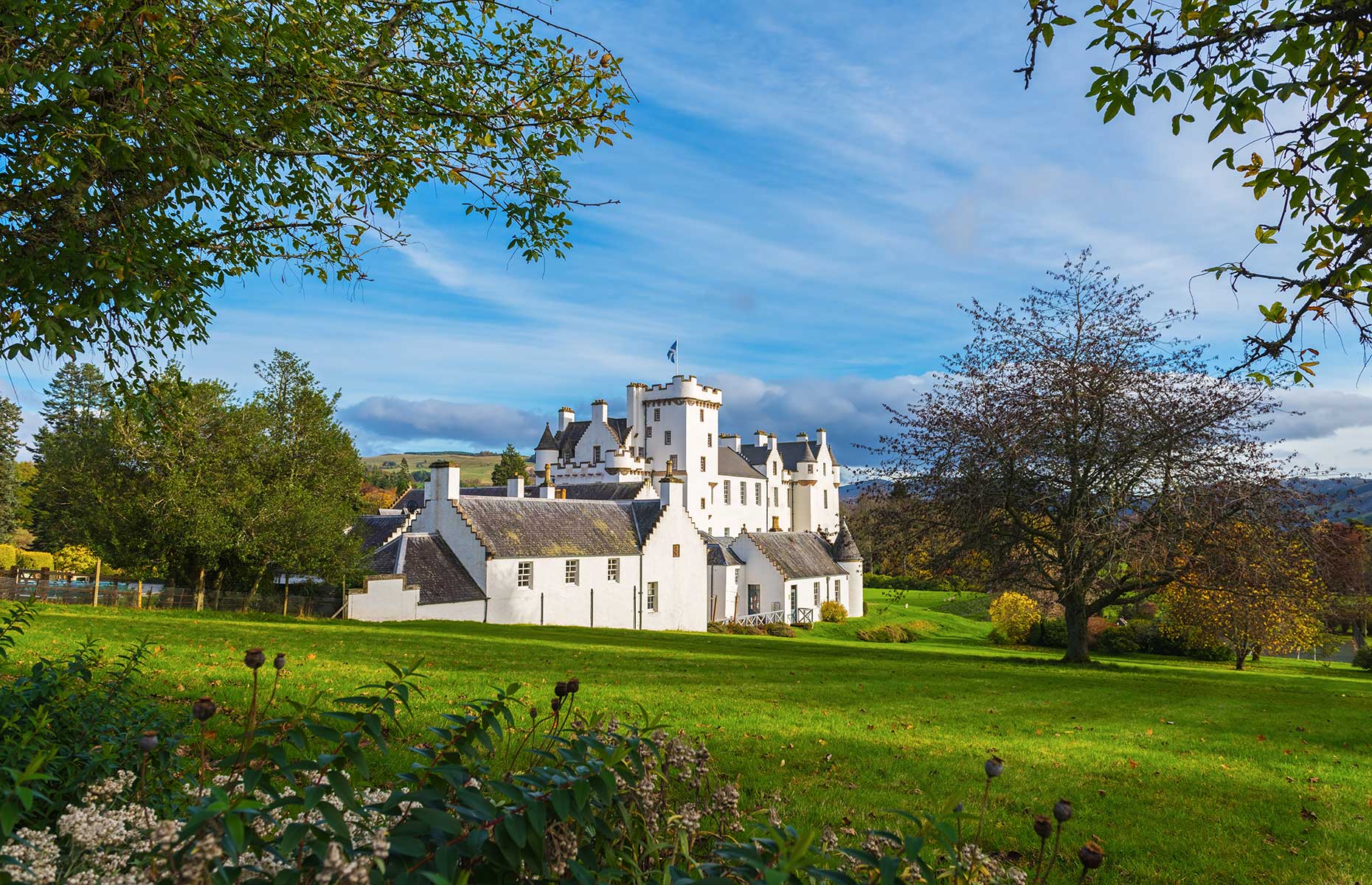 Natalia Paklina/Shutterstock
2. Go Ape
Trees in the Trossachs are very collaborative. At least they are in the Queen Elizabeth Forest Park, where the high-wire experts at Go Ape have crafted a six-stage adventure through the treetops, complete with the company's two longest ziplines in the country, sizzling across a river valley. Go Ape is based at the Park's Lodge Visitor Centre, with a café, wildlife exhibits, osprey nests, walking trails and a great view across forested hills. This is a destination for more than just those with a head for heights.
READ MORE: What to see on the Isle of Skye
3. Tullibardine Distillery
There's no shortage of distilleries dotted across the region, with Dewar's up at Aberfeldy and Famous Grouse by Crieff, but one of the new generation of whisky distillers is the most conveniently located Tullibardine, right by the A9 southwest of Perth. The company's new installation at Blackford is a sign of how buoyant the whisky business is right now, and the Tullibardine tour is full of optimism and good access to grist mills and mash tuns, in which happy yeast blows big bubbles. Afterwards, you get to try the Sovereign single malt, silky and smooth.
4. Cultybraggan Camp
A prisoner of war (PoW) camp is an unlikely discovery in the heart of Scotland, but Cultybraggan's setting amidst formidable hills would certainly deter its 4,000 prisoners from trying to escape during the Second World War. Now run by an enlightened local trust, many of the 140 original Nissen Huts are tenanted by local businesses, but some are open to the public, with displays about prisoner life.
5. House of Bruar
Shopping centres on the bypass are one thing, but this one in the middle of highland wilderness north of Pitlochry is quite something else. The House of Bruar's shopping and dining complex is made all the more fine for being so unexpected. A great conservatory-style restaurant, a fabulous food hall, and a strong emphasis on Scottish-made clothing and fashion.
Where to Stay
Dunkeld House Hotel
If you're going to stay in a Highland hotel you might as well do it in style, in the summer home of Dukes and Duchesses, in glorious grounds on the banks of the River Tay. Expect a whisky on arrival at Dunkeld, polished oak banisters, stag's heads and tartan carpets, plus an elaborate spa and pool.
Dunkeld House/Booking.com
Doubletree by Hilton Dunblane Hydro
Scotland's 'Hydro' hotels are essentially large purpose-built spa resorts that mostly date back to Victorian times. This grand property on the hill in Dunblane first opened in 1878, and it has an adjacent golf course and spa centre. Despite its size it makes a good job of being informally special and its restaurant, under the guidance of Nick Nairn, is excellent.
Comrie Croft
Comrie is a thriving village west of Crieff. The Croft is an enlightened social enterprise on the village outskirts comprising a market garden, a restaurant, a mountain bike centre and trails through its woodlands. Accommodation choices are an upmarket hostel or a selection of Nordic-origin Katas, cosy with wood-burning stoves, scattered through the trees. The Croft also has a whole-house rental in Crieff.
Courtesy of Comrie Croft/Facebook
Where to eat
Scottish Deli, Dunkeld
Dunkeld's short high street has several foodie options. Its specialist Scottish Deli re-opens in the evening to serve tapas such as poached chorizo and goats cheese pate to sit down dinners. Directly across the road is the Dunkeld Fish Bar, one of the best places for a fish supper in Scotland; eat it on the old bridge across the Tay.
Courtesy of Dunkeld Scottish Deli/Facebook
Murraypark Hotel, Crieff
A great view from the top of the town and high-quality local ingredients, freshly prepared, help this friendly hotel restaurant stand out from the Crieff crowd. Try the black pudding terrine followed by monkfish or lamb rump.
Effie's, Perth
Tradition is the watchword in this family-run restaurant in the heart of town. That means silver teapots, floral china, period décor and a menu of Scottish favourites. Try the soups, either oxtail or cullen skink – a Scottish smoked fish chowder – followed by stovies, similar to corn beef hash.
Magdanatka/Shutterstock
Suggested walks
The Rob Roy Way
It's not finally established whether the Scottish outlaw Rob Roy was a force for good, but this romantic hero was born by the shores of Loch Katrine, so it makes sense that the region's long-distance footpath, 79 miles (127km) from Drymen to Pitlochry, is named after him. Try the nine-mile (14.5km) section nearest his birthplace, where it runs through forests and alongside lochs between the outdoorsy village of Aberfoyle and the thriving small town of Callander.
Birks of Aberfeldy
The Birks of Aberfeldy is both a poem by Scotland's favourite poet Robert Burns (as in Auld Lang Syne) and a woodland walk starting in the homely town of Aberfeldy. The 'birks' refers to birch trees, but the majority here are regal beeches which line the steep pathway up the wooded glen of the Moness Burn, up to a dramatic waterfall. Finish off with a coffee in the Watermill café and bookshop, an artful combination of retail and relaxation whose menu features restorative homemade soups.
Alex Nicol/Shutterstock
Getting there and map
Good rail services run to Edinburgh and Glasgow, and up through Perth to Pitlochry, but to experience the route at its best you are going to need a car. Find further detailed route planning information at the Heart 200 website.
Be the first to comment
Do you want to comment on this article? You need to be signed in for this feature