Why Scotland's Tay Country should be on your wish list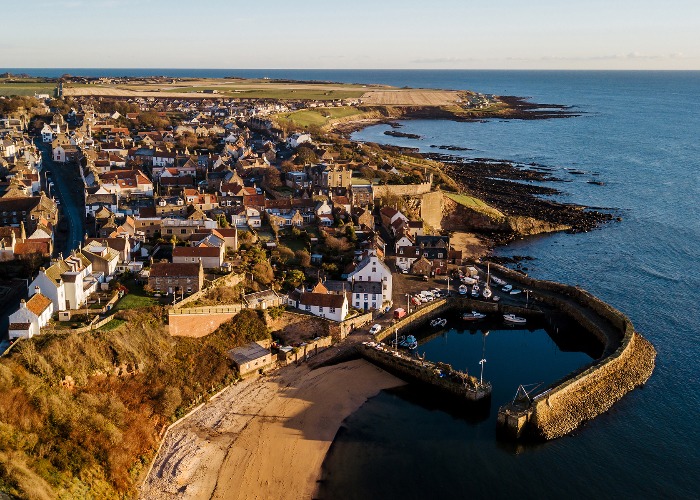 Royal palaces, smoked fish and, of course, whisky tasting await in Scotland's eastern corner, just north of the capital…
If you're considering a break in Scotland the chances are a visit to Edinburgh is high on your wish list.
Yet while the Scottish capital has its draws, visitors who don't venture beyond its festivals, museums and coffee shops are missing a trick.
Nip north over the Firth of Forth and you'll find yourself in Tay Country. Spanning the area around the River Tay and its estuary, it's a quiet nook that takes in parts of Perthshire, Fife, Angus and the city of Dundee.
While St Andrews is the area's big hitter, it's far from the region's only jewel. This corner of Scotland offers everything from cosy fishing villages to slick, urban cocktail bars and wide vanilla sands to waterfalls.
So if you're the kind of person who, by day, likes to pull on a pair of hiking boots but as evening falls wants to hit the town, Tay Country offers the best of all worlds. Here's what to put on your must-see list.
1. Eat scones at Scone Palace
Part of the appeal of a weekend here is that getting to Tay Country is a cinch. There's no need for hours in the car or long ferry rides – less than 90-minutes' drive from Edinburgh Airport up the M90 and you're in lush countryside. And Scone Palace, just outside Perth, makes a fine first pit stop.
Scone – pronounced 'skoon' – was the crowning place of Scottish kings including Robert the Bruce, Charles II and Macbeth. Rebuilt several times, the current Gothic-style building is all turrets and towers and dates from the 19th century.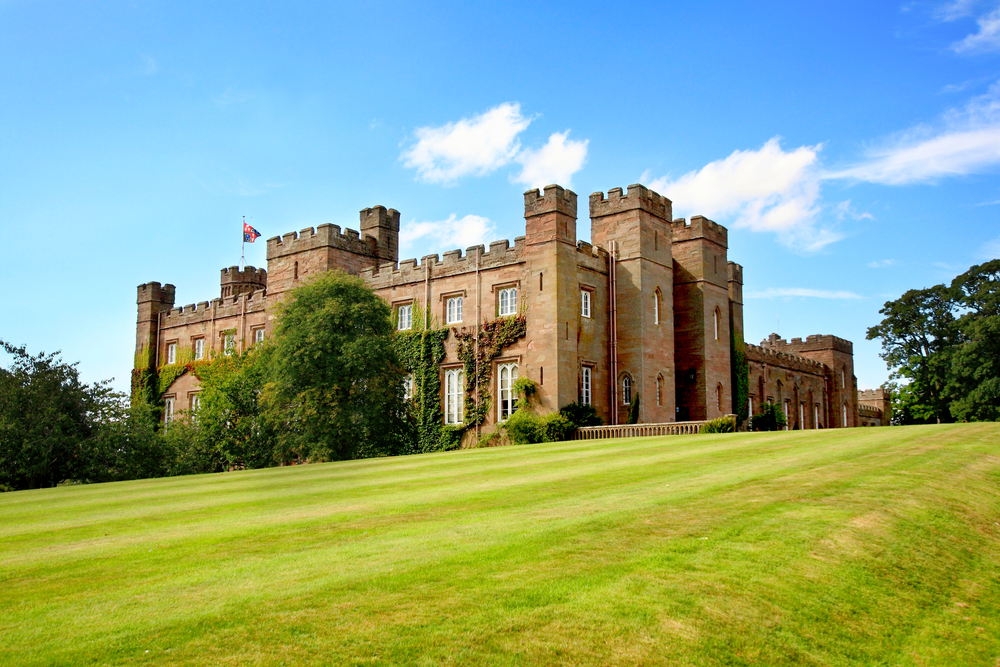 Julietphotography/Shutterstock
The first thing you're likely to see and hear are the resident peacocks. They include Alexander, an all-white peacock fond of strutting around the grounds like he owns the place.
He doesn't, however, as that honour goes to the 8th Earl of Mansfield, William David Murray and his family. While Scone is a grand palace, it's also a family home, as evidenced by the informal snaps of the current residents dotted on shelves inside.
Scone's not just an aristocratic seat either, it was also once home to the Scone of Destiny, a much squabbled-over hunk of rock that's been pilfered by the English on several occasions and used at the coronations of Scottish and English monarchs for centuries (including Queen Elizabeth II). It's currently at Edinburgh Castle, but there's a mounting campaign to bring it home to Scone.
While you can't see the stone, the palace teems with other historic treasures including a large collection of Wedgwood and a wall hanging embroidered by Mary, Queen of Scots.
In the magnificent silk lined walls of the drawing room you'll also spot a small writing desk once owned by Marie Antoinette. Should that put you in the mood for cake, head to Old Servants' Hall Coffee Shop for a cuppa served with a fat-and-fruity 'Scone of Destiny'.
2. Swing by St Andrews
Famous for being where the Duke and Duchess of Cambridge met at university and for its links golf course, the town of St Andrews can easily be explored in an afternoon (though if you have more time, use our weekend break guide to St Andrews here).
You might recognise the huge beach from the opening sequence of the 1981 classic film Chariots of Fire. It's impossible to resist the temptation of taking a selfie while running down the creamy sands with Vangelis' music in your head to recreate the scene.
Once you've got that out of your system though, wander towards the town centre via the 18th hole of the Old Course to watch players sink the last ball of a round. Considered the oldest golf course in the world, as the 29-times host of The Open Championship it's a must even if you're not a fan of the game.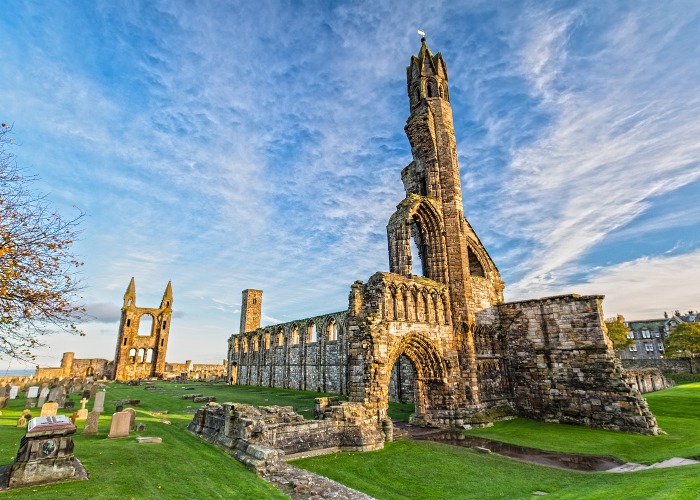 Among the usual high street brands, shoppers will find plenty of independent, made-in-Scotland boutiques too. While there are cheaper alternatives the best quality tartan and wool can be found at Johnstons of Elgin, where a 100% cashmere plaid scarf costs from £40.
Owned by the same company as The Savoy in London, the Fairmont St Andrews hotel is ten-minutes out of town and serves a posh afternoon tea (£25) with a menu of 26 brews from breakfast blends to silver needle. Or for a more budget-friendly sugar fix, join the queue at Jannettas Gelateria on South Street. The Irn Bru sorbet is our pick.
3. Weave a trail to Crail
A 20-minute drive from St Andrew's is the coastal village of Crail. Meander along Crail's crooked streets lined with higgledy-piggledy cottages and you'll be rewarded with postcard-like views of the horseshoe-shaped harbour and turquoise waters.
Situated in East Neuk of Fife (neuk means nook) this patch of coastline is one of the most glorious in the UK. But while it's certainly pretty, it's also a place of work for the fishermen who still land shellfish from the Firth of Forth. Seek out the wooden hut owned by the Reilly family in the harbour, where a fresh lobster roll will set you back about £2.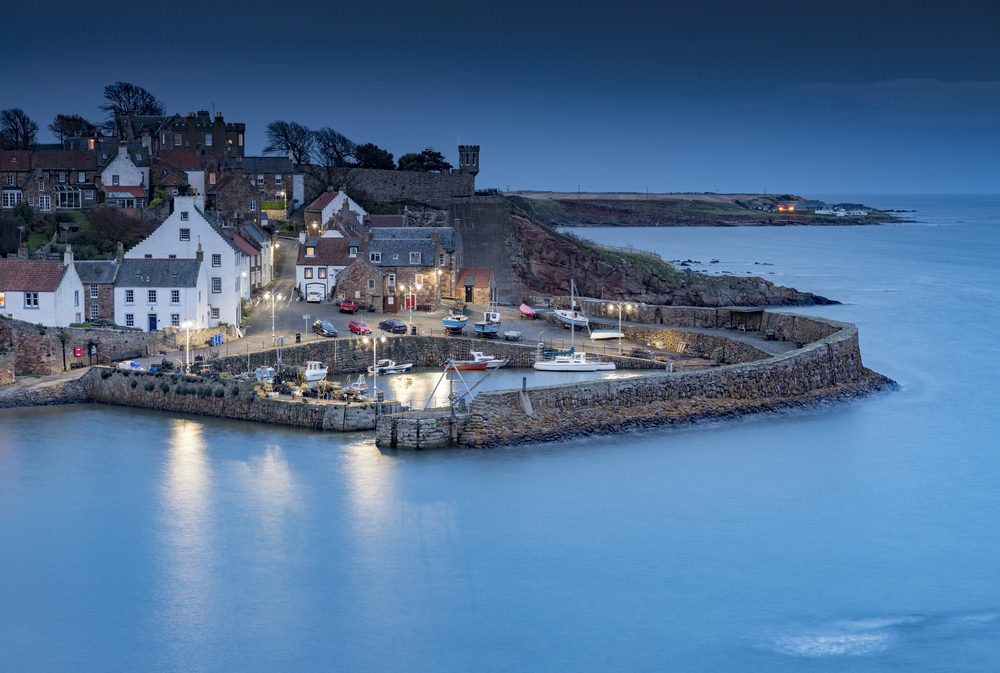 Scott Jessiman Photo/Shutterstock
The village is also known for the Crail Pottery, a family owned workshop producing distinctive blue earthenware and ceramics.
If you're here in the second weekend of June then don't miss the Crail Food Festival. Showcasing the region's produce, from chips topped with crab to haggis sausage rolls, there are also demonstrations and displays from local chefs.
4. Have a dram at Dewar's
Queen Victoria bestowed a royal warrant on Dewar's blended Scotch in 1893 and the firm has held the prestigious appointment ever since. Now the distillery produces 3.4 million litres of whisky per year, including its own single malt, Aberfeldy, named after the nearby village.
Distillery tours range from a few hours to whole day experiences and ours started with a hot toddy by the Pitilie Burn, the small river whose waters are used to produce the whisky. Inside you can peer into the distillery's mash tun, which looks like a giant food processor, and have a wander around the four huge stills, overlooking the mountains.
Only if you're lucky enough to be on the full day 'Dewar's Immersion Tour' will you get to stop for a glass of something in the Scotch Egg bar – a pub hidden inside the main warehouse. Order a Golden Dram cocktail: made with 12-year-old Aberfeldy, Angostura and orange bitters and a dash of honey, it's like a next-level Old Fashioned.
5. Eat & drink your way around Dundee
Dundee might be one of 30 places around the world that holds the status of UNESCO City of Design, but this compact metropolis is also a place for those with a big appetite.
Ten-minutes' drive over the Tay Road Bridge and you'll find the Newport Restaurant in Newport-On-Tay, owned by local chef Jamie Scott, who won Masterchef: The Professionals in 2014. A Harris martini made with sea kelp-infused gin is a great way to start, followed by mini asparagus tarts, spring salad and 70-day-aged beef from the six-course tasting menu (£55 per person). Get the weather and sunset times right and you'll be dining with beautiful views of the River Tay too.
Back over the river in Dundee itself, you could be forgiven for thinking that there's not much nightlife going on. But that's because it's all happening underground. Expect to spend some time wandering up and down Couttie's Wynd seeking the low-key door for Draffens cocktail bar, a 1920s-style speakeasy. The unpretentious basement bar has super-friendly staff and cocktails with names including 'Corpse Reviver' and 'Old Dundee Navy Grog' add to the prohibition vibes.
Read our full guide to Dundee here >
6. Get fired-up about seafood
Around the coast in the harbourside village of Arbroath you're sure to hear the locals talking about 'Fit o' The Toon', referring to the waterfront area of Georgian terraces, cafes and pubs.
Uphill is the ruins of Arbroath Abbey. A significant place for Scots, it dates from the 12th century and is where the Declaration of Arbroath, an assertion of Scottish independence, was sent to Pope John XII in 1320.
Work up an appetite around the small yet informative museum, then head down to Stuart's Fresh Fish, where owner and fishmonger Stuart Scott turns the humble haddock into something magical – the Arbroath Smokie.
Ask in advance and Stuart will walk you through how they're gutted and hung in pairs on poles to dry. The poles are placed over a brick pit of beech wood fire. Exactly how long it takes to smoke the haddock is something only Stuart knows, but he produces around 140 'Smokies' a day. Frankly, it's worth the trip to Scotland just to tuck into the soft, warm flesh of the haddock just as it comes off the fire.
Where to stay in Tay Country
Dundee is a solid base for exploring Tay Country (try the Apex), but if you're making it a family occasion and fancy something a little more rural, try the Old Manse of Blair.
Brought back to life by owner Anne MacDonald, this recently refurbished country house dating from the 1820s in Blair Atholl was in need of some serious TLC. It's now an exclusive use self-catering venue that sleeps up to 16. Expect soft carpets your feet sink into, huge bathrooms with freestanding tubs and firm but cosy beds.
The dining room is a highlight: all the artwork, from the deer sculpture to the feathered mirror is bespoke, including the massive dining table itself. Cook for yourself, or hire caterers (we recommend Ballintaggart Farm) as a special treat. From Old Manse of Blair, a short hike to the stunning Falls of Bruar nearby is a good way to burn off the calories.
Fly to Edinburgh with easyJet from Jersey, Bristol, Belfast, London Luton, Stansted and Gatwick. Alternatively Loganair offers flights from London Stansted to Dundee.
Be the first to comment
Do you want to comment on this article? You need to be signed in for this feature