Golf & beyond: things to do in St Andrews, Scotland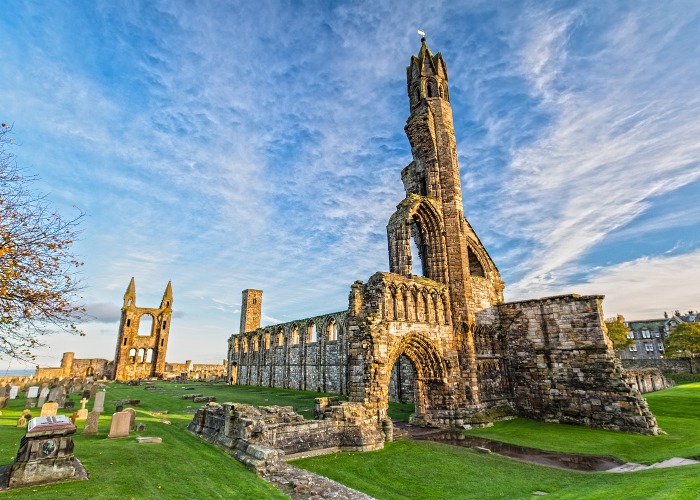 It might be the spiritual home of golf, but there's so much more to do in St Andrews.
Once an ancient Pictish kingdom, Fife wears its history well. Besides its enviable coastline, detailed with old-fashioned fishing villages and blustery shingle beaches, it's famous for the preserved market town of St Andrews. While close neighbour Dundee prides itself on jute and jam, St Andrews is the poster boy of golf (and the ubiquitous pastel golf jumper), with the best links courses in the world and the pedigree to prove it – there are seven 18-holers in the immediate vicinity of town.
It's also where you'll find the oldest university in Scotland – and third oldest in the English-speaking world. Cue 15th-century cloisters, faculty houses and narrow cobbled streets giving the town a collegiate, campus-like feel unlike anywhere else in Scotland. Here's how to make the most of it over a long weekend.
Friday
Check-in to: Hotel du Vin. At first a little snooty, with the vibe of a Victorian gentleman's clubhouse, this wine-themed hotel knows its target market. There's golf memorabilia on display and street-to-shore fairway views of the Royal & Ancient (R&A) Golf Club Old Course, the oldest 18-holer in the world (the first tee is a two minute stroll away). Oh, and there's as much whisky on offer as wine, but who's complaining?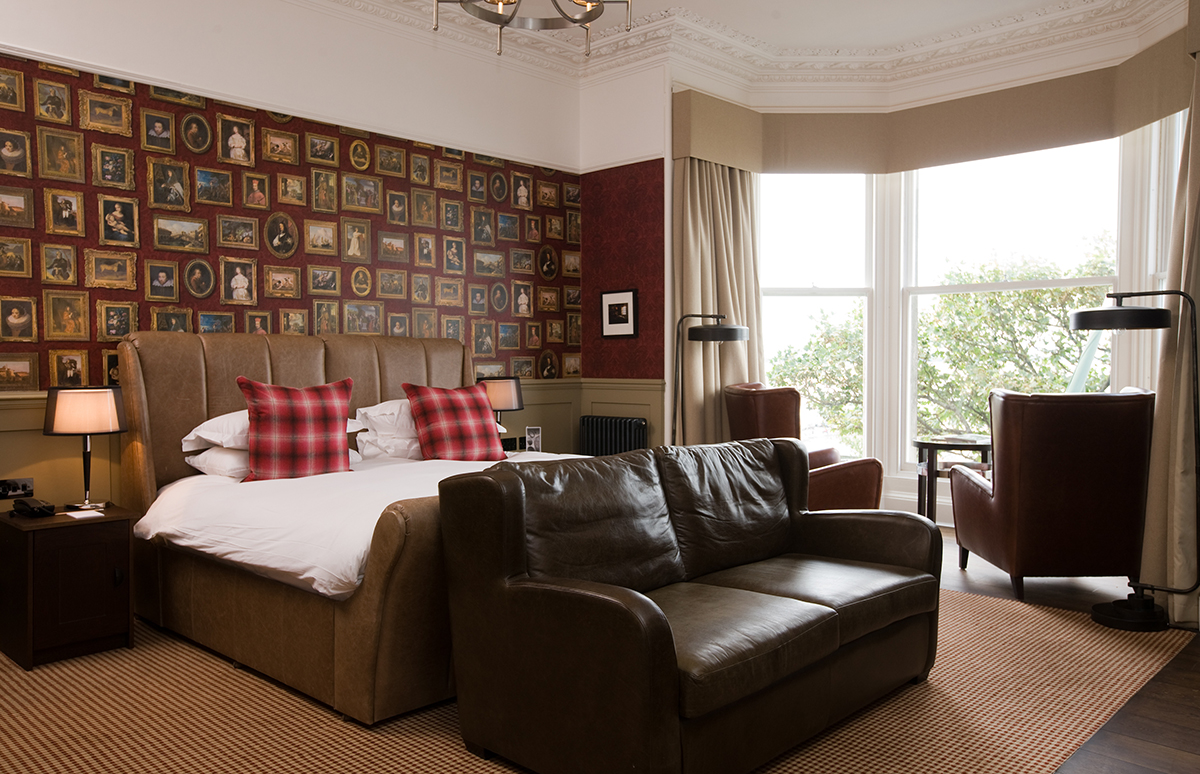 Hotel du Vin & Bistro
Eat at: The Adamson. If former St Andrews student-in-reisdence Prince William was searching for the perfect first date with fellow alumni Kate Middleton these days, he'd likely be steered to this stylish, dimly-lit bistro. Known for its gastro mains (halibut with fennel or pork belly with black pudding, for example), it's a sophisticated go-to for the city's well-groomed.
Oyster happy hour and whisky cocktails, too. As for the historic building, once the old post office, it's the former home of John Adamson, the photography pioneer who lived and studied in the town in the 1800s.
Have a pint at: The Criterion. A snapshot of well-worn history, this tried-and-tested boozer has made an impression on both tourists and locals since Victorian times, with top-shelf whiskies (160 drams to choose from, at the last count) and award-winning homemade 'Cri' pies. For more hops on your way home, duck into the St Andrews Brewing Company for a citrusy Crail Ale.
Saturday
See: The Old Course. By nature of the town's design, with life interrupted by bunkers and greens at every turn, there's no avoiding golf. The game has been played in St Andrews since the 15th-century and the R&A , the international governing body, has been based here since 1754. A saunter takes you to the eastern end of the Old Course and the R&A's private clubhouse, a stone-hewn manor overlooking the 18th green and golden-hued dunes of West Sands beach.
For the next Tiger-Woods-in-waiting, the British Golf Museum is on the waterfront nearby. But unless you book a year in advance (and pay a hefty fee) forget about playing. Otherwise, grab a photo and move on.
Play at: The Himalayas. Wedged between the world's finest golf course and the crashing rollers of the North Sea is the world's funnest putting course, a topsy-turvy rollercoaster of mown grass verges and lumpy mounds. Officially, it's known as the St Andrews Ladies' Putting Club, but it's open to all ages and abilities, and at £3 a round, it's an absolute hoot. Even if you can't tell your eagle from your albatross.
Aim-up a six-foot putt on the 18th and you'll be cheek-to-cheek with West Sands beach. If it looks familiar, it should: it was used for the slow-mo opening of the Oscar-winning Chariots of Fire.
Grab lunch at: Cromars. You're near the coast – in striking distance of some of Scotland's most efficient fishing fleets, so with calories burned make a pitstop at this terrific town centre takeaway, twice voted the best fish and chip shop in Scotland (and it only opened in 2013).
We're not talking chip pan-doused haddock, either. Sustainably-sourced, traceable pokes of scallops, mussels, scampi and whitebait make this gourmet chip shop heaven. Add a splash of truffle oil for the ultimate in pier-chic.
Eat ice cream at: Jannettas Gelateria. After fish and chips, there's only ice-cream. And, here, there's one place to go. This artisan parlour has been in business for more than a century, producing seasonal gelatos with flavours like Scottish tablet, peaches and cream and rhubarb and ginger. Whether it's raining or not is irrelevant: there's often a queue, no matter the weather.
Splurge at: The Peat Inn. You could make a good argument for Fife being the best foodie escape in the UK. Ask anyone – from Crail to Cupar – and they'll recommend this restaurant-with-rooms, six miles southwest of town.
Chef Geoffrey Smeddle cuts straight to the jib with an all-Scottish menu – East Neuk wood pigeon, St Andrews Bay lobster, Baldinnie quail eggs – then lays on the heavy stuff with every little Michelin-star detail. Few places in the UK do it better.
Sunday
Pay your respects at: St Andrews Cathedral. Overlooking The Pends, the city's twin 14th-century arches book-ending the churchyard, this unbeatable ruin was once Scotland's largest cathedral. Visit the on-site museum and you'll also learn it made the town the country's ecclesiastical capital. To the south, the graveyard and views across the expansive bay are wonderfully-evocative, but the highlight is the 160-stair climb to the top of St Rule's Tower.
Visit: St Andrews Castle. You've seen it from afar, now take the coastal path for a closer snoop around. It's no Edinburgh Castle or Stirling Castle by anyone's measure, but despite its lack of epoch-defining history or pomp, it's all the better for it. The brooding location – squashed between sea and sky atop a wind-whipped clifftop – can't be beat.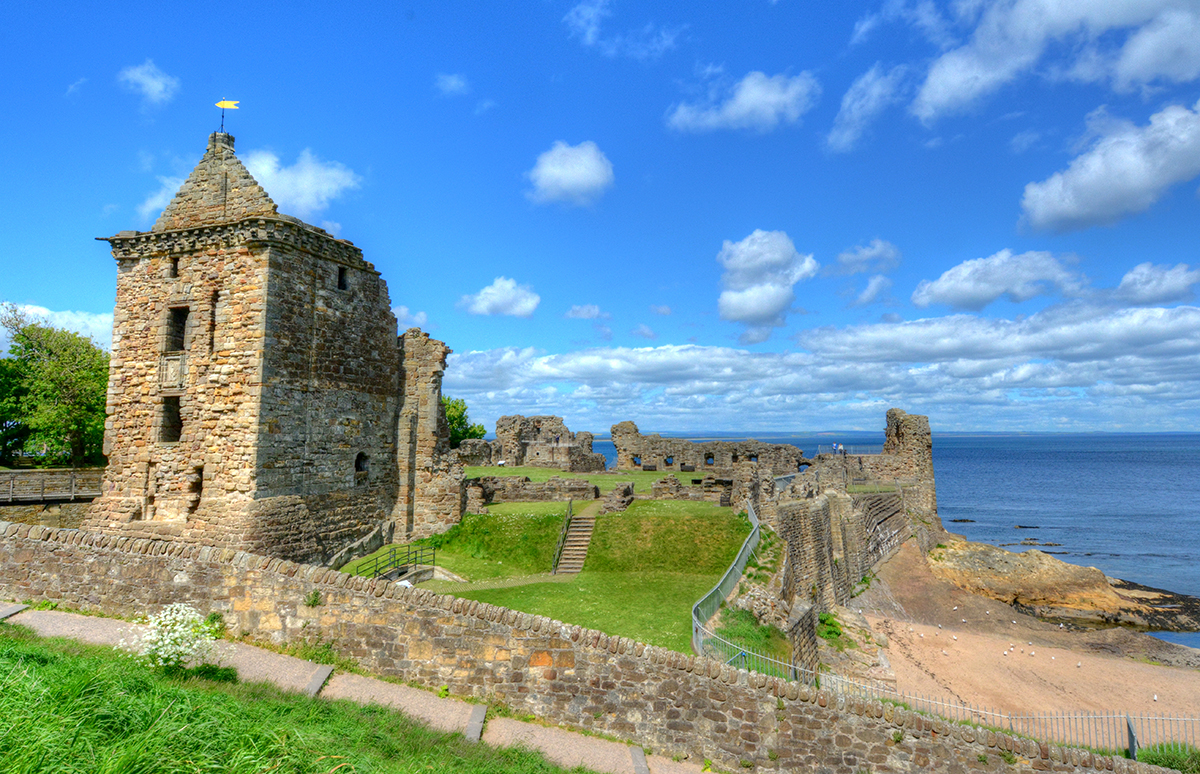 STLJB/Shutterstock
Lunch at: Balgove Steak Barn. You'll need to get to this former sawmill-turned-working farm restaurant early for lunch, not just because it's walk-ins only – it's ludicrously-popular. All the fuss is over fire-pit barbecue steaks and prime-cut burgers from on-site hand-reared Highland cattle, but also the Old MacDonald design (stacked potato boxes, communal tables, timber beams), flower shed and farm-to-table butchery classes.
Discover: Eden Mill. Forget Fife craft beer: the last few years have been about Scottish craft gin, with this artisan distillery at the vanguard. On a strip of land once owned by the Haig family, one of the country's oldest whisky dynasties, the owners had some cheek reviving the site with their take on the juniper-infused spirit.
Still, as if in homage, they now do whisky, too, and excellent sniff-and-sample tours (daily; £10) are fabulous. Try the bourbon-aged oak gin, not the predictable golfer's special gin. It's a 10-minute drive west of the Balgove Steak Barn on the Eden River.
Be the first to comment
Do you want to comment on this article? You need to be signed in for this feature