Explore Vilnius: the top things to do, where to stay and what to eat
Lithuania's capital unites the ethereal beauty of Scandinavia with Eastern Europe's history and heart. This Baltic city is easy-going and small in size: that means a long weekend is ample to tour its medieval castles, cellar restaurants and art enclaves.
Why go to Vilnius?
Vilnius is enticing more and more visitors to its cobbled streets and quirky neighbourhoods. But compared to travel darlings like Kraków and Budapest, it remains relatively unknown. The city even riffed on its obscurity by declaring Vilnius the 'G-spot of Europe': well hidden, but amazing when you find it.
The hallmarks of an Eastern European mini-break are all here: a historic Old Town, church-speckled skyline, and vaulted taverns serving cheap beer and fried cheese. But Vilnius isn't all time-worn landmarks and grandma's recipes. The city has a firmly established avant-garde arts scene. Its restaurants make creative use of seasonal produce, serving it up with new Nordic flair. As a bonus for travellers in search of a stress-free trip, the centre of Vilnius is easy to navigate and, for a capital city, it's pint-sized and uncrowded: the population numbers just 539,000.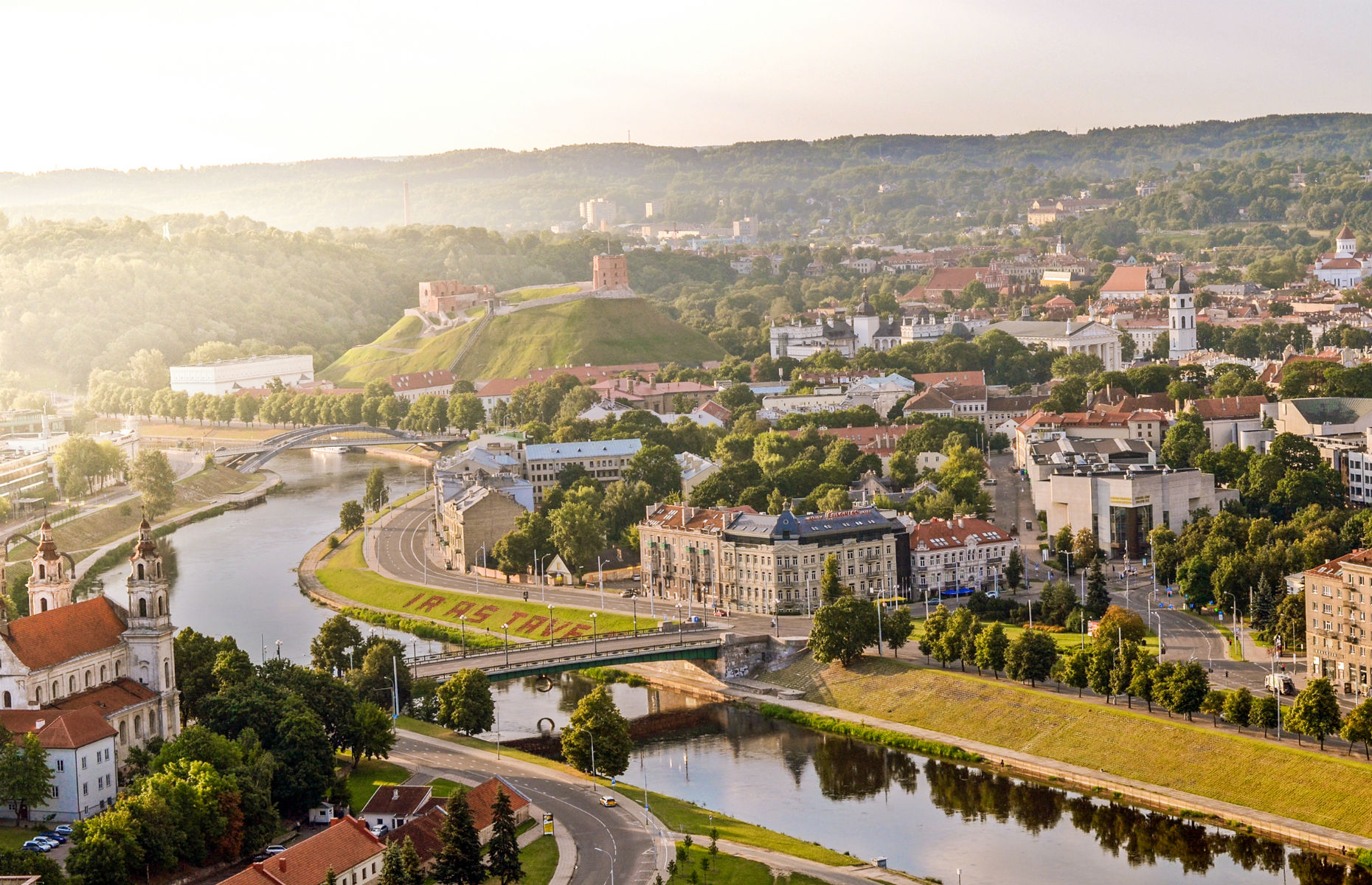 Marina J/Shutterstock
Located in eastern Lithuania, not far from the Belarussian border, Vilnius' summer days are long while its climate is otherwise brisk. Just beyond the city's bounds unfurl lakelands, forests and teeming bird habitats. With natural splendour so close to the city, not to mention the castles, maybe you'll want to extend your short break, after all...
Read more: Stunning alternative cities you've never thought to visit
Top things to see in Vilnius
Vilnius Cathedral & Bell Tower
One of the city's most instantly recognisable emblems is this graceful neoclassical sanctuary and its freestanding bell tower. The full name of this Catholic place of worship, the Cathedral Basilica of St Stanislaus and St Ladislaus of Vilnius, is as grand as the experience of stepping inside.
Walking up the stairs to its main entrance, beneath a battalion of tall white columns, feels like entering an ancient Greek temple. Lithuania's grand dukes were crowned here, and some of the country's greatest rulers are interred within; tours of the crypts take place in English three times a week (€6/£5.20, usually 4pm on Tuesdays, Thursdays and Saturdays).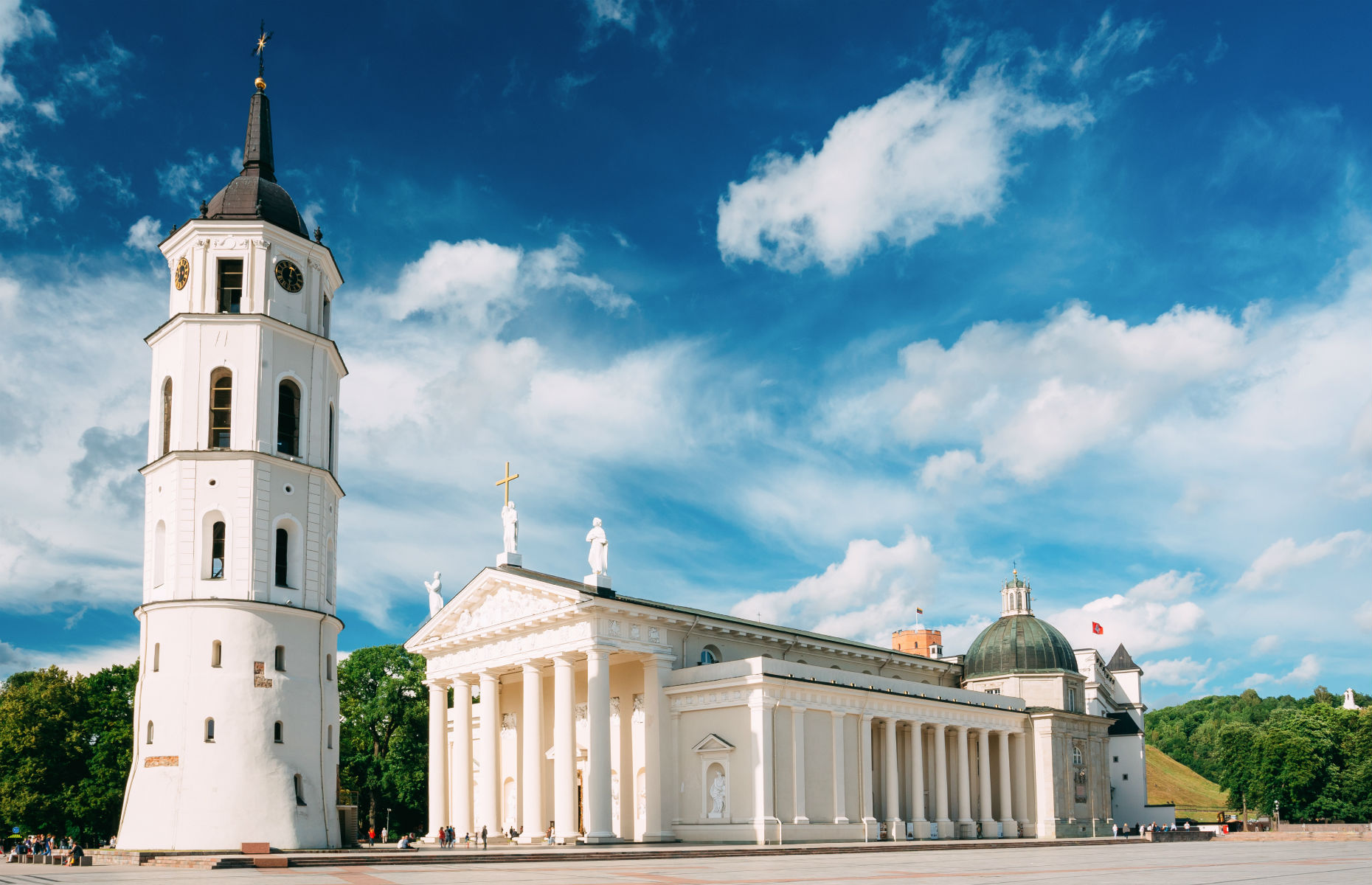 Grisha Bruev/Shutterstock
The 171-foot (52m) bell tower is nearby (ticket €5/£4.35). Formerly a 13th-century defensive tower, it was converted into a belfry and now welcomes visitors to climb its creaky stairs and gaze out across the city. Between its thick defensive walls are the oldest clock in the city (circa 1672) and a bevy of bells from centuries past – use one of the strikers to coax out their deep, resonant songs.
St Anne's Church
Beautiful belfries and gilded church domes are dotted throughout Vilnius, but St Anne's (Maironio gatvė 8) has the most memorably ornate design. Its triple towers rise like a crown and Flamboyant Gothic decorations snake across its brick exterior. It's particularly lovely at golden hour, as sunset approaches; look for the letters 'A' and 'M' on the façade, standing for 'Ave Maria'.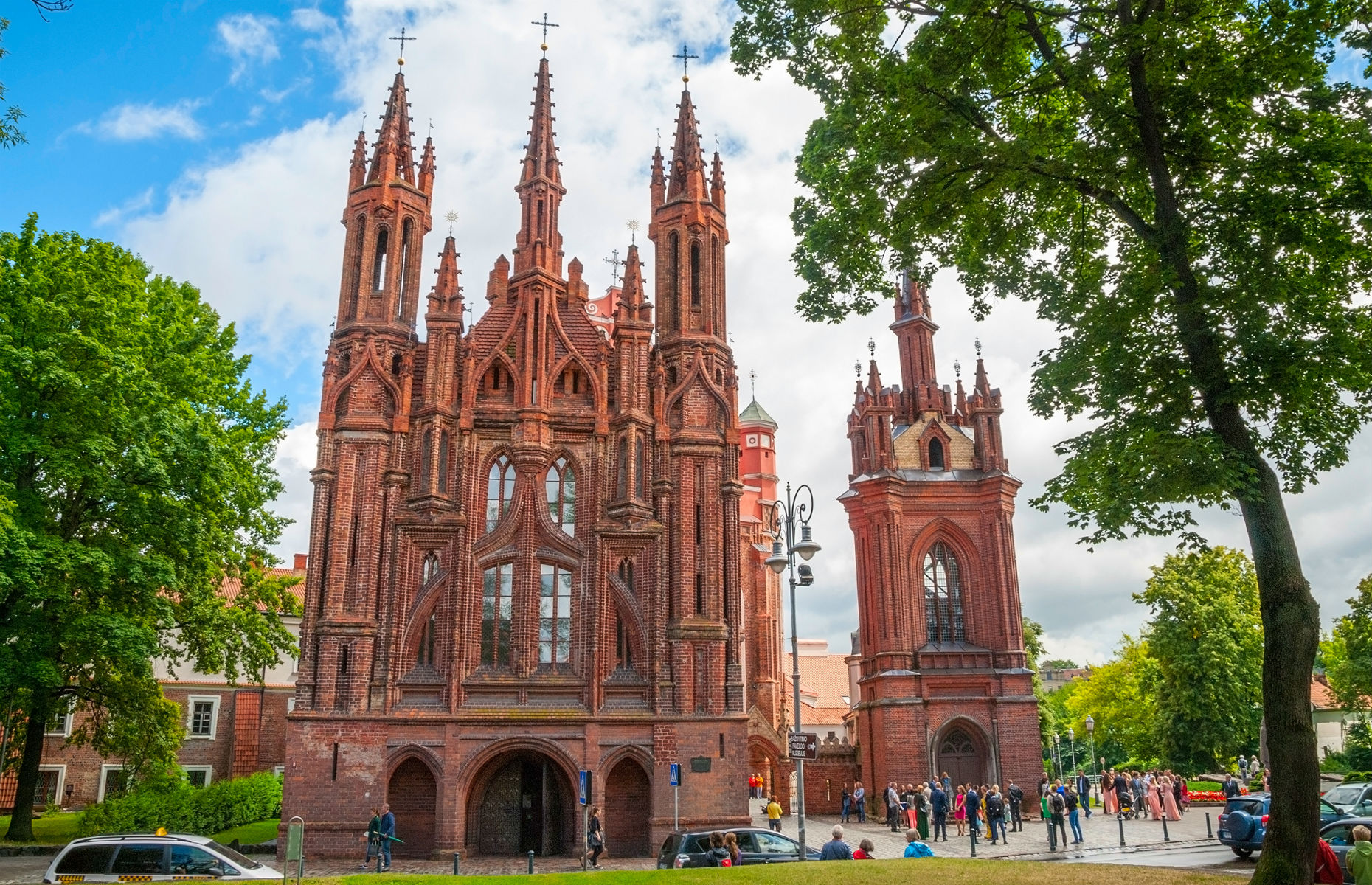 Ana Flasker/Shutterstock
A fire destroyed the early wooden church on this spot, and the present construction was consecrated in the early 16th century, but historians are hazy about when exactly it was built. One piece of local lore holds firm: Napoleon Bonaparte was so captivated by St Anne's that he is said to have wished he could transport it home with him.
Vilnius University
The university is a treasury of artwork and architecture. Take the lift to the top of 210-foot-high (64m) St Johns' Bell Tower (ticket €3/£2.60, May to September only) for an aerial view. Back at ground level, admire myriad architectural styles across this 16th-century seat of learning (entry €1.50/£1.30): highlights are the Grand Courtyard, lined by butterscotch-coloured archways, and the attractive baroque façade of St John's Church. The library harbours the oldest book published in Lithuanian; you'll need to book a guided tour in advance.
Museum of Occupations and Freedom Fights
Modern Lithuanians look forward, rather than back. But it's impossible to understand Vilnius without insight into its past, and there are several worthwhile museums and monuments contextualising Lithuania's Second World War struggles and losses, as well as the city's experience under the cloak of the USSR.
The Museum of Occupations and Freedom Fights is housed inside the former Gestapo HQ, which later became the KGB's interrogation cells and prison. Busy with timelines and archive photographs, the museum offers unflinching insights into the oppression endured by Vilnians living in Soviet Lithuania, in particular the forced deportations that sent tens of thousands of people into remote realms of the USSR. The isolation cells and an execution room make particularly grim viewing.
Read more: Explore Riga: places to visit, things to do and the best hotels
Alternative Vilnius highlights
Užupis
Step across the bridge adorned with love locks, and note the sign welcoming you to the Užupis quarter. This is no ordinary neighbourhood, this is Užupio Respublika, declared an independent state (with tongue firmly in cheek). This former district of craftspeople was left forlorn after Soviet occupation. Then came an influx of creative new residents, energised by the end of Soviet oppression of artistic freedoms (and tempted by the cheap rent).
The artists uplifted Užupis and declared it a republic in the late 1990s. Today, visitors can read the whimsical 41-point constitution in between steeping in Užupis' bohemian ambience: browse books and souvenirs at Keistoteka, settle in for exceptional brews at Coffee1, or dine at artfully old-world Prie Angelo, right opposite the neighbourhood's famous angel statue.
MO Museum
The glossy, 2018-founded MO Museum is a change of pace from Vilnius' churches and quaint old lanes. Five thousand artworks from the 1960s until the present day are gathered in these airy gallery spaces, and it's worth timing your visit for an event. Check the calendar for movie screenings, special exhibitions, baby-friendly museum tours and more.
Choral Synagogue
Visit the Choral Synagogue (1903) for moving insights into Vilnius' erstwhile Jewish community. Before the Second World War, the city was nicknamed the 'Jerusalem of the Baltic countries' because of its significant Jewish population and more than 100 synagogues. Today, the Choral Synagogue is the sole surviving Jewish temple. Press the buzzer for entry but consider asking at the tourist office first, as increasing fears about anti-Semitism briefly shuttered the synagogue in 2019.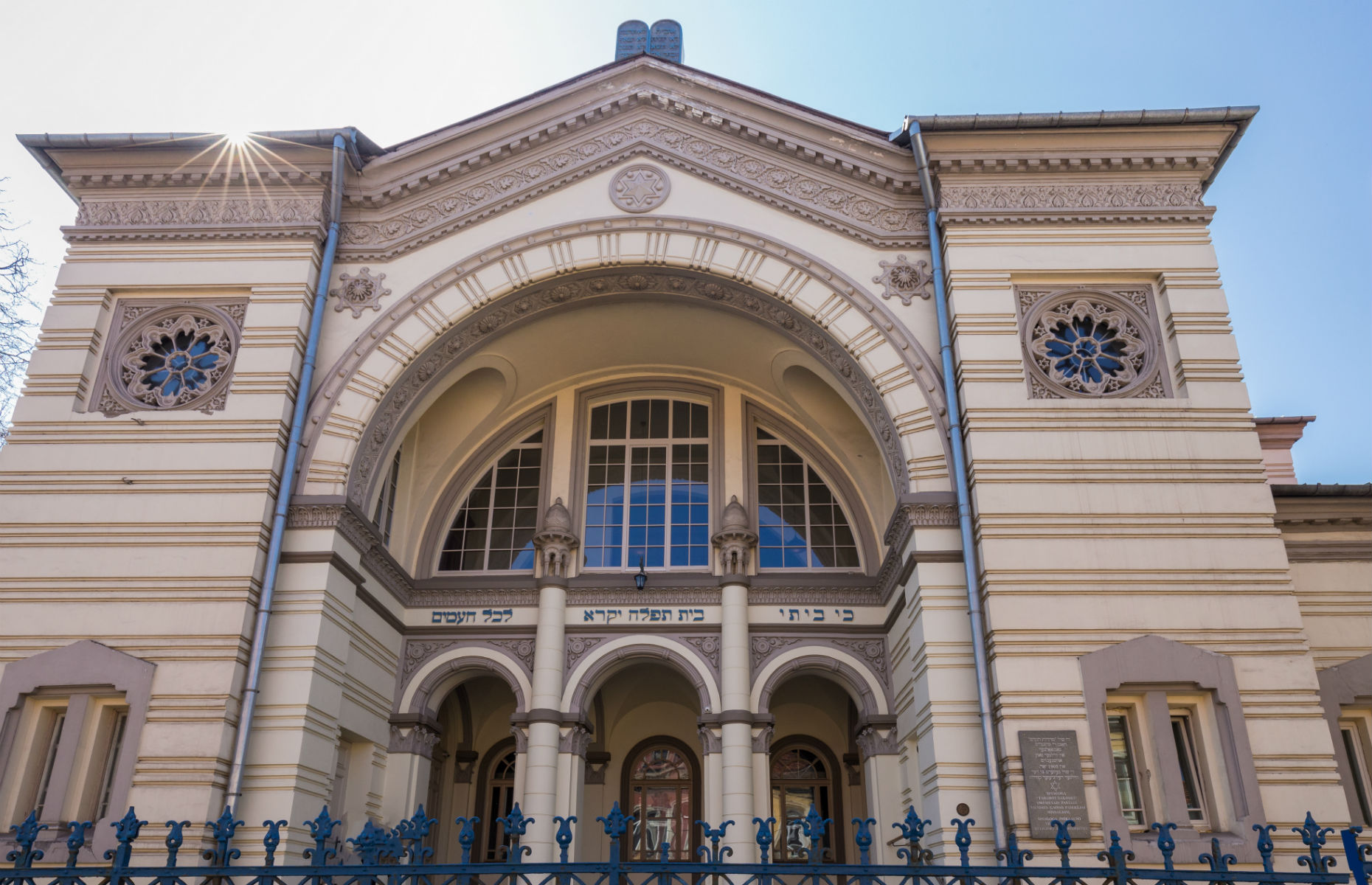 Ruslan Kalnitsky/Shutterstock
Šnipiškės
Tip-only outfit Vilnius Free Tour offers a lesser-trodden route through the city three times a week, leading visitors to the untouristed Šnipiškės district's Soviet-era architecture, 19th-century log buildings, and luminous street art. If you're all churched out after exploring the spires and steeples of the Old Town, this is an interesting alternative perspective.
Outside the city centre
Trakai Castle
The most popular day trip from Vilnius is Trakai Castle, 15.5 miles (25km) west of the city. This is a true storybook castle with conical towers and brick walls, reached by a delightful walkway across the waters of Lake Galvė. Inside the walls of this 14th-century stronghold, an interactive museum harks back to bygone days of knights, battles and Gothic ball gowns.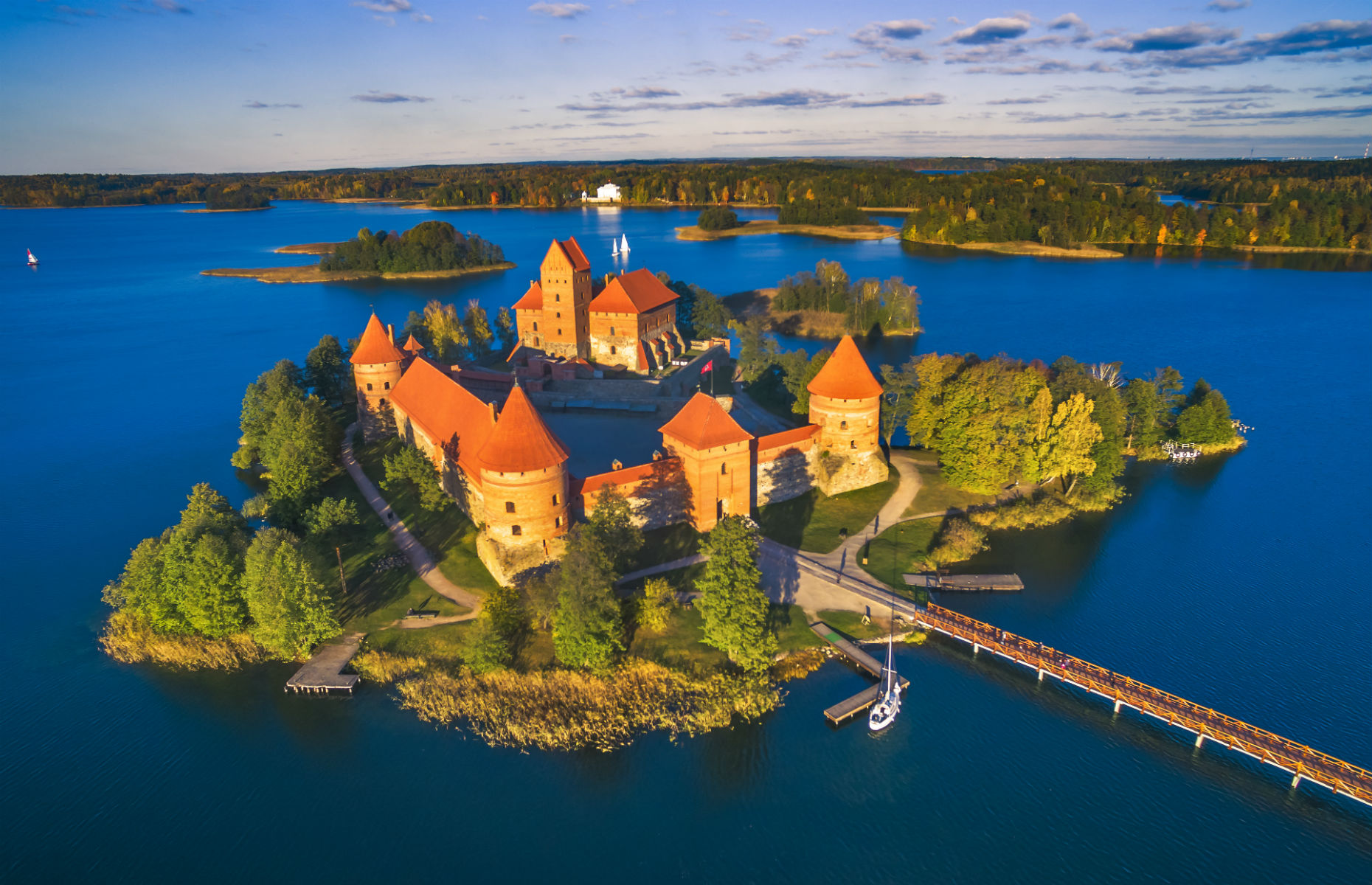 Wide Wings/Shutterstock
Vichy Water Park
The loosely Polynesian-themed Vichy Water Park is built with families and wellness tourists in mind. There are water slides and play zones for kids, and wonderfully soothing Russian baths, whirlpools and saunas for grown-ups to steep in. Bonus: the kitschy-but-fun bars in which to sip a Švyturys beer, between Jacuzzi sessions.
Paneriai Memorial
A bleak chapter of Lithuanian history is memorialised at this forested museum and garden 6.2 miles (10km) southwest of the Old Town. Subunits of the Nazi secret police murdered more than 100,000 people in this forest, most of them Jewish. A tiny museum enshrines accounts of the atrocities, and outside are monuments to the dead, shaded by forest.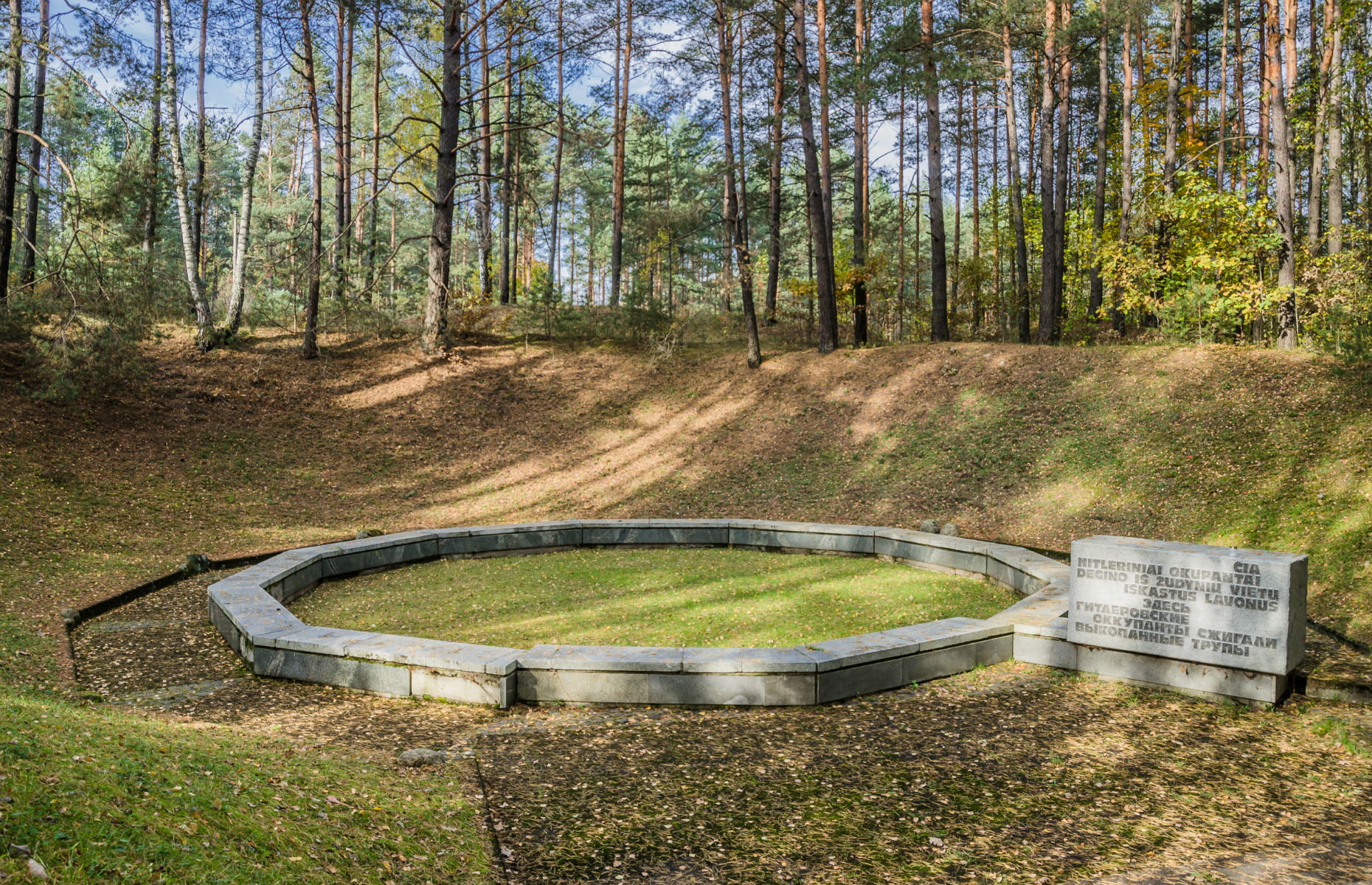 MoLarjung/Shutterstock
Where to stay in Vilnius
History's heartbeat is easily heard at Bernardinu House. This boutique B&B preserves the original character of its late 18th-century building, from restored wall paintings to original floors. Breakfast is brought to your door, and you're only a few paces from the Old Town's main drag, Pilies gatvė.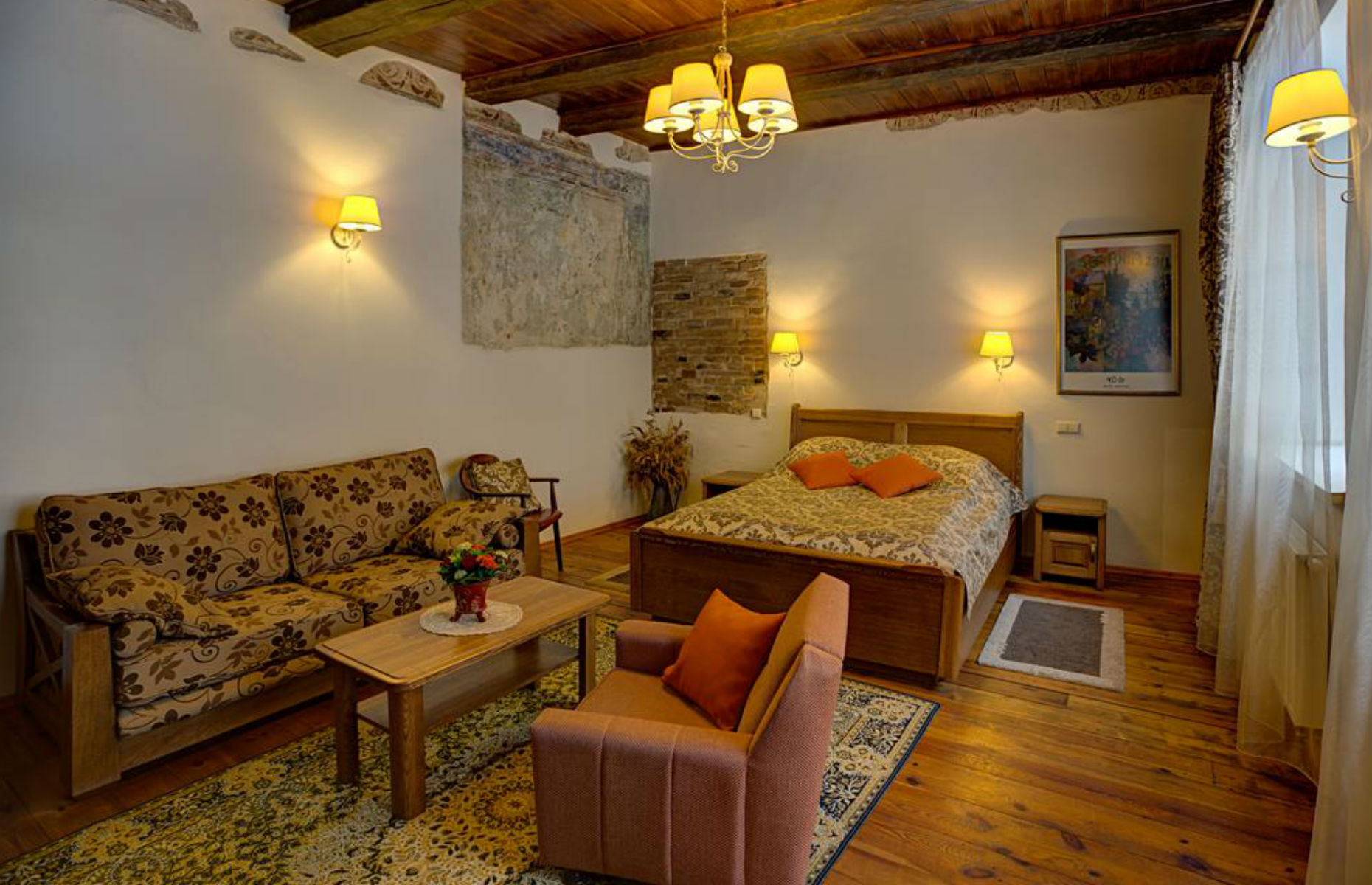 Booking.com
Ten minutes' walk southwest of here, Stikliai Hotel is very well priced for its luxurious cream and crimson rooms adjoining marbled bathrooms. Even better, it's within stumbling distance of atmospheric taverns like Lokys and Alinė Leičiai (both on Stiklių gatvė).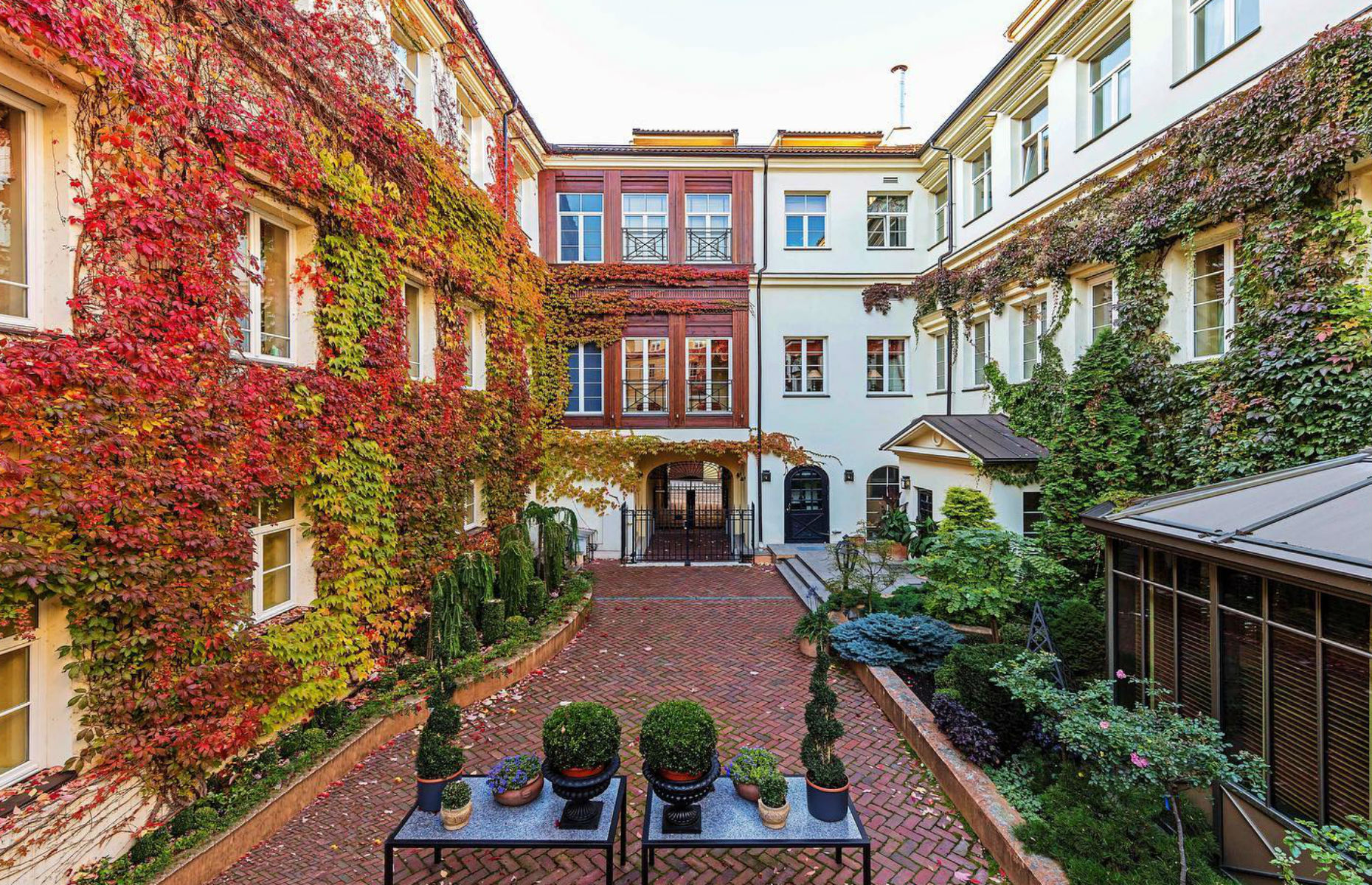 Stikliai Hotel/Facebook
What and where to eat in Vilnius
Gobbling a dumpling or two is a quintessential Lithuanian experience. And no dumplings hold greater notoriety than cepelinai, whopping cannonballs of potato dough often stuffed with herb-flecked curd cheese or ground meat, then laced with buttery dressing and sour cream.
A. Aleksandravicius/Shutterstock
Local chain Etno Dvaras is a reliable venue for cepelinai made to its traditional recipe (and for a low price). Equally filling are the gamey dishes at Lokys, which styles itself as a chic hunting lodge with outdoor wooden seating and banquet-like dining rooms; expect grilled meats with forest mushrooms, deer with berries, and other regal choices.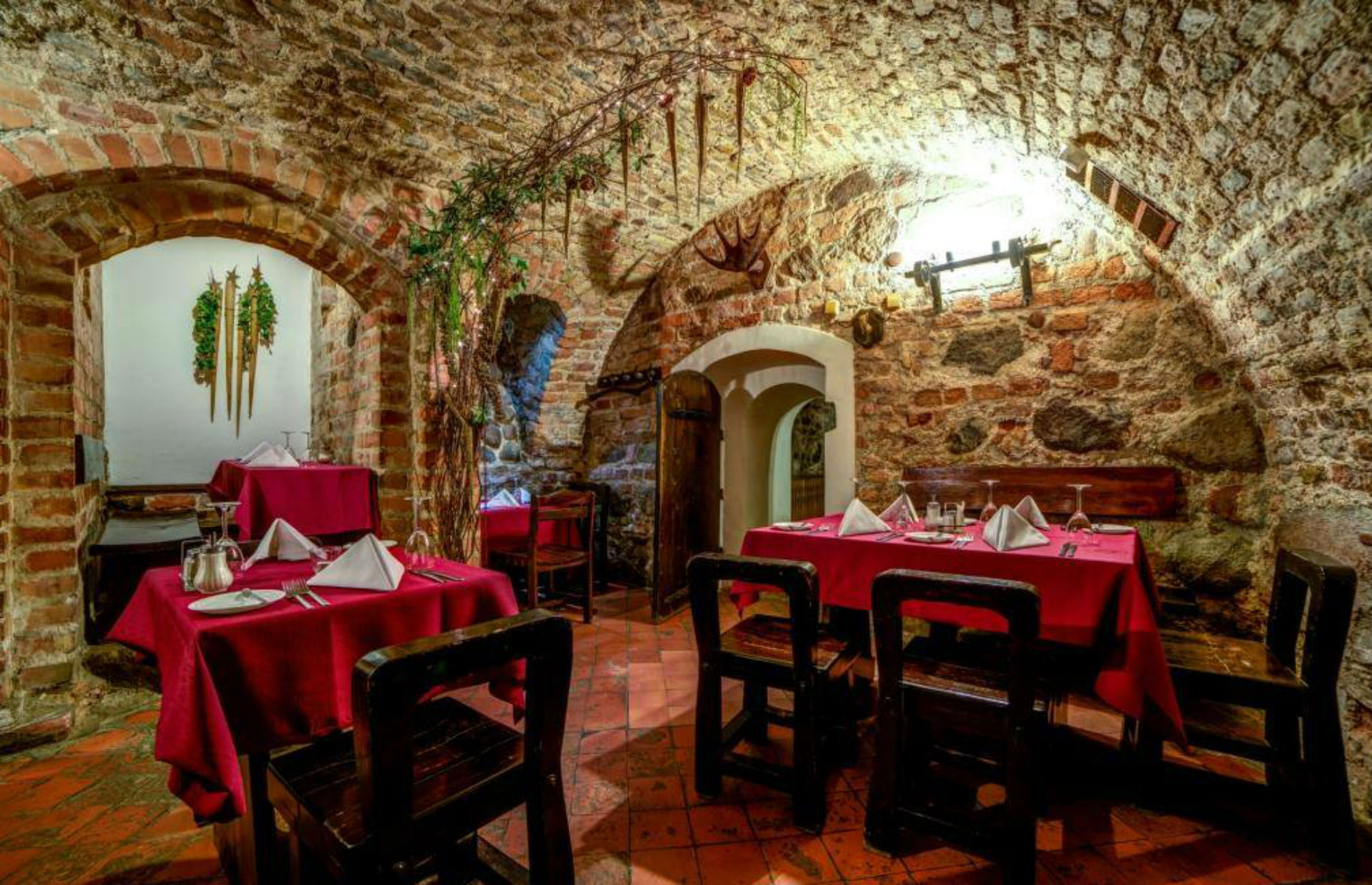 Restoranas Lokys/Facebook
While traditional Lithuanian fare is everywhere, particularly in Vilnius' Old Town, other cuisines are represented – particularly Indian and Italian. One standout is Restaurant Da Antonio, serving acclaimed Italian food including silky ravioli and seafood spaghetti.
Though fish and meat are abundant on menus, Vilnius is increasingly embracing vegan and vegetarian options. Vieta gives bistro staples a vegetarian form, like tofu and chips or soy burgers, while Rosehip Bistro presents flamboyantly colourful Buddha bowls, salads and meat-free burgers.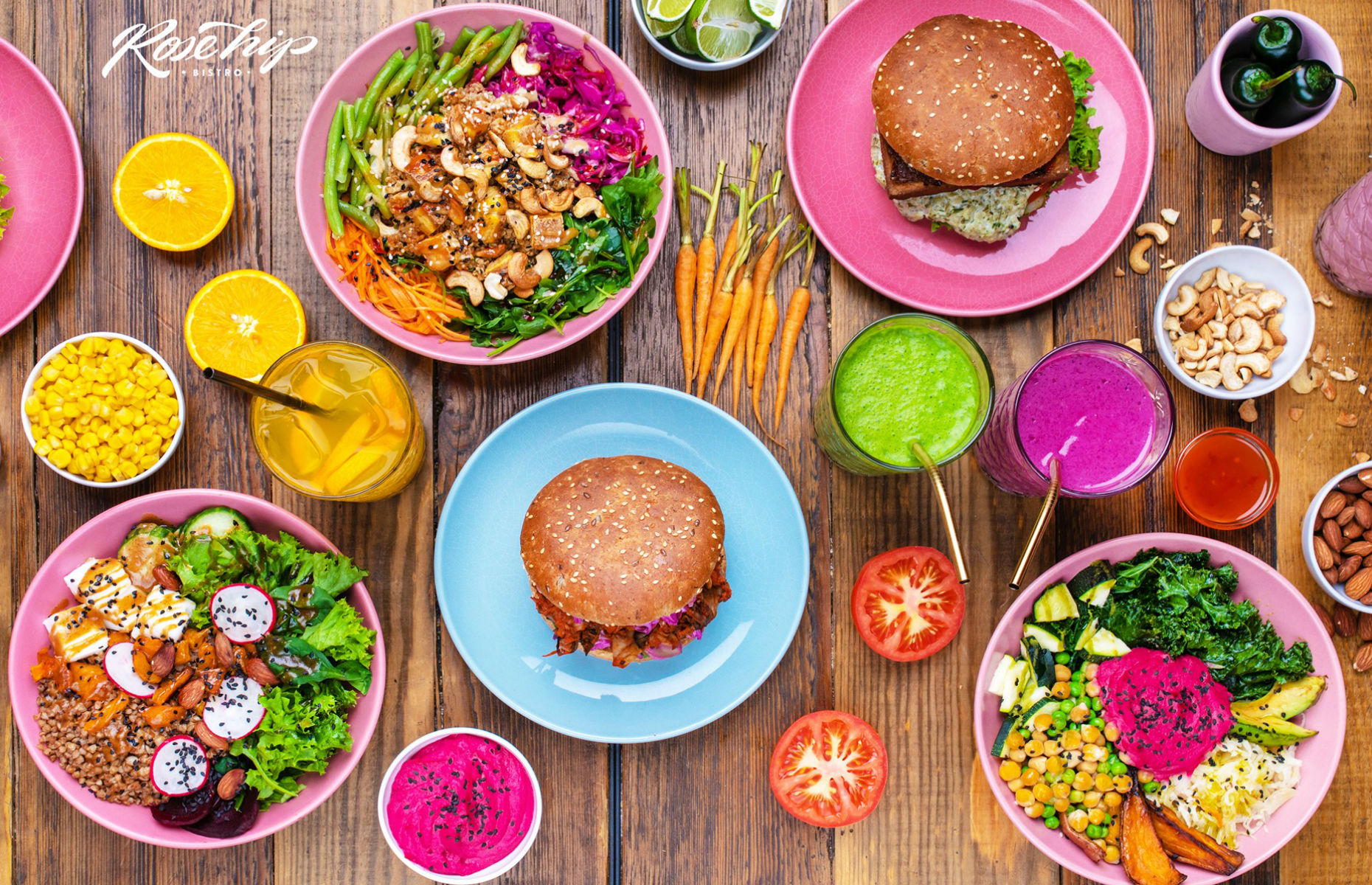 Rosehip Bistro/Facebook
The ultimate Vilnius itinerary
Day 1
Check in at: Domus Maria, a simple but history-soaked guesthouse that puts you in prime position to admire the hallowed Gate of Dawn. After slinging your suitcase on the bed, take the stairs up to the resplendent Gate of Dawn chapel to see the venerated icon of Mary.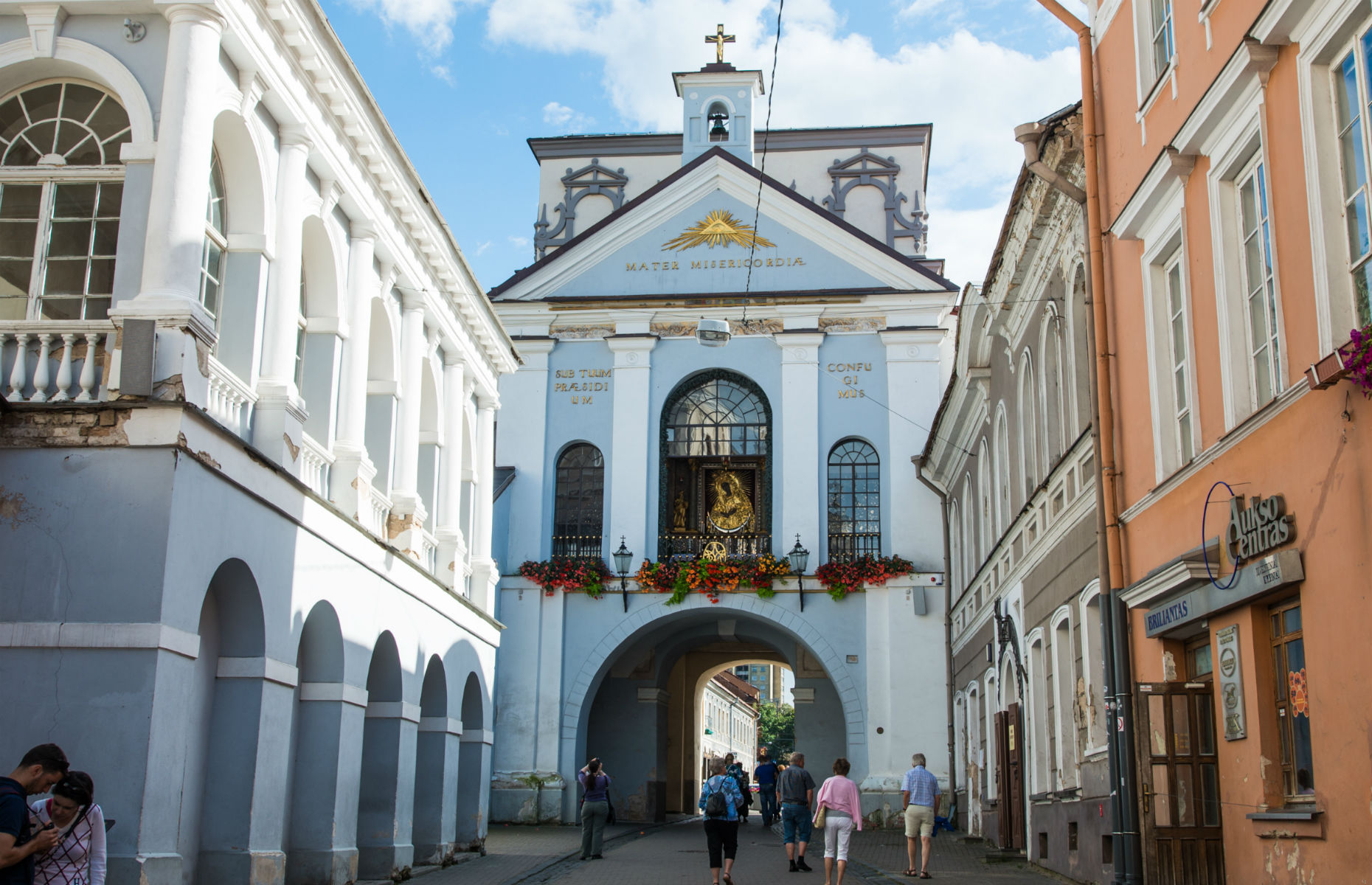 Pe3k/Shutterstock
Admire the view: from Gediminas Hill after a bracing uphill stroll (or take the funicular for €2/£1.70 – great for families). After enjoying the landscape from the very place the city was founded, step inside the castle museum (entry €5/£4.40) to learn more, then descend in the direction of Vilnius Cathedral.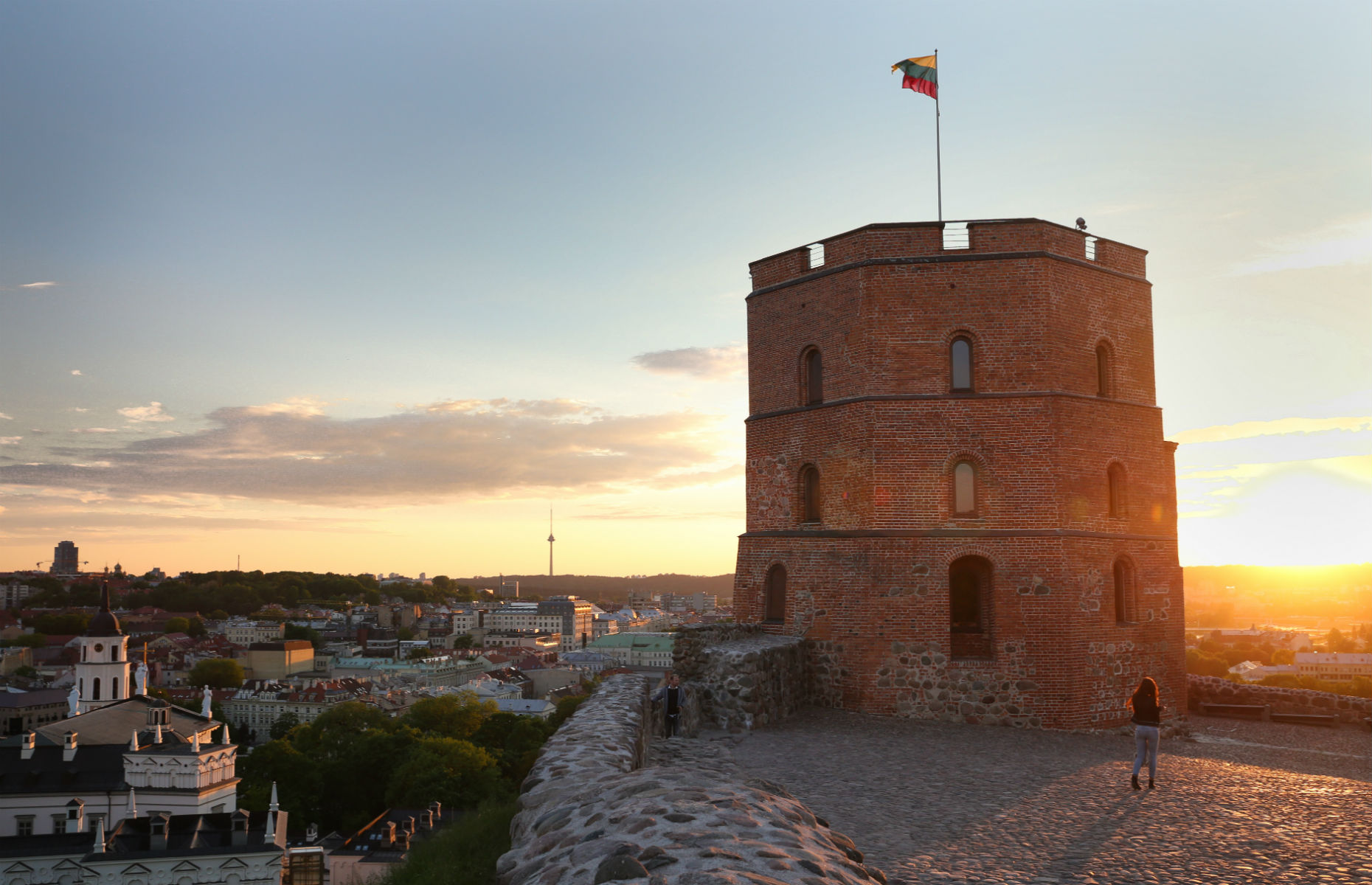 FuGazi images/Shutterstock
Lunch at: Pilies Kepyklėlė (Pilies gatvė 19), where a prettily attired café stands ready to serve homemade cakes, salads and soups, along with fortifying drinks like hot spiced apple.
Explore: Vilnius' Old Town, which gives way to labyrinthine lanes, studded with sculptures and public art, at its southeastern edge. Leave time to step into marvellous churches like baroque St Michael and brick-towered St Anne's.
Dine at: Ertlio Namas, where a tasting menu guides diners through centuries of historic Lithuanian cuisine, from hunter's stew to duck with honey cakes.
Day 2
Day trip to: Trakai Castle, and picture yourself enjoying grand banquets and plotting battles with medieval grand dukes.
Lunch at: Kybynlar, a showcase of the meat-crammed pastries and lightly spiced stews traditional to the Karaite minority, dozens of whom still live in Trakai.
Take to the water: by gliding across glassy Lake Galvė in a kayak or pedal boat, for an alternative perspective on the castle and a glimpse of the nature reserve's abundant birdlife. The visitor centre, near the walkway to the castle, has information on boat rentals.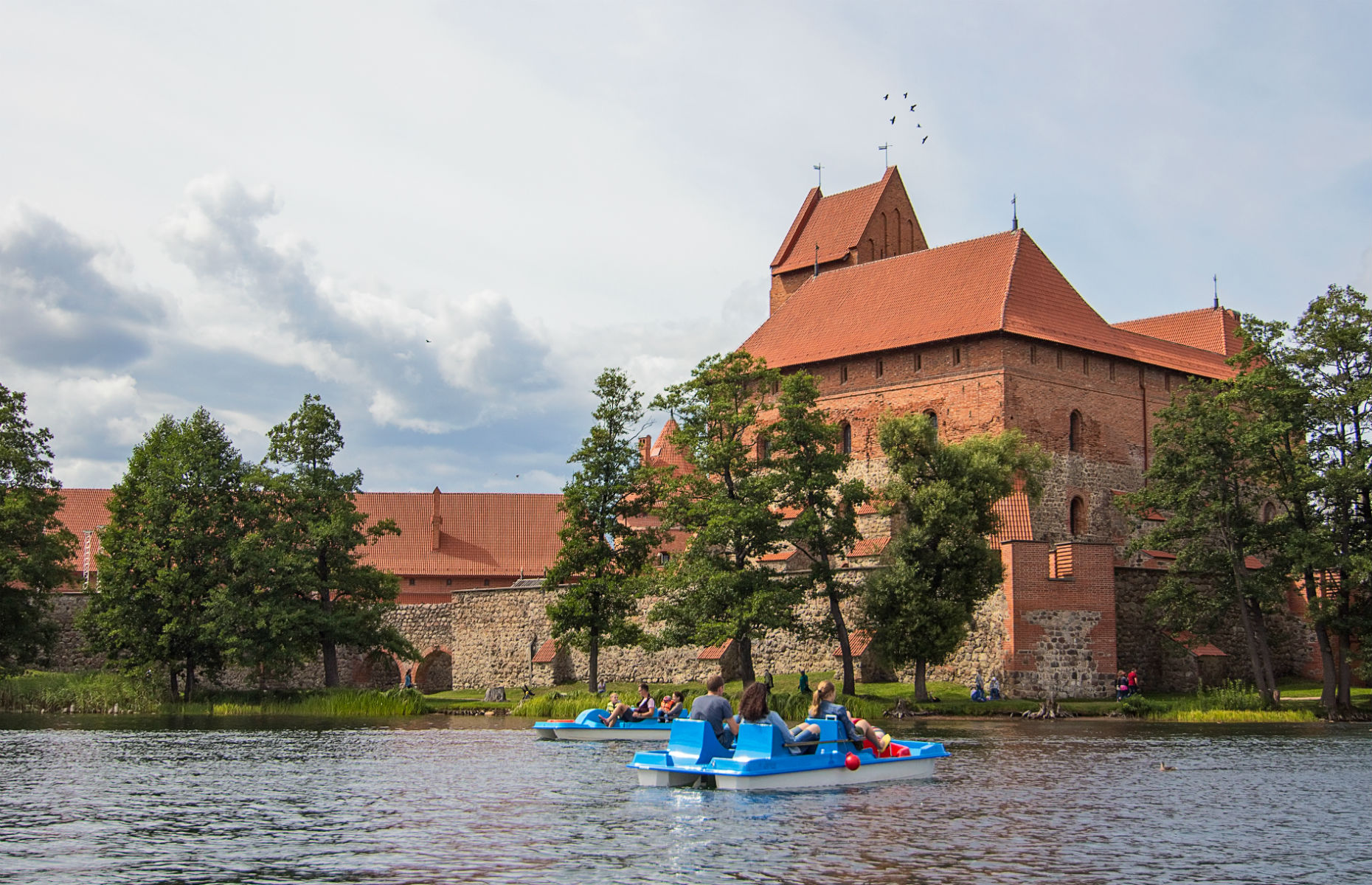 Liya_Blumesser/Shutterstock
Dine out: at Gaspar's, back in Vilnius, where reinvented Goan cuisine provides a spicy counterpoint to the earthy flavours of classic Lithuanian cuisine.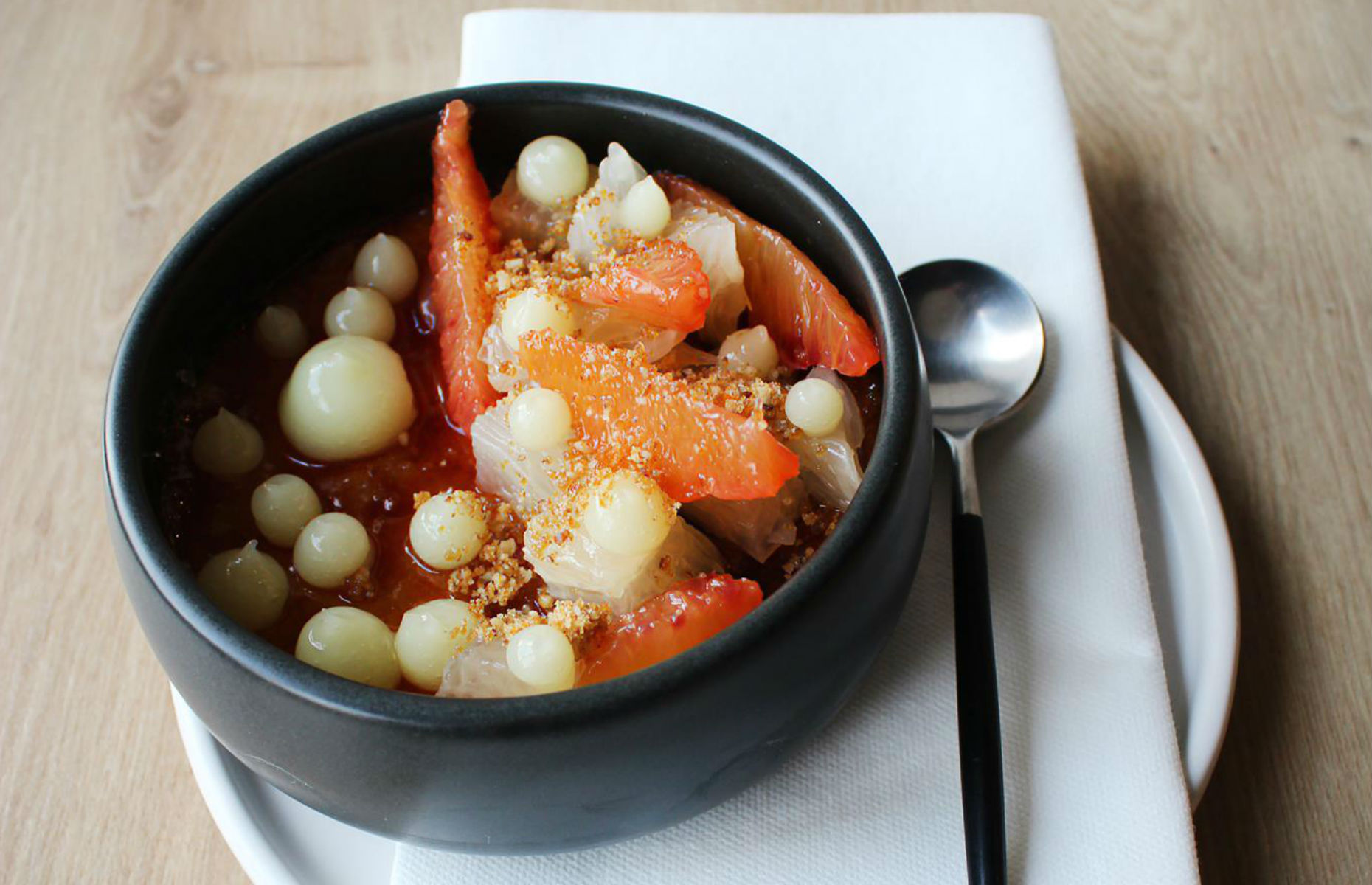 Gaspar's Restoranas/Facebook
Day 3
Learn about: Vilnius' brutal history at the Museum of Occupations and Freedom Fights or, nearby, the Holocaust Exposition in the 'Green House', part of the city's Jewish Museum.
Lunch at: Bunte Gans, where a vaulted ceiling and medieval-style regalia provide the backdrop to German-accented dishes like fried carp with beer, schnitzels with red cabbage, and combo plates of sausage.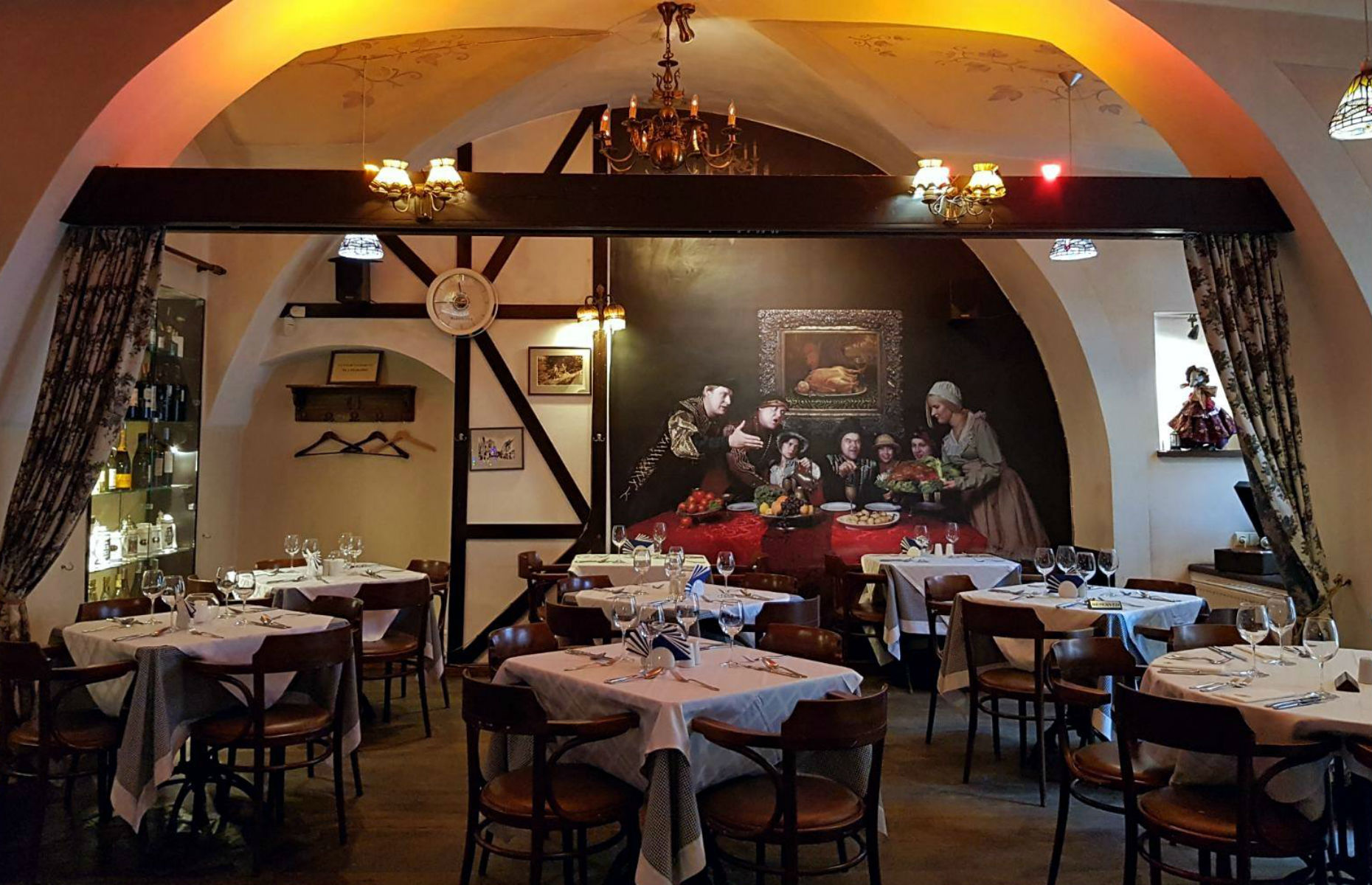 buntegans/Facebook
Take a tour: of the city's lesser-explored corners in the company of Vilnius With Locals. This 'alternative tour' takes in street art highlights and dilapidated architectural relics, with plenty of humour and local tips.
Dine on: traditional Lithuanian flavours with a twist at reservations-essential Sweet Root in Užupis, then cap off the evening at the artfully rustic bars nearby.
Main image: MNStudio/Shutterstock
Read more: Explore Estonia's capital Tallinn with our guide
Map of Vilnius
Be the first to comment
Do you want to comment on this article? You need to be signed in for this feature