Explore Riga: places to visit, things to do and the best hotels
The Baltic charmer with an abundance of culture, architecture and a food scene like no other.
Introducing Riga
Exploring Riga is like unwrapping hundreds of tiny little gifts – every building, street and corner holds a surprise, whether it's a cosy café or a local designer concept store. Often called the "Little Paris of the North" for its romantic cobbled streets and grand buildings, the Latvian capital will charm you instantly.
What started out a Baltic tribe settlement as early as the 2nd century is now a small but delightful city with an exquisite selection of architecture, a plethora of art galleries, opera and theatre as well as creative takes on local cuisine.
Even though it's still widely disputed – even among the residents – as to whether Latvia is in northern or eastern Europe, it's Scandinavian restraint and reservation that characterises the locals. But scratch the surface of this city and you'll discover a glimpse of that Slavic warmth and passion for life at the trendy hipster cafés, cool art galleries and in experimental kitchens, where creativity sees no limit.
Influences from Swedish, German and Russian occupations are reflected through the city's face and its people, making it a very special place, that, after decades of foreign rule, has found its voice.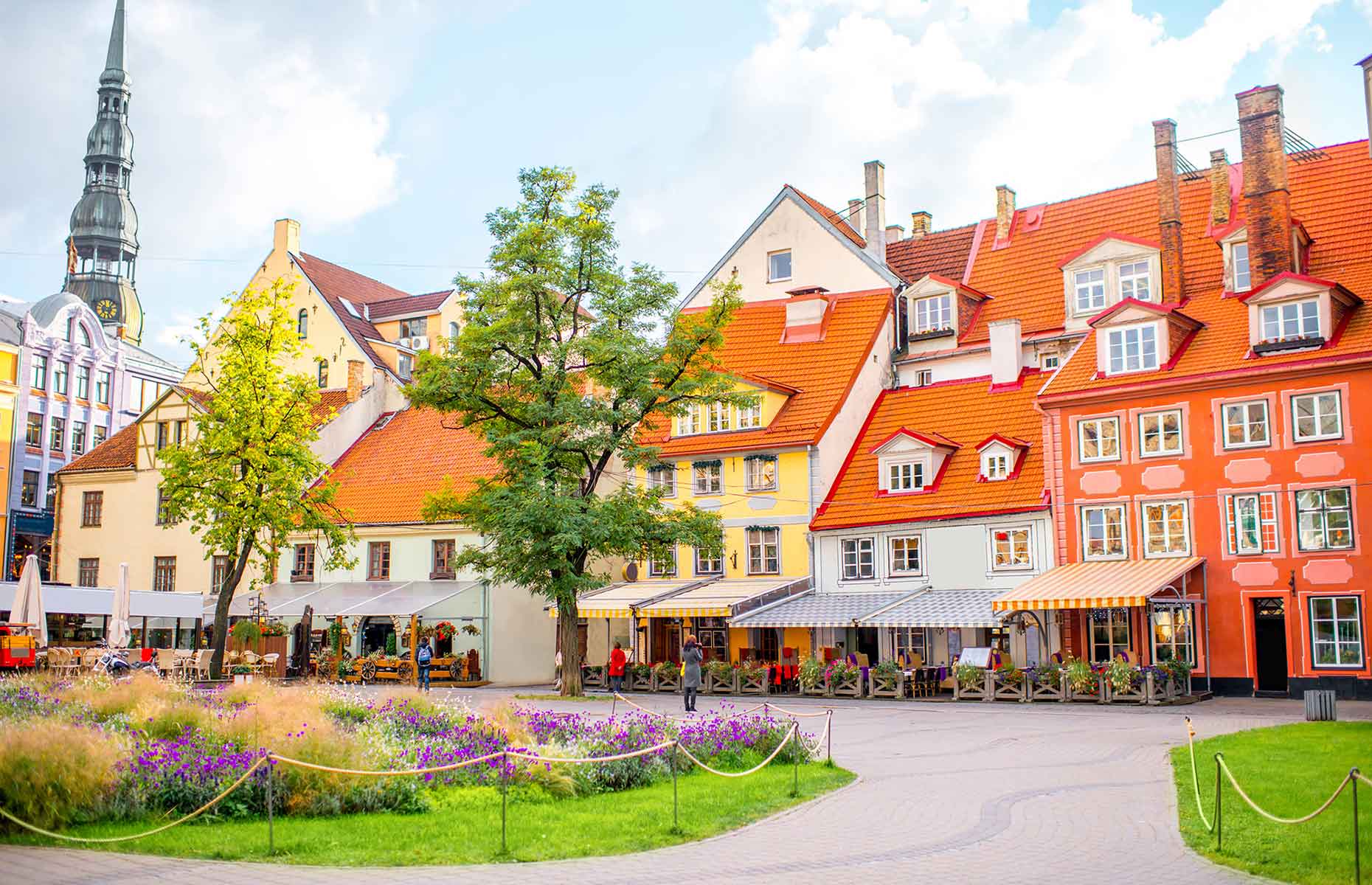 RossHelen/Shutterstock
5 essential things to do in Riga
1. Stroll through history
Founded in 1201, Riga's Old Town with its cobbled pedestrian streets and towering church spires will evoke the city's medieval past. Start at the Old City Walls and walk through the Swedish Gate, the only remaining gate to Old Riga. Then head to the Riga Dome Cathedral towering over the spacious Doma Square and stop for a hearty Latvian meal in Key to Riga, where you can dig into a blood sausage with lingonberry jam and stewed sauerkraut.
After lunch, get lost in the narrow maze-like streets before reaching the spectacular House of the Blackheads – a 14th-century guild for unmarried German merchants – that was bombed to ruins by Germans in 1941 and demolished by Soviets in 1948, only to be restored to its former glory at the turn of the century. On a clear day head up the St. Peter's Church spire to the viewing platform and enjoy the view over the abundance of the orange terracotta roof tiles of Old Riga.
2. Relax by the canal
Arguably the prettiest spot in the city, Bastion Hill park and the Riga Canal that flows through it separate the medieval Old Town from the modern grid-system of central Riga. Start your stroll through the leafy park from Barona Street, marvel at the grandeur of the National Opera, and follow the canal to the Freedom Monument, where the elegant Kolonāde restaurant serves a spectacular six-course tasting menu.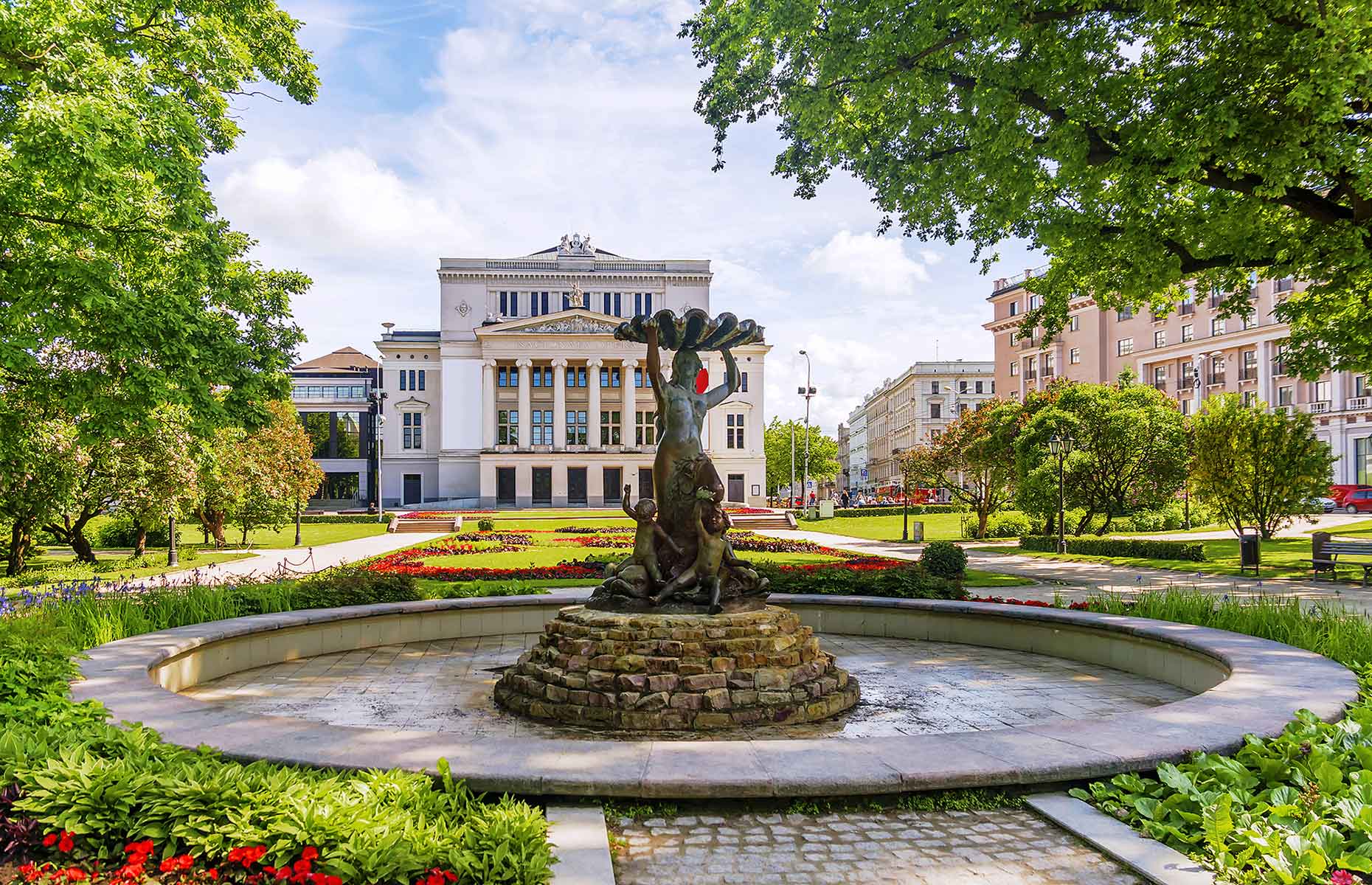 dimbar76/Shutterstock
3. Marvel at the architecture
From restored 17th-century wooden houses in the Kalnciema Quarter (also home to an artisan market on Saturdays) to the futuristic looking National Library, Riga's journey through the decades is documented in its buildings. Home to the largest collection of Art Nouveau buildings anywhere in the world, the Art Noveau area and museum are a must. Built during a rapid economic growth in the early 20th century, Art Nouveau apartment buildings make up roughly a third of central Riga.
4. Eat like a local
You haven't been to Riga if you haven't been overwhelmed by the sights and smells at the city's stomach – the Central Market. Made up of vegetable, dairy, meat and fish pavilions and an outdoor trading space, this is the biggest food market in Latvia. Try freshly-pickled sauerkraut and cured cucumbers, indulge in a selection of smoked meats and sausages on black bread, and taste the smoked mackerel before moving onto the vast selection of wildflower honeys.
5. Take in the culture
Home to more than 52,000 works of art, National Museum of Art is breathtaking both inside and out. Recently renovated, the museum documents the development of professional art in the Baltics. Even if art isn't your thing, it's worth visiting this grand building just to see its palace-like interior in contrast to the white-washed wood contemporary art space in the attic.
Book a tour with an expert guide
Our partners at Get Your Guide offer a range of tours with local experts. Here's our pick of the best:
5 alternative things to do in Riga
1. Take a food tour
Taste Latvia on one of the Eat Riga Food Tours. Take your pick between Riga Tasting Tour, which guides you through mountains of produce at the Central Market, or the Beer and Black Balsam tour, that focuses on sampling Latvia's two most beloved drinks. If you've more than a couple of hours, we suggest the Feast For a Day tour that will take you from a lovely boat ride to sampling local delicacies before wrapping the day up with a dinner in a top restaurant.
2. Examine Latvia's pagan roots
Much of contemporary Latvian culture is deeply rooted in the pagan traditions of the Baltic tribes that once lived in the area, from home remedies and ointments still used today to folk songs sung on national holidays and pagan deity symbols carved in the doorways. The Open Air Ethnographic Museum offers a glimpse into the pagan way of life and is home to 118 historic buildings from as early as the 17th century. It's a chance to understand where Latvians' connection to nature originates and understand why a pagan ritual like summer solstice is celebrated as a national holiday.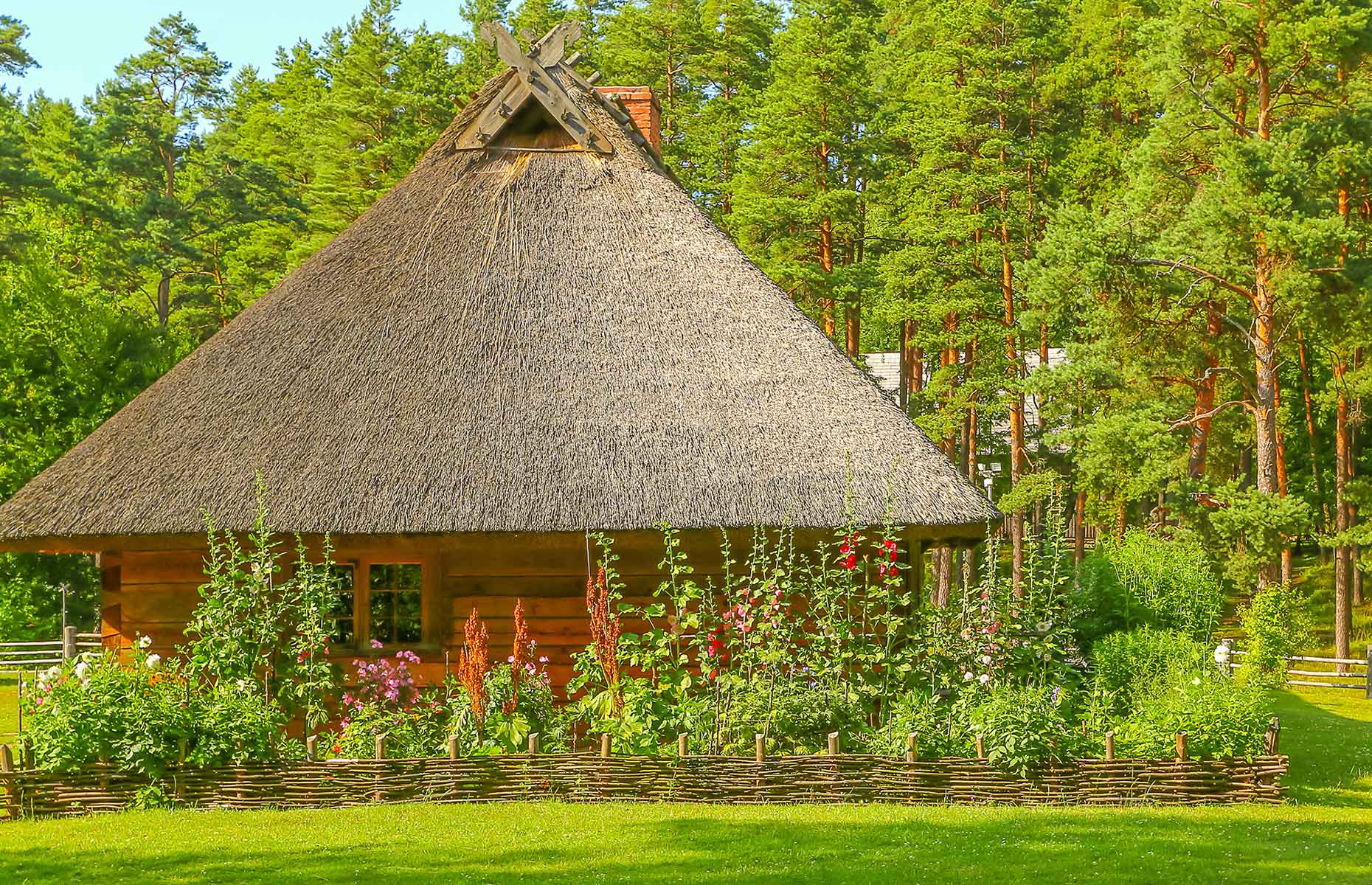 Svetlana Mahovskaya/Shutterstock
3. Indulge in chocolate
On a rainy day (which Riga has more than a handful of) head to the Laima Chocolate Museum. Founded in 1870, Laima's sweet delights have been a staple in the Baltics and even throughout the Soviet Union. The secret to making Laima's signature chocolate is closely guarded, however in the museum you'll have a chance to make your own chocolate bar and follow the creation of it, from a single cocoa bean to wrapper.
4. Discover the Soviet secrets
Once home to the Soviet secret police, the so-called Cheka, during the Soviet occupation, the KGB Corner House offers a candid look at the fear that plagued Latvians during the decades of occupation, from 1940 to 1991. The building tells a story of how citizens were interrogated about their political alliances, and includes a visit to the prison cells and even the execution room, where bullet holes are still visible in the wall.
5. Fit in with the cool crowd
Once a red-brick warehouse district built to host goods being shipped from Russia's far east to the western Europe, Spīķeri creative quarter has experienced a revival in the last decade. Now a collection of art galleries, shops and cool cafés, Spīķeri also hosts the Riga Flea Market, where you'll find anything from vintage bric-à-brac to modern design objects, and the Riga Restaurant Festival, when the best chefs offer bite-size snacks and samples of their menu for very accessible prices.
The best Riga hotels
Splash out:
1. For restrained luxury: Exuding Nordic minimalism and contemporary luxury, the 5-star Hotel Bergs is sheltered from the busy city streets in the stylish pedestrian quarter Bergs Bazaar. The hotel's ground floor is home to a restaurant of the same name serving haute cuisine.
2. For an excellent location: Conveniently located in Old Riga, the rooms of the 5-star Dome Hotel feature the exquisite wall and ceiling decorations from the building's time as a townhouse. Now, complemented with a spa and an excellent fish restaurant, this hotel is a safe-haven to retreat to after a busy day of sightseeing.
3. For modern charm: Redstone Boutique Hotel's 11 rooms are individually decorated, combining historic details with chic elegance. We suggest splashing out for the Royal Family Suite, which features large panoramic windows and a balcony overlooking Old Riga.
On a budget:
1. For river views: One of the many Radisson hotels in Riga, Radisson Blu Daugava Hotel benefits from a picturesque riverside location, offering first-class views of the right bank and the cityscape of Old Riga.
2. For a roof-top bar: Art Nouveau quarter and Old Riga in walking distance, the Albert Hotel offers comfortable rooms and a generous breakfast buffet. The hotel's trump card is the rooftop bar where you can enjoy sweeping views of the streets and parks of central Riga.
3. For a quiet retreat: Located almost opposite the National Museum of Art, the Clarion Collection Hotel Valdemars is an excellent choice if you don't want to worry about food – delicious buffet breakfast, complimentary afternoon sweets and an evening meal are all included in the room price.
Where to eat in Riga
1. Indulge in fine dining: Vincents has been the premier gourmet establishment in the Baltics since its inception more than 20 years ago serving mouth-watering steaks and excellent oysters, while Bibliotēka No1's innovative chef Kaspars Jansons has been bagging awards for the last four years and counting. His tasting menu is an excellent insight into combining Latvian ingredients with classic French techniques. Alternatively, book a table at Kaļķu Vārti in Old Riga for a fine-dining take on humble Latvian produce like pickled herring, buckwheat and black bread.
2. Taste the Baltic seafood: The Baltic region is rich with both marine and freshwater fish. Head to Ferma for their catch of the day, try Le Dome for the luxurious Latvian sturgeon caviar or Zvejnieka Dēls (Fisherman's Son) for a fuss-free approach to seafood.
3. Discover modern takes on Latvian cuisine: Experimenting with local flavours and international techniques has largely defined modern Latvian cuisine. Valmiermuiža's Embassy is a must-visit not only for their innovative take on food but also their first-class craft beer – try the signature unpasteurised lager or the lighter Frišs with elderflower juice. The award-winning chef Rihards Zommers serves a Latvian take on tapas in his restaurant Entresol, while three of Latvia's top chefs have come together in The Three Chef's restaurant with an ethos of simply serving really good food.
Top insider tips
1. Get about cheaper: Hiring a cab on the Taxify app is cheaper than public transport if you're travelling within the city centre. However, central Riga is on the small side so if you're willing to walk, you'll be able to reach everything on foot.
2. Don't worry about language barrier: Contrary to many stereotypes, most people speak three or four languages, especially in hospitality, so no awkward sign language or wrong Google translations need be involved.
3. Don't take it personally: People here can be introverted so don't mistake this for rudeness. Don't think twice if nobody holds the door for you or if your waiter doesn't smile. Latvians are rather private and only really open up to family and close friends.
4. Look up: Architecture in Riga is extremely diverse and surprising. When walking through the city streets, it's worth looking up to trace the intricate carvings and statues on the facades as well as the detailing in the window panes.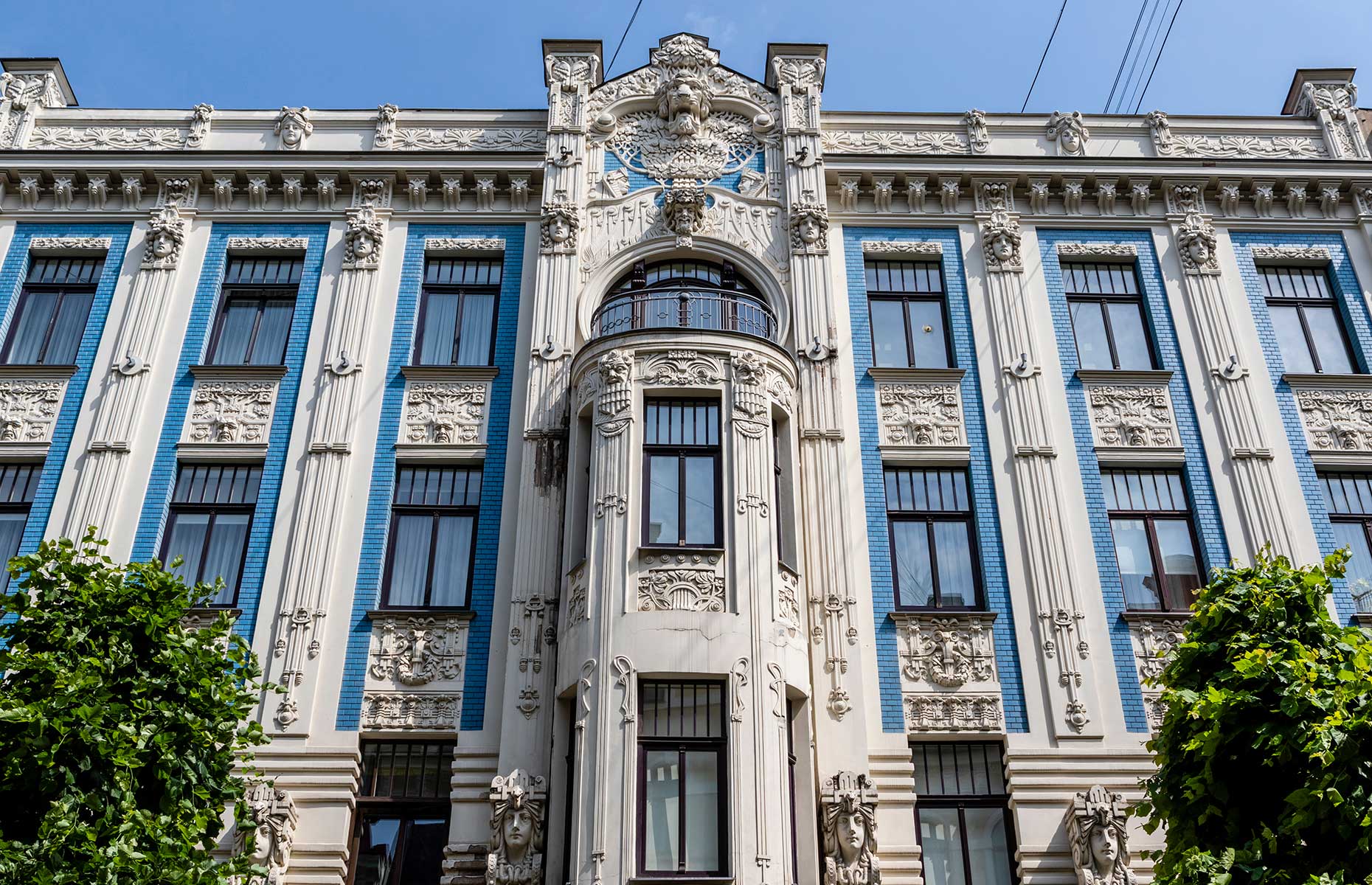 fotojanis/Shutterstock
Day trips from Riga
1. Trek the forest-clad hills of Sigulda
Hop on a train in Riga Central to the quiet town of Sigulda just 30 minutes away. Once there, climb the Painters' Hill (also known as the Paradise Hill) and take in the beauty of the forest that surrounds the Turaida Castle on the opposite hill. Sigulda's forests and Gauja National Park are especially pretty in autumn when leaves change colour.
2. Explore a baroque palace
Rundāle Palace is an outstanding example of Baroque and Rococo, often dubbed a mini-Versailles. Built by the architect of the Winter Palace in St Petersburg, Russia, its grandeur is unparalleled in the Baltic states. It's especially beautiful from the end of May to mid-July when the palace rose garden is in full bloom.
3. Take a walk... in a bog
On an early morning escape the city and head west to the Ķemeru Tīrelis – a beautiful moorland with a two-mile wooden boardwalk leading through it. The area is best enjoyed from the viewing platform during an autumn sunrise, when the receding fog reveals the blooming heather bushes.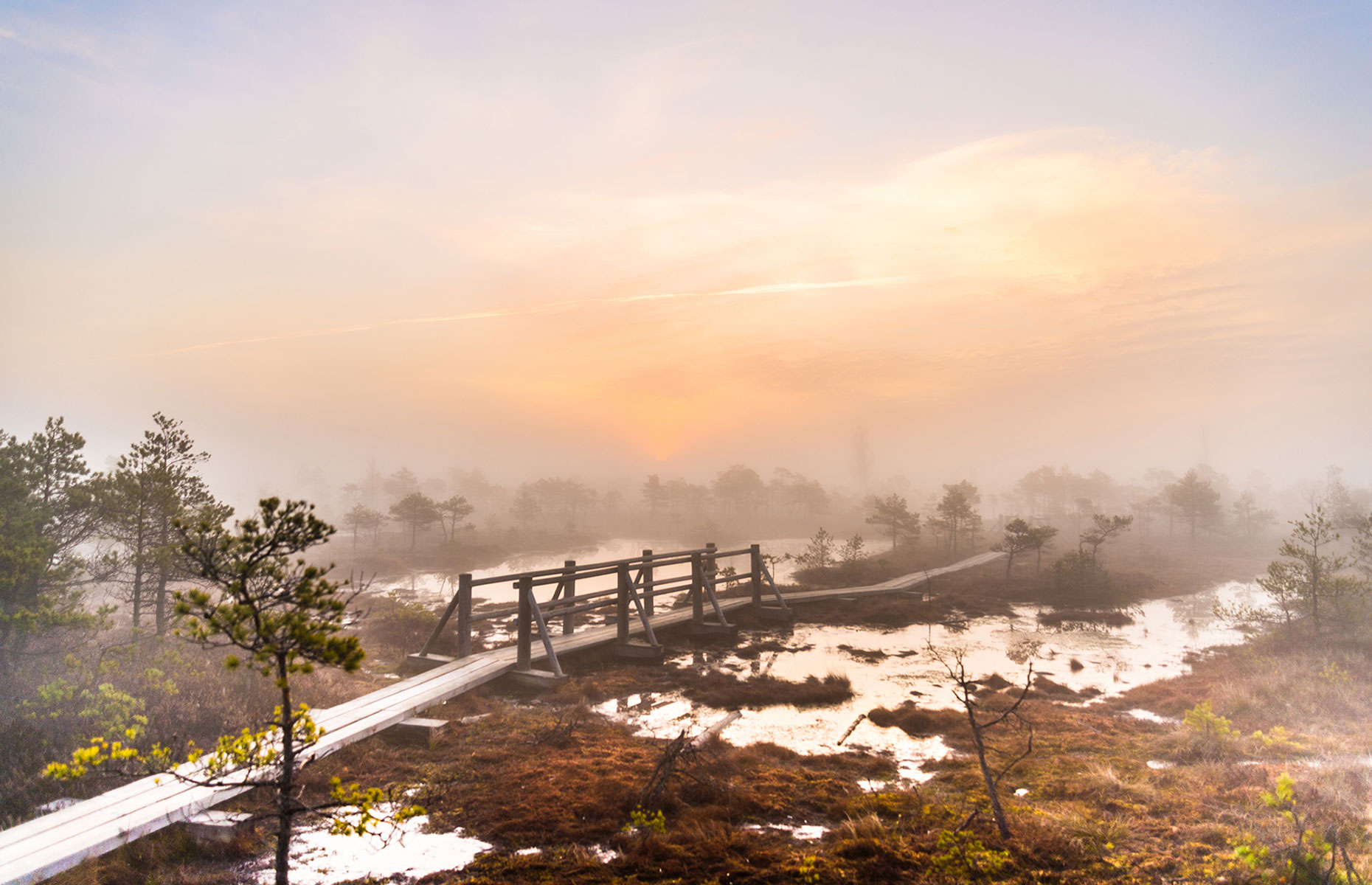 mdbildes/Shutterstock
Top tip: You can book an eight-hour day trip to the countryside of Latvia, including Sigulda Castle with Get Your Guide here.
The best time to visit Riga
It's best to escape to this Baltic capital in late spring or early autumn (from end of April through May and from September to early October respectively) when the sun shines and it is relatively dry. Winters can be extremely cold, with temperatures as low as -20°C in January, and summers tend to be either really wet and gloomy or too hot and muggy – highs of 35°C are not unheard of.
How to get to Riga
National airline airBALTIC flies from all major European cities. When arriving in Riga, either take the cab or hop on the airport shuttle.
There are four types of public transport in Riga – bus, tram, trolleybus and minibus. The Riga transport website is very easy to use and there is also a convenient route planner, though it can be expensive.
Map of Riga
Navigate to all our favourite places with this handy map of Riga:
Be the first to comment
Do you want to comment on this article? You need to be signed in for this feature