Explore Faro: The top things to do, where to stay and what to eat in the Algarve's capital
Portugal's Faro is often missed by tourists rushing off from its airport to the Algarve's popular beach resorts. Linger in this southern city, though, and you will discover a beguiling unpolished diamond with a chocolate-box pretty old town, a sprinkling of great restaurants and lively, local filled bars, all propelled by its friendly, youthful student population.
Key neighbourhoods in Faro
The old town
Faro's old town dates back to the 15th and 16th centuries, when Portugal ruled a vast empire stretching from Europe into Africa and on across the Indian Ocean to colonies like Goa and Macau. The lavish buildings and ornate facades are the legacy of those times. These days this picturesque quarter is sprinkled with bars and cafés, but still retains a feeling of old-world grandeur.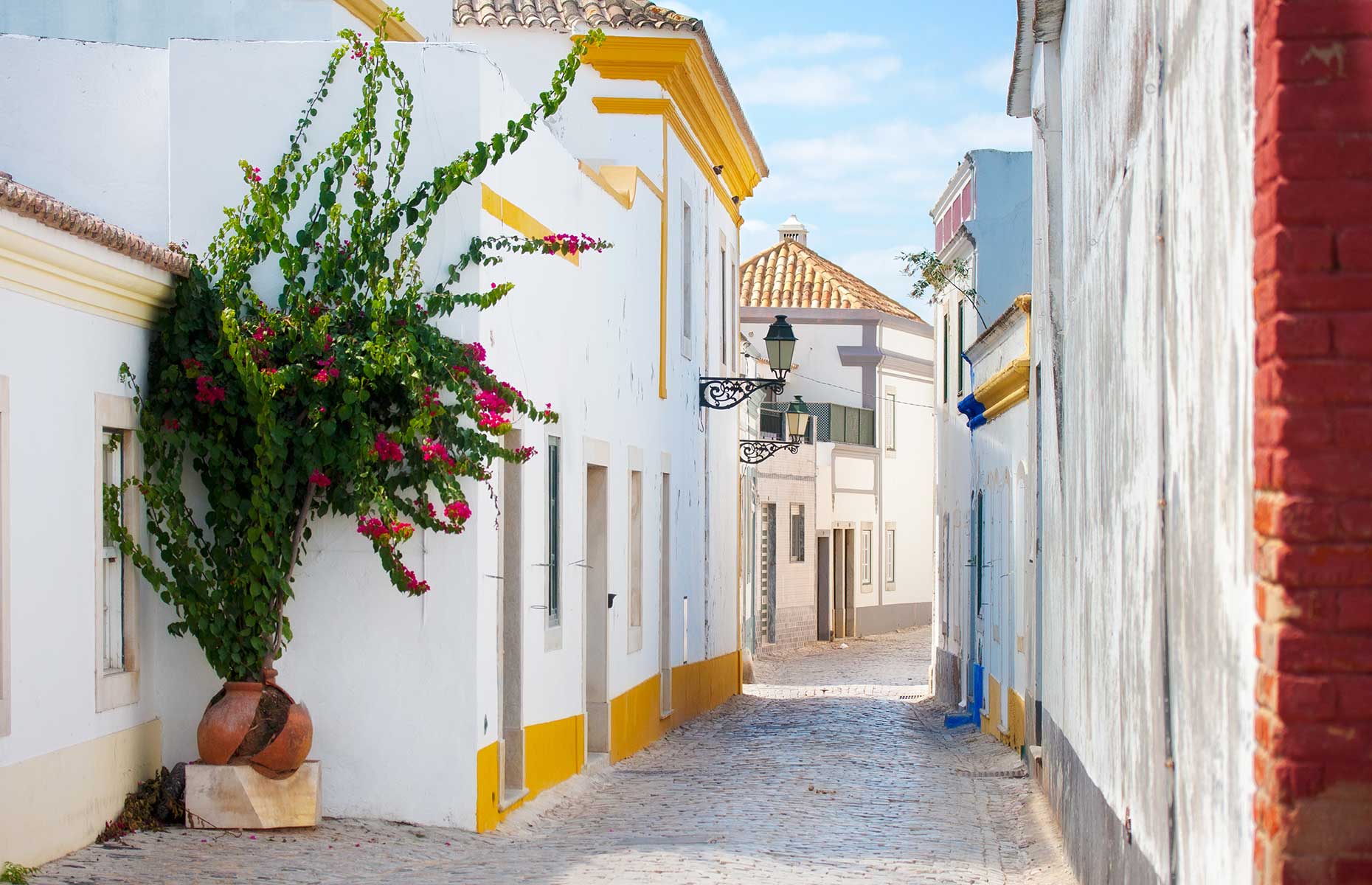 aniad/Shutterstock
City Centre
The cobbled city centre north of the old town is a hotchpotch of historic buildings, including a swathe of churches, and more modern buildings too. It's alive with proper shops serving residents, tourist tat stores, cafés where old gents while way the day, student fuelled bars and a flurry of decent, affordable restaurants. It's a fun place to stroll around and is unremittingly flat.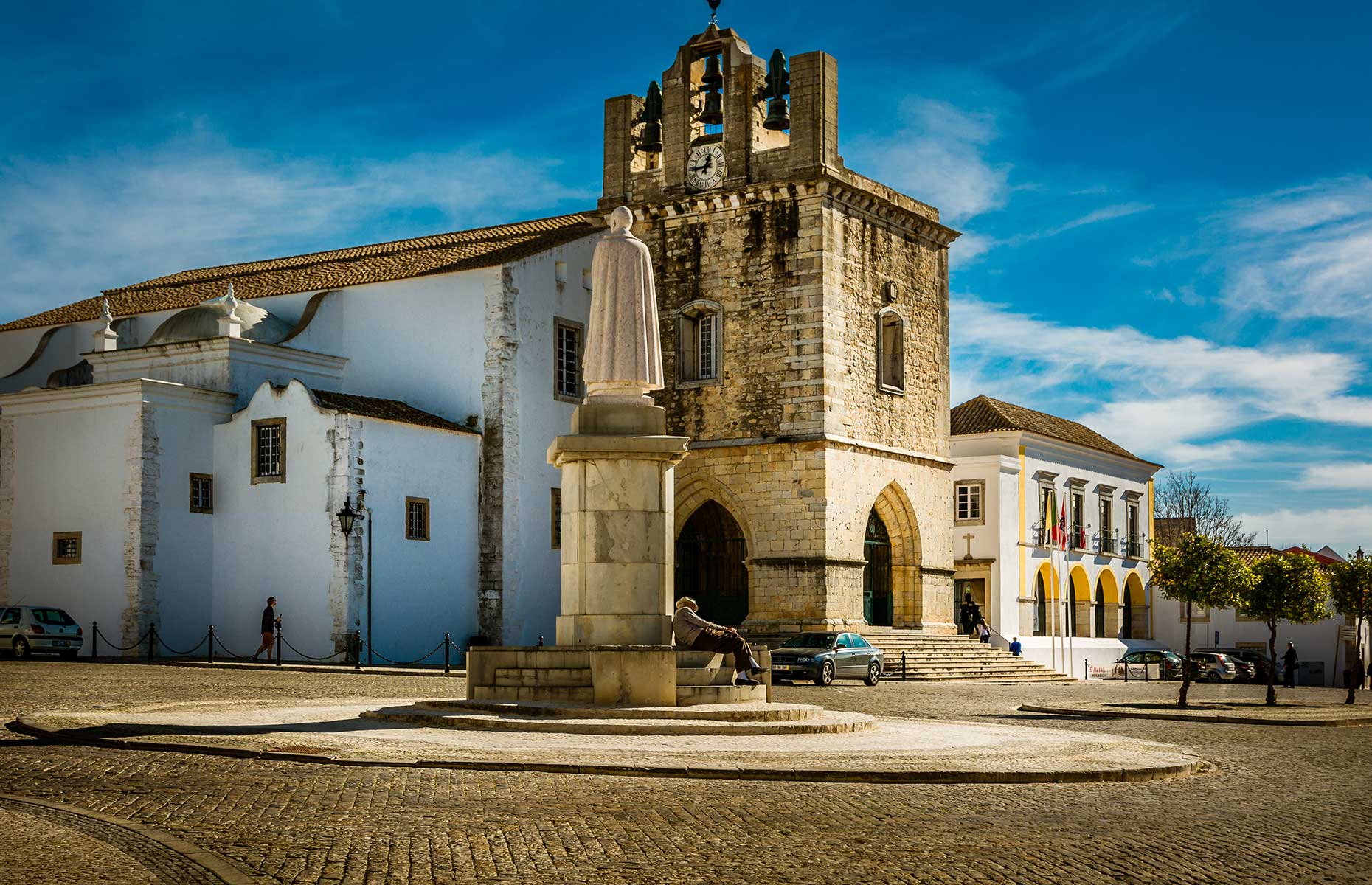 Evgeni Fabisuk/Shutterstock
Marina
Faro's marina lies right at the heart of the city. It's not a showy millionaire oasis, with more tiny fishing boats and modest yachts than hulking superyachts. Handily a dash of bars, cafés and restaurants line its fringes, making it a great place to savour the sea breeze.
READ MORE: The best of Portugal's regions
Quinta do Lago
Not strictly speaking part of Faro, but the nearest of the exclusive tourist resorts west of the Algarvian capital. Quinta do Lago is an ideal place to really relax with world-class golf and a slew of sports facilities at the superb Campus. Fancy being taught to play tennis by Judy Murray or football by Rio Ferdinand? Here you can. Stay at the Magnolia Hotel and they can book activities, restaurants and even a bike tour of the stunning Ria Formosa wetlands.
Top things to see in Faro
1. Stroll around the old town
Delve under the Arco da Vila and the centuries peel back. The cobbles lead up to the wide sweep of the Largo da Sé (Cathedral Square). Enjoy a heart-starting bica coffee before pushing on to discover the old town's treasure chest of restaurants, museums and bars. This is as far away from the beach resort Algarve as you can imagine.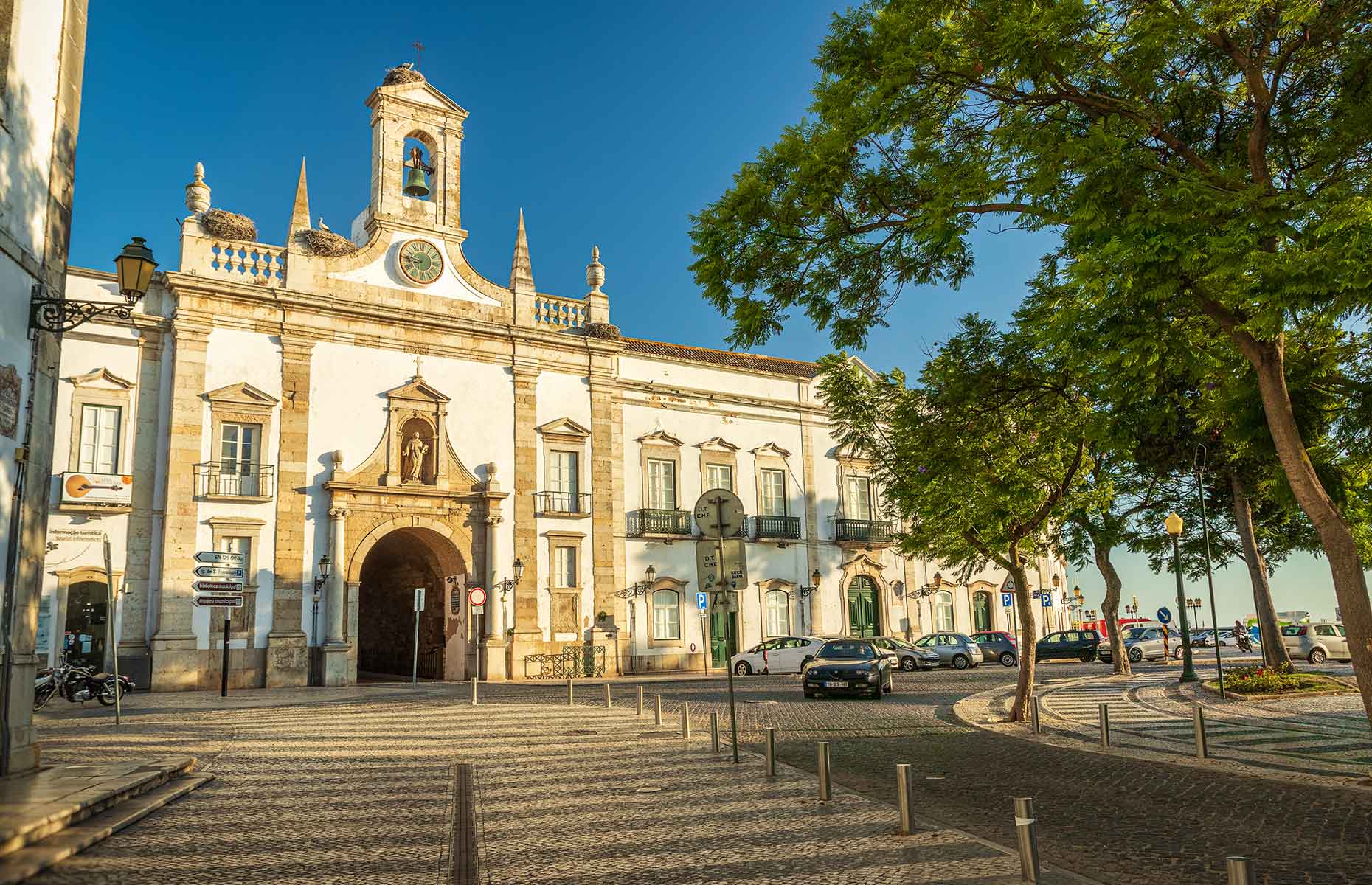 Luis Pedro Fonseca/Shutterstock
2. Visit Faro Cathedral
Surely the most dramatic building in the city, it dates back as far back as the 13th century. It may impress from the outside, but make the effort to explore inside too to discover the intricate traditional tile craftsmanship and the baroque organ. For a sweeping view of Faro head up to the viewing level. Look out for storks nesting in the rooftops and atop telegraph poles.
READ MORE: What to see in Sagres
3. Take a Boat Trip
Faro is a handy gateway to the wonders of the sprawling natural oasis of the Ria Formosa National Park. Formosamar offer tours of this protected wetland oasis in a traditional wooden boat. Or hop next door to Olhão to hook up with Natura Algarve, who offer a more comprehensive five-and-a-half hour exploration of the park and some of its myriad sand islands.
Heinz Schulte/Shutterstock
4. Hit the Beach
The city itself does not have a beach but you can easily hop out to Quinta do Lago – and you have a beach on hand if you are staying there. Even closer to Faro however, is the Praia de Faro, which sits out on a sand island by the airport, just a short bus or taxi ride away. Its motley collection of houses, cafés and restaurants front a strip of starched white sands.
Faro's best hotels
Faro doesn't have the same sweep of hotel options as the surrounding resorts, but the dependable Eva Senses Hotel right on the water works well as a base. Make sure to book an oceanfront room with a view of the city and its marina.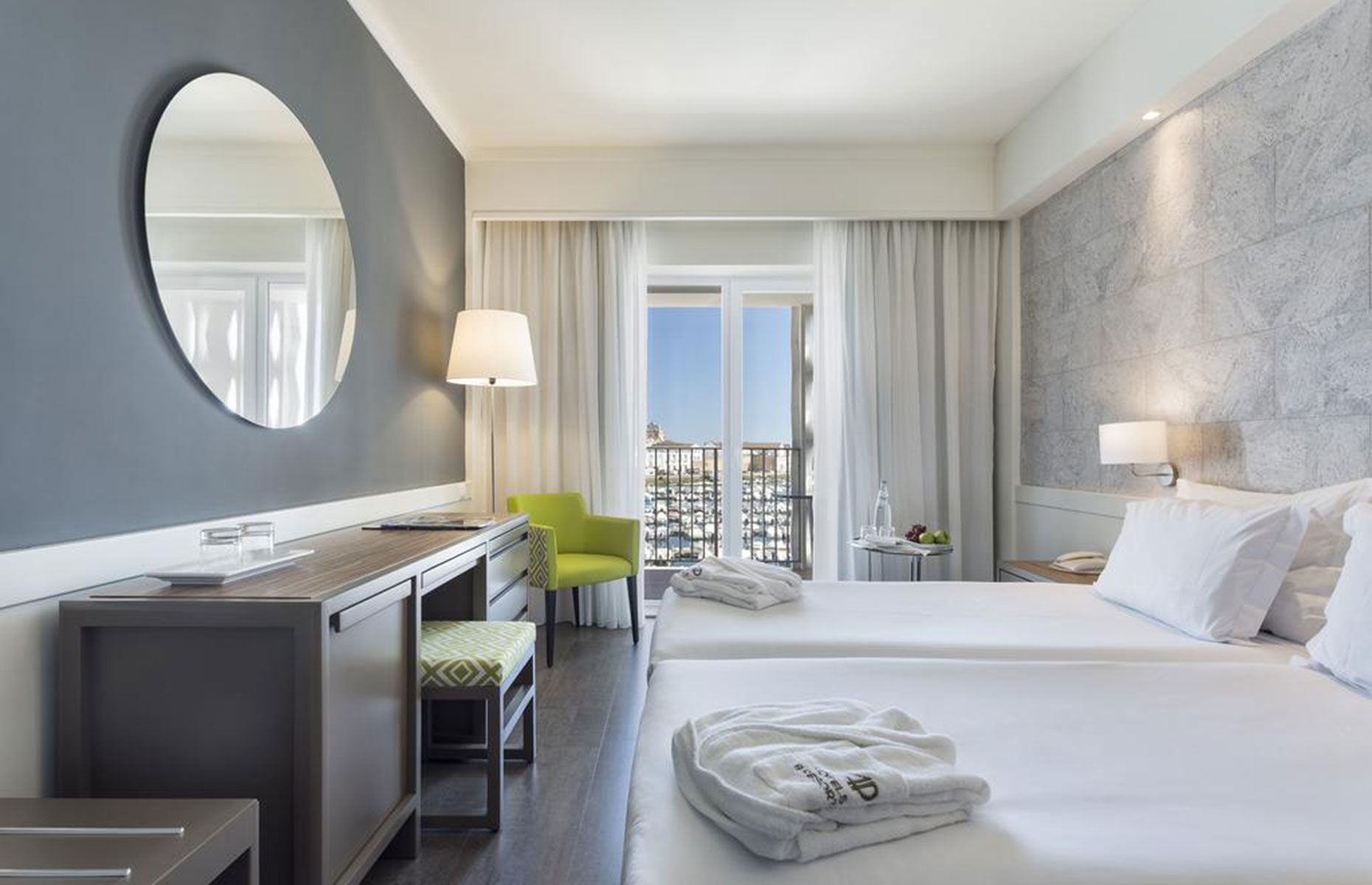 Eva Senses Hotel/Booking.com
Just across the road from the Eva is Hotel Faro. It's a trim, well run four-star whose chief attraction, beyond the excellent location, is its rooftop, which is a great vantage point for peering out over the stork nests dotted in the city's rooftops. They offer free transfers to their nearby beach club in summer too.
If you really want to enter sunshine holiday mode base yourself out of town at the Magnolia Hotel, which reclines in the prime leisure oasis of Quinta do Lago. It's fun and just the right side of hipster. They've a heated pool, games room and cinema room too.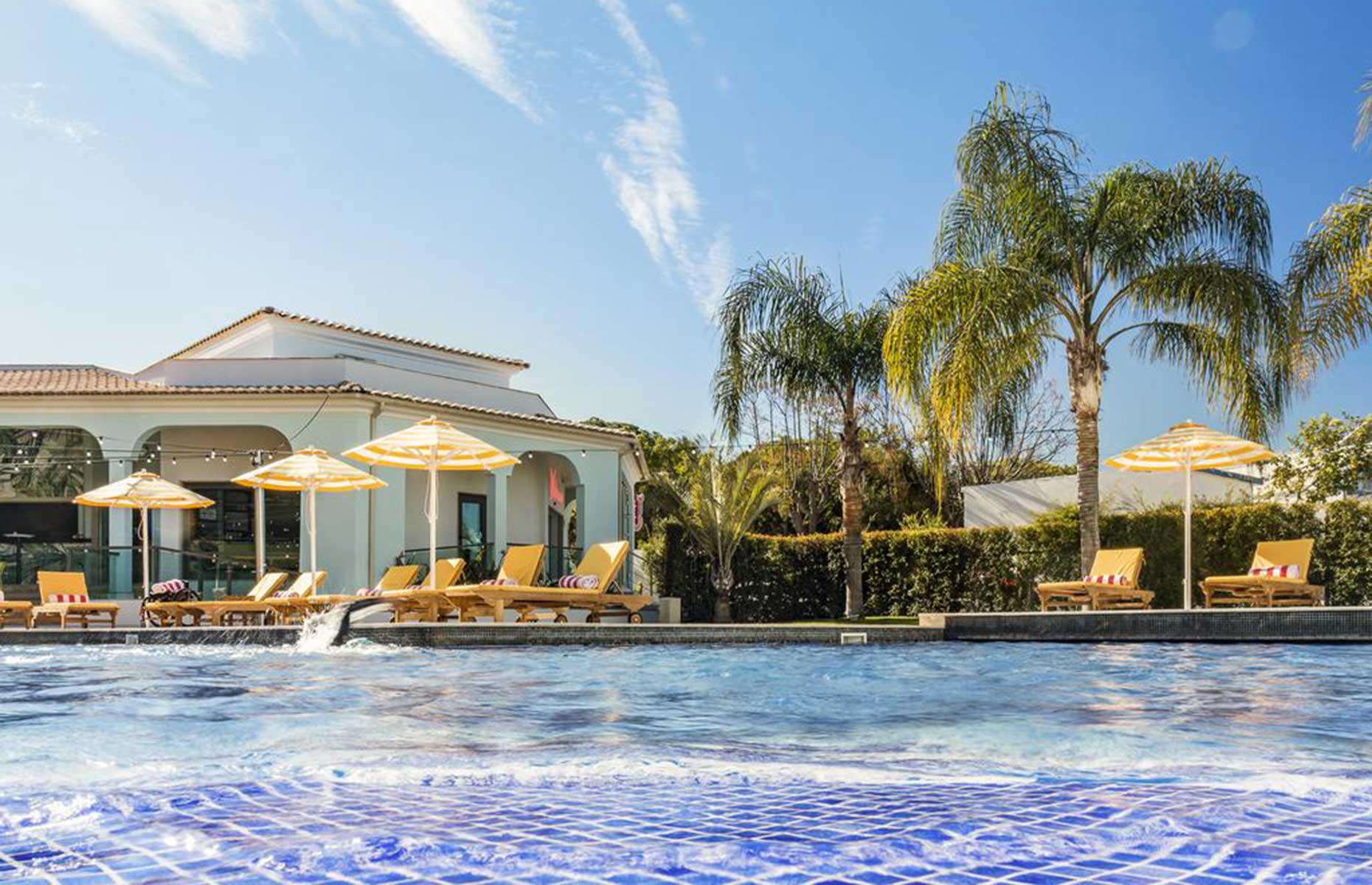 Magnolia Hotel/Booking.com
What to eat and drink in Faro
Seafood is the star in the Algarve and there are plenty of places to enjoy the local catch in Faro. Chief amongst them is Marisqueira Faro e Benfica, an old-timer that lies around the marina from the city centre. The highlights are steaming seafood cataplanas (a local dish often made with pork and clams) and the fresh catch of the day, cooked how you like it. Expect slightly grumpy service, but great food.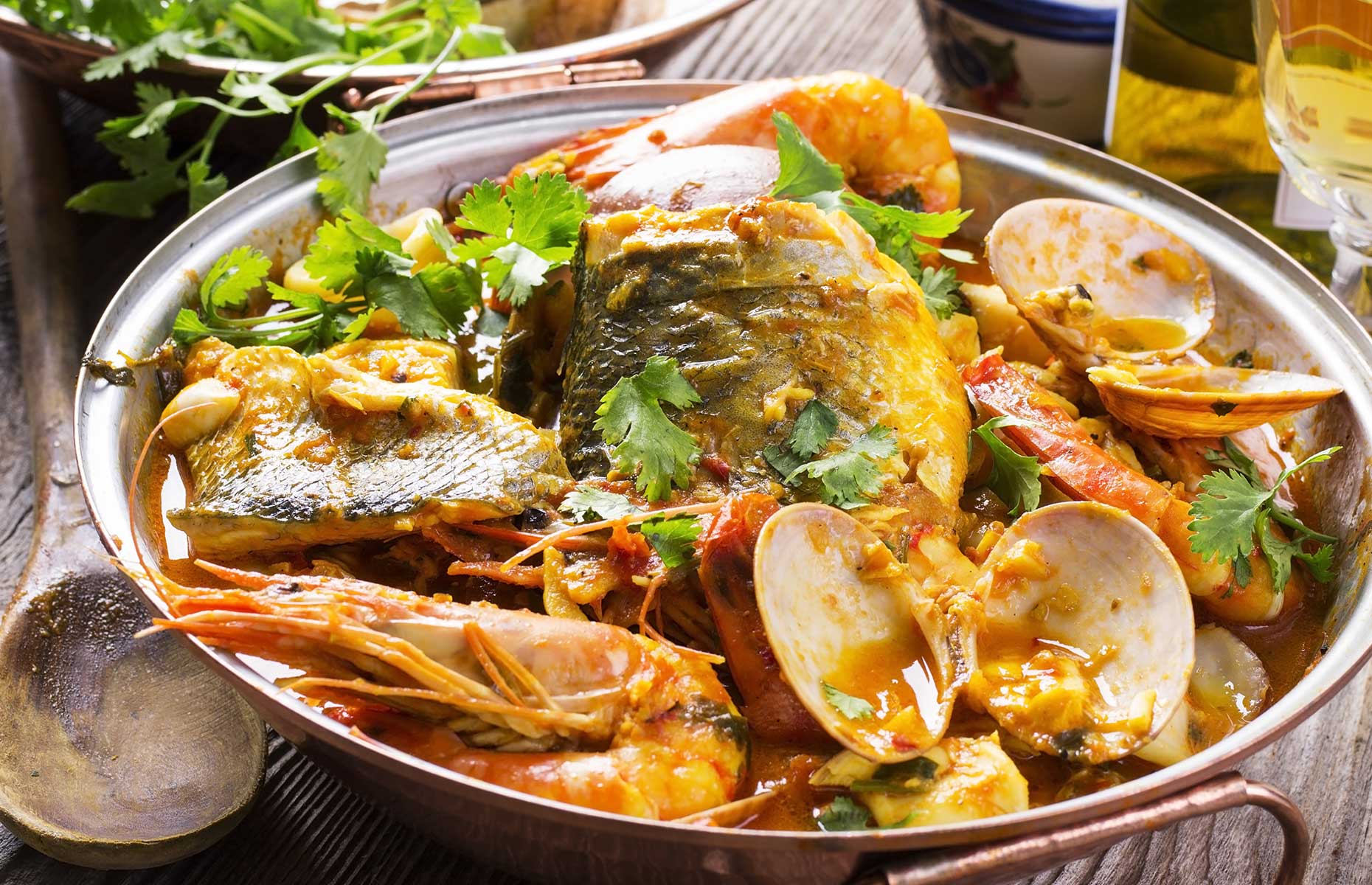 hlphoto/Shutterstock
Savvy locals head to the nearby fishing town of Olhão where a mass of seafood restaurants await. Terra i Mar is superb, offering delicious tapas dishes so you can try small portions of everything from the local Santa Luzia octopus through to Ria Formosa clams.
Out at Quinta lo Lago there are top-notch eating and drinking options geared towards tourists who want more quality than the more westerly Algarve resorts often offer. Bovino serves arguably the finest steaks in the Algarve (along with the best Algarvian red wine). They mix a mean cocktail too and their stylish interior design has won awards in its own right.
Casa do Lago offers up boat fresh seafood overlooking the lake and nearby the Shack serves similar with a Mexican flavour spicing things up.
You can party the night away at Dano's with cocktails at Quinta do Lago, or head back into the city to join the locals at the Faro cocktail hub of Columbus, for a late-night Dark 'n Stormy. Or if you're feeling fancy you can ask the bar staff to help you invent your own.
If you're lucky there will be live music or dancing at O Castelo. Every night you will get a sea view, can watch trains rumble by below and see planes roaring into land at Faro's airport from this expansive and welcoming nightlife oasis.
The ultimate Faro itinerary
Day 1
Check-in to: Magnolia Hotel. It's outside the city at Quinta do Lago but it's a fun option with Palm Springs-like vibes, and conducive to a relaxed sunshine holiday. Plus it's still only 30-minutes' drive from Faro itself and 20 minutes' from the airport.
READ MORE: Discover what else to see in the eastern Algarve
Get your bearings: with a stroll around the picturesque old town. Ease in and lose yourself to history and architectural drama in this cobbled oasis. There are museums to check out, epic Faro Cathedral to delve into and a dash of places to eat and drink at.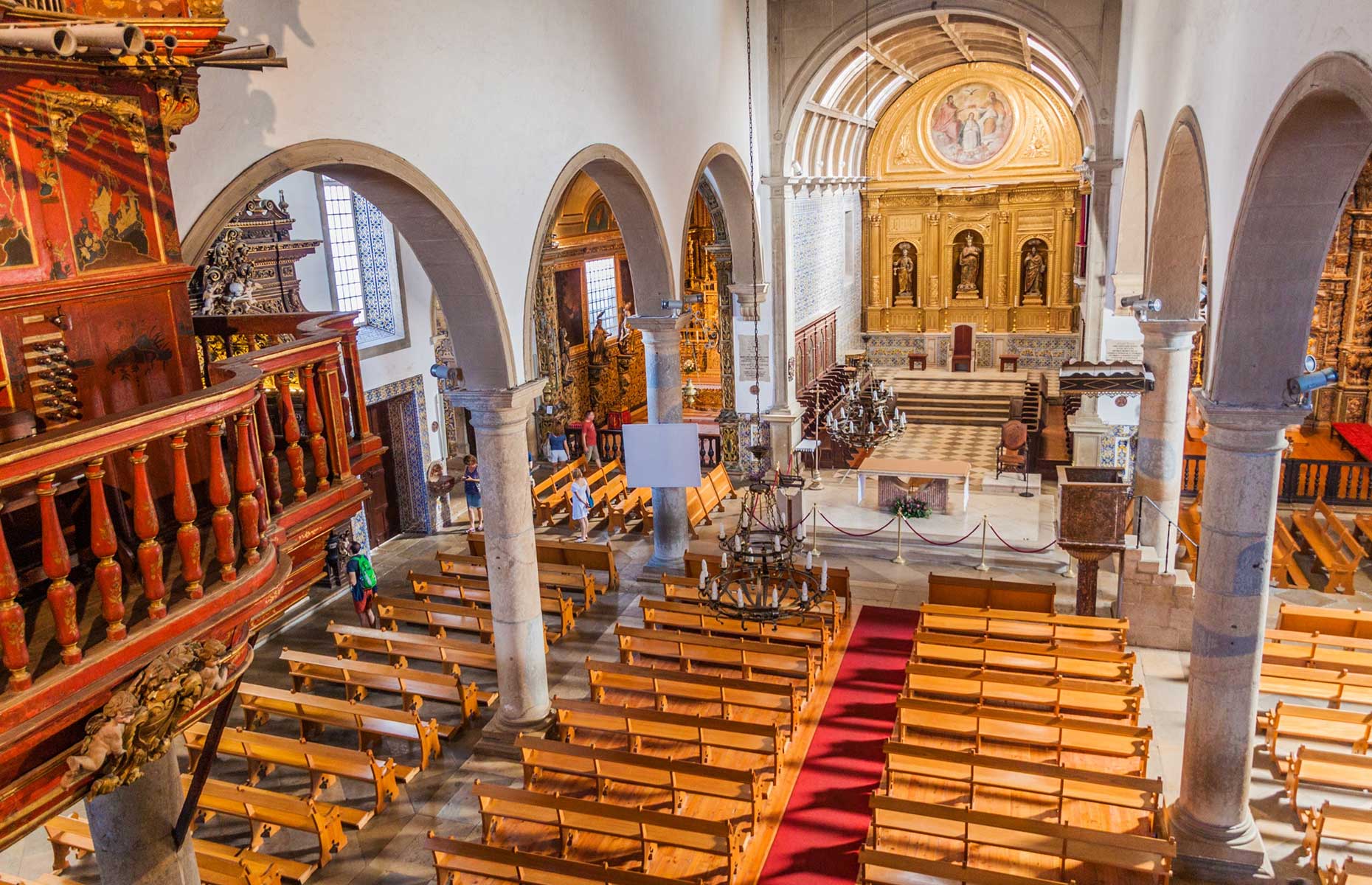 Matyas Rehak/Shutterstock
Have dinner at: the finest place to dine in Faro at the moment is Faz Gostos. It's done a great job converting this grand old building into a successful restaurant. Look at the menu and it's easy to see why they have been highlighted in 2019 by the Michelin guide. They work wonders with the local seafood.
Day 2
Spend the morning: wandering around the city centre seeing how many stunning starched white churches you can find. Start with your back to the marina and head inland. One of the most charming is the Igreja de Nossa Senhora do Carmo (pictured).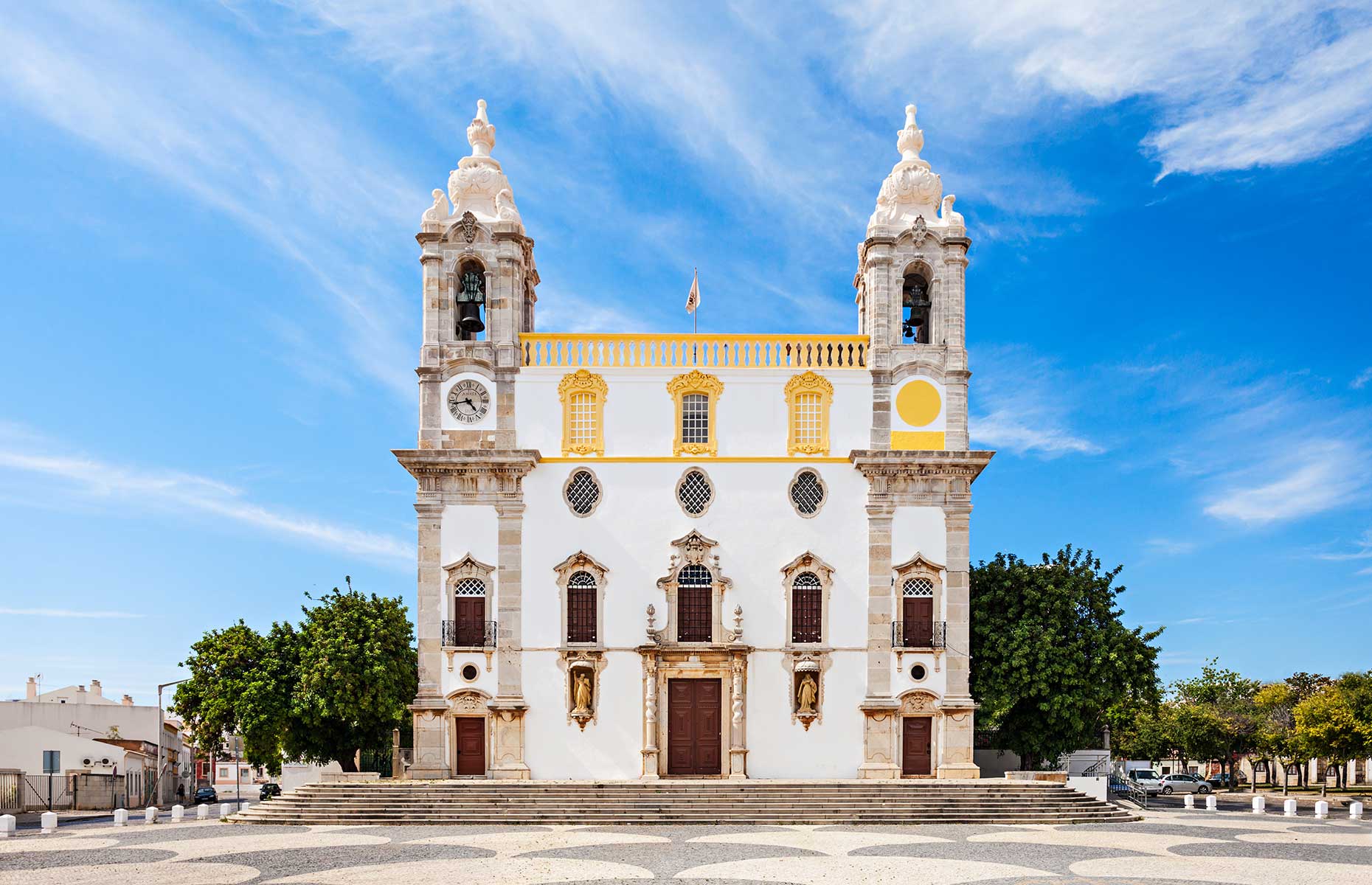 saiko3p/Shutterstock
Lunch at: Restaurante Adega Nova. Opened in 1986 it's a rustic affair with simple meat and fish dishes and a big selection of desserts.
Go shopping at: The Municipal Market. Faro's main market is worth a trip out of the centre for. It is very much still used by the locals today, who flock here to stock up on ultra-fresh fruit, vegetables, meat and fish. You can pick up some delicious Portuguese artisan cheese too.
Bar crawl along: Rua do Prior and its immediate surrounds sport a web of independent cafés and bars. Cheesy dance music dives rub shoulders with Irish bars and gin dens.
Day 3
Brunch at: Pastelaria Coelho (Rua Brites de Almeida 2). The Portuguese have a famously sweet tooth and this is writ large in this ace cake shop and café. The highlights are, of course, the pasteis de nata, those delicious Portuguese cinnamon topped custard pies. They are ably backed up by fresh orange juice and properly strong coffee.
Head out of town to: Head east to the working fishing town of Olhão. Boat fresh seafood restaurants tempt, as do boat trips in the Ria Formosa and a striking fish market that was the work of a young French engineer you may have heard of – Gustave Eiffel.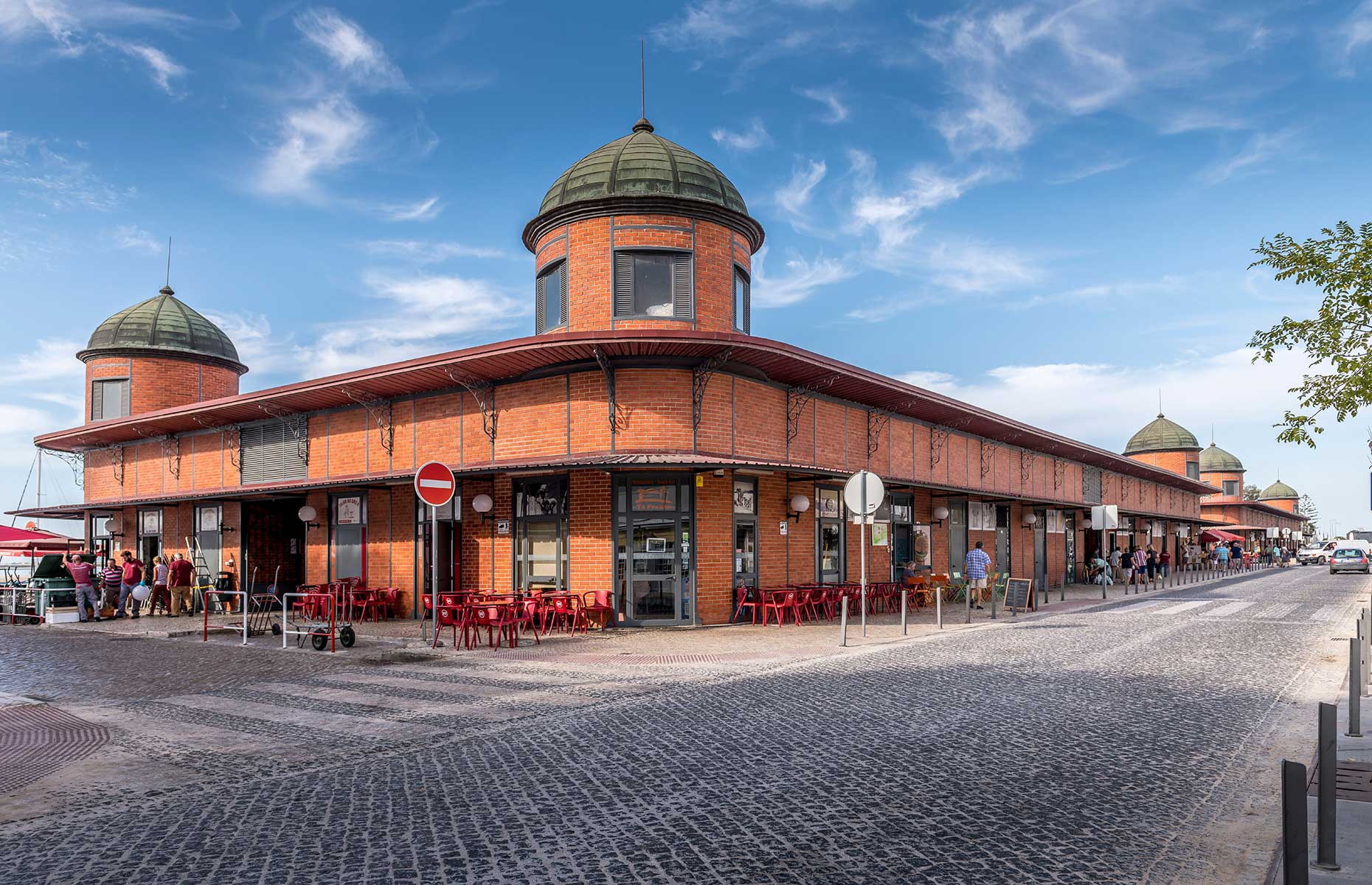 Bob Deering/Shutterstock
Enjoy a slap-up seafood feast: It's practically illegal to leave Olhão without enjoying at least one world-class seafood feast. Restaurante Ria Formosa on the waterfront is the place to tuck into the plump local tuna, deliciously sweet Ria Formosa clams and local crabs. Washed down, of course, with a bone-dry glass of Vinho Verde.
Getting there
easyJet flies to Faro from Belfast, Glasgow, Liverpool, London Gatwick, London Luton, London Southend, Manchester and Newcastle with fares from £22.99 one way, based on two passengers.
For more information on the area check out Visit Algarve.
Map of Faro
Be the first to comment
Do you want to comment on this article? You need to be signed in for this feature