What to see, where to stay and what to do in North York Moors
The name doesn't really do it justice, because the North York Moors National Park, which lies to the northeast of the city of York, is far more than just moorland. Instead, it comprises a judicious mix of sea, sky, heathland, woodland and fertile river valleys, in equal helpings. A sprinkling of handsome towns, a smattering of ruined abbeys, some great local food producers and locals who just love it here. You will too, once you've had a good look round.
Best towns to visit in North York Moors
Whitby
The biggest urbanisation in the National Park is actually nothing to do with moors but an immensely likeable mix of fishing port and seaside resort. It's got a beach, it's got an active fishing fleet, it's got history in the form of Captain Cook's early years as an apprentice merchant seaman and it has legend in the form of Count Dracula, who first came ashore here off a boat from Transylvania (or so says author Bram Stoker). These days the town is full of day-tripping locals, who come to smell the sea air, to walk the pier, to go crabbing from the quays of the tidal Esk and ride donkeys along the beach. The north side of the creek is lined with amusement arcades and chip shops, while on the south side, narrow shop-lined lanes lead to the 199 steps up to the ruins of Dracula-haunted medieval Whitby Abbey, which has great views out to sea.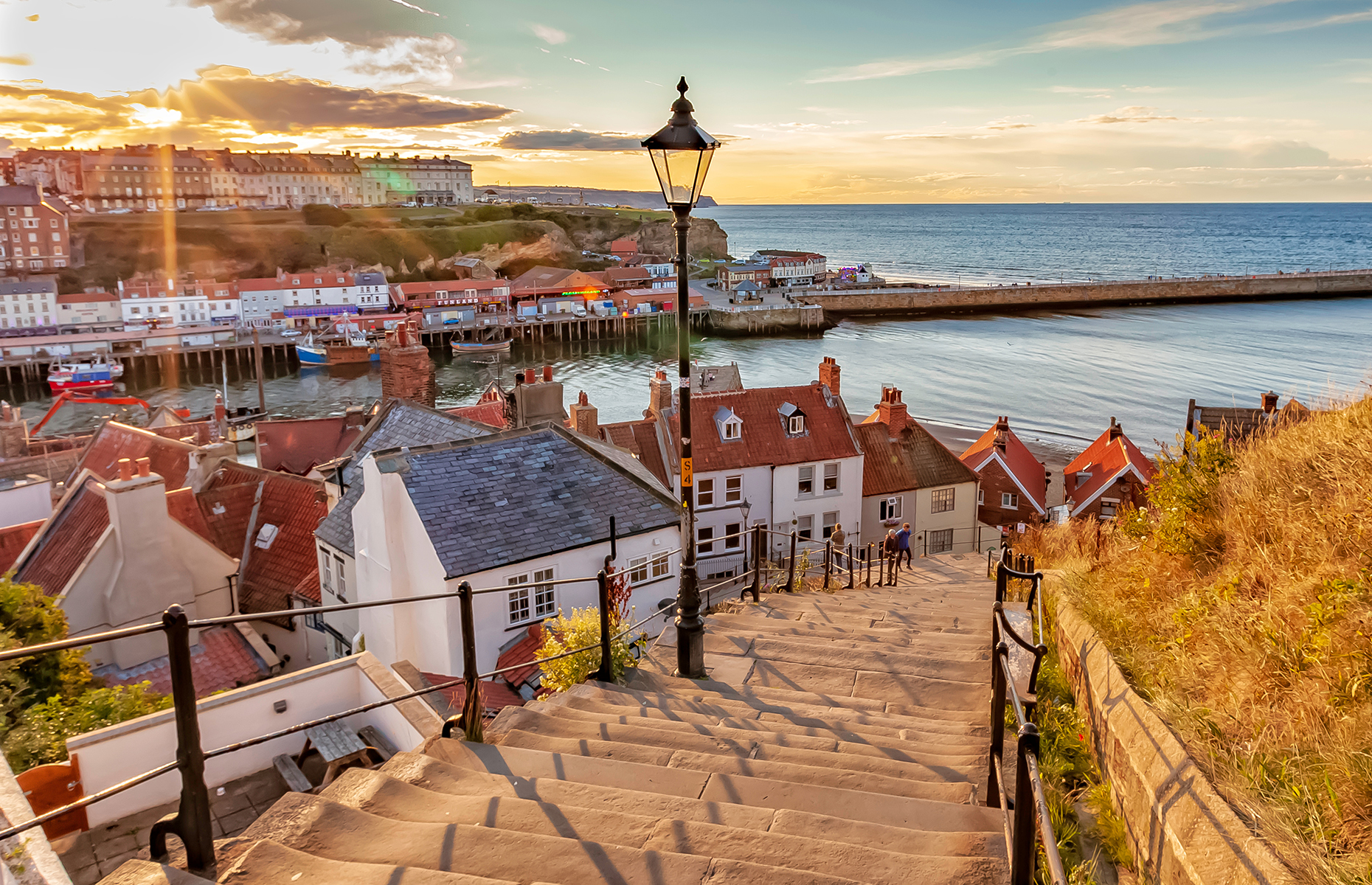 cally robin/Shutterstock
Helmsley
Rural life dominates this small town on the west side of the national park, still with its medieval layout and medieval-origin weekly market. Little has changed here in hundreds of years – the keep of Helmsley Castle, first constructed back in 1350, looms over a main square surrounded by former coaching inns and traditional food retailers. Look out for the window full of lardy cakes and curd tarts at Hunters of Helmsley delicatessen and seek out genteel tea in leather armchairs in the Royal Oak.
Malton
Malton sits in a strategic location in the lowlands just south of the national park, which is why it is still the venue for thriving livestock auctions. The town has made a name for itself as a foodie destination with a monthly festival-market of local producers complete with live music and street food. Outside of those busy dates it is a rewarding shopping town in its own right where you can seek out lemongrass fishcakes among the artisan producers in Talbot Yard and excellently priced walking boots at the Country Cobbler in the pedestrian-only Shambles.
READ MORE: Explore York with kids: the top things to do, where to stay and what to eat
Five North York Moors' highlights
The North Yorkshire Moors Railway
This heritage railway, which runs across the moor between Pickering and Grosmont, is one of the biggest and most authentic in the country. Its locomotives chunter up hills and thread through wooded valleys wreathed in steam and regularly clatter out onto the main line for the last few miles to Whitby. Its highland station, Goathland, played the part of Hogsmeade in the Harry Potter films and it's the subject of Channel Five's Yorkshire Railway documentary series.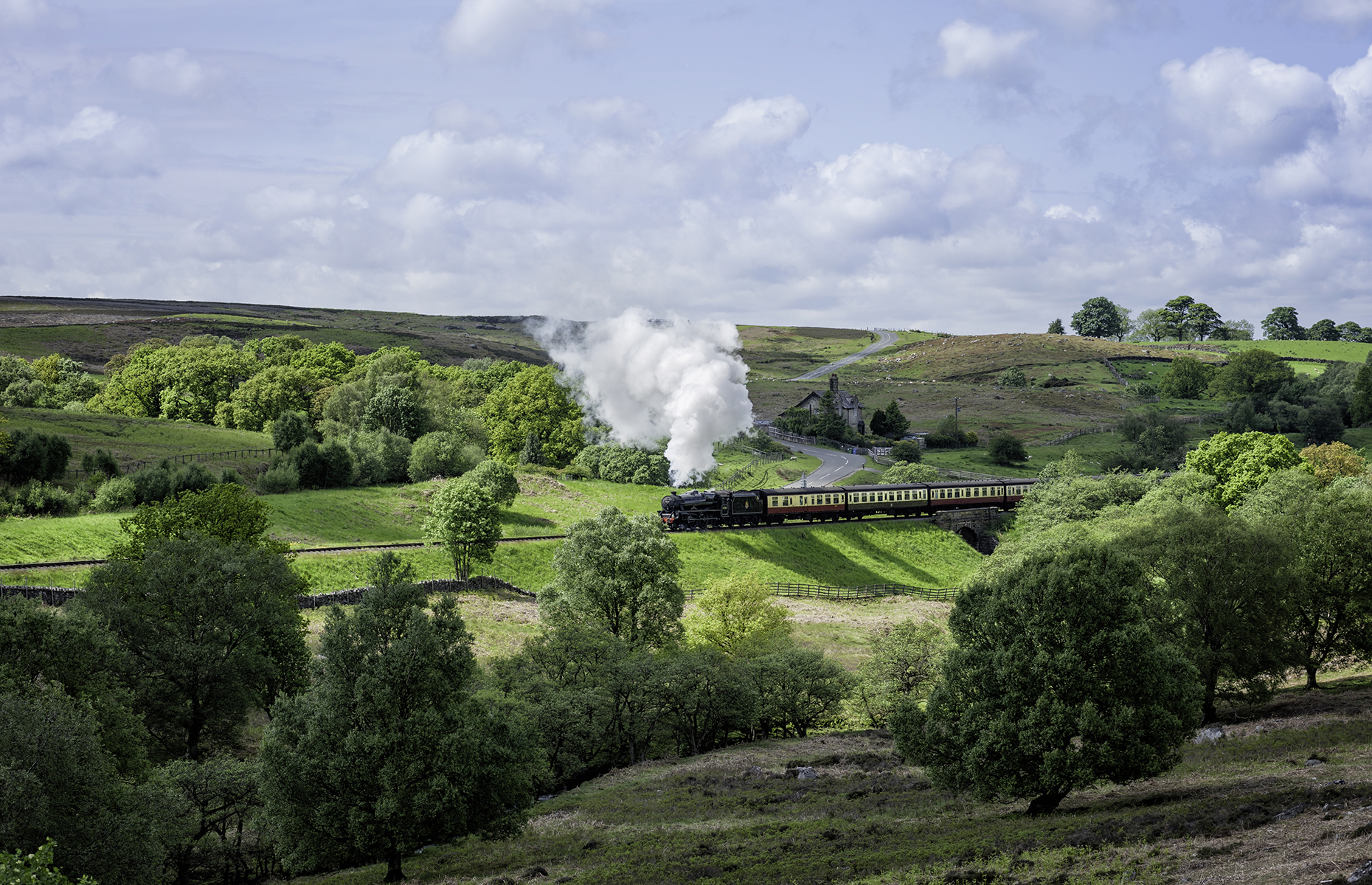 Daniel J. Rao/Shutterstock
The view from Sutton Bank
Local writer James Herriot (as in All Creatures Great and Small) described the outlook from the moor's west-facing edge as 'the finest view in England'. It is undeniably magnificent, with the upland downs at your back, the Yorkshire Dales in the distance, and the sweeping lowlands of the Vale of Mowbray spread out like a tablecloth below. Head for Sutton Bank Visitor Centre and follow the signs.
Castle Howard
One of Britain's finest stately homes, Castle Howard is a fine example of how a property that is still in private hands can be managed to the benefit of the public. The magnificent 17th-century building was Brideshead in Brideshead Revisited, and it hosts regular concerts, festivals and seasonal events – during Christmas its interiors undergo a Victorian-themed transformation. The grounds include the Yorkshire Arboretum with 120 acres of trees from all over the world.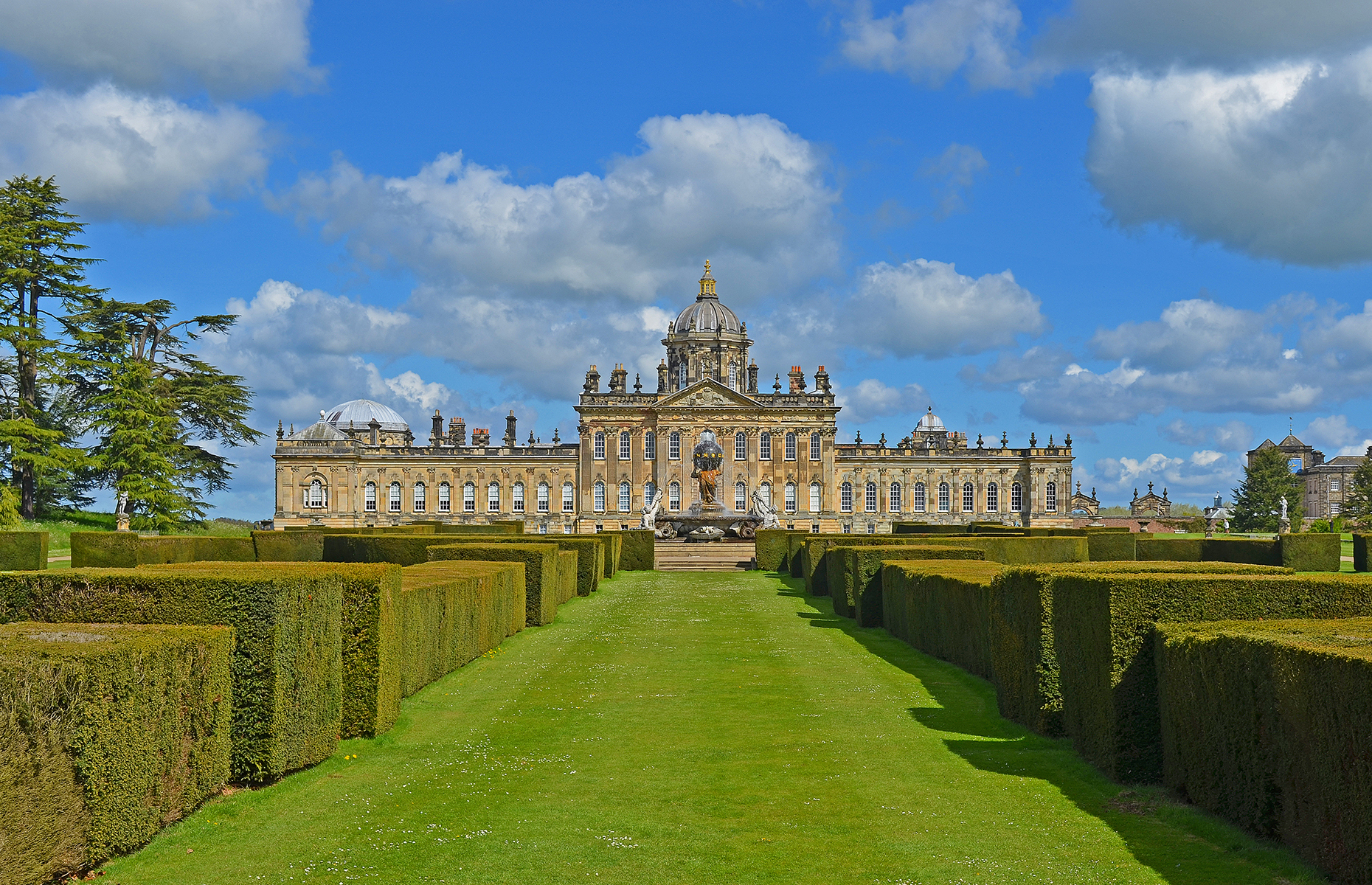 Shanna Hyatt/Shutterstock
Rievaulx Abbey
The stately vaulted ruins of Rievaulx Abbey are magnificently sited in the elbow of an enchanting river valley. You can see why the Cistercians chose this spot back in 1132, and at its peak there were 140 monks here with 500 lay brothers and servants. It was ransacked in Henry VIII's dissolution of the monasteries in 1538, but it still looks mightily impressive, albeit gaunt and with crows in the nave. The well-landscaped abbey tea room is itself well worth the visit.
The Bark Endeavour
This authentic replica of Captain Cook's HMS Endeavour was built by Whitby craftsmen. In season, it runs good-value 30-minute trips around Whitby Harbour and out along the Jurassic coastline to Sandsend, following in the path of Whitby's most famous son.
Where to stay in North York Moors
A 15th-century coaching inn with open fires and leather armchairs, The Black Swan Hotel prides itself on doing things properly, the traditional way. Interiors blend antiques with classic contemporary design and it has an AA three-rosette restaurant.
The Black Swan Hotel/booking.com
This magnificent Grade I listed mansion sits right up by Whitby Abbey with views down to the town and out to sea. It may be a hostel, but it has a grandeur befitting a 5-star hotel and there are plenty of private en suite rooms.
A classic farmhouse B&B just outside Ampleforth with a massive cooked breakfast straight from the Aga. Host Anna Lupton has her fingers in many local pies and husband Jack is both a farmer and a breeder of labradors so there could be puppies.
For luxury self-catering, these sophisticated houses on stilts sleep up to six and are hidden away in a magical woodland setting with hot tubs out on the decking.

Studford Luxury Lodges/Facebook
READ MORE: Things to do in Harrogate: the north's spa town
Where to eat in North York Moors
A classical country pub experience, with local ales and fine food by the wood burning stove. Try the pan-seared rump of lamb, washed down with Black Sheep ale. Or the game pie with pigeon, partridge, pheasant, and venison, all sourced from just up the road.
This sweet little bistro is squirreled away in a traditional cottage in the lee of Helmsley's 14th-century castle keep, with up-cycled furniture and stripped-back decor. Despite a distinctly French influence, the menu focuses on simple things done well, including the likes of bubble and squeak and grazing platters of local cured meats, plus patisserie galore.
Right on the waterside, which means minimal food miles, the fish and chips in Magpie's is so famous that there is almost inevitably a queue outside. Fortunately, it has a takeaway too, although the seafood chowder, the crab bisque and the oysters deserve to be given proper, sit-down attention.

The Magpie Cafe/Facebook
Best walks in North York Moors
This 109-mile National Trail was one of England's first and it showcases the best of the North York Moors, often riding the ridge line between the rougher high ground and the more bucolic lower slopes, eventually swinging round to include the coast.
Many visitors to the National Park see little in the way of moorland – this five-mile walk starting from Saltergate will change that. Expect big skies, heather-clad hills and rocky ravines.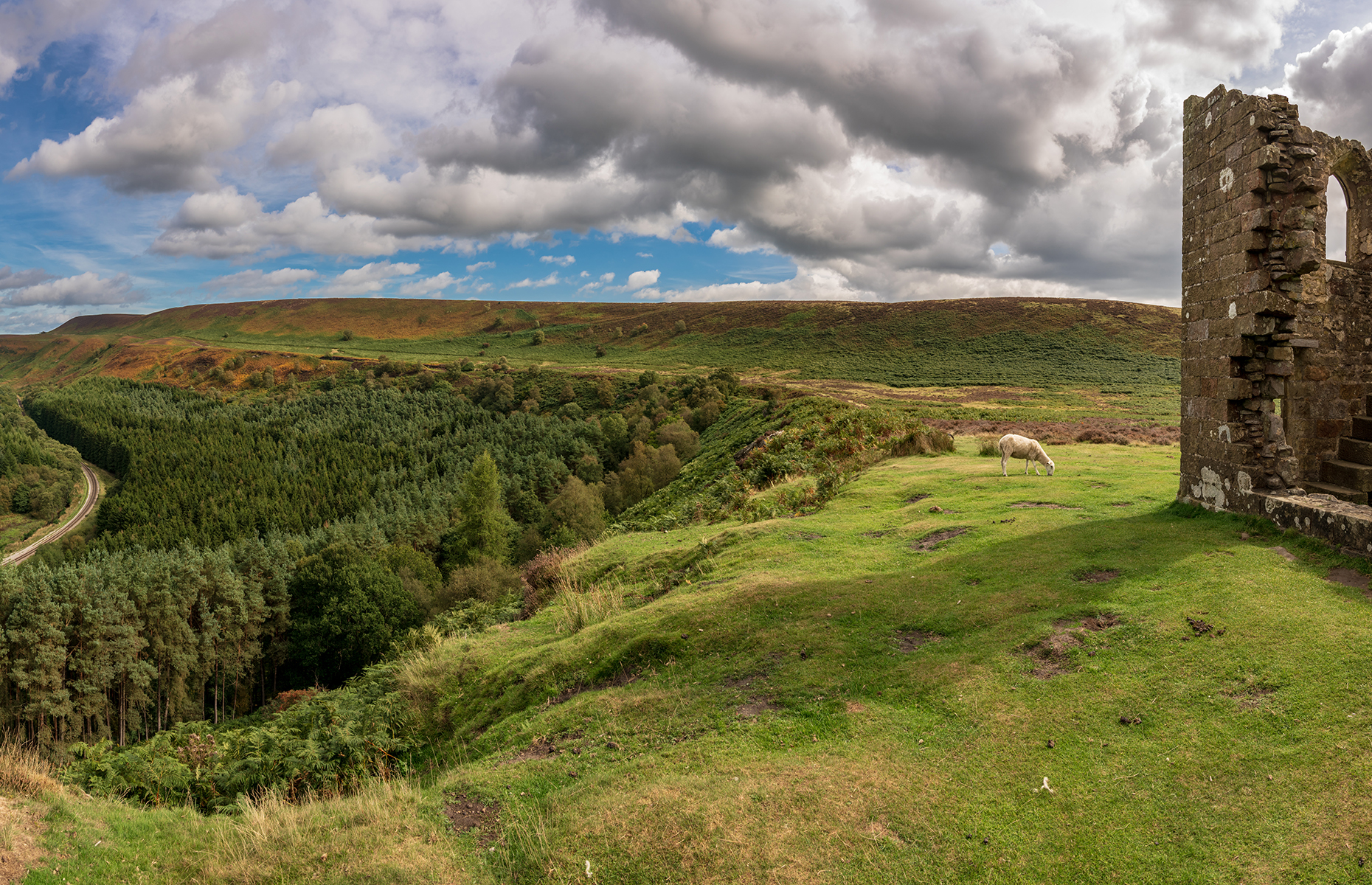 BerndBrueggemann/Shutterstock
Getting around North York Moors
If you don't have your own car there are excellent rail connections to York and a less frequent branch line service to Whitby. There's also a very good bus service, most notably the Coastliner, which runs from York up through Malton and Pickering to Whitby and is one of the most scenic rides in the country. In addition, there are seasonal volunteer-run Moorsbus services which are ideal for hikers as they pick their way through country lanes and will set down and pick up on request – provided the driver considers it safe.
North York Moors map
Get around the North York Moors with this handy map of all of our favourite places:
Be the first to comment
Do you want to comment on this article? You need to be signed in for this feature