Explore Montréal: where to stay, what to eat and the top things to do
Many people use Montréal as a launch pad for the rest of Québec. But if you slow down and spend some time in this spot of southeast Canada, you'll discover a contemporary, fun-loving city whose roots in festival and culinary culture run deep.
Why go to Montréal?
Montréal, in the Canadian province of Québec, can at times seem like a tale of two cities. One moment you could be wandering through cobbled 18th-century streets strikingly reminiscent of old world Europe. The next you're taking in thoroughly 21st-century, edgy shopping districts and smart bridges illuminated in different colours depending on traffic flow. While French is the official language here, more than half of the population speak both French and English.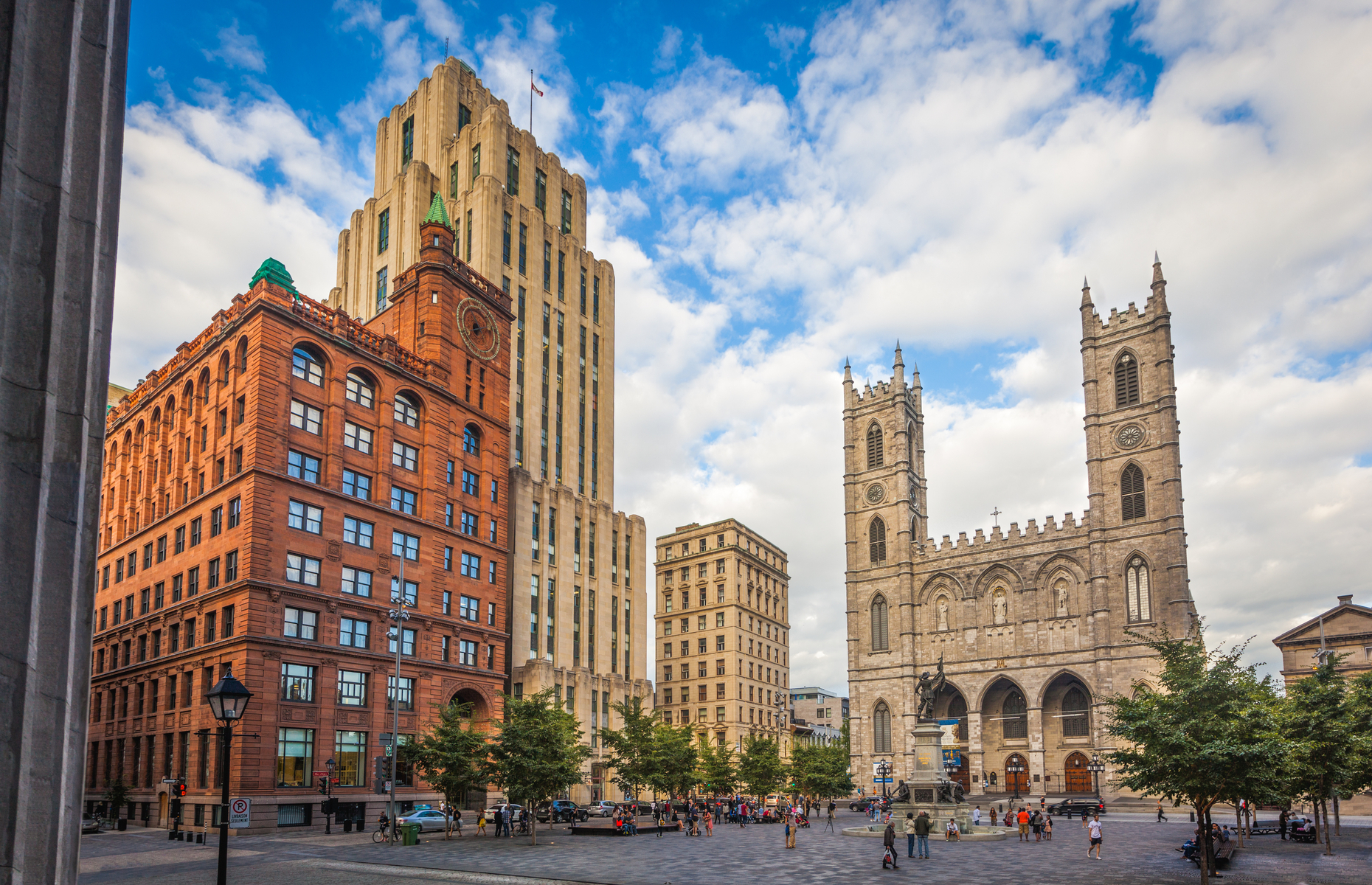 Maurizio De Mattei/Shutterstock
The city proudly celebrates its heritage and diverse culture (it hosts around 100 festivals a year), and local food, drink and crafts are important. But it's also a hotbed for AI and forward-thinking technology start-ups. However, in Montréal, everything just seems to coexist seamlessly, and is the richer for it.
So get into the groove of the different neighbourhoods, throw yourself into the festival spirit and embrace the eclectic culinary scene. Let the good times roll.
Key neighbourhoods in Montréal
Old Montréal
This historic neighbourhood perfectly embodies Montéal's fusion of the old and new. Pointe-à-Callière, a museum and Canadian National Historic Site, marks the spot where the city was founded and features an underground complex of preserved archeological sites.
Around the corner and soaring above ground, is the hard-to-miss Notre-Dame Basilica. Built between 1824 and 1829, its two towers bear a canny resemblance to Paris' cathedral of the same name. And at Chapelle Notre-Dame-de-Bon-Secours, further north of the neighbourhood, you can take in the stunning chapel frescoes, head underground to the crypt museum and preserved archeological site, then make friends with the angels on the balcony of the building's towers.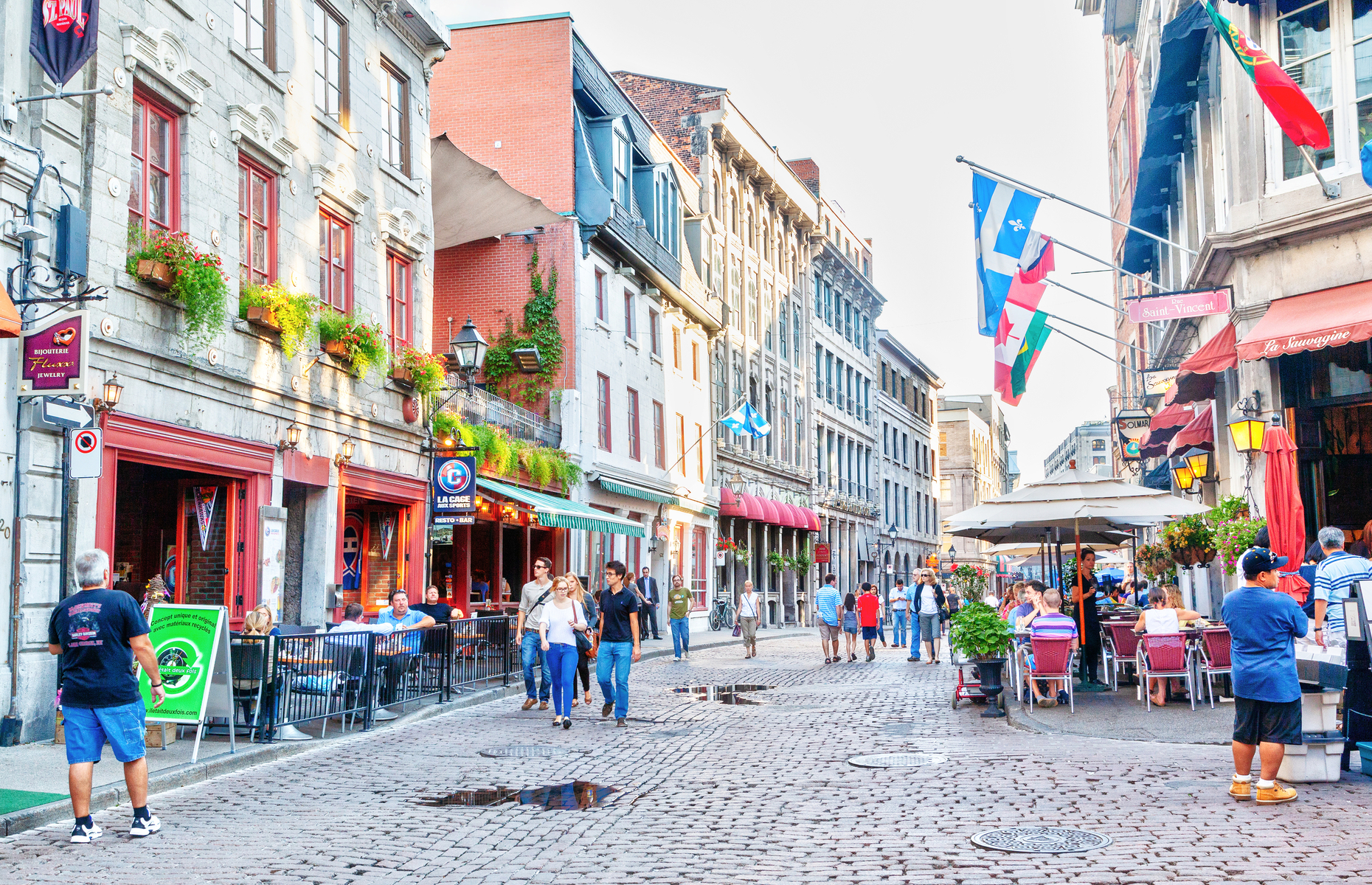 Ronnie Chua/Shutterstock
But there's another, thoroughly modern side to Old Montréal. The warren of narrow, European-style streets give way to broad thoroughfares reminiscent of New York. Vaulted banks in the former financial district along and around Rue Saint-Jacques now house trendy shops and cafés (coffee culture is big here). The whole area has free public Wi-Fi too.
Don't forget about the buzzing Old Port for family fun and the best view of the city from the top of the grand observation wheel.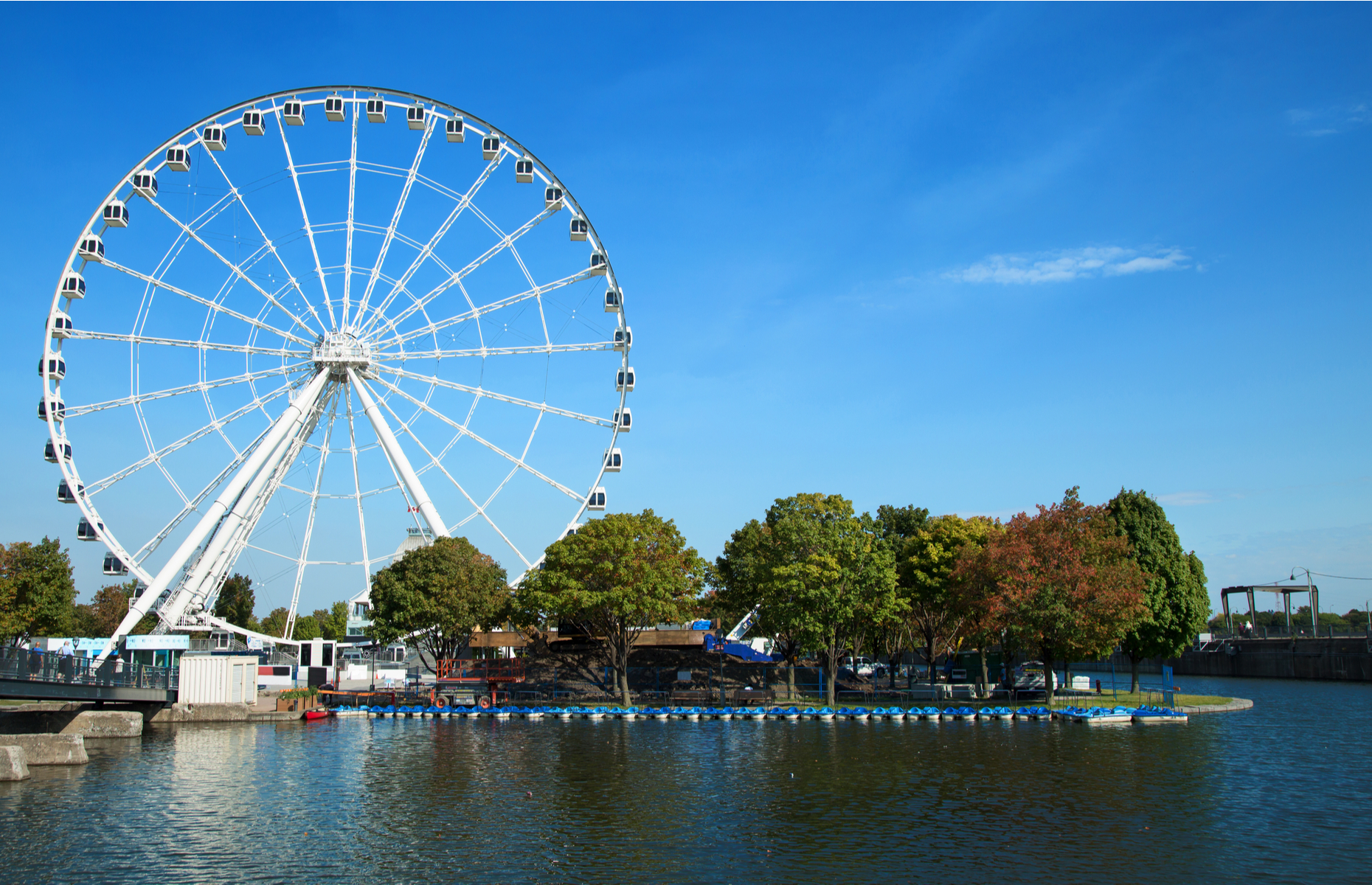 Pinkcandy/Shutterstock
Downtown
St Catherine Street, the main shopping street in Montréal, forms the backbone of Downtown which lies east of Mont Royal park. Things never stop in this district – spend the day museum-hopping around the Golden Square Mile of galleries and exhibitions, then head on over to the Quartier des Spectacles (the Entertainment District) for dinner and drinks. Peruvian-Japanese fusion restaurant Tiradito and Moleskine which serves incredible pizzas are two top spots.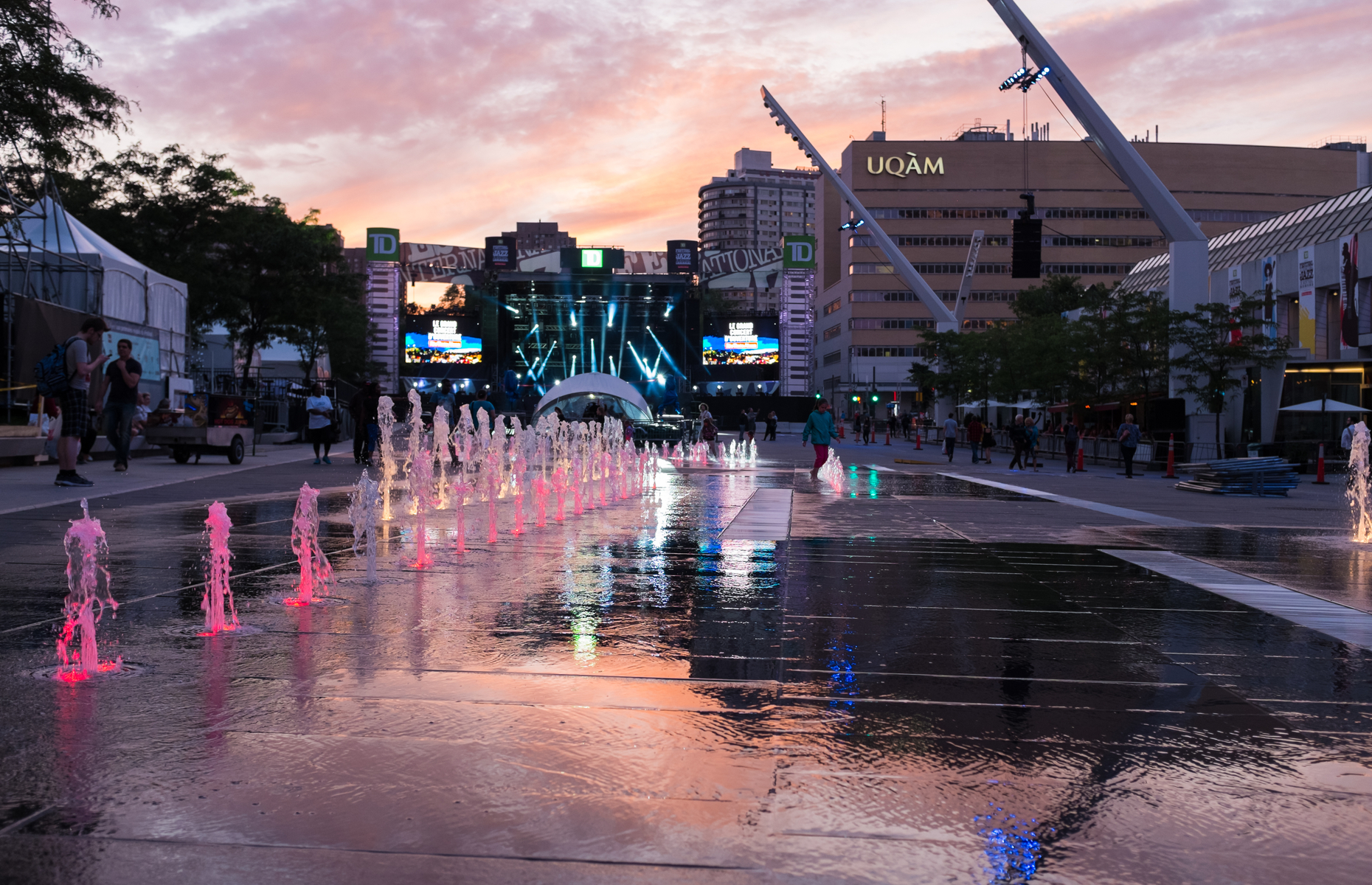 Jean-Philippe Menard/Shutterstock
It's also often the hub for Montréal's many festivals so you could turn a corner to find yourself in the middle of a street circus performance, flanked by people enjoying a beer on street-side terrasses (terraces), or wander past an evening jazz show.
Le Plateau-Mont Royal and Mile End
To the north of Mount Royal park and north of Downtown is where you'll find all the cool kids. Come to this trendy pocket of the city, locally just called the Plateau, with charming townhouses and bagel spots galore. Explore boutiques and sleek coffee spots by day and buzzing bars and restaurants after dark.
The action centres around parallel thoroughfares St Lawrence Boulevard and St Denis Street, and its offshoots. The former is lined with shops, restaurants and cafés, and dotted with striking murals in parking lots and down alleyways.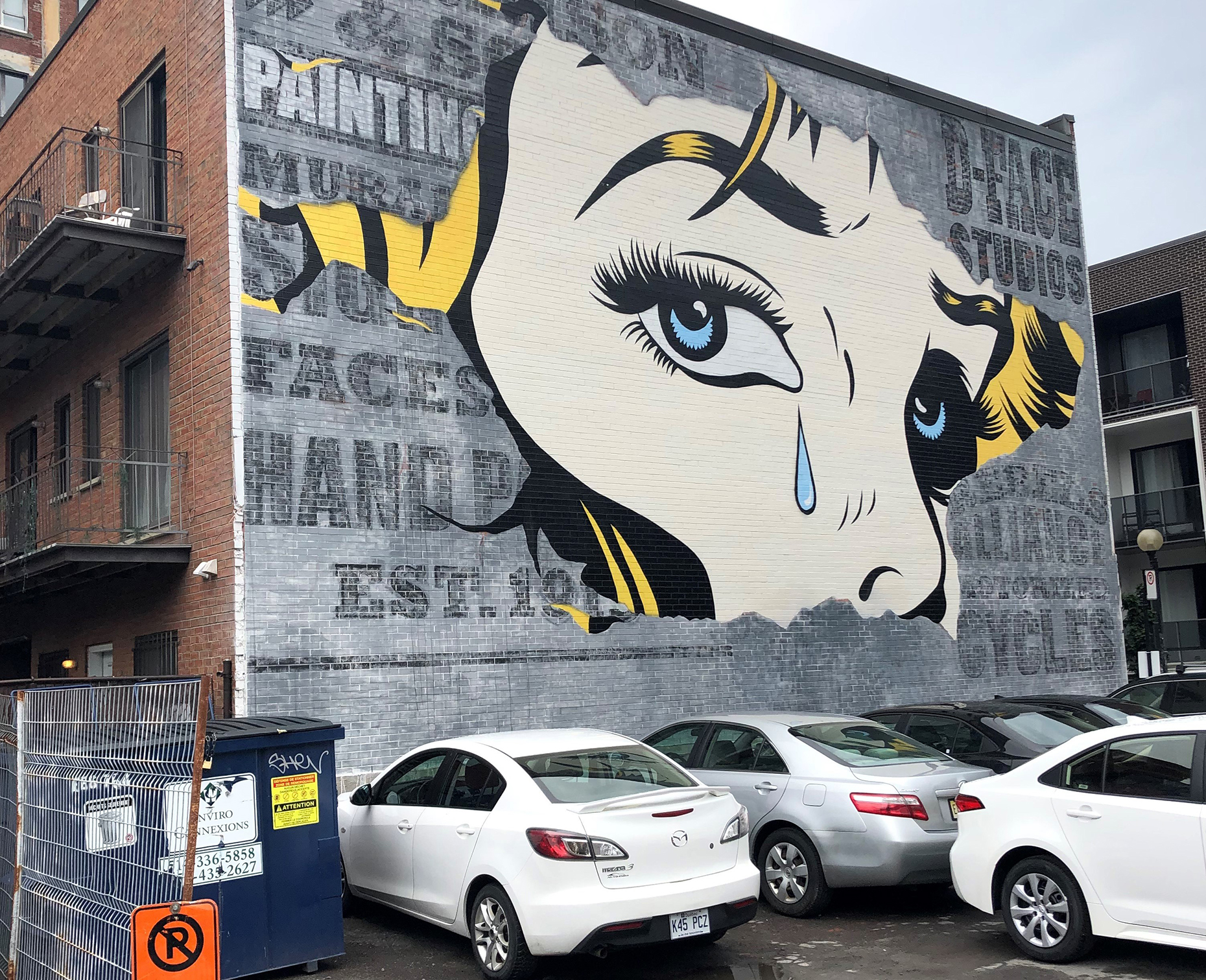 Daisy Meager
If you want a sit down, find a nearby placottoir – brightly coloured public benches and shelters that line the streets. When you're in the mood for something strong, head to St Denis Street for some of the best watering holes in the city.
Mile End, a compact area tucked in the eastern corner of the Plateau, is more laid-back. Its arty atmosphere and hip spots sit side-by-side with Greek restaurants, some of the oldest bagel shops in Montréal and Italian cafés.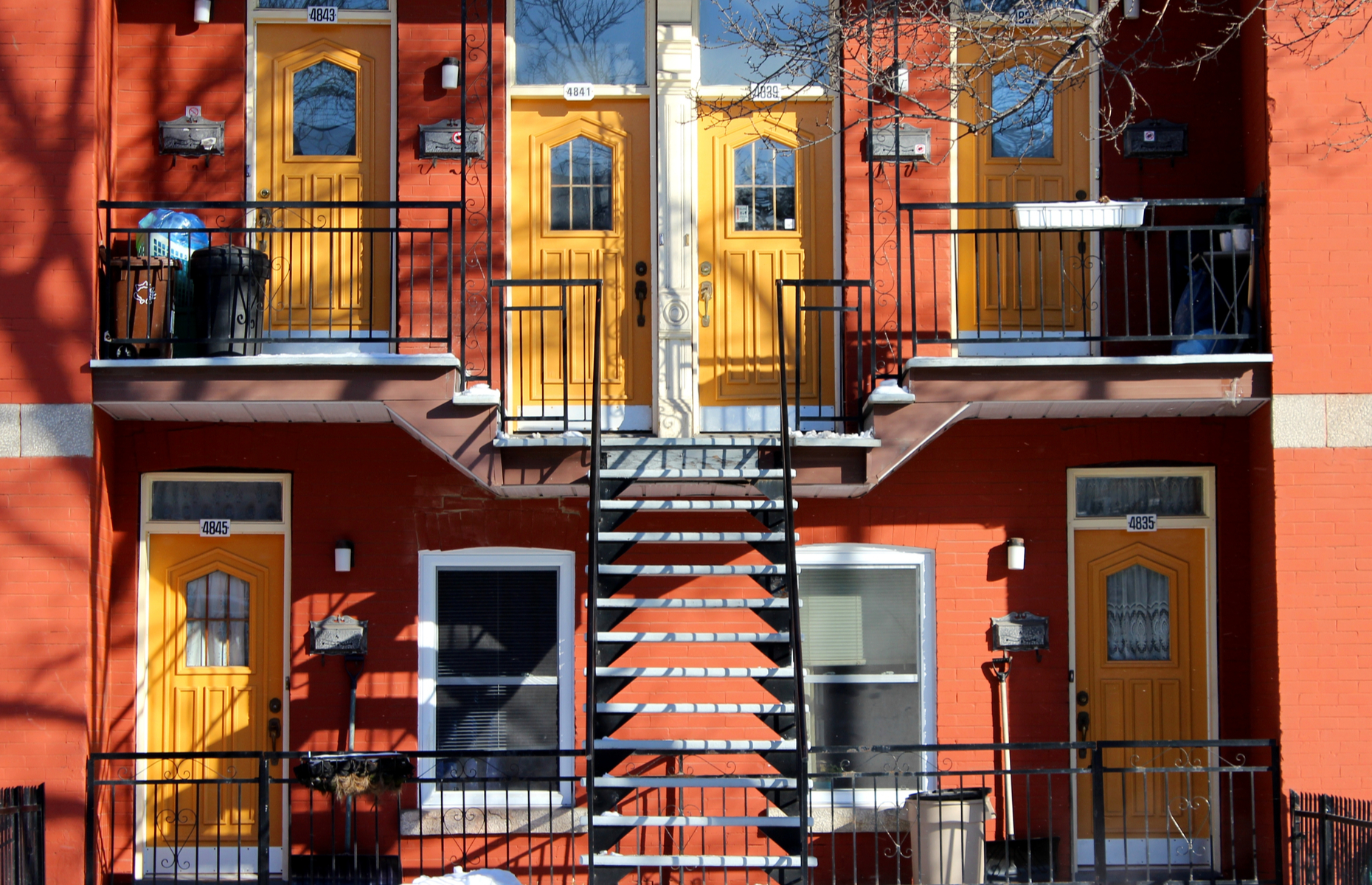 Catherine Zibo/Shutterstock
The Village
You'll know as soon as you're in Montréal LGBTQ+ centre. When St-Catherine Street East reaches north of its Downtown stretch, strings of colourful balls form a canopy across the pedestrianised road and create a rainbow for the next half a mile. The '18 Shades of Gay' installation was created in 2017 by world-renowned architect Claude Cormier, and has made the area even more vibrant ever since.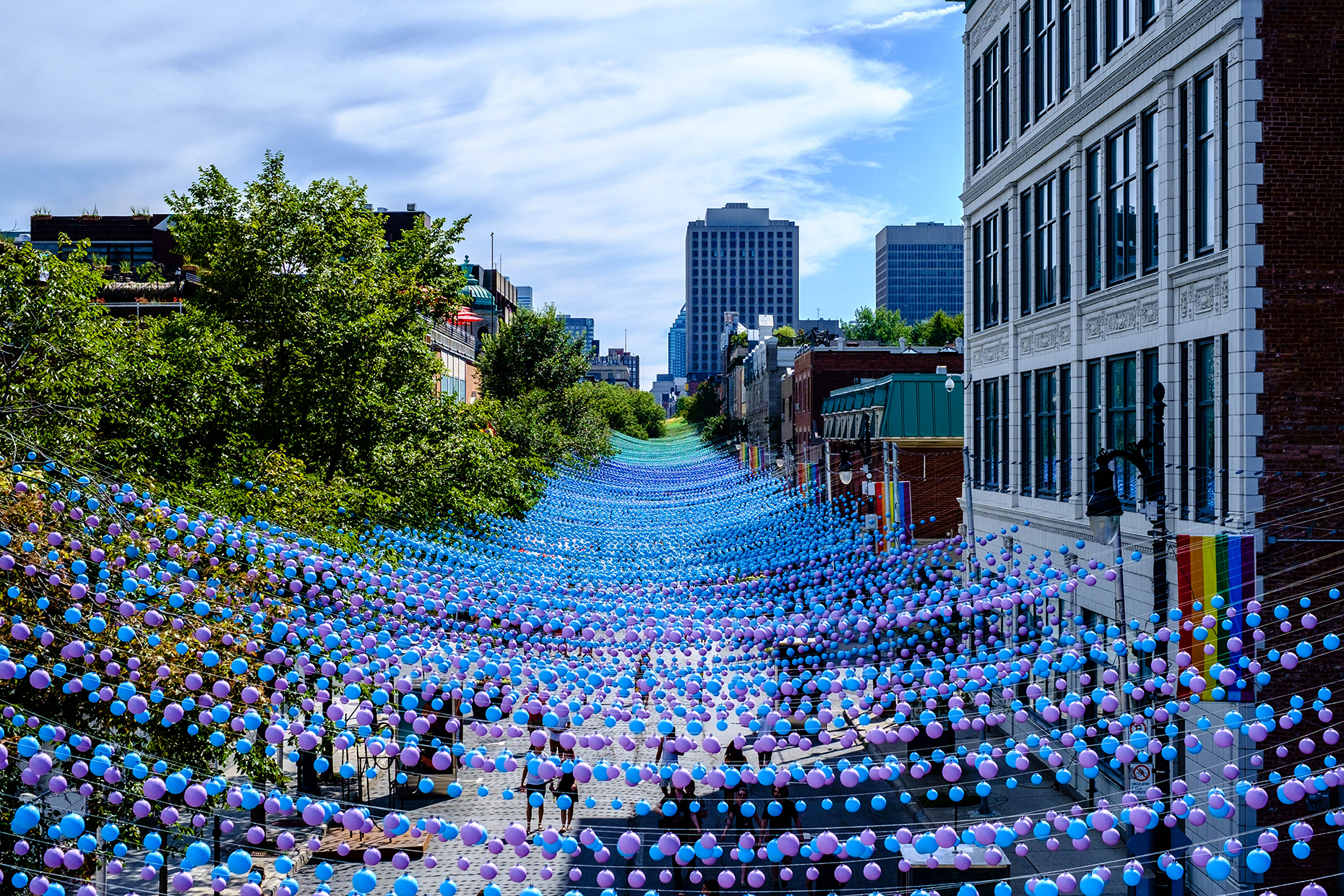 Hubert Figuière/Flickr/CC BY-SA 2.0
Inclusive nightclubs, top vintage shops and relaxed terrasses make The Village a great place to hang out. And of course, it's the place to be during the city's annual Pride celebrations in August.
Saint-Henri and Atwater
More off the usual tourist trail than the Plateau, Saint-Henri is a former industrial neighbourhood which has undergone redevelopment to become another cool place to hang out at bars, brunch spots and boutiques. The area hugs the Lachine Canal but the main spot to be is Notre-Dame Street West. Wander along and follow it north, stopping into its establishments along the way, until you hit Atwater Market.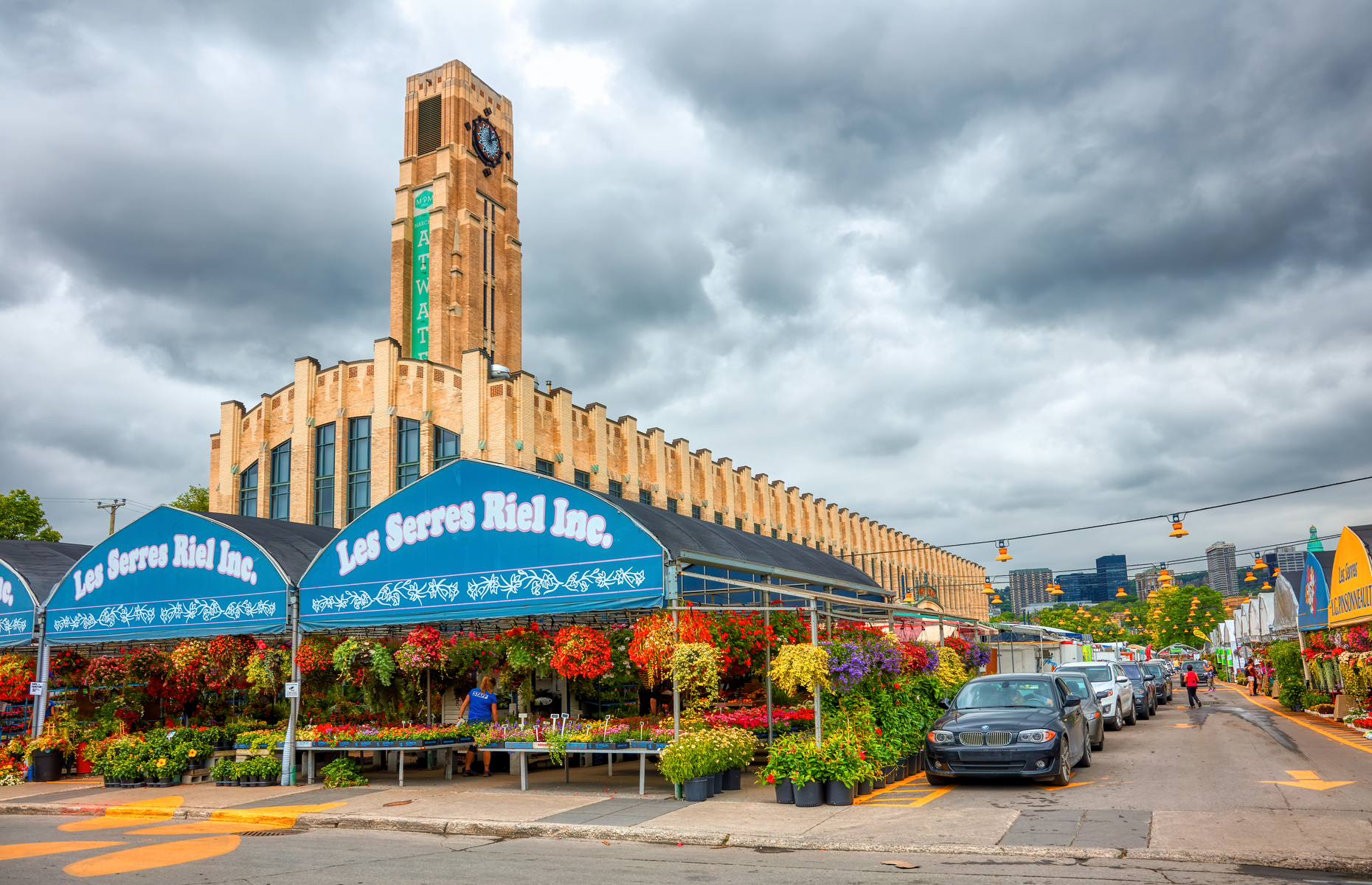 Cagkan Sayin/Shutterstock
The market is open year-round – in summer, admire the blooming outdoor flower stalls and marvel at the rows of fat strawberries but come winter the vast indoor section beckons with delis and patisseries. Grab a bite to eat from one of the many food stalls and pitch up at a table or sit by the canal. The marinated satay tempeh and papaya salad from Satay Brothers, and pulled pork burger from Aylwin Barbecue are some top picks.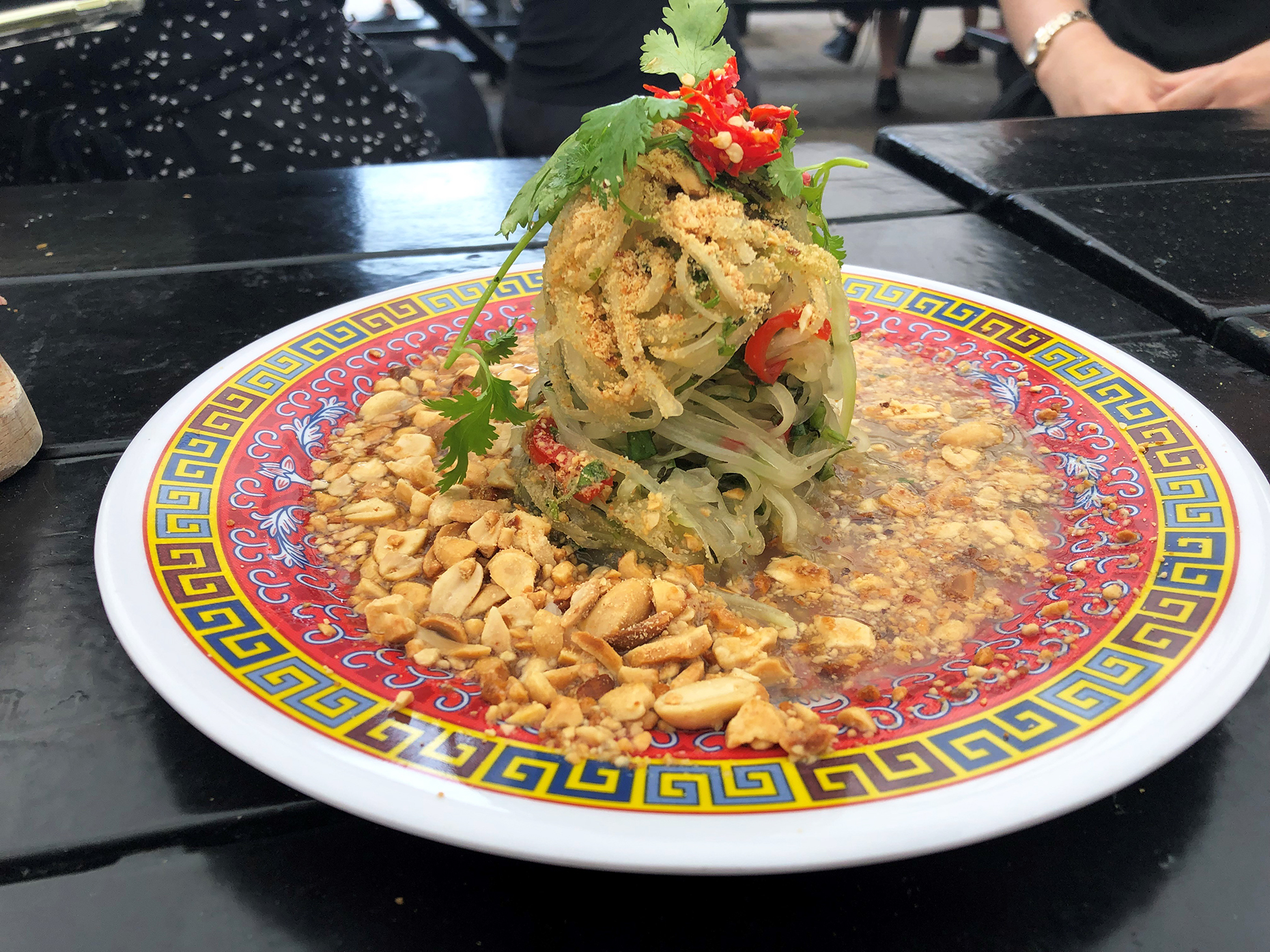 Daisy Meager
Parc Jean-Drapeau
Easily accessible via a metro ride from mainland Montréal or a drive over Jacques Cartier Bridge, Parc Jean-Drapeau encompasses two islands in the middle of the St Lawrence River, to the east of the Old Port. Escape the hustle and bustle of the city momentarily and plunge yourself into amusement central.
There's La Ronde, a fun fair with adrenaline-pumping rides, a water park, nature trails, the Biosphere Environmental Museum, festival venues and more. For grown-up fun, try your luck in the Montréal Casino.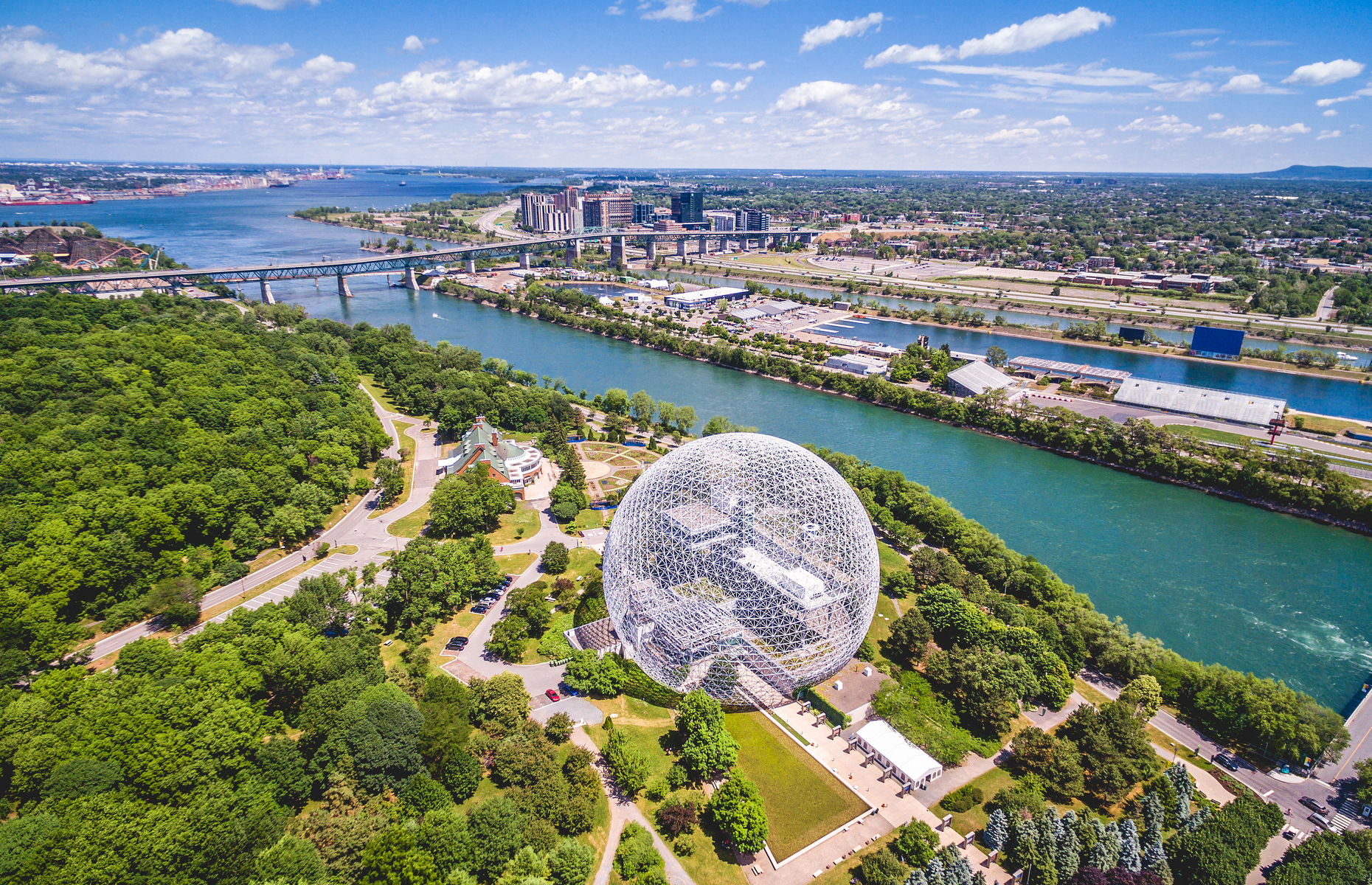 R.M. Nunes/Shutterstock
Top experiences in Montréal
1. Get involved with the city's festivals
With around 100 festivals and public events throughout the year, it's likely (especially during the summer) that your trip will overlap with a big celebration. The key is to embrace it and throw yourself into whatever's going on. It's a way of life for locals and there's always a huge community atmosphere at events.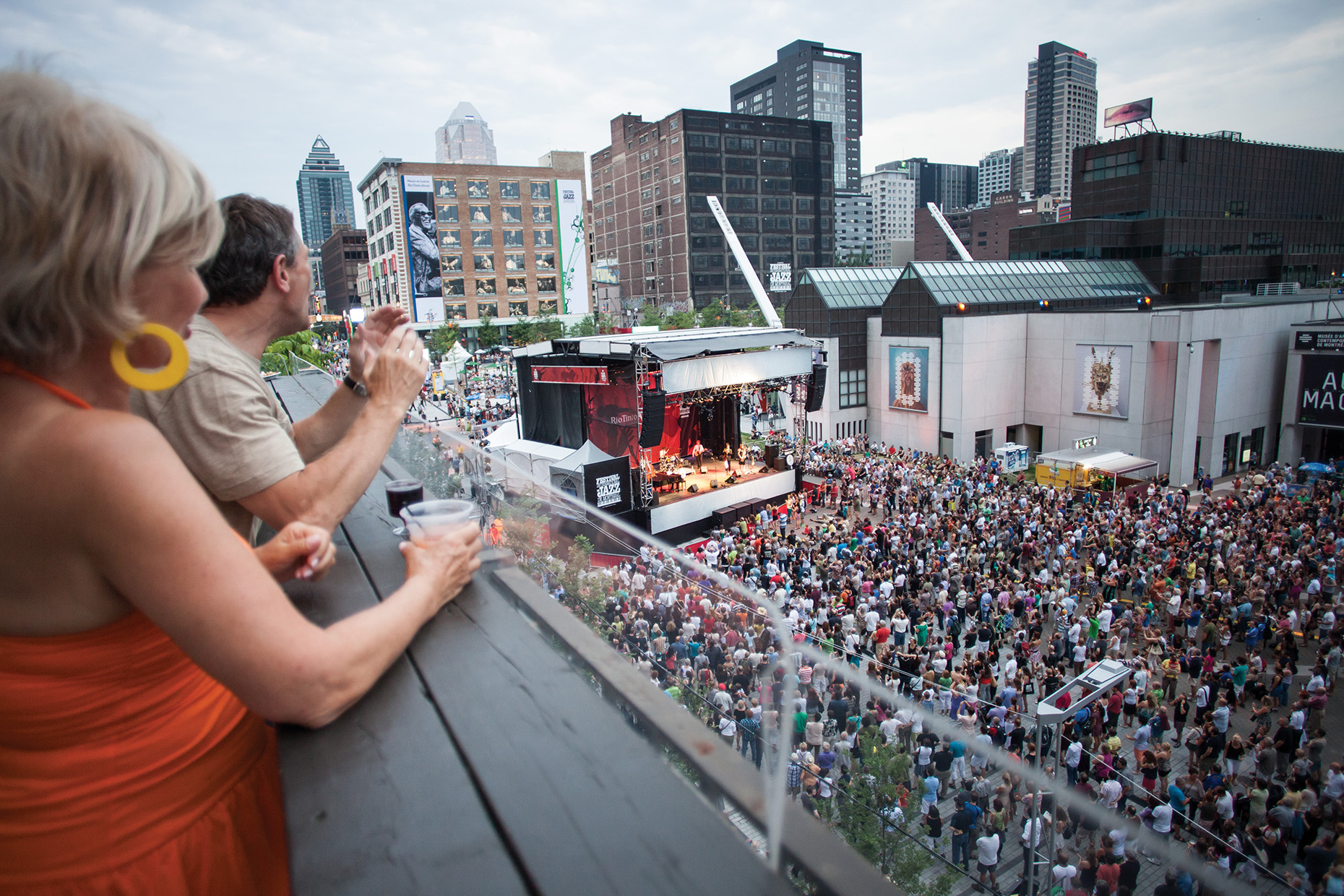 ©️ Canadian Tourism Commission
The action is usually centered around the Quartier des Spectacles, with some events like electronic music gigs and winter's Fête des Neiges (quite literally, the festival of snow), taking place on the islands of Parc Jean-Drapeau.
Events run the gamut of culture, and festivals often include free public events and paid-for shows. Catch an open-air performance on a muggy summer night from one of Canada's top musicians at the International Jazz Festival; gasp at gravity-defying street acrobatics from a pavement terrasse at MONTRÉAL COMPLÈTEMENT CiRQUE; celebrate African and African diaspora culture through live music and food at Nuits d'Afrique; and in winter, see the city light up with projections and illuminated installations during Montréal en Lumière.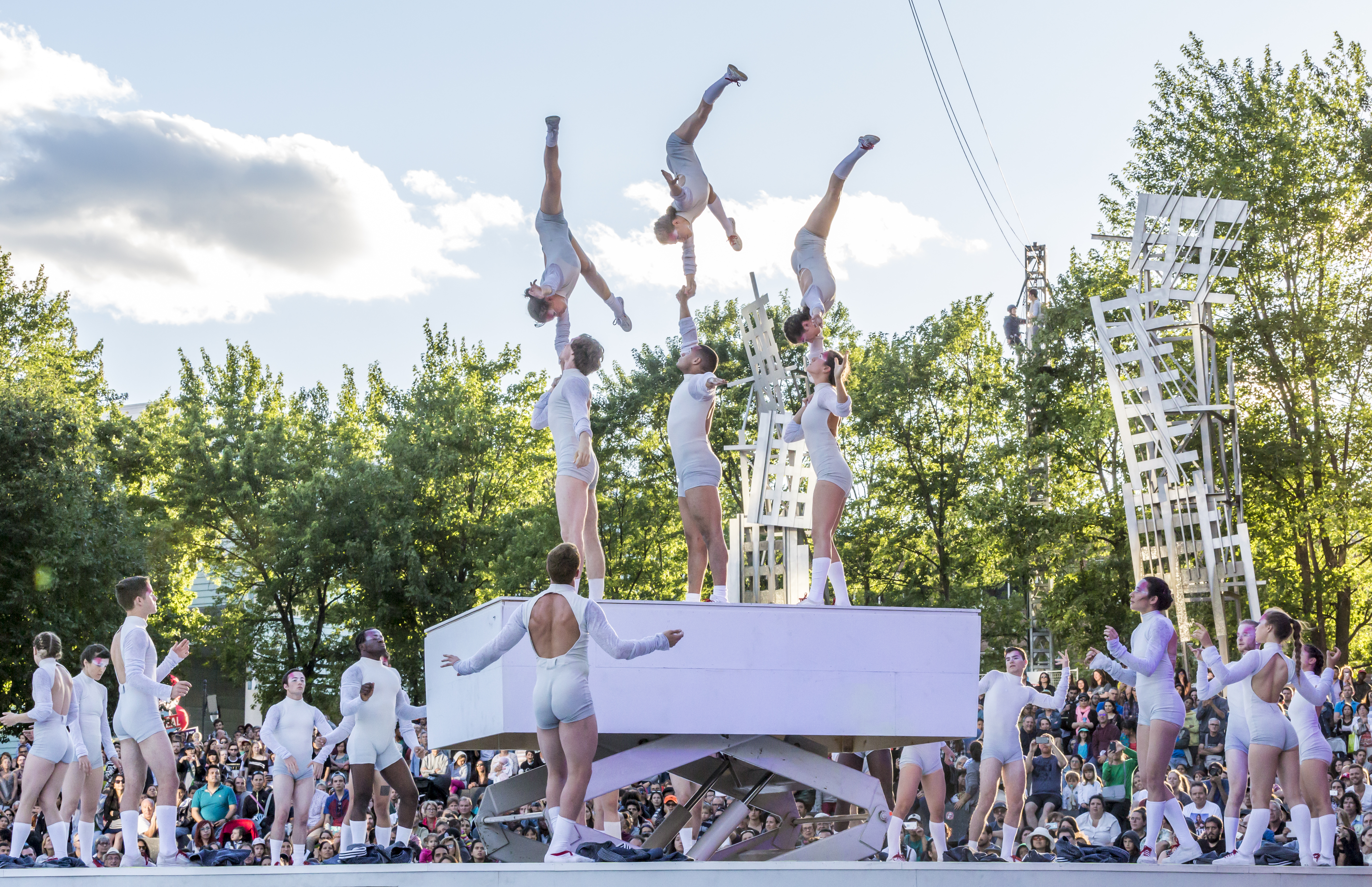 ©️ Eva Blue/Canadian Tourism Commission
For a properly local experience, head to the Sir George-Étienne Cartier monument in Mount Royal park on a Sunday during the warmer months. It's where the Tam-Tams, an unofficial weekly festival, takes place, with drum circles and dancing. Just follow the sound of the beat...
2. Discover art in unexpected places
While Montréal's galleries are excellent, there are plenty of other places in the city where you'll find art – some which may be rather unexpected.
Murals are a big thing here, especially around St Lawrence Boulevard in the Plateau. Spot clowns, angels and pop art plastering the side of buildings in parking lots and bright, cartoonish collages down alleyways. Before long, you'll be noticing them all over the place. The street art is celebrated annually at MURAL Festival and there's a handy online map if you fancy creating a self-guided tour.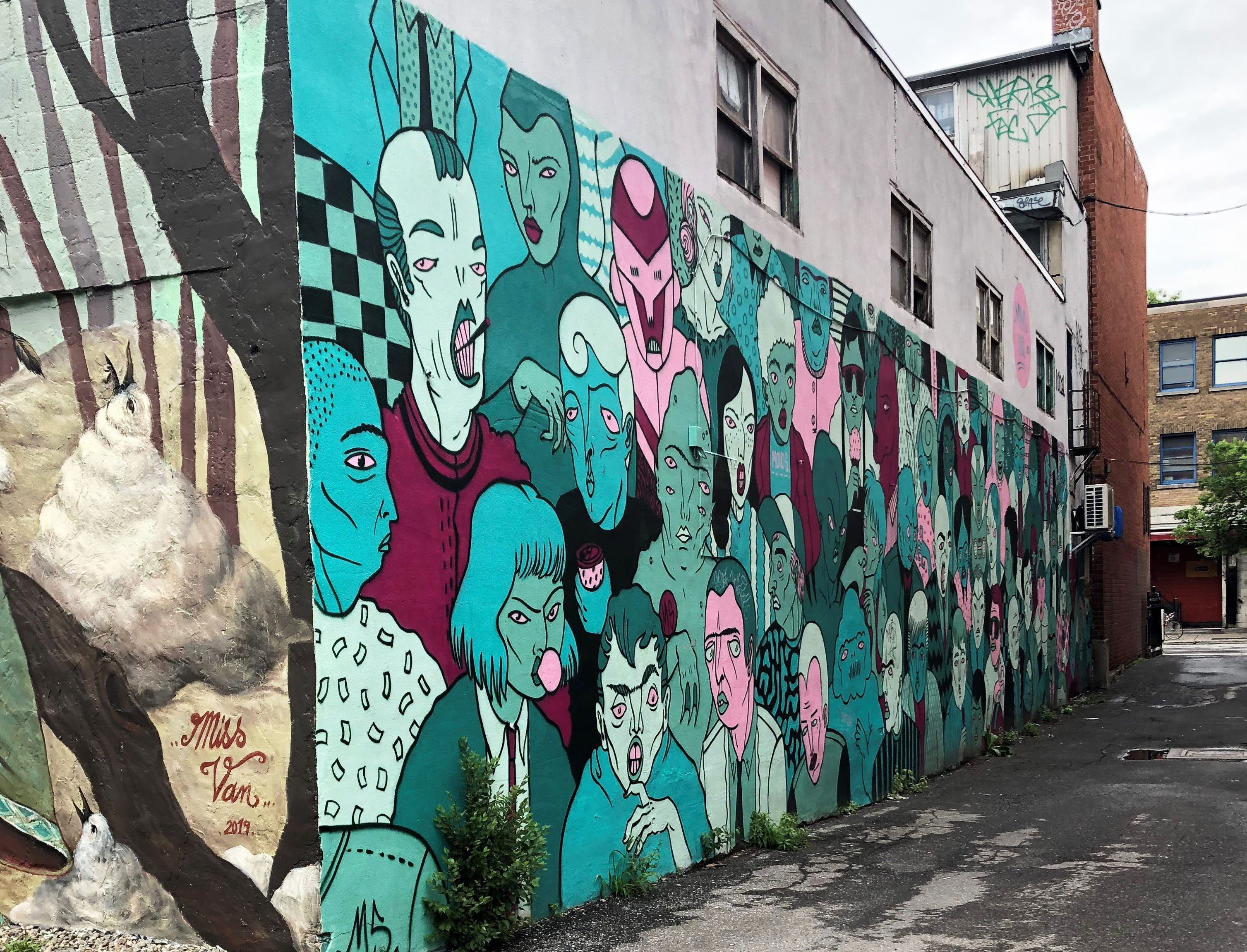 Daisy Meager
Downtown, one worth seeking out is the striking Leonard Cohen portrait. It's on Crescent Street and you can get a good view of it from the top of the road, by the intersection with Sherbrooke Street West. Or, head up to the Glass Court in the Montréal Museum of Fine Arts for an elevated look-out point.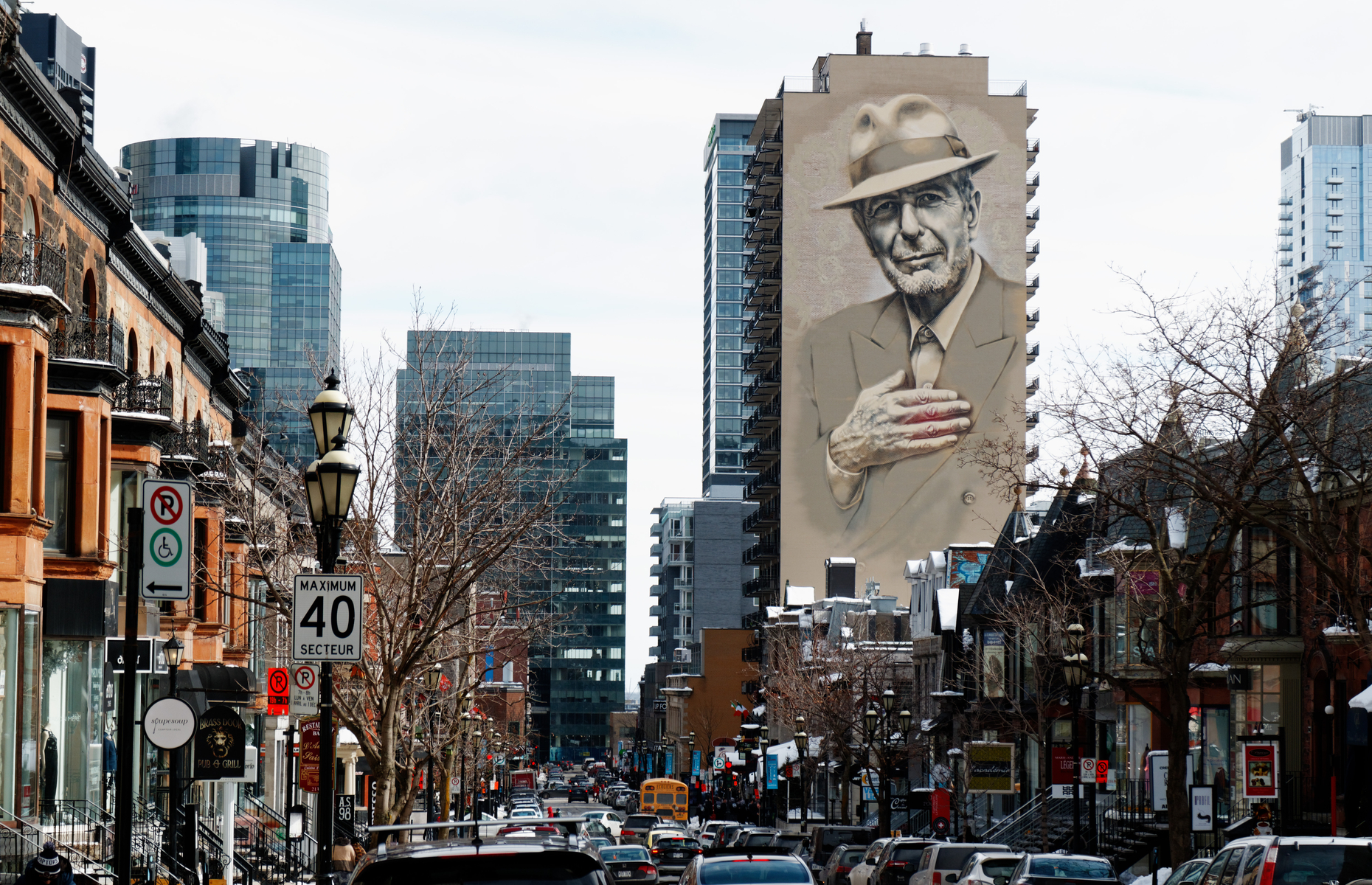 Colin Woods/Shutterstock
As a tech-savvy city, there are forward-thinking works around too. Cité Memoire is a series of 23 interactive projections around Old Montréal, found via an app. They loosely tell the history of the city through the eyes of fictional characters.
Elsewhere in the area, AURA is a spectacular sound and light show in the heart of the Notre-Dame Basilica (it's currently running until the end of 2019). The creators, Moment Factory, are renowned for putting on extravaganzas and also the masterminds behind the illuminated Jacques Chartier Bridge. The structure changes colour depending on the season, traffic flow and real-time social media activity when people use the hashtag #illuminationMTL.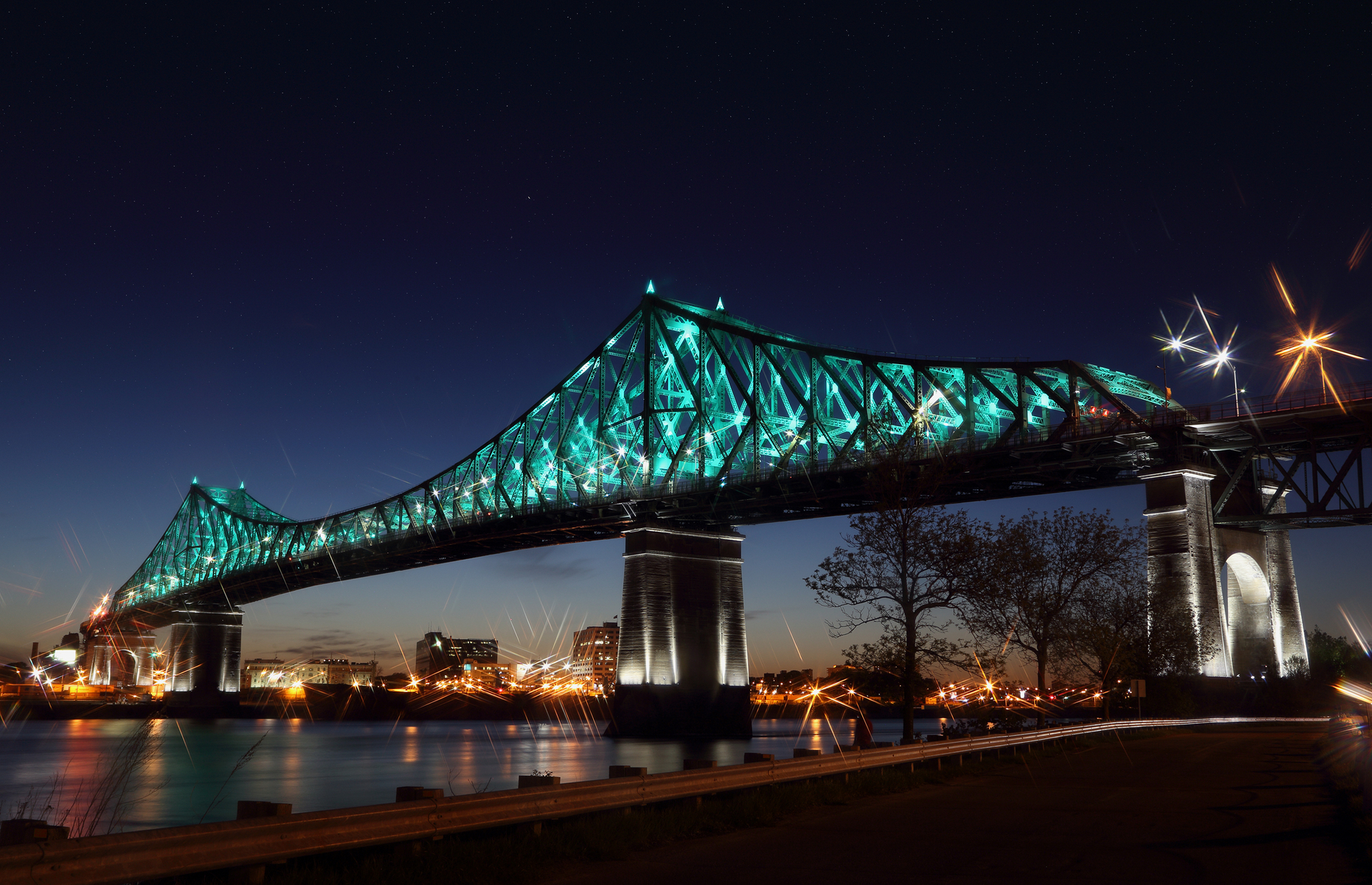 Barisev Roman/Shutterstock
3. Clamber up Mount Royal
Mount Royal Park is the city's back garden and a trip to Montréal wouldn't be complete without making it to the top of Mount Royal itself and the illuminated cross at the summit. But don't worry, you won't be undertaking a huge hike – it's a doable 45 minutes up this very small mountain, depending on where you start in town. Or, it's possible to drive some of the way.
After you've taken in the view, stick around and explore what else the park has to offer. There are paths and trails, as well as the Mount Royal Chalet which houses a permanent art exhibition.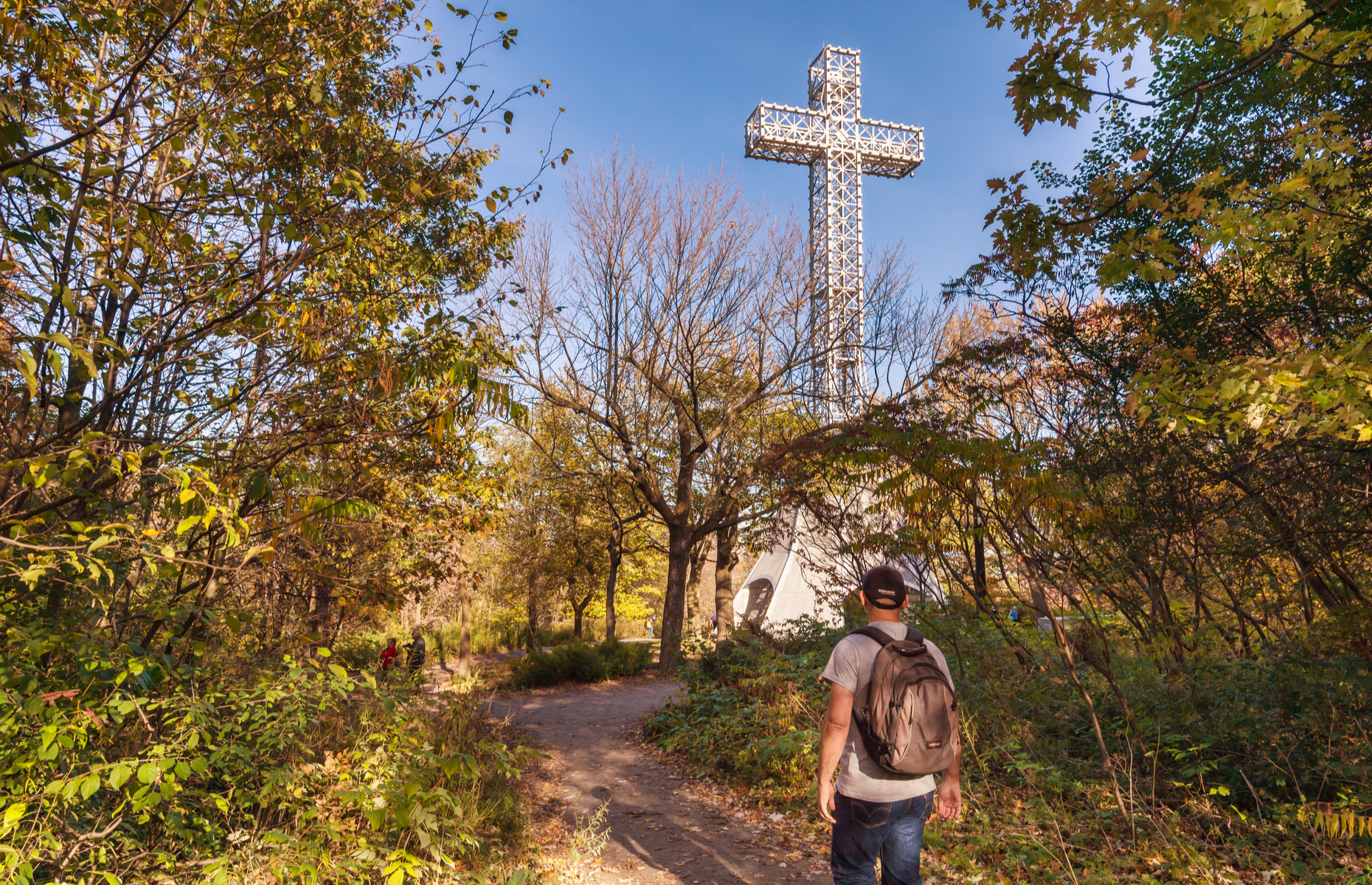 Marc Bruxelle/Shutterstock
4. Spend some time by (or on) the water
The grassy banks and paths that run alongside the Lachine Canal make the perfect spot to while away a warm afternoon. It runs for 9 miles (14.5km) from Lake Saint-Louis in the southwest of the city to the Old Port, but a great place to pick it up is by Atwater Market. Stock up on supplies for a picnic or grab a few beers and bits from the food stalls, then head to the green verges.
Alternatively, clamber aboard a canal boat and meander down the water. Le Petit Navire runs excellent tours from Atwater to the Old Port on their zero-emissions boat. Get picked up from the market's jetty and journey through three locks, passing Montréal landmarks such as the Farine Five Roses building, and hear about the canal's history from knowledgeable guides – who'll also keep you topped up with drinks. For around two hours on the water, it's a very reasonable $25 (£15).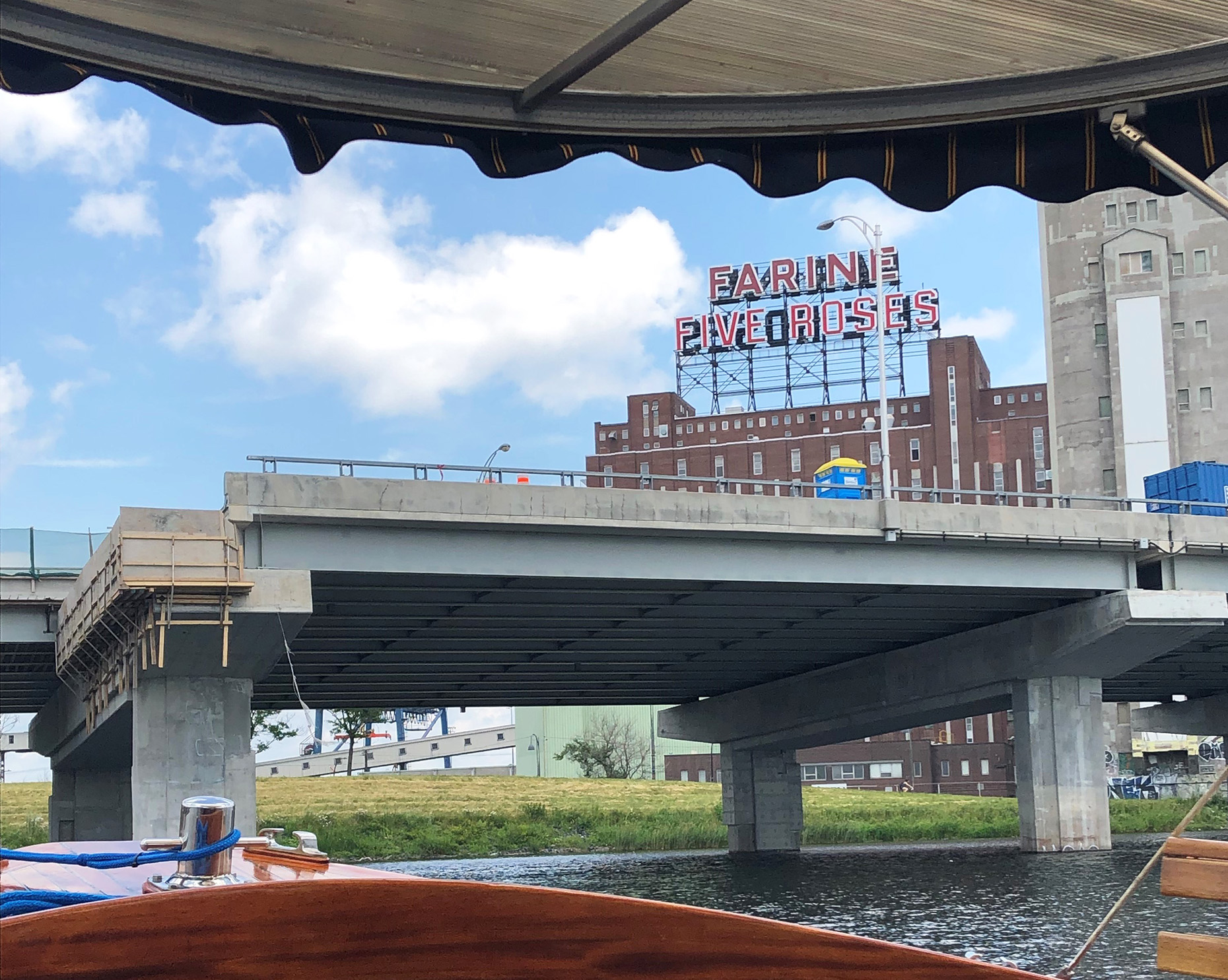 Daisy Meager
The best hotels in Montréal
Most of the big hotels are based around Downtown, ideal for being in the centre of the action near the Quartier des Spectacles and also getting out to other neighbourhoods.
There are dependable high-end options like the Four Seasons which opened in June 2019, the W Montréal and Fairmont The Queen Elizabeth, where you can rent out the suite made famous by John Lennon and Yoko Ono's bed-in.
For a more mid-range option, Hôtel Monville is a great place to base yourself. The tech-forward hotel has nifty features like self-check in, in-room check-out and even a resident robot who'll deliver your room service. While the huge TVs can be a little overbearing, switch off the screens and the impressive views will soon distract you.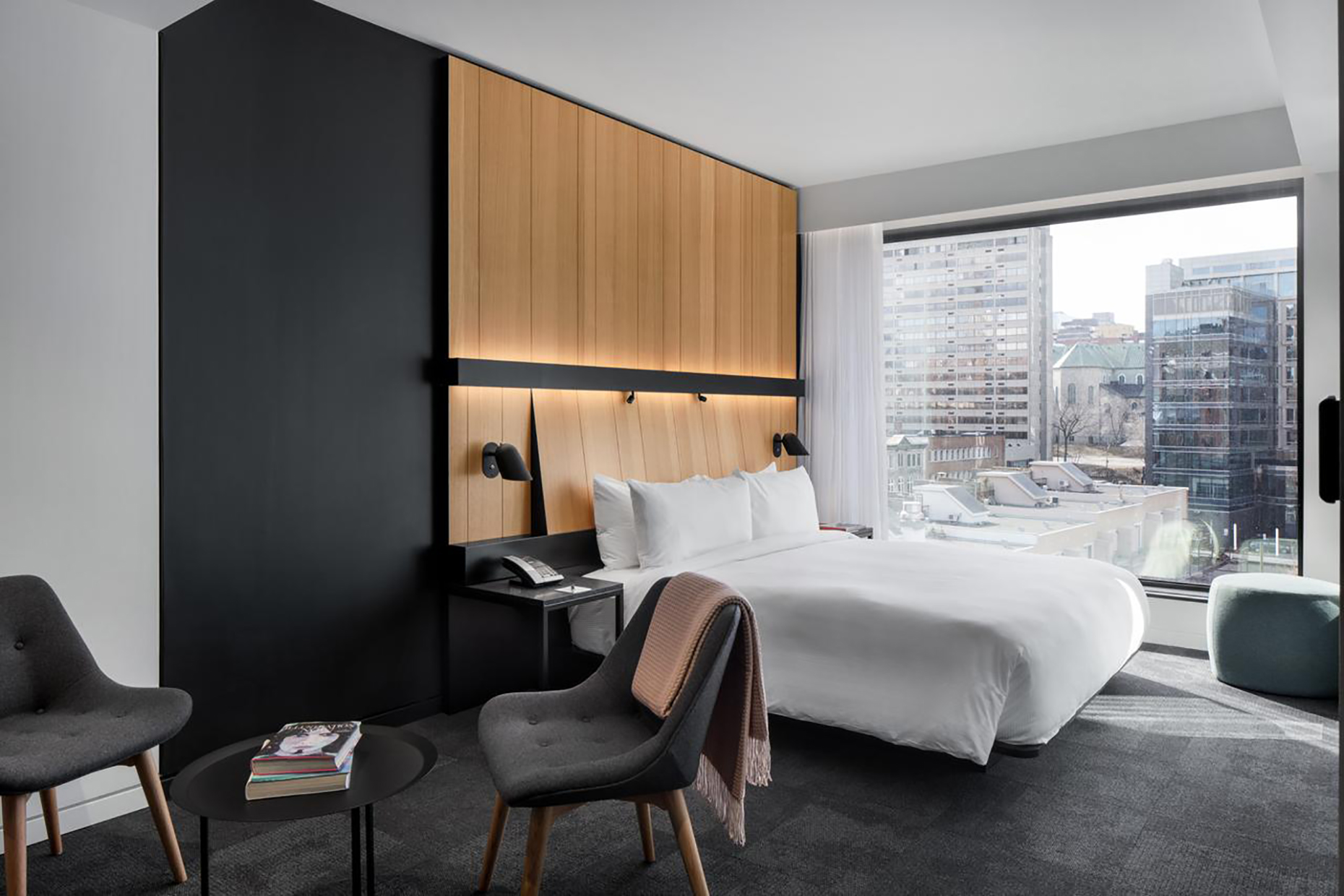 Hôtel Monville/booking.com
Most importantly, you'll get a brilliant night's sleep in the comfy beds and fuel up with a hearty breakfast – the French toast with lashings of maple syrup will more than set you up for the day.
What and where to eat and drink in Montréal
Make sure you arrive in Montréal hungry because you'll leave stuffed. Montréalers love their food (and have exacting standards) so you'll always be guaranteed of a good meal. There are some of the classic dishes that you have to try here – bagels, poutine, smoked meats to name a few – but other than that, the gloves are off. The city's diverse population means you can find almost any cuisine you crave, and sometimes a fusion of your favourites.
Brunch
At the weekend, brunch is a big deal. Make reservations where you can or arrive early to avoid long waits. If you're out by Saint-Henri, make a beeline for Arthurs Nosh Bar. The trendy green and white Jewish deli is always packed, and for good reason. The challah breakfast sandwich, loaded with scrambled eggs, salami, American cheese and lettuce, is a big hitter, as is the toasted challah with spiced aubergine and chickpeas.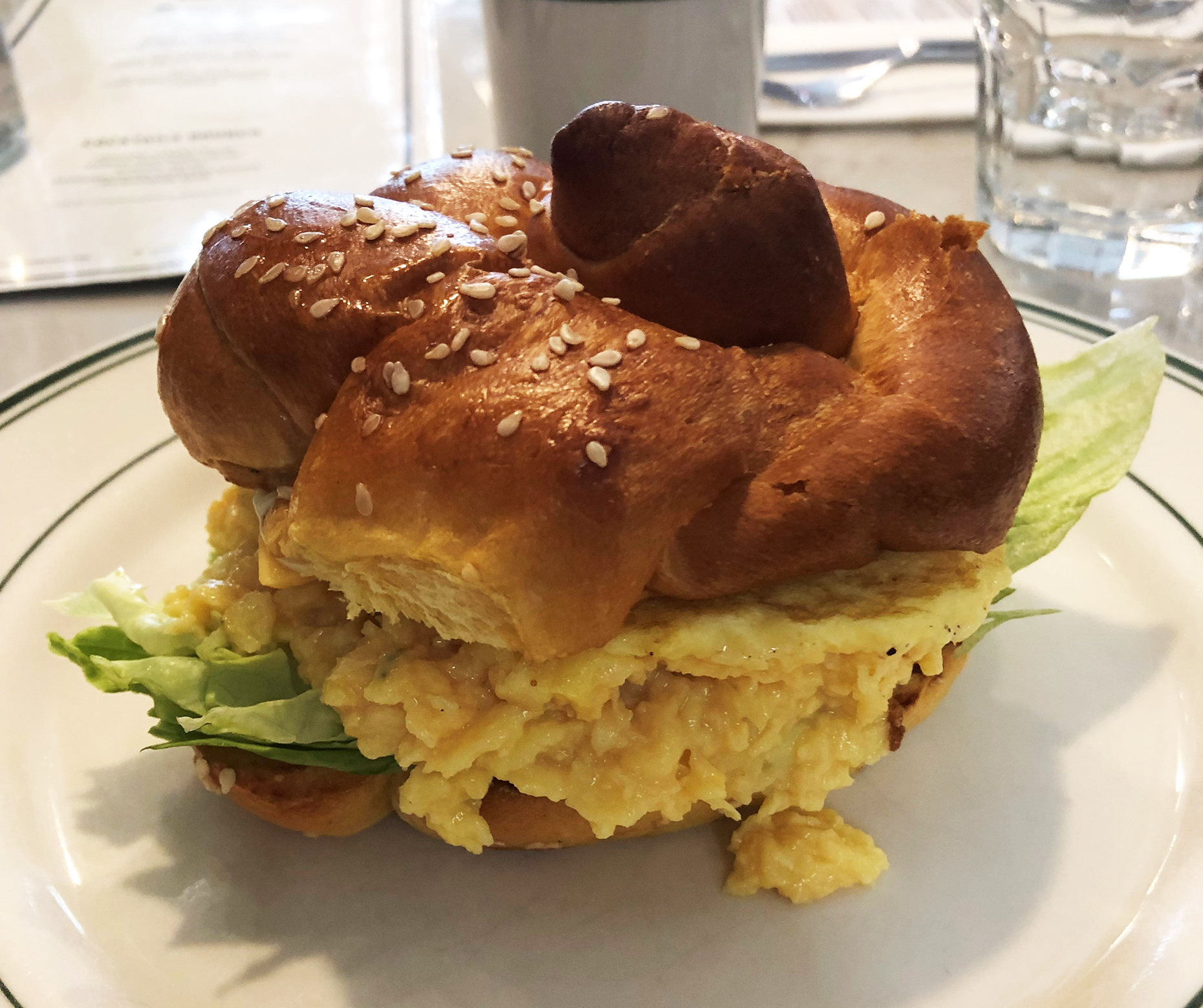 Daisy Meager
Maison Publique, on the other side of town, is also excellent – get the boudin (sausage) and eggs.
Bagels
There's a longtime rivalry between St-Viateur Bagel Shop (pictured below) and Fairmount Bagel. Handily, they're around the corner from each other in the Plateau, so you decide for yourself. Piles of round breads are boiled and baked here every day (at St-Viateur, you can see the open production line from shaping to baking in the huge wood-fired oven).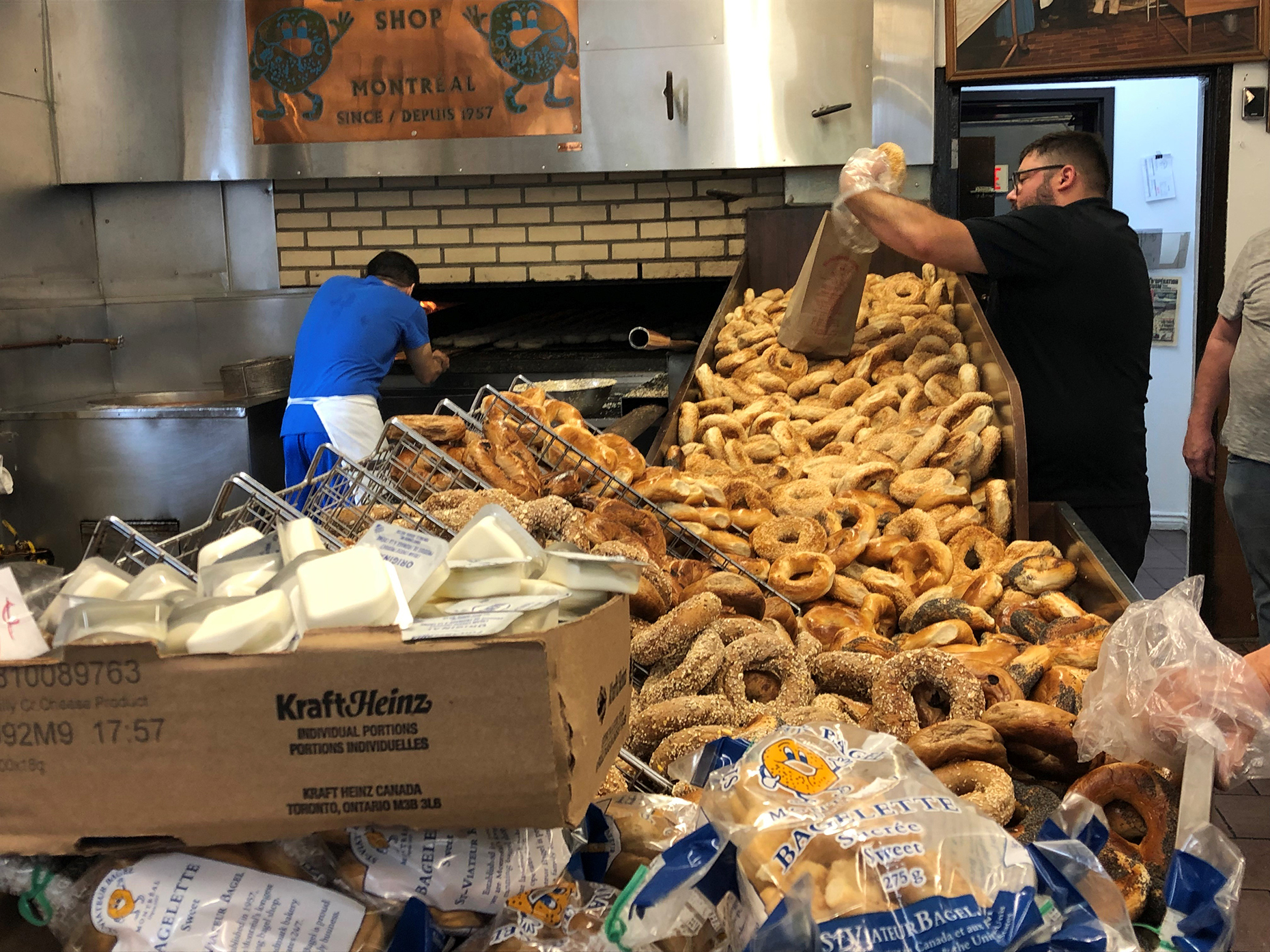 Daisy Meager
There's usually a selection of seeded and plain but your best bet is to order whatever's just come out of the oven. While they're obviously great smothered in cream cheese, the bagels are so incredibly tasty (think soft yet chewy and just a hint of sweetness – they're boiled in honey water), they're great just on their own.
Smoked meats
A sandwich stuffed with melt-in-the-mouth smoked meat and drizzled with mustard is a must-try dish while in the city. The Montréal deli meat speciality usually involves beef brisket which has been salted and cured with spices. The quintessential place to get one is Schwartz's Deli, an institution on St Lawrence Boulevard. Side pickle non-negotiable.
Another Québec original is poutine, an extravagant dish of fries with cheese curds and gravy. You'll find it at many places in the city but head to La Banquise around the Plateau for a stunning selection of toppings (more than 30 in fact). You'll find options like Le Dan Dan with pepperoni, bacon and onions; La Elvis with ground beef, green peppers and mushrooms; and La Taquise with guacamole, sour cream and tomatoes. They even do a vegan friendly version.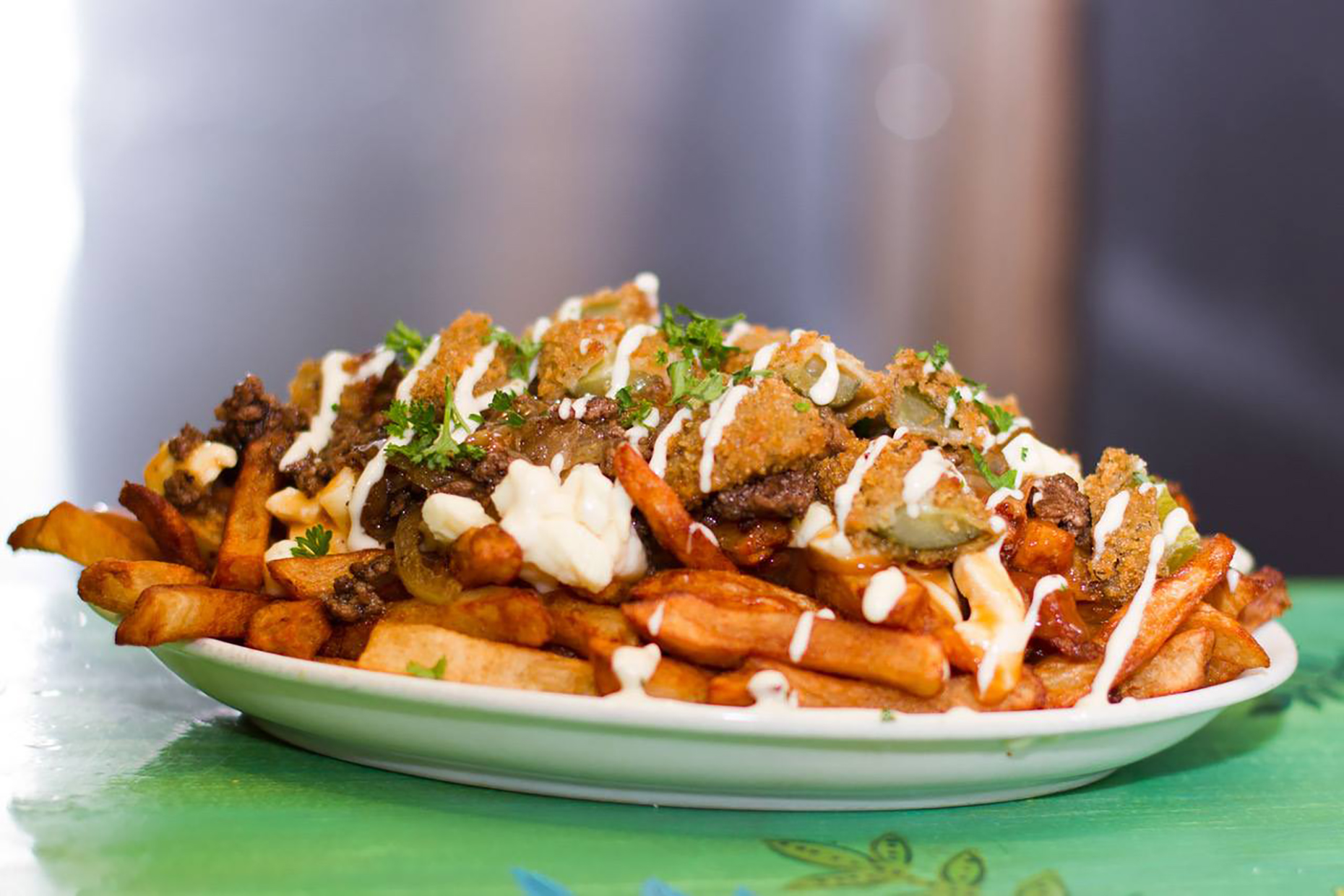 La Banquise/Facebook
Coffee and pastries
Old Montréal is awash with hip cafés so a morning or afternoon spent hopping between different places is well-recommended. Crew Collective & Cafe is a stunning spot, housed in an ornate former bank with many original features like the counters and benches. Head to Tommy, which has two locations around the area, for a more vibrant and modern atmosphere, and excellent sandwiches.
Le Petit Dep, a quaint shop and café, also has two locations here. Stop by for a cappuccino and matcha croissant, then pick up some edible souvenirs to take home. For somewhere sleek and modern, nothing beats the café at SSENCE, a high-end fashion store. The grey, stone and futuristic interiors are the complete opposite of Le Petit Dep's whimsical charm but the coffee's great and the pastries even better (get the buttery, flaky kouign-amann if they have it).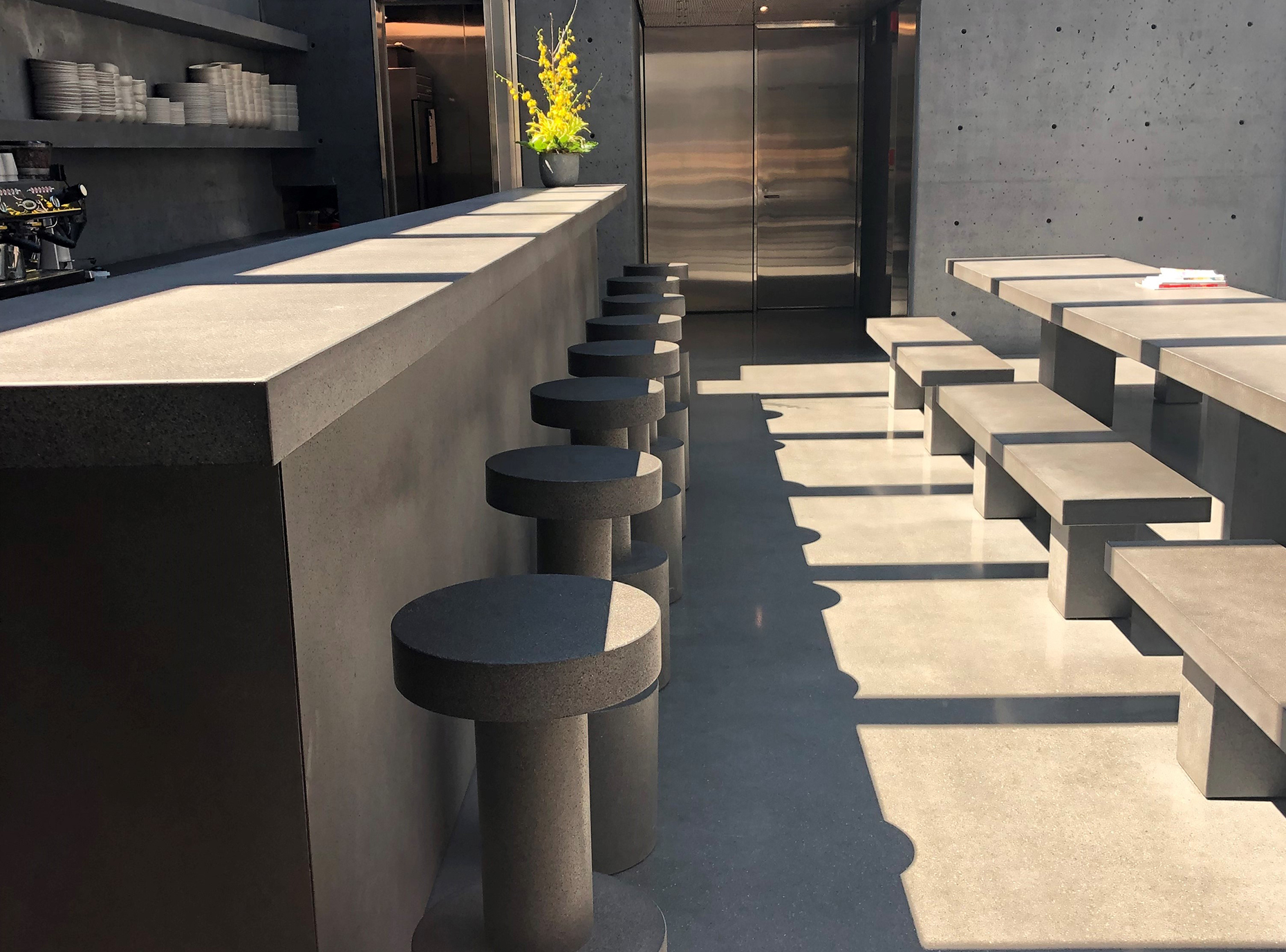 Daisy Meager
Getting there and around
Air Canada and British Airways operate direct flights from London Heathrow, and Air Transat flies non-stop from London Gatwick. Montréal Central Station is also well-connected and trains run from New York and other parts of Canada (we recently reviewed The Ocean overnight route from Halifax).
In Montréal, the reliable public transport is your best bet as neighbourhoods are easily walkable once you're there. Traffic can be a nightmare and you don't want to spend all your time in the city bumper-to-bumper.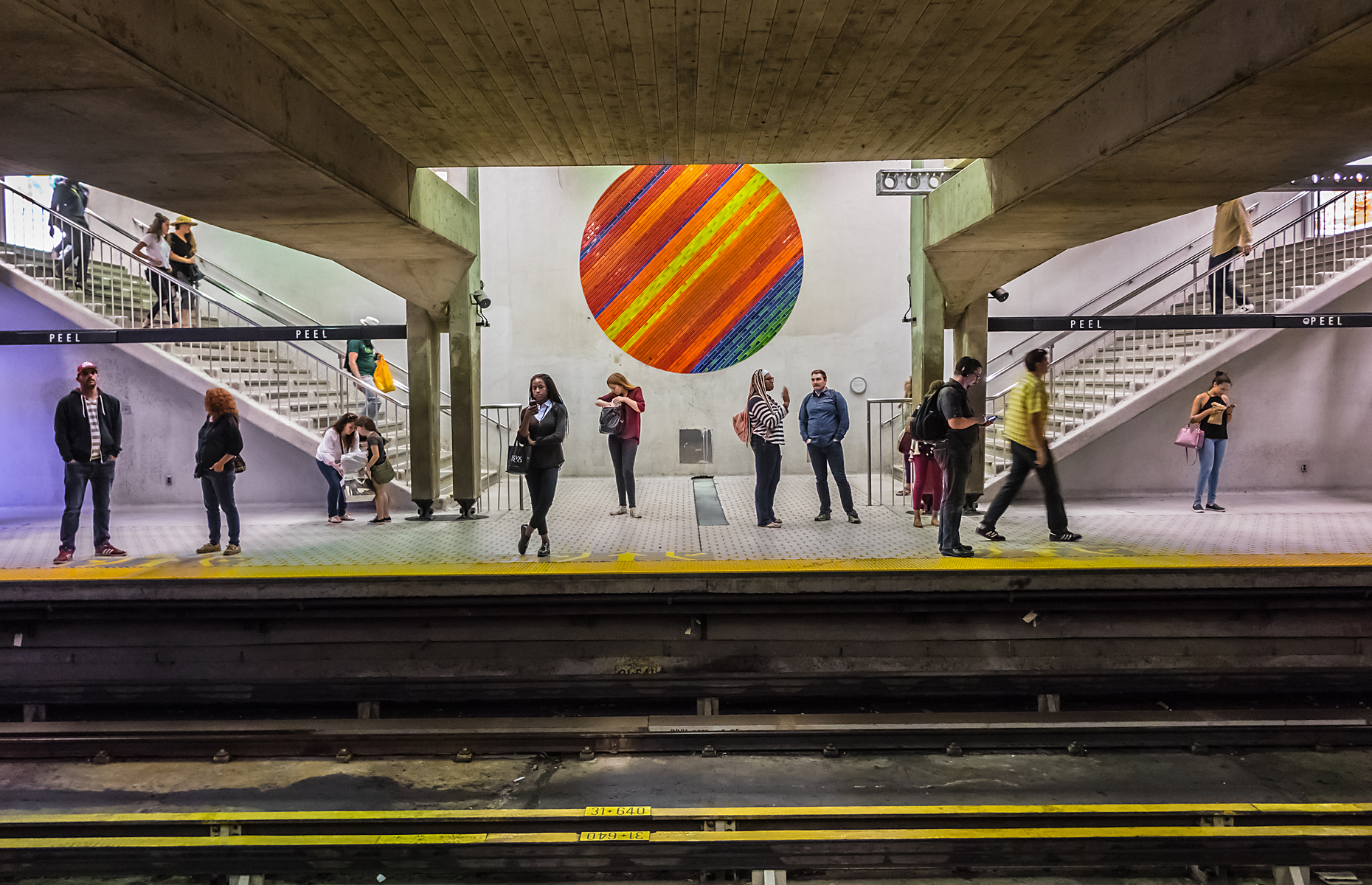 Kiev.Victor/Shutterstock
It's well worth factoring in some time during your trip to get out of the city. Hire a car and whizz out into the countryside – Southern Québec is less than two hours away. Read our guide to the region with vineyards and wild forests galore here.
For more information, visit www.quebecoriginal.com and www.mtl.org/en.
Lead image: EQRoy/Shutterstock
Map
Be the first to comment
Do you want to comment on this article? You need to be signed in for this feature