Explore New Brunswick: top things to do, where to stay and what to eat
One of the Maritime Provinces of Canada out on the eastern seaboard, New Brunswick is an entirely different side of this vast country, away from the cosmopolitan centres of Toronto, Montréal, Ottawa and Vancouver that most visitors head for. A place of otherworldly and somewhat end-of-the-world-style landscapes, of lighthouses and lobster boats, it's also dotted with fast-evolving urban centres, where breweries and modern dining are slotting their way into charming historic cityscapes.
Why go to New Brunswick?
The seafood and craft brewery scene may be out of this world, but it's really the stupendous geology that brings you to New Brunswick. This was the birthplace of the Atlantic Ocean, when the vast ancient continent of Pangea split apart. Among other things, the event created the Bay of Fundy, which is home to the highest tides in the world, thanks to a billion tonnes of water rushing through here twice daily.
New Brunswick shares the bay with Nova Scotia and the US state of Maine, but it's in New Brunswick that you can experience the tides at their most dramatic. The best way to do so is by kayaking at high tide at the remarkable 'sea stack' formations, the Hopewell Rocks, which were fashioned by numerous forces, including the tides. Coming out on a guided kayaking tour at high tide enables you to enjoy the thrill of paddling your way through narrow channels and tunnels between the rocks. Then come back at low tide and walk on the ocean bed – that's when you'll feel the full force of the abstract knowledge that the difference between high and low tide in the bay can be up to 56 feet (17m).
The bay is also home to the Fundy Trail Parkway, one of the last undeveloped areas of coastal wilderness between Labrador and Florida. Uniquely, it's a part of two UNESCO sites – the Fundy Biosphere Resort and Stonehammer UNESCO Global Geopark. Together, this makes it a great place for a road-trip: fly into Saint John, Moncton or provincial capital Fredericton and drive along the coast, taking in St. Andrews by-the-Sea, Fundy Trail and Hopewell Rocks.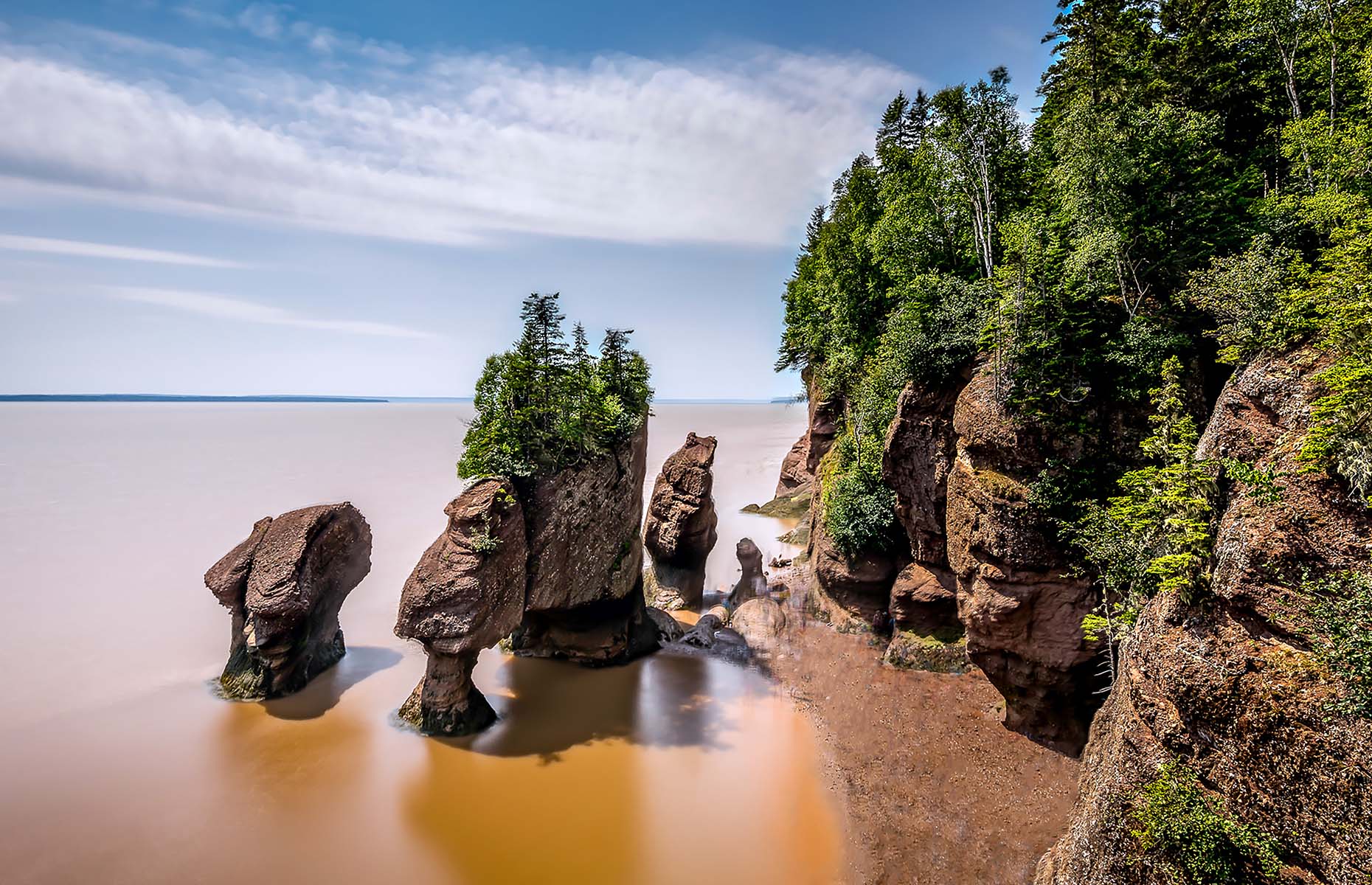 Rush Photography Calgary/Shutterstock
READ MORE: Take a look at Canada's most adorable coastal towns and villages
Top things to do in New Brunswick
Take in the Bay of Fundy
Fundy Trail Parkway, the realisation of one man's dream – maritime businessman and philanthropist Mitchell Franklin – was 50 years in the making before it opened in 1998. Franklin's daughter Beverley is one of the guides at this not-for-profit park, or from this year there are also tours by Indigenous guides who can tell you about their history in this region of 400-million-year-old rocks.
You can simply drive through the Parkway as part of your Bay of Fundy road trip, stopping at highlights such as Big Salmon River, Walton Glen Gorge and the astounding Long Beach – another place where you can walk on the ocean floor. Alternatively, there are wallking and cycling trails for those with more time to spare.
Stop to refuel at The Cookhouse with its hearty 'Lumberjack Breakfasts', picnics provided in metal buckets or burlap sacks and old photos of loggers who worked here. Camping is big here or, from 2023, spend the night at the cabin accommmodation at Hirst Lodge with its salmon pool, beavers and bald eagles (you'll be able to hike into the park and they will ferry in your luggage).
Go whale-watching and discover St. Andrews by the-Sea
St. Andrews by-the-Sea is the place for heading out into the water. Depending on the season, you may see fin whales, humpbacks, minkes and the once-rare northern right whale, along with dolphins and seals.
While you're in town don't miss Ministers Island – a national historic site of Canada that's excitingly accessed only via a tidal gravel bar in which one car a day gets stuck (tip: don't drive on the sandy bits). This remarkable summer home of Canada's railway pioneer, Sir William Van Horne, has been lovingly brought back to life for visitors. It includes the oceanfront bathhouse overlooking Horne's tidal saltwater swimming pool and the incredible barn where the estate's animals lived in luxury to provide the family with the finest produce. Also worth a visit is Kingsbrae Garden with its sculptures and writers' and artists' residencies.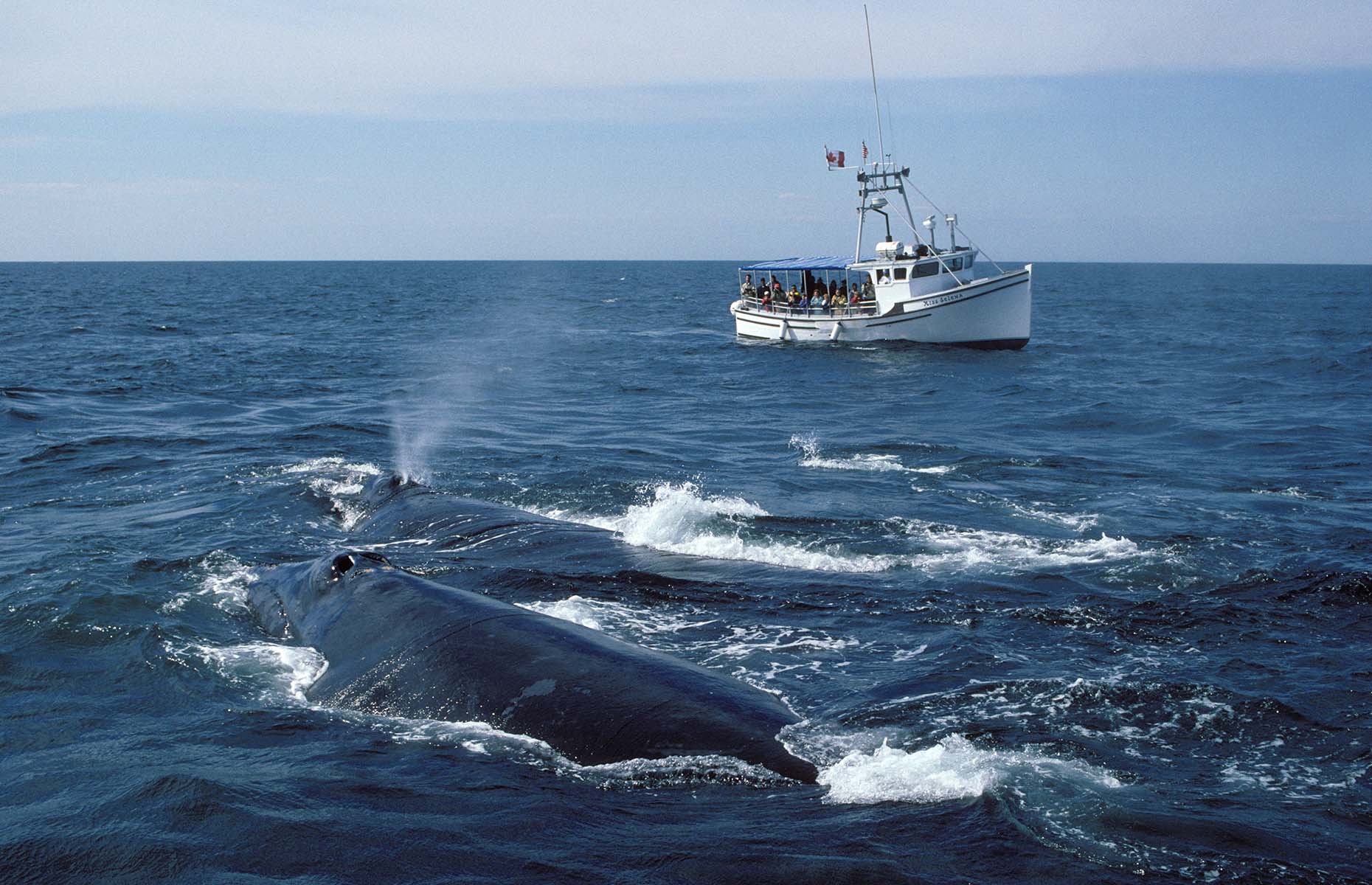 Francois Gohier/VWPics/Alamy Stock Photo
Take a beer tour in Saint John
On the Bay of Fundy, Saint John blends a historic feel with a hip young vibe seen in new developments, including the recently completed, sustainably minded Area 506, where old shipping containers play host to boutiques, food and Cannibis NB (the only legal retailer of cannabis in New Brunswick) outlets, and which hosts an annual music festival each July.
New Brunswick has 75 breweries and Saint John is also a big Moosehead town – Moosehead being the last independent brewery in Canada still owned by Canadians. One of the most fun things you can do in the city is an Uncorked beer tour, which is run out of the historic City Market building and takes you to several local beer spots, including Big Tide, where the beer is brewed on-site and travels no more than 40 feet (12m) to the customer (it's not sold elsewhere). Don't miss seasonal local offerings such as maple beer in spring.
Watch Ballet by the Ocean
One of the positive effects of the pandemic was Atlanic Ballet's decision to host outdoor performances in the grounds of a private property in a spectacular setting of protected wetland, with bald eagles traversing the sky and lobster boats bobbing on the horizon. While you watch dancers from around the world perform on an open-air stage, you enjoy a menu based on local mushrooms and other foraged produce by chef Emmanuel Charretier, accompanied by tastings of wines from the nearby maritime vineyard, Magnetic Hill. Summer evenings don't come any more dreamy than this.
READ MORE: Explore Prince Edward Island with our handy guide
Where to stay in and around New Brunswick
This is not the most exciting place in the world for hotels – think comfort rather than innovation. However, the unexpectedly quirky, history-drenched, half-timbered Algonquin Resort in St. Andrews by-the-Sea is said to have inspired Stephen King (who lives by the bay in Maine) for the Outlook Hotel in The Shining. Activities here include ghost tours and children's storytelling around a firepit. The spa and outdoor pool are both big draws, but don't miss a short stroll down the hill to Katy's Cove, where you can swim in the Bay of Fundy without being engulfed by those vast tides. The food at the Algonquin is simply sublime, whether it's high-end lobster rolls and seafood chowder, divine desserts and negronis or one of the best breakfast buffets you'll ever experience, served in a sunny conservatory.
In Monckton, where you'll probably stay for the Hopewell Rocks (and for the tidal bore), the Delta Beausejour is another solid bet from Marriott, surrounded by the city's central bars and restaurants.
In Saint John, the Hilton is a reliable bet, with lovely harbour views (on days when the city's famous fog hasn't rolled in) and great to-order breakfasts, including an especially hearty poutine with bacon and eggs.

The Algonquin Resort St. Andrews by-the-Sea, Autograph Collection/Tripadvisor
Where to eat in and around New Brunswick
Lobster is such a big deal in this region that there's even an interpretive centre dedicated to the king of crustaceans, the Homarus Centre in Shediac (where Ballet by the Ocean takes place). The best place to eat in town is Le Moque Tortue with its quirky junk-shop style decor, Alice in Wonderland vibe and seafood dishes, including lobster quesadillas.
St Jame's Gate (a restaurant and boutique hotel) shines with its lobster linguine, tuna tartare and fish and pickled onion tacos, while the homely Skipper Jacks Seafood's indulgent Starboard Platter of lobster tail, bacon-wrapped scallops and garlic prawns is unmissable.
Back in Saint John, Britt's Pub stands out for its lobster rolls and tacos as well as the friendly staff happy to share their insider tips on local nightlife, while Saint John Ale House is a great place for posh beer snacks, including boards featuring the likes of mackerel and fiddlehead (the curled, edible shoots of the ostrich fern). Near here, The Caves Restaurant is famed for its seafood chowder best enjoyed on its seafront terrace with views right over St. Martin's Sea Caves.
Aside the Algonquin, St. Andrews by-the-Sea attracts foodies with the Rossmount Inn – a culinary destination in its own right for its daily catch from local fishermen, organic local and home-grown ingredients and seasonal handpicked wild foods from beneath Chamcook Mountain. But there are also cosy pubs such as the The Red Herring Pub, serving vast portions of lobster poutine, lobster dip, scallop rolls and more.
READ MORE: Everything you need to plan a trip to Nova Scotia
Map of New Brunswick
Discover our favourite New Brunswick places with this handy map:
Lead image: robertharding/Alamy Stock Photo
Be the first to comment
Do you want to comment on this article? You need to be signed in for this feature