Explore Prince Edward Island: the top things to do, where to stay & what to eat
Slap-up seafood suppers, cute clapboard towns and deserted beaches – Canada's smallest province on the Atlantic coast is a feast for both the stomach and soul.
Why go to Prince Edward Island?
There's a moment in the opening chapters of Anne of Green Gables where the author L M Montgomery describes Prince Edward Island as the "prettiest place in the world." Twenty-six years after first reading those words, and on my first visit to Canada, I'm thrilled to find it's true.
Stephen DesRoches/Tourism PEI/Flickr/CC by 2.0
While PEI (as the locals call it) is famously the setting for the fictional tales of feisty redhead Anne, it's not just about the beautiful views. Canada's smallest, crescent-shaped province is also garnering a reputation as a foodie destination. It's no surprise given that the island's nickname is the "millionaire acre farm", making the most of its homegrown larder of everything from garlic to potatoes.
READ MORE: 50 photos that will make you fall in love with Canada
As you'd expect from one of Canada's maritime provinces, seafood is king. Lobster, oysters, mussels and clams are usually served just plucked from the sea, thanks to passionate producers with family businesses. The careful curation of local ingredients translates to restaurants here too – eating out can range from lobster rolls enjoyed on Charlottetown's boardwalks to fine-dining theatrical experiences at the chef-owned The Inn at Bay Fortune, but always with knockout island produce at heart.
Here's our guide to help you tuck into everything PEI has to offer.
5 must-dos in Prince Edward Island
1. Visit historic Charlottetown
Pretty Victorian wooden buildings, a charming harbour and a seafood-stuffed food and drink scene make the island's capital one of Canada's most adorable towns and a place where you can easily spend a day or two. It's considered the birthplace of Canada, after the 'Fathers of Confederation' first met here in 1864, with statues of the key figures found around town.
Adwo/Shutterstock
2. Chow down on oysters
Clams, mussels, lobster, crab… PEI is a paradise for anyone who loves seafood. But the island's crown jewels are its Malpeque oysters with around 10 million harvested every year. As oysters filter between 30-50 gallons of liquid every day, they take on the flavour of the water they're grown in, which is what makes PEI's unique.
Yvonne Duivenvoorden/Tourism PEI/Flickr/CC by 2.0
The individual varieties and sizes are so numerous that even if you think you're not an oyster fan, you're sure to find one that suits your palate. For a broad saltiness and a deep creamy texture, try the Brundenell Bully's from Kings County or for something more lightly briny and crunchier, tuck into those grown by James Power and his team at Raspberry Point Oysters, served almost everywhere you go.
Don't be surprised if after a day or two on the island you're slurping away when they're offered at 11am as a mid-morning snack.
3. Go in search of Anne of Green Gables
Lucy Maud Montgomery, the author of the Anne of Green Gables books, was born on Prince Edward Island. You can see Montgomery's birthplace in New London, visit where the author lived in Bideford and find out more about the character of Anne Shirley at Green Gables Heritage Place, the house that was the inspiration for the books, pictured below.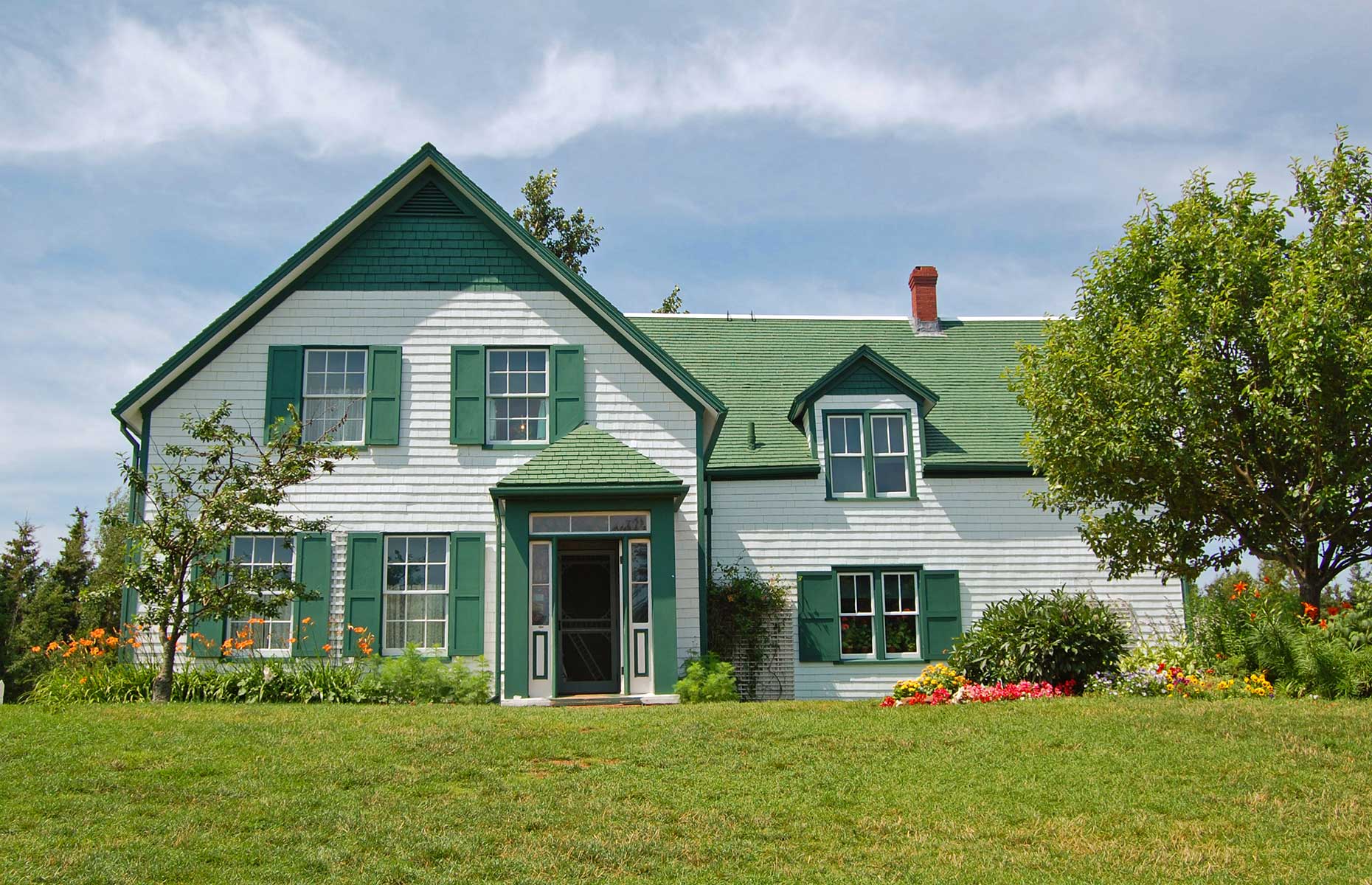 Deatonphotos/Shutterstock
4. Drive around the National Park
There are 47 national parks and reserves in Canada but only one on PEI. You'll find Prince Edward Island National Park on the North Shore, spanning 24 miles from Cavendish to Dalvay, with a separate section further east on the Greenwich Peninsula. There are over 31 miles of trails which will keep mountain bikers and walkers alike happy. Entry into the park requires a small fee.
5. Spend time by the sea
Thanks to the Gulf Stream and the shallow shelf, the sea can be a warm 20°C in summer and you can take your pick of wide sands with enough space for all.
On the North Shore, Greenwich Beach has the highest dunes, while Cavendish and North Rustico have white sands. Facilities including toilets and are supervised during summer. Don't miss Stanhope Cove for the beautiful red and white Covehead Lighthouse alone (pictured above as the lead image).
To experience PEI's renowned red rocks and sand, head to Thunder Cove on the North Shore, a popular spot with local dog walkers. Meanwhile The Red Sands Shore on the South Shore is exactly as it sounds – miles of paprika-tinted sands flanked by red cliffs.
Tourism PEI/Carrie Gregory/Flickr/CC by 2.0
Where to eat and drink on Prince Edward Island
From the moment you land at Charlottetown airport it's apparent food will be a big part of your stay: a giant sculpture of Bessie the cow – the mascot of PEI dairy producer Cow's Creamery – takes up a large portion of the small arrivals hall. A frozen treat from one of their outlets in Charlottetown is sure to put a smile on your face and while classic flavours are available, we loved the Cookie Monster, a cone stuffed with bright blue vanilla ice cream the colour of its Sesame Street Muppet namesake.
While Michael Smith's status as one of Canada's most famous celebrity chefs undoubtedly fuels The Inn at Bay Fortune's popularity, this laid-back fine-dining restaurant is absolutely worth the drive to Souris in the east. Consistently rated as one of the island's best, chef Michael spent years planning his unique 'fireworks feast', where locally sourced fish and meat is cooked on a brick-lined open fire and served family-style at long tables.
Alex Bruce/Tourism PEI/Flickr/CC by 2.0
Artisan Gouda cheese producers Glasgow Glen Farm makes an excellent lunch stop where you can sample cheesemaker Jeff McCourt's red chilli pepper or cumin creations. Be sure to arrive around 12pm during the summer season, as the queues for the pizza made in the wood-fired oven are often lengthy.
When evening rolls around in Charlottetown, the Claddagh Oyster House is where you'll find locals, and there are no prizes for guessing this restaurant's signature offering. There are always at least six different types of oyster on the menu, served with Shuckin' Delicious Lime and Cilantro sauce. Head upstairs afterwards to the Olde Dublin Pub for a nightcap.
PEI hasn't escaped the current craze for craft beer with several excellent local brewers on the island. Copper Bottom Brewing, whose taproom overlooks the water at Montague, is one of the newest. This husband and wife team are noted for their strong IPAs, with some at a punchy 7.5%. If ales aren't your thing, there's a brew of another kind on the menu in the form of an old-fashioned cup of tea.
The best places to stay on Prince Edward Island
The historic hotel: The Great George, Charlottetown
Step into the lobby of this hotel in PEI's capital, and you're likely to find a roaring fire in winter, jazz blasting from old 78s on the gramophone and guests kicking back in the leather and velvet arm chairs.
No two rooms are the same at this property, first built in 1846. You could equally end up staying in a historic room in the main building, or one of the ultra-modern rooms located in the houses at the rear.
Top tip: Ian Cheverie is the only concierge on PEI to hold a much-coveted Les Clefs d'Or membership (entrance is only permitted for experienced professionals). He can help with everything from restaurant recommendations to which local beer to try during the hotel's happy hour, from 5pm to 6pm, where guests are offered a free drink.
The family-friendly option: holiday cottages, across the island
Something of a local tradition, some PEI residents have a main home and a more basically equipped holiday "cottage" they use in the summer. For visitors, facilities naturally vary but these self-catering homes can have extras such as hot tubs.
Shaw's Hotel and Cottages, opened in the 1860s, has 10 cottages and 15 chalets to rent near Brackley Beach. Or you can search for other cottage and self-catering options here.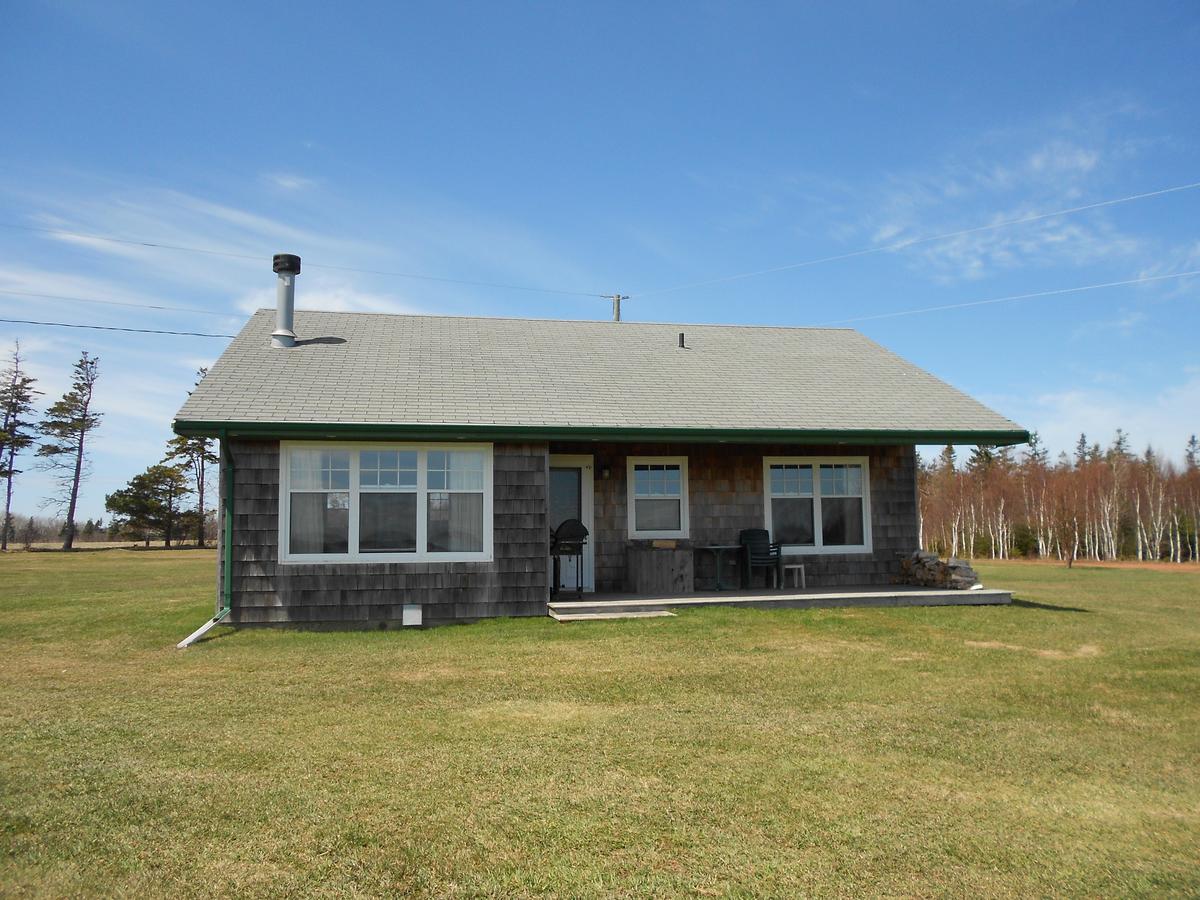 Shaw's Hotel & Restaurant/Booking.com
The haunted inn: West Point Lighthouse
On the far west of PEI, around a 90-minute drive from Charlottetown, West Point Inn offers 13 rooms. For a special occasion, book the second floor Tower Room with views over the Northumberland Strait. Also a museum, guests can climb to the top of the light, while for visitors there's a Can$10 (£6) fee. Oh, and it's rumoured to be haunted by long dead former keepers, with guests also reporting sightings of a phantom sinking ship...
Alex Bruce/Tourism PEI/Flickr/CC by 2.0
Itinerary: four days on Prince Edward Island
Day 1
Check into: The Great George hotel in Charlottetown, just a short walk from the main shopping area and the harbour. Then get your bearings on a walking tour. Leaving from the Great George hotel at 4pm daily, this free guided tour will whisk you around the main sights. Stop for a tea or a coffee at the Receiver Coffee Company on Victoria Row (pictured below) afterwards.
Milosk50/Shutterstock
Dine at: Claddagh Oyster House. Once you've had your fill of the oysters to start, make sure you save space for the quirky surf 'n' turf: glazed pork belly served with scallops. You'll find sticky date pudding on menus everywhere on PEI, but Claddagh's, which comes with a whiskey sauce and ice cream, wins hands down.
Have a nightcap at: the Hopyard. This laid-back venue offers a revolving selection of 10 local brews served with a soundtrack of vinyl records selected by customers – everything from Donna Summer to Radiohead could be on the playlist.
Day 2
Take a coastal drive: PEI isn't short of stunning scenery and there's no easier way to see it than by jumping in a car and hitting the road along one of the three stretches of the National Park. Driving from Brackley along the coast, be sure to stop at Covehead Lighthouse, above Stanhope Cove, to take shot of the beacon and surrounding sands.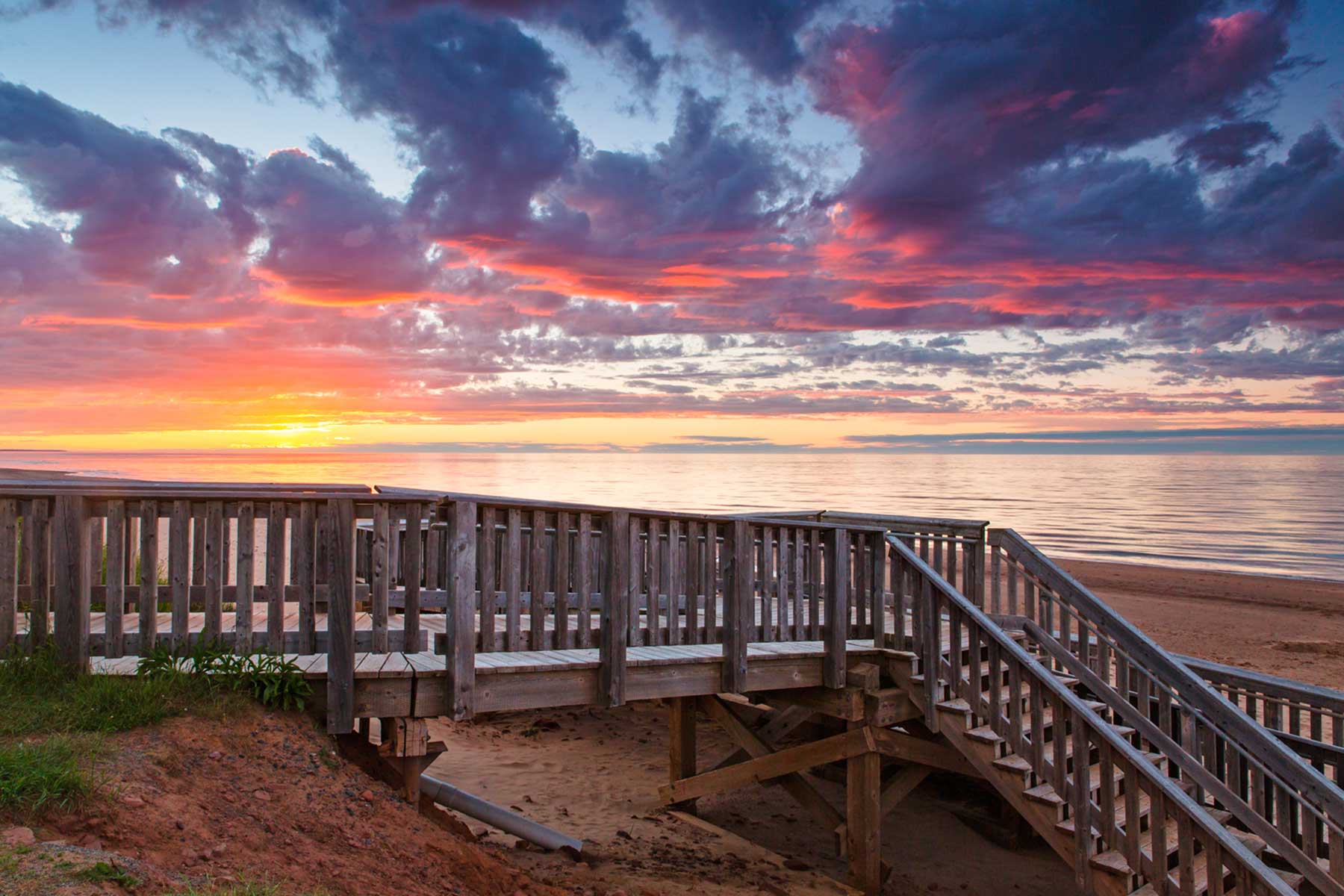 Tourism PEI/Carrie Gregory/Flickr/CC by 2.0
Then head along to Dalvay-by-the-Sea National Historic site to stop for a coffee at the former summer house that's now a hotel, to take in the elegant Queen Anne Revival interiors, coastal views and elegant gardens.
Lunch and shop at: Dunes Studio Gallery & Café. You can easily while away a pleasant hour wandering around this gallery and its beautiful garden. Known for works on canvas by local artists and for its beautiful ceramics, the café is a real treat too. House specialities include the lobster quiche, a deep pie filled with generous chunks of lobster meat, and the crab cakes, which also don't scrimp on the main ingredient.
Dine at: The Inn at Bay Fortune. Turn on Canadian TV and the chances are you'll see celebrity chef Michael Smith's face on screen. His first cooking show was set at The Inn at Bay Fortune and you'll need to book in advance to secure your place at one of the restaurant's 'fireworks feasts'. More of an event than a meal, proceedings begin at 5pm with a tour of the kitchen garden, herb garden and pigs with head farmer Kevin Petrie.
Then from 6pm it's 'Oyster Hour' with four different hors d'oeuvres stations. On our visit they included sturgeon tacos, a sausage pit (the tarragon currywurst sauce enhanced the flavours of the wood-grilled maple and cumin pork sausages), smoked salmon on a gouda cracker, and of course Colville Bay oysters served with an icy and slushy bloody mary sauce.
Don't fill up too much during the first hour though, as the main feast begins at 7pm (after a toast with local bubbles around the flagpole) with another six courses including bread baked with spelt heritage flour, salad of carrots and parsnips grown on site, and duck breast.
Day 3
Have a barbecue at sea: skip breakfast today and drive east to Georgetown. In the harbour you'll find Tranquility Cove Adventures skippered by the affable Perry Gotell. Heading out on his boat, the Tranquility 2000, with crew-member Art, you'll discover how fish is caught locally using muscle socks and lobster and crab pots.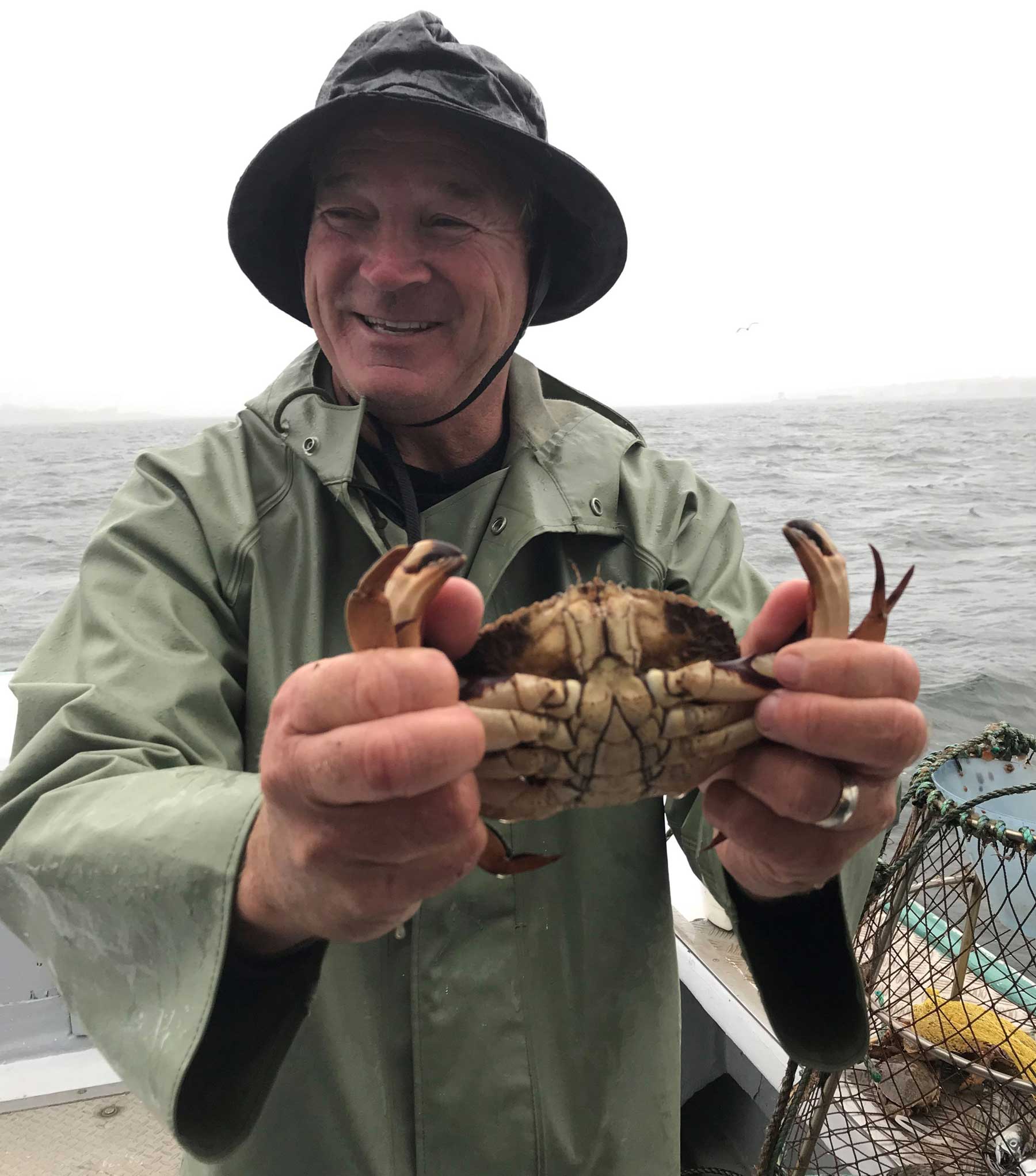 Laura Jackson
Onboard you can learn to handle a lobster and hold a crab (not as easy as you might think) as well as fish for mackerel from the back of the boat. Those you catch are used to whip up a mackerel ceviche or barbecued on the back of the boat using a lemon and pepper sauce made to Perry's own recipe. There's nothing more pleasant than spotting bald eagles as you sit on deck munching on your just-hauled-from-the-sea brunch.
Lunch at: save some room however for a late lunch at the Wheelhouse, Georgetown. This place is known for its 'Saltdaddy' lobster melt served with chips, but we rate the crab mac 'n' cheese – a metal skillet filled with Belle River rock crab, three-cheese sauce and topped with two snow crab claws. Waistline-busting, but worth it.
Talk a walk around Georgetown: pop in and meet local legend Peter Llewellyn at his jewellery store Shoreline Design. His creations in silver often utilise sea-glass and wood with beautiful rings from around Can$55 (£32.30) and make lovely mementoes. Peter's your man if you want to hear find out more about the history of the island and local tales.
Day 4
Join a cooking class: at The Table Culinary Studio. By day, The Table runs cooking classes, but come evening the venue is transformed into a restaurant catering for up to 18 people. Learn the art of baking focaccia, citrus beetroot bread or potato and black garlic bread – the black garlic is a oxidised bulb from nearby Eureka Garlic – on a four-hour Saturday morning bread baking course. Then tuck into your handiwork over a lunch of soup and with bread and butter pudding (what else?) for dessert.
Dave Brosha/Tourism PEI/Flickr/CC by 2.0
Discover a local hero: at the Green Gables Heritage Place. Once the home of Lucy Maud Montgomery's cousins, it was this house the became that inspiration for the book Anne of Green Gables. During July and August you can 'meet' Anne and join a picnic on Sundays. Inside, the house has immaculate Victorian details from cookware to lampshades, showcasing what island life would have been like in the 1890s.
Spend the afternoon in the south: head down to the south coast's red-hued beaches, making a stop at Victoria by-the-Sea. This quaint fishing village is packed with clapboard artisan outlets including a chocolate shop, and is another PEI spot with a dinky and photogenic red and white lighthouse.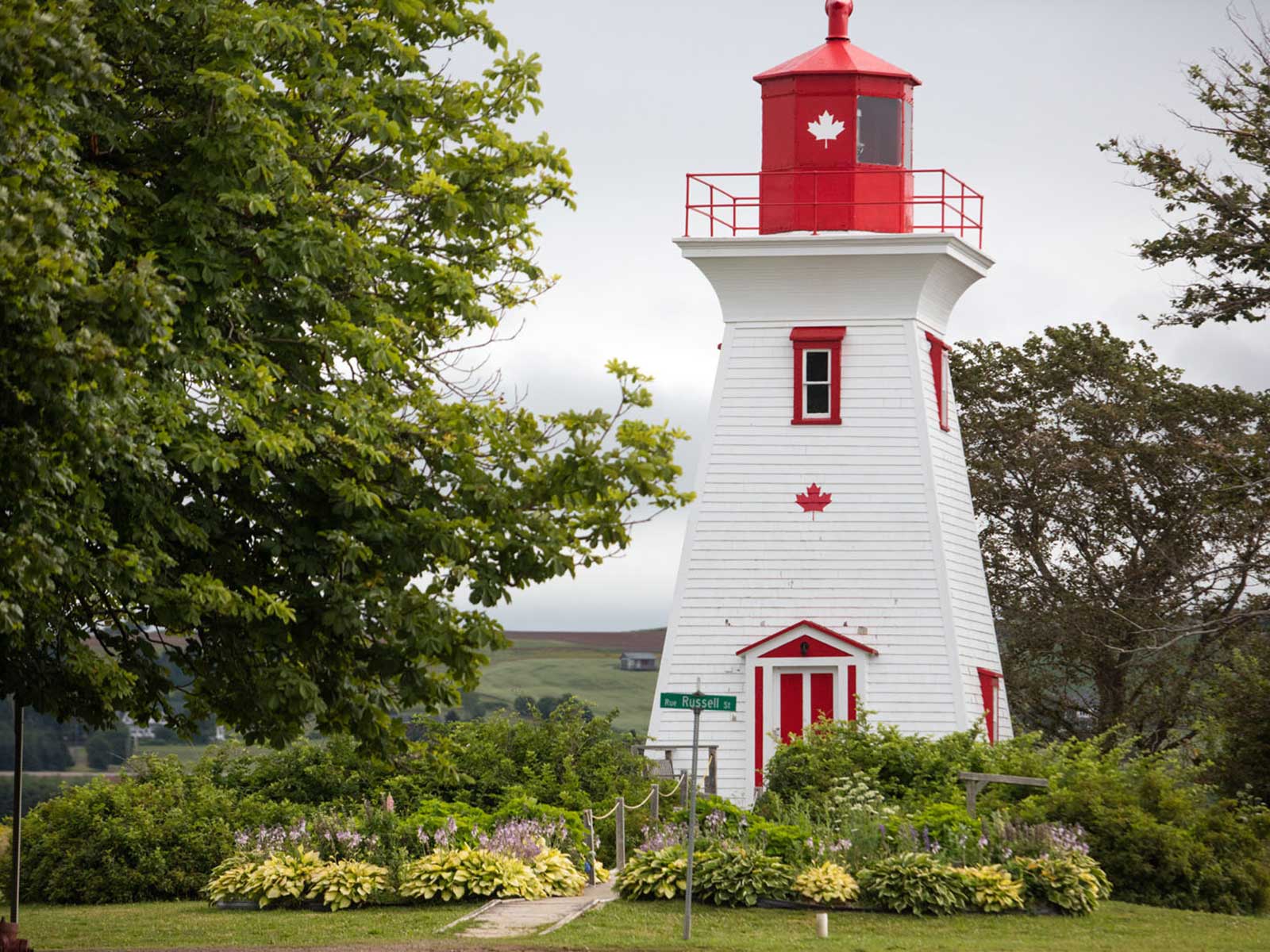 Tourism PEI/Emily O'Brien/Flickr/CC by 2.0
Have a late dinner at: Terre Rouge Bistro Marche in Charlottetown. When loveEXPLORING visited just before Halloween, the Grave Digger and Pumpkin ales were on the menu and the perfect match for a portion of mushroom toast with goat's cheese and black garlic aioli.
Festivals & events
Whatever time of year you're on the island there's like to be a festival taking place – and PEI residents certainly know how to party, and live music always features.
In July, Cavendish Beach Music Festival sees locals and international acts – Carrie Underwood and Keith Urban have been on previous line-ups – peform at a four-day extravaganza on the coast.
During Fall Flavours, a month of foodie events throughout September, there are a series of chefs' tables events and harbourside feasts in Charlottetown. Anyone who has ever wanted to learn how to shuck an oyster, should head to the Shiny Sea PEI Oyster Shucking Championship, part of the PEI International Shellfish Festival taking place in September.
Getting to Prince Edward Island
Flights: Air Canada flies from Halifax, Montreal, Ottawa, and Toronto with regular connecting departures to Charlottetown Airport.
Visa: Visitors from the UK need to apply for a pre-authorisation eTA here which costs around £4.
More information: Tourism PEI offers lots of advice if you're planning a visit. For general info on destinations in Canada, see explore-canada.co.uk.
Map of what to see on Prince Edward Island
From hotels to garlic producers, use this handy map to find our favourite places on Prince Edward Island
Be the first to comment
Do you want to comment on this article? You need to be signed in for this feature