Explore Nova Scotia: what to see, what to eat and where to stay
Clapboard towns, lighthouses and lobster rolls – Nova Scotia has them in spades. But it's not all about the cute and kitsch, Canada's maritime province offers innovative vineyards, wide beaches, modern cities and swish accommodation too.
Why go to Nova Scotia?
If it wasn't for the watery views of the Minas Basin below, the gently sloping vineyard with row after row of vines could easily be mistaken for Tuscany. It's certainly not what I was expecting from Nova Scotia, a region more well-known for reds and whites of a different kind – those of stripy lighthouses in clock-stopped coastal villages.
Yet Canada's second smallest province is packed with surprises beyond the obvious, not least its highly regarded wineries.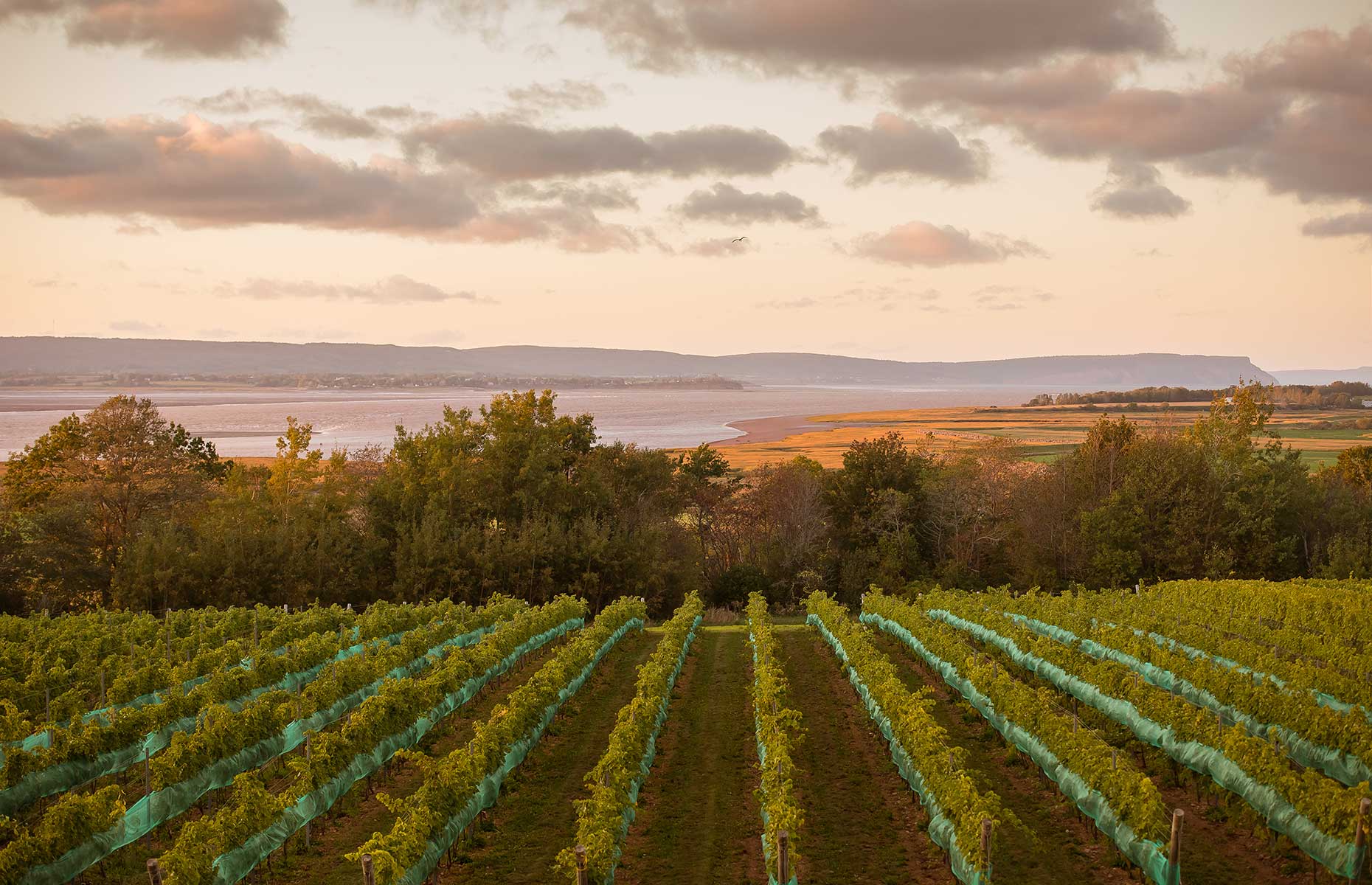 Tourism Nova Scotia
Taking a mini-road trip – doable in four to five days – means you can get around many of the region's highlights and enjoy hospitality in stunning hotels from sleek modern apartments to quaint inns.
Read more: 50 photos that will make you fall in love with Canada
It's (almost) impossible to get lost too, as the province's roads largely either follow the coast or cross from shore to shore. And nothing's more likely to make you feel like an adopted Nova Scotian than leisurely motoring along with a soundtrack of C100 FM blasting out on your hire car's radio, while en route to find your third lobster-based meal of the day.
Key towns in Nova Scotia
Halifax
Halifax's most impressive feature is its natural harbour – in size it's second only to Sydney, Australia, as the world's largest that remains unfrozen year-round. With a population of around 400,000, Halifax is Atlantic Canada's biggest city, but it has maintained a charming feel along the streets that slope towards the waterfront. Here you'll find a 2.5-mile boardwalk with lively restaurants, boutiques and the Maritime Museum of the Atlantic, showcasing artefacts from the Titanic. The city also has the most bars per person in the whole of Canada, making it a great place to sample locally-made beers and wines.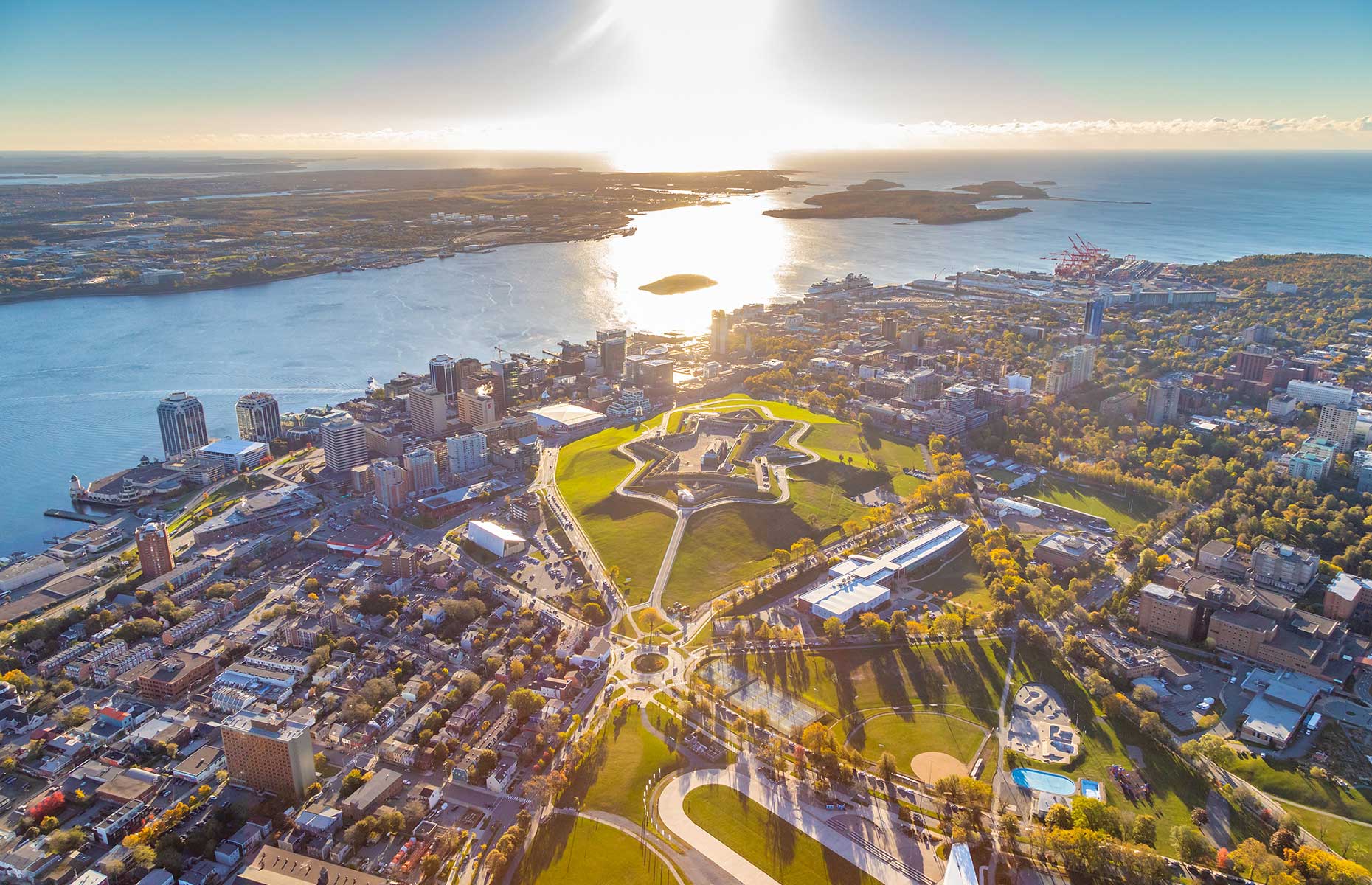 Acorn Art Photography/Tourism Nova Scotia
Halifax is also your likely arrival point in Nova Scotia as it has both a cruise ship terminal and Halifax Stanfield International Airport making it an easy place for your first night or two.
Wolfville
This university town in the Annapolis Valley on the northern side of Nova Scotia has an offbeat vibe. In town you'll find fun spots such as The Church Brewing Company and the Annapolis Cider Company, who create their tipples from apples plucked from local orchards. You're also in the heart of Nova Scotia's wine country, with vineyards an easy ride away on the Magic Winery Bus – a London-style double decker that tours five sites.
Lunenburg
There are plenty of other places around the world where you'll find Georgian architecture, but you'll struggle to find it in this quantity: 48 blocks of perfectly preserved pastel-painted and ornate buildings.
Read more: These are Canada's most adorable towns
These stunning homes and shops were built from 1753 onwards, when Protestant European settlers were assigned plots of land via a lottery. The town is now a UNESCO World Heritage Site and is teeming with independent seafood restaurants.
Top 5 experiences in Nova Scotia
1. Visit Peggy's Cove
There are pocket-sized lighthouses around every cove in Nova Scotia but the most pictured is Peggy's Point, a red and white beacon sitting majestically on the rocks around an hour from Halifax on Route 333. It is a charming spot but as this is one of the most famous lighthouses in the world, it does get busy. If you can, visit earlier in the day to get a parking space.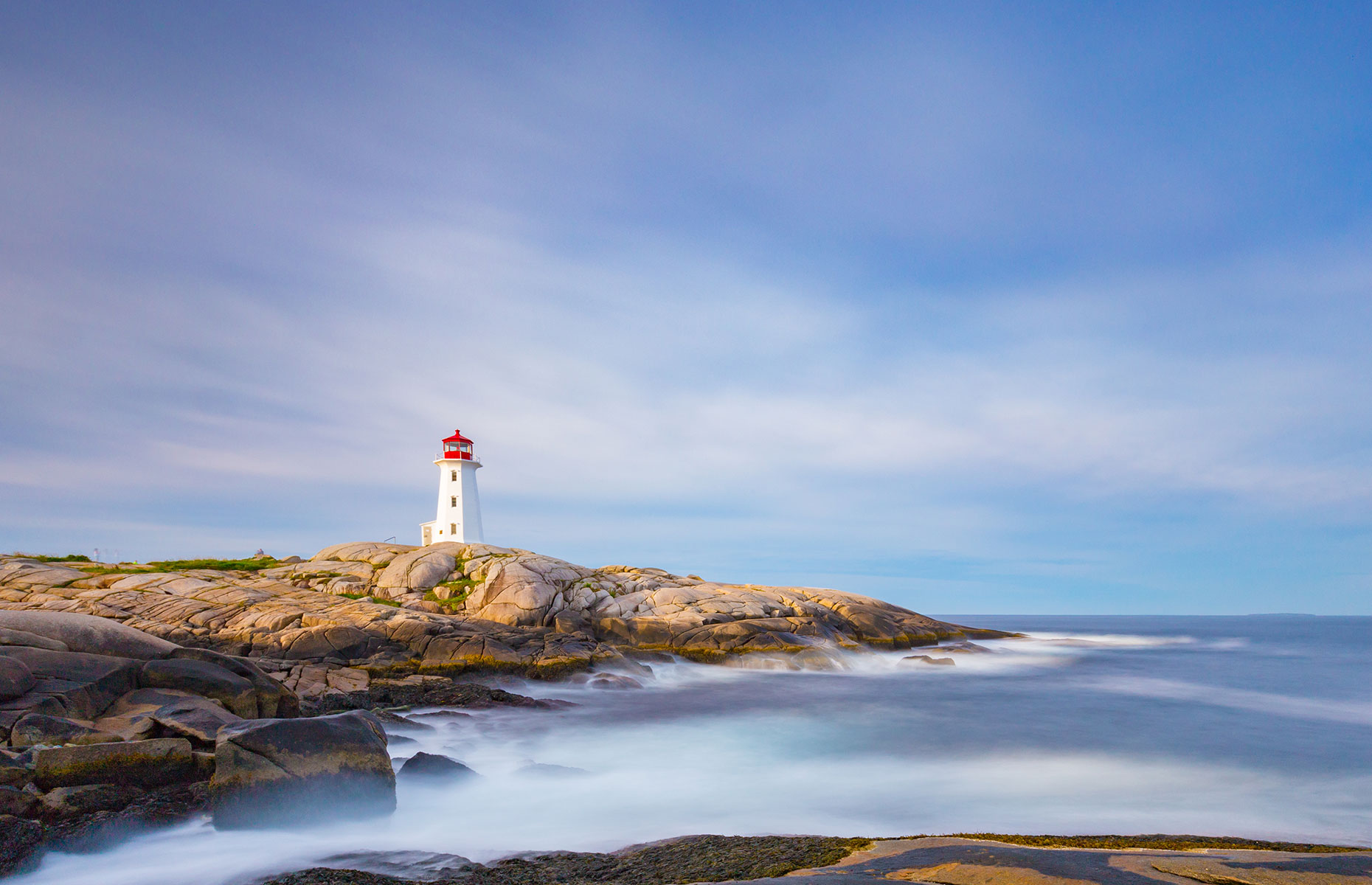 Acorn Art Photography/Tourism Nova Scotia
2. Kayak around Blue Rocks
Less Instagrammed than Peggy's Cove, Blue Rocks itself is another stunning spot, with another adorable lighthouse. Spend the morning exploring the charming village then post-lunch, join a 2pm kayak tour. Right on the edge of the Atlantic, the tour guides you through narrow channels around the area's islands, some of which are abandoned.
3. Hit the beach
Like its wineries, Nova Scotia's beaches are often untrammelled. Catch a hot spell at Summerville on the South Shore and there's nowhere better: long stretches of smooth beige sands are just begging to be turned into castles.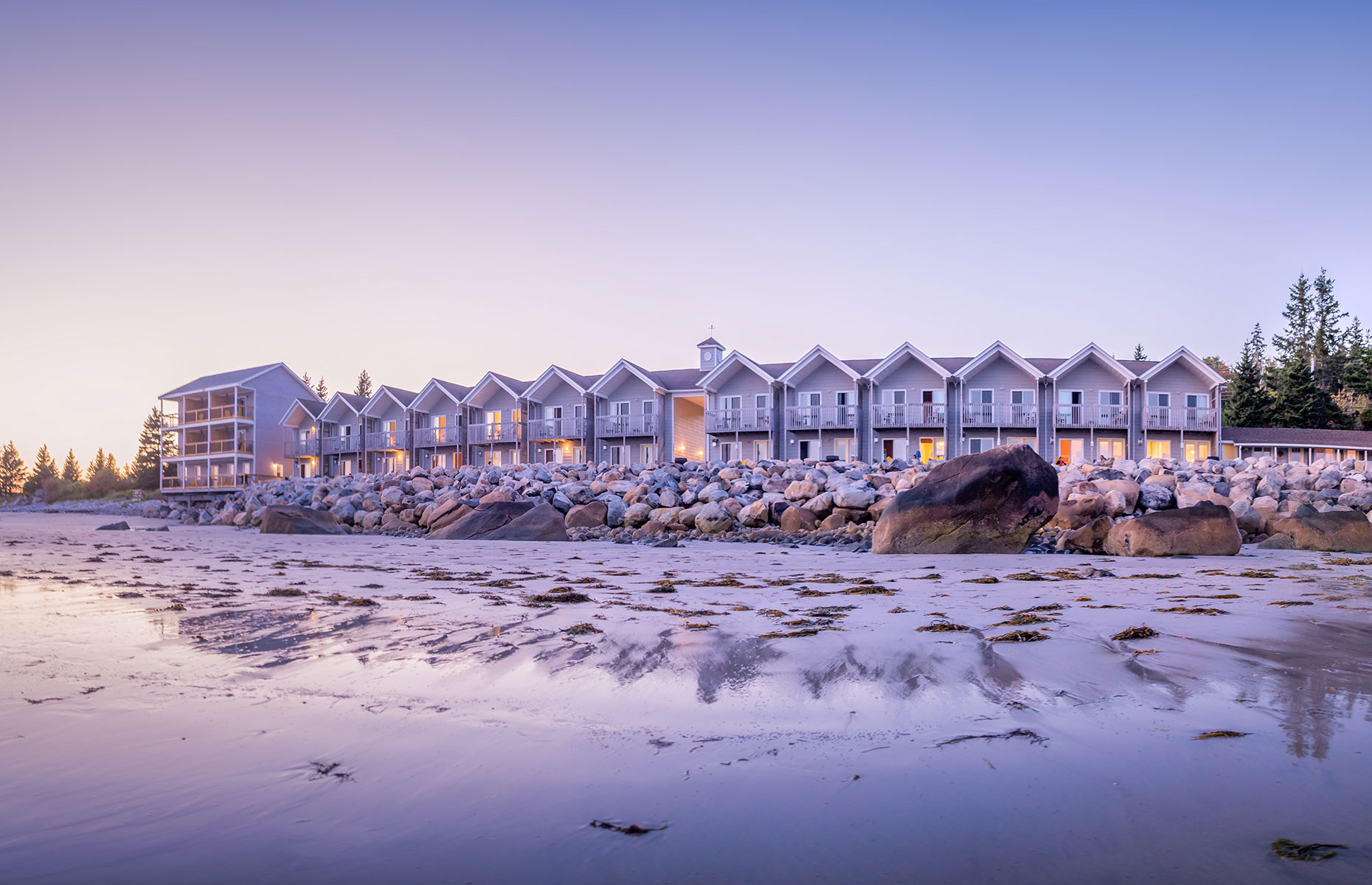 Patrick Rojo/Tourism Nova Scotia
4. Tuck into just-caught lobster
Lobster mac 'n' cheese, lobster burgers, creamed lobster, lobster rolls and even lobster crisps… no Nova Scotian would bat an eyelid if you tucked into a crustacean sensation at every meal. Lobster is available across the province from waterfront shacks to high-end restaurants. But if you really want an authentic local experience, skip the sides and order two or three just-plucked-from-the-sea lobsters at Halls Harbour Lobster Pound on the northern shore overlooking the Bay of Fundy.
5. Go wine tasting
Despite the snowy winters there are around 20 wine producers in Nova Scotia. The province doesn't export much wine beyond its borders, so you'll have to come here to try it. Reds are produced but really it's the crisp whites, including the signature Tidal Bay, that are the most exciting. Domaine de Grand Pré, Luckett Vineyards and Lightfoot & Wolfville are among the top picks.
Where to stay in Nova Scotia
The city stopover: The Westin Nova Scotian, Halifax
Right next to the harbour, the train station and bus station, this hotel has one of the best locations in Halifax, making it the perfect first stop on arrival in Nova Scotia. Room rates range from bargain singles to bigger suites, many with a view.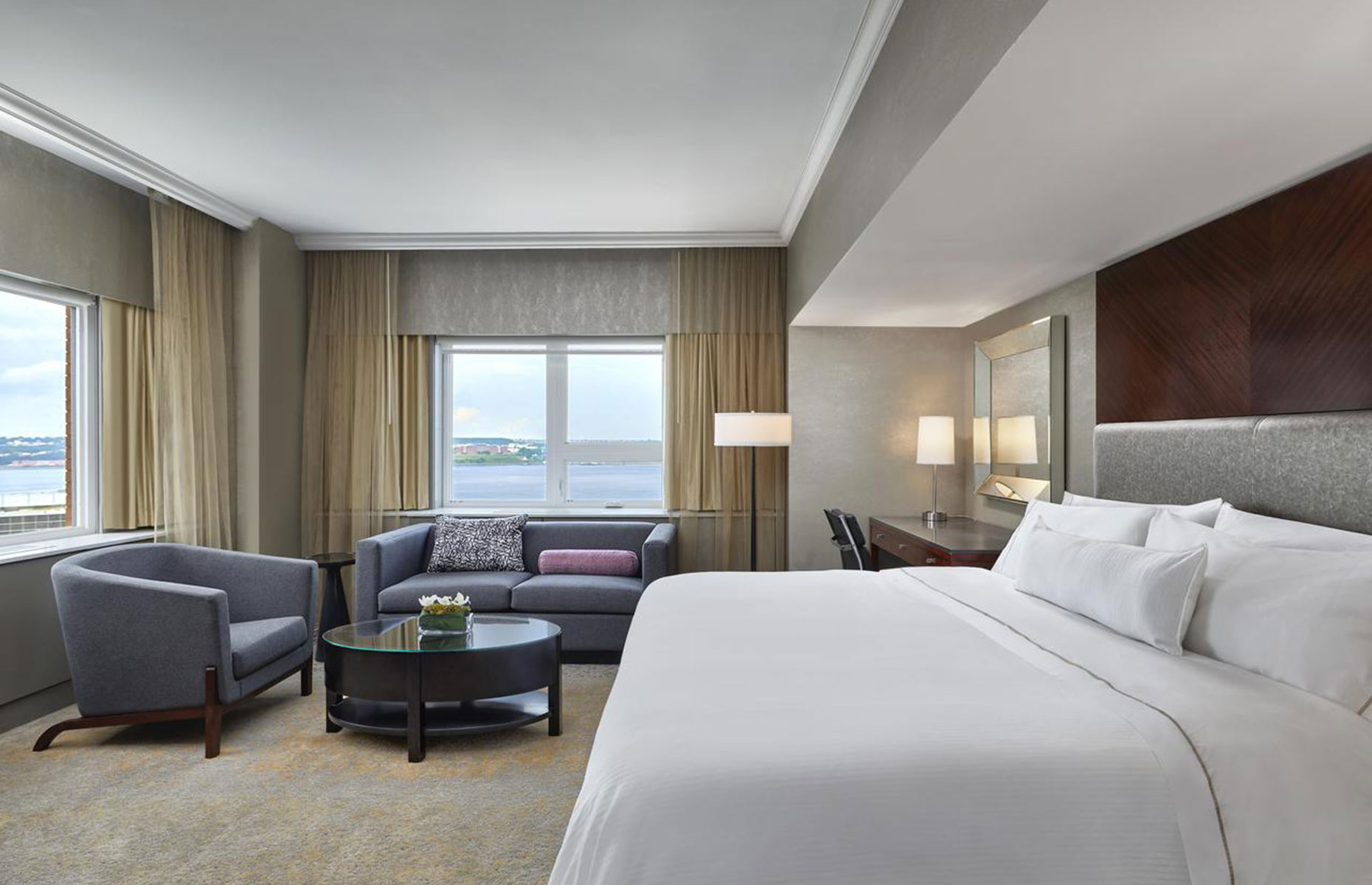 The Westin Nova Scotian/Booking.com
The beach-side stay: Quarterdeck Beachside Villas and Grill, Summerville, South Shore
If you want more flexibility or are travelling with children, there are plenty of self-catering options too. The Quarterdeck Beachside Villas and Grill has everything from lofts to three-bedroom apartments fronting the beach. There is an on-site restaurant but you can also self-cater with many rooms equipped with kitchens.
The quaint hotel: The Blomidon Inn, Wolfville
Sometimes only a four-poster bed will do, and this historic inn is where you'll find it. On the northern Bay of Fundy coast, the Blomidon is filled with character from the original Victorian floorboards to its stunning rose-filled garden in summer.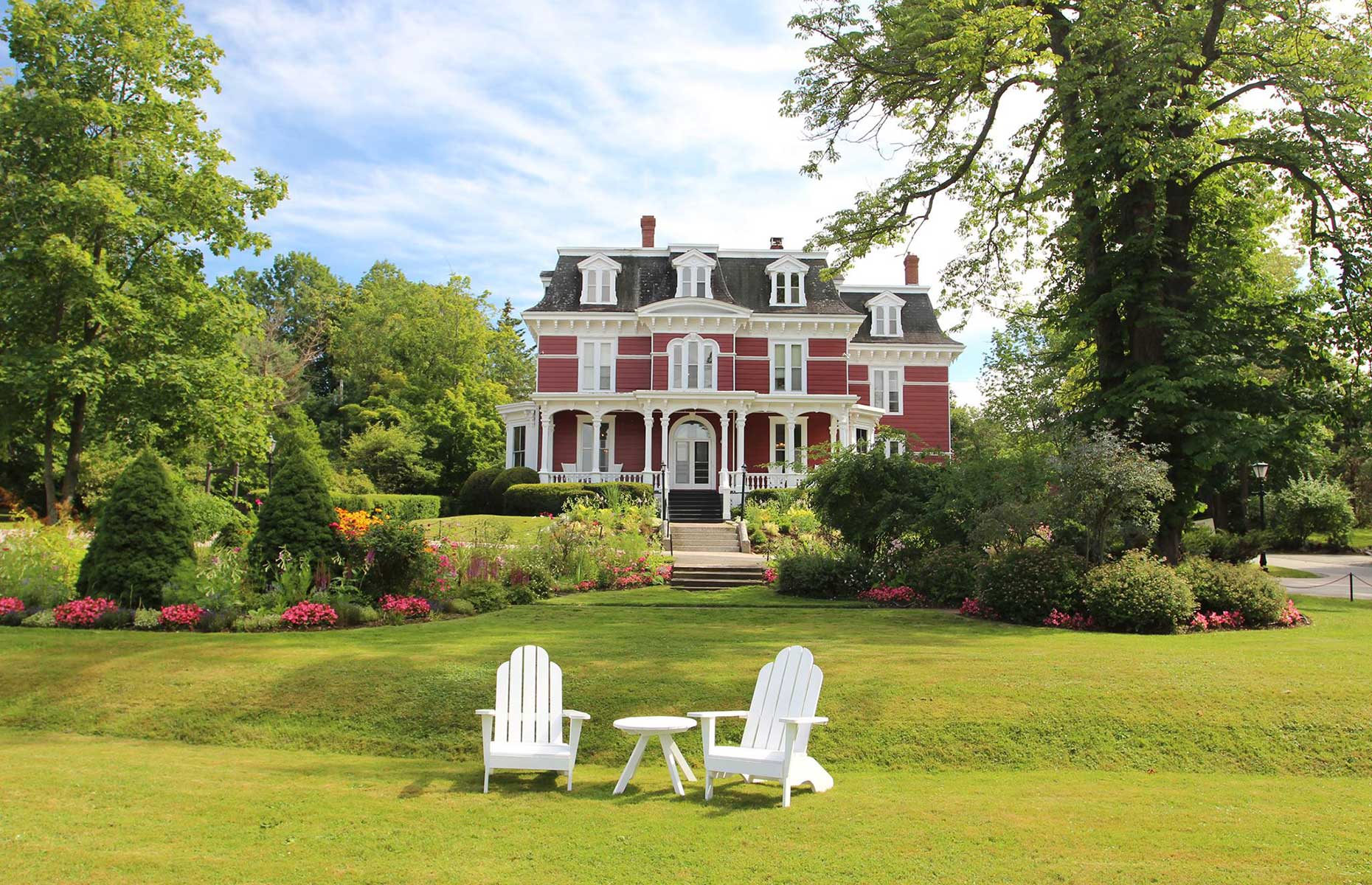 Blomidon Inn/Facebook
Itinerary: your perfect Nova Scotia road trip
Day 1: Halifax
Check-in to: the Westin Nova Scotian. In spitting distance from Halifax's boardwalk, the waterfront rooms are the most desirable and come with spacious bathrooms and nice touches including robes.
Stroll along: the waterfront. Halifax's most buzzy area is its shore with shops, food shacks and bars overlooking the harbour. Stop at the Stubborn Goat beer garden for a menu exclusively featuring local ales including Garrison Tall Ship ale (light and hoppy). Or grab fancy flavoured ice cream at Cow's, the maritime region's best-loved purveyor of frozen treats.
See a deck chair from the Titanic: After the doomed liner sank on 15 April 1912, three vessels from Halifax braved the iceberg-dotted seas to bring back the bodies of lost passengers. Today artefacts including a deck chair and wood panelling from a first class lounge are on display at the Martime Museum of the Atlantic, with many retrieved by Halifax's heroic ship the Mackay Bennett.
Tuck into a lobster roll: at Dave's Lobster. This shack on the front is the place for your first lobster fix. You can have it served in tacos but the Nova Scotian's would order it "local style" with a squishable buttery bun, mayonnaise, celery, chives, lemon butter and piles of lobster meat. It's not cheap, the medium-sized will set you back £12.95 (CAN $21), but worth the price.
Day 2: Halifax, Peggy's Cove and Lunenburg
Take a Harbour Hopper Tour: Using repurposed amphibious vehicles built to move troops during the Vietnam War, the Harbour Hopper transports you around town and out onto the harbour. Trundle up to Brunswick Street to see the eight-pointed star-shaped citadel and the historic four-faced clock at the top of the hill. You'll then head back down to float around the harbour itself on the hour-long journey.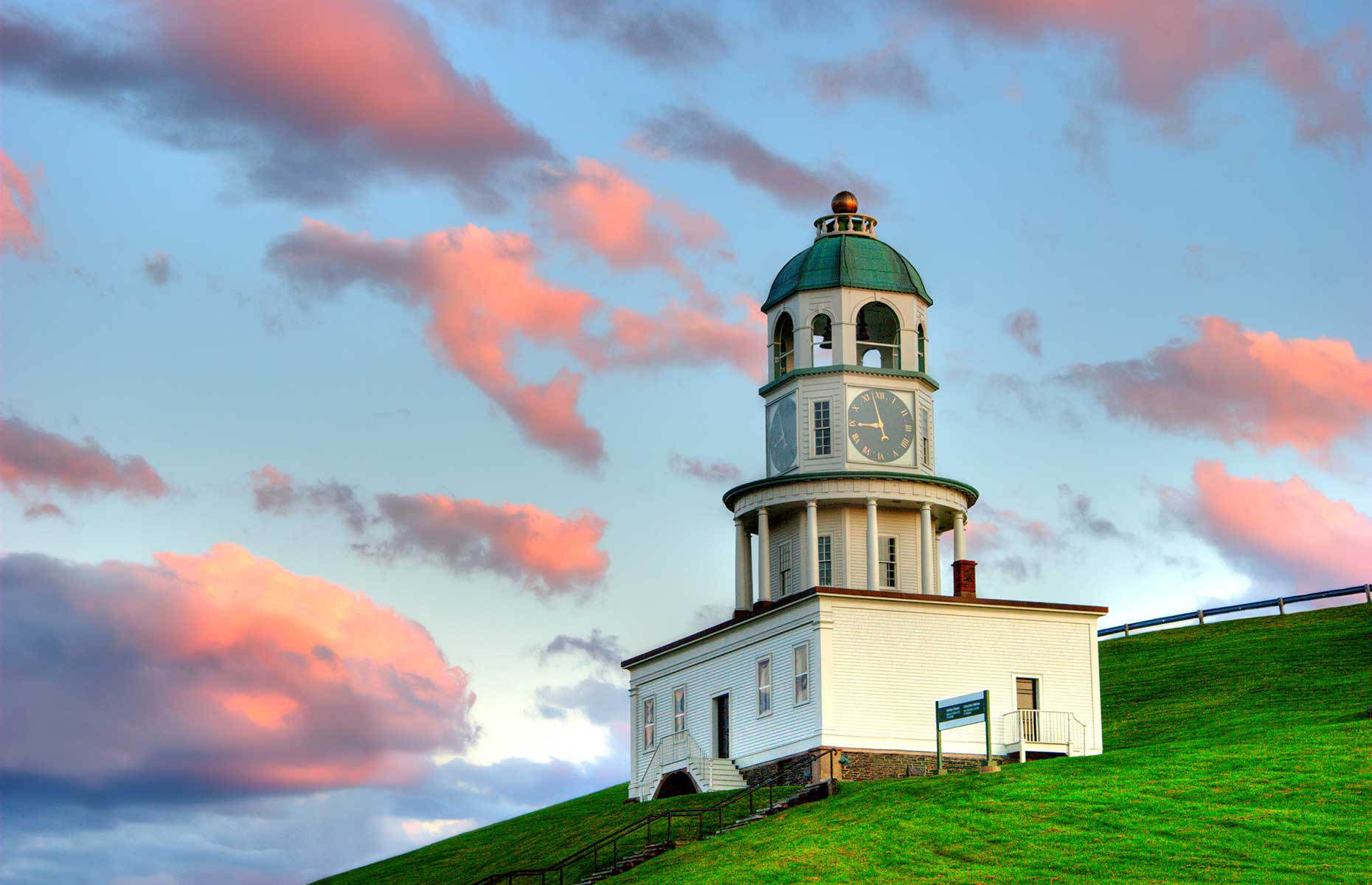 cworthy/Shutterstock
Have lunch at: Waterfront Warehouse Restaurant. In summer you'll want to sit out on the terrace of this former tugboat workshop and tuck into (yet another) lobster roll. Or go for a seafood sharing platter featuring salmon jerky and a scallop mortadella.
Drive to Peggy's Cove: Hit Route 333 and head an hour along the coast to spend the afternoon at Peggy's Cove. It's famed for its lighthouse, but there's more to see than just the brilliant white beacon. In fine weather you can scramble along the rocks and take in this charming town. There are gift shops to nose around and pleasant spots to sit overlooking the cove with an ice cream.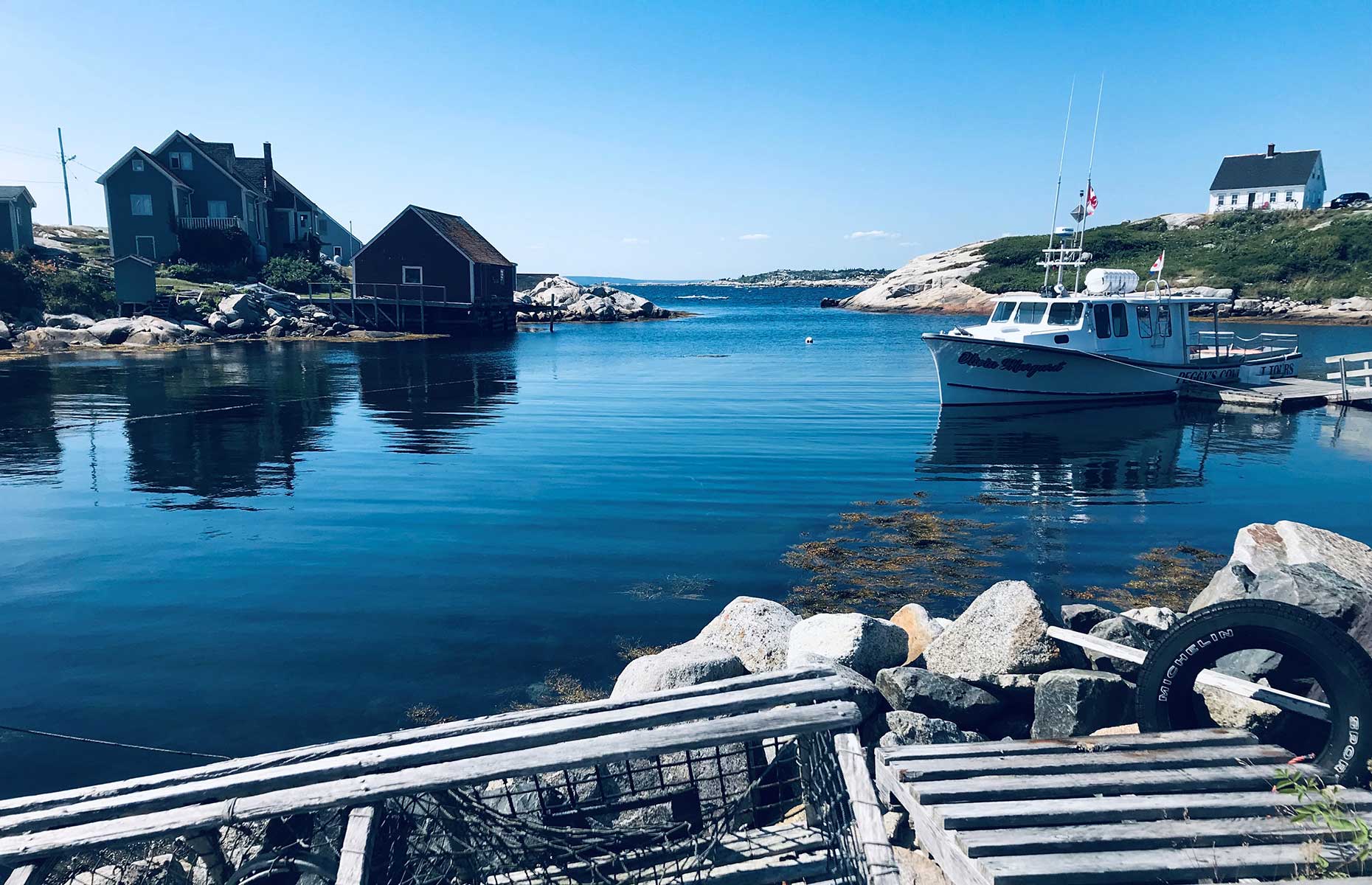 Laura Jackson
Top tip: Be careful on the slippy black rocks, especially if it's been raining as people have fallen and lost their lives. Bring sensible shoes with a good grip – flip flops won't do the job.
Drive to Lunenburg: Every street in this UNESCO World Heritage Site is crammed with historic clapboard wooden houses and it's one of the prettiest small towns in the world. It's a 90-minute drive from Peggy's Cove. About 15 minutes before you get to Lunenburg you'll pass by a scenic photo stop that offers great views towards the coastal village of Mahone Bay. It's the best place to capture the towns famous "three churches".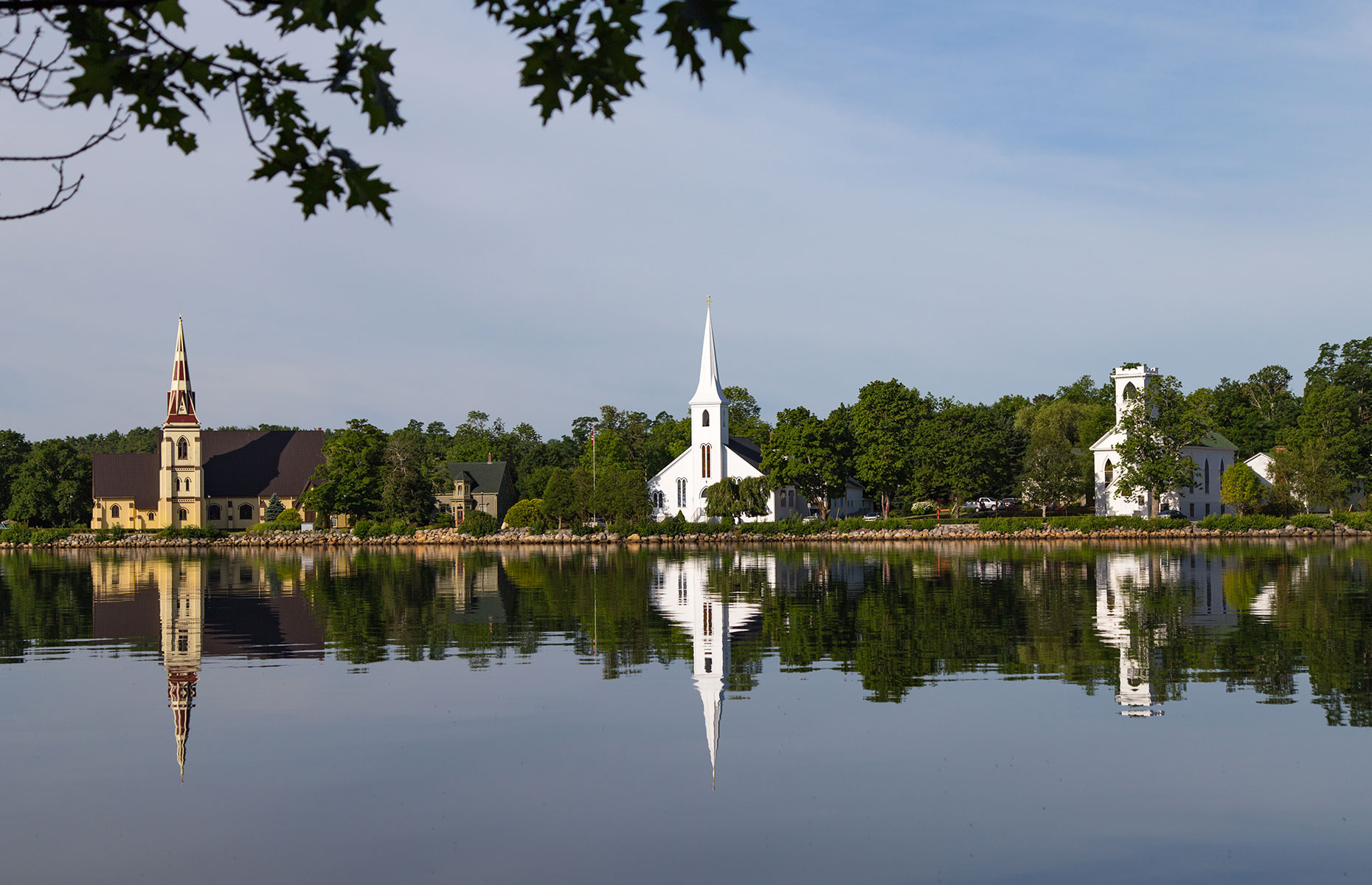 Tom Clausen/Shutterstock
Check-in to: The Lunenburg Arms Hotel. In the heart of Lunenburg, one street away from the harbour, the inn offers home-style accommodation with fast Wi-Fi.
Have a seafood feast at: Old Fish Factory Restaurant. You have to pass through the Fisheries Museum to get to this seafood joint right on the harbour. Top hits not to miss include a round of oysters (Valley Pearls from neighbouring province Prince Edward Island and Malagash from Nova Scotia were the catch of the day) with a house mignonette. The locally-caught scallops in butter are a treat too, especially when accompanied by a bottle of Nova 7 from Nova Scotian producer Benjamin Bridge – a sweet wine with a gentle hint of fizz.
Read more: Check out our full guide to Nova Scotia's neighbour Prince Edward Island
Day 3: Lunenburg, Blue Rocks and Summerville
Have breakfast at: Risser's Social House. There's no hint of a sloppy buffet at this restaurant inside the Lunenburg Arms Hotel as breakfast arrives via table service and is made to order. Our pick is the cream cheese bagel with Nova Scotian smoked salmon.
Learn about Lunenburg's history: on a stroll with Lunenburg Walking Tours. Our tour guide Kerriann, was an eighth generation Lunenburger, whose ancestors settled in the town in the 18th century. Her insider knowledge means you can discover secrets you'd never spot by yourself, like the story of the homeowner who blocked up the windows on one side of his Georgian property to prevent his teenage daughters from cavorting with the young lads in the boarding house next door.
You'll also see the magnificent monochrome St John's Anglican Church, rebuilt in 2005 after a fire destroyed much of it in 2001.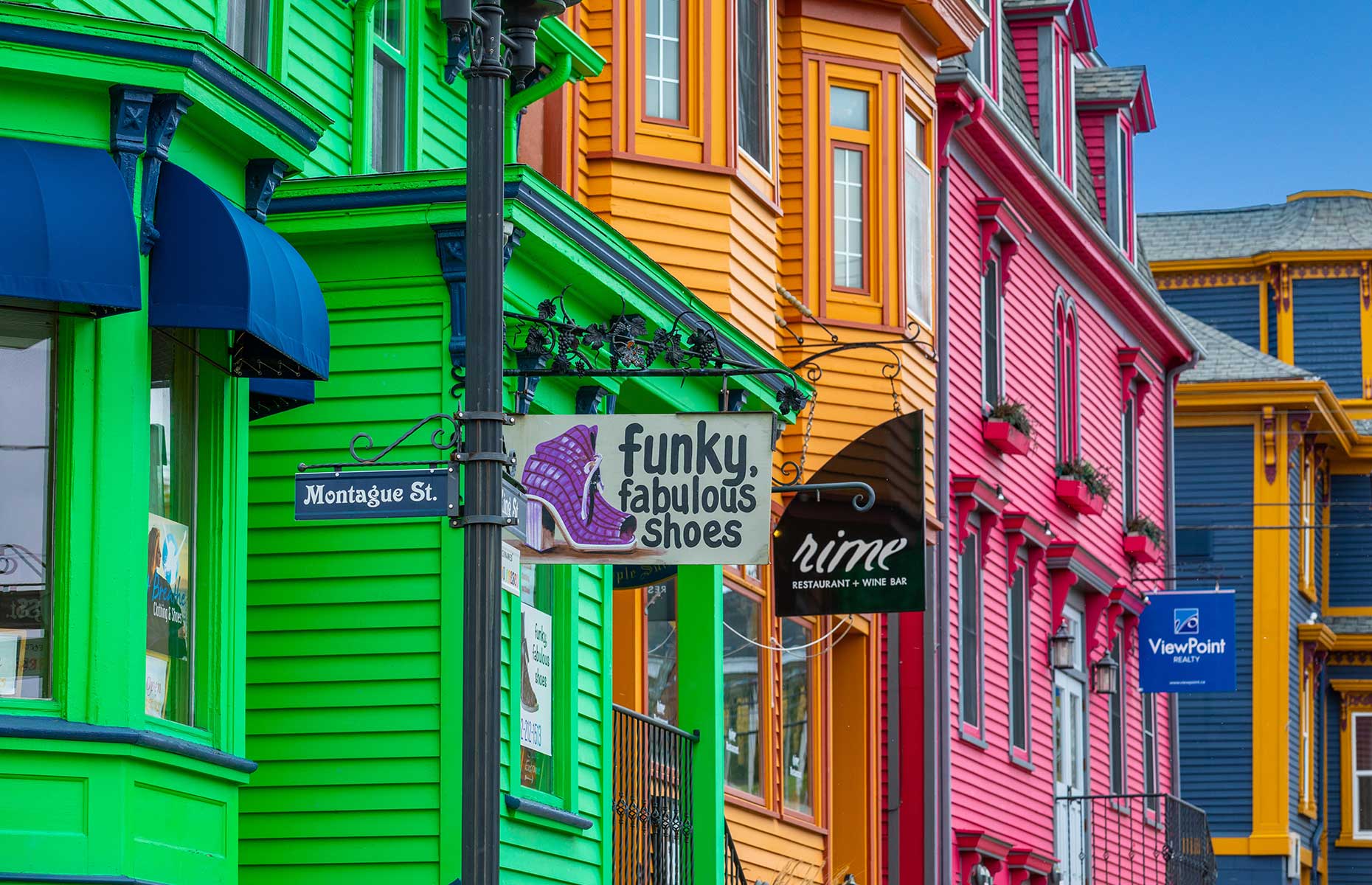 Acorn Art Photography/Tourism Nova Scotia
Challenge yourself to: finish a Lunenburger at the Grand Banker & Grill. It's not a gimmick – the six ounces of local beef patty, bacon, spinach, tarragon butter sauce and lobster claws topped off with a bacon-wrapped scallop really tastes as good as it sounds. Plus the setting, on the hill overlooking the water, is perfect too.
Stop off at: Ironworks Distillery. The local firm is known for distilling vodka made from apples in the Annapolis valley but it's actually their rums we loved. The limited-edition Rum Boat Rum is matured on a vessel moored in Lunenburg harbour for between two and five years.
Tour the islands: on a kayak. Never kayaked before? The millpond-like waters of the Atlantic that surround the tiny maze of islands near Blue Rocks, are a great place to start. Lucas and David at Pleasant Paddling will get you kitted out, explain the best technique (which won't leave you aching the next day) and tell stories along the way of the geology of the local area.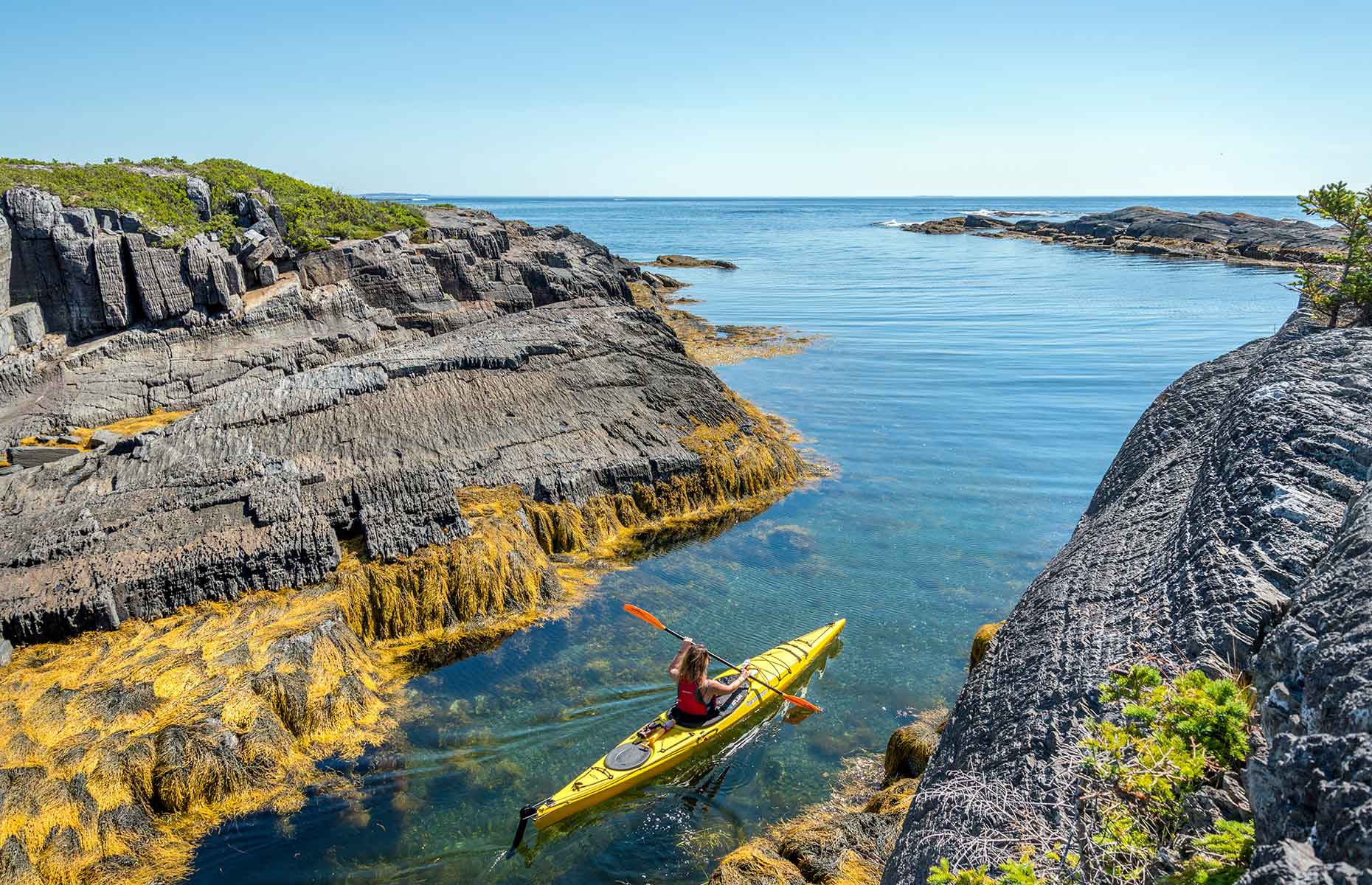 Tourism Nova Scotia
If you're lucky you'll see seals, but you're absolutely guaranteed to float past Eastern Point, an abandoned fishing village with a general store and deserted homes. The three-hour tour sounds like a long time but you'll wonder where it went.
Head to the beach: The southwestern coast of Nova Scotia is littered with wide, cream-coloured sands. Summerville is among the prettiest, an hour's drive from Lunenburg.
Check-in to: the Quarterdeck Villas and Grill. Facing the beach at Summerville, this hotel offers a range of accommodation from modern doubles to three-bedroom apartments with balconies that overlook the sea.
Day 4: Summerville to Wolfville
Grab breakfast at: Five Girls Baking. Just 10 minutes' drive away in the town of Liverpool, this family-owned bakery produces everything from bagels to croissants on site. You could also pick up a picnic lunch while you're here.
Spend the day by the sea: at Kejimkujik National Park Seaside. This national park is split into two sections, inland and coastal around 60 miles (97km) apart. The seaside portion, overlooking the estuary by St Catherines River Bay, is just a short ride away from the Quarterdeck.
You can join the Gone Crabbin' Adventure – a four-hour experience where you collect traps containing invasive European Green Crabs (aka shore crabs). These invading crabs have been damaging native eel grass, preventing local lobster and eels from thriving. More than 2 million have been collected since the project started and are either eaten or used by farmers for fertiliser, and may be made into a biodegradable type of plastic in the future too. Gone Crabbin' runs during July and August, Thursday to Sunday at 10am, £37 per person ($60.65).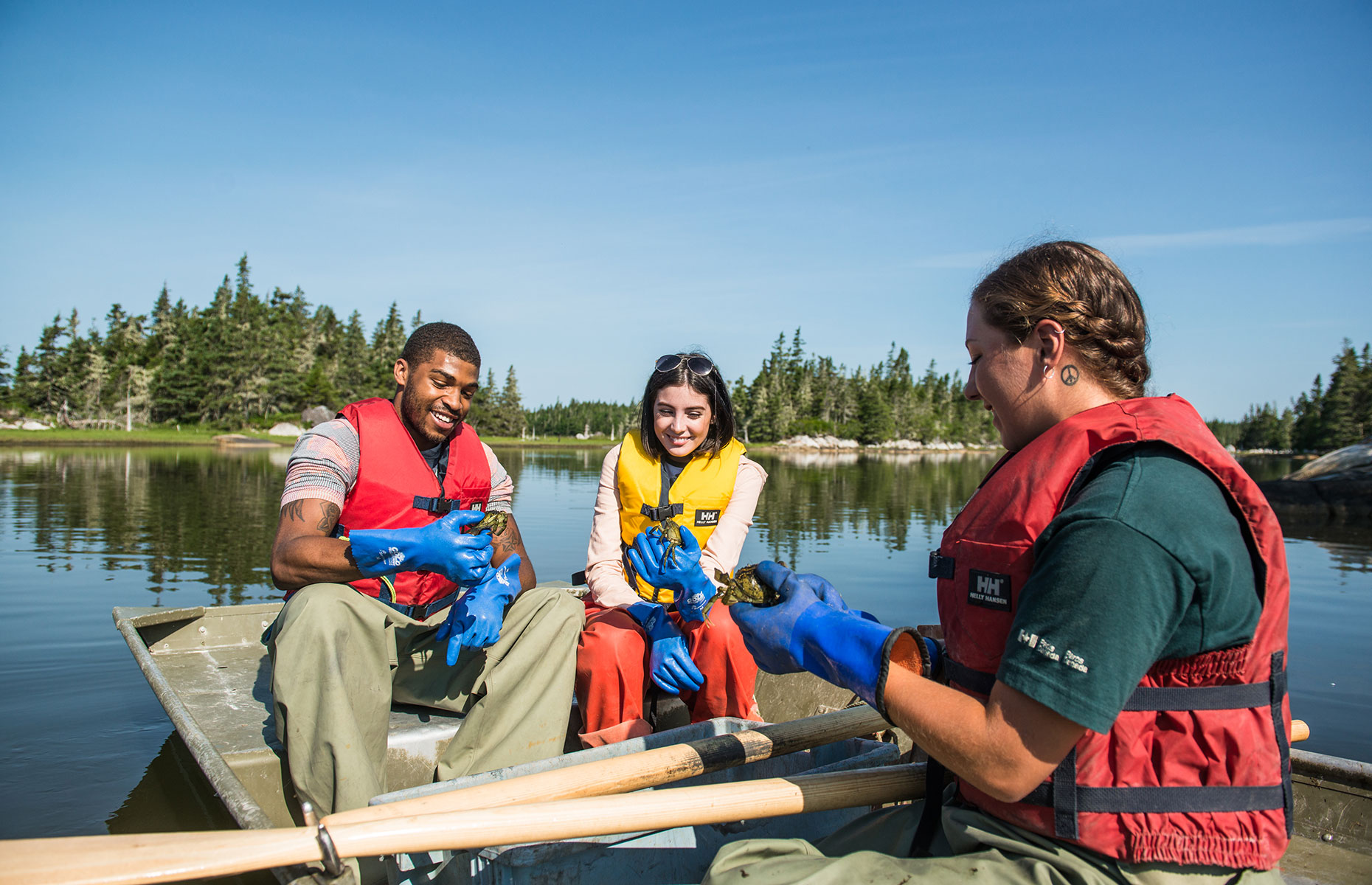 Courtesy of National Parks Canada
If being on a boat isn't your thing simply walk the 3.5 mile (5.6km) round trip Harbour Rocks Trail. Keep your eyes peeled for Piping plovers, an endangered bird that nests on the beaches here.
Drive to: Wolfville in the Annapolis Valley. It's a scenic 2.5 hour drive crossing the width of Nova Scotia to Wolfville, near the Bay of Fundy, which has the highest tides in the world.
Have a lobster supper at: Hall's Harbour Lobster Pound. A member of staff (if he's around ask for Lowell) will be on hand to give you the behind the scenes tour. On our visit Lowell showed off a 13lb giant lobster he'd fished the month before. Luckily you don't have to eat anything quite so ginormous, as in the restaurant itself you can pick from small, medium, large and jumbo crabs (1lb to 3lb+) for a lobster meal package starting from £20 ($32.70). Hoick, pull and suck the meat out at the table – if you're not dripping to your elbows in salty lobster juice you're doing it all wrong. Also, ordering a lobster mac 'n' cheese "for the table" is highly recommended.
Check-in to: Blomidon Inn. This former sea captain's house is all Victorian elegance with teak furniture, tucked away alcoves, scale-models of ships and oil paintings around every corner. Every bedroom is different and named after a local town or area. Ours even had a four-poster bed so high you had to use a step to access it (an ideal workout after a lobster supper...).
Day 5: Wolfville to Halifax
Grab breakfast: at the Blomidon Inn. If you're not stuffed from the night before grab breakfast. There's a big spread of continental food, but even if you just fancy a coffee it's worth stopping by to start the day in the elegant Victorian-style dining room.
Tour a vineyard: at Domaine de Grand Pré Winery. Of the 20 wineries in Nova Scotia this was the first and has been producing fine wines since 2000. While winters are harsh there is a short but productive growing season that results in dry but gentle whites with around an 11% ABV. Top picks include L'Acadie Blanc with top notes of grapefruit and a buttery finish that pairs well with seafood.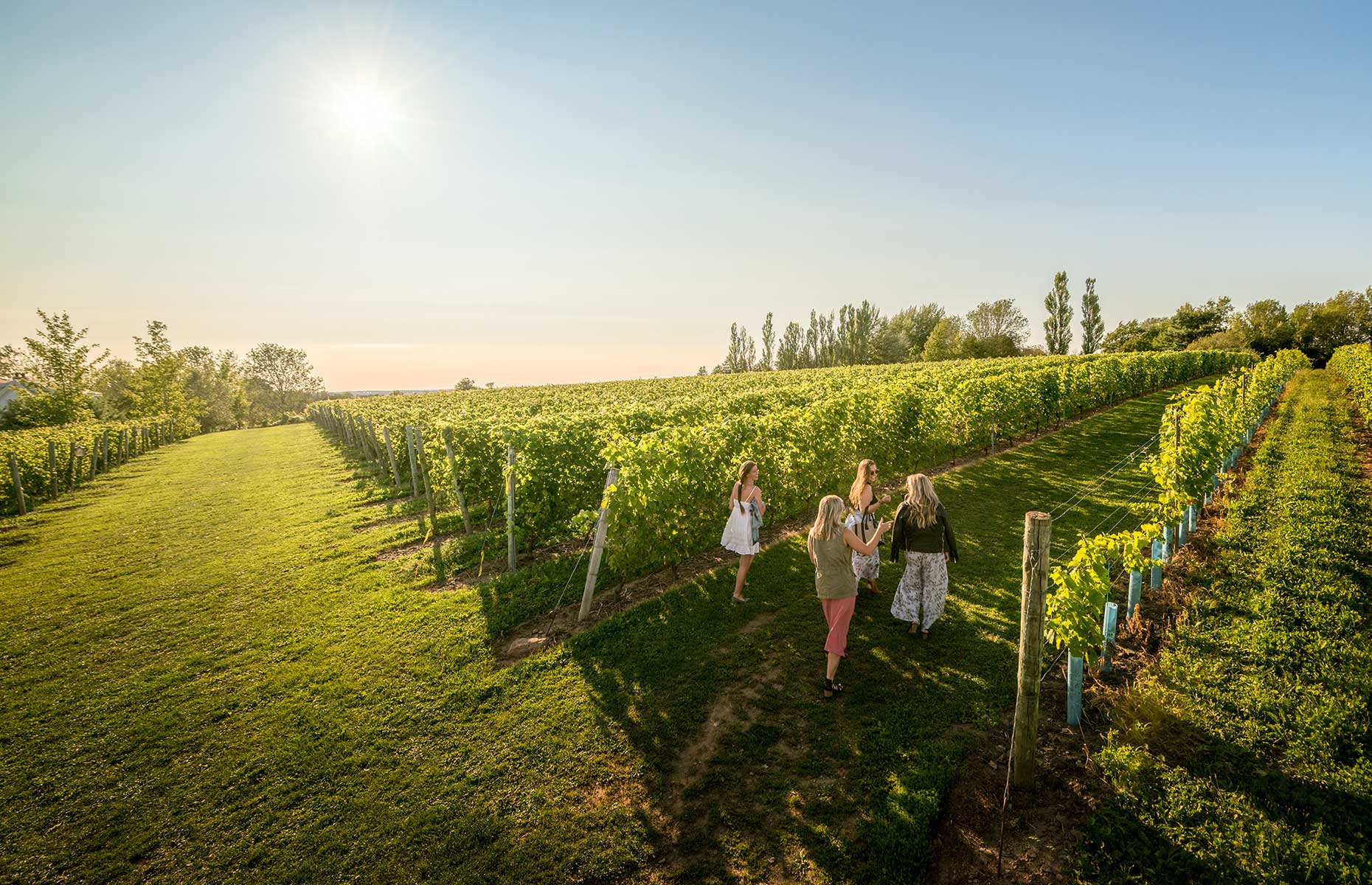 Tourism Nova Scotia/Patrick Rojo
Head back to Halifax: When you need to leave Nova Scotia, it's an hour's drive from Wolfville back to Halifax, where you can either catch a flight, or for something more civilised, take the train to Montréal to continue your journey.
Read more: 7 reasons to visit the Okanagan Valley
Getting here and more information
Usually there are direct flights from London Heathrow with Air Canada, with the best alternative flights going via Toronto. Westjet offers a seasonal service with direct flights from April to October, from London Gatwick to Halifax.
It is also possible to get to or from Halifax by train from Montréal on Via Rail's The Ocean sleeper train. Read our review of the service here.
For more information about Nova Scotia, visit the Nova Scotia tourism site.
Map of a road trip in Nova Scotia
Be the first to comment
Do you want to comment on this article? You need to be signed in for this feature