Explore Las Vegas: things to see and do, where to stay and what to eat
Big, bold and bright – that's Las Vegas, alright. Blinding neons to rival Times Square, ostentatious hotels transporting visitors from Venice to ancient Egypt and award-winning dining and entertainment wherever you look – superlatives suit the Sin City. However, new cultural openings, hip restaurants by off-the-wall celebrity chefs and a mesmerising desert location mean there's plenty to get excited about beyond The Strip.
Why go to Las Vegas?
A city for opportunists, pioneers and outcasts, Las Vegas grew out of the desert just like all the towns in the West – with people flocking to the new frontier in search of gold, jobs and often away from law enforcement. Unlike most of them, Vegas was lucky to keep its fortunes and while Gold Rush towns turned to ghost towns, Sin City grew into a desert oasis.
Las Vegas has had many lives – once America's heart for glamorous entertainment, with Frank Sinatra as its poster boy; the backdrop to high-profile celebrity marriages (and divorces); even a nuclear tourism destination. It has tried life as a safe haven for the mob, pivoting to family-friendly holidays and now bidding to be the world's top sports destination for events like the F1, Super Bowl and boxing. Whatever you think Vegas is, there are glimpses of all of its past lives, from the oldest still-operating casino to new, innovative projects like the Sphere.
Las Vegas is all about living large and it's pretty impossible to resist its you-only-live-once attitude. Even if you come here thinking it's not your cup of tea at all, the joyous excitement, Vegas' non-stop sense of occasion and high-wired atmosphere will have you screaming "Vegas, baby!"
Mark Damon/Las Vegas News Bureau
READ MORE: The incredible history of Las Vegas
Unmissable Las Vegas attractions
Las Vegas Strip
Nothing in the city quite compares to this magical four-mile (6.5km) stretch down Las Vegas Boulevard.
Once you've had a chance to gawp at the flashing signs, dazzling architecture and the sheer size of everything, plan a walk down The Strip during the day and at night. Start by taking an Uber (or the painfully slow but much cheaper local bus service, The Deuce) to the iconic Welcome to Fabulous Las Vegas sign. Be prepared to queue a little but go at dusk and you'll be rewarded with a silky pink sky and twinkling lights as the backdrop. Then, head north and you'll pass household names like Mandalay Bay, Luxor, Excalibur and Tropicana. After a quick stroll through New York-New York, head to Park MGM where a convenient, free and airconditioned tram will whisk you to Bellagio via Aria. This is arguably where the best stretch of Las Vegas Strip starts.
Before heading back out in the heat, don't miss a chance to take a peek at the jaw-dropping Bellagio Conservatory. A horticultural team transforms this space every season into a magical floral destination. Pass by the famous fountains (more on this later), snap a pic of Paris Las Vegas' Eiffel Tower (or go up for magnificent views of The Strip) and head past Caesars Palace to wrap up your whistle-stop tour at The Venetian.
At night you'll definitely want to linger by the Bellagio Fountains. Mesmerising performances are on every 15 minutes or so, surprising spectators with a new music, light and water show each time. Don't be surprised if you find it difficult to peel yourself away from this glorious choreographed spectacle.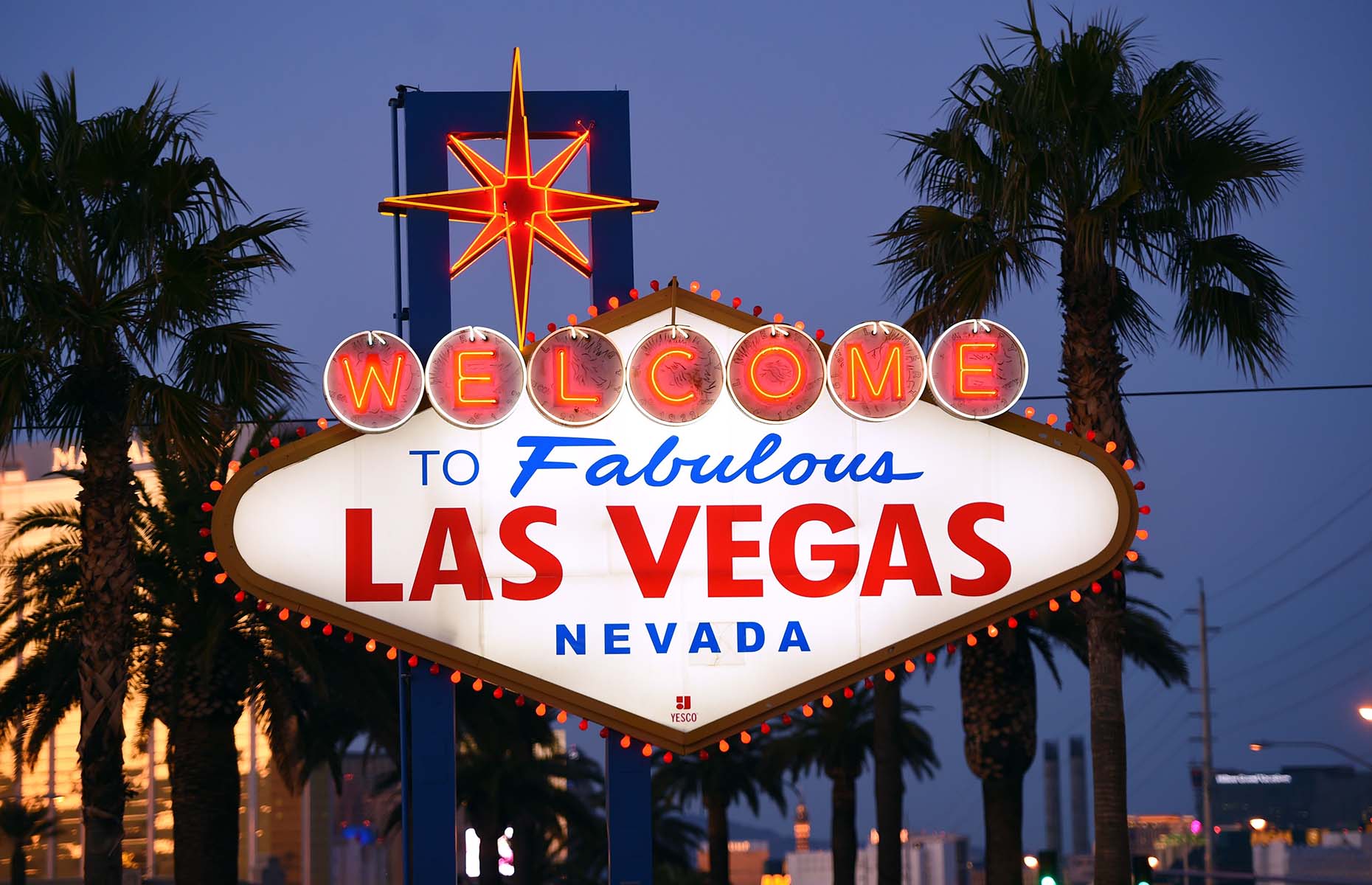 Sam Morris/Las Vegas News Bureau
The original Strip if you wish, Fremont Street has gone through many ups and downs as the city's downtown, from being at the centre of the action to a run-down and forgotten area and has now once more been transformed into a must-visit part of Las Vegas.
This is where the story of Sin City really began with old school casinos like Golden Nugget and Pioneer Club (home to the once-waving Vegas Vic). In a bid to modernise the area and bring visitors back to downtown Las Vegas, the street was pedestrianised and covered in a LED screen canopy featuring lightshows.
Thrill-seekers can glide over the street thanks to the SlotZilla zipline and there are three stages, hosting free concerts every day. A very different side to Las Vegas, Fremont might be grittier than the glamorous Strip, but it's totally unmissable if you want a taste of what Vegas once used to be.
Paul Maguire/Shutterstock
Vegas and museums might not seem like the obvious match, however, this one, housed in the former Las Vegas post office and courthouse, is so enthralling, you could spend hours here. It's no secret the city owes much of its success to organised crime and this museum traces the history of the mob in Vegas and the US through artefacts, film and photography. Interactive displays shine a light not only on key members of the mob and money-skimming operations, but also law enforcement actions to prevent such crimes.
Totally unmissable, especially for crime drama fans, the interactive Crime Lab lets visitors put their best CSI hat on and solve crimes by analysing DNA, understanding ballistics and performing a virtual autopsy.
The Vox Agency
Las Vegas is unimaginable without its signature neon signs lighting up the desert sky every night. But as casinos and hotels open and close, signs also come and go – many finding their final resting place at the Neon Boneyard, part of The Neon Museum.
A not-for-profit organisation that started in 1996 to preserve this unique cultural aspect of Las Vegas, The Neon Museum possesses over 200 signs covering over 80 years of Sin City history. Expect to see gems like the original Hard Rock Hotel guitar, fully working Moulin Rouge sign and Chief Hotel Court sign from the 1940s, which is the oldest working sign in the museum's collection.
Top tip: go after dark when 24 restored signs are lit up.
The face of new Vegas, AREA15 is an immersive entertainment space filled with dazzling interactive experiences. Carefully curated, it offers a number of fun attractions, from an indoor zipline to the infinitely fascinating Omega Mart. This 'supermarket' leads visitors on a journey through immersive storytelling, secret portals and products, like tattooed chicken, cubed peas and canned beaches, that'll leave you scratching your head. Careful, it's easy to lose track of time in this art installation and spend hours upon hours poring over every detail.
Other unmissable experiences include the mesmerising infinity rooms of Wink World and Illuminarium – a high-tech cinematic art exhibition with laser projections, immersive audio and aromas, plus in-floor vibrations.
When hunger strikes, sit down at The Beast by Todd English and chow down on bang bang shrimp, Korean corn dogs and smokehouse meats.
The Vox Agency
For a life-affirming hour and a half that'll leave you smiling from ear to ear, make a beeline for Cirque du Soleil's newest Las Vegas offering. A joyous celebration of New York City, there's everything from stand-up comedy and basketball to dance-in-your-seat music and jaw-dropping acrobatics.
It's unlike any other Cirque du Soleil show and its totally bonkers performances (an aerialist hanging just by her hair, anyone?) make for a feel-good night on the town.
READ MORE: Expect the unexpected at Cirque du Soleil's new Las Vegas show
Las Vegas hotels
While everywhere in Vegas is bright and loud, NoMad's dim lighting, rich red velvet and brocade decor and serene ambiance offer some much needed peace and quiet. Occupying the top floors of the sprawling Park MGM Resort, it feels like a hotel within a hotel, offering a more tranquil, secluded and private experience. While granting access to all Park MGM amenities, NoMad's guests have their own exclusive corners around the property, like a private pool area with cabanas, high-stakes casino and dedicated front desk for check-in, which feels a lot more civilised than many others in Vegas. What's more, both NoMad and Park MGM are smoke-free hotels.
Benoit Linero
After closing more than two years ago, Palms Casino Resort has reopened its doors under new ownership. Run by The San Manuel Band of Mission Indians, it's the first Vegas hotel to be fully owned and operated by a Native American tribe. Many of its rooms offer wonderful views of The Strip hotels and it's a great option if you don't want to be right in the thick of it but still close to the main attractions.
Those looking for a downtown experience should check-in at the new Circa Resort & Casino right by Fremont Street. One of the newest hotels in downtown Las Vegas, it's an adults-only hotel offering six pools across three levels and a staggering 143-foot (44m) screen for sports. It's also home to the world's largest sportsbook, which is worth seeing even if you're not staying there.
Where to eat in Las Vegas
Just like with everything else, Vegas' 'the bigger, the better' approach extends to food as well, gathering a staggering amount of award-winning restaurants, Michelin-starred chefs and groundbreaking foodie experiences all in one place.
If you're a sucker for a slice of original Vegas, a meal at an all-you-can-eat buffet is a must. And while it's true that most Vegas buffets are not what they used to be back in the day, you can still find some that serve up everything from pizza to sushi under the bright casino lights. Unmissable buffet dining experiences include The Buffet at Wynn with 16 live-action cooking stations and Bacchanal Buffet – Vegas' largest.
For a sophisticated evening out or to celebrate a special occasion, everyone is made to feel like a VIP at Smith & Wollensky in Grand Canal Shoppes at The Venetian Resort. The impeccable service and classy NY steakhouse interior feel secondary as soon as the food arrives. No effort is spared in making your dish the best the chef has served that night, whether it's American Wagyu steaks cooked to perfection, a bit of theatre with a 44-ounce (1.2kg) tomahawk carved tableside or a creamy corn Manchego side dish that's treated as if it was the star of the show. And despite how full you might be, don't even think about leaving without a taste of the chocolate cake. Spoiler alert – the decadent 10-layer cake is so big, it comes with a steak knife to share.
New American cooking more your vibe? Then follow your host through a freezer door in a bodega/liquor store into Roy Choi's Best Friend. Bright murals, a party atmosphere and an explosion of colour await at the Kogi food truck chef's first Las Vegas restaurant. Whatever you order is guaranteed to be bursting with flavour but make sure you don't miss out on the Kogi short rib tacos, kimchi fried rice and street corn.
And if you've missed out bagging a booking at one of Vegas' hottest award-winning restaurants, simply join Lip Smacking Foodie Tours' Savors of the Strip. You'll get to sit down and try signature dishes of three acclaimed Las Vegas restaurants all while discovering something new about the city, its hotels and meeting new people. For connoisseurs of the finest beef and rarest wines, the Ultimate Steakhouse tour is unmissable while those looking to get off the beaten path can discover the delights of downtown or the Arts District.
READ MORE: How to do Las Vegas on a budget
Outdoor attractions
Go kayaking in the Colorado River
The rusty orange and brown desert canyon scenery is simply spectacular and it would be a shame to spend all your time in the city and not explore the glorious nature Las Vegas has on its doorstep. And considering that temperatures around or even above 40°C (104°F) are not a rarity here, getting on the water is a smart idea. Vegas Glass Kayaks offers a unique experience paddling through the sparkling mountain waters of the Colorado River while taking in the stunning views of the Black Canyon, sandy beaches, historical sites and the mesmerising Emerald Cave – all in a completely see-through kayak. Those opting for the full-day tour also get a chance to see Hoover Dam from the water.
Visit the Hoover Dam
A truly remarkable feat of engineering, the Hoover Dam is one of the world's modern marvels and nothing can prepare you for seeing its mighty size in real life. First, head down Hoover Dam Access Road to drive over the dam itself and park up at the lookout for brilliant views of Lake Mead and the dam's Art Deco features. If you wish to take a closer look at the dam or the power plant, guided tours are available for both. Then head to the Boulder Dam Bridge parking area to walk across the Mike O'Callaghan-Pat Tillman Memorial Bridge that connects Nevada and Arizona across the Colorado River and offers up some of the best Hoover Dam views.
Go off-grid at Valley of Fire State Park
Many travellers wish to see Arizona's Wave, a remarkable rock formation that's notoriously difficult to get permits for. Not many know that similar landscapes are free for all to explore in Nevada's best-kept secret – Valley of Fire State Park. Home to sandstone peaks, incredible rock formations and ancient petroglyphs, it's easily accessible from Vegas and is perfect for offsetting the city buzz with remote tranquillity. Artemis Adventure Tours offers a scenic six-hour private tour with guide, taking guests on an unforgettable journey on what feels like the surface of Mars.
Map of Las Vegas
Discover all of our favourite places in Las Vegas with this handy map:
Find more information on Visit Las Vegas.
Lead image: Courtesy of Las Vegas Convention and Visitors Authority
Be the first to comment
Do you want to comment on this article? You need to be signed in for this feature