How to do Vegas on a budget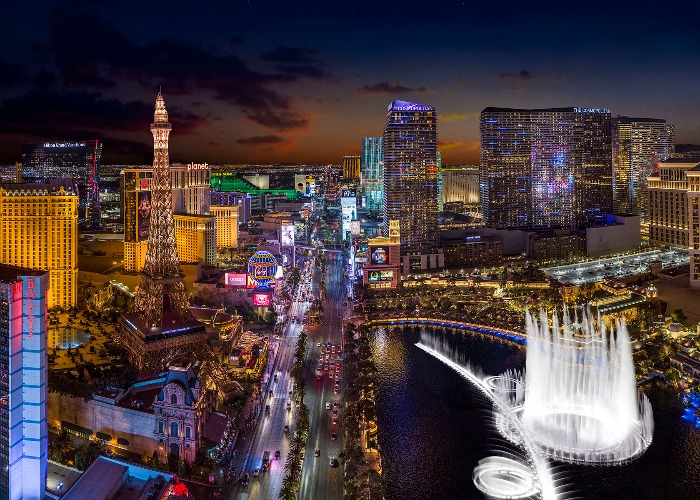 Despite all the glitz and glamour, extravagance and excess, it's a myth that you have to be a high roller to enjoy Las Vegas...
What happens in Vegas stays in Vegas. And you could probably say something similar about your cash – it's likely that not much of your spending money will be coming home with you. But Sin City was originally founded by ranchers and railroad workers and, to this day, there is always something for everyone and every sized wallet.
Here are a few tips and hacks that can save you a few dollars while ensuring that you hit the jackpot in the Entertainment Capital of the World.
Beginners, look
Not surprisingly, the colder months of November, December, January and February attract the fewest visitors and have the lowest average nightly room rates. It's worth cross-checking your dates with the American public holidays (Memorial Day, Labor Day and the Fourth of July) as well as big US sporting events like March Madness or the Super Bowl, and the Las Vegas convention calendar.
If you can, avoid weekends, then it goes without saying that hotel rooms are less expensive on weeknights. Meanwhile, flight and hotel bundles can often save you money, and Virgin Holiday and British Airways offer decent discounts when booking a package.
Working the room
Arguably the biggest decision you'll make when booking a Vegas holiday is which hotel or mega resort you're going to stay in. Location-wise, being in the thick of the action means you are within walking distance of everything and won't incur transportation expenses. For most, the aim is to stay as close to the Bellagio fountains as possible, so for 5-star, go for Vdara, and 4-star Planet Hollywood or The Linq.
Staying in Downtown is also an option, and if Fremont Street's grimier, vintage vibe appeals to you, then the Golden Nugget and the D Hotel & Casino are dirt cheap.
Sean Pavone/Shutterstock
One thing to watch out for when booking any US hotel is those dreaded resort fees. These 'hidden' charges/taxes, often around $20 per day if not more in Vegas, is for the hotel's amenities such as the gym and Wi-Fi, whether you use them or not.
Finally, ask for a complimentary upgrade at check-in. Do some research on the $20 dollar trick, and you may be surprised at how many hotels will give you a free upgrade if it's your first time in Vegas or if you are celebrating something special.
READ MORE: These are the world's biggest hotels
Card sharp
Loyalty programmes allow casinos to track your gambling activity and spending at the resort. In return, they offer you discounted or comped hotel rooms, shows, dining and parking. If you're new to Vegas, you can sign up for programmes like Caesars Rewards and MGM Rewards online from home, and you'll receive a small discount on hotel bookings for being a part of the rewards scheme, even if you have yet to visit. Some hotels such as the Wynn, Encore, The Venetian and Palazzo, have their own loyalty cards.
Tear a Strip off
One of the oldest tricks in the book is cab drivers taking tourists the long way around from the airport to the Strip via the I-215 tunnel. Don't let them 'long-haul' you and make it clear you're not a Vegas virgin, even if you are. Public transportation is a great way to save a few bucks in Vegas, and The Deuce bus route runs up and down the Strip and connects to Fremont Street. Twenty-four-hour passes can be purchased for $8 (£6.70), while a two-hour fare costs $6 (£5). Although sparse, there are a few free trams that can move you from place to place on the Strip, while the monorail is convenient and has several stops from the MGM Grand to Sahara.
Mark Damon/Las Vegas News Bureau
Supply and demand
Although it may not sound exciting, as soon as you arrive in the Nevada desert, or at least during your first day, head to a convenience store like CVS and Walgreens to stock up on drinks and snacks. Always avoid the overpriced hotel gift shops. Also, when walking up and down the Strip or Fremont Street, don't let the heat and your thirst tempt you to buy bottles of water from people on the streets – it may not be safe for drinking. CVS and Walgreens also sell alcohol by the case, bottle or can, and no one will bat an eye if you are carrying a beer while walking from casino to casino.
Food for thought
Vegas is famous for its buffets, and for those who love the all-you-can-eat option, there are plenty costing $20 (£17), or less. Most people have heard of the killer deals, like the $11.99 steak and lobster at Tony Roma's on Fremont. A few other options to check out are The Buffet at Excalibur and Garden Court at Main Street Station, while El Segundo Sol inside the Fashion Show mall offers discounted tacos, quesadillas and nachos every day from 3-6pm. Ordering room service, even a simple breakfast, is a big no-no in Vegas. Delivery takes longer than you'll want, food is often lukewarm, and those fees and tips add up.
That's the spirit
If you gamble, and have a bit of patience, you can drink for free at the casinos, as cocktail waitresses bring beverages for people sitting at tables or slot machines. Just tip the waitress $1 (84p) per drink. If you happen to be sat at a bar, put $10 (£8.35) into the gaming machine and the bartender should comp your drink.
Or, don't pay the $10 for a bottled beer at the casino bar at all. Instead, go for the $2.50 craft beers at Ellis Island located behind Bally's, $3 bottles at Casino Royale, $1 Michelobs at Stage Door Casino, and $3 Heinekens at Fremont.
Minibar prices are always expensive in hotels – but in Vegas, they're off the chart. The refrigerators have sensors that track items when they're removed, so don't touch anything. Finally, watch out for those complimentary-looking bottles of water next to the TV – there's nothing free about them.
Get this show on the road
If you haven't already booked your show tickets in advance, don't pay full price at the door or box office. Instead, search for discounted prices online, as most venues advertise through social media and offer deals. Tix4Vegas sells cheap tickets to shows and attractions the day of the event. It also has stalls at locations next to Casino Royale, and in Fashion Show mall and Bally's Grand Bazaar.
READ MORE: How to save money on multi-destination visits to the USA
Join the club
Las Vegas' nightclubs and dayclubs are legendary, but a session in them can cost an arm and leg. The ideal way to unlock the best day and nightlife is by purchasing one of TAO Group's Vegas Party Passes which cost $99 for the weekend (Thursday-Sunday). By wearing these wristbands, you can jump the queues at eight renowned venues including Hakkasan and Wet Republic at MGM Grand, Omnia at Caesars Palace, Jewel at Aria, TAO and TAO Beach at The Venetian, and Marquee at The Cosmopolitan. If not, the next best option is to look for a promoter to help get you into a club. This could cut the cost in half – or even get it waived.
TAO Beach Dayclub
Welcome to the cheap seats
Although the layout of Las Vegas, in particular the casinos, is designed to relieve you of your dollars, there are plenty of cheaper experiences to be had. You can see a bar made of ice at Minus5° inside The Shoppes at Mandalay Bay, play video games at The HyperX Arena at Luxor, ride the Big Apple Coaster atop New York New York, rent a pool cabana at Downtown Grand, ice skate on Cosmopolitan's Boulevard Pool during the winter, marvel at the Neon Museum and climb aboard the High Roller wheel for the best views of the Strip. All these experiences are less than $30 (£25) each.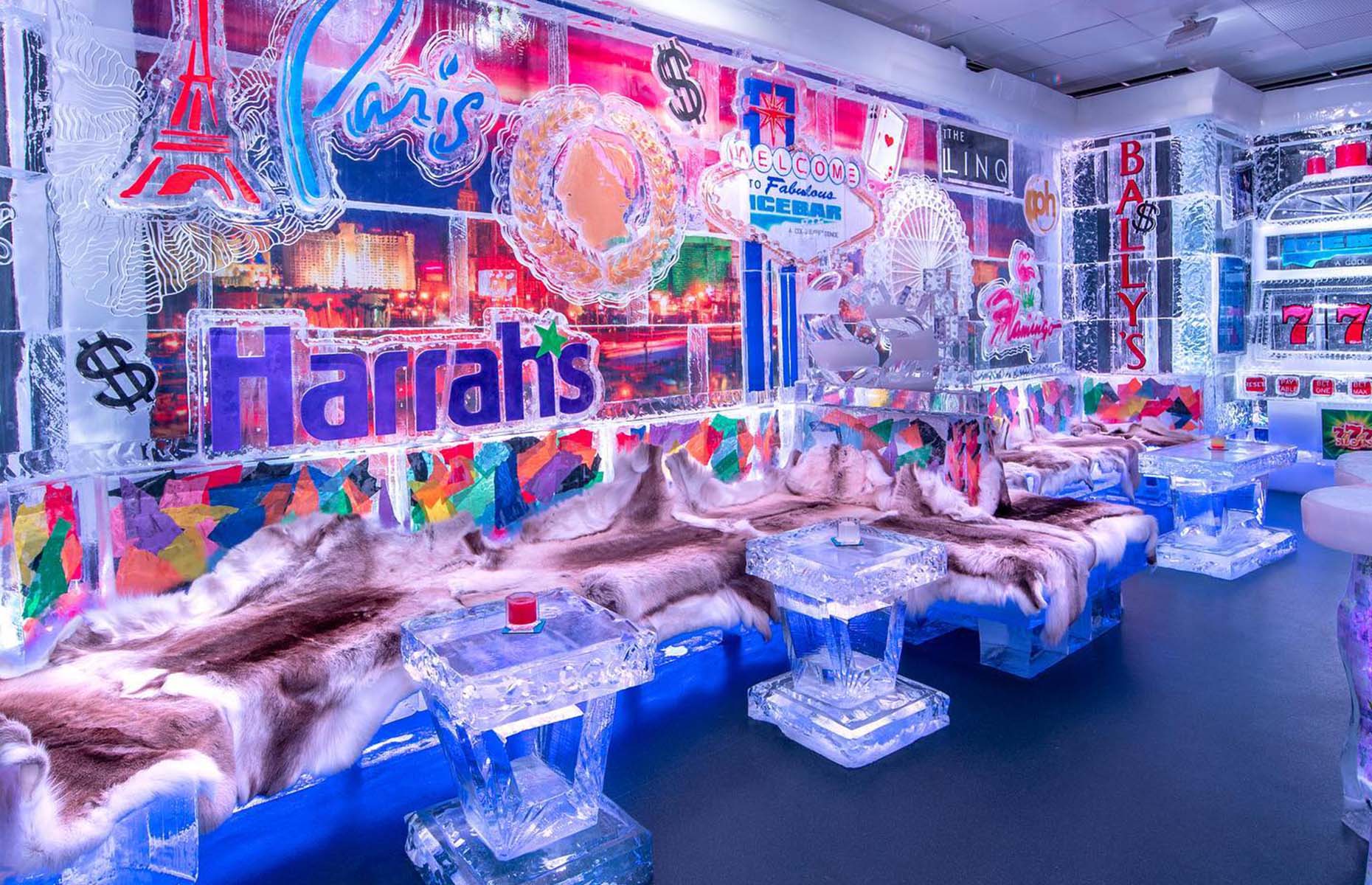 minus5 ICEBAR/Facebook
Double down at Downtown
Everything is cheaper in Downtown (food, drinks, gambling, entertainment), so if you really want to save on your trip, stay near or hang out on Fremont Street. While shows rarely qualify as one of the cheapest things to do in Vegas, good options can be found at Four Queens for around $25 (£20). Even room rates at the district's shiny new hotel Circa are a snip of what you'll be charged for a similar property on the Strip. The multimedia onslaught of the Fremont Experience is worth a trip to Downtown alone, while there is even some history to seek out (El Cortez was once owned by mobster Bugsy Siegel).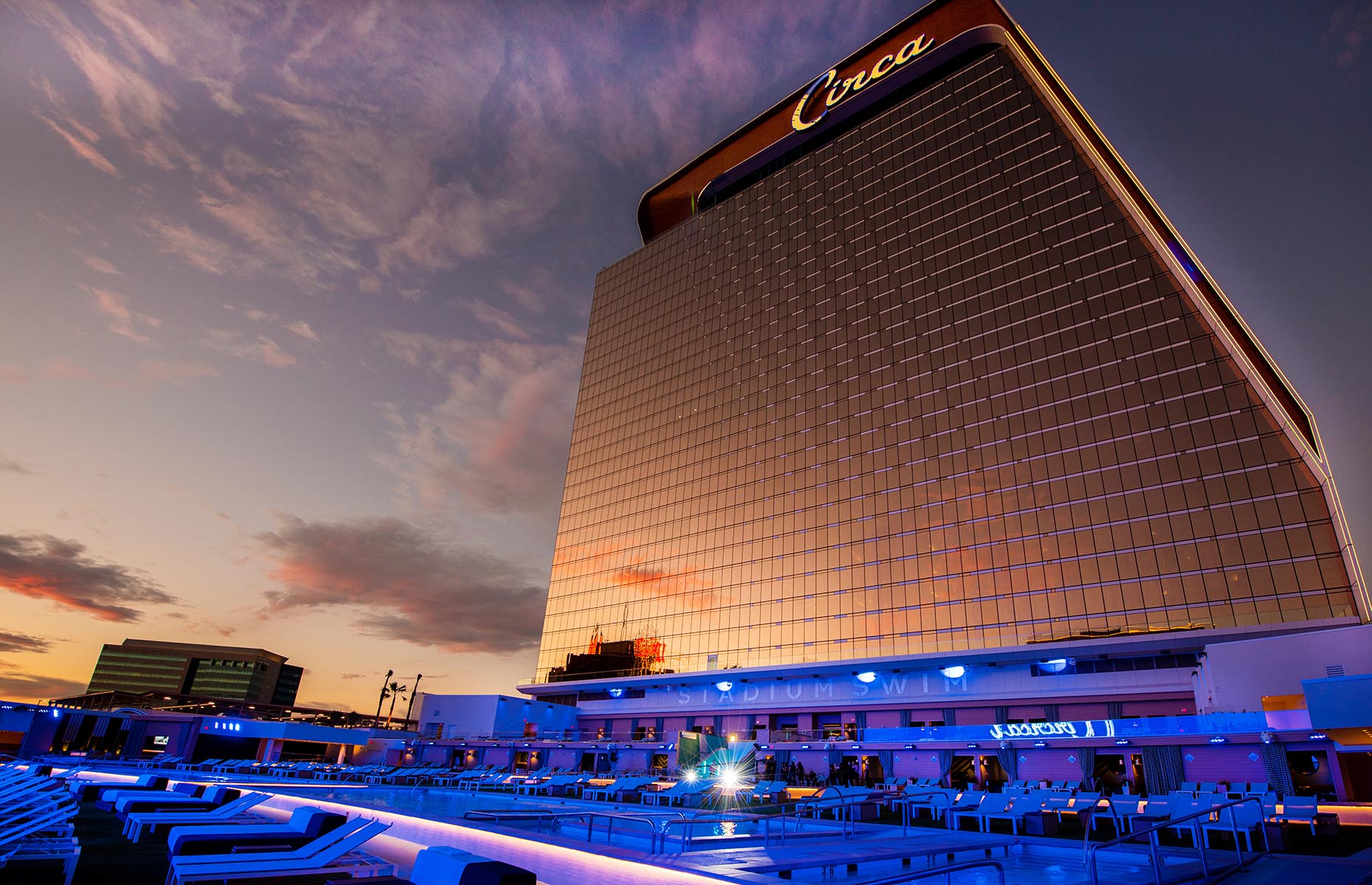 Courtesy of Circa Hotel & Resort
Cash is king
Although most holiday destinations are embracing tech, cash is still the most common form of payment in Vegas. You shouldn't venture out without a bunch of one-dollar bills in your pocket to use on tips if you are offered a 'free' drink. ATMs are conveniently placed in the casinos but these machines charge a lump sum on top of fees that your bank charges, so if you need some dollars, look elsewhere. The cheapest ATMs can be found at CVS, Walgreens, Target and Casino Royale.
READ MORE: Incredible photos of cities past and present
Tipping point
Vegas relies on its service industry, and bartenders, servers, waiters, valets, maids or bell hops are usually paid the minimum wage or just over. Don't forget to tip at least 15% when dining out or handing over a buck or two for drinks that come your way – it will be appreciated and avoids awkwardness. However, don't pay twice – many restaurants have a sneaky way of adding the gratuity on top of meals automatically, and if you pay the server independently, your bill could double. Finally, make sure you know who to tip – store or retail workers or pool attendants, for example, are generally not allowed to accept gifts.
Luck of the draw
If you like to gamble, it's better to do it away from the Strip where table minimums are more affordable, rules are more player-friendly and slots more willing to pay out. The minimums are also lower during the day and the week, and another advantage of gambling in the morning is that it is easier to find a seat. As with all betting, when the fun stops, stop. Set yourself a limit and don't go broke by losing more than what you can afford.
Courtesy of Las Vegas Convention and Visitors Authority
Free rein
Not only are there cheap experiences to be had, but there are also plenty of freebies if you know where to look. The Bellagio Fountains, Bellagio Conservatory, and Mirage Volcano are all free options on the Strip, while in Downtown, there is nightly live music and light shows under the canopy. At Topgolf, there is a unique two-storey pool that can be used by anyone for free, it even has a swim-up bar.
READ MORE: Sin City secrets: the incredible story of Las Vegas
Be the first to comment
Do you want to comment on this article? You need to be signed in for this feature