Mad Apple: the newest Cirque du Soleil show in Las Vegas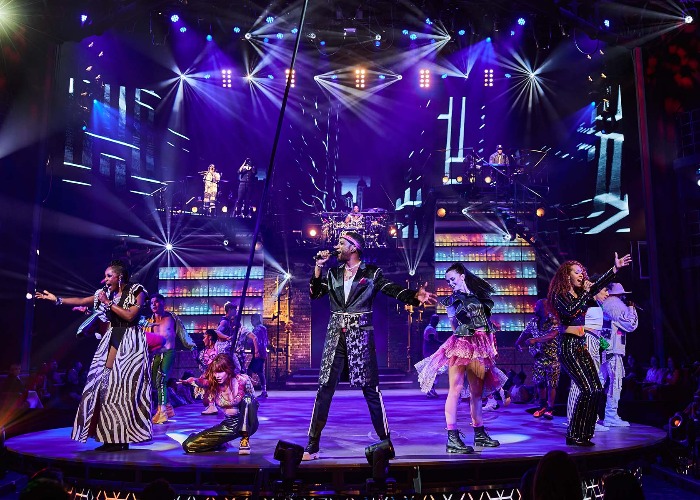 When in Las Vegas, seeing a Cirque du Soleil show is a must, yet none are quite like the company's newest performance, Mad Apple. Karlina Valeiko witnesses the magic.
The audience gasps as the graceful aerial silk dancer suddenly plunges a few feet down from the ceiling, the piece of fabric unravelling at what seems like the speed of light. I freeze in my seat and watch in both horror and awe as her head stops dangerously close the stage floor. Once it becomes clear the drama is all part of the show, an audible relief fills the room and cheering and applause explode. I'm at Mad Apple, Cirque du Soleil's new Vegas show, where I soon learn to expect the unexpected.
In its first season at New York-New York Hotel & Casino at the southern end of the Las Vegas Strip, Mad Apple is all about transporting the audience to the streets of New York, whether that be via the medium of circus arts, stand-up comedy or a bit of cheeky magic.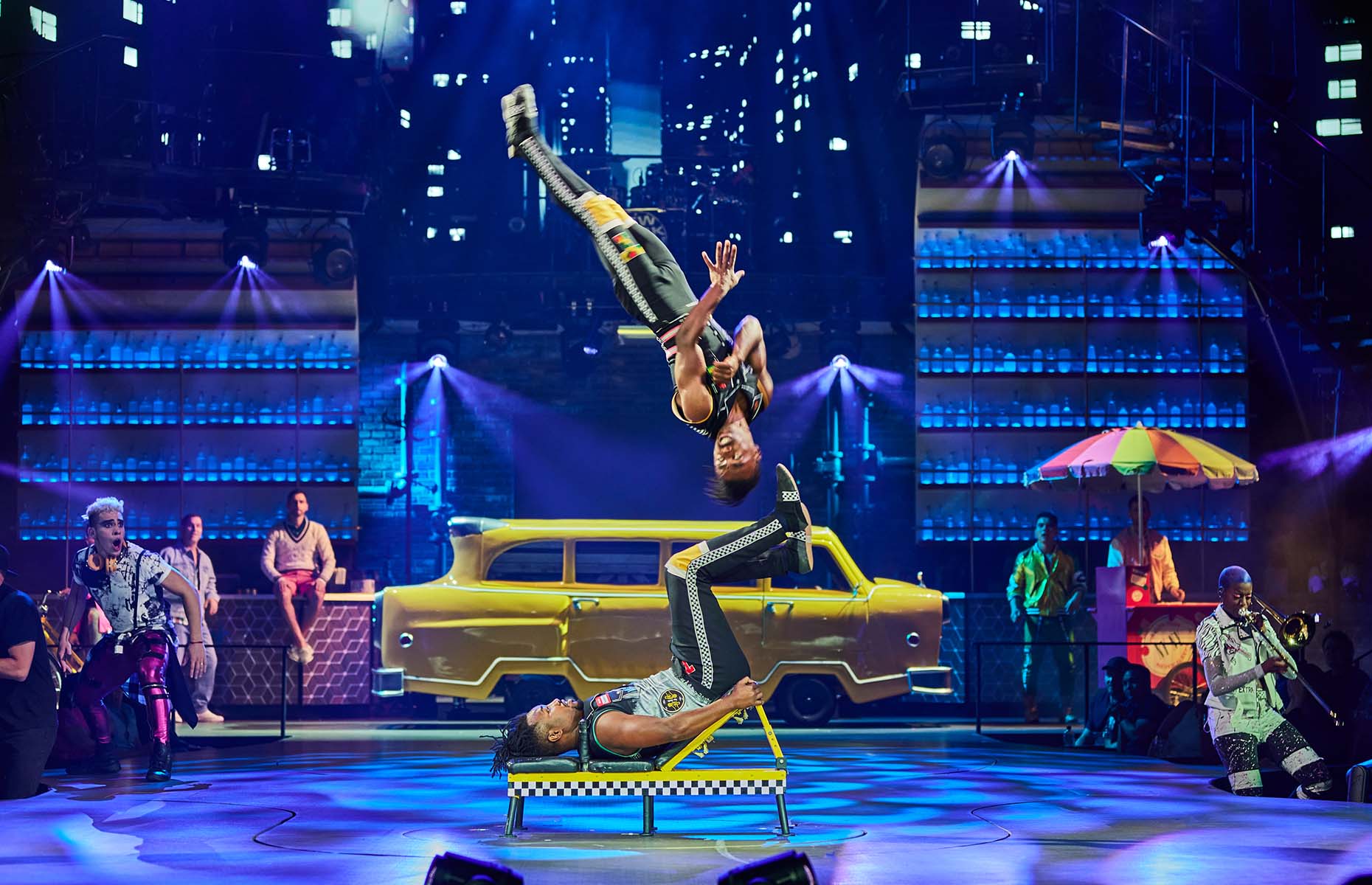 Courtesy of Cirque du Soleil
Unlike any other Cirque du Soleil show, Mad Apple has an infectious energy about it. Prepare for belly-busting laughs, thrilling performances sure to get the adrenaline pumping, music you won't be able to sit still to and a few other surprises along the way. Endorphins flowing, you're bound to leave feeling more alive than when you first sat down in your seat.
Here's everything you need to know about Cirque du Soleil's new show.
What is it?
Cirque du Soleil is a household name not only in Vegas, but around the world, with 10 active shows and nine hotel residencies, each one choreographed to a different theme. Mad Apple is the Canadian entertainment company's newest show which opened in May 2022.
It promises to transport viewers from Vegas to a mad night in New York City with acrobatics, music, dance, magic and comedy.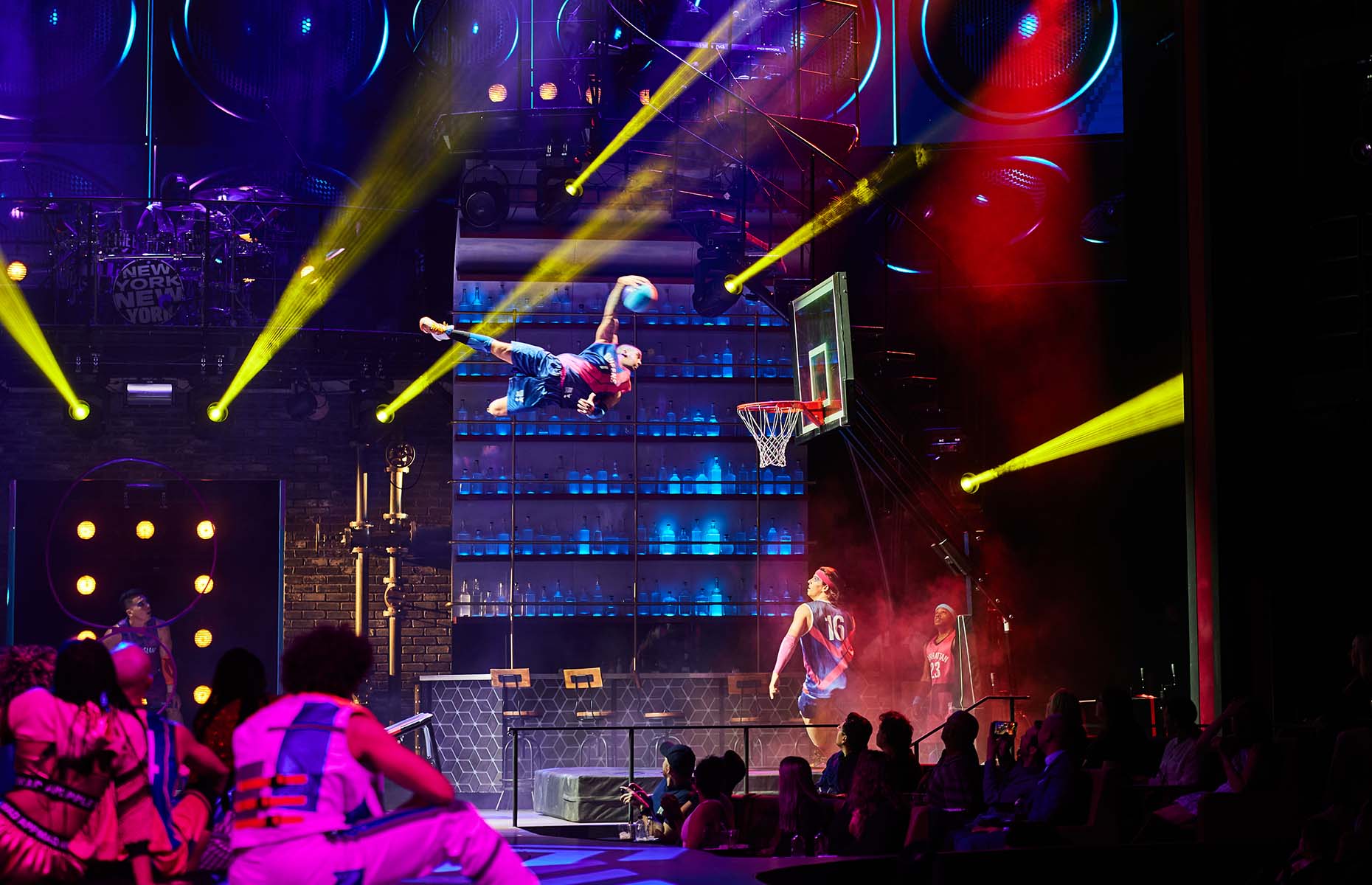 Courtesy of Cirque du Soleil
How is it different from other Cirque du Soleil shows?
Firstly, it's a lot more than just a traditional circus performance. Yes, you'll see aerialists, trapeze artists and jugglers, but that's in addition to a roster of musicians, singers, comedians, magicians and an enigmatic host, who switches between accents so seamlessly I'm still not quite sure whether he's a New Yorker through-and-through, an English lad who claims he was desperate for a job in Vegas or, perhaps, neither.
The action begins before the show's official start time, so be sure to arrive at least half an hour early to take in the full experience. It's designed to emulate a New York City nightclub so cast members mingle with the audience, there's a bar on stage and the electrifying atmosphere is perfect to get you excited for the main event.
What can I expect?
Mostly, variety. It's quite incredible how much Cirque du Soleil has managed to pack into one show. Right from the word go, the energy is turned up to 11 and acts range from a slam dunk contest to a jaw-dropping aerialist who goes hands-free, instead suspending herself from her hair – this is something you really have to see to believe.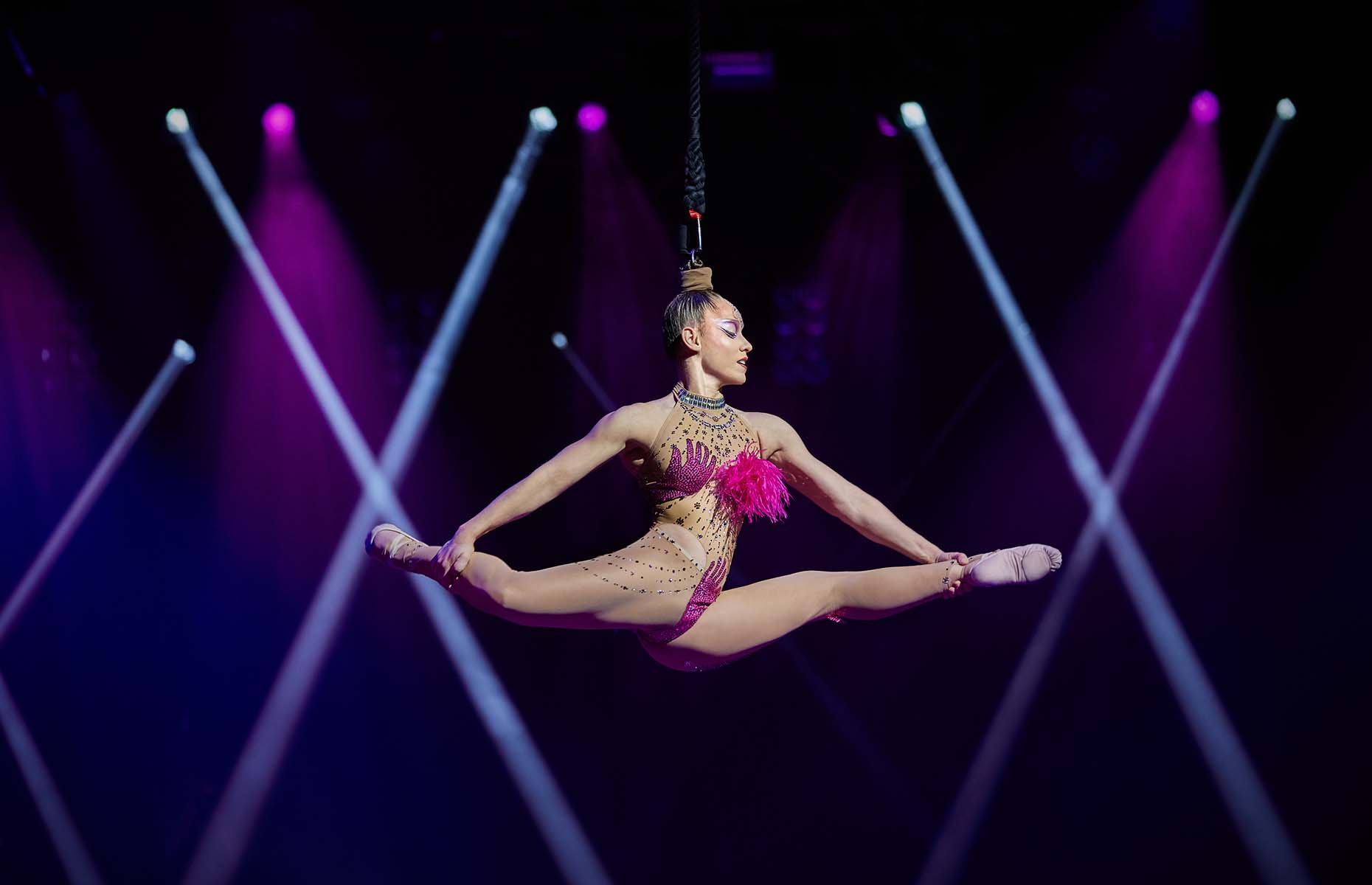 Courtesy of Cirque du Soleil
Then there are comedy acts, including Las Vegas regular Brad Williams and Harvard College Stand-Up Comic Society founder Harrison Greenbaum, and the whole show is wrapped up with a gravity-defying wheel of death act that's bound to leave you speechless and slightly terrified.
A word of warning – it's provocative, sweary and at times quite rude. If you can't handle satire, dark humour and inappropriate jokes about religion, sexuality and politics, this is not the show for you.
Similarly, it's probably not one for family holidays and under-18s. Even though Cirque du Soleil says 16-18-year-olds are welcome with an adult guest (under-16s aren't permitted), it is most definitely not a family show.
Karlina was a guest of Las Vegas Convention and Visitors Authority (LVCVA). Find more information at Cirque du Soleil.
Be the first to comment
Do you want to comment on this article? You need to be signed in for this feature