Explore San Sebastian: the top things to do, where to stay & what to eat
Always dreamt of eating the world's best cuisine for pocket change? Surfing from a glorious city centre beach? Or drinking your fill in a historic, all-day cider house? This is the part of Spain to do it.
Why go to San Sebastian
When it comes to a gobsmacking destination to eat and drink in, San Sebastian in the Basque Country will have you scrambling for superlatives. With inventive Michelin-star joints, pintxos (small snacks) and street food that would make New York, Tokyo or London seem dull, this is a city geared for gourmets and the restaurants and counter bars that fan out from Plaza de la Constitución across the cobblestoned Old Town are thrilling, if threatening to the notches on your belt.
Inland, hidden by rolling orchards and historic farmlands, San Sebastian's rural cousins — Astigarraga, Hernani and beyond — are fuelled by cider. In the 18th century, there were 2,000 farms and factories here, proof that industry and indulgence go hand in hand in the Basque Country. And these days, the cider houses are the heartbeat of community life.
To discover what the locals get up to when they're not eating and drinking, visit one of the city's brochure beaches, where toned and tanned surfers and swimmers celebrate summer all year long. You can also hike one of the city's two mountains or skim from museum to palace to gallery. This is a one-size-fits-all kind of city, so whether you visit for a weekend or a week, you'll be dining out on memories of San Sebastian for years.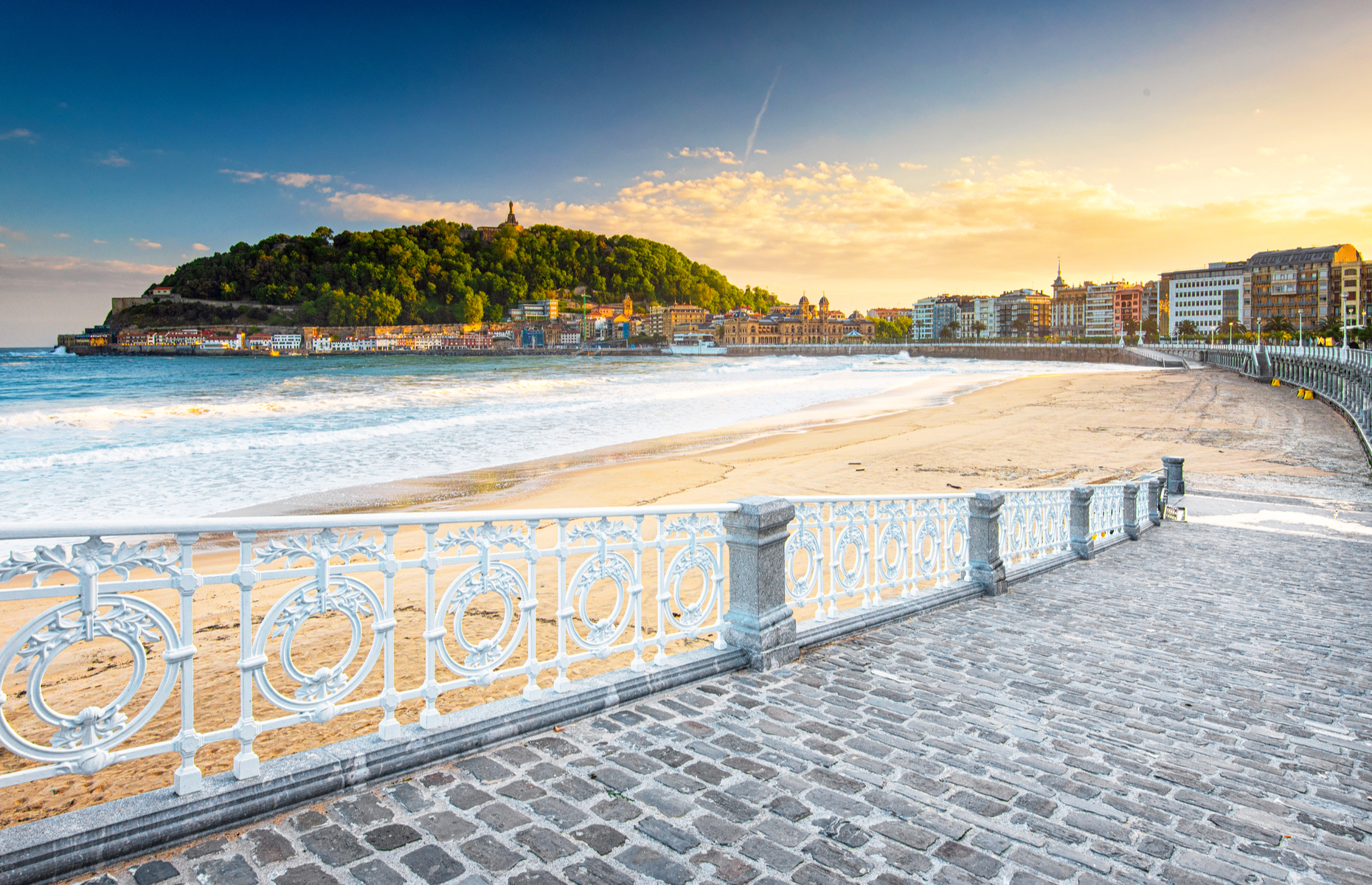 Botond Horvath/Shutterstock
READ MORE: A weekend away in Spain's sherry capital Jerez
Six things to do
Eat pintxos
Spain has tapas, but the Basque Country has pintxos. Practically a human right for locals, the bite-size snacks are eaten from morning to night between meals, or as part of an intoxicating tastebud adventure (drink, eat, move to the next place, repeat), with most costing from €2-5 (£1.70 to £4.20) and regulars having go-tos for their signature eats. Bar Sport is for grilled foie gras on toast and Restaurante Bare Bare is for glistening anchovies, prawns and crab, while La Espiga and Sansse are for whatever is in season. Giving a damn about food is rooted in the city's DNA and all that's missing is enough time to eat at every pintxo place. Especially, as there are more than 200 of the jewel-box bars in the Old Town alone. The most quintessential bite is the 'Gilda', a toothpick skewer of pickled guindilla peppers, manzanilla olives and anchovies, named after Rita Hayworth's character in the 1946 film noir of the same name.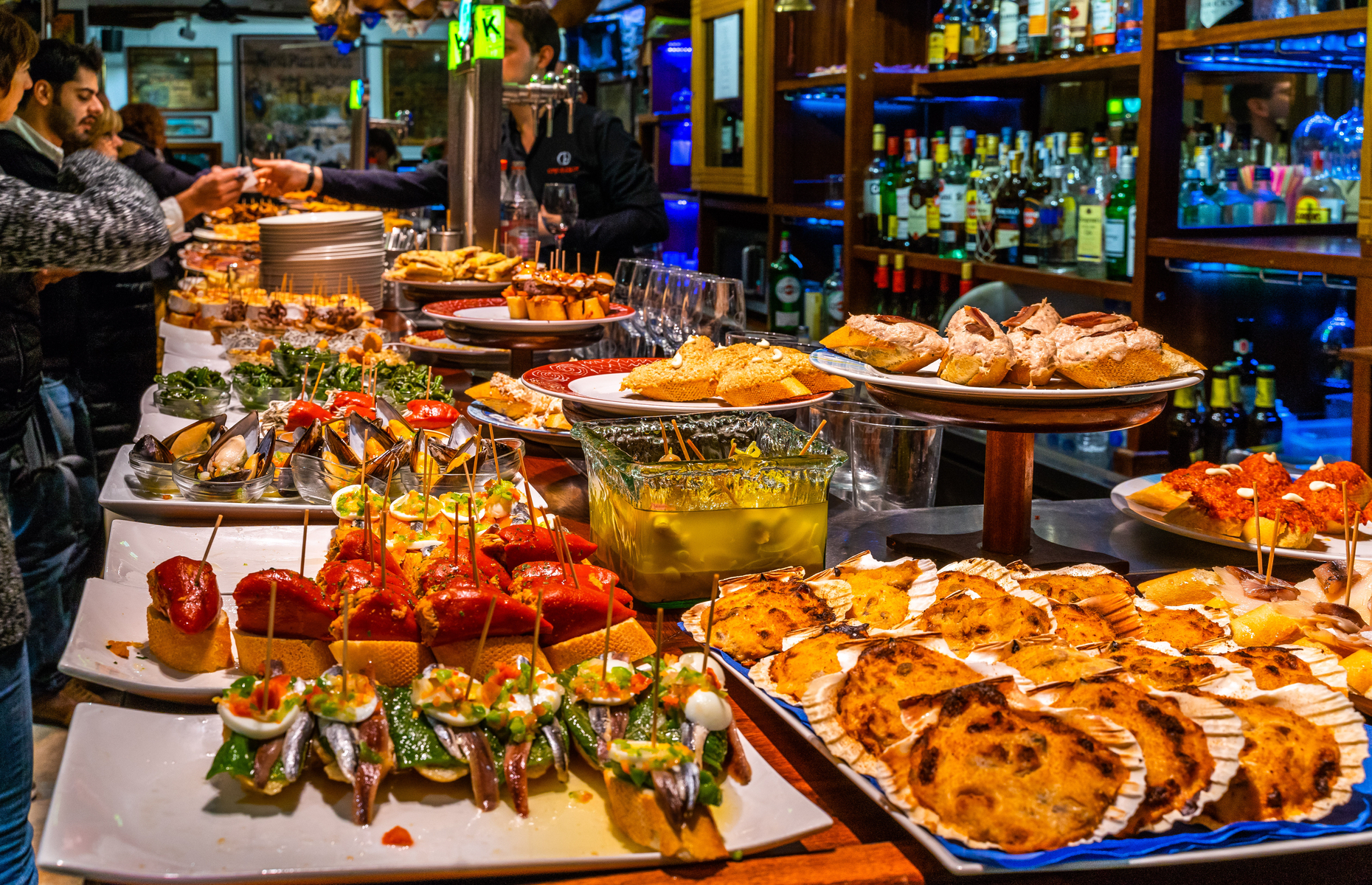 Francesco Bonino/Shutterstock
Drink cider
Beyond San Sebastian's urban sprawl, and as far as the eye can see from spring to autumn, the view is green and cherry red with orchards of apple trees. More than 500 varieties of the fruit grow here and this is why cider is so important an ingredient for San Sebastian, unlike in the wine region of Rioja to the south or the sherry triangle of southwest Spain. As such, naturally fermented apple cider has been traded and sold here since the 11th century and still today there are 70 cider houses in San Sebastian and the surrounding province Gipuzkoa. The town of Astigarraga, brimming with nearly 20 cider houses, is a veritable cider Shangri-La.
Among those to visit is family-run Zapiain, which produces up to two million litres annually; Petritegi, in business since 1526 and home to a cellar jammed with chestnut barrels; and Gurutzeta, where 352 pints (200l) of cider are drunk every lunchtime during the annual cider festival, from January to April. All are open for lunch and dinner with an inexhaustible supply of cider costing as little as €7 (£6). For a guide who'll drive you on a guilt-free tour, opt for a cellar tasting tour with Sagardoa Route, the Basque Country Cider House Association. ToursByLocals also offers bespoke cider house tours, including private transportation and cellar admission.
Go surfing
Seen from the oceanfront promenade, daytime San Sebastian (or Donostia to give the city its Basque name) looks more like a sun-kissed Mediterranean resort than a contemporary Basque city. There are three centrefold beaches here — shell-shaped La Concha, Ondarreta and Zurriola — and each is bright and brilliant enough to keep you transfixed for long parts of the day. Beyond the tideline, you'll see locals engaged in battles of their own, with the moshing waves of the Bay of Biscay bubbling wildly as a backdrop. As well as surf schools for beginners and bodyboarders, the city is home to Surfing Etxea, a Bali-style hostel smack on Zurriola in vibey Gros, a new-school neighbourhood for sand kicks and sundowners.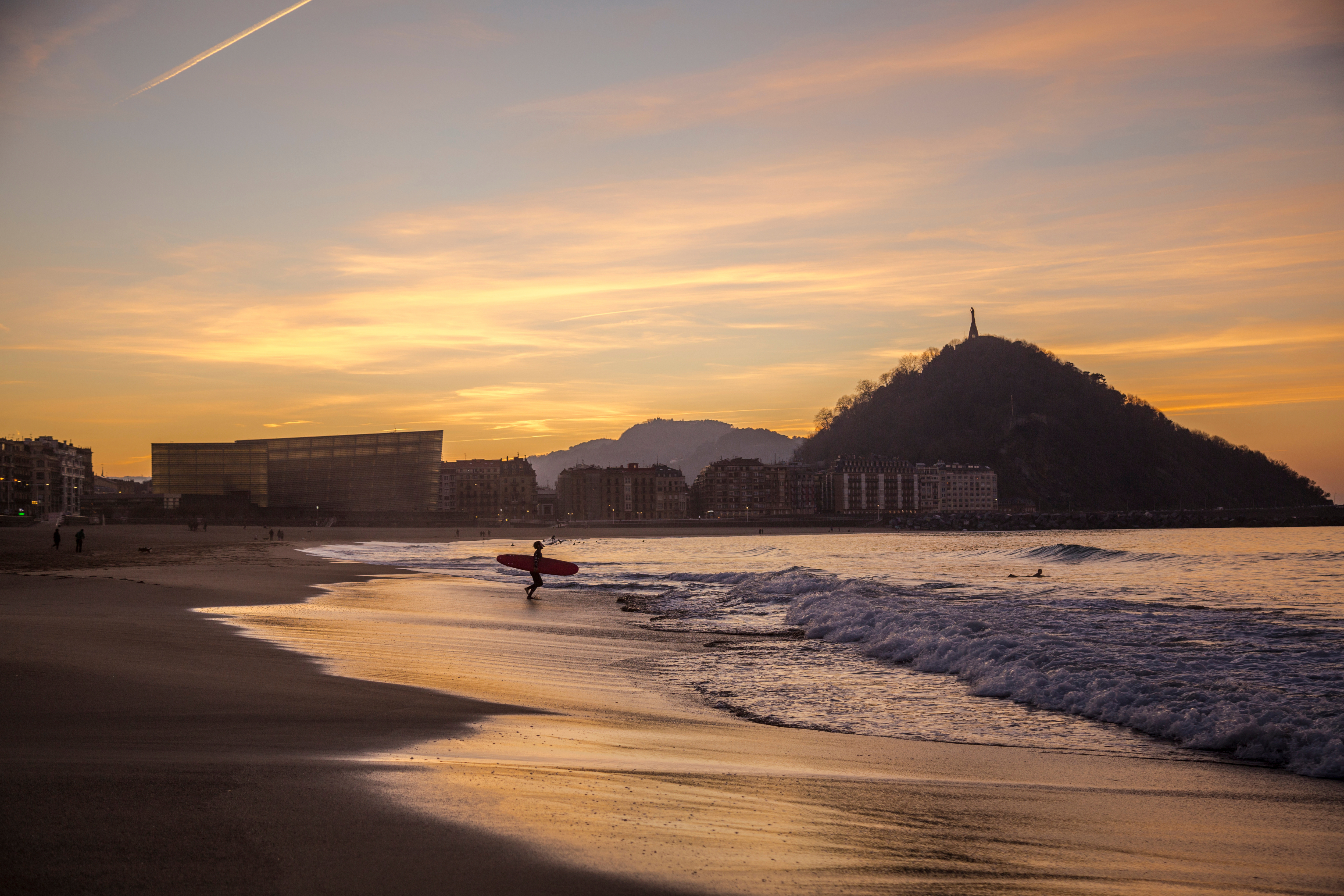 Unai Huizi Photography/Shutterstock
READ MORE: Spain's best under-the-radar rural escapes
Indulge in Michelin-star heaven
If you think you know Spanish cuisine, you haven't experienced it properly until you visited one of the Basque Country's gastronomy-defining restaurants. San Sebastian is home to nearly a score of Michelin stars and chefs here have earned the city the distinction of most Michelin stars per capita in the world (take that Paris!). There are several with three stars apiece and getting your teeth into so-called New Basque Cuisine at just one of these temples is to digest history as well as food nowhere else on the Iberian Peninsula can match. For a lab-tested tasting menu with as much panache as Picasso, reserve well in advance for world-renowned Arzak, or consider Akellare (with boutique hotel attached), Mugaritz or Martin Berasategui. All are silk tie and sequin worthy.
Climb a hill (or two)
If you over binge on food and drink, then San Sebastian's more traditional sights are the cure. To begin with, two hikes are on offer. The first, up Monte Igueldo, delivers a one-two punch, with both a killer panorama of San Sebastian's seafront and a dated, if distracting, hilltop amusement park; you don't get that kind of entertainment in Cape Town. Then, there is Monte Urgull, home to the 12th-century Mota Castle and History House.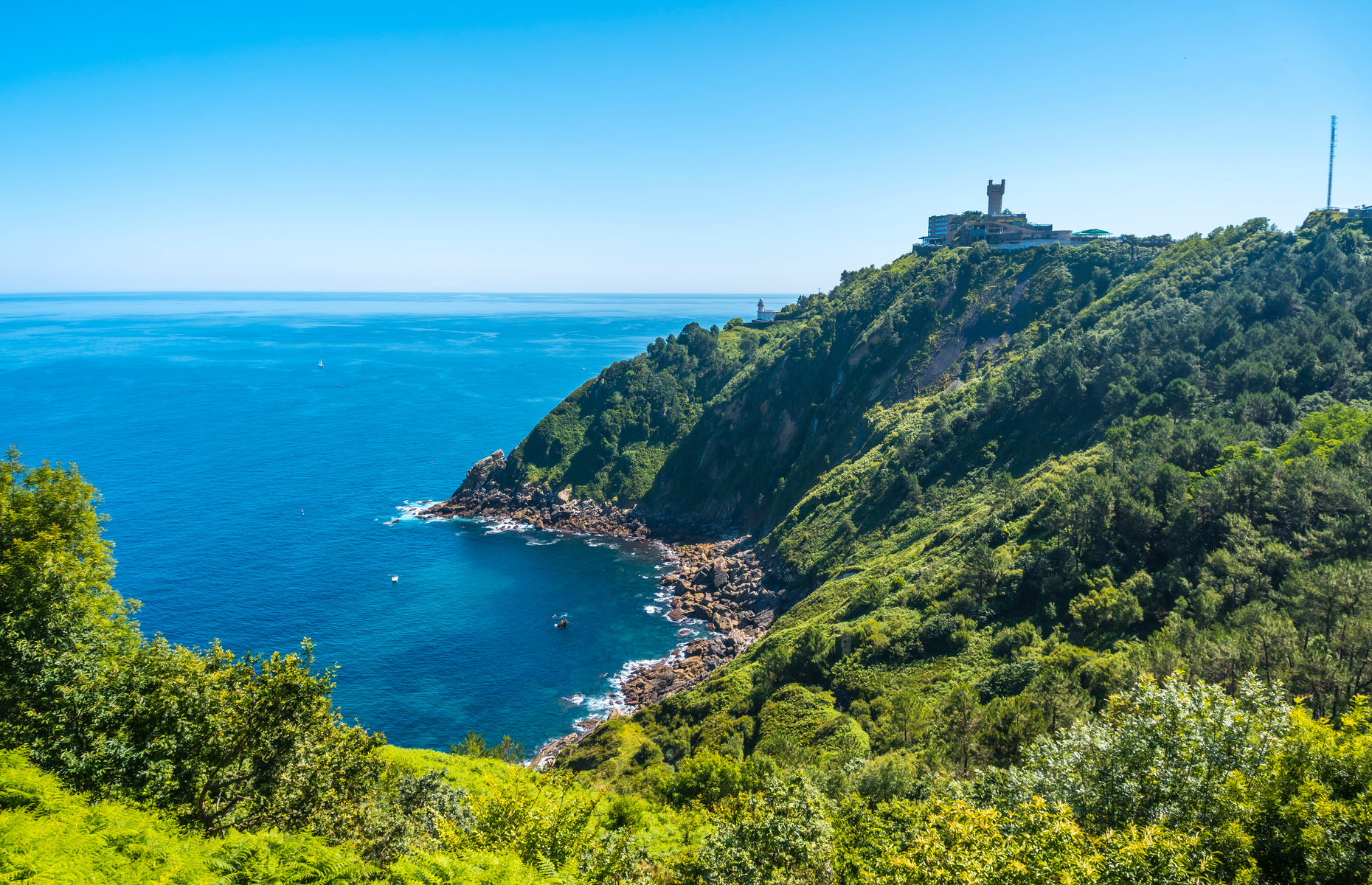 Unai Huizi Photography/Shutterstock
Ogle the art
Art and architecture are rooted in the city. For a whiff of olde England, walk the seafront to the Miramar Palace, designed with a pure Cotswolds country house aesthetic and once used as a summer retreat for the Spanish royal family. Or to get under the skin of San Sebastian's culture both then and now, visit the San Telmo Museum. As well as Egyptian figurines, weapons and ceramics, there are priceless canvases and rarely seen argizaiolas, the Basque Country's unusual funerary candle boards.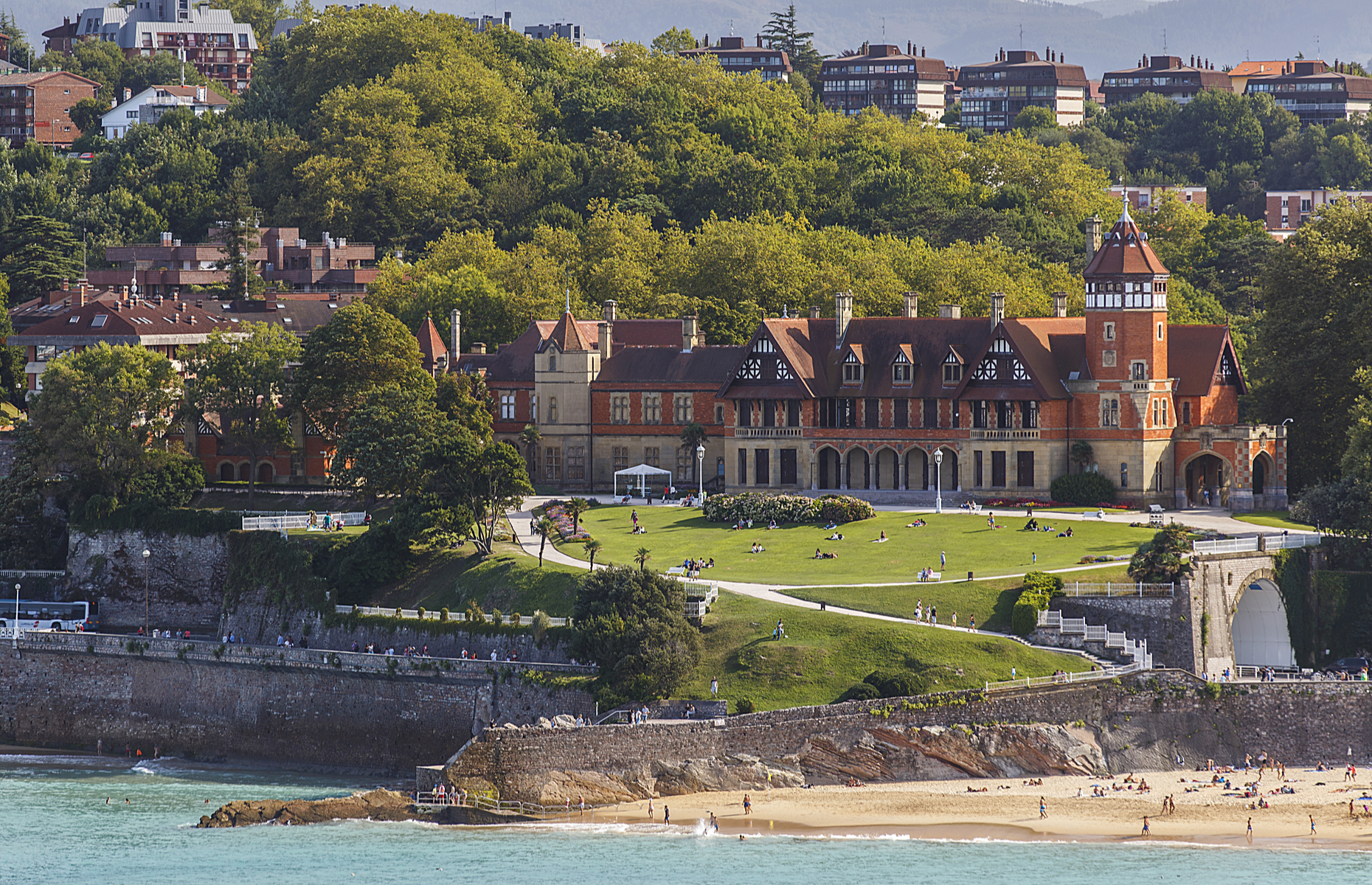 Livcool/Shutterstock
Where to stay
The best-matched couple in San Sebastian is La Concha beach and Hotel de Londres y de Inglaterra. Paired together on the seafront, each is as handsome as the other, with the Belle Époque-era hotel the smartest place to stay in the city. There's a see-and-be-seen terrace on the promenade and the hotel's bones are ornamented by balconied suites and penthouses overlooking the inviting Cantabrian Sea. Brasserie Mari Galant and its sister bar double as a proxy living room for the city, while Santa Clara island — beyond the surfers and waves — almost rolls its eyes in appreciation in return.
Historic and palatial, Hotel Maria Cristina draws the city to it, with a location smack bang in the thick of things overlooking the Kursaal Congress Centre, Urumea River and Old Town plazas. It has history by the cider barrel load, opened in 1912 and quickly a fixture with Spanish gentility who escaped the far hotter summers in the south. It's now in the Marriott stable, so expect 5-star service with a subtle hat tip to the Basque Country.
Need to know
The majority of flights into San Sebastian Airport arrive via Madrid or Barcelona, making Bilbao Airport an equally attractive option for travelling to the city direct from the UK. Lurralde Bus shuttles between the two, taking 70 minutes each way. San Sebastian Donostia Tourism is an excellent resource for planning a trip and the Basque Country's official tourism portal gives highly recommended itinerary suggestions for exploring the wider region.
Lead image: S-F/Shutterstock
Be the first to comment
Do you want to comment on this article? You need to be signed in for this feature