A weekend away in Spain's sherry capital of Jerez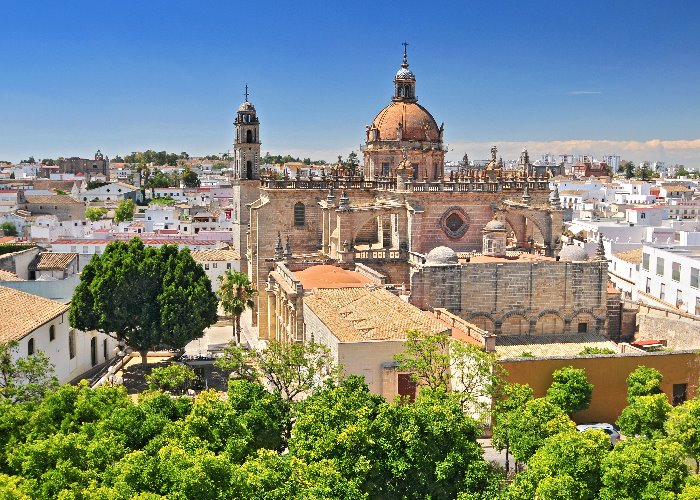 Jerez is sherry and sherry is Jerez. This glorious Andalusian city is defined by the famous fortified wine it created, which oozes through its historic streets and buildings. Here's what to see on a 48 hour break in this Spanish stunner.
Jerez, or to give it its full name, Jerez de la Frontera, is an Andalusian charmer that wears its sherry-imbued history on its cobbled, Moorish-tinged sleeve.
The city's past is awash with tales of Moorish conquerors and Romany travellers, through to sherry (and brandy, for that matter) barons and Christian Crusaders. Its exotic tapestry of influences means that it perfectly mirrors Andalusia around it and is partly why it's often hailed as the most authentically 'Andalusian' city. Jerez is ideal for sightseeing too, a place where you can easily wander between the main sights, stopping off, of course, en route for a sherry or two and some tapas.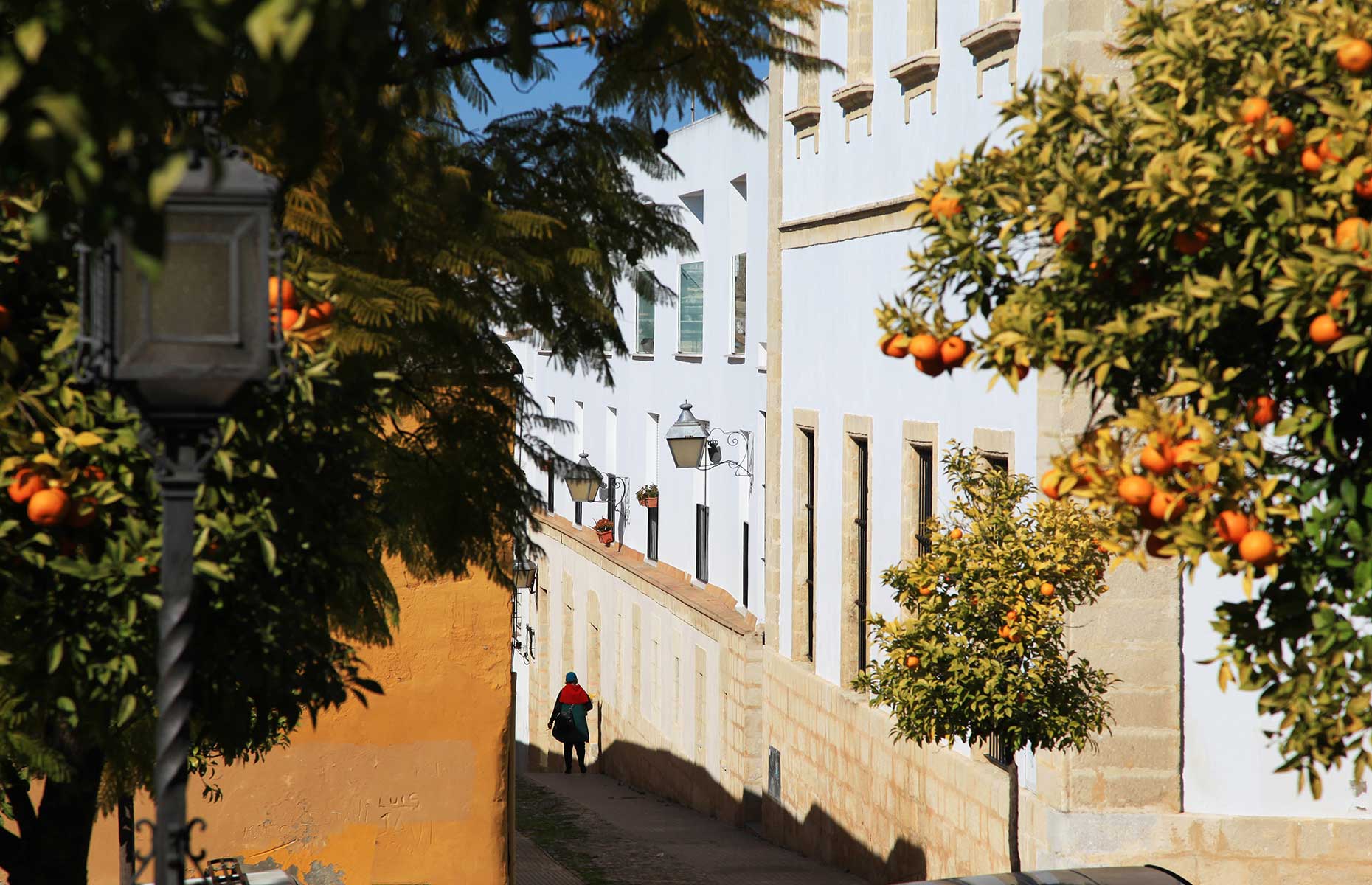 Yuriy Shmidt/Shutterstock
Jerez is a lively place to spend time in all year round, with regular flamenco shows, but it's also home to a flurry of festivals that are worth timing your visit for. In May, there's the Horse Fair, a festival with roots stretching back 500 years. Autumn sees a massive sweep of festivities to mark the harvest of the sherry grapes. Sherry is the lifeblood that binds this elegant city together and puts it on the map – yet once here, you'll discover it offers far more besides.
Friday
Check into: Apartamentos Jerez. A fitting abode for deeply historic Jerez, this heritage-listed palace dates back to the 16th century. Life here revolves around the lush central patio area, which has won awards for being the best of its kind in Andalusia. Choose from one-, two- and three-bedroom apartments, each enjoying the delightful ambience of the palace while offering its own distinctive character.
A thorough renovation project has seen authentic materials such as limestone walls, hardwood ceilings and floor tiles from Tarifa (a town further south along the coast) restored to their former glory, ensuring the historic interior keeps its charm. Note that for obvious reasons there is no elevator.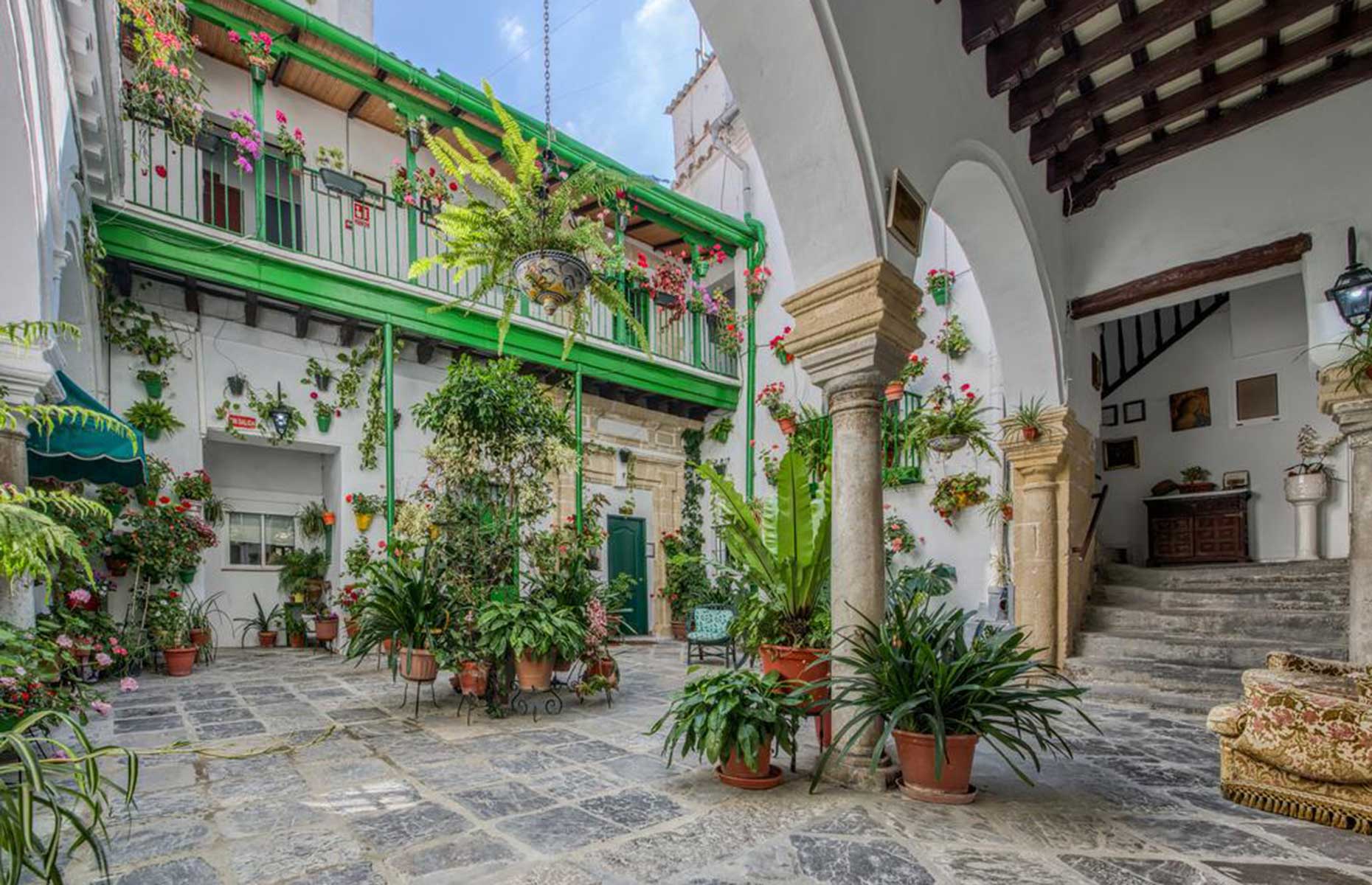 Apartmentos Jerez
Explore: the old town. Jerez's old town is like a miniature Seville with its glorious montage of old-world mansions, palaces and churches touched by more than a hint of Moorish romance. We're talking cobbled streets, dainty narrow lanes and little squares that just invite you to relax in a pavement café or tapas bar taking it all in.

Cezary Wojtkowski/Shutterstock
The highlight of any visit to the old town – and indeed to Jerez – is the Alcazar. This prime spot has been preserved since prehistoric times, today being home to an epic palace complex. Inside, you'll find lush gardens, the city's only surviving mosque and an intriguing mix of Moorish art and architecture. It's the interweaving of Moorish and Christian influences that makes the Alcazar so compelling and that binds it inexorably into the story of Jerez.
Jerez's cathedral is a grand riposte to its Moorish rival, a cathedral steeped in gothic, baroque and neoclassical styles. Flying buttresses add a sense of drama to the exterior, while inside it's very much still the seat of the local catholic church. Being Jerez, the statues outside are not only of an illustrious Pope, but also of a local sherry baron.
Stop for a sundowner at: Atuvera, a new 'gastro tabanca' that is a real breath of fresh air, taking a ramshackle building and turning it into a creative foodie hub that serves Asian-influenced tapas next door to the Apartamentos Jerez. On a sultry Andalusian evening the outdoor tables are the place to be, with the menu offering a range of sherries alongside creative cocktails.
Eat dinner at: La Carbona – The most creative and elegant dining space in the city simply must be in line for a Michelin star. An old bodega that's been given a new life as a classy dining space, the tasting menus paired with matching sherries are a must. Each dish is priced around the quality of the sherry, so it's up to you whether you go for the more budget or blowout end of the scale.
Saturday
Tour: the famous sherry bodegas. Jerez is synonymous with sherry and to leave without visiting a sherry house, or bodega, would be like visiting Venice without hopping on a gondola or vaparetto.
Start at the top with one of the biggest sherry producers, Gonzalez Byass Tito Pepe, whose slick visitor experience is as streamlined and well-honed as their sherry production. A tour opens up the world of sherry, which quickly dismisses any associations with it being merely a drink for elderly relatives at Christmas.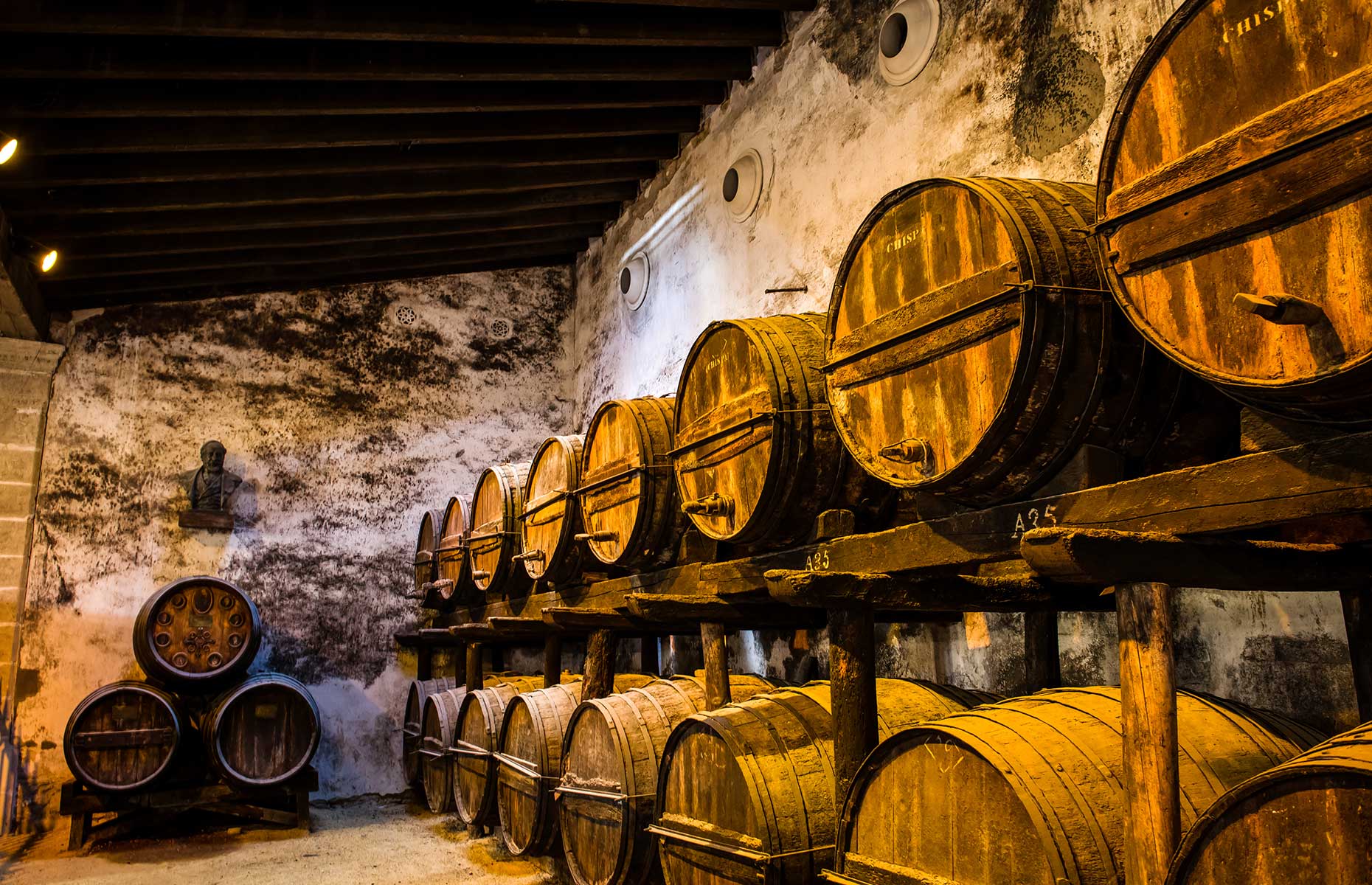 miquelito/Shutterstock
At the other end of the scale is Bodega Faustino Gonzalez, a tiny, family-run gem that very few visitors are lucky enough to discover. The hands-on family run the tours themselves and really get under the skin of the system behind sherry production, while allowing you to enjoy the glorious setting of their old-world bodega. However, getting in can be tricky – see below for tours.
The lively and enthusiastic Ivan is the man behind Genuine Andalusia, a bespoke local tour company, who can get you in behind the scenes at many bodegas, including Bodega Faustino Gonzalez. His tours often also include tapas bars and flamenco shows, usually kicking off in style with breakfast by the city's lively market.
Eat lunch at: La Moderna (67 Calle Larga). You can really feel like a local here. This famous café and tapas bar is hewn right into the city's sturdy old walls, with exposed stone adding a cosy and historic atmosphere inside. Alternatively, there are tables outside if you prefer people-watching.
READ MORE: 5 hidden highlights of AndalucÍa
Shop at: the Mercado. The glorious old-world main city market is no tourist confection: each day, inured hagglers from the suburbs descend en masse to barter with the many fruit, vegetable, meat and fish sellers. It's all very Jerez and it's without doubt the city's most authentic shopping experience.
Hop into a horse-drawn carriage: it's not just near-neighbour Seville that offers charming old horse-drawn carriage rides. Opting for a clip across the cobbles takes you back through the centuries to a much gentler time, in a city where the past is never far away.

Jose Rosa Vazquiez/Shutterstock
Snack on tapas at: Tabanco las Banderillas. Strictly speaking it's a tabanco rather than a tapas bar, which means it's a brilliant place to enjoy some seriously fine tapas and a range of excellent sherries. Tuck into the likes of mouth-watering bellota ham, perfectly-seared red tuna and deliciously slow-cooked oxtail.
Stroll: After all that tapas-munching and sherry-quaffing, it's time to relax. Take in the view as you stroll around the Alameda Vieja, which is located within a stone's throw of the bodegas to one side and the landmark Alcazar on the other.
Sunday
Take a day trip to Seville: as it's so close and is also one of Spain's great cities, it would be a shame not to visit Seville. It may sweep in many more tourists than Jerez, but its historic old town is of a scale and grandeur unmatched by its Andalusian sibling.
READ MORE: 8 things you must see and do in Seville, Andalucía's scenic capital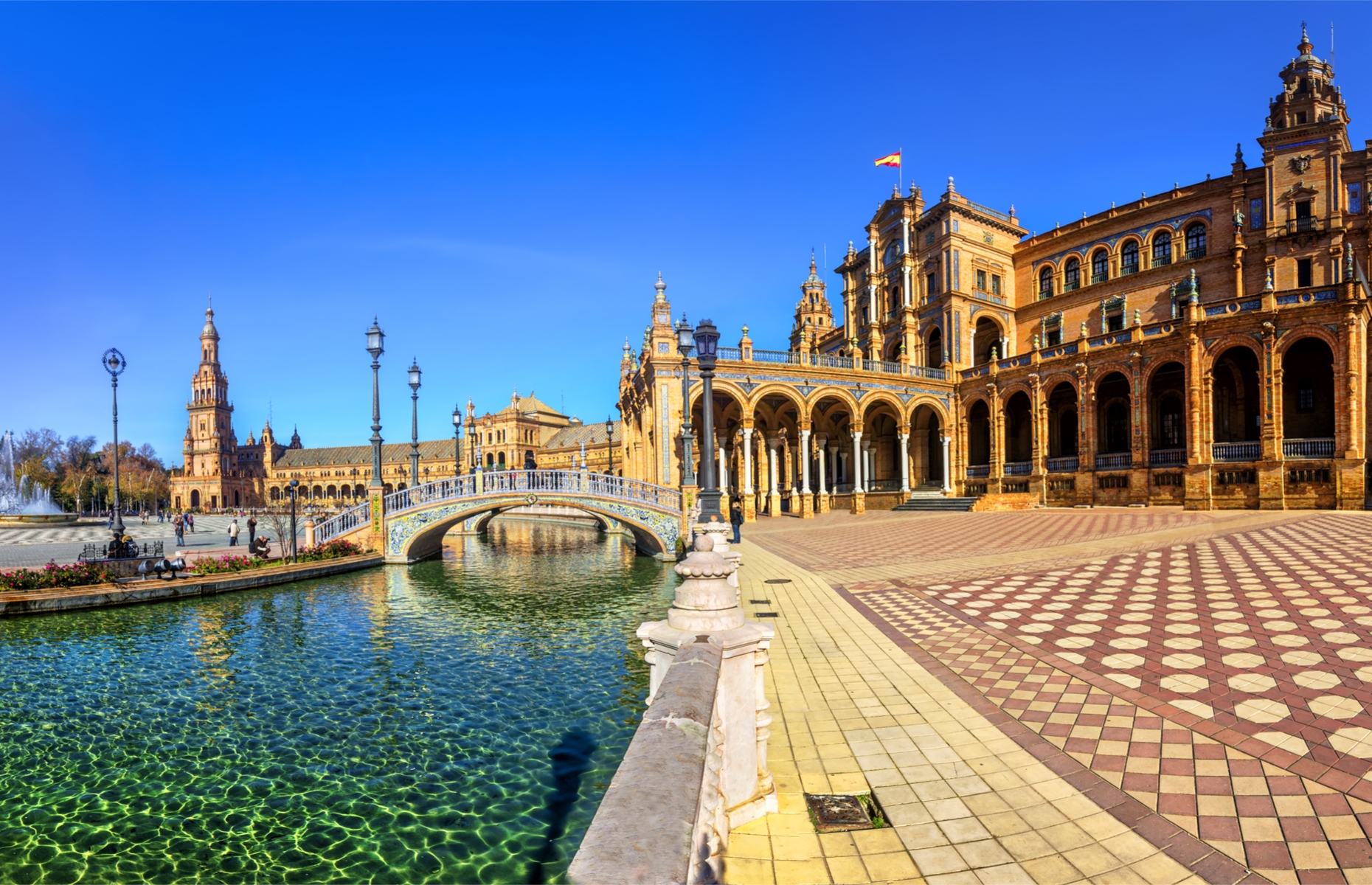 May Luna/Shutterstock
Climb up the cathedral bell tower – part of a former mosque that nods to the Moorish history – and you can take in the vaulting old town. At ground level, it's the home of tapas (with the superb tapas bars to prove it), Moorish palaces, horse-drawn carriage rides over the cobbles and strolls along the recently-reborn banks of the Guadalquir River.
For more information see Visit Spain.
Be the first to comment
Do you want to comment on this article? You need to be signed in for this feature