An island-by-island guide to Scotland's Outer Hebrides
The Outer Hebrides archipelago is nothing short of otherworldly – all stone circles, deserted beaches and epic wildlife. There are over 200 islands and islets to explore, but we've chosen six world-class spots for you to savour.
Why explore the Outer Hebrides?
The Outer Hebrides, a 130-mile (209km) island chain also known as the Western Isles, is seriously out there. Physically out there, that is, set across the treacherous Minch strait, west of the Isle of Skye (the next landfall is the Americas), but also spiritually, linguistically, culturally and scenically in a world of their own.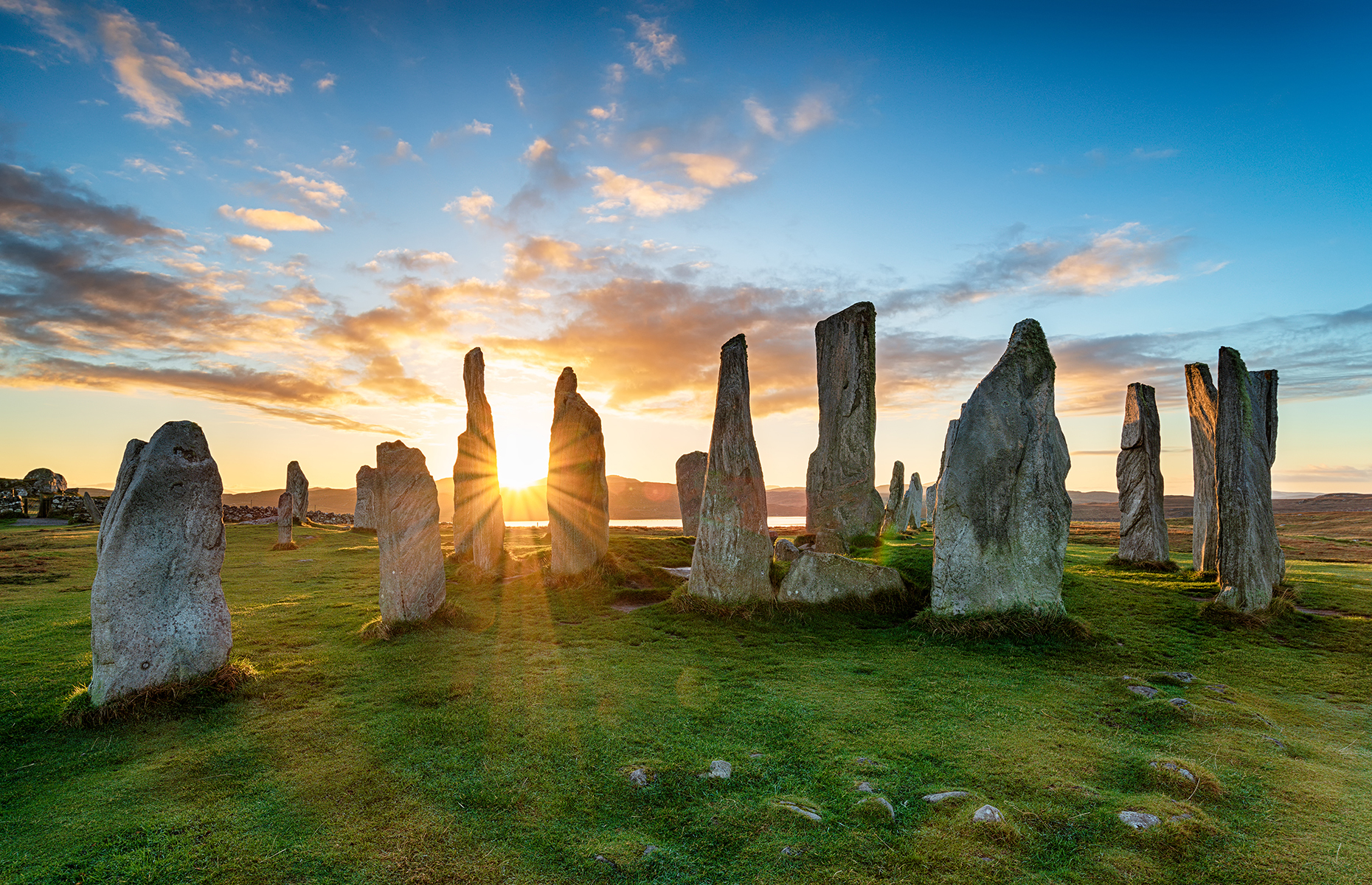 Helen Hotson/Shutterstock
We're talking stone circles, a hundred sweeping white sand beaches that rival the Caribbean and hulking mountains where you won't meet a soul, but you'll grow closer to yours. Then there's a culture and heritage alive with everything from torrid tales from the Clearances years through to the global fashion icon of Harris Tweed. And, yes, whisky too – best enjoyed with an impromptu folk music session in the life-affirming local pubs.
Lewis
Lewis may be joined at the hip with Harris – and together they form the third-largest island in the British Isles after Britain and Ireland – but they are very much two separate places.
Lewis overflows with culture and history, from the recently revamped Lews Castle in the lively capital of Stornoway (home to riotous Scottish folk rock sensation Peat and Diesel), through to one of the best-preserved old crofting villages in Scotland, the thatched roof wonder of Gearrannan Blackhouse Village.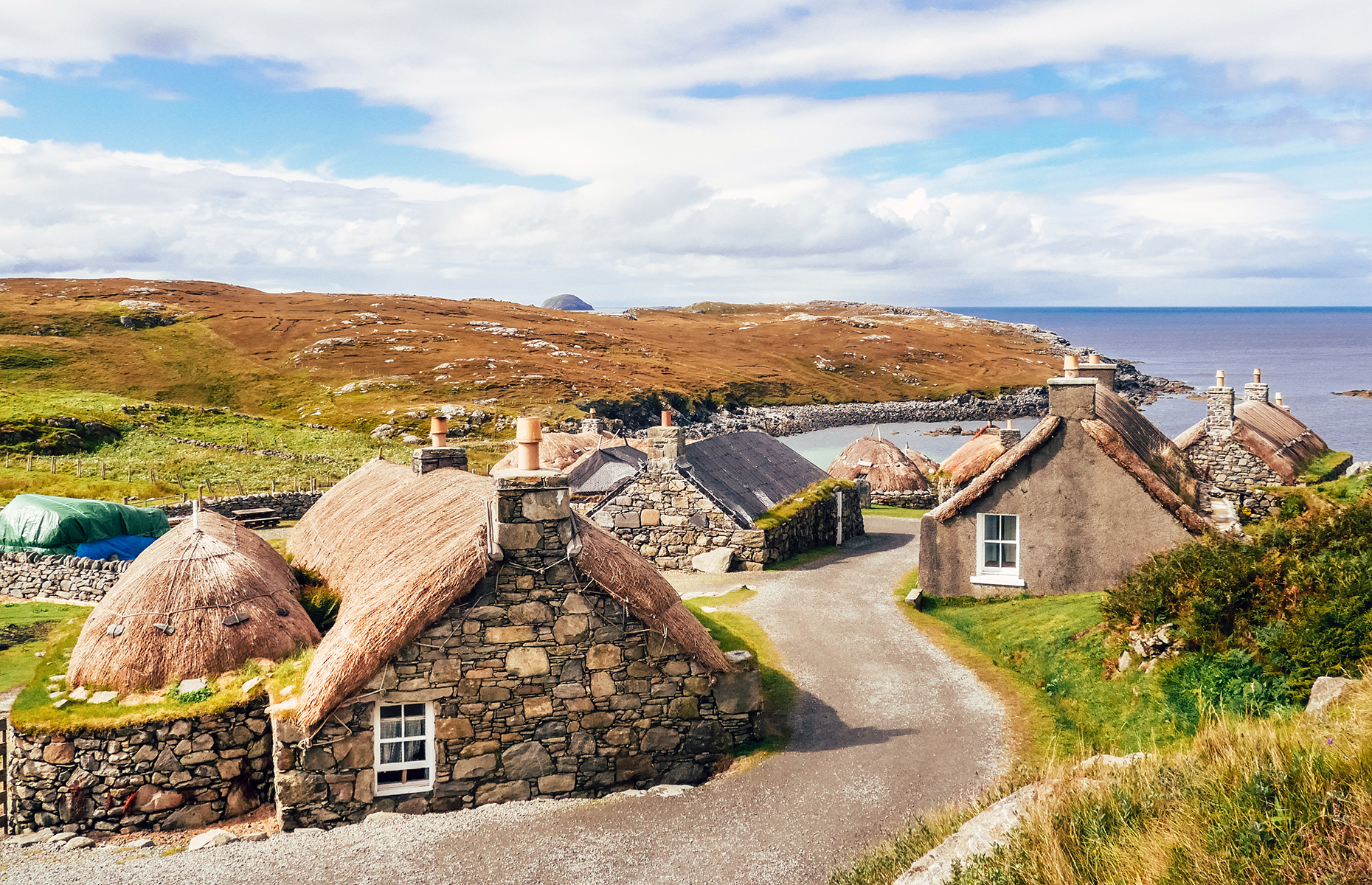 M. Vinuesa/Shutterstock
Nearby vaults one of the nation's finest brochs (a fortified tower unique to Scotland), Dun Carloway, standing firm against the baleful Atlantic. And so too does the star of the show: Calanais. This remarkable 5,000-year-old stone circle overlooking the ocean was the inspiration for the stone circle in Disney's Brave. This being the Outer Hebrides, there are little-visited prehistoric sites sprinkled in the countryside around too.
Where to stay
It has to be Gearrannan Blackhouse Village. Peel back the centuries and connect with Lewis's historic heart by staying in one of the old blackhouses.
Where to eat
You won't forget the views across the famous beach out of the giant windows at the Uig Sands Restaurant – nor the boat-fresh seafood at the special spot where the legendary Lewis Chessmen were uncovered.
READ MORE: 10 life-affirming experiences you can only have in Scotland
Harris
If it's beaches you crave, then Harris is for you. The water never quite warms up properly, but there's nothing like standing on your own beach with mountains at one end, seals at the other. Scarista, Luskentyre or Seilebost are the most famous in this epic landscape forged by some of the oldest rocks in the world (Lewis gneiss), but you'll have fun finding your own.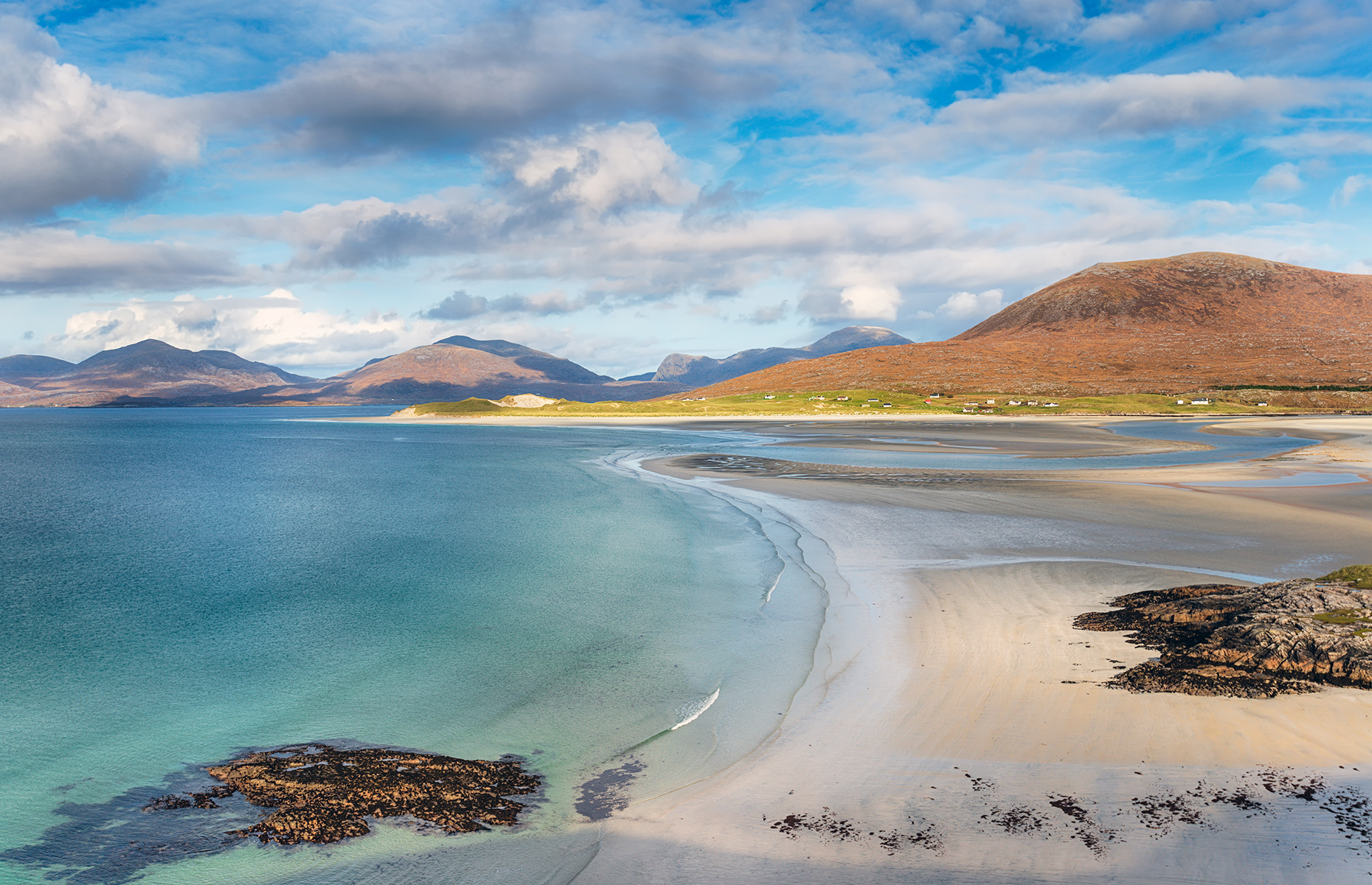 Helen Hotson/Shutterstock
The village of Tarbert makes a good base as it's home to a superb shop where you can learn more about Harris Tweed. They sell the genuine article – hand-crafted from wool that's dyed, spun and then hand-woven on looms in the Outer Hebrides. Look out for the famous orb trademark label. Next door is the modern, purpose-built Isle of Harris Distillery, well known for its gin. Though the first (legal) distillery on Harris will soon be more famous for its whisky as its single malts mature.
Don't miss a drive on the 'Golden Road', either. Sinewy and surreal, the tarmac single track feels more rollercoaster than road and the local sheep ensure your journey takes three times longer than Google reckons.
Where to stay
The Sound of Harris is a brace of beautiful 1950s retro-chic lodges with Japanese baths. Floor-to-ceiling windows make the most of the views of the eponymous sound.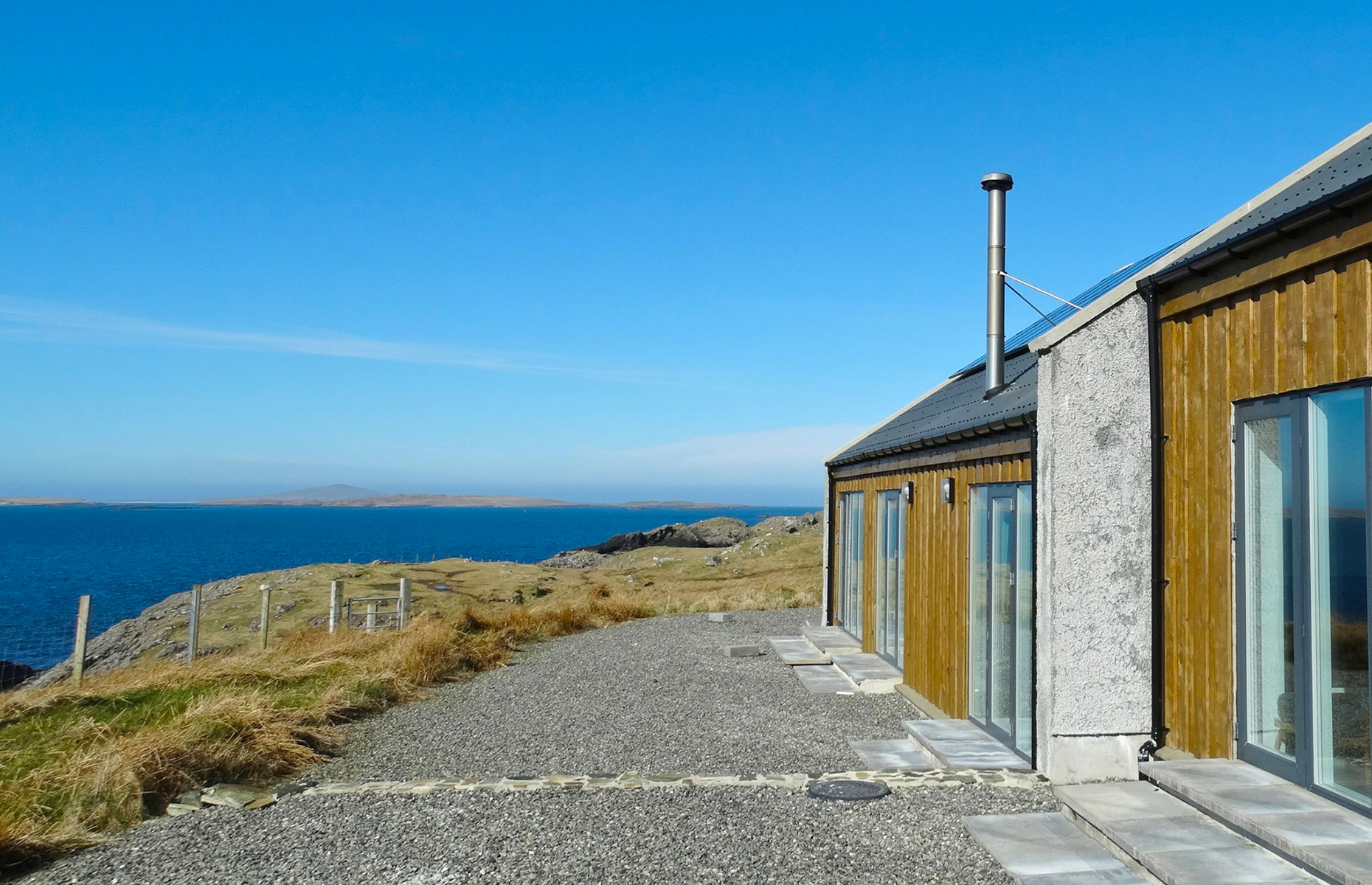 Sound of Harris/Facebook
Where to eat
You can 'only' enjoy a homemade scone or triple chocolate brownie with your coffee here, but Skoon is also an art gallery where you can pick up traditional music, as well as an original painting.
READ MORE: Here are more reasons why you should visit the Isle of Harris
North Uist
North Uist thrills wildlife enthusiasts and is a scenic stunner too, if you swoon at big skies, Atlantic views and beaches. A necklace of white sand graces its entire west coast, with rugged lochs, lochans and sodden moors breaking east.
Few bird reserves boast as impressive an array of birds as the RSPB's Balranald. The corncrake is its most famous resident, nevermind the colourful machair flowers, white-sand beaches and the passing basking sharks.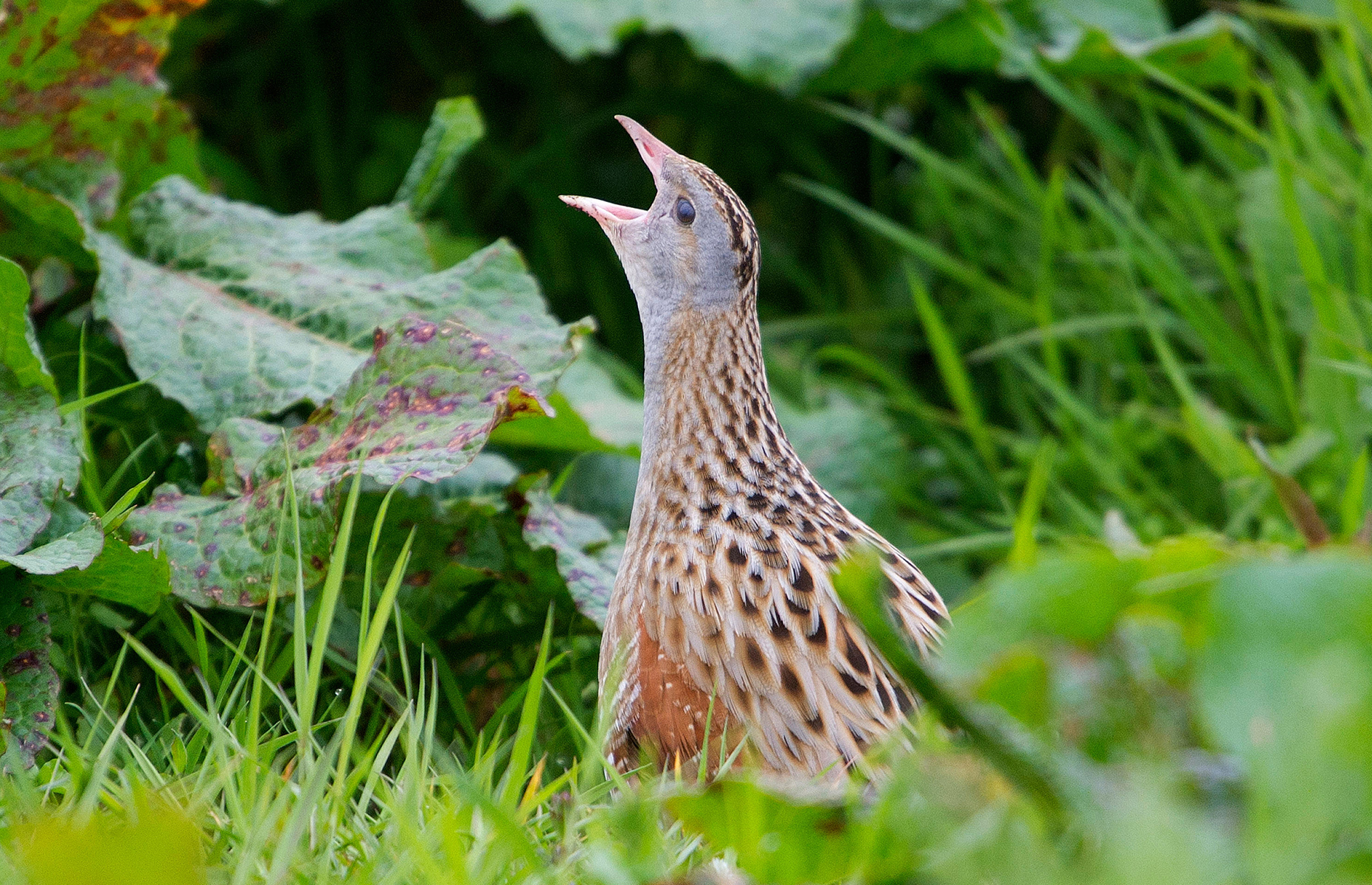 Ian Rutherford/Alamy
The imprint of man is intriguing too. Trinity Temple is an eye-catching 13th-century church and monastery ruin alive with history. Founded by Beathag, daughter of the Norse-Scot warrior Somerled, it has changed over the centuries, but its moody appeal is undimmed.
It's also easy to 'island hop' as causeways link north to Berneray – with a beach so spectacular the Thai tourist office apparently nicked it for an advert – and Benbecula to the south, with its own stunning strands.
Where to stay
Fans out of Outlander won't be able to contain their excitement while staying in Struan Cottage, a traditional whitewashed thatched croft by the beach.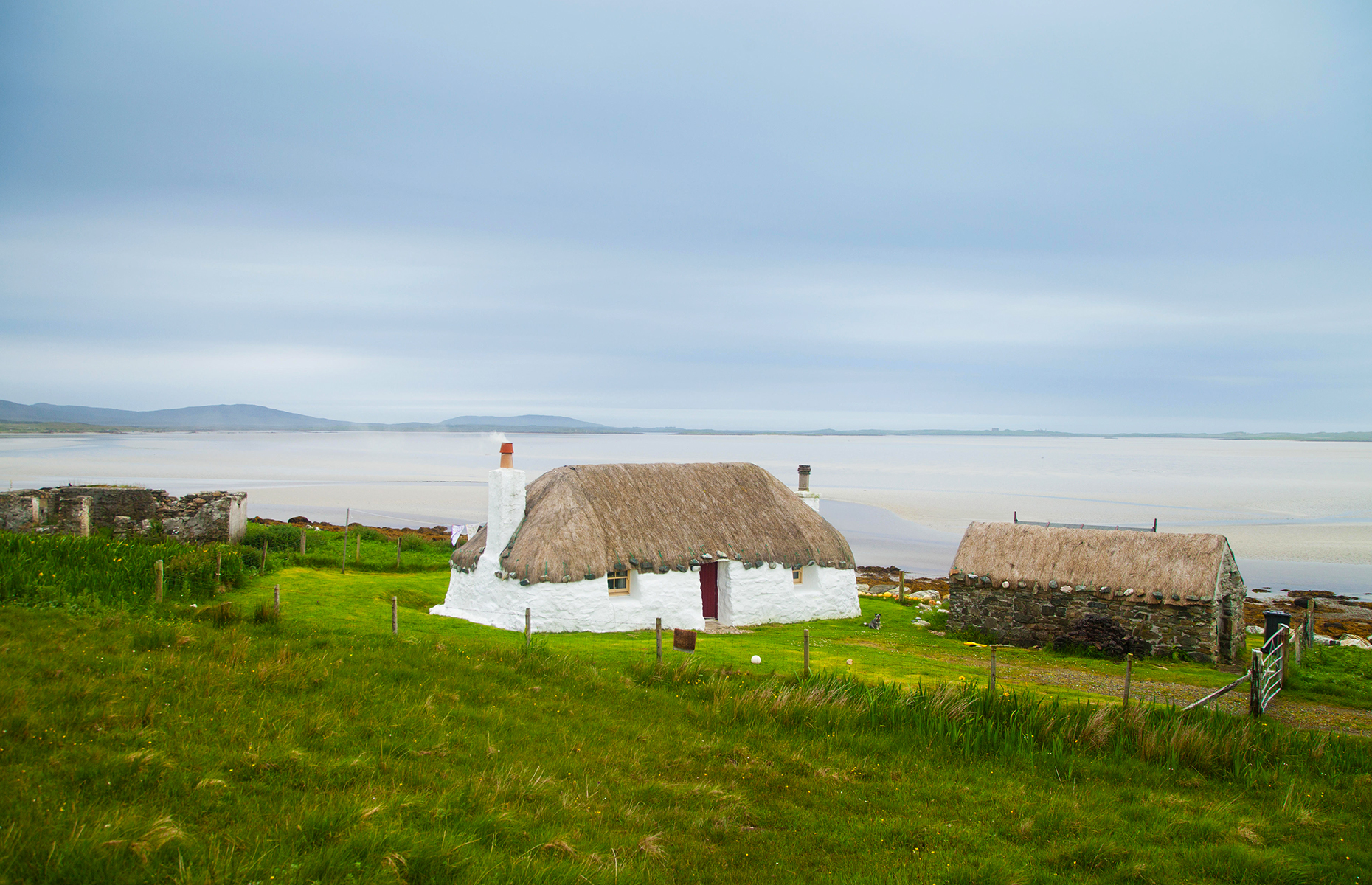 Richard Newton/Alamy
Where to eat
Grab the local gossip and take the cultural pulse of North Uist at Taigh Chearsabhagh, in the 'capital' of Lochmaddy. It's a café and cultural centre where you can learn more about Gaelic and Hebridean culture.
South Uist
The rich sprinkling of white-sand beaches that line the entire west coast are reason enough to visit, but the largest of the southern Outer Hebrides will always be associated with one of Scotland's most famous historical figures, Flora Macdonald.
After growing up here, she helped Jacobite pretender Bonnie Prince Charlie – at the time Europe's most wanted man – to evade the British Army Redcoats in the aftermath of The Battle of Culloden in 1746. Check out the simple memorial by the ruin of her blackhouse.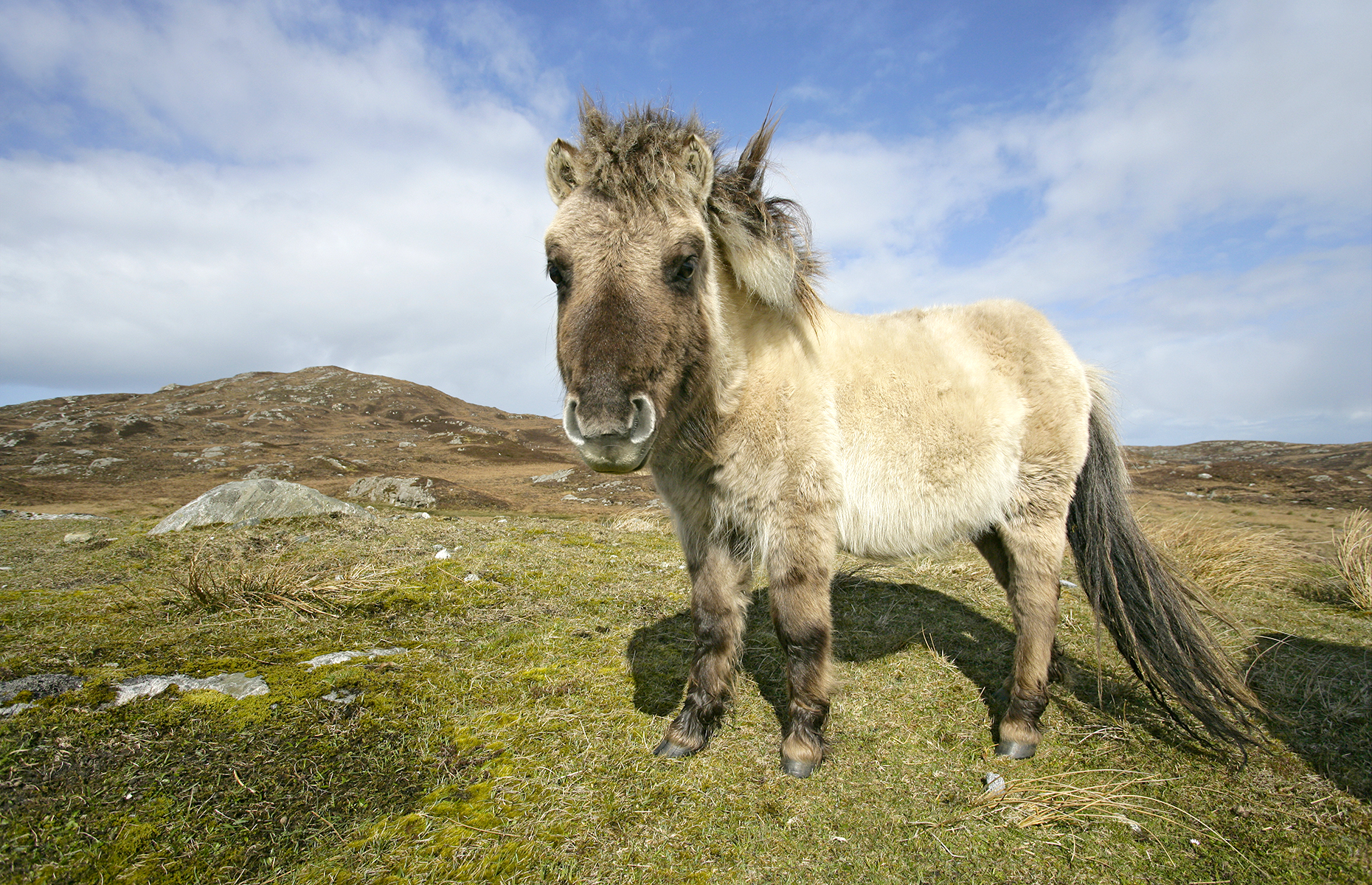 Erni/Shutterstock
South Uist's population of Eriskay ponies don't care much for history, not when they have wild Loch Druidibeg to roam around. Spread across more than 4,000 acres, this Site of Special Scientific Interest (SSSI) creates an island habitat with its machair stretching on to moorland punctuated with wee lochans. The RSPB reserve here is alive too with everything from corncrakes and graylag geese to golden eagles and peregrine falcons.
READ MORE: Searching for sharks on Scotland's wild west coast
Where to stay
The Polochar Inn is a whitewashed dame right on the Atlantic with mind-blowing sunsets. It's great for stargazing and possibly spotting the Northern Lights too.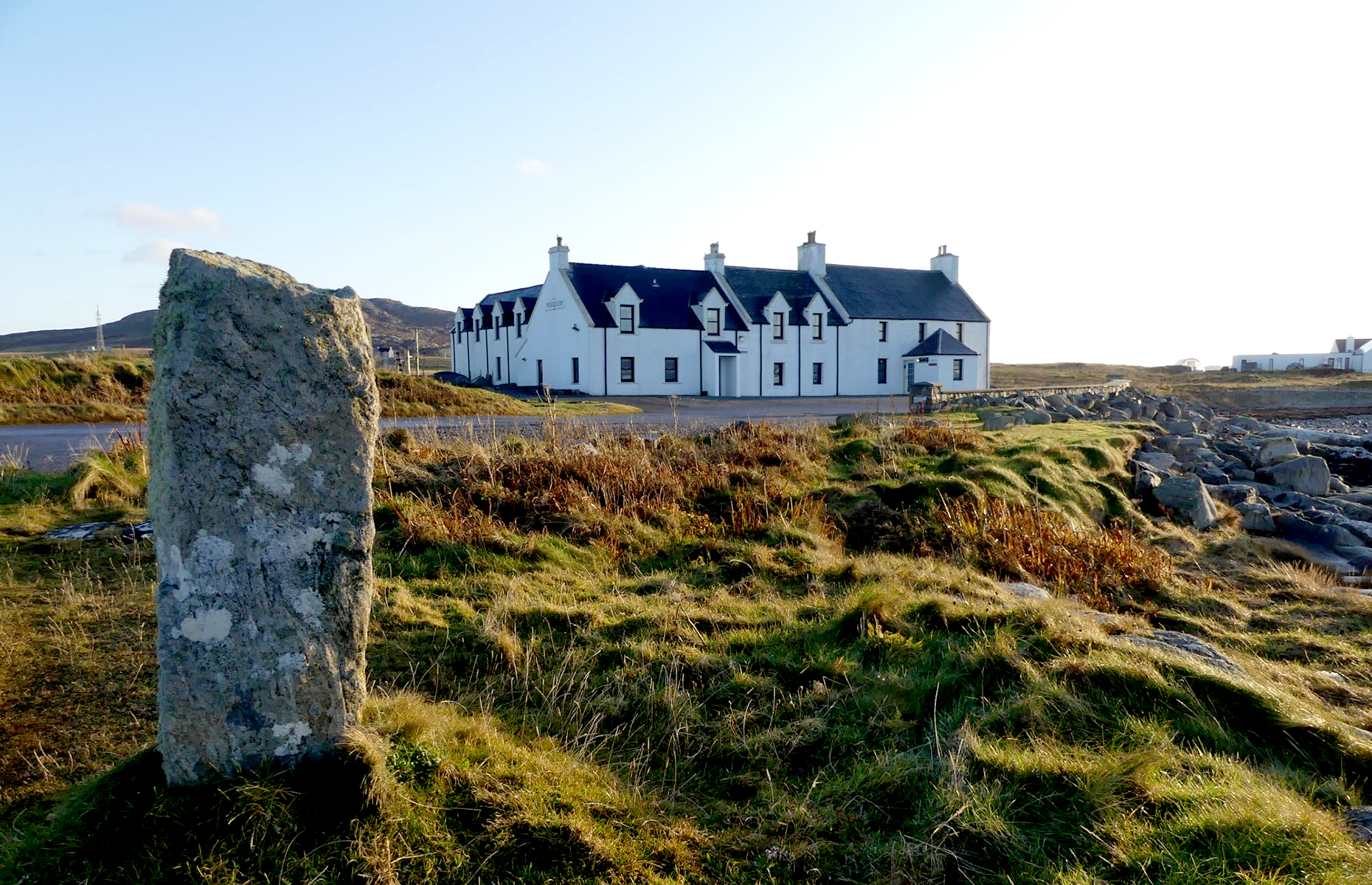 Polochar Inn/Facebook
Where to eat
Love seafood? Head for the Orasay Inn and tuck into boat-fresh scallops, crab and lobster.
Barra
If you're short of time and can only visit one island, then this is the one: this multifaceted wee charmer is the Outer Hebrides in miniature.
The journey is a joy – especially if you fly in from Glasgow and experience the world's only scheduled flight that lands on a gorgeous white sand beach. Don't miss garlic cockles culled from the runway.
The only real village is Castlebay. It tempts with Kisimul Castle, the ancient seat of the Macneils of Barra, whose hulk lies in the bay, just a boat ride away. You can kayak too: Clearwater Paddling shows you that Barra is a world-class sea kayaking destination as you ease along with the seals, otters, eagles, dolphins and even whales.
READ MORE: 8 reasons to visit Perth, Scotland's oldest new city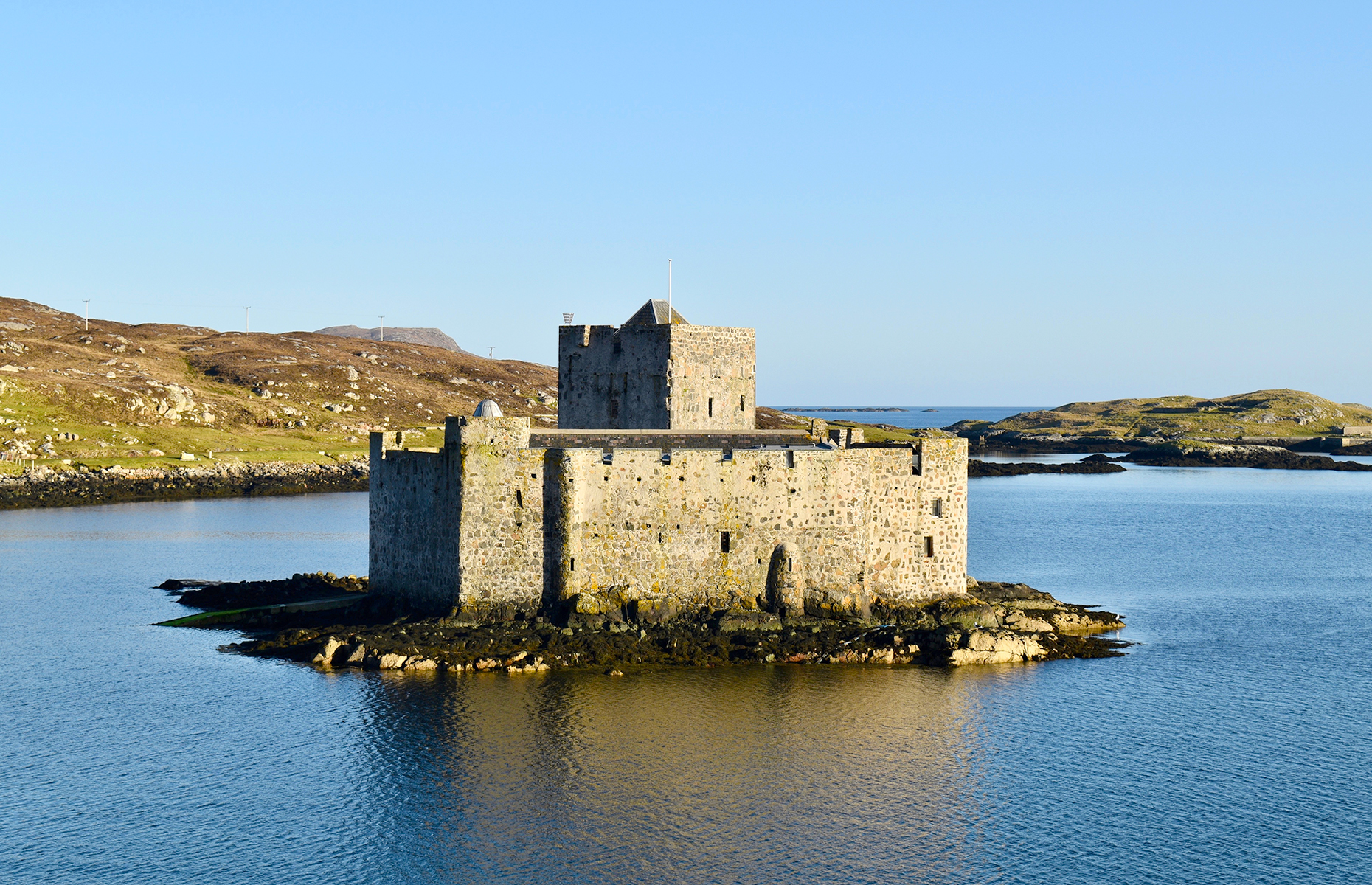 Steven Finlayson/Shutterstock
The beaches are life-affirming, backed inland by the wildflower-kissed machair and spreading out towards rugged hills and glowering peaks. The view from Sheabhal back towards Skye and the mainland, and closer to the wee isles of Mingulay and Vatersay, is sublime.
Boat trips from Castlebay leave for uninhabited Mingulay, with its mysterious beachfront abandoned village too.
Where to stay
It's worth staying at the Castlebay Hotel just in case the legendary Vatersay Boys are in the bar for an impromptu music session. Book a sea-view room.
Where to eat
The Barra hand-dived king scallop pakora at Café Kisimul – a top-notch Indian spot with a focus on local ingredients – are out of this world.
St Kilda
Even the mention of mystical St Kilda is enough to get many a Scot misty-eyed. UNESCO are fans too – they awarded it a dual listing on their coveted World Heritage List, for both its natural charms and for human heritage. It lies a whopping 40 miles (64km) west of the main thrust of the Outer Hebrides.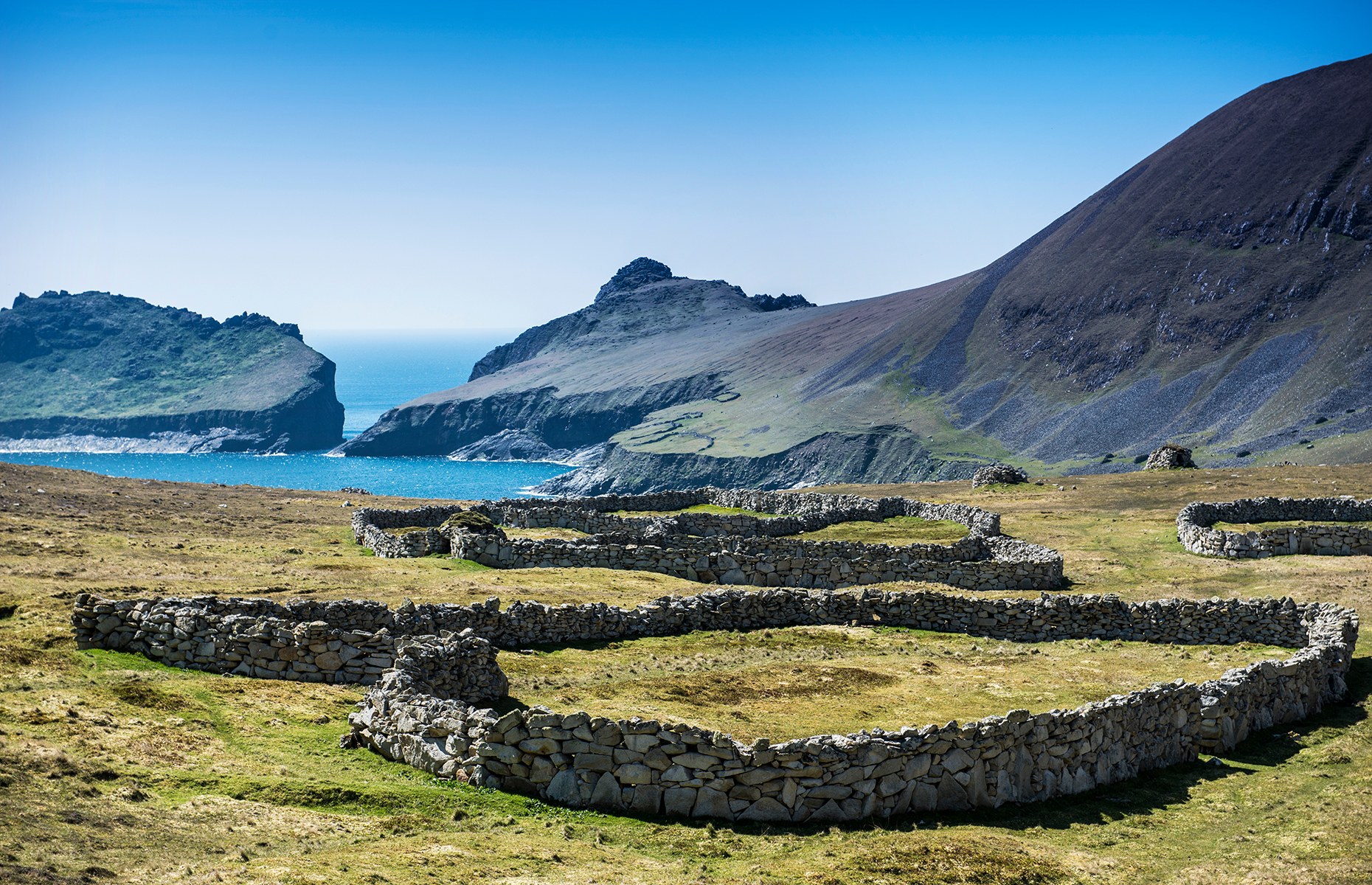 Martin Payne/Shutterstock
St Kilda is not actually one island, but the only one you're likely to get to is the main island of Hirta. It was once home to a community that lived life on Main Street in Village Bay with few of the creature comforts we deem essential today and few of the social structures and graces of the mainland. The last residents were only evacuated in 1930, leaving it largely to the one-million-plus birds who call it home in summer.
Many a sailor fails to get here – any sort of easterly and forget the only real anchorage in Village Bay – but the fast boats from Skye have a good landing record. You can also join a live-aboard cruise that ventures this far out – Hebrides Cruises is a great option.
Where to stay
Volunteering to do conservation work with the NTS means you get to live in this amazing world.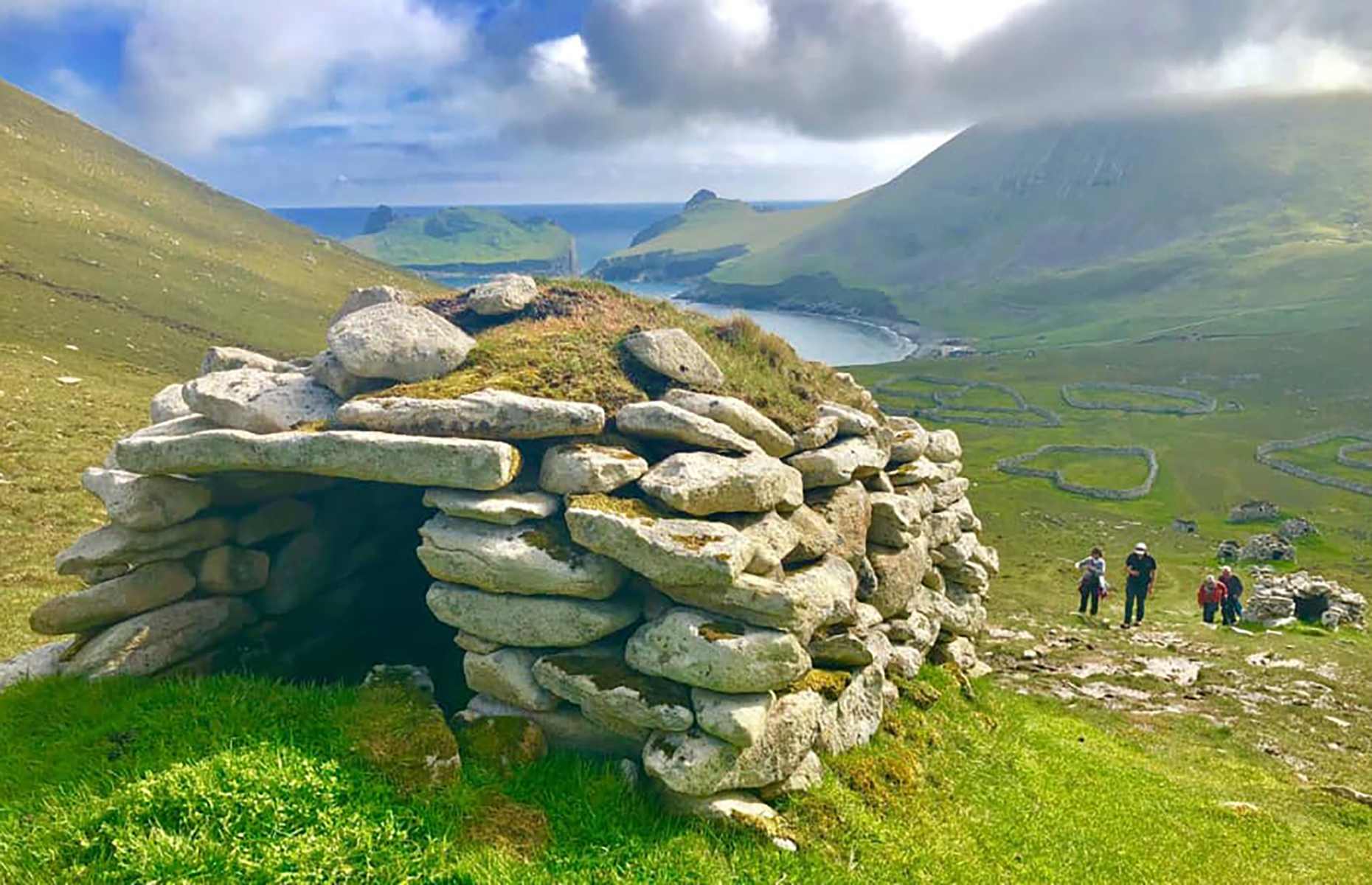 Hebrides Cruises/Facebook
Where to eat
There is a small shop with limited hours. The good news is all picnic spots come with a serious view.
READ MORE: 9 great ways to experience Scotland's first national park
Lead image: Helen Hotson/Alamy
Be the first to comment
Do you want to comment on this article? You need to be signed in for this feature