The best world cruises to book now
Cruising's making a big post-lockdown comeback with global voyages ruling the waves. Cruise companies are proving there are plenty of us with time to spare and the money to go with it as adventures from three months to more than seven months are selling like never before. Here Nick Dalton looks at everything from the best value to the longest, most luxurious to the most stylish…
Why go?
You're circling the planet with an itinerary measured in continents rather than ports – and all the pleasures of a cruise holiday but with a sense that it will never end. Sailing around the globe is a magical experience and gives the chance to see the world's sights as well as beaches.
How long is a world cruise?
Most take at least three months to sweep around the globe, some take much longer, returning several seasons in the future. Departures tend to be at the start of the year when demand for regular cruises is at its lowest. Some set sail in December but the aim is, generally, to follow the sun. You do, however, have to be able to relax – it's not unusual on a four-month cruise to spend more than half of that at sea.
Virrage Images/Shutterstock
Do you have to do the whole thing?
Generally no. A world cruise is, in reality, a collection of segments. There's only a limited number of people who can afford months away even if they can afford the fare so some companies promote the segments. While some cruise ships call a port home others, particularly upmarket ones, sail the world and each cruise can be linked to the next.
Often, though, a world cruise segment can be more entrancing than a regular cruise as there's a real feel of travelling – the distance tends to be greater and you start and finish in very different places. That can also be a downside, though, if airfare's not included.
READ MORE: Brilliant UK cruises for 2021
Top world cruise deals for 2022
Oceania Cruises
The itinerary: The Global Expedition is as big as it gets, 218 days from Miami to New York via the scenic route in absolute luxury. From the Caribbean to the Antarctic this is an extraordinary mix of the classics (South Africa, Brazil, Canada) with the unusual (Peru, Alaskan glaciers, Senegal) and a wealth of overnight stops.
Ovidiu Curic/Shutterstock
The ship: Oceania Cruises' Insignia (684 guests) is a world of East Coast country club-style, a place for an extended retreat. Plenty of included dining options, even the Polo Grill with its porterhouse steak.
The price: From £42,859, including flights, wi-fi and choice of 80 shore excursions, free drinks or $8,000 onboard credit per room. Gratuities $16 a night. Departs 28 December 2022
Book it: oceaniacruises.com
READ MORE: Beloved cruise ships that will never sail again
Top world cruise deals for 2023
MSC Cruises
The itinerary: From Genoa, 118 nights and 33 countries, first call (Marseille) the day after you sail, then it's the Med, Caribbean, USA, Australia, New Zealand and almost three weeks in China, Japan and Korea. And MSC gives 15 free excursions at places such as Honolulu and Sydney, a Shanghai train ride and San Diego cruise.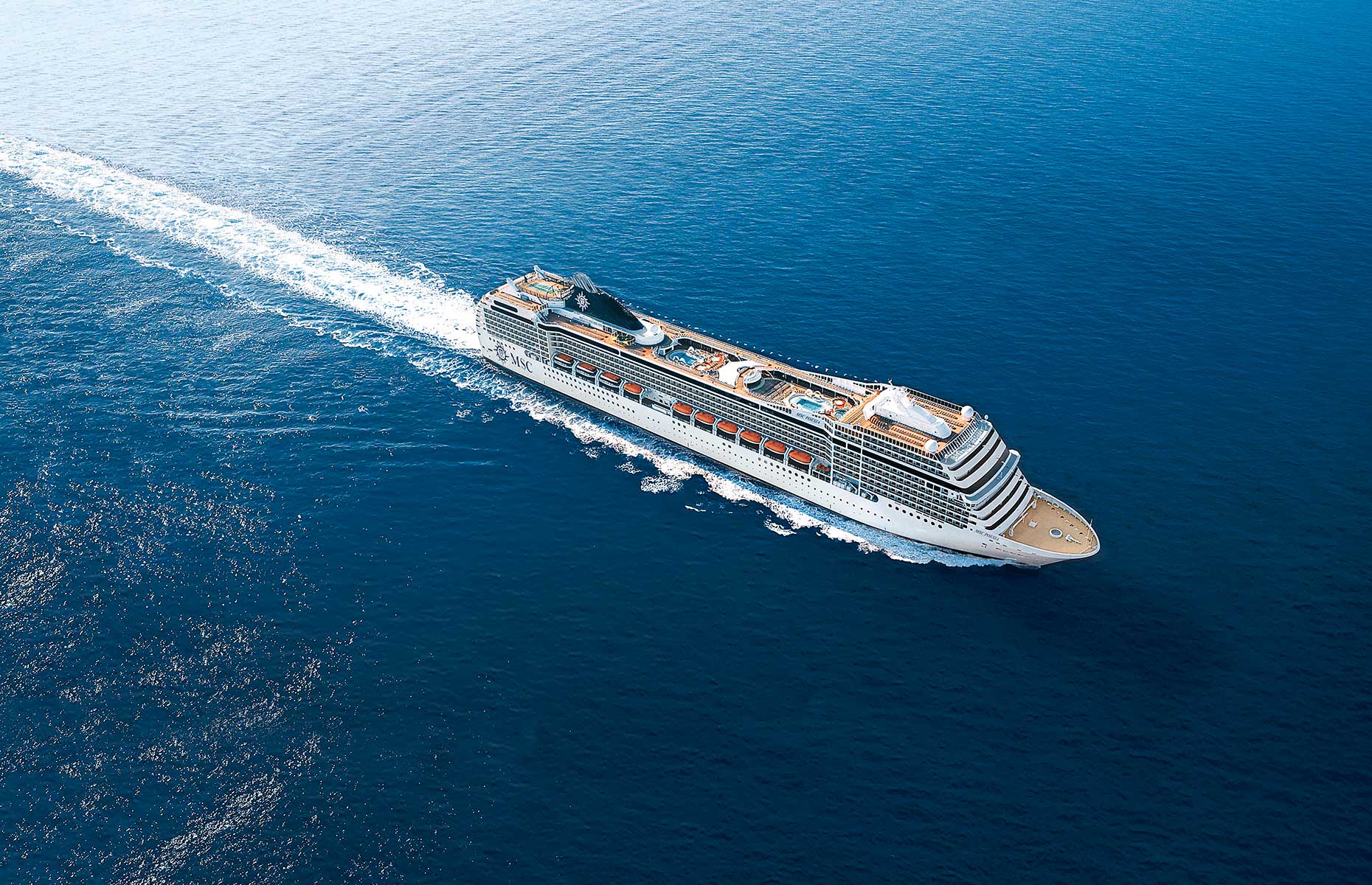 Courtesy of MSC Cruises
The ship: MSC Poesia (2,550 guests) is a resort ship with Italian flair and an on-deck cinema screen. Relaxation is easy – wine is included with dinner.
The price: £12,289 including 15 excursions, wine with meals and tips, cruise only. Departs 4 January 2023.
Book it: msccruises.co.uk
Cunard
The itinerary: A regal tour on Queen Victoria celebrating Cunard's centenary of global voyages, taking in 10 ports visited by RMS Laconia on the line's very first journey of this type. Soak up the style with afternoon tea served by white-gloved waiters, not least as you glide through the Panama Canal.
Fotos593/Shutterstock
The 101-night round trip from Southampton starts with a classic Atlantic crossing (with a night in New York) then everywhere from Hawaii to Malaysia to Vietnam.
The ship: Queen Victoria (2,060 guests) has a timeless feel, all polished wood and Art Nouveau touches. Service is exemplary and it's impossible to resist dressing for the gala balls.
The price: £13,579, departing 11 January 2023. Tips $11.50 to $13.50 daily depending on room.
Book it: cunard.com
P&O
The itinerary: A 99-night round-trip from Southampton from P&O Cruises with a wealth of sun-drenched spots (Bahamas, Mexico, Sri Lanka, Dubai, Malta) among iconic must-sees (New Zealand's Bay of Islands, Singapore and Hong Kong). Five two-day visits include Honolulu and Sydney.
withGod/Shutterstock
The ship: Arcadia (2,094 guests), smart, cool and British. Plenty to do by day (sports court, deck games, dance classes) and top entertainment by night.
The price: From £10,779, including tips. Departs 3 January 2023
Book it: pocruises.com
Ambassador Cruise Line
The itinerary: Not quite a world cruise but Britain's new Ambassador Cruise Line (debuting April 2022 and based in Tilbury on the Thames) is well on its way with the great value 42-night Cuba & Treasures of the Caribbean. Sail past Southend pier then on to Portugal, Madeira and Cape Verde Islands before nine Caribbean calls (Barbados, Jamaica…) including two days each in Cuban hot spots Havana and Santiago de Cuba. Then a relaxed Atlantic crossing home, popping into the Azores.
Courtesy of Ambassador Cruise Line
The ship: Ambience (1,400 guests) is a smart, traditional ship with two outdoor pools and large movie screen, theatre and a variety of restaurants and bars.
The price: From £3,169. Departs 5 January 2023. Tips £5 daily.
Book it: ambassadorcruiseline.com
Crystal Cruises
The itinerary: Wild Kingdoms & Exotic Discoveries, a 140-nighter from Miami to Barcelona, seeks out unusual places. Alongside favourites – Australasia, India – there's Ecuador, Peru and islands by the bucketload… Easter Island with its curious statues, the volcanic Pitcairn Islands, Bay of Bengal's Andaman Islands and the palm-fringed isles of New Caledonia. Oh, and safaris in Kenya.
The ship: Crystal Serenity (980 guests) serves up all-inclusive ultra-luxury right down to the Champagne. Fine dining in seven restaurants includes sushi from Nobu.
The price: From £39,142 including drinks, wi-fi and tips, cruise only. Departs 11 January 2023
Book it: crystalcruises.co.uk
Princess Cruises
The itinerary: Princess Cruises with its smart, sophisticated style offers a 111-day loop from Miami taking in the big names (Panama Canal, LA, Hawaii, Polynesia, New Zealand, Australia, Thailand) as well as a cultured collection nearer home.
Tryphosa Ho/Alamy Stock Photo
There are nights in Dubai and Venice, and calls at the fabulous Montenegro fjord town of Kotor, Croatia's beautiful Split, Italy's splendid Sorrentino and Morocco's mysterious Casablanca.
The ship: Island Princess (2,200 guests) is cool, calm seagoing retreat with half a dozen included dining options as well as complimentary 24-hour room service, plus shows including Broadway hits.
The price: From £15,634, cruise only. Tips $14.50-16.50 daily depending on room. Princess Plus (£30 a day) includes tips, wi-fi and drinks. Departs 5 January 2023.
Book it: princess.com
Top world cruise deals for 2024
Viking Ocean Cruises
The itinerary: Viking World Journeys is a voyage from LA to London (Greenwich, by the Cutty Sark) in 121 days visiting one idyllic sun-drenched Eden after another… Indonesia, Thailand, the Polynesian isle of Bora Bora not to mention Australia's Sapphire Coast town of Eden itself, pictured below. There are bigger hot-spots too – two nights each in Ho Chi Minh City and Mumbai.
Greg Brave/Shutterstock
The ship: Viking Neptune (930 guests) is Viking Cruises' latest near-identical super-luxury vessel, launching 2022, with cool Scandi styling, contemporary yet comforting. Views from the Wintergarden are lovely – and everyone gets a balcony.
The price: £39,040, including flights, drinks, excursion in every port, wi-fi and tips. Departing 9 January 2024.
Book it: vikingcruises.co.uk
READ MORE: The world's most beautiful small islands
Regent Seven Seas Cruises
The itinerary: Regent Seven Seas Cruises' Navigate The World getaway does that over 132 nights from Miami. Excursions are included, 442 of them, and take in 61 Unesco World Heritage Sites – an RSSC record – from Australia's Gondwana Rainforests to Tuscany's Medici Villas. There are two weeks in New Zealand and Australia, five days in India and an overnight stay in glorious Tahiti.
Francesco de marco/Shutterstock
The ship: Seven Seas Mariner (700 guests) is the world's first all-suite, all-balcony ship. Five posh spots for dinner – think Versace tableware – from modern French to American steakhouse.
The price: From £54,949, all-inclusive with flights, tips and wi-fi. Departs 6 January 2024.
Book it: rssc.com
Main image: Cunard's Queen Victoria in Sydney, oblong1/Shutterstock
Top tips
Picking a cabin: Inside cabins are cheapest; no window but it might make the trip affordable. Best to push the boat out for a window or balcony – although on modern and luxury ships inside cabins are scarce. Sometimes booking early could lead to an upgrade.
Juggling the costs: Some cruise companies add daily gratuities of £10-15, quite a sum for a two-week cruise but scary on a 100-nighter. Look for companies that include tips in the price. Also, there are many early booking bonuses for tips, drinks packages and onboard spend.
The essentials: Make sure you're passport won't run out while you're away and has plenty of space for stamps. Then visas – some cruise companies help organise them but mostly they simply provide a list. It's time consuming as sometimes you need to visit an embassy. Visas aren't cheap for places such as Russia and India although it's sometimes possible to get a single-visit visa as part of a cruise or group. There are specialist firms that do much of the work for you, for a fee. And jabs – cruise companies will list your needs, but you need to arrange them.
Luggage: If you've got to the port by cab, car or train you can take as much as you can manage as there are no restrictions. If, however, you have to travel by air you're limited by airline rules. Remember, too, you have to get home so go easy on the souvenirs.
Insurance: Even if you have an annual holiday policy, chances are it won't cover you – you'll need a long-trip policy. Regular travel insurance covers a cruise but specialist policies add extras such as on-board healthcare, cabin confinement due to an outbreak of sickness, delays and itinerary changes. It's always worth double-checking your coverage for COVID-19 on any policy.
Be the first to comment
Do you want to comment on this article? You need to be signed in for this feature