Explore Dubai: what to see, top hotels and the best restaurants
A place where the ultra-modern and super-luxe collide with age-old Arabian traditions and Islamic culture, Dubai is fascinating. Here's our guide to Dubai's best places to visit, things to do and where to eat and sleep for all travellers.
Why go to Dubai?
Dubai is a love-it or hate-it kind of destination. Don't go if you're looking to meet the locals, immerse yourself in an unfamiliar way of life or want a break away from the chaos of modern living. This is a place for overindulgence, extravagance and frivolity. And it's seriously fun.
Having seen astonishing growth in the last thirty years – the famous Sheikh Zayed Road was but a sparse motorway with only a few high-rises in the early nineties – today Dubai is a modern adult playground. It truly is the world in one place, with one of the most multicultural populations of any city on Earth thanks to its free trade areas and strategic position between Asia and Europe.
Its glittering skyscrapers are a beautiful thing to behold, no matter your opinions on modern architecture, and the plethora of high-end restaurants makes it a fancy foodie's heaven. Use this guide on what see, eat and do in Dubai to craft your perfect holiday.
5 essential things to do in Dubai
Every destination has its big-hitters and Dubai isn't short of blockbuster attractions. Here are five things you shouldn't miss on your trip to Dubai:
1. Get high at the Burj Khalifa
The skyscraper the city is most famous for, the Burj Khalifa truly is an incredible building. It's 828 metres tall and clad with 26,000 glass panels for a mirror-finish. Take one of the world's fastest elevators to the 124th floor to marvel at the spaghetti mess of highways and comparatively tiny buildings below. Entry is pricey, but the views are worth it – especially at sunset.
2. See it all at Dubai Mall
Yet another record-breaker, Dubai Mall is the world's largest shopping centre at a whopping 13 million square feet in size. It's not just about shopping here, though: there's an aquarium, ice rink, Sonic the Hedgehog theme park, cinemas and a vast food court.
Tomasz Kzajcowski/Shutterstock
3. Look up
Whether you're architecture-obsessed or not, Dubai's astonishing array of incredible buildings is mesmerising. Just the drive from the airport to the city's southern limits promises a feast of towering art. One of the simple pleasures here is driving the Sheikh Zayed Road to admire the many shining structures that house offices, hotels and apartments. Highlights include Emirates Towers (pop inside to see the spaceage elevators in the vast lobby) and the new Zaha Hadid marvel, The Opus, which has a huge hole right through its centre. Ride the free Dubai Trolley for a an open-air tour of the downtown attractions.
4. Have sundowners by the Burj Al Arab
Eschew the expensive dinner and drinks available inside the world's first 7-star hotel and get something to drink at the many beach bars nearby instead; the best view isn't from the Burj Al Arab but of it. On Jumeirah Beach you'll find sand-side terraces aplenty (Beach Lounge is a good bet) from where you can watch the sun set behind its billowing sail-inspired form. For a higher vantage point, head to Uptown Bar in Jumeirah Beach Hotel.
5. Watch the Dubai Fountains dance
One of the best free attractions in the city, every day (afternoon and evening) the Dubai Fountains come alive to the sound of music. Accompanied by choreographed lighting, the water can reach up to 140 metres. Get up close with the Dubai Fountain Boardwalk (approx £5).
Benny Marty/Shutterstock
5 alternative things to do in Dubai
If you want to escape the crowds and try something a little different, head to some of these little-visited attractions:
1. For a breath of fresh air: Safa Park
A park is probably not the first thing you'd think of in the desert landscapes of the UAE, but Dubai has no shortage of gorgeous green space. Safa Park in particular is a wonderful 150-acre sprawl of foliage and lawns, with space for picnics alongside waterfalls and plenty of room for sports.
2. For arty types: Alserkal Avenue
Hidden away among the bleak, low-rise industrial district of Al Quoz is an unexpected hive of creativity. Alserkal Avenue is an old marble factory turned art and design district, with galleries, shops, cafés and a chocolate factory open for exploration.
Iryna Rasko/Shutterstock
3. For foodies: Deira food tour
With so many cultures communing in one city, it's inevitable that Dubai's food scene is just as global. Take a Frying Pan Adventures food tour through Deira, one of the city's oldest areas, to get a taste of the Middle Eastern cuisine and a better understanding of the various cultures that make up this modern metropolis.
4. For a bit of history: old Dubai
The Al Fahidi Historical Neighbourhood is a far cry from the shiny skyscrapers and modern malls of today's Dubai. This network of alleys and squares, lined by traditional homes dating back to the mid-19th century, is pleasantly quiet and offers insight into what the city was like before the building boom.
5. For thrill-seekers: theme parks
Dubai has no shortage of adrenaline-fuelled fun. With the likes of Motiongate, Bollywood Parks and Legoland at the excellent Dubai Parks & Resorts complex, there's plenty to entertain the thrill-seeker in you. The highlight, though, of the city's fast and furious obsession is the world's first indoor theme park: IMG Worlds of Adventure, where you can ride on the seriously dizzying Spiderman rollercoaster, or hop on amazing simulator rides with the Avengers.
Where to stay in Dubai
Splash out:
1. For a sleek stay: The Armani Hotel, housed in the Burj Khalifa, has all the style you'd expect from fashion icon Giorgio Armani, plus incredibe views over Downtown Dubai. The signature restaurant serves exceptional Italian cuisine.
2. For a beach break: If opulence is your thing, the One&Only Royal Mirage will not fail to impress. The Arabian palace-inspired decor is enough to make any guest feel like royalty, plus there's access to a gorgeous private beach.
3. For family fun: Atlantis, The Palm is one of Dubai's most iconic buildings, soaring high above the man-made Palm Island. Its underwater theme and on-site water park make it a brilliant upmarket family resort.
Naufal MQ/Shutterstock
On a budget:
1. For an arty escape: In the heart of the Al Fahidi Historical District, the XVA Art Hotel has a pretty tree-filled courtyard where breakfast is served, and simple but spotless rooms. The hotel doubles up as a gallery, with paintings and illustrations by locals hanging on the walls.
2. For a basic retreat: Among the hustle and bustle of Bur Dubai the the Arabian Courtyard Hotel & Spa is a pleasant escape. There's a rooftop restaurant and Indian/Arabian-inspired decor throughout.
3. For affordable luxury: Media One Hotel sits in a prime position just north of the Marina – a great place for an evening stroll. there's a rooftop pool for lounging around and a few good restaurants offering brilliant deals for guests.
Where to eat in Dubai
1. For local fare: Head to Al Fanar in the Festival City Mall for Emirati food in a traditional setting, or join the Sheikh Mohammed Centre for Cultural Understanding for a brunch with the locals.
2. For Friday brunch blowouts: All-you-can-eat-and-drink indulgence on a Friday afternoon is a weekly tradition among expats in Dubai. Book your spot at Zuma for sensational Japanese dishes, or head to the W Hotel for superb Mediterranean cuisine. Check Time Out Dubai for the best new brunches in town.
3. For fine-dining: At the end of the Al Qasr Hotel's private pier, Pierchic has gorgeous sea views and sublime seafood. For Western-Chinese fusion, book a table at Zheng He's in the pretty Madinat Jumeirah.
Insider travel tips
1. Get a discount: Invest in the Entertainer discount card for 450 AED and you can make back the cost and then some through huge discounts at restaurants and attractions throughout the city.
2. Be a lady: Ladies' Night seems to be every night in venues across Dubai. Check local listings for the nearest Ladies' Night to you and women will get free entry and free drinks in many of the popular bars and clubs across the city. Men are allowed in too, so for couples it cuts your night out costs in half.
3. Get a pass: If you're more of an explorer, you'll want to invest in a Dubai attractions pass. Attraction Tickets Direct offers an Explorer Pass for Dubai – you can choose a three, four, five or seven attractions pass (from £125), which covers highlights such as the Burj Khalifa, Aquaventure Waterpark Atlantis, IMG Worlds of Adventure, the Hop-On Hop-Off Big Bus Tour and The Lost Chambers Aquarium at Atlantis The Palm.
4. Take a tour: It can be hard to get under the skin of this city, with so many multicultural layers now shrouding the Emirati culture that once prevailed. If you're hungry for context, take a tour with Frying Pan Adventures. They offer walking food tours across the city with incredibly knowledgable guides – you'll leave stuffed with history and insights, as well as some delicious food.
5. Budget beaches: Don't pay for the privilege of sunning yourself on private beaches in Dubai if you just want a day out on the sand. Head to Jumeirah Beach Park and Al Mamzar Beach Park (5 AED entry each) where there are plenty of seaside facilities at your disposal.
Lizi4ka/Shutterstock
Dubai day trips
If you want to get out of the big city and discover more of the UAE, try one of these great day trips from Dubai:
1. Desert safaris
Just an hour out of the city a vast expanse of desert awaits exploration. Take a Platinum Heritage desert safari (with the option to stay overnight) to explore a wildlife reserve by vintage jeep, then watch a falconry display before tucking into traditional Arabian food at their Bedouin camp. Come darkness, the stars are the main event – a rare sight for Dubai city dwellers.
2. Abu Dhabi
Another record-breaking city, home to the world's furthest-leaning manmade tower and the world's largest hand-woven rug, is just 90 minutes by road from Dubai. Abu Dhabi, the country's capital, is another modern metropolis with three must-see attractions: the stunning Sheikh Zayed Mosque, the Abu Dhabi Louvre and the impressive Emirates Palace Hotel where you can stop for a coffee in ultra-opulent surroundings.
Creative Family/Shutterstock
3. Jebel Jais
In the far north of the UAE near the border with Oman, around 90 minutes' drive from Dubai, is the country's tallest mountain: Jebel Jais. Take a day trip with Safarak and drive through the desert to Ras Al Khaimah where you'll ascend the spotless tarmac road that winds up the mountain, then settle in to watch the sunset behind the craggy peaks as you feast on a picnic of Middle Eastern salads and sweets.
The best time to visit Dubai
The summer months in Dubai (May-September) are often unbearably hot, sometimes topping 50°C. Plan your trip for the winter months (between October and February) if you don't want to fry, though bear in mind December and January are peak season, so the beaches and hotels will be busy.
The ultimate Dubai itinerary
Use this itinerary for ideas on how to plan your time in Dubai.
Day one
Get stuffed: at Friday brunch. If you're arriving on a Thursday night or Friday morning there's no better way to start your Dubai trip with the extravagance that is brunch. From midday, most of the city's restaurants put on special set menus or buffets with an all-you-can-drink deal (often including champagne for an extra fee). Check Time Out for the latest top brunches, and use the Entertainer app to find two-for-one discounts.
Get your shop on: at Dubai Mall. Work off your over-indulgence by hitting the stores at the world's largest shopping centre. You'll find high-street favourites and high-end designers here, but if shopping isn't your bag then head to the VR Park on level two to escape real life and play some impossibly realistic virtual reality video games.
Catch sunset: At The Top – Burj Khalifa. Summit the world's tallest building as the sun sets over the city. The entrance is inside Dubai Mall, so an ideal pitstop once you've hit the shops.
Dine at: any one of the outlets in Dubai Mall. This place has all the world's cuisine under one roof. Turkish restaurant Bosporus is a fine bet for a fancy, sit-down meal, but budget options can be found in the main food court including many international chains such as Five Guys and Eataly.
Watch: the dancing fountains. Whether you stand on the sidelines or take the floating walkway (approx £5; every 30 mins from 6pm), Dubai's fountains are a mesmerising water and light show.
Day two
Get a dose of history: at the Sheikh Mohammed Centre for Cultural Understanding. The like-a-local brunches and lunches here offer an insight into Emirati culture, from the food to their traditional dress.
The centre is located in the northern end of Dubai at the heart of the Al Fahidi historical district, where a life-size replica of Dubai's original settlement is a fascinating insight into the city's past. A wonderful place for a quiet stroll, stop by the XVA Art Hotel for a refreshing juice in their gorgeous courtyard.
Have lunch: at Al Fanar, Dubai Festival Mall. Tuck into some traditional Emirati food such as a chicken and wheat porridge-like dish (madroobat deyay) or a lasagne-style one-pot with lamb and bread (margougat laham). It's the comfort food you didn't know you needed.
Catch the sunset: at Jumeirah Beach. Sunsets in Dubai are pretty magical, and there's no better spot for a sundowner than at Jumeirah Beach. If you can handle the heat, head to Beach Lounge right on the sand behind the Burj Al Arab. If you prefer A/C cool, head to Uptown Bar inside Jumeirah Beach Hotel.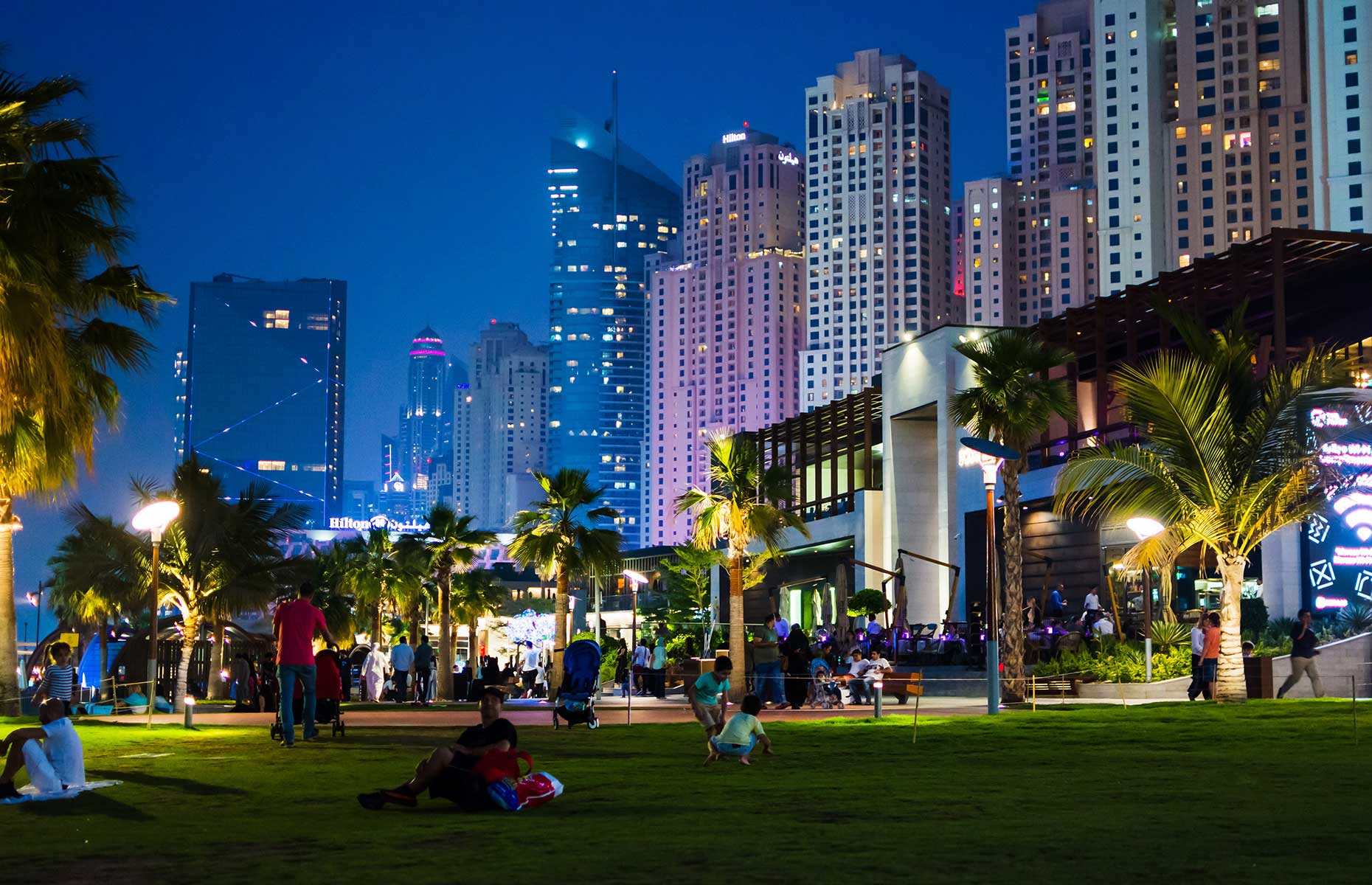 Creative Family/Shutterstock
Day three
Hit the rides: at IMG Worlds of Adventure. When it's too hot to be outside, this mammoth indoor theme-park is an excellent air-conditioned retreat. Arrive as soon as they open and it'll feel like you've got the place to yourself. The Spiderman ride will leave you spinning (the cars rotate on the tracks as it hurtles along, mimicking Spiderman's swinging from building to building), and the Predator ride has a vertical climb and drop.
Get out of town: on a desert safari. Once you've had your adrenaline, it's time to find peace, and the only place for it here is the desert. Take a desert safari with Plantinum Heritage and you'll drive out into a nature reserve, where Arabian oryx and falcons are wild natives, and spend the evening (or overnight, if you wish) in a Bedouin-style camp.
There'll be slow-cooked, barbecued meats, Arabic coffee and a sky that twinkles so brightly you'd never know you're just an hour from the city.
If you opt to stay overnight, don't miss the sunrise hot air ballooning the next day – a stunning way to round off an epic trip.
How to get there & around
Dubai is an international travel hub, with hundreds of daily flights in and out of the country to destinations all over the world. The international airport, which is served by over 50 different airlines including most major carriers, is just 14km from Downtown Dubai and 33km to the Marina, and it has its own metro stop connecting the city to the skies.
Getting around Dubai can get costly in cabs, and the city's public transport network is hardly expansive (buses only really serve the suburbs, the Dubai Trolley only covers Downtown and the new tram runs only between the Marina and Al Sufouh.) Your best bet for travelling within the city is car hire. Use RentalCars.com to get the best deal on a vehicle for your trip.
Map of Dubai
Plan your trip with this map of Dubai:
Be the first to comment
Do you want to comment on this article? You need to be signed in for this feature