What a Greek holiday looks like in 2020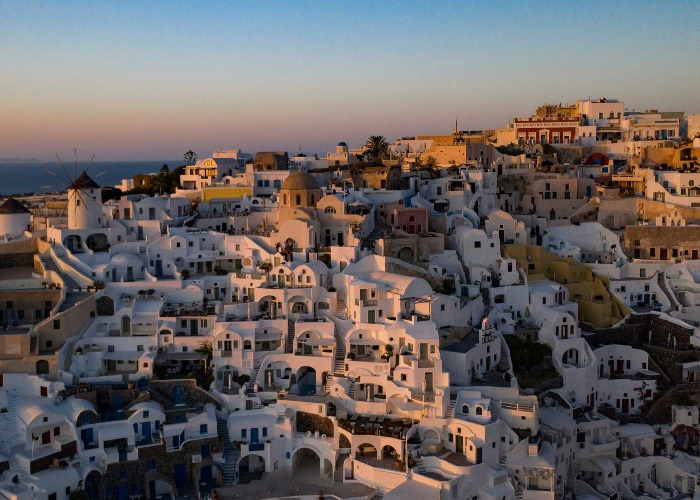 Thanks to quick and decisive action that led to a hard-nosed lockdown Greece has been very successful in combating COVID-19 and is welcoming British tourists with open arms. So what should you expect on a break to Greece in the coronavirus era? Our specialist John Malathronas outlines what's changed... and what hasn't.
Holidays might be back on the cards, but for many of us picking a destination we feel comfortable visiting remains a challenge.
It's one reason why many countries including Greece have put in place measures from healthcare to mandatory masks to reassure visitors and residents and keep everyone safe and well.
You'll still find the same beautiful villages, charming coves and superb food across the country but there are a few extra things to know before you go. We've got the lowdown below.
Adisa/Shutterstock
1. You'll need to fill out a form before you fly
First, you must fill in an online Passenger Locator Form at least 48 hours before arrival, detailing your point of departure, the duration of any previous stays in other countries and your address in Greece. After submitting the form, you'll receive a QR code, which you should present either on your phone or as a hard copy on arrival.
Depending on your QR code, you might be screened (e.g. because your journey originated from a 'red' country outside the EU) and you'll need to self-isolate at the address on your passenger locator form until the COVID results come back negative.
UK travellers are sometimes being asked to take a test at the airport too.
READ MORE: Coronavirus and travel insurance – a full guide
2. Safety is a priority
Compared with many countries Greece has seen a very low death rate and the government wants to keep it that way.
Even as the country gradually opened in June, the same ruthlessness in dealing with the pandemic was in evidence: when twelve people on a flight from Qatar tested positive, all 91 passengers were put in quarantine.
And when Mykonos beach bar Alemagou did not enforce social distancing, defined as five feet (1.5m) or more, it was shut for two months and fined £18,000 (€20,000).
3. Wear a mask or risk a fine
Wearing a mask is obligatory when using public transport, as well as in ferries, taxis and, yes, even lifts, with an on-the-spot fine of £134 (€150) per violation.
Travel in a taxi or rented car is limited to two or three adults depending on size, but kids don't add to the headcount.
4. Your hotel will have a doctor on call
Should you be unlucky enough to get infected by COVID-19 (or been in close contact with someone who's tested positive) the Greek government will pick up the tab of your 14-day isolation in a network of special quarantine hotels around the country.
And if you need to go to hospital any fees for transfers and treatment will be met by the Greek government.
If you fall ill on the mainland, it'll be easy to get to one of the big city hospitals. But if holidaying on an island don't be concerned: the larger, popular ones such as Crete, Corfu, Santorini, Kos or Rhodes will also have 24/7 hospitals.
Even the smallest Cycladic outpost will have a fully equipped clinic or health centre and a regional network will be on call to help in any local outbreak.
READ MORE: What to see, do and where to stay on Santorini
5. Your hotel stay will look different
Check out will start earlier and check-in will start later so that rooms can be thoroughly cleaned, disinfected and aired via natural ventilation by opening the windows and balconies.
You're likely to find bedroom furniture more sparse: some may well enjoy the lack of extra pillows, decorative beddings and glossy magazines.
TV and air-con controls will have disposable covers while electric circuits that deactivate the air-con when you open the window will be disabled – you want fresh air in every room.
You won't be able to bring guests in, so if you're a large party comprising several families you may want to book at the same hotel.
Buffets are discouraged and a breakfast tray outside your room at no charge may well become the norm in smaller hotels.
Where buffets exist, they must be protected by sneeze guards and special staff – equipped with masks and gloves – will be cleared to serve you. You won't be allowed to touch the food, the serving cutlery or automatic coffee machines.
Spa services will operate only by appointment. Outside swimming pools will have signs regarding how many people can be in the pool at any time.
Sun umbrellas will be spaced and all loungers and tables, price lists and any other items will be disinfected between occupants. Putting your towel out early to reserve a deckchair won't be tolerated anymore.
Athanasios Gioumpasis/Getty Images
6. Make dinner reservations asap
Your restaurant experience – almost certainly alfresco – will also be different. It's likely you'll need to reserve everywhere you go and you'll find that the tables have been set according to a minimum distance requirement with a maximum number of six customers per table. Menus will be disposable or non-existent and staff, as well as cooks, will be working with masks, gloves and, sometimes, visors.
Panayotis Tzamaros/NurPhoto/PA Images
While some of these measures are likely to take a while to get used to, worry not. The sun, sea, sand and natural hospitality of the Greek people will certainly ensure an enjoyable holiday.
Main image of Santorini: ARIS MESSINIS/AFP via Getty Images
Be the first to comment
Do you want to comment on this article? You need to be signed in for this feature