Sun, sea and subterranean sights: a weekend in Southampton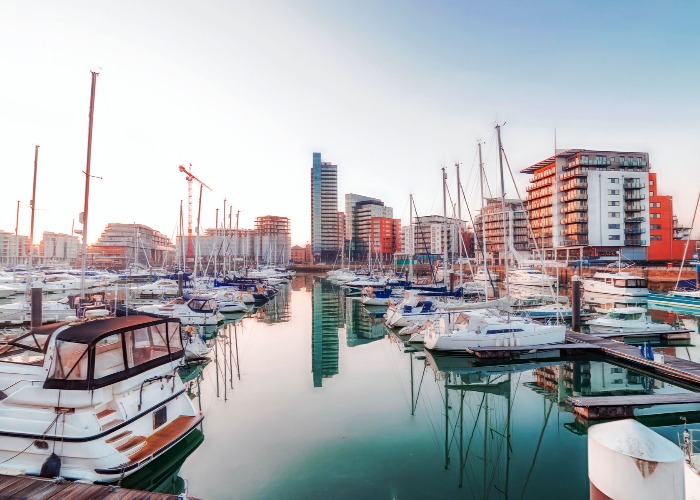 Whether it's a pre-cruise stop off, a post-cruise wind down or you simply fancy a weekend away, Southampton makes for a top city break. Here's what you need to know.
At first glance, Southampton isn't a pretty city. In fact, even on the second and third glances, you might be hard-pressed to find something truly beautiful to look at. But, to quote a common cliché, beauty really is in the eye of the beholder here, for underneath Southampton's hodge-podge architectural surface and beyond its everyday shopping malls, there's a history and character well worth making time for.
The majority of visitors come here for a single reason: cruising. The enormous ships that sail into the port are hard to miss, and this city's connection with sea-faring folk – leisure or military – is illustrious. Both the Titanic and the Mayflower sailed from here, and Britain's Navy ships have departed Southampton each time they've been to fight in foreign seas.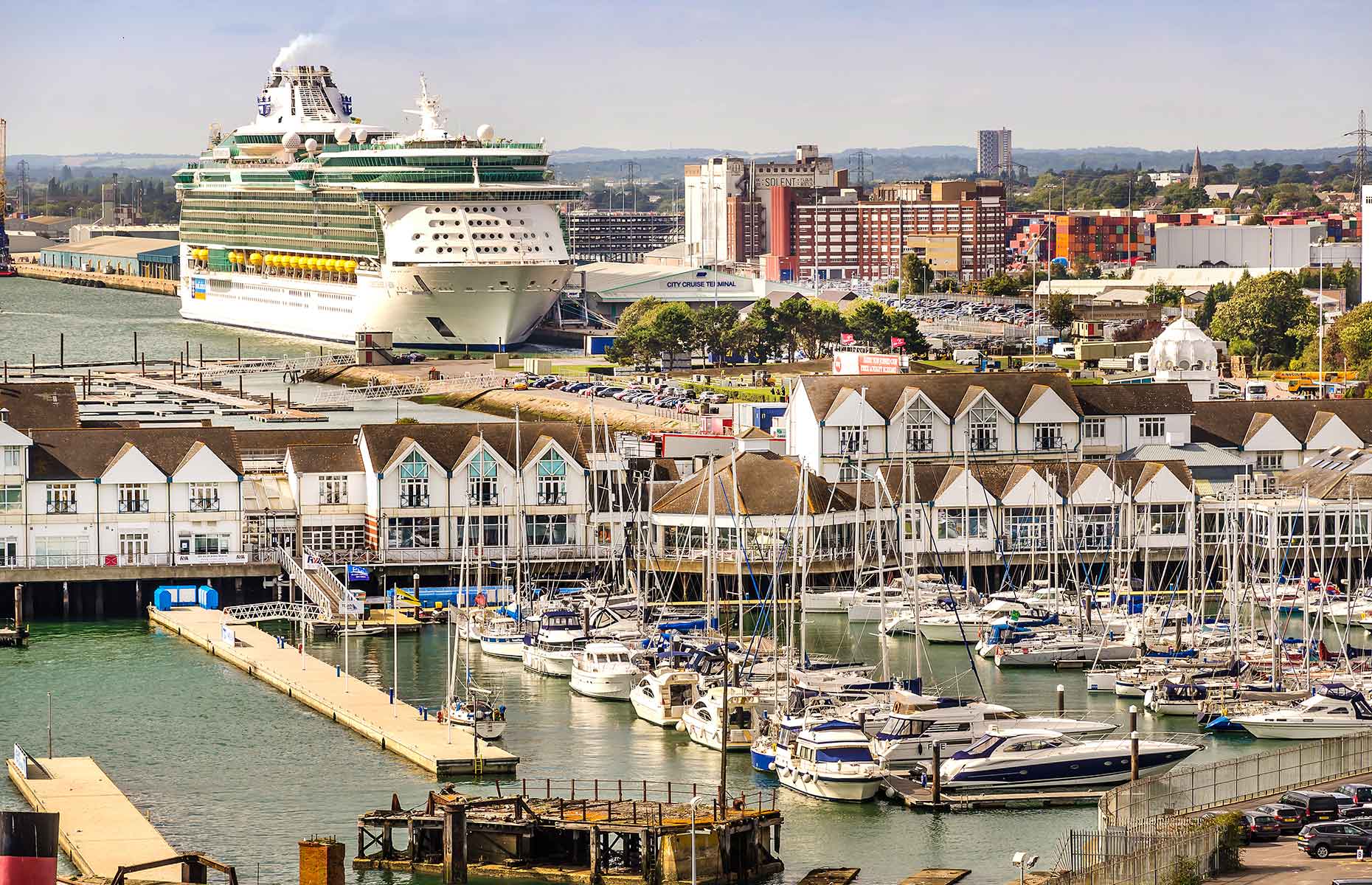 Sharad Raval/Shutterstock
But it's not just the water that holds fascinating tales – though the double tides and incredibly deep harbour do make for interesting discussion. There's a world of history to be found quite literally beneath the surface, as hundreds of cellars are dotted throughout the Old Town of Southampton thanks to its heyday as a French wine import hub, and with the right guide you can see inside some of them.
READ MORE: A weekend away in Brixham, Devon
Beyond the big West Quay shopping centre there's a street packed with independent restaurants and bars, and continued development throughout the city means new and exciting establishments are opening all the time. The city has got a bright future ahead of it, but it's worth coming now before hotel prices go through the proverbial roof.
Plan your trip to Southampton with this handy guide.
Friday
Check-in to: Southampton Harbour Hotel & Spa. The only five-star hotel in the city, Harbour Hotel & Spa is a brilliant base. Right on the marina, where luxury yachts bob alongside sailboats, the hotel has glorious views out to the water. Some rooms have balconies facing the river, but book into a suite and you'll get your own little terrace with sun loungers and a dining table. All rooms come with complimentary decanters of sherry and gin, too, so you can have in-room aperitifs before dinner.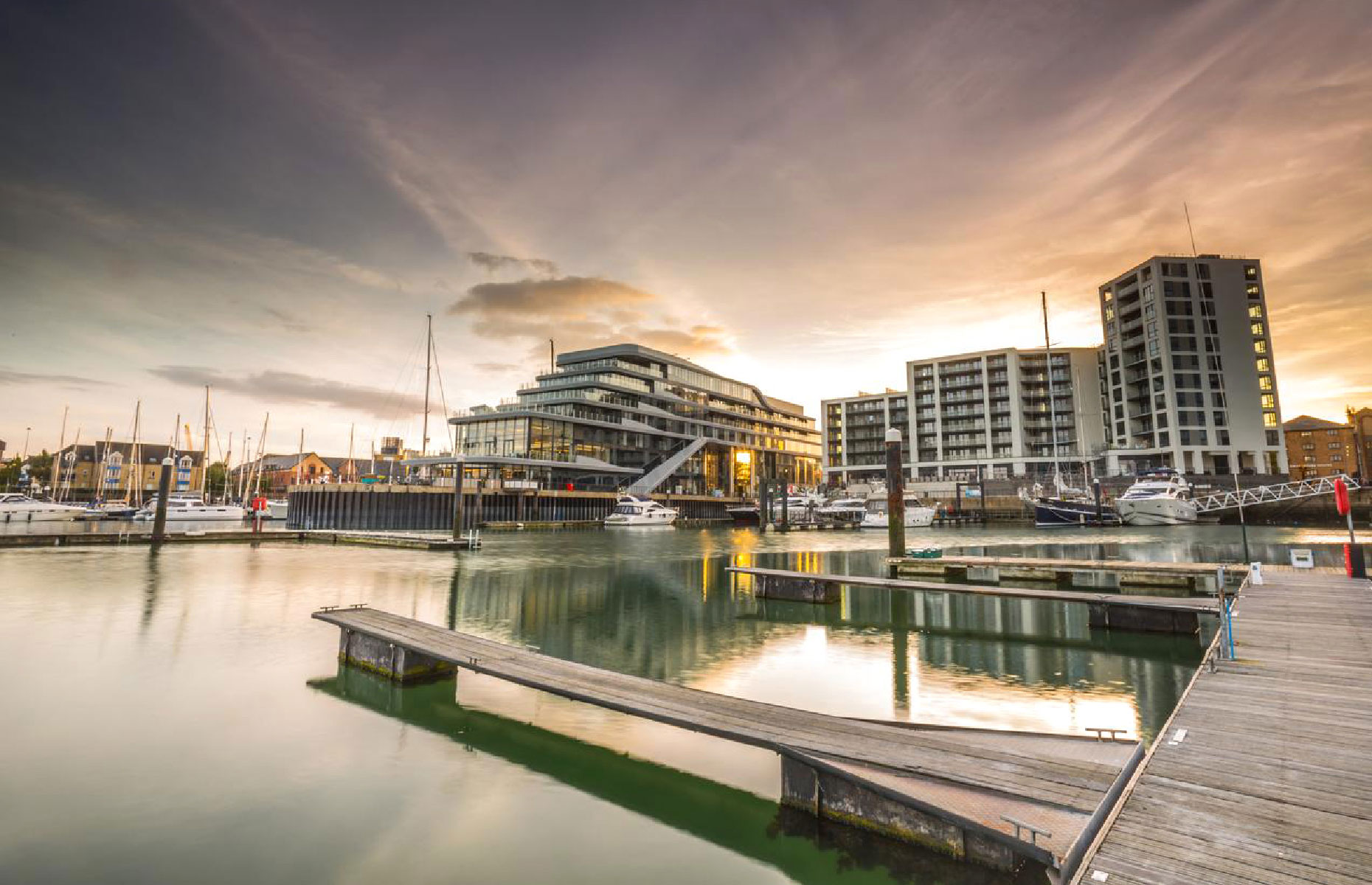 Southampton Harbour Hotel & Spa/Booking.com
The hotel has a fantastic spa with treatments by Temple Spa, plus a hydrotherapy pool, small swimming pool, gym and sauna and steam rooms. There are two bars at the Harbour Hotel – a rooftop bar/restaurant with sensational views and an outdoor terrace, and fine-dining in The Jetty on the ground floor.
Southampton Harbour Hotel & Spa/Booking.com
Hit the shops at: West Quay. Southampton is the main shopping hub in this region of the south coast thanks to West Quay – an enormous development in the town centre with hundreds of highstreet and luxury brands to browse. If you're heading off on a cruise, this is the perfect opportunity to pick up some new evening wear.
Alternatively, if shopping isn't your bag, spend a couple of hours enjoying the hotel's spa. Fluffy white gowns and slippers are provided in your room, so all you need to bring is your swimmers.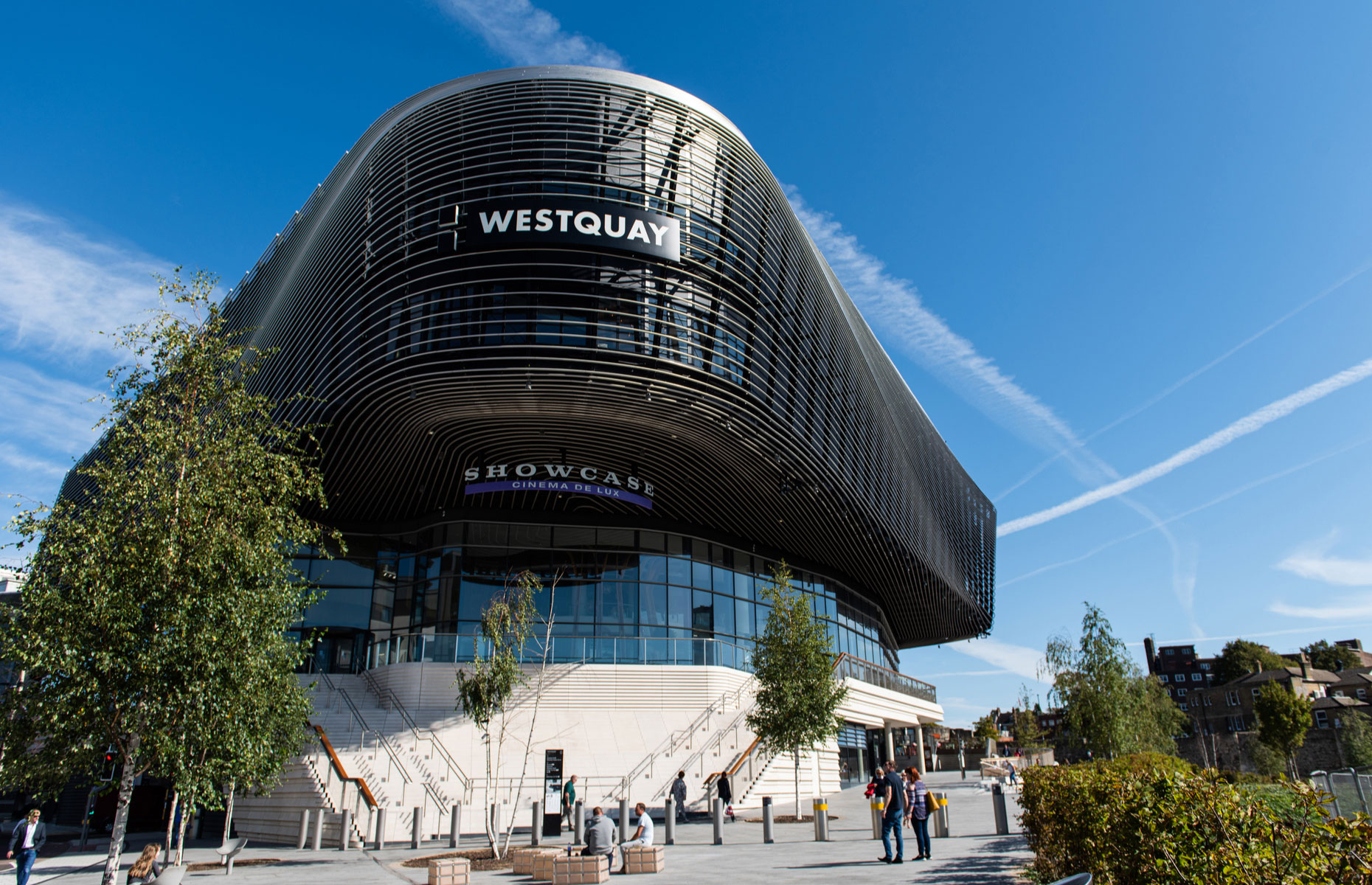 Simon Vayro/Shutterstock
Dinner at: The Jetty. The hotel's own fine-dining restaurant is well worth splashing out on. The menu features lots of seafood, from catch-of-the-day fish to more unusual options like deep-fried clams, as well as steaks and vegetarian options. If you're feeling extravagant, opt for the tasting menu to try seven of their best courses, and add a flight of wine.
Southampton Harbour Hotel & Spa/Booking.com
Saturday
Soak up some history: on a walking tour. The best way to get your bearings in Southampton is on foot. The See Southampton tour guides really know their stuff, and their regular walks of the Old Town are fascinating. You'll meet at the Bargate – an impressive fort-like structure on the high street, all turrets and ancient stone, then follow the city walls as your guide makes history unfold with an engaging narration.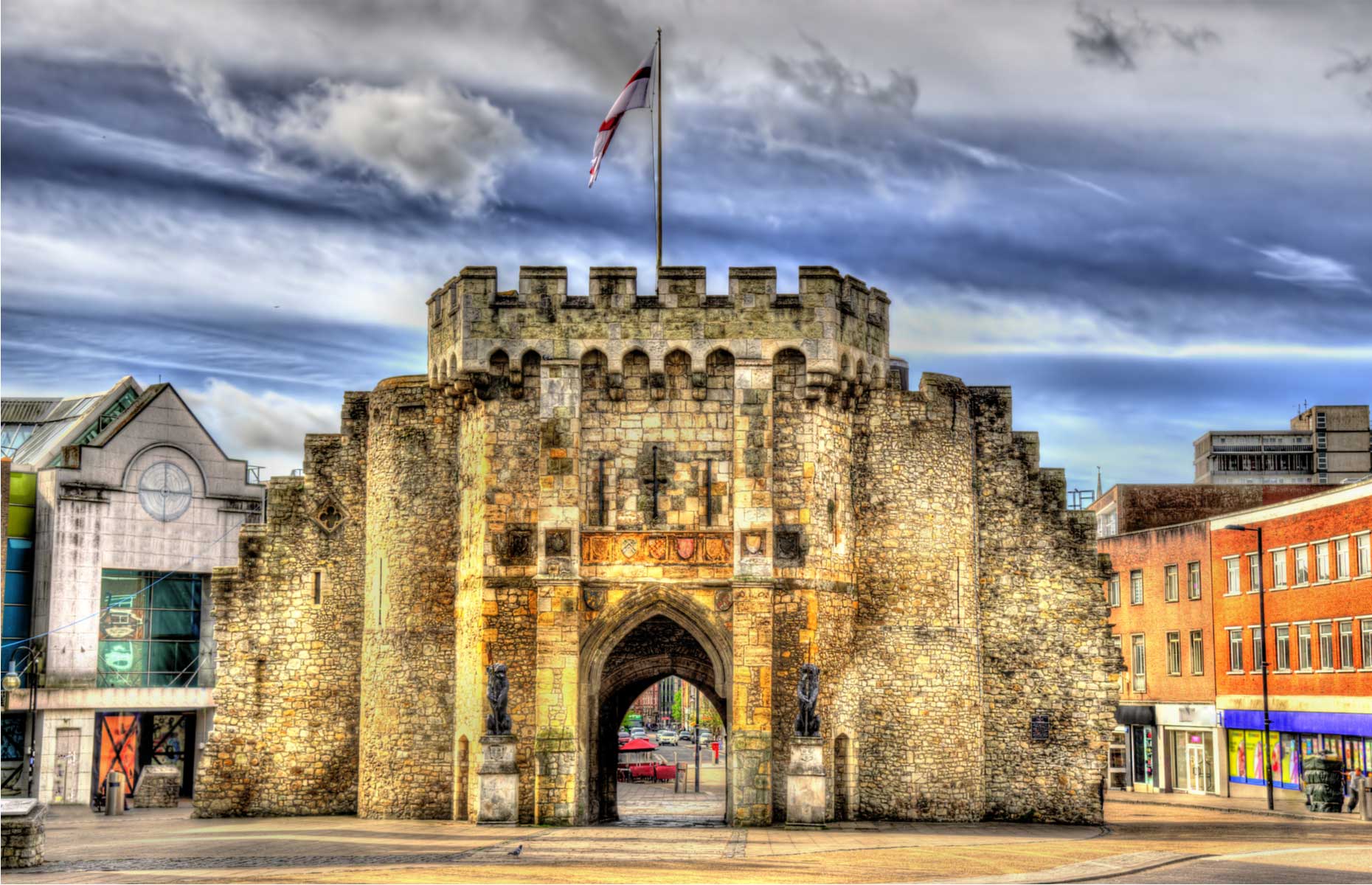 Leonid Andronov/Shutterstock
As a former wine import hub, the city is packed with underground cellars, and the See Southampton guides have the keys to some of the most interesting subterranean rooms. Their group tours run on weekends at 10.30am and 1.30pm in spring/summer and last 90 minutes. In autumn/winter, there's only a 1.30pm walk. Private tours are also available.
See some art: in a historic tower. The walking tour will likely finish up near the God's House Tower, where one of the old watchtowers in the city walls has been converted into an arts space. There are exhibitions relating to Southampton's past and present, though it's worth the £5 entry fee just to see the inside of the old tower.
Hoxton Bakehouse has a café on the ground floor, serving some of the best cakes in the city.
Lunch at: Ennio's: just a short walk from the tower is a perfect little lunch spot. Hailed as one of the top Italian restaurants in the UK, Ennio's serves up excellent pasta dishes and main courses.
Ennio's Boutique Hotel & Restaurant/Facebook
Get inspired at: the Culture Quarter. Take the number three bus, or enjoy a 30-minute walk, up to the north of the city. This is where the University of Southampton has many of its buildings, and there are a few museums here worth popping into.
Start with the City Art Gallery – a 1930s architectural marvel, it's free to enter and well worth at least an hour of your time to see its changing exhibitions. The main hall has the gallery's permanent collection, including a sculpture by Turner Prize-winning artist Richard Deacon.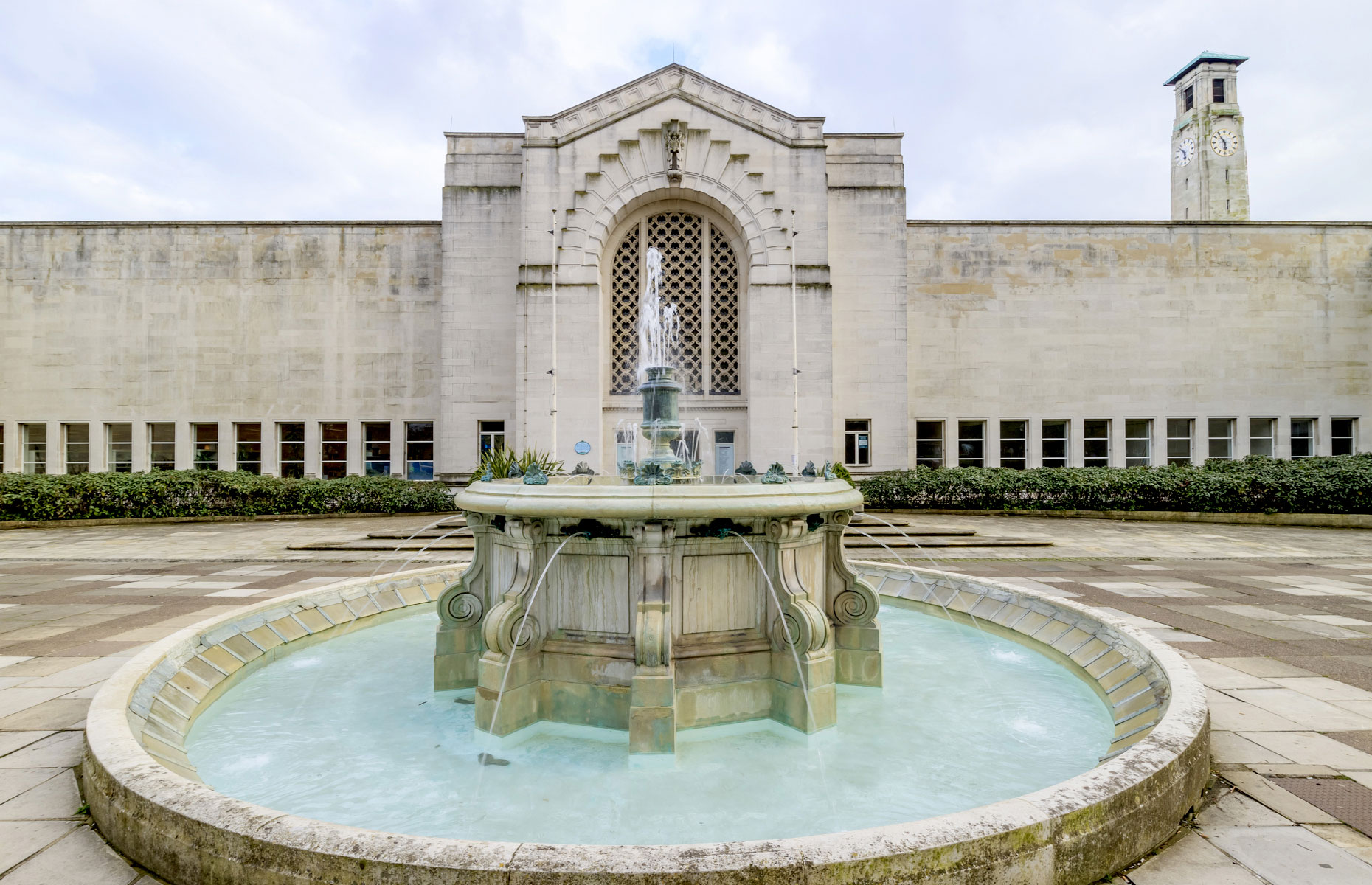 Leonid Andronov/Shutterstock
Meet the Titanic at: SeaCity Museum. Around the corner from the art gallery is one of Southampton's most compelling museums: the SeaCity Museum, which charts the history of maritime activity and immigration. Reserve a good two to three hours for this place. The Titanic Story exhibition is by far the most gripping, with multimedia displays and unusual facts about the ship during its time in Southampton.
Three quarters of The Titanic's crew were from Southampton, and so the disaster was a huge loss for the city. Bring tissues for mid-way through, as the audio exhibit featuring voices from survivors recounting the horrific experience is incredibly moving.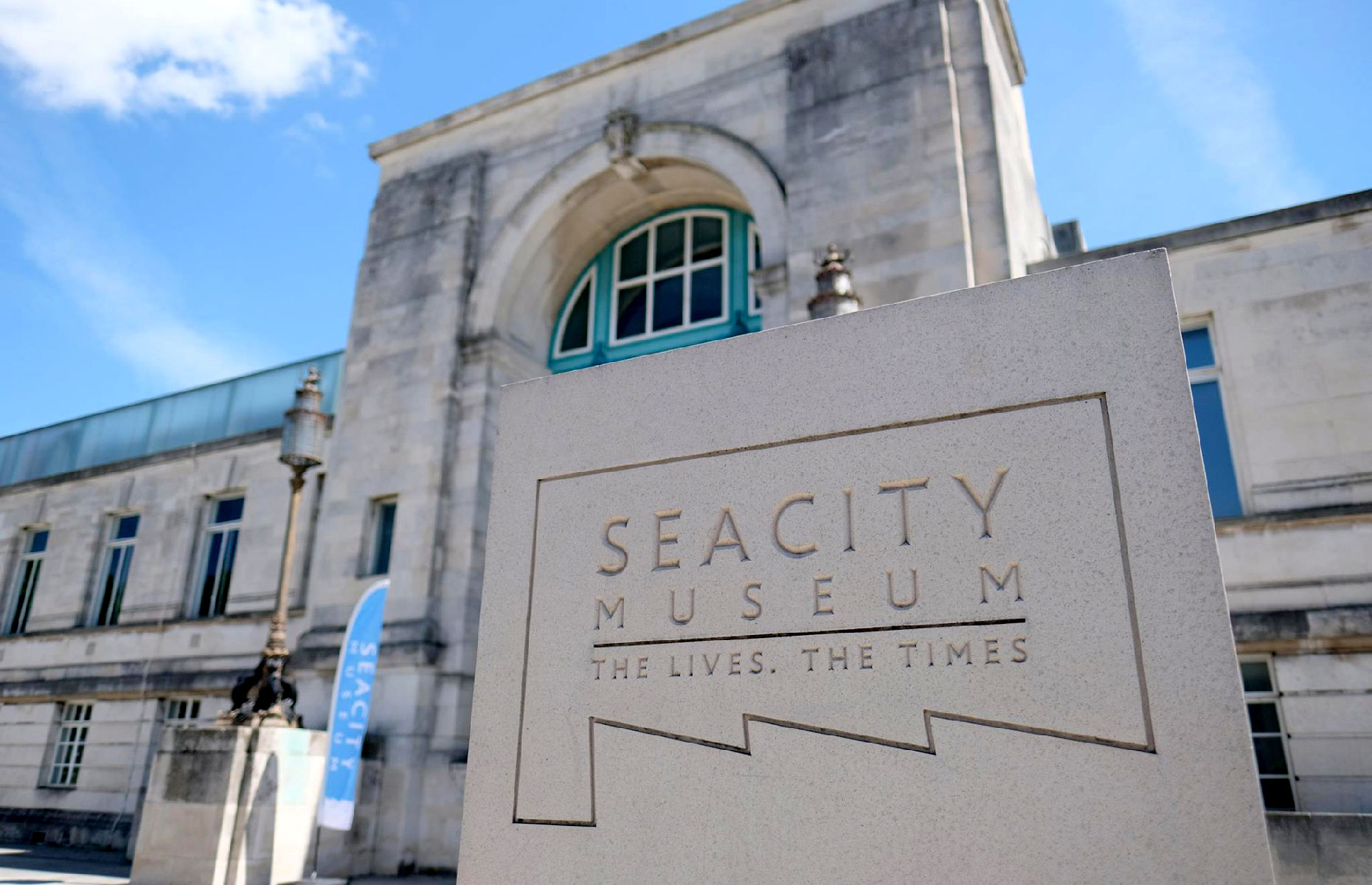 SeaCityMuseum/Facebok
Pre-theatre dinner at: Lakaz Maman. Just north of the Cultural Quarter is Southampton's student neighbourhood. Set on Bedford Place alongside a series of kebab shops and off-brand piri-piri chicken restaurants is Lakaz Maman – a Mauritian street-food restaurant that's run by 2012 MasterChef winner Shelina Permalloo.
Order a selection of gajaks (small plates) to share, or a piquant curry with roti to mop up the sauces. The food is fresh, zingy and hot, and you can bring your own booze for a nominal corkage fee.
See a show at: the Mayflower Theatre. A perfect way to end the evening is at the Mayflower Theatre, just a five-minute walk from Lakaz Maman. It's the place to catch touring West End musicals, as well as world-famous ballet companies and big-hitting plays.
READ MORE: A perfect long weekend in pretty Portsmouth
Sunday
Start the day at: Tudor House and Garden. Get your final history fix at the intriguing black and white timber-framed building, where you can explore the nooks and crannies hiding away in this rather pleasingly ramshackle property.
Rumour has it, Henry VIII and Anne Boleyn were married in secret in the church opposite and used to stay here before they were publicly wed.
Colin Burdett/Shutterstock
Sink some suds at: Dancing Man Brewery. Before heading home, fill up on great beer at the Dancing Man Brewery. On the main road that runs along the waterfront, this old building rather stands out from the crowd. Built in the late 14th century, it was formerly the Wool House – for storing wool to be exported to the continent.
Today it's a brewery and pub serving hearty food and, of course, brilliant beers. Try the black lager for something unusual, or one of their many seasonal ales.
The writer was hosted by Visit Hampshire and Harbour Hotels. For more information on the area, go to visit-hampshire.co.uk.
READ MORE: Paradise islands: exploring the Isles of Scilly
Lead image: Sterling Images/Shutterstock
Be the first to comment
Do you want to comment on this article? You need to be signed in for this feature