6 experiences you mustn't miss in Svalbard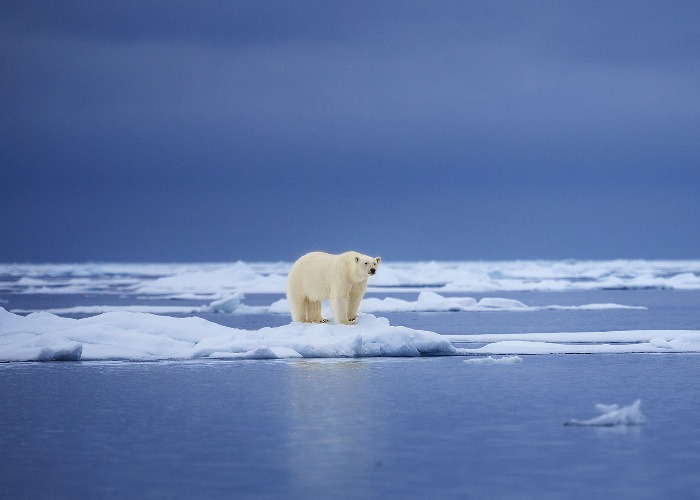 Halfway between Norway and the North Pole, the archipelago of Svalbard is a land of vast tundras, polar bears and austere beauty. Here's how to see one of the most unspoiled spots on the planet.
Discovered in 1596 by Dutchman Willem Berentsz, Europeans were immediately attracted to these frozen islands in the Arctic Ocean due to the huge numbers of whales.
Spitsbergen (the islands' Dutch name) soon became the base for an extensive whaling industry that nearly wiped out many species. In the 18th century hunting of mammals on land replaced whaling, followed by mining in the 20th century.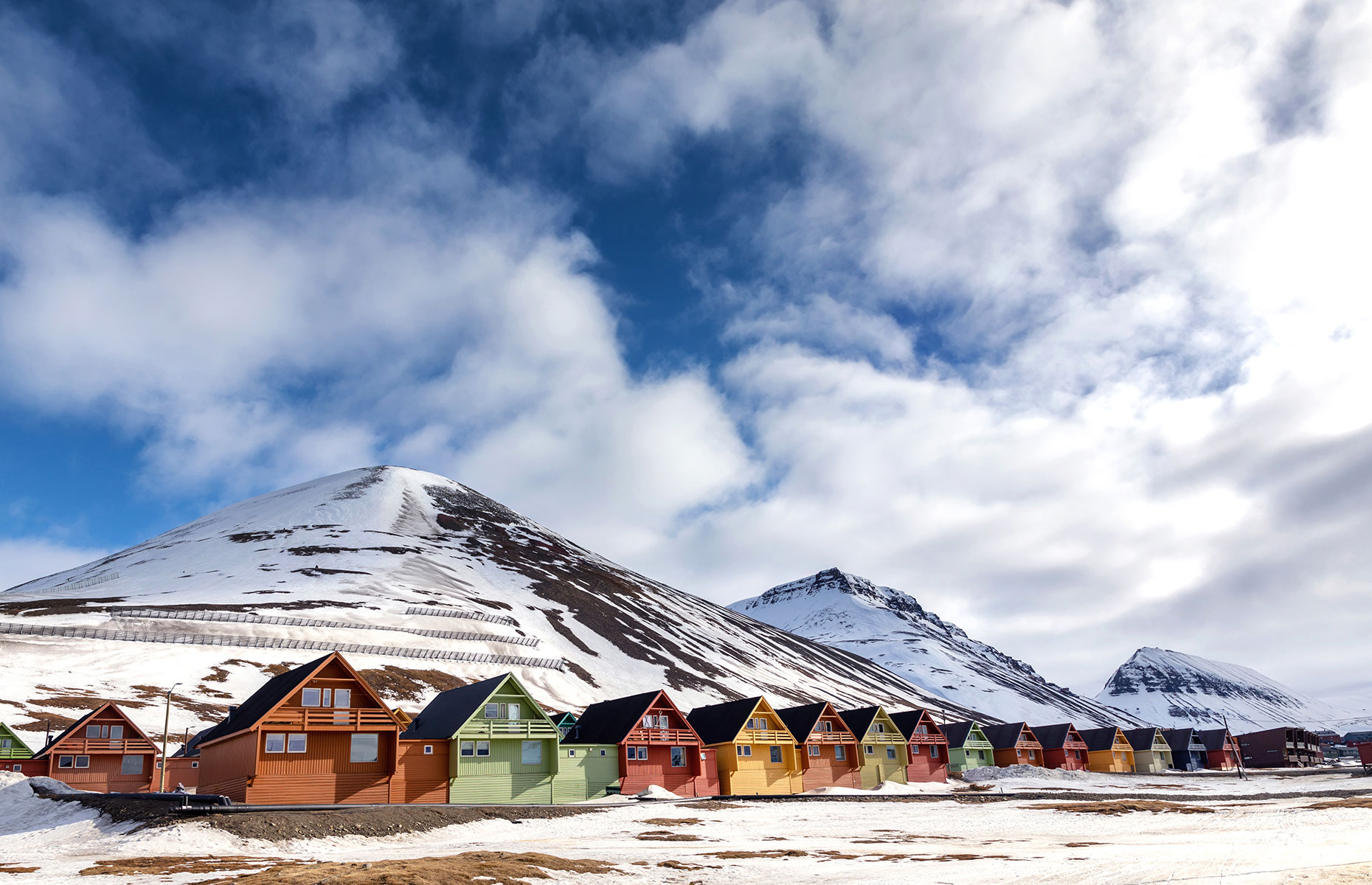 Jane Rix/Shutterstock
Today however, it's tourism that drives the economy and is based out of the coastal settlement of Longyearbyen.
Positioned at latitude 78°40′N, intrepid visitors will discover incredible wildlife, retreating glaciers and towering mountains but also long dark winters and severe, unpredictable weather.
Here's how to enjoy it, while also respecting one of the most precious and remote places on Earth.
READ MORE: Arctic vs Antarctica – which should you visit?
1. Head out on a small-ship expedition cruise
Climate change is now clearly impacting this part of the Arctic. Scientists here have coined a term for it – Atlantification – referring to the fact Svalbard's fjords no longer freeze in winter. There have been many months of above-average temperatures and visitors are asked to make as little impact as possible, leaving no lasting signs of their visit. So, one of the best ways to visit is by small ship, taking excursions lead by local experts.
Expedition cruising in tiny vessels such as Hurtigruten's MS Nordstjernen, built in the mid-1950s and named after the North Star, is an inspirational way to access Svalbard's fjords and islands during summer.
Trym Ivar Bergsmo/Hurtigruten
Small ship cruising is best described as a bit rustic and cabins are small and facilities minimal (especially if you're more used to the glitz of modern mega-ships) but it is an engaging experience with varied and tasty meals part of the package. The beauty of smaller vessels is they easily navigate into and around small bays and narrow fjords.
Itineraries extend over several days and usually include sailing north to the community of Ny-Ålesund – home to an Arctic Research Station – and a stop at Lillehöökbreen glacier along the way. The Russian settlement of Barentsburg is also a port of call. Bear in mind that all shore visits are by tender boat and weather dependent.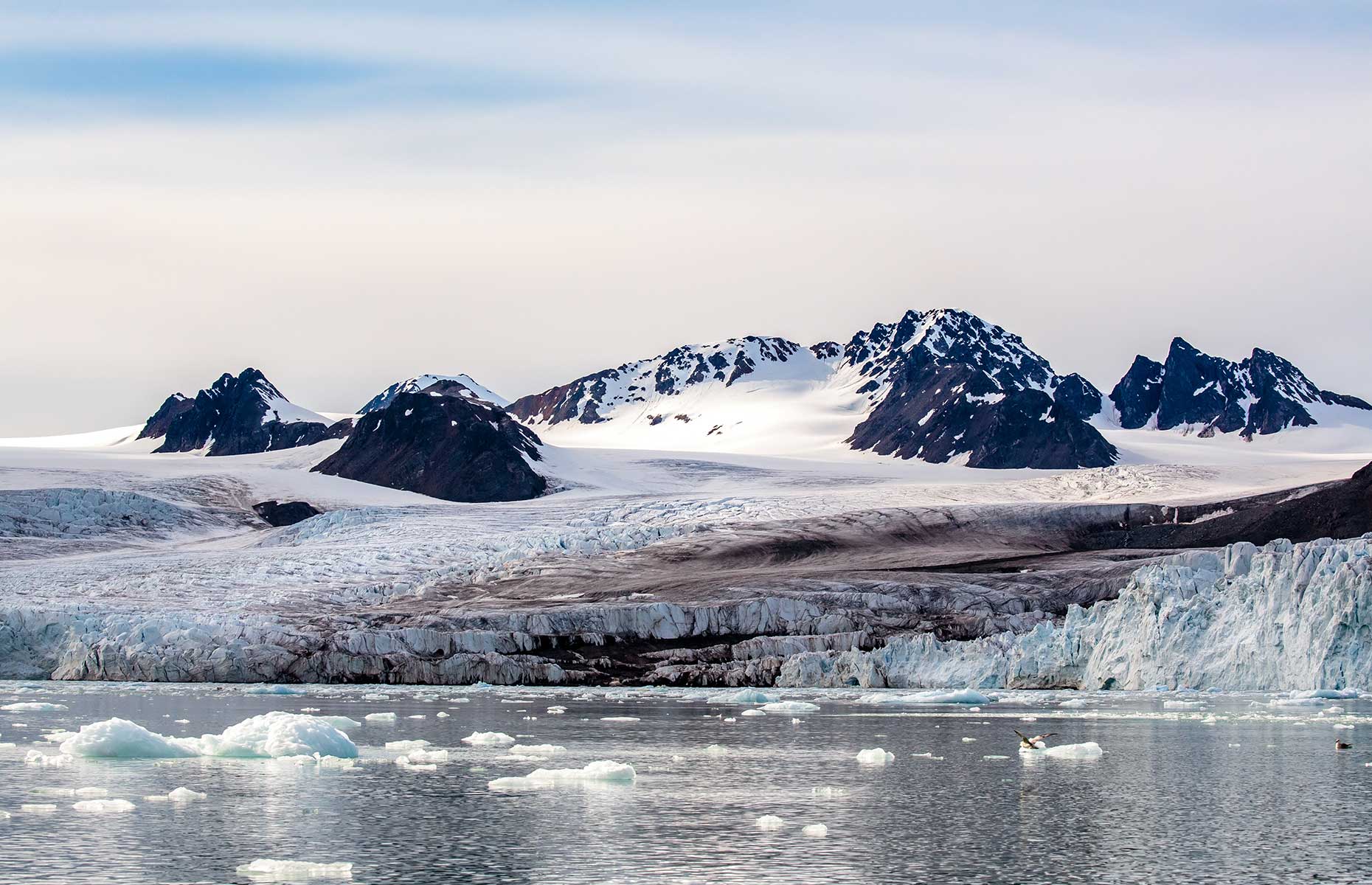 Jo Crebbin/Shutterstock
2. Experience the Arctic wilderness
This wilderness is nearly untouched due to its extreme northerly location and harsh climate. The sheer number of natural elements to experience and explore is staggering. Mountain ranges, marshy tundra and sandy beaches all beckon during the months of the midnight sun, while deep fjords are investigated by enormous blue whales returning to find and devour krill.
READ MORE: Amazing images of the unexplored world
There are tens of dozens of glaciers in Svalbard and most are an incredible aqua colour. That's all down to snowfall that becomes compressed, forming enlarged ice crystals, which in turn appear a shimmering shade of pale turquoise.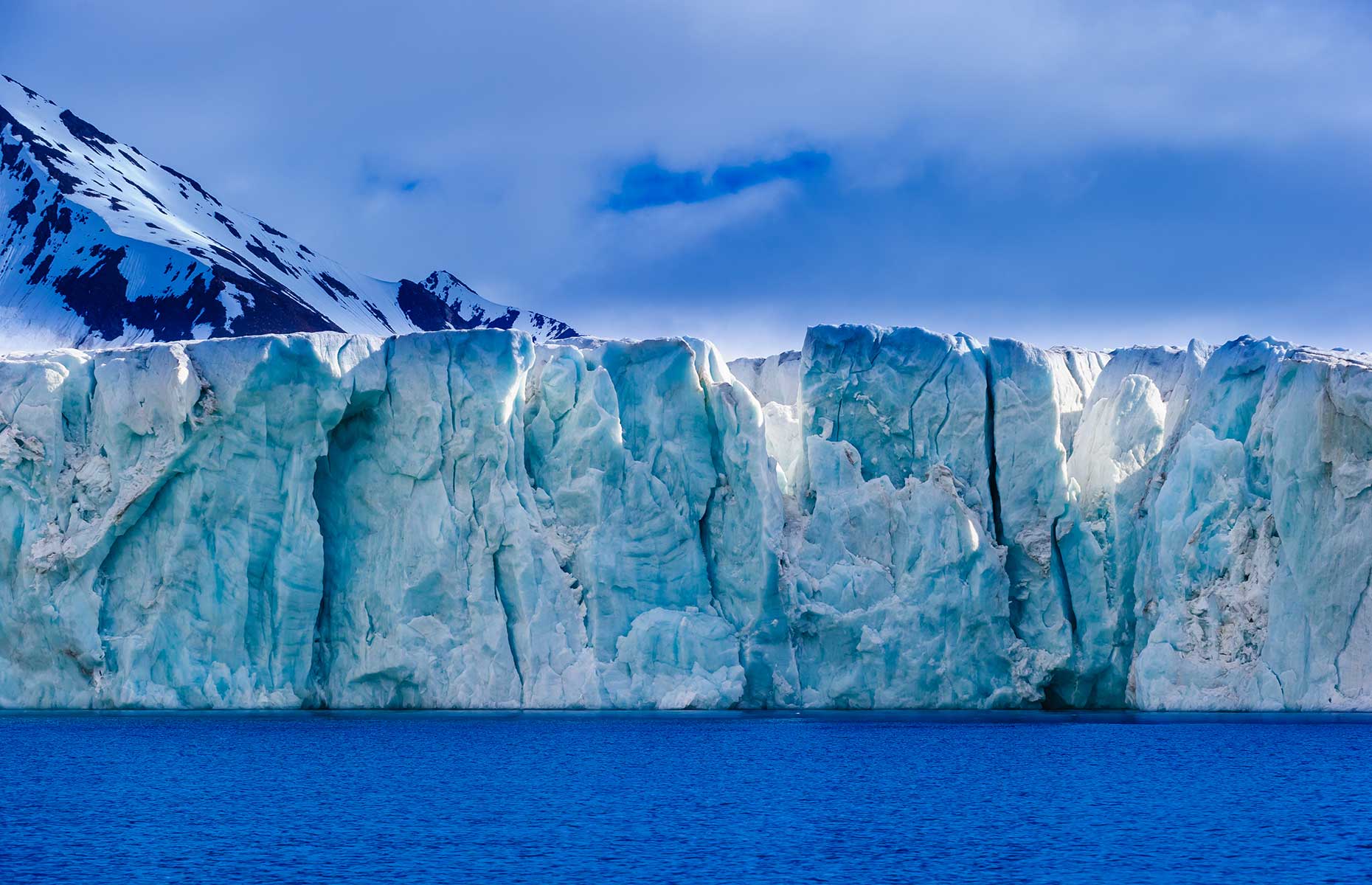 Don Landwehrle/Shutterstock
At the end (front) of these ice fields where they meet the sea, chunks of ice crack and fall into the water. This is known as 'calving' and is how icebergs are created. It's utterly transfixing to watch.
3. Have extraordinary encounters with the locals
There are only two mammals seen regularly on Svalbard: arctic foxes and the small indigenous Svalbard reindeer.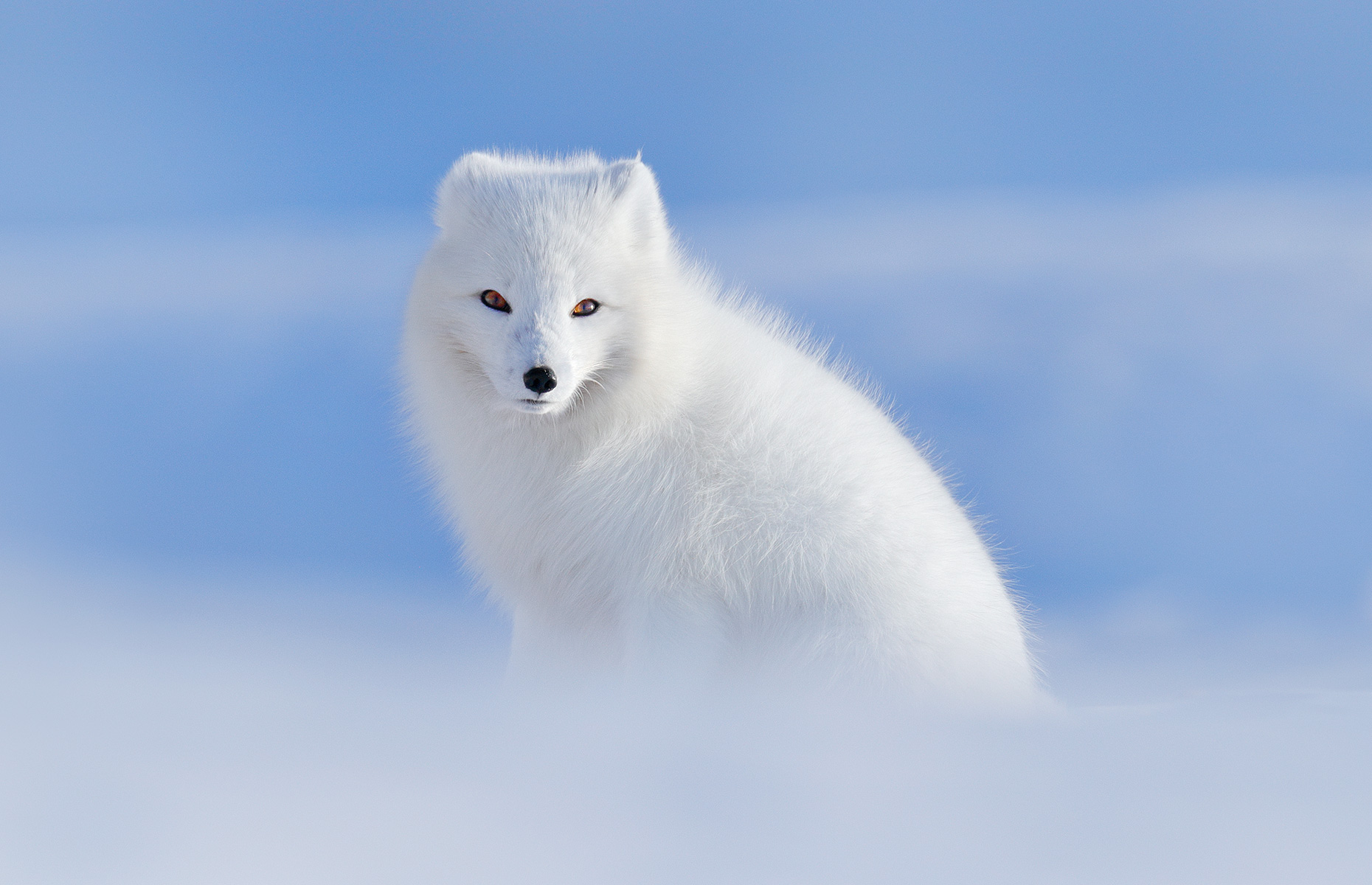 Ondrej Prosicky/Shutterstock
Svalbard's polar bears, aka the King of the Arctic, live on the drift ice and are considered marine mammals. These enormous animals can grow to weigh between 47 to 135 stone (300-800 kg) and some male individuals have reached about a tonne. Since 1973, hunting polar bears has been banned in Svalbard. Slightly different from their cousins in Canada, Alaska and Russia, these bears don't hibernate in winter and are fully carnivorous. Actively seeking an encounter with polar bears or disturbing them is strictly forbidden.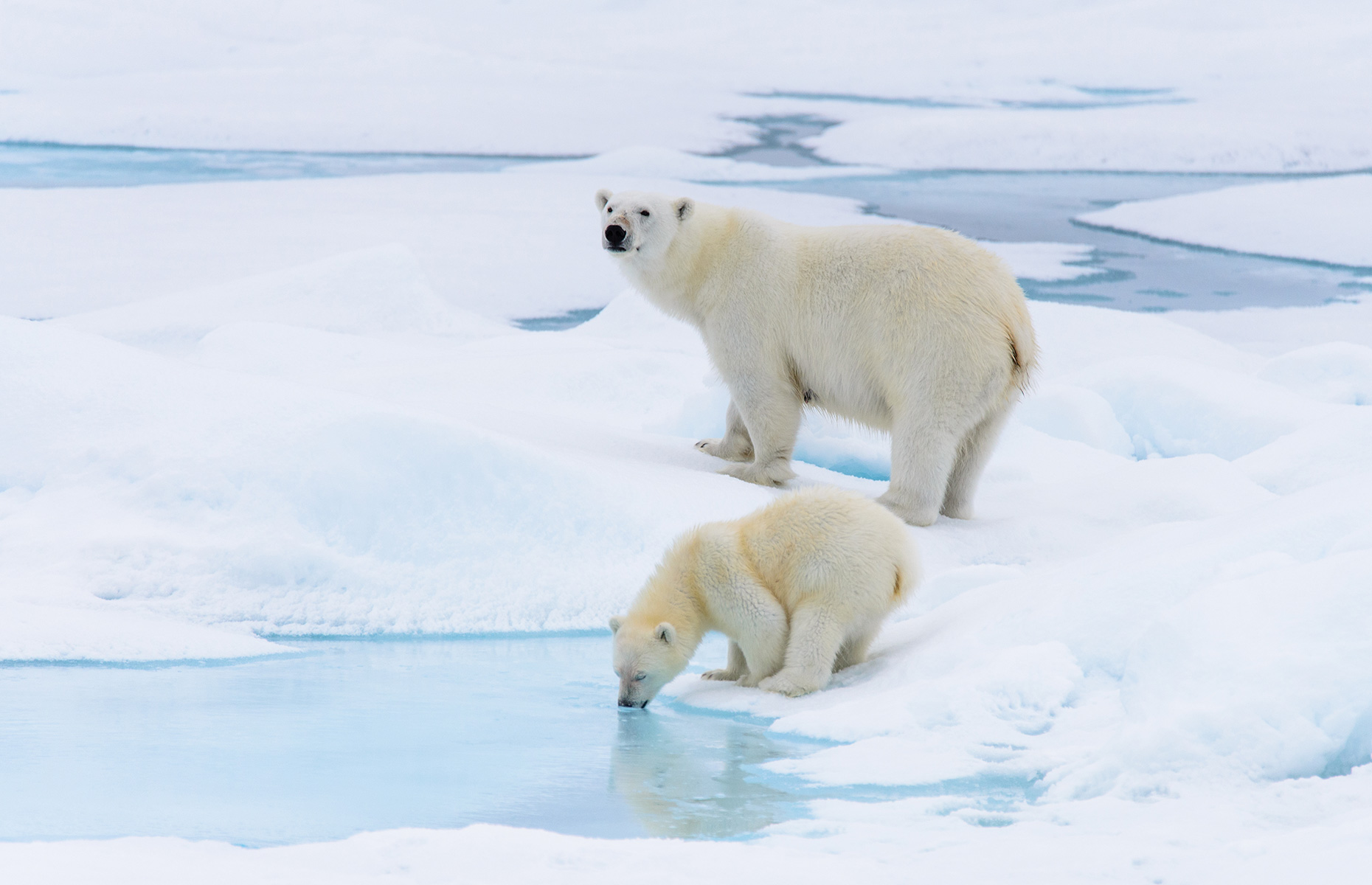 Alexey Seafarer/Shutterstock
Wandering outside of urban Longyearbyen without carrying a weapon (and knowing how to use it) is prohibited. Polar bears are intelligent, curious and unpredictable. But seeing one from a safe distance is electrifying.
It's not all about the bears though, migrating birds like Atlantic puffins, northern fulmar, Arctic tern and Brunnich's guillemots (to name just a few) arrive every spring to nest at bird cliffs such as Fugelfjella. The exception is the Svalbard rock ptarmigan which manages to survive the harsh winters. Pods of glistening white beluga whales are often seen frolicking near the sea ice while orcas may well be spotted further out to sea.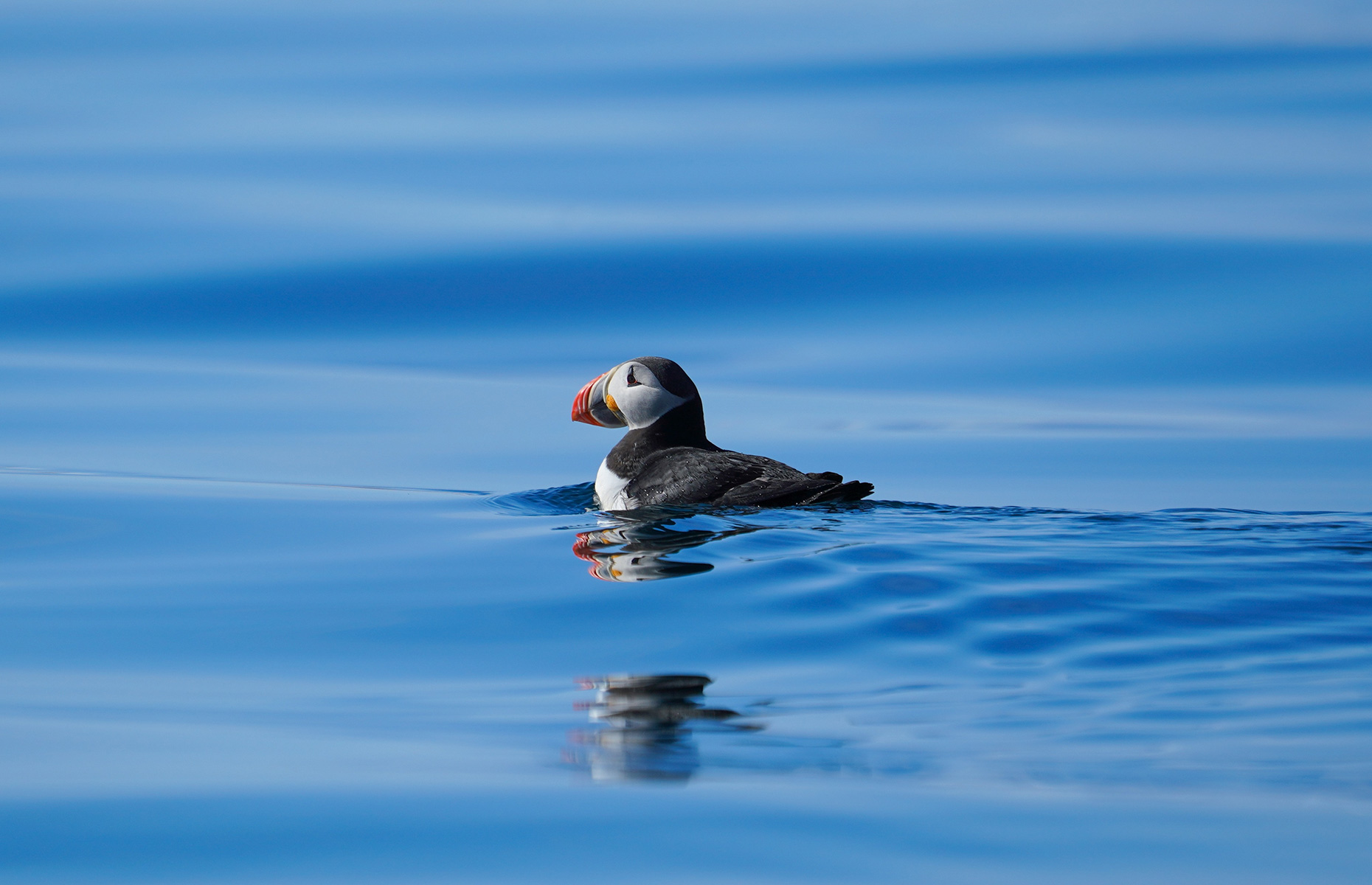 HunsaBKK/Shutterstock
4. Make the most of the outdoor adventures
During winter a favourite activity is to explore the ever-changing ice cave under the Longyearbreen (breen translates as glacier and is just outside of Longyearbyen itself). Sometimes the guides aren't even sure what frozen delights will be found; it changes every year. Participants are taken to the cave by a Snow Cat vehicle, with headlamps fitted before descending into the caverns. These lamps light up the ice and make it possible to see your way into the depths of the glacier.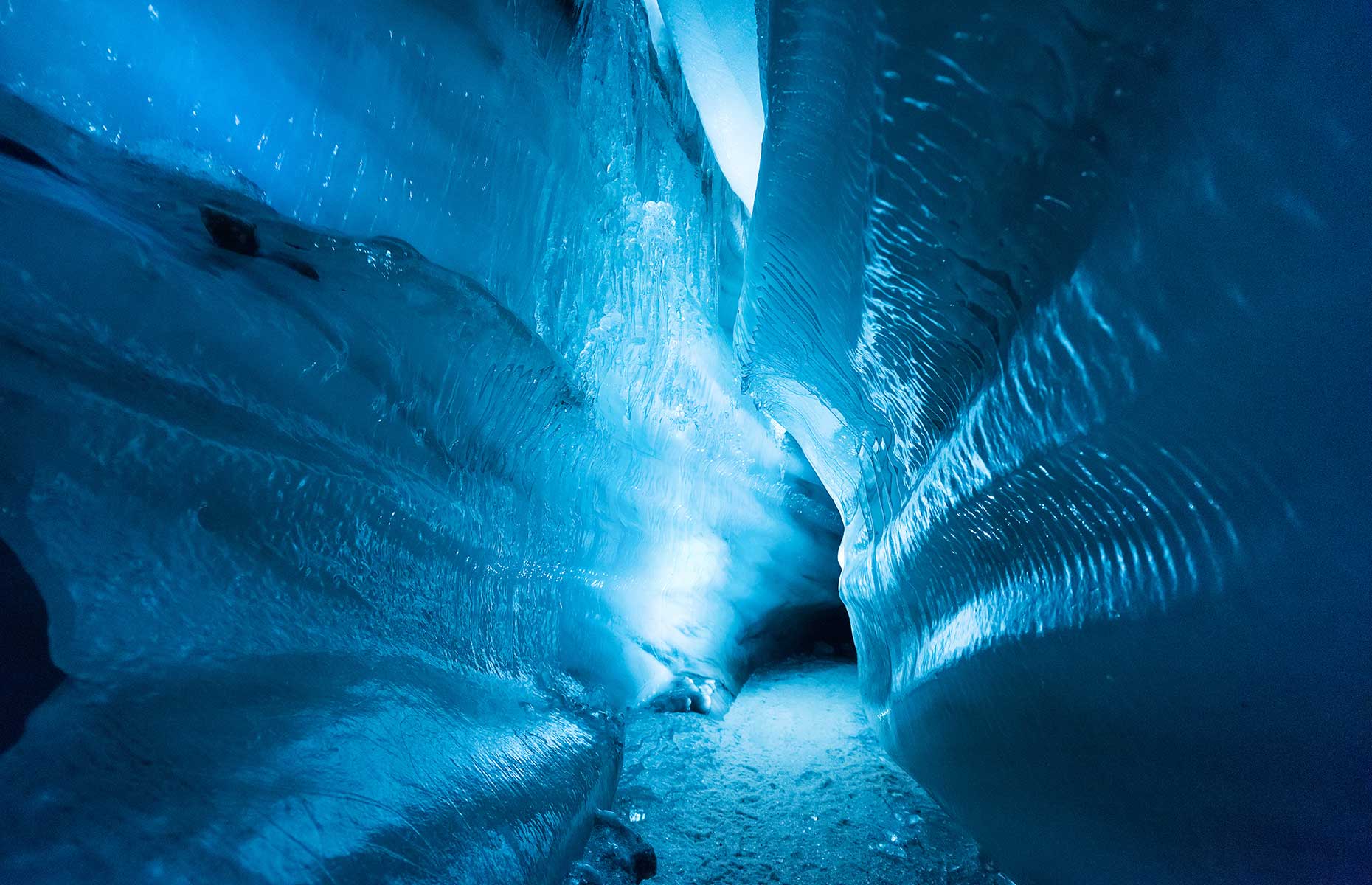 ginger_polina_bublik/Shutterstock
Snowmobiling is one of the main types of transport in winter. Trips out to the hinterland are possible as riders can cover long distances on these machines.
Dog sledding excursions are fun, but also act as transport too. Few things are more infectious than the enthusiasm of huskies as they bark in a frenzy of excitement waiting to be harnessed to a sledge.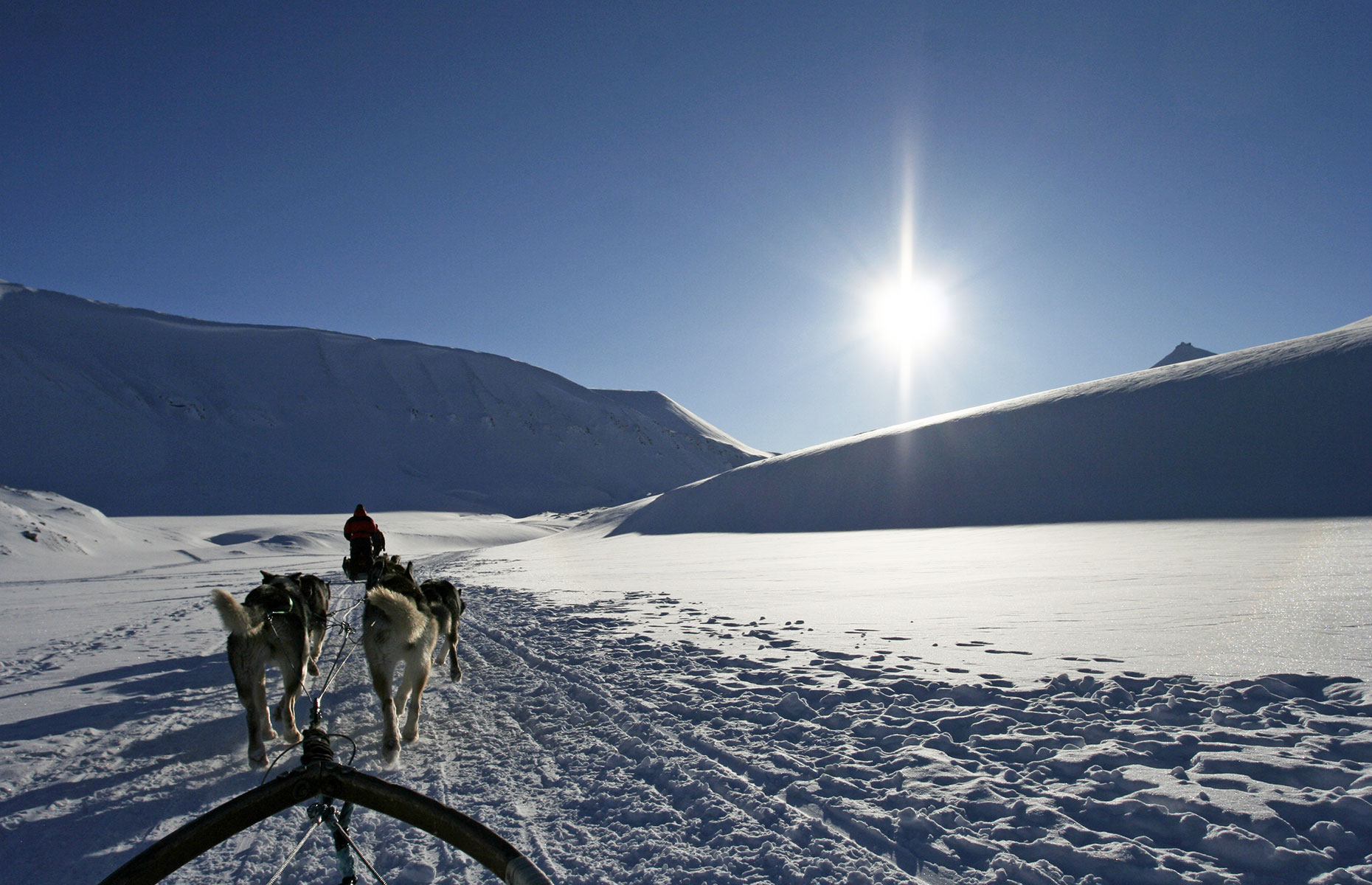 Anna Silanteva/Shutterstock
During summer, skiing expeditions offer an intense foray into the arctic wilderness.
There is also a four-day trekking and camping excursion where would-be explorers stay in the base camp at the foot of Sveabreen in Ekmanfjord, on the west coast of the Isfjord. This is for those looking for a special wilderness experience. Participants are transported out in open Polarcirkel boats, crossing the massive Isfjord on the way. Once everyone arrives at the camp, there are great opportunities for hiking, glacier crossing and rowing and kayaking.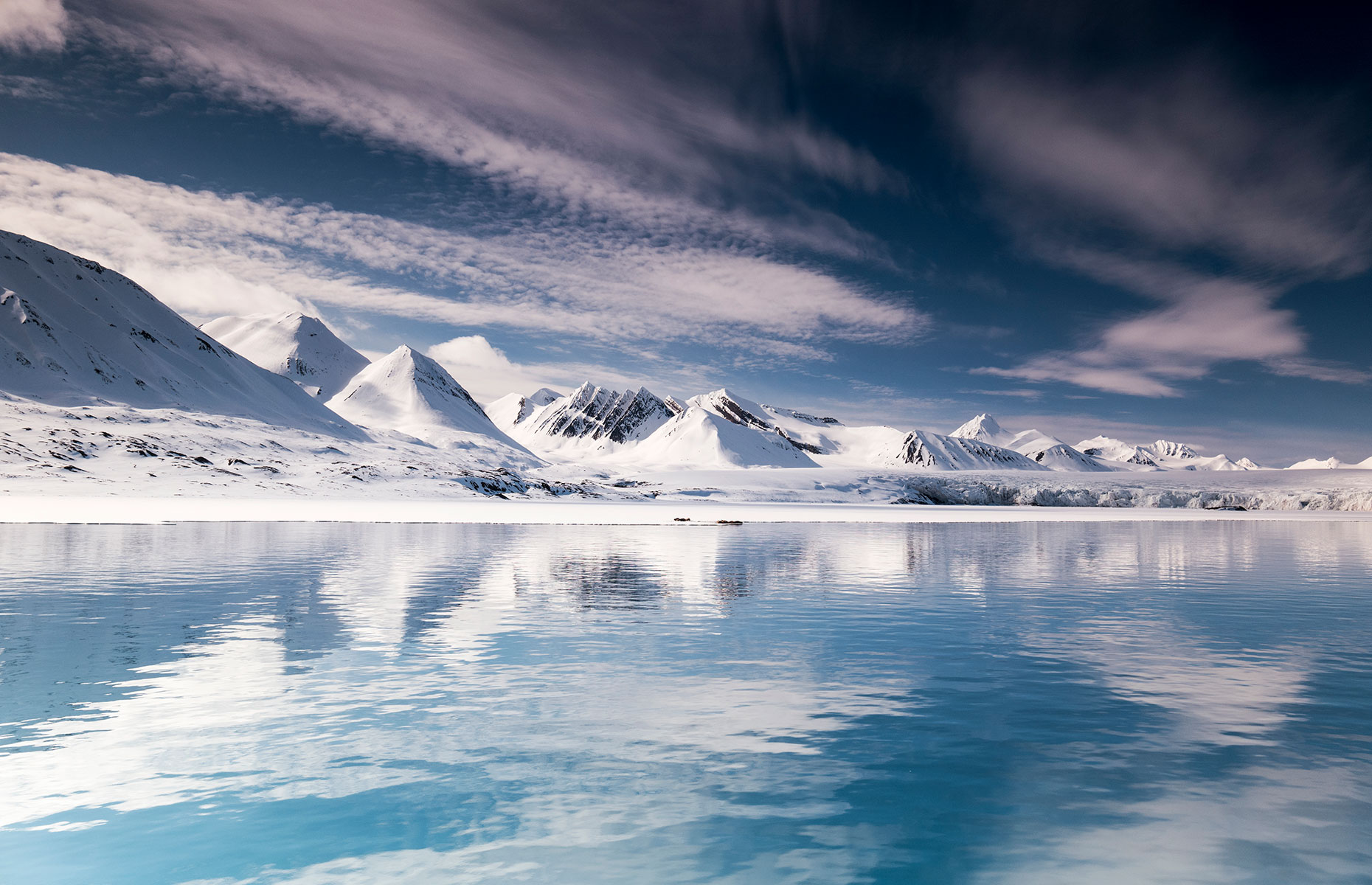 Christopher Michel/Flickr/CC BY 2.0
5. Visit an abandoned Russian mining town
There are regular excursions by hybrid speedboat from Longyearbyen to Pyramiden, a distance of about 31 miles (50km). This former mining compound, built in 1910 and fully functioning until the 1980s, has been a ghost town since the coal mine closed in 1998.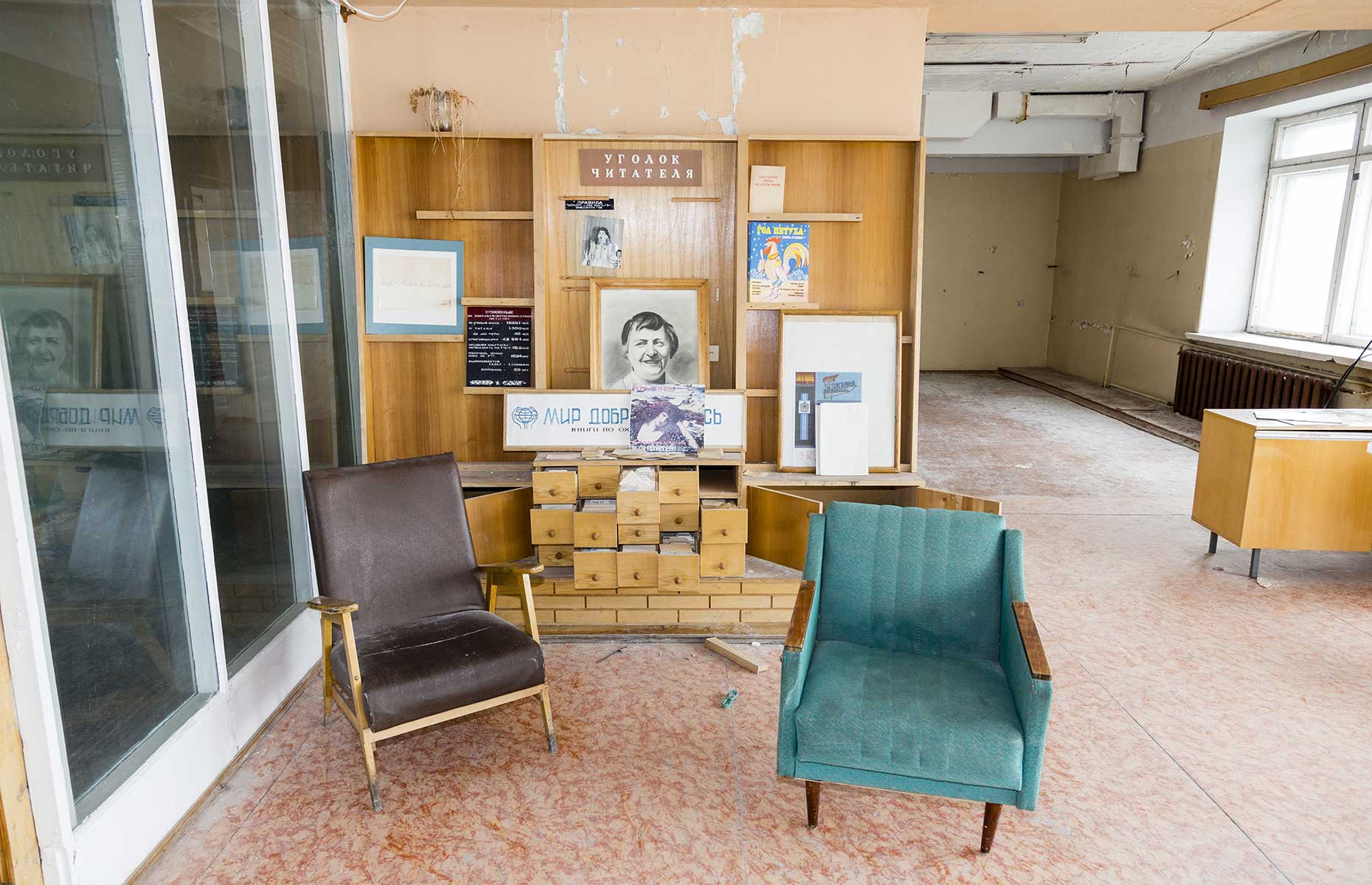 Fredy Thuerig/Shutterstock
Coffee cups have been left behind on the tables, books are scattered in the classroom and library (pictured) and sheet music lies ready on the piano to be performed.
READ MORE: The eeriest ghost towns in the USA
Still owned by the soviet mining company, Arktikugol, there is an archive of over 1,000 well preserved soviet films on site as well as a fully functional theatre. Visitors can request a screening of one of the films. Any abandoned town is slightly spooky and perhaps, because Pyramiden is Russian, it's reminiscent of Chernobyl. But there is nothing sinister or dangerous about this place, it's simply fascinating.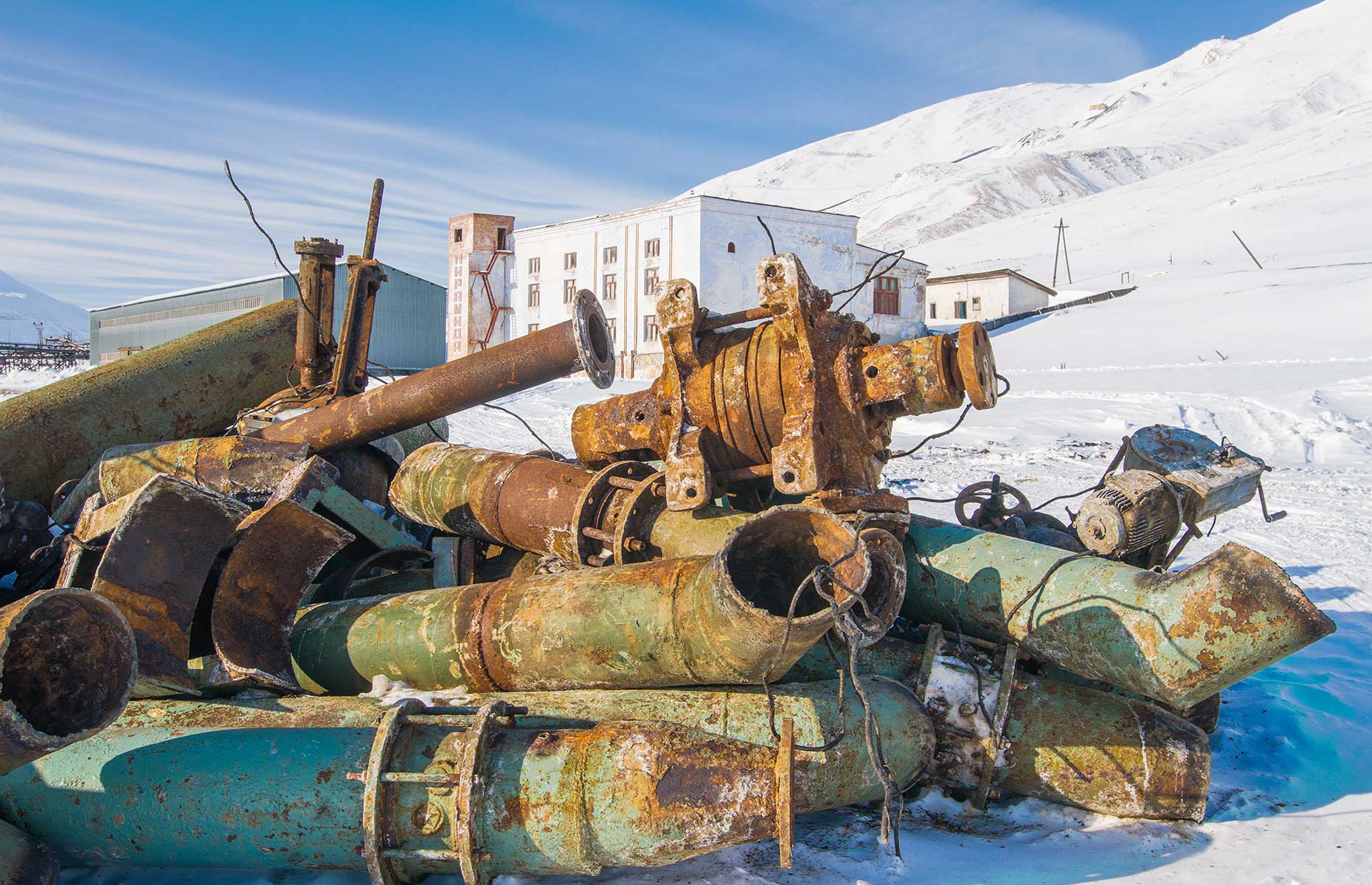 MP cz/Shutterstock
6. See the Northern Lights
The aurora borealis, or the Northern Lights, are a phenomenon that occur because of solar flares and the resulting particles passing over the Earth's atmosphere.
ginger_polina_bublik/Shutterstock
A fairly regular event in Svalbard (although most visible between October and February) these colourful dancing patterns, waves and curtains appear in the night skies and are visible when there are clear, dark conditions. The lights often appear pale to the naked eye, but the striking neon colours show up in photographs.
READ MORE: Unexpected places to see the Northern Lights
Getting there & map
Hurtigruten offers six-day itineraries onboard the MS Nordstjernen from May to September from £1,229 per person.
Flights from London are via Oslo and Trømso with Scandinavian Airlines.
You can also extend your stay in Longyearbyen at either the Radisson Blu Polar Hotel or the Coal Miners' Cabins.
Main image: Chase Dekker/Shutterstock
Be the first to comment
Do you want to comment on this article? You need to be signed in for this feature