6 reasons to visit St Lucia in the Caribbean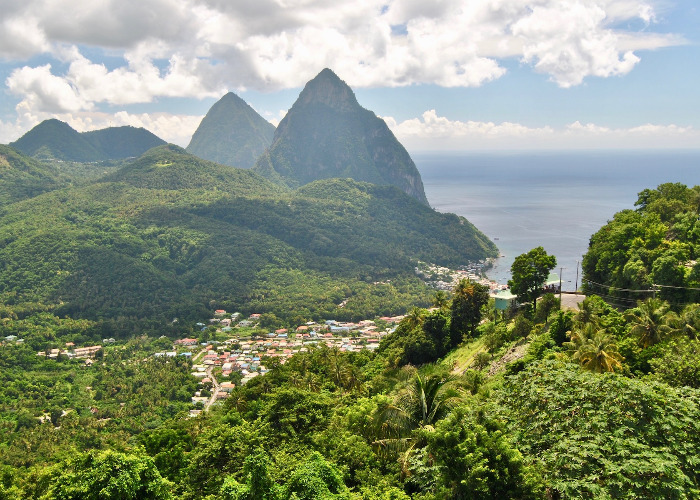 Loved by celebrities and adventurers alike, this Caribbean island is a paradise for every type of traveller.
For Matt Damon it has been the perfect spot to renew his wedding vows, Oprah Winfrey lists it as one of the top places to see in your lifetime and singer Ellie Golding is "in awe" of its beauty – St Lucia in the sun-soaked eastern Caribbean has impressed many of the world's rich and famous while also attracting adventurers from around the globe.
With pristine beaches aplenty, picturesque green hillsides, high-end resorts and excellent cuisine, the island is the perfect holiday retreat for beachgoers, nature lovers, foodies and honeymooners alike. Here is what makes the tropical paradise so special:
1. For fine beaches and great snorkelling
Although St Lucia is a volcanic island, the beaches are fine and sandy – never mind some of the grains are imported from abroad. All beaches on St Lucia, including those that are part of 5-star hotels, are open to the public. One of the most famous beaches, Sugar Beach is spectacularly nestled between the two Pitons at the southwest coast. The bay, a former sugar cane plantation, offers emerald waters, soft white sand and lush rainforest overlooked by the Viceroy luxury resort.
Inga Locmele/Shutterstock
The reef to the northern side of the bay is a protected area and therefore one of the island's best snorkelling spots with a colourful underwater world. Close to the surface you can expect to see shimmering parrotfish, striped sergeant major and trumpetfish amid corals. Sea urchins cling to the reef and slippery moray eels peek out from their hiding holes. If you're very lucky, you'll even be accompanied by endangered sea turtles that nest around the island's beaches.
BlueOrange Studio/Shutterstock
Another snorkelling paradise with an even larger reef is Anse Chastanet, a bay protected by high cliffs with a pristine beach stretched out in front of the resort of the same name just north of Soufrière town on the west coast.
READ MORE: 50 unexpected Caribbean adventures
Further north, the natural harbour of Marigot Bay is dotted with yachts and catamarans and beautifully surrounded by hills and towering palm trees. Reduit Beach on bustling Rodnay Bay offers five miles of white sand, the biggest and most popular beach on the island.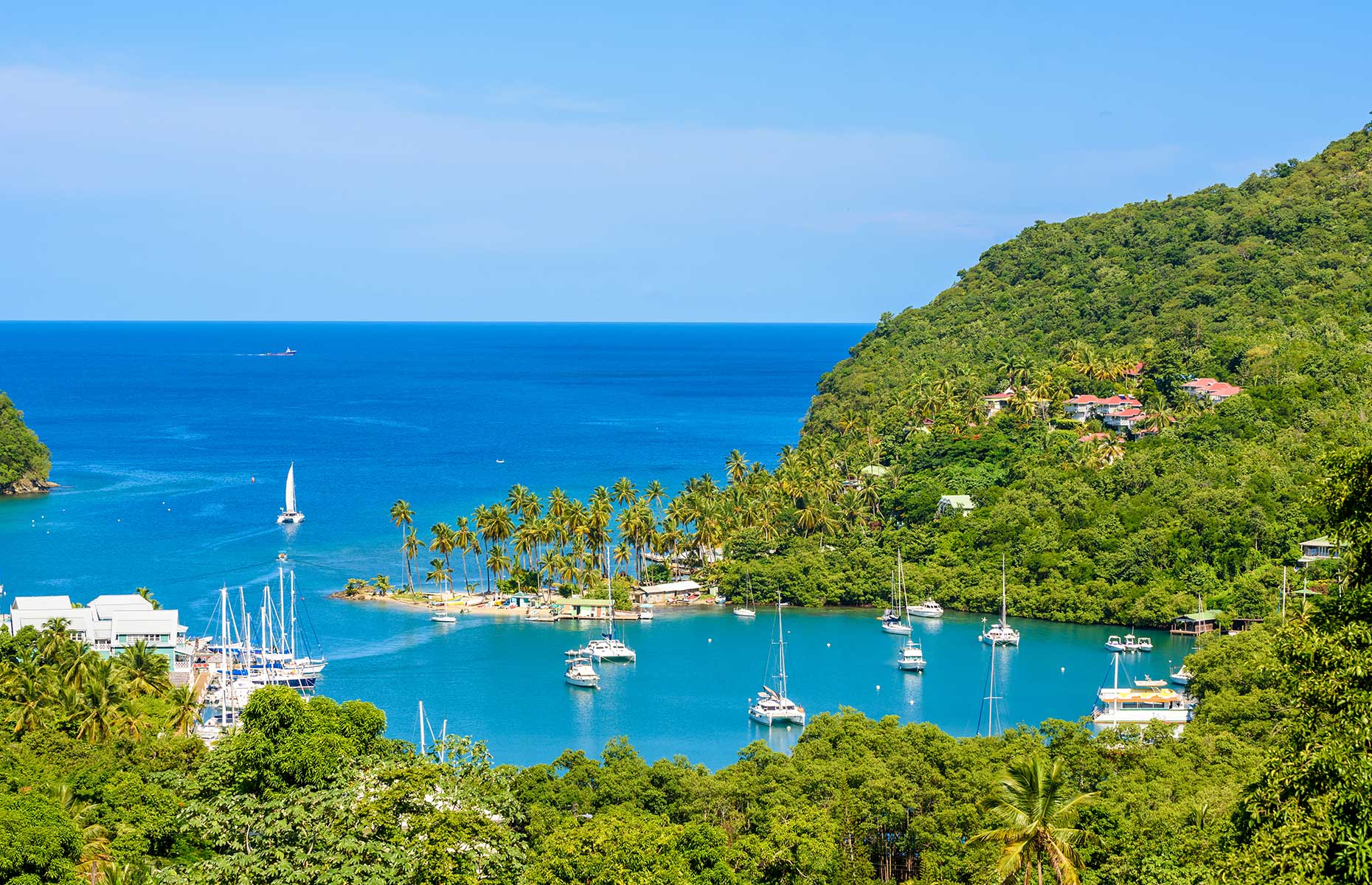 Simon Dannhauer/Shutterstock
If you prefer a quieter and less crowded place in the north, head to Pigeon Island where you can see the historic Fort Rodney ruins and spot Martinique in the distance.
2. For extra-special hotels
From family-run guesthouses to 5-star hotels, there are accommodation options for every budget. If your dream is a luxury holiday with the utmost comfort and privacy, Serenity at Coconut Bay is the ultimate escape. Opened in 2017, the adults-only resort offers 36 spacious suites hidden among lush vegetation with private plunge-pool and 24-hour butler service – take a break from everyday life while sipping a cocktail in your private hammock-for-two under coconut palms.
Courtesy of Serenity at Coconut Bay
Situated only a few footsteps from the white sand of Anse de Sables Beach (Sandy Beach) on St Lucia's south coast, you have a picture-perfect mile-long beach to enjoy and can book a private beach cabana overlooking the crystal-clear waters. There's a range of activities such as kitesurfing, tennis or kayaking on offer, and for a romantic dinner experience you can have the chef's Caribbean-inspired gourmet cuisine served in-suite or at the oceanfront.
Perfect to unwind, the spa treatments are also available in your suite or to the sound of the sea behind the beach.
Even Prince Charles seemed impressed, when he visited the all-inclusive resort on his Caribbean tour with the Duchess of Cornwall in March 2019.
Courtesy of Serenity at Coconut Bay
3. To have a mud bath in the world's only drive-in volcano
There's no nice way to say it … this place stinks! But still, it is great fun. Located in the jagged hillside of a dormant volcano, Sulphur Springs calls itself the world's only "drive-in volcano". There isn't a classic crater or any lava fields here, just a smelly sulphur steam soaring out of the ground and boiling mud you can bathe in. Both well worth a visit.
The mineral-rich mud softens the skin and helps ease joint pain, which is why visitors like to apply the dirt all over their face and body before relaxing in four small pools that are thermally heated. After the mud bath – with your skin feeling smooth as never before – you can wash off nearby in Toraille Waterfall, which drops about 50 feet (15.2m) from a cliff to create a pool – a refreshing swim that Suits star Gabriel Macht (Harvey Spector) clearly enjoyed when visiting with his wife two years ago.
4. For some of the most stunning views in the Caribbean
St Lucia is an island blessed by nature and boasts some of the most stunning views of the Caribbean islands.
This is most notably thanks to the Pitons, two pointy peaks overlooking the island from the southwestern coast. Covered with lush rainforest that continues to spread across the island, the famous landmark looks almost surreal up close, making you feel like gazing at a fairy-tale world.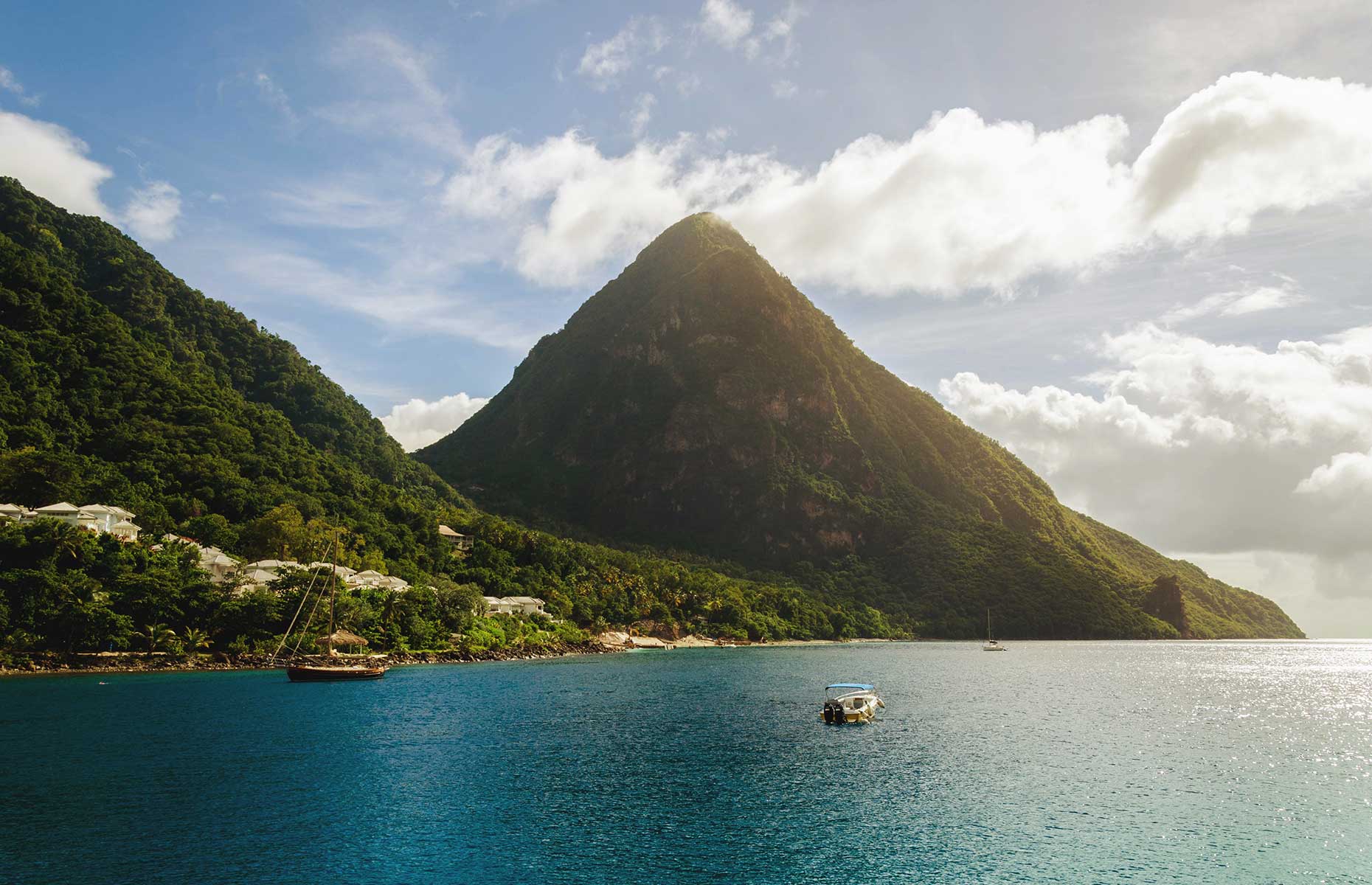 Claudio Trigueros/Unsplash
There are multiple ways to explore these volcanic formations, which have been a UNESCO World Heritage site since 2004. You can hike around them, climb one – the slightly lower Gros Piton – or for breathtaking views from the water, sail around them. Many visitors to St Lucia do all three, as you simply can't tire of the Pitons' beauty.
READ MORE: What to see and do on Anguilla
If you want to explore more of the stunning scenery, also head south to Moule a Chique lighthouse, which is nestled on a hilltop at the southernmost tip of St Lucia. From here you have panoramic views over the island with the Pitons in the distance and the turquoise sea all around you. On a clear day you can even spot St Lucia's neighbouring island St Vincent.
5. For the West Indian cuisine
In St Lucia's kitchens Caribbean, European, American and Indian flavours create an eclectic mix. Grilled beans, fish, rice and rotis are popular, and fried plantains make a tasty side with anything. Visitors should try the island's national dish green figs and saltfish – a hearty meal made from boiled green bananas and salt-cured cod with various herbs and spices, which you'll find in restaurants across the island and the market in Castries, the island's capital.
Don't leave without indulging in the local lobster, which you can enjoy for a vastly cheaper price than in Europe and North America. At Mama Tilly's Barbeque and Grill in Laborie for example, guests love the tender grilled seafood and authentic noodle salad. In Soufrière the homemade creole lunches at Martha's Tables are delicious and portions are vast.
For fine dining there are plenty of options offering spectacular views. Situated on the waterfront of a peaceful marina near Castries, The Coal Pot serves Creole and French dishes, including excellent fish mains such as barracuda, kingfish and red snapper. At Jade Mountain Club you can enjoy seasonal Caribbean cuisine served next to an infinity pool overlooking the Pitons.
6. To make your own chocolate
Ever wanted to make your own chocolate? In St Lucia you'll have the chance. The island has become a popular "chocolate tourism" spot, having produced cocoa for centuries. The shady volcanic mountain slopes are ideal for growing cacao trees and there are several plantations open to visitors to learn more about chocolate-making.
Sublimage/Shutterstock
At Rabot Estate near Soufrière you'll find British chocolatier Hotel Chocolat's own plantation which is also home to the hotel and restaurant Boucan. You can sign up for the three-hour "tree to bar" tour to learn all about cocoa production while picking ripe pods that you can use in your own chocolate bar.
READ MORE: What to see on Grenada, the Caribbean's spice island
Howelton Estate's Caribelle Batik has been making chocolate since 1979, while Anse Chastanet's Chocolate Lab offers tastings and wine pairings as well as truffle making classes. Perfect for spoiling your taste buds.
Getting there & map
British Airways flies daily from London Gatwick to St Lucia with flights starting from £398 return including taxes and fees.
Be the first to comment
Do you want to comment on this article? You need to be signed in for this feature