Explore Anguilla: what to see, do and where to stay on the Caribbean's unspoiled hideaway
Anguilla offers more than just powder-soft sands and holidaying celebrities (although there are plenty of those). The island is imbued with an independent Caribbean spirit, growing local food scene and one of the region's most vibrant festivals.
Why go to Anguilla?
After just a few hours on the eel-shaped island of Anguilla – it takes its name from the Italian for the fish – you quickly understand what people mean when they say, "people go to Antigua to be seen, but they come to Anguilla to escape". Anguilla's practically deserted white-powder beaches and warm turquoise waters are complemented by the island's understated, laid-back charm.
Unfussed locals are far from star struck by any of their celebrity visitors, and it's no surprise that the likes of Beyoncé and Jay-Z, Mariah Carey and Robert Downey Jr have chosen the island as a temporary escape from the constant exposure of celebrity life.
In fact, the real surprise is that this British Overseas Territory has remained so much of a secret for so long. In part it's because large planes flying in are rare (and usually private jets) so it never feels crowded. Plus Anguilla lies in the hurricane belt, helping to explain why Antigua and hurricane-free islands such as Grenada receive more visitors. But Anguilla has fully recovered from 2017's Hurricane Irma, and outside of the stormy season the island becomes a perfect hideaway, free from mega-sized cruise ships, all-inclusive resorts and casinos.
READ MORE: Our island guide to Grenada
Most importantly, while it may feel exclusive it's not a destination reserved for the rich and famous; all of Anguilla's 33 beaches are public, while hearty local cuisine and increasing hotel options mean a stay here is by no means unaffordable. In fact, for those looking for endless sea views and a slower pace, Anguilla is an almost unrivalled idyll.
5 things you must do on Anguilla
1. Hit the best beach
It's hard to choose just one of Anguilla's white sand beaches but Shoal Bay in the north east of the island is one of the most pristine. The lack of crowds makes it feel like it's your own, offering the chance to take a cherished solo dip in those light-blue waters. Sandy Ground in the northwest of Anguilla is a livelier choice with boats filling the bay and many people enjoying a rum in the beach bars that line the coast.
Zemi Beach House Resort & Spa
But perhaps the best beach experience is a 10-minute, £7.70 ($10) boat trip away from Sandy Ground on Sandy Island. The cay can be seen from the shore and is home to a beach shack that owner Simone Connor rebuilds every year when tropical storms or hurricanes hit, reshaping the sandy spot's perimeter into something new. What doesn't change is the white sand, and while this beach is public it feels private, thanks to the four-poster bed loungers and 360-degree sea views.
2. Have a seafood feast at the best restaurant
Palm Grove Bar and Grill is a secluded lunch spot, right on the beach at Junk's Hole by Savannah Bay. Family-run with three generations working alongside one another in this rustic beach shack, Nat the owner rustles up some of the freshest, most flavoursome seafood in Anguilla, alongside his wife Ettie, daughter Natalie and his baby grandson who is often there too.
As in many local restaurants, food arrives 'on island time', but it's worth the wait. A crayfish and lobster combo served with local delicacy Johnnycakes (a very moreish savoury doughnut) and coleslaw costs £46.60 ($60) and beats many of the dishes served at the 5-star resorts. Add a touch of Nat's special hot sauce to really eat like an Anguillan.
3. Tour the island on a quad bike
Anguilla may be small with a population of around 14,500, but the best way to tour it isn't by foot, but by quad bike. A historic ATV tour of the island led by Freedom Rentals shows you Anguilla beyond the most popular spots, as you drive to sights such as the island's working well and the recently refurbished Ebenezer Methodist Chapel. You also drive the bikes to the island's highest point, and even down onto the beach at Katouche Bay. It is by far the quickest and most exhilarating way to explore Anguilla's inland.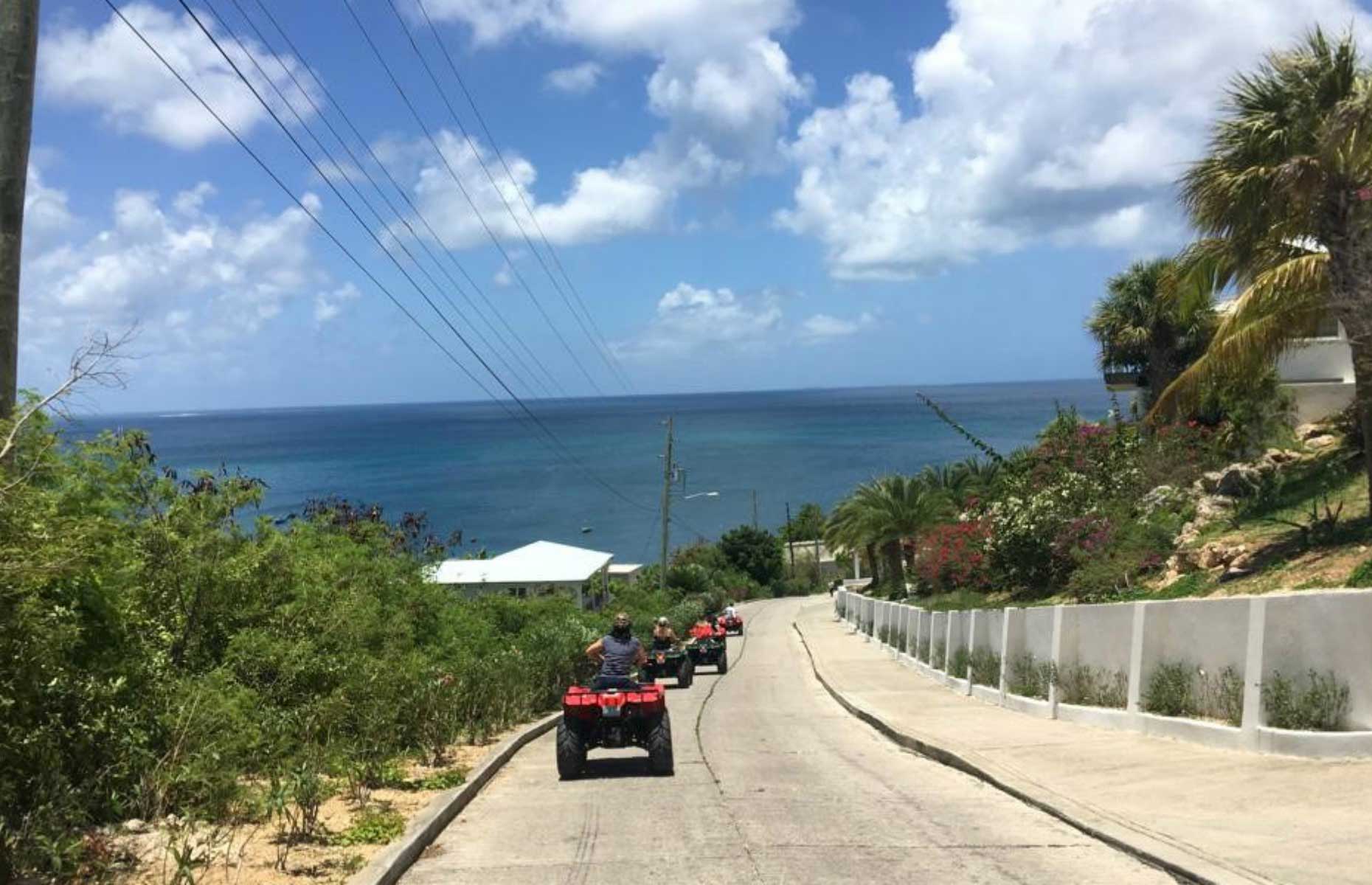 Charlotte Irwin
4. Join in the summer festival
To really immerse yourself in Anguillan life and culture, it is worth planning a trip for the first week of August when the Anguilla Summer Festival takes over the island's timetable. Not only will staying on the island be cheaper as Anguilla's tourist hotspots are poised to close for September and October, but it is now that the sounds and colours of the island are truly revealed.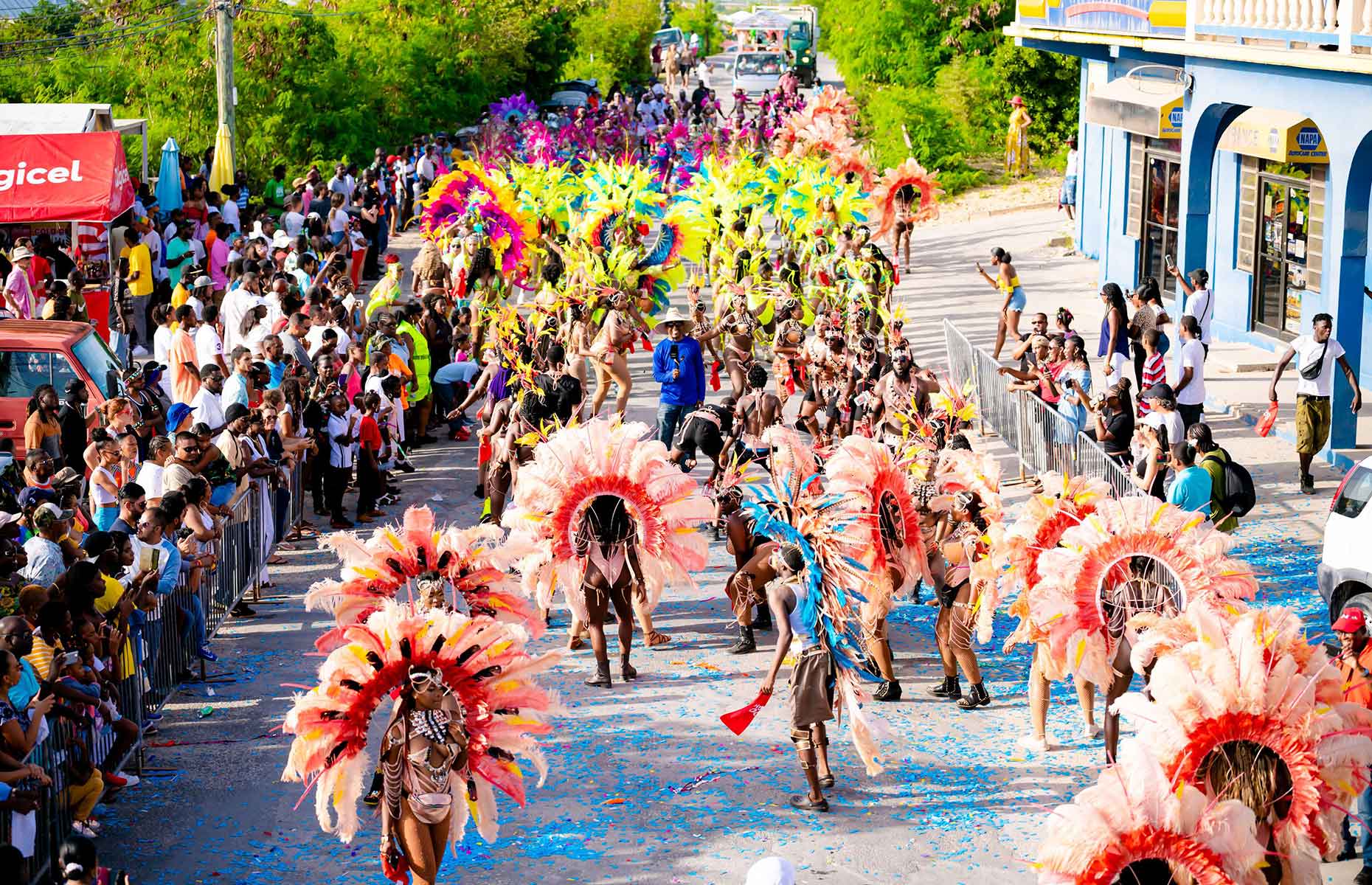 Zuri Wilkes Photography/Anguilla Tourist Board
The week-long celebration starts with J'ouvert, a Monday morning parade that begins with musicians jamming soca music – an offshoot of calypso that started in Trinidad and Tobago – from 4.30am. It ends with an all-day beach party at Sandy Ground. Grilled jerk chicken, ribs and goat fill the beach with wonderful barbecue flavours, while fresh crayfish costs £6.20 ($8).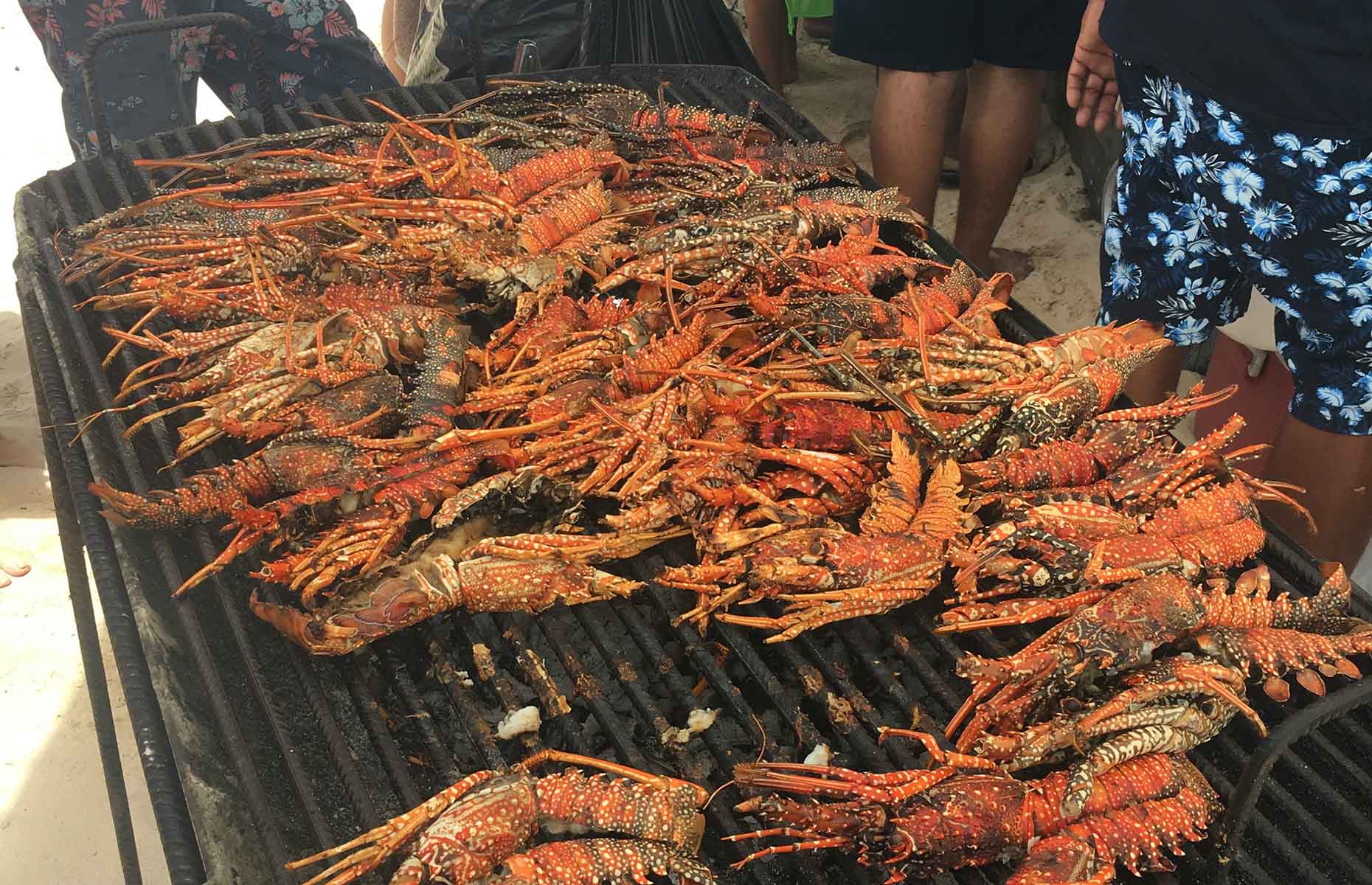 Charlotte Irwin
You'll need some stamina to see everything during the Festival, but Friday's final Grand Parade of Troupes shouldn't be missed. An overload of flamboyant feathers, glitter, dancing and local music, this rum punch-fuelled procession in the centre of Anguilla is a vibrant celebration, and outsiders are made to feel very welcome.
5. Watch the boat race battles
Anguilla's national sport is boat racing. During the Summer Festival there are several boat races and locals crowd the beaches and roads to get a peek of the action. But there are many other occasions throughout the year when you can catch sight of Anguillians indulging in the sport. Failing that, there are plenty of opportunities to enjoy a boat trip of your own.
Where to stay on Anguilla
Zemi Beach House Resort & Spa
One of the newest hotels on the island, 5-star Zemi Beach House was designed by Caribbean architect Lane Pettigrew and opened in 2016, only to shut the following year when Hurricane Irma devastated the island. But the luxury 65-room hotel has fully recovered from the storm, and even its 300-year-old Thai spa, brought to Anguilla from Thailand in the 1980s, remains fully intact.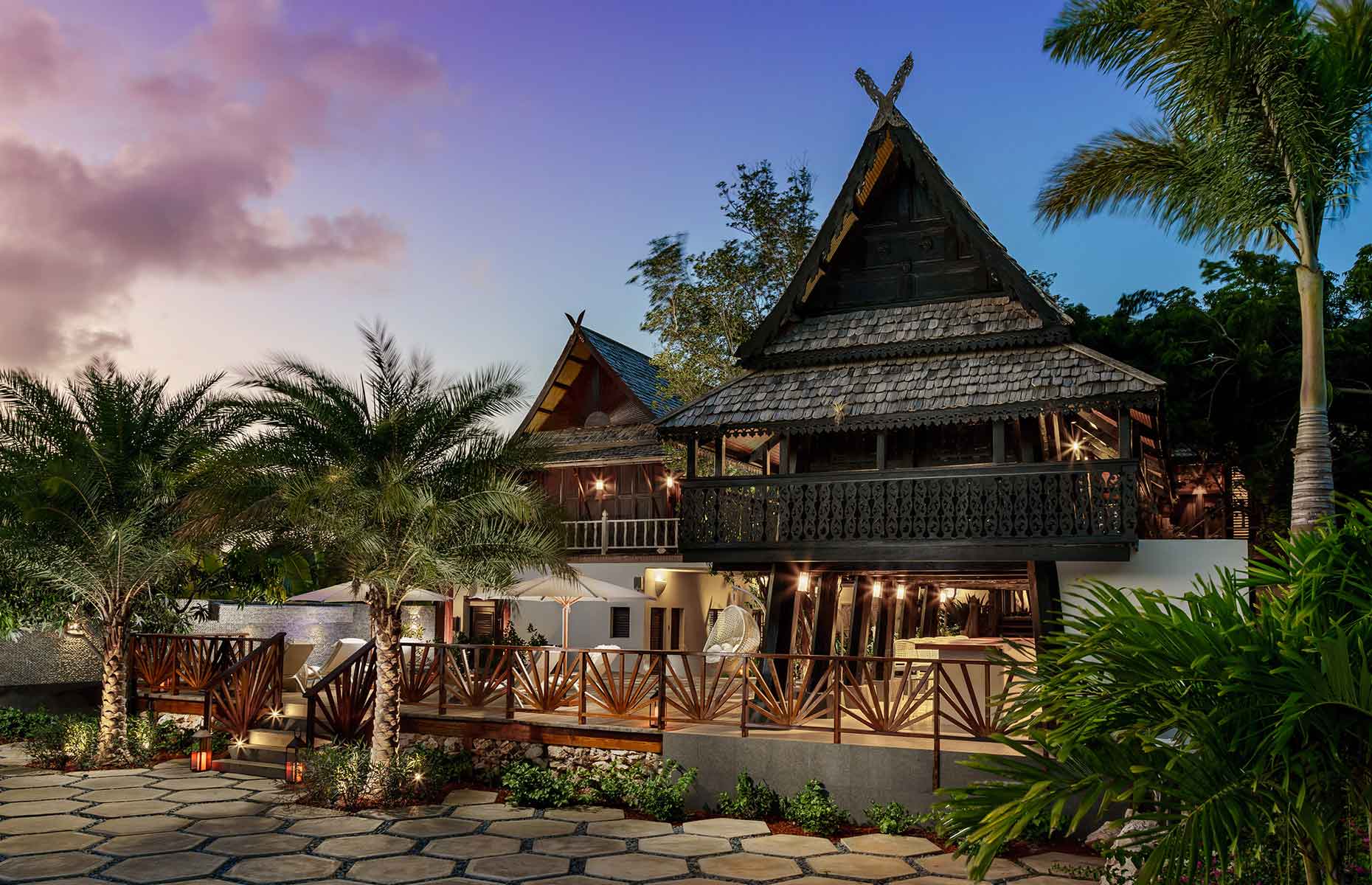 Zemi Beach House & Resort
Sitting in the east of Shoal Bay, the main draw to this modern beach-style hotel is the feeling of seclusion it manages to maintain; even at full capacity there are no queues for its restaurants or loungers and you will often find that you have either of its two pools to yourself.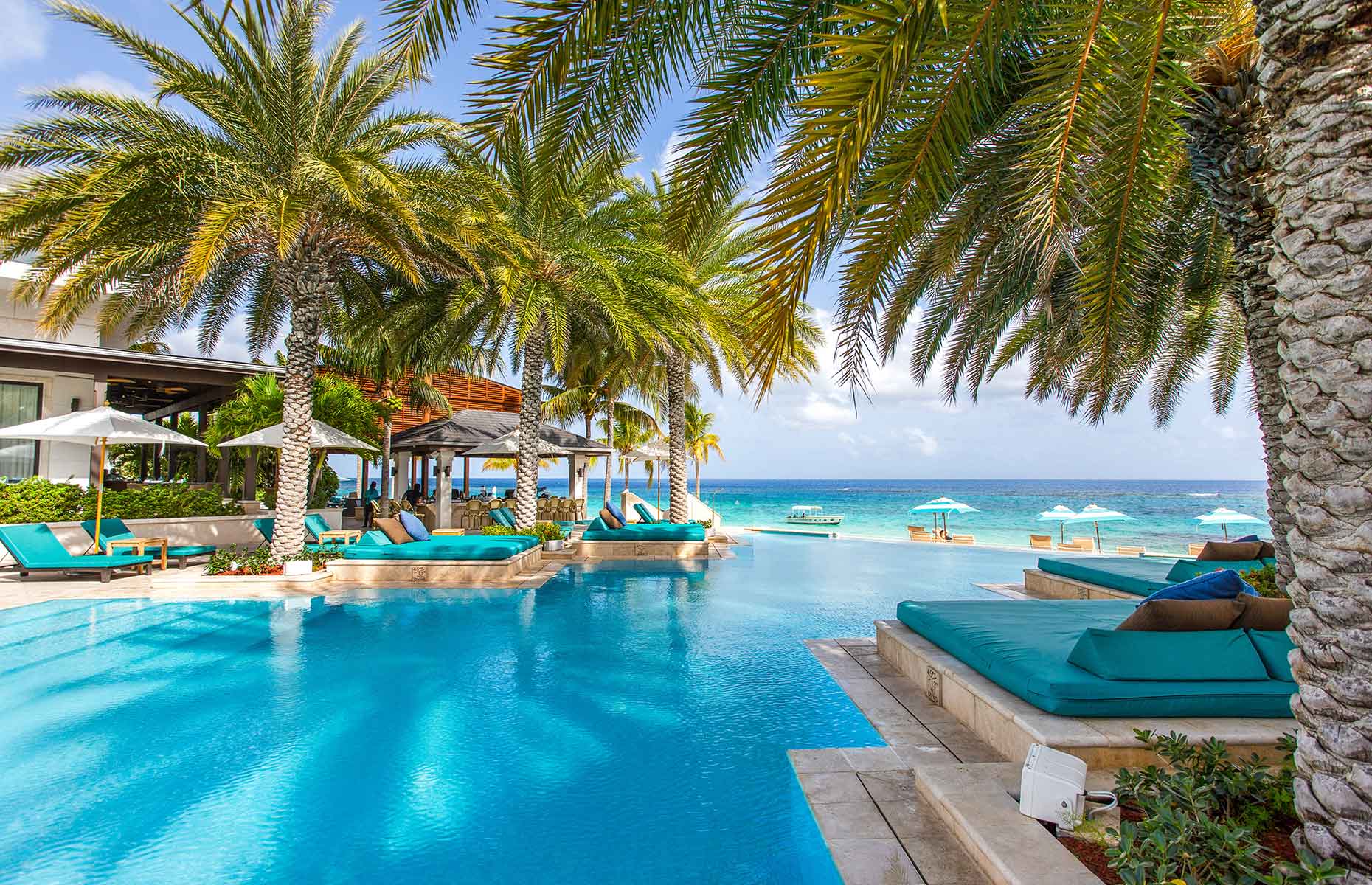 Zemi Beach House & Resort
Anguilla Great House Beach Resort
Charming and rustic, this small holding offers beach-front rooms without the resort price tag. Ideal for families who can rent a row of rooms and create the sense of your very own villa right on Rendezvous Bay that looks out to the neighbouring Dutch Caribbean island of St Maarten. Anguilla Great House Beach Resort is a wonderfully located, understated idyll without too many frills.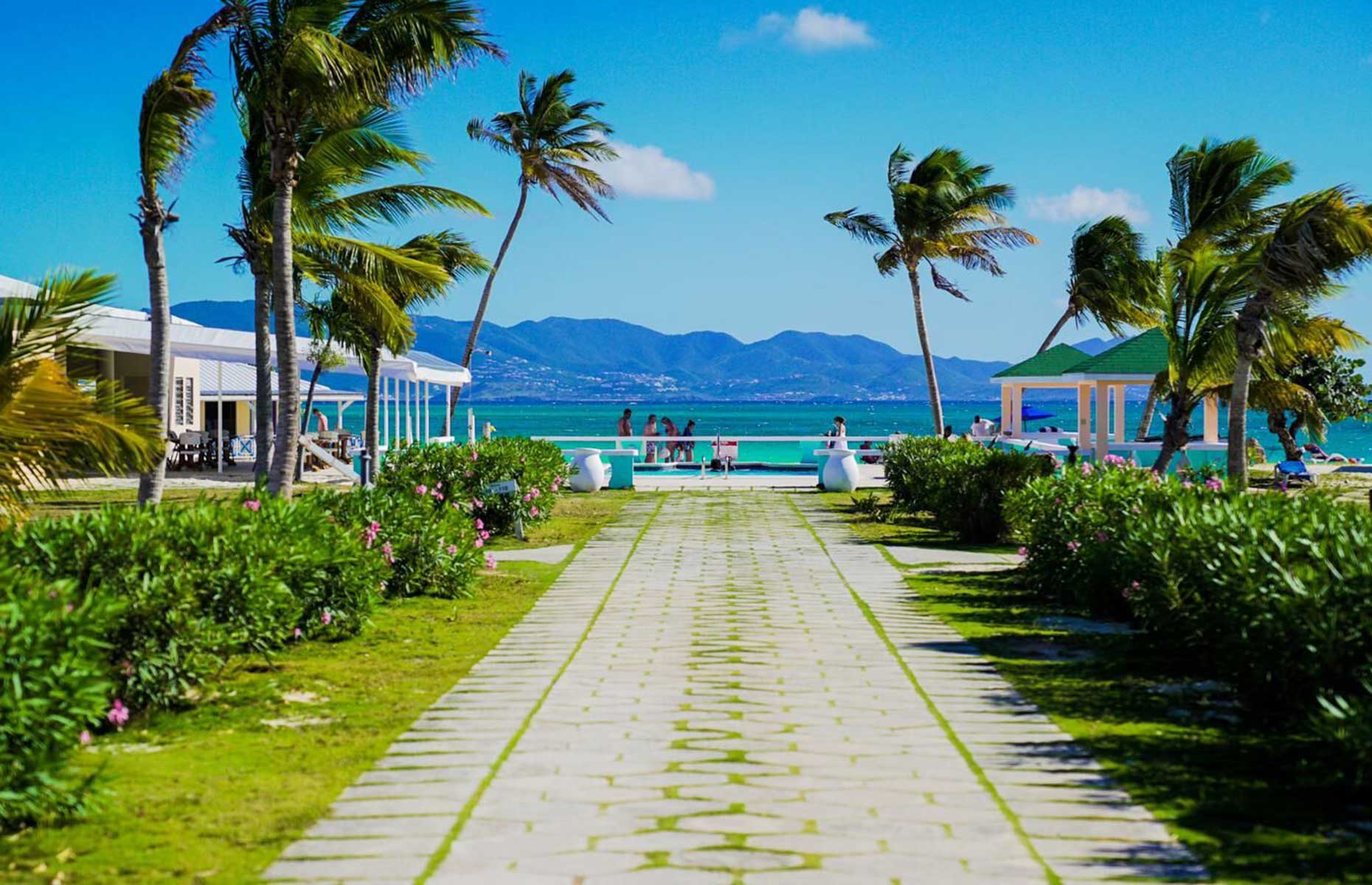 Anguilla Great House Beach Resort
CuisinArt Golf Resort & Spa
You may forget you're in Anguilla if you choose to stay at 5-star Cuisinart Golf Resort & Spa. This white-walled Greek-style retreat near Rendezvous Bay transports you to Crete in its style and is host to the only golf course on the island.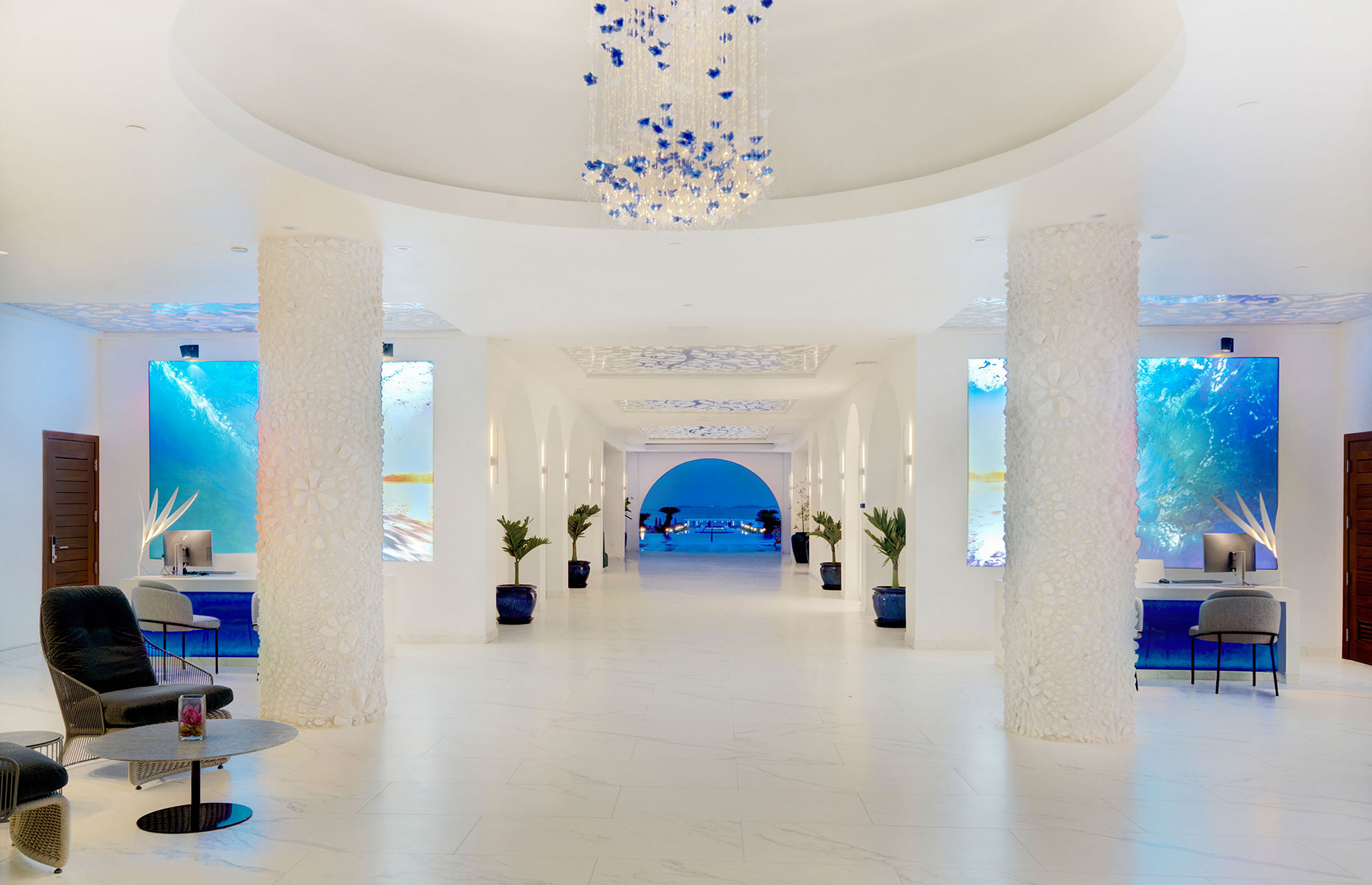 CuisinArt Golf Resort & Spa
The ultimate three-day itinerary on Anguilla
Day 1
Pick up your snorkel and fins: Before you set sail for Sandy Island kit yourself out with some snorkelling gear from the Scuba Shack just along the beach, to make the most of the reefs further out at sea.
Get the boat to Sandy Island: Catch the £7.70 ($10) shuttle boat to the cay, and then after a spot of sunbathing on one of the comfy lounge beds, use your snorkel to dart in among the boats, spotting fish through the translucent waters.
Have an afternoon drink at Roy's Bayside Grill: Once you're back on the main island settle in with the locals and grab a chilled AXA beer, the first beer to ever be brewed on the island, at Roy's Bayside Grill at Sandy Ground. The AXA brewery opened five years ago and now produces this fresh citrusy beer available at most bars, restaurants and hotels on the island. This is the perfect way to relax as evening falls.
Feast on red snapper: at Ocean Echo, Meads Bay. Once you've washed the sand out from between your toes, head out to eat at Ocean Echo at Meads Bay. Right on the beach – although restaurants in Anguilla are never far from it – this is Caribbean fine dining at its best. Plus the recipe for Ocean Echo's The Rumzie cocktail is a secret, but this potent concoction serves as a relaxing nightcap as you listen to the waves softly lap on the beach behind you.
Day 2
Grab a taxi: to Blowing Point and Freedom Rentals' HQ. Here you can pick up your quad bikes and follow your guide through the key sights of the island. With the wind in your hair, the historic two-hour tour not only reveals the stories of Anguilla's past but helps you cool down from the blazing sun.
Chill out at Rendezvous Bay: After your tour, a dip in Anguilla's blue waters is a must. After leaving your quad bikes at Blowing Point, Rendezvous Bay in the south west of the island is a short taxi trip away, or for those with some energy left a 30-minute walk.
Book a table at Toyko Bay: For a break from Anguillan food, this Japanese restaurant is the first on the island and is located above the spa in CuisinArt Golf Resort & Spa. A fine dining treat with a wonderful aerial view of Rendezvous Bay and St Maarten, head Chef Jindry – formerly of Nobu – offers sushi, sashimi and grilled Teppanyaki on this wide-ranging menu.
READ MORE: 50 adventures you didn't know you could have in the Caribbean
Party on the beach: with local legend Bankie Banx at his Dune Preserve Beach Bar. A short stroll from the CuisinArt Golf Resort & Spa, this wooden beach-shack lined with shells and trinkets is owned by renowned reggae artist Bankie Banx (pictured below). Unsurprisingly the bar is known for pumping out reggae tunes into Rendezvous Bay and promises a unique evening of relaxation and entertainment.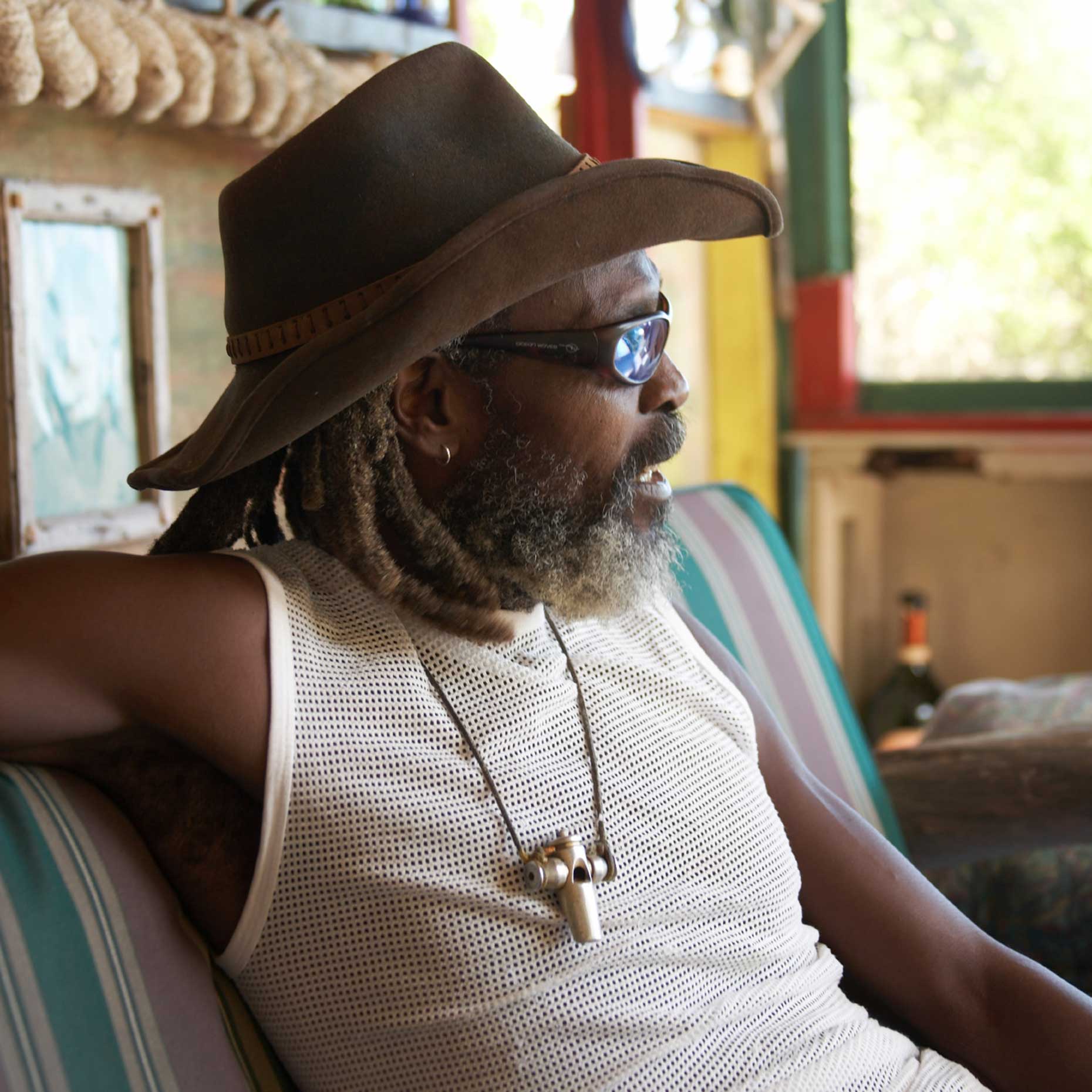 Anguilla Tourist Board
Day 3
Have an early morning stroll on the beach: at Shoal Bay. Pretend you're the only person in the world as you take an undisturbed early morning walk at Shoal Bay in the northeast of the island, and truly shut out the rest of the world.
Pick up lunch at Blanchards Beach Shack: This casual beach shack is known for its comfort food fare. Munch on a jerk chicken burger with chips and a generous side of guacamole, and experience how fast food can be eaten slow. Then sit and take in the unblemished beach scene from your table.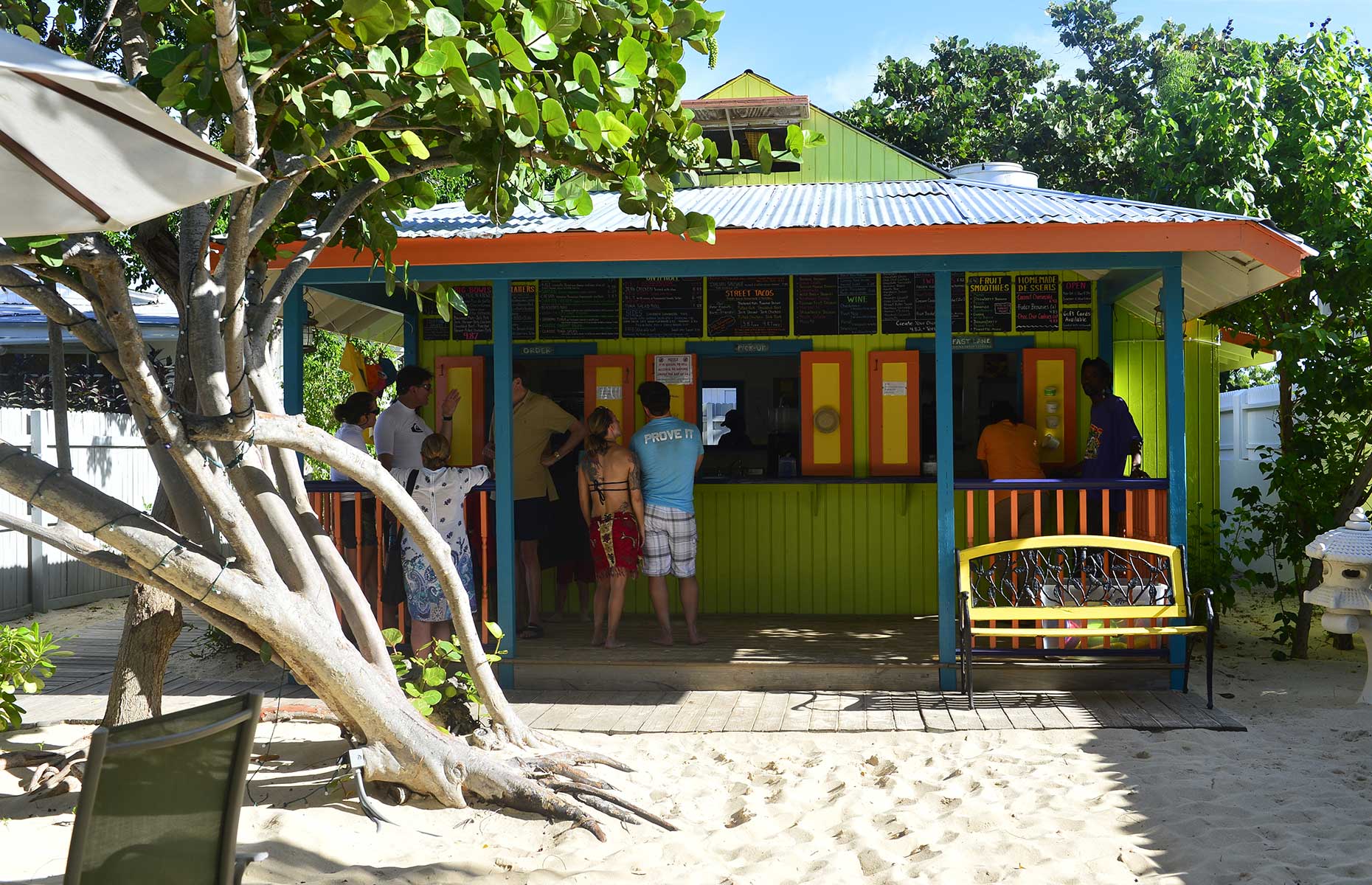 Anguilla Tourist Board
Swim in the ocean at Meads Bay: Post-lunch cool off in the bright blue waters at Meads Bay, right in front of Blanchards shack.
Relax with a full body massage at CuisinArt Golf Resort & Spa: The resort's spa offers the classic relaxation treatments such as a full body massage, which is ideal for working out the final few knots of stress. For those looking for something a little higher octane, however, the spa also has Paddleboard yoga on its timetable.
Eat dinner at Tasty's Restaurant: Anguillan chef Dale Carty honed his craft in France before returning home to open Tasty's. The food is Caribbean but has a French influence, and the restaurant's signature seafood salad is light but full of locally-caught fresh fish.
Getting there
For more information about Anguilla and what the island has to offer check out Visit Anguilla.
Virgin Atlantic offers direct flights from London to Antigua and Trans Anguilla Airways offering an onward service to Anguilla.
Packages are also available for example: Tropical Sky (tropicalsky.co.uk; 01342 886941) is offering seven night stays at the five star Zemi Beach House Resort & Spa from £2,289 per person, based on two adults sharing on bed & breakfast basis, travelling in December and including return flights from London Gatwick and ferry transfers.
Lead image: Anguilla Tourist Board
Map of Anguilla
Be the first to comment
Do you want to comment on this article? You need to be signed in for this feature