6 adventures to enjoy in Washington state's Puget Sound region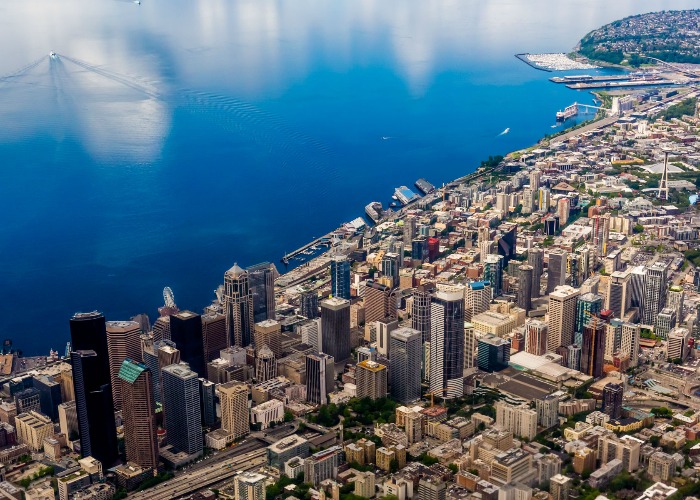 Seattle is the most famous resident of Washington's Puget Sound region. But those who venture a little outside the city can discover some unique and surprising experiences...
Washington state's Puget Sound region could, pretty accurately, be called eclectic. It sprawls out from Seattle and stretches from the coastline to saltwater bays and verdant islands, thick with towering Douglas fir and cedar trees. It incorporates estuaries and inlets, where wild orca whales feed on salmon and the ethereally beautiful Olympic National Park.
Yet the area, flanked by the Cascade and Olympic mountain ranges, has a few collective characteristics: quirkiness, natural beauty, and endless potential for outdoor adventure.
Whether you're up for winching yourself up a tree the height of a 20-storey building, or if strolling around a cluster of urban wineries is more your pace, this vast outdoor playground is ripe for exploration.
1. Scale a 200-foot tree
Got a head for heights? Or just love to scare yourself silly? AdventureTerra runs canopy climbing tours in Deception Pass State Park, at the tip of wild and wiggly Whidbey Island (a short drive plus ferry from Seattle). Participants are safely strapped up, but scaling a majestic Douglas fir – tall as a 20-storey building – is bound to be a head-spinner.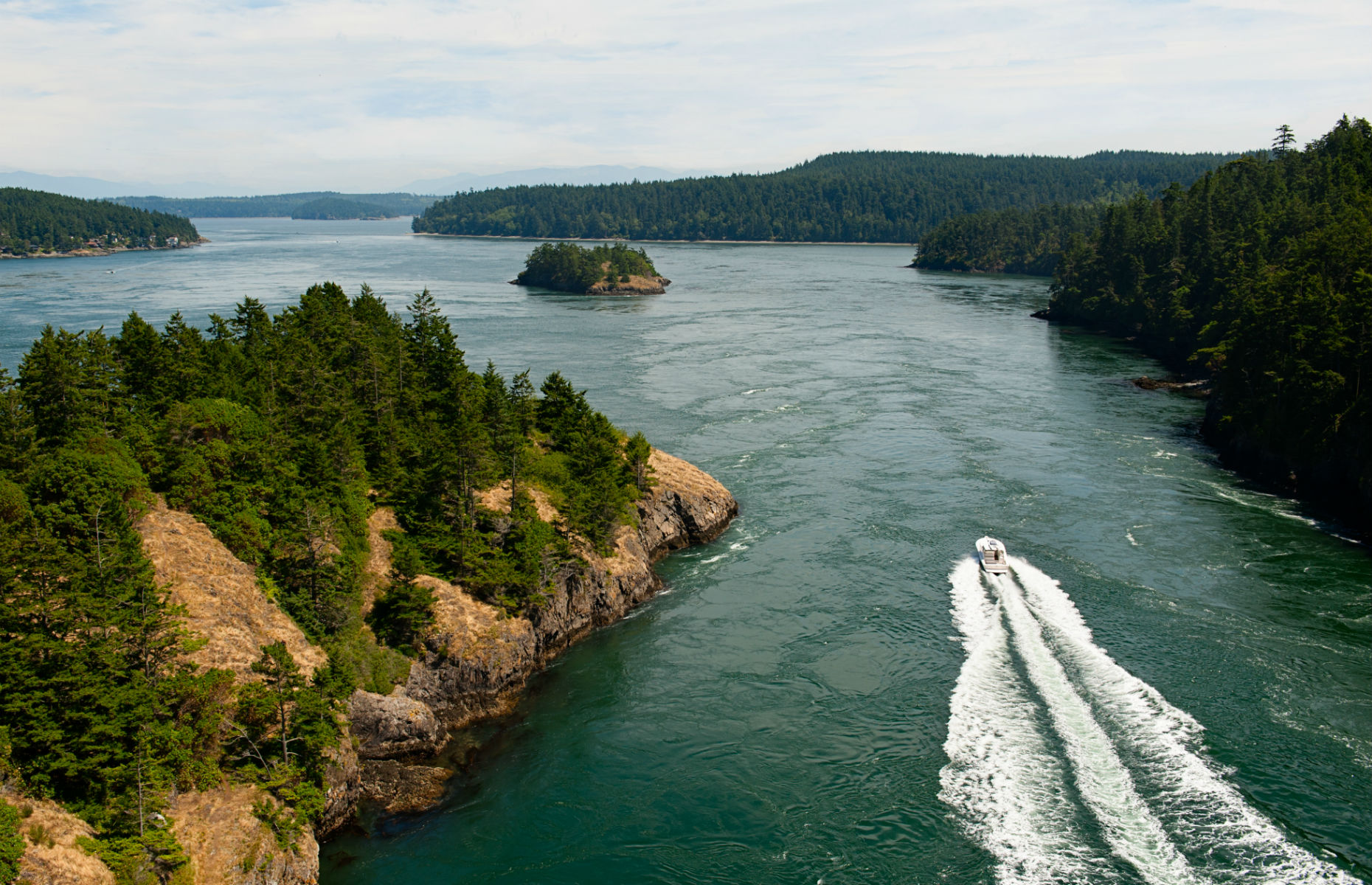 Sam Strickler/Shutterstock
As are the views, which feel even more spectacular after spending several hours winching and pulling yourself up the trunk and through a tangle of branches. The sunset tour is timed so even the slowest climbers should reach the canopy just as the last of the daylight is seeping through the pea-green leaves, giving way to swirls of pink and orange over the water.
2. Camp with wolves
Don't worry – we're not suggesting you cosy up with Mr Wolf in a double sleeping bag. But a lucky few can pitch their tents close to the majestic mammals at Wolf Haven International, just outside Olympia. The 50-odd canids are all rescues, whether from roadside zoos or people's misguided attempts to keep them as pets, and roam as they please among vast, forested outdoor enclosures.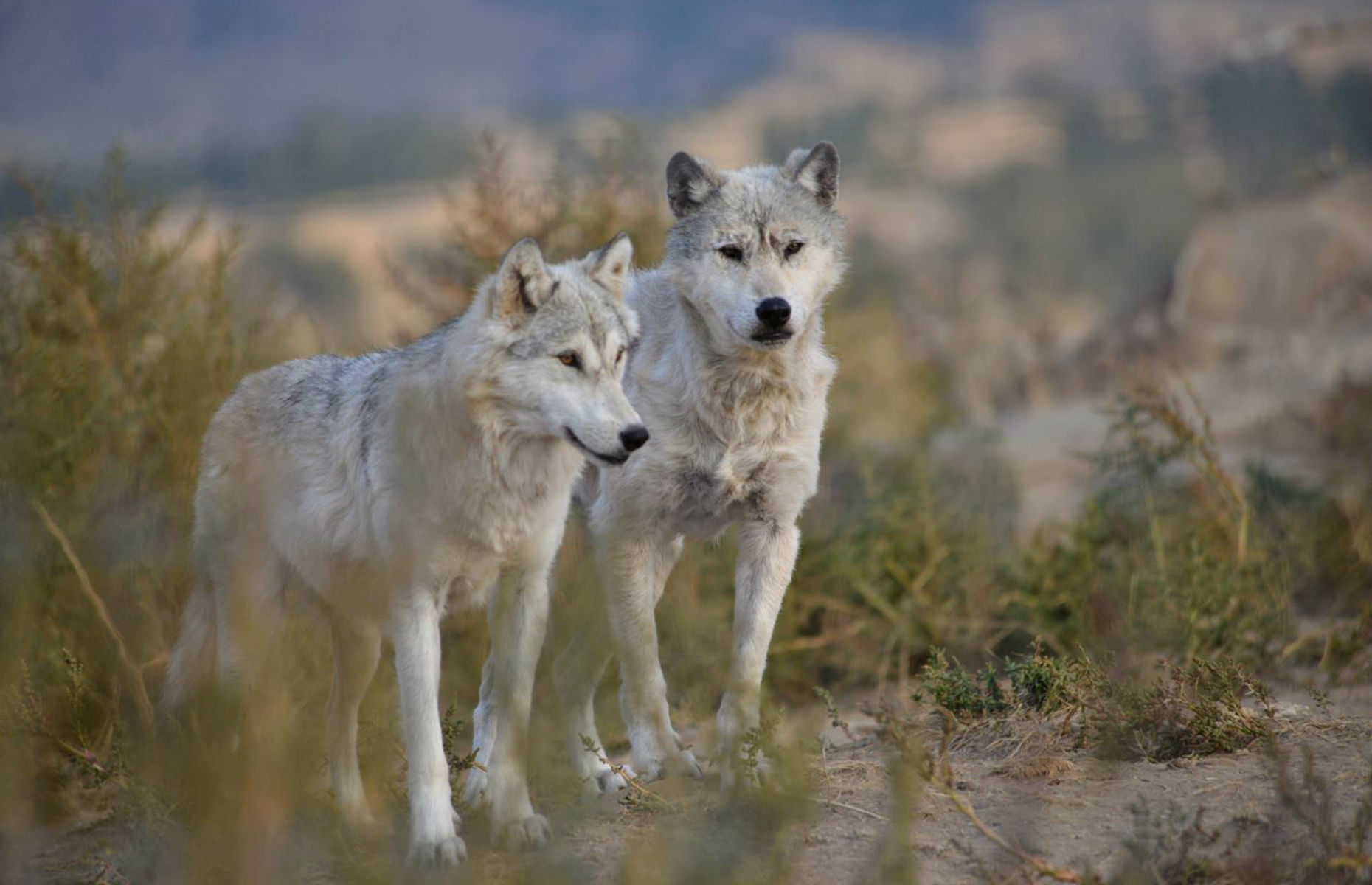 @Wolfhavenintl/Facebook
The overnight camping, on select dates in summer, books fast. But even if you don't get to experience a night drifting off by the prowling howlers, you can book a tour to see some of the grey and red wolves and hear their stories. Allow time to stroll the grounds, home to a wolves' cemetery, prairie mounds and the 'Grandfather Tree', a 300-year-old Douglas fir.
3. Kayak through orca territory
The San Juan Islands, off the coast just northwest of Seattle, are scattered across prime orca territory: both resident pods, who feed on salmon, and summer visitors can be spotted here.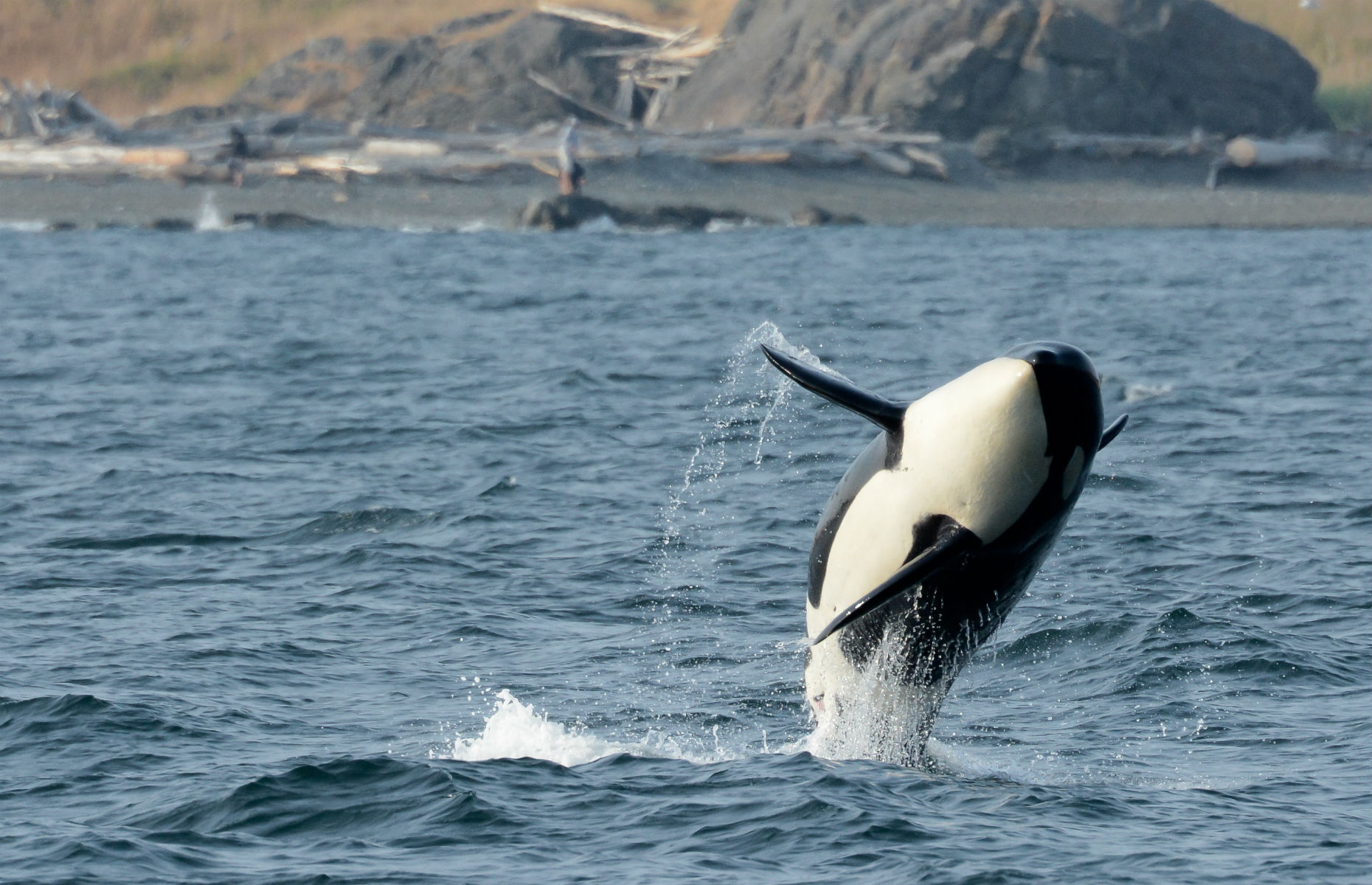 Sara Hysong-Shimazu/Shutterstock
There are plenty of whale-watching boats operating in the archipelago, but one of the loveliest ways to encounter wild orcas is on a multi-day kayaking trip with Outdoor Odysseys, which operates out of Friday Harbor on San Juan Island – one of the largest of the 172 named islands (at least as many again are nameless, some so small they're swallowed at high tide).
Participants paddle around some of the most beautiful and dramatic islands, picnicking on empty beaches and camping at remote sites that can only be reached by boat. Even if you don't spy so much as a fin or the tip of a tail, the scenery (and incredibly delicious camp food) more than makes up for it.
4. Follow the urban wine trail
Woodinville is a favourite weekend (or even afternoon) escape for Seattleites. Just a half-hour drive away, the lushly green city has more than 100 wineries, many clustered in compact, walkable hubs.
The Hollywood district, for example, is overflowing with tasting rooms. Try Fidélitas for fragrant, delicately floral reds from Washington's Yakima Valley, or Obelisco Estate, which specialises in big, bold Cabernet Sauvignons.
Stay overnight at Willows Lodge, whose cosy rooms have stone fireplaces and views over twinkly lit courtyards, for a rustic-chic base that's a short walk away from the wineries. Its restaurant, Barking Frog, pairs seasonally focused dishes with more Washington vintages.
5. Bike around breweries
The best way to travel in Olympia, Washington's state capital, is on two wheels. As with most things in life, it's even better when you add beer (or coffee, depending on your preference).
South Sound Adventures offers just that on its cycling tours around the cool, offbeat city. Its morning tour includes stops at the city's best cafes, switching to craft breweries in the afternoon.
You also get to see all highlights like Tivoli Fountain and the State Governor's Mansion, which looms elegantly above Capitol Lake.
6. Hike to natural hot springs
Olympic National Park is a vast, otherworldly patchwork of glacier-capped mountains, caramel-coloured beaches strewn with driftwood, rock pools with purple starfish and old-growth rainforest with branches cloaked in emerald moss.
In other words, it's a rather lovely place to explore, and you could spend days or weeks doing so. If you only do one thing, head to the Olympic Hot Springs, in a wilderness area off Boulder Creek Trail.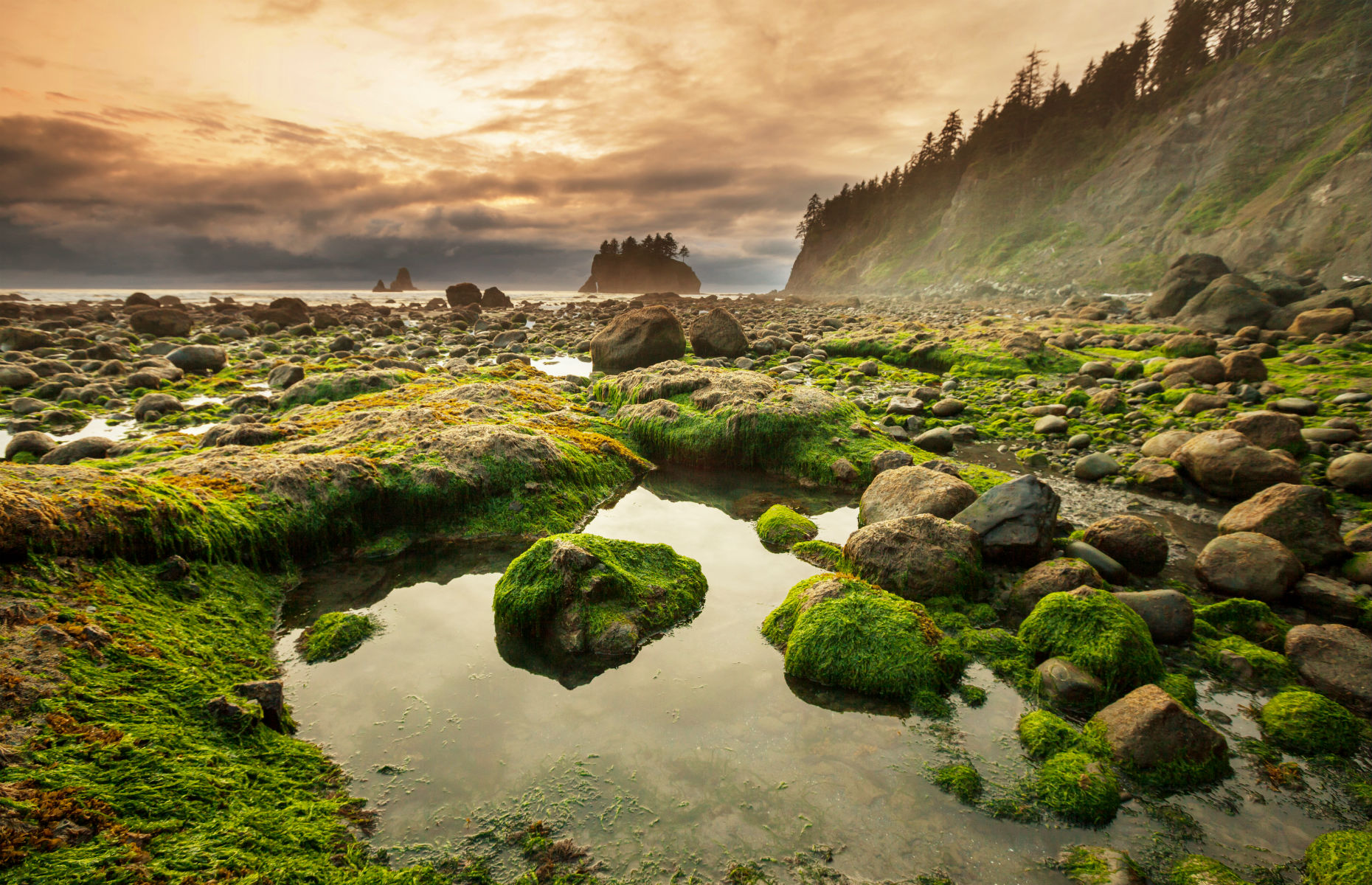 Galyna Andrushko/Shutterstock
Bathing in the 21 natural thermal pools is at visitors' own risk (they're untested by the National Park Service), though many people do, and the limpid, blue-grey water is nonetheless beautiful to look at.
Getting there
British Airways flies to Seattle from Heathrow from £380 return.
Read more about the top things to do, where to stay and what to eat with our guide to Seattle
Lead image: Richard A McMillin/Shutterstock
Be the first to comment
Do you want to comment on this article? You need to be signed in for this feature