The best Christmas markets in the UK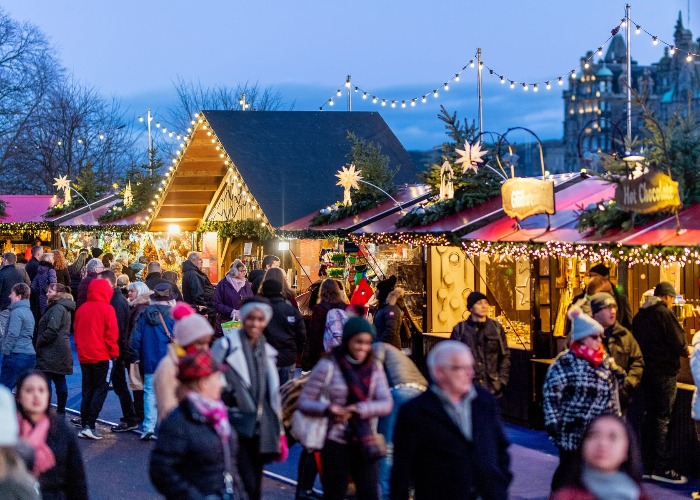 Wondering what to give your nearest and dearest this Christmas? Channel your inner Santa Claus and stock up at one of these fantastic Christmas markets.
These days, you no longer need to head to Germany to find a brilliant Christmas market, and this year's offerings look better than ever, whether it's Birmingham's Frankfurt-themed market (complete with a singing moose) or Rochester's Dickens-themed Christmas extravaganza.
Blenheim Palace Christmas Market, Oxfordshire
When: 19 November to 19 December
Regarded by many as one of the UK's best Christmas markets, Blenheim's Yuletide extravaganza is one of our favourites. The most popular spot is the Great Court, where 70 traders will set up shop inside quaint wooden chalets.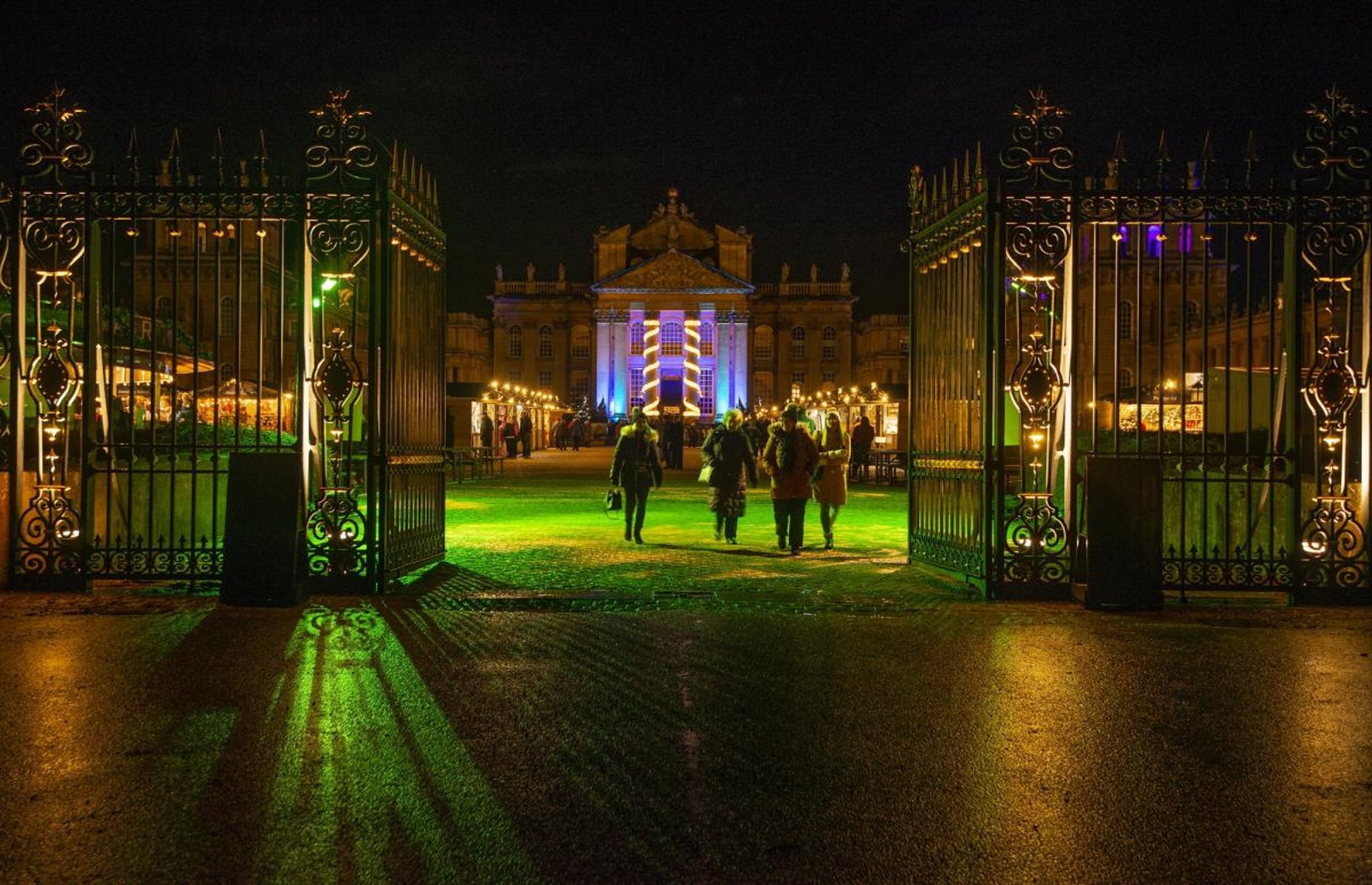 Blenheim Palace
Afterwards, check out the grounds' Illuminated Trail, or head inside to admire what might just be Blenheim Palace's most spectacular Christmas decorations yet – a Nutcracker-themed makeover of several rooms, complete with supersized gingerbread men and a candy cane-adorned Kingdom of Sweets. A word of warning – your own carefully-selected Christmas decorations will probably look rather plain in comparison.
READ MORE: Inside the world's most luxurious palaces
Belfast Christmas Market, Belfast
When: 20 November to 23 December
Belfast City Hall will be transformed into an alpine village this winter, and one of our favourite things about this beautiful Christmas market is the food – you'll be able to feast on a wonderfully wide selection of dishes, ranging from crocodile burgers to wild boar steaks.
Craving something a little more traditional? Head to one of the two bars for a glass of mulled wine, and whizz down the market's helter skelter (although perhaps not in that order).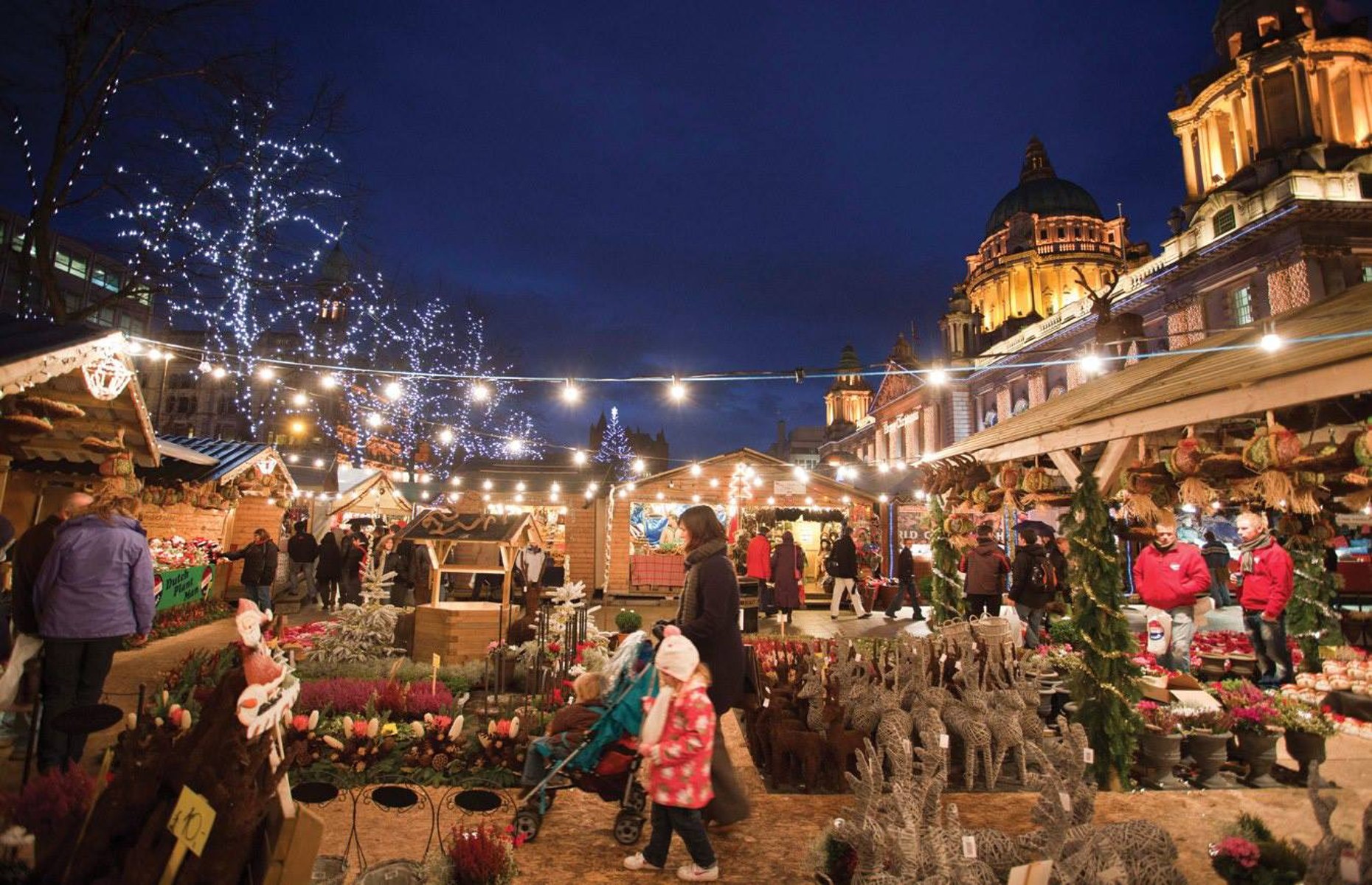 Visit Belfast/Facebook
Waddesdon Christmas market, Buckinghamshire
When: 13 November to 23 December
Head to this glorious Buckinghamshire manor house, built by Baron Ferdinand de Rothschild in the late 1800s, to stock up on Christmas presents for fussy friends and family – the vast majority of vendors specialise in handmade products.
After you've browsed the stalls and gorged on mulled wine and mince pies, check out the light installations you'll find throughout the grounds. These will include the Illuminated River light installation by Leo Villareal (an artist who's previously illuminated London's bridges) and a rose garden filled with glowing flowers and a ridiculously romantic tunnel of light. Who needs mistletoe?
Lincoln Christmas Market, Lincoln
When: 2 December to 5 December
Another short but sweet burst of festive fun, Lincoln's Christmas market earns its place on this list due to the spectacular location – a historic city square in the shadow of the cathedral.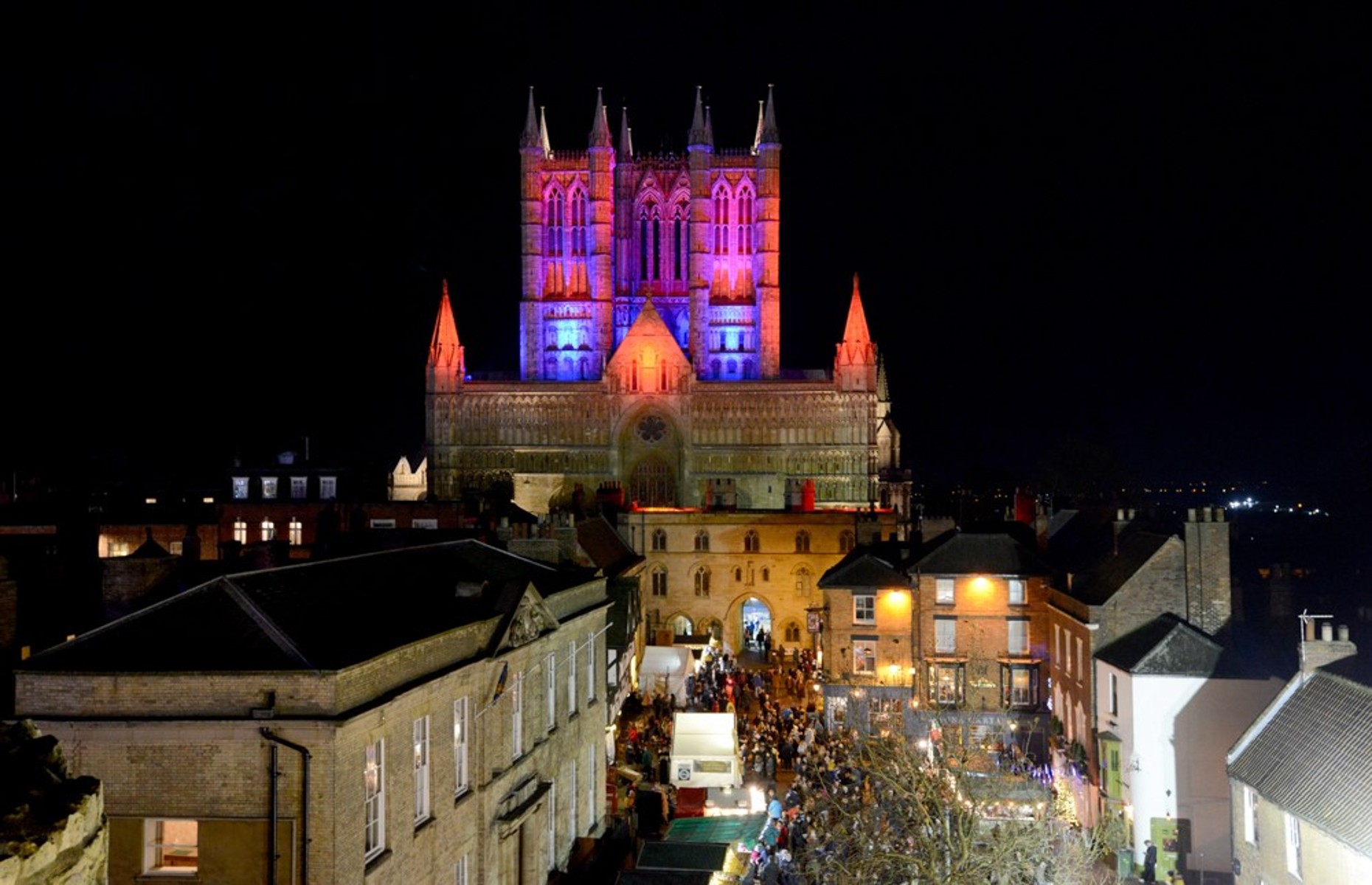 Lincoln Christmas Market/Facebook
There are over 200 stalls at this market, which first took place in 1982 (when there were just 11 stalls) as a result of the city's twinning with the German town of Neustadt. It was the UK's first traditional German Christmas market and the Bavarian theme has remained – the most sought-after items include traditional wooden toys similar to the ones you'll find at Christmas markets throughout Germany.
READ MORE: Explore Lincoln – one of Britain's unsung historic cities
Birmingham Frankfurt Christmas Market, Birmingham
When: 4 November to 23 December
Prefer pretzels over pigs in blankets? Head to Birmingham to check out the UK's largest German Christmas market in the UK.
The Birmingham Frankfurt Christmas Market (try saying that after a mouthful of mince pie) is a tribute to one of Germany's most famous Christmas markets, and it's famous for its food – you'll find more schnitzels, bratwursts, and roasted almonds than you can shake a candy cane at, along with vast quantities of gluhwein and weissbier (wheat beer). Oh, and there's a singing moose. What more could you want?
Shanae Ennis-Melhado/Shutterstock
Cardiff Christmas Market, Cardiff
When: 11 November to 23 December
Cardiff's huge Christmas market covers several areas in the city centre: St John Street, Working Street, Trinity Street and the Hayes. There's a big emphasis on handmade items made by local craftspeople, many of whom will be demonstrating their skills – whether it's woodworking or pottery.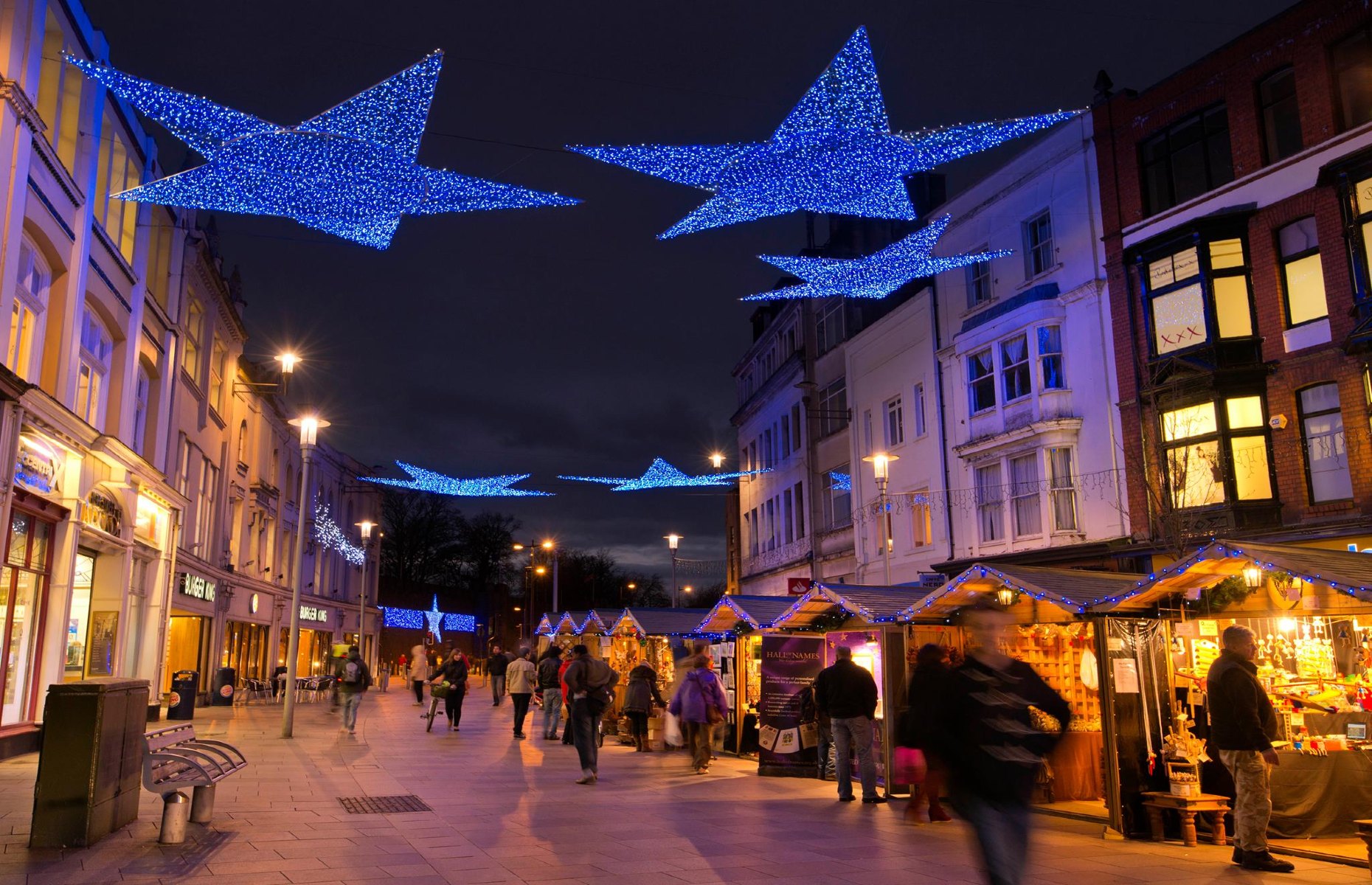 Cardiff Christmas Market/Facebook
There are over 200 stalls, and the market's close proximity to some of the city's biggest attractions means it's easy to combine a spot of retail therapy with other types of festive fun, including a lap around the ice rink at Cardiff's Winter Wonderland and a visit to Cardiff Castle, which will be the setting for a dazzling Christmas-themed light show.
READ MORE: These are the world's most beautiful winter scenes
Chester Christmas market, Chester
When: 18 November to 22 December
Visit Chester's magical market and you'll find dozens of cute wooden chalets surrounding an enormous Christmas tree. It's another market in a brilliant location – right in the city centre, in Chester's town square and opposite its cathedral, which dates back to the 11th century.
Make sure you stop by the Dipple Tipple & Co stall, where you can pick up bottle of locally produced liquor – we recommend a bottle of Forest Gin, produced in nearby Macclesfield.
The Christmas market will also be the starting point for Chester's spectacular annual Saturnalia parade, which features a motley crew of torch-bearing ghouls, devils, skeletons and demented cooks bearing a severed head on a platter. Whether Father Christmas would approve remains to be seen.
Rochester Christmas Market and the Dickensian Christmas Festival, Rochester
When: 27 November to 12 December
The entire centre of Rochester gets a festive makeover this winter, when it will be the setting for two events: the Bavaria-themed Rochester Christmas Market, and the city's Dickensian Christmas Festival.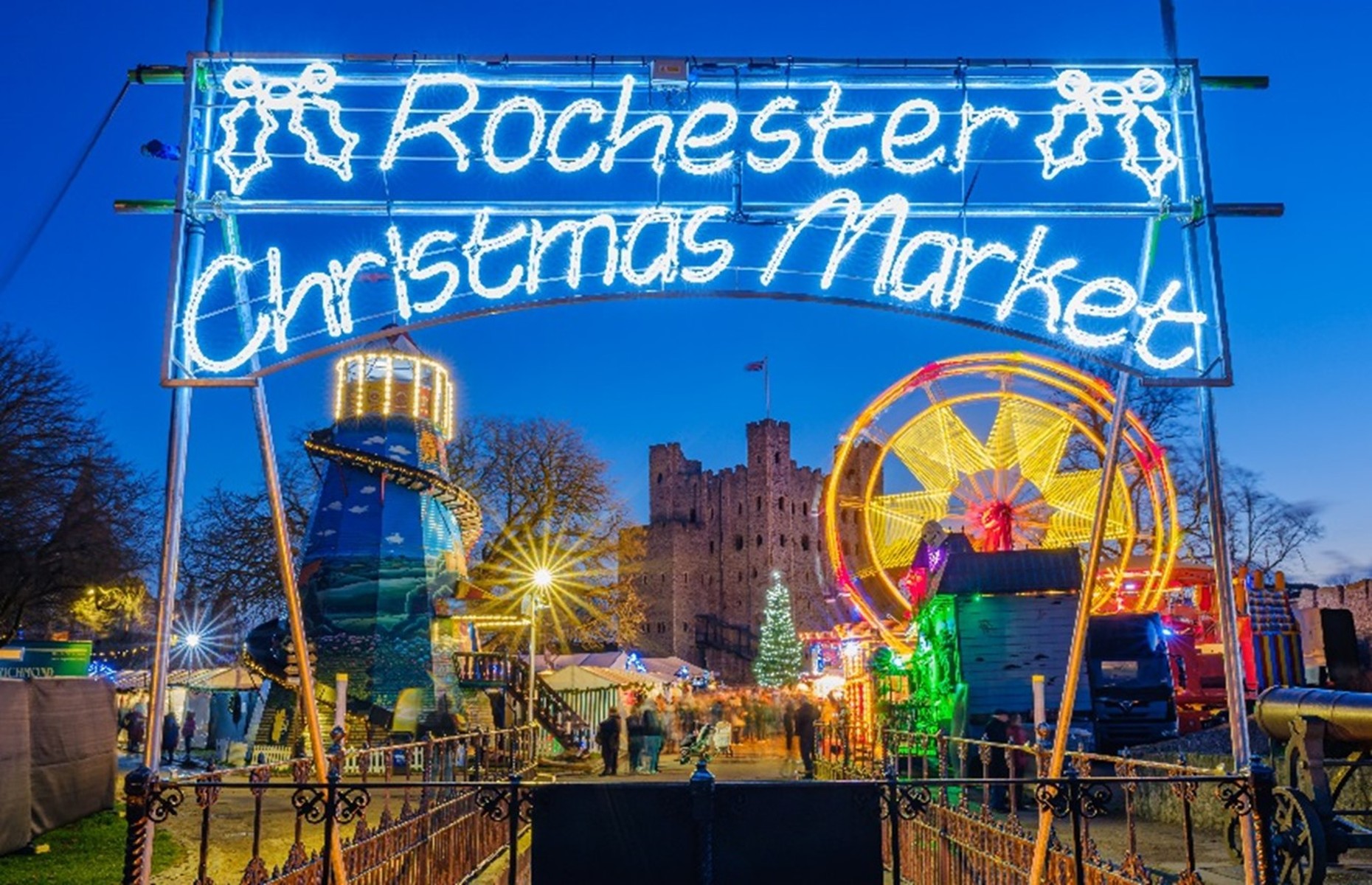 Visit Medway/Facebook
We admittedly had several concerns about the concept of a Christmas market with the theme of Dickens, an author famous for his depictions of Christmas-hating characters such as Scrooge and starving workhouse orphans begging for food. But fear not – the festival is famous for its roving street performers and carol singers, all of whom will be kitted out in Dickensian garb, and visitors are encouraged to get in on the act too.
Need a little inspiration? Stop by Rochester's Corn Exchange to borrow an outfit. Which means all that's left for you to worry about is perfecting your best "bah humbug!".
READ MORE: The places where Christmas never ends
Edinburgh Winter Festival, Edinburgh
When: 20 November to 2 January
Although some details for this year's event are still to be confirmed, Edinburgh's Christmas market, which is part of the city's Winter Festival, is legendary, largely due to its setting – in the shadow of Edinburgh Castle.
Highlights include the 62 stalls in the East Princes Street Gardens, and there will also be a Santa's grotto and Christmas tree maze. Don't miss the chance to take a spin on the big wheel, although if you prefer to stay close to ground level, there will also be an ice rink.
Ashley Angela Miller/Shutterstock
The market's close proximity to Princes Street means even more opportunities for Christmas-themed retail therapy, too. Our top tip? Nip over to George Street, which runs parallel to Princes Street and is famous for its Christmas decorations (last year's included forests of fairy light trees).
You'll also be just a short hop from The Ivy Edinburgh – pop in for a glass of mulled wine and marvel at its transformation into a winter wonderland (last year, there was even artificial snow).
Lead image: Edinburgh's Christmas/Facebook
READ MORE: Explore Edinburgh: what to see and do and where to stay
Be the first to comment
Do you want to comment on this article? You need to be signed in for this feature