The carry-on luggage essentials you never knew you needed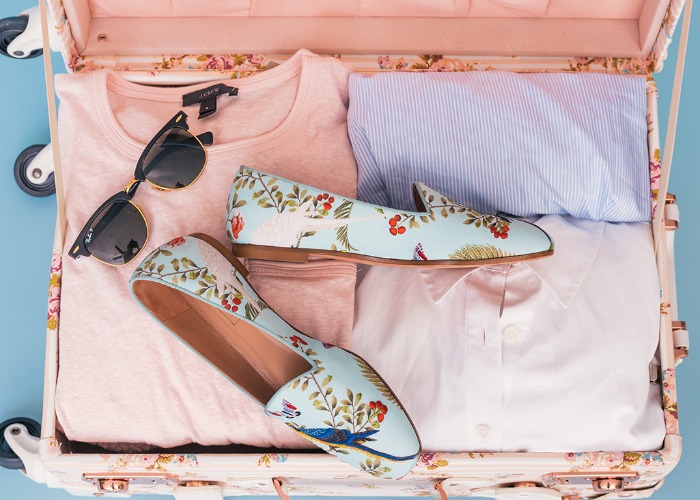 As airlines slash their baggage allowances while upping the prices, packing light – and getting it right – is even more of a must...
There are plenty of carry-on rules all travellers should know about. For a start, keeping your bag organised is essential – nobody wants to be rummaging for travel documents at security, nor do you need to fuss over liquids at the last minute. Then there are the space saving 'how to pack' tips, like roll don't fold and invest in packing cubes.
But what should you pack if you want to maximise your carry-on space and improve the overall economy experience? Here are a few items you never knew you needed, plus some you always forget, that'll help make travelling light a breeze.
1. An up-to-date suitcase
Let's ease into this. Before you start packing, you need a decent piece of hand luggage. Sure, you might already have a carry-on sized suitcase, but there's always reason to invest in an upgrade, especially if you're serious about becoming a European city break regular.
Plus, with ever-changing size regulations at popular budget airlines, your luggage might already be on its metaphorical last legs.
READ MORE: Tried & tested: 5 of the best carry-on cases
Away has garnered a cult following in recent years for their inventive alternatives to your bog-standard carry-on options. Not only does each suitcase come with a built-in laundry bag – another must-have if you want to stay organised while travelling with the bare minimum – they also include a removable battery pack with which you can charge your phone at the airport. The cat, however, is optional…
2. Changeable heeled shoes
Some people get away with taking one pair of either sandals or trainers for their entire trip.
For others, the idea of only taking a solitary pair of shoes on holiday is unfathomable. Regardless of your stance, consider investing in some changeable heeled shoes.
Mime et Moi is a German company with a confusingly French-sounding name who offer a line of changeable heels, which come with five height and style options. Go low for a casual day roaming the city centre and when evening rolls around, up the ante with a tall block heel for dinner or drinks.
For maximum versatility, choose a neutral colour and design that will flatter any wardrobe option. Or, if your wardrobe is pretty neutral go for a pair that will add a pop of colour to any outfit.
3. Antibacterial wipes
The smallest addition to your hand luggage can make the biggest (potential) difference. It's no secret that aeroplanes are a germaphobes worst nightmare, and research suggests you have an 80% chance of catching your seatmates cough or cold.
While you can't avoid being cooped up with a hundred or so strangers though, you can take preventative measures. Take a small pack of antibacterial wet wipes with you and give that tray table a good clean before you even think of eating off it.
4. Skincare essentials
If there's anything more revolting about flying than a filthy tray table, it's the recycled air that's pumped through the cabin non-stop. And it doesn't take long before a constant, drying breeze can leave your skin feeling lifeless. So while it may seem vaguely ridiculous, it's a good idea to have some skincare minis to hand.
The beauty editors' must-have is easily a hydrating mist and Mario Badescu's Aloe, Herbs and Rosewater spray gets rave reviews.
You can spritz to your heart's content the second you feel that tell-tale tightness on your face, while lip balm and moisturiser should also make an appearance in your in-flight make-up bag.
5. Snacks and, of course, chewing gum
This one seems obvious, but it's also all too easy to overlook and I've forgotten to pack both multiple times.
Always remember to throw a cereal bar (or equivalent, pocket-sized snack) in your bag before you leave the house, along with a few sticks of gum.
While the former will keep you from feeling ravenous and splurging on disappointing aeroplane food, the latter will help your poor, bunged-up ears during take-off and landing.
6. Socks and a scarf
Whether you're jetting off to Barcelona in the height of summer, or Budapest in the depths of winter, pack a large (but not bulky) blanket scarf and a decent pair of socks. After all, the air-con on your plane doesn't discriminate against destinations and you'll regret not packing a few extra layers an hour into the flight.
Slip off your shoes and throw on the socks for comfort. Meanwhile, use the scarf as either blanket, pillow or lower-back rest depending which part of your aching body needs it most.
7. Handy 'essentials' pouch
Every carry-on-only traveller should put together a must-haves pouch which they can slip out before stowing their luggage in the overhead lockers.
This should include: your passport and ticket, chewing gum and snack, an oh-so-easy to overlook pen, and your phone, charger and headphones.
While some favour a slim travel pouch, like these whimsical ones from Elizabeth Scarlett, to carry all this stuff, others favour a petite crossbody bag instead. Either way, put it to the top of your suitcase for easy access.
READ MORE: 20 Adorable Travel Accessories
Be the first to comment
Do you want to comment on this article? You need to be signed in for this feature