Tried & tested: 5 of the best carry-on cases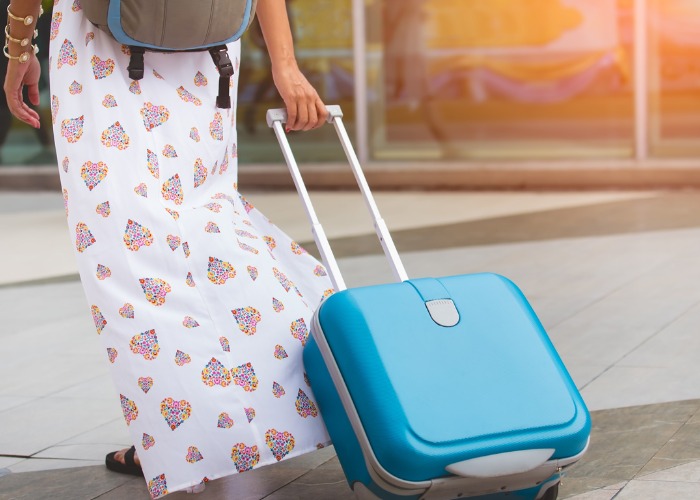 From dependable duffel bags to pickpocket-proof backpacks, we've put the latest smart luggage through its paces. Here's our pick of the best.
Whether you're escaping for a couple of days on a city break or want to save money on checked luggage, carry-on bags can be a life-saver. To help you make the best choice for the length of trip and type of getaway, we've hunted down the 5 best carry-on cases on the market this summer.
What's great about it: If your airline enforces a weight restriction, this bag is for you. Its main USP is that it's extremely lightweight. The clever design incorporates a bar at the bottom of the bag's front to stop it tipping over, while the curved back frame prevents the wheels from hitting your legs when carried by the handle.
There are lots of compartments and easy access pockets as well as a wipe clean and waterproof lining.
What's not so great: The older model of this bag (now discontinued) had backpack straps hidden in the back compartment but this nifty convertible function has been dropped on this model, which is a shame. It's not the best-looking of the bunch, nor the most roomy, but there is ample space for a long weekend
The lowdown:
Dimensions (H x W x D): 55cm x 36 x 23
Space: 42 litres
Price: £160
The sleek, hard shell case: Antler Prism Cabin Suitcase
(Our best value all-rounder)
What's great about it: This super smart case is good looking but it offers more than just style. It's relatively lightweight and the hard shell is slightly bendy, offering a bit of give when you're trying to fit that extra jumper in. It's a dream to move around as the 360 degree rotating wheels glide across the floor. There's also a handy embedded combination lock.
What's not so great: Once you open up the case, it feels like the design could be more space-efficient. While the zipped lid pocket is great to stop valuables falling out, it restricts how much you can pack into the bag. On the other side, the case's 'spine' protrudes a bit more than other cases, limiting how much you can pack in. However, there's plenty of space for a long weekend trip.
The lowdown:
Dimensions (H x W x D): 55cm x 40 x 20
Space: 44L
Price: £79
What's great about it: Don't judge a case by its cover – this may look like an average case but it'll see you through, well, just about everything. Like every Briggs & Riley case, this bag comes with a lifetime guarantee. One of the loveEXPLORING team has had their case for more than 10 years and put it through its paces: across sandy beaches, muddy roads, snowy Siberia, dropped it down stairs, banged into everything imaginable and it still looks close to new. It's pretty smart-looking too.
What's not so great: The case isn't particularly lightweight and other cases will give you a bit more space. There's also no getting around the fact that this is an investment but if you can afford the price tag, we think the return guarantee is worth it.
The lowdown:
Dimensions (H x W x D): 53.3cm x 38 x 23
39.7L
Price: £299
The theft-proof, carry-on backpack: RiutBag X25
What's great about it: This bag is sturdy and comfortable to wear (there's even a waist strap available for extra support). It's multi-purpose: you could use it as a laptop case or it expands to cabin bag size, starting out as a 10-litre backpack and growing to 25.
The design incorporates the signature Riut theft-proof design with all its pockets on the back. It's ideal for city breaks – in fact, the bag is one of our must-have pieces of travel gear for 2018.
What's not so great: It's already quite heavy when empty so be prepared for a little extra weight. If you're looking for something stylish and design-led, this probably isn't for you but given the pickpocket-proof and practical features, it's still fairly sleek.
The lowdown:
Dimensions (H x W x D): 55 x 35 x 20
Space: 25L
Price: £149
What's great about it: With a stylish, minimalist design, this bag is great option for those who prefer duffel bag-style cases. Handles feel strong and able to handle heavy loads. There's one generous main compartment with easy access side pockets and a removable padded shoulder strap.
There are no frills but this bag does what it says on the tin, is lightweight and a dependable choice for those who prefer a shoulder bag.
What's not so great: The most obvious drawback is a lack of wheels, meaning you've got no choice but to carry it around. There are no bells and whistles but with a 30-year warranty at this price point, you can't argue. Eastpak do offer a similar model which has wheels and an extendable handle, at a higher price point, if wheels are a deal breaker for you.
The lowdown:
Dimensions (H x W x D): 26.5 cm x 53 x 27.5
Space: 33L
Price: £60
You might also like:
The new Land Rover Explore phone: is it worth the price tag?
29 travel accessories you need right now
Be the first to comment
Do you want to comment on this article? You need to be signed in for this feature