The safest places to travel in Europe, revealed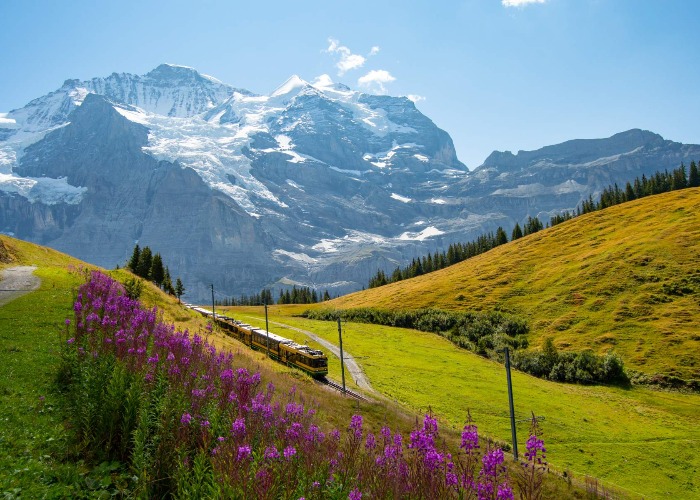 Planning a much-needed European getaway, but want the added comfort of knowing you're headed somewhere as safe as possible? These low-risk countries, with their reduced crime rates and peaceful reputations, could help make your next holiday a more harmonious one.
There are many reasons why travellers might choose to favour destinations statistically much safer than others. Maybe you have the welfare of young kids to consider, you might feel more vulnerable travelling alone, or have other valid anxieties to appease.
If being selective about where you go helps minimise those worries, the results of a new study conducted by Gamblino.com could be exactly what you need to hear. To determine Europe's safest places to travel, they analysed nine metrics that play a part in how safe an area may be. Taking into account factors such as homicide, assault and road fatality rates, as well as a country's susceptibility to natural disasters and its position in the Global Peace Index, the study ranked each country out of 10 for each factor. These individual marks were then totalled to reveal the nations' overall scores — the lower the number, the safer the country. Read on to find out who came out on top...
10. Sweden
Sweden has proven itself to be a peaceful and hospitable place to visit, with lower crime rates than most countries in Europe and a high placement in the Global Peace Index. The island-speckled nation offers gorgeous lakeland scenery, waterfalls, forests and serene beaches, so nature lovers will feel especially at home. Elsewhere, vibey Stockholm is rife with museum-hopping, boat-tripping and partying opportunities, while other cities like Gothenburg and Malmö have their own cultural highlights and thriving food scenes. Be sure to partake in a little 'fika' (daily coffee and cake breaks), as well as cold-water bathing and sauna traditions.
Gamblino safety index: 52.2
Adisa/Shutterstock
9. Austria
Coming in as the ninth safest country in Europe, Austria ranks highly on the Global Peace Index and sees very few incidents of robbery and violent crime per 100,000 people. Its regal capital Vienna, known for grand palaces, wine bars and delectable desserts, also topped the EIU's Global Liveability Index in 2022. This crowned it the world's most liveable city for the third time in five years. Beyond Vienna, travellers to Austria can wander the UNESCO-listed landscapes of Hallstatt-Dachstein, embrace their inner Maria von Trapp in Salzburg or relax in the spas of Bad Gastein. Skiing in the Austrian Alps between December and March is another great reason to visit.
Gamblino safety index: 52.1
Kanuman/Shutterstock
Love this? Follow us on Facebook for more travel inspiration
8. The Netherlands
While most tourists flock to the Netherlands to take in the world-famous canals, history and syrupy stroopwafels of Amsterdam, there are countless beautiful destinations in this fret-free country. The comparatively lesser-visited Dutch cities of Haarlem, Eindhoven and Rotterdam still have bags of charm, with quirky architecture, vibrant street art, indie shops and cosy cafés to beguile you. Cheese fiends cannot miss Gouda and its pungent Thursday market, and look out for emblematic tulips blooming in spring as you move through the countryside.
Gamblino safety index: 52
Dennis van de Water/Shutterstock
7. Ireland
Think of Ireland and you might picture heaving bars pulsing with the sound of folk music in Dublin, fabled landscapes of moody coastline and green hills, and fish suppers in Galway washed down with pints of smooth Guinness. It's the kind of place that captures most people's imaginations, calling them from afar to come and visit. Knowing that it's not only one of the most mesmerising countries in Europe but also one of the statistically safest should propel the Emerald Isle to the top of your travel list this year.
Gamblino safety index: 51.5
CA Irene Lorenz/Shutterstock
READ MORE: These are the best (and worst) times to visit Europe's most popular destinations
6. Finland
It might be the original winter wonderland, where the Northern Lights give their finest performances and thousands of families come every Christmas for the chance to meet Santa Claus himself, but Finland is just as magical all year round. Located on the Baltic shore, capital Helsinki is a haven for both urbanites and adventure seekers, while the Åland Islands provide the perfect escape in summer. There are also plentiful national parks, lakes and forests to retreat to. With notably few assaults and robberies per 100,000 people in the population, plus recognition on the Global Peace Index for its lawfulness and calm nature, Finland takes sixth place in this safety ranking.
Gamblino safety index: 51.2
BlueOrange Studio/Shutterstock
5. Luxembourg
This tiny landlocked country, while demonstrating French, Flemish and German influences, possesses a character and culture all of its own. In its namesake capital, you can step out of the Old Town into the riverside Grund quarter with just a quick ride in a glass lift. Outside the city, you'll find vineyards, hiking trails and regional cuisine. Luxembourg is at very low risk of a natural disaster and has the lowest homicide rates on the continent, plus both citizens and tourists benefit from wide personal freedoms and are treated with openness.
Gamblino safety index: 50
Boris Stroujko/Shutterstock
Discover Europe's coolest, most affordable hostels
4. Denmark
It's no secret that Denmark is regarded as one of the happiest countries in the world, where life is lived with great respect afforded to the principles of hygge (relating to cosiness, wellness and conviviality) and lykke (meaning joy). You'll likely find lashings of both in the coffee shops of Copenhagen, in the cobbled streets of Aarhus and Odense, or with a picnic on the beach overlooking the North Sea. With low levels of violence and road accidents, as well as a generally peaceful and inclusive society, visiting Denmark is highly likely to be a lovely experience.
Gamblino safety index: 49.4
Oleksiy Mark/Shutterstock
3. Norway
Sliding into the top three of this ranking, Norway is renowned for its law, order and tranquillity. This vast country, with its Viking heritage, jaw-dropping scenery and creative capital city, is one of Europe's most valuable assets. Whether you're cruising through majestic fjordlands, chasing Michelin-starred gastronomy in Trondheim or getting acquainted with Bodø (the first European Capital of Culture to lie north of the Arctic Circle), a trip to Norway will always be unforgettable. If you're planning to drive through the country, the stats say that only two traffic accidents occur on average per 100,000 people, so you should feel at ease on the roads.
Gamblino safety index: 47.9
iacomino FRiMAGES/Shutterstock
READ MORE: Here's everything you need to know about road-tripping in Europe
2. Iceland
Being one of the youngest countries in the world, Iceland's geology is still developing even today, making it an absolutely fascinating place to explore. Scattered with volcanoes, geysers, geothermal springs, glaciers and waterfalls, you'll really feel the full force of nature here. From the ink-blank sands of Reynisfjara Beach and the rejuvenating waters of the Blue Lagoon to laid-back Reykjavik, Iceland has so many surprising stories to tell. Coming in as Europe's second-safest country in this list, Iceland is low on crime, high on quality of life, and has a long history of peacefulness — it has topped the Global Peace Index every year since 2008.
Gamblino safety index: 47.4
Maridav/Shutterstock
1. Switzerland
Claiming the title of safest place to travel in Europe according to this study, Switzerland takes the accolade for its significantly low violent crime, corruption and road fatality rates, as well as its minimal risk of suffering a natural disaster and restful reputation. With a landmass mostly covered by spectacular mountains, the country is even more beautiful than it is safe, with the Jungfrau region, the Jura and Swiss National Park containing the most remarkable sights. There are also acres of lakes to sail on and a whole host of pretty cities to absorb.
Gamblino safety index: 45
Boris Stroujko/Shutterstock
READ MORE: The world's safest and most dangerous countries for tourists
Be the first to comment
Do you want to comment on this article? You need to be signed in for this feature