Road tripping in Nevada on America's 'loneliest road'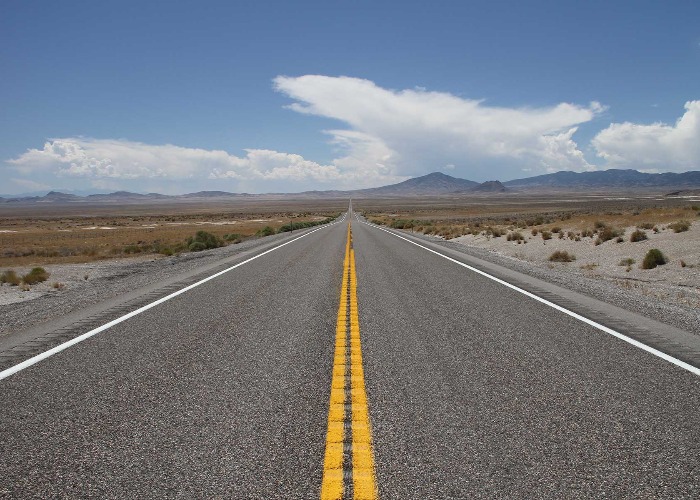 Journey along US Route 50 in Nevada – nicknamed 'America's loneliest road' – and you'll discover spectacular natural wonders, Wild West history and close encounters of the third kind...
US Route 50 cuts through Nevada like a knife. Sagebrush shrubs bleed into the sky and clouds smudge the mountains like an oil painting. There's not a soul on the road. The odd cluster of farm buildings or an occasional, grunting herd of cattle break up the land on either side of the tarmac – otherwise, it's boundless and deserted: the "Loneliest Road in America".
Life magazine gave the Nevada portion of Route 50 this nickname in 1986, for its apparent dearth of facilities and uninterrupted plains. And though it might seem an unfavourable moniker, the region's isolation is its ultimate drawcard. Here, the road becomes the destination – and that destination is raw, rugged and wonderfully remote. If there's still a Wild West, then this is it. When this vast expanse is all that faces you, it's hard to believe that Vegas rises from the desert like a mirage not 250 miles (400km) away.
Viva Las Vegas
Vegas doesn't find it hard to pull in the crowds. Ranchers and railroaders first broke ground there in the early 20th century, but it was the advent of casinos in the 1940s that sealed the city's fate as America's greatest adult playground. Today, the promise of revelry along the casino-swollen Strip draws visitors in their hordes: some 32 million people came to Vegas last year (and that's still less than before the pandemic). But far fewer venture into rural Nevada – so that's precisely why I've come.
Route 50, in many ways, is a microcosm of the state: eastern Nevada's boondocks are characterised by vast open landscapes, broken up by cattle ranches and ghost towns. When prospectors struck upon rivers of gold, silver and copper through the 19th century, the state earned its fortune – but when those rivers ran dry, and the Great Depression hit in 1929, the Gold Rush towns folded as quickly as they'd begun.
Now, their empty buildings are scattered about the state like bones, and curious travellers come to tramp through pin-drop quiet streets and peer through dusty windows. You'll find them among a patchwork of state parks, which bind Nevada's sprawling wilderness into neat packages cross-stitched with trails and studded with outlooks.
READ MORE: Our complete guide to Las Vegas
Striking out from Vegas, my journey begins in one of Nevada's oldest; Cathedral Gorge State Park, the perfect introduction to Nevada's natural world. It's a swirl of slot canyons and siltstone bluffs, which rise in steep spires, with ridges like flying buttresses.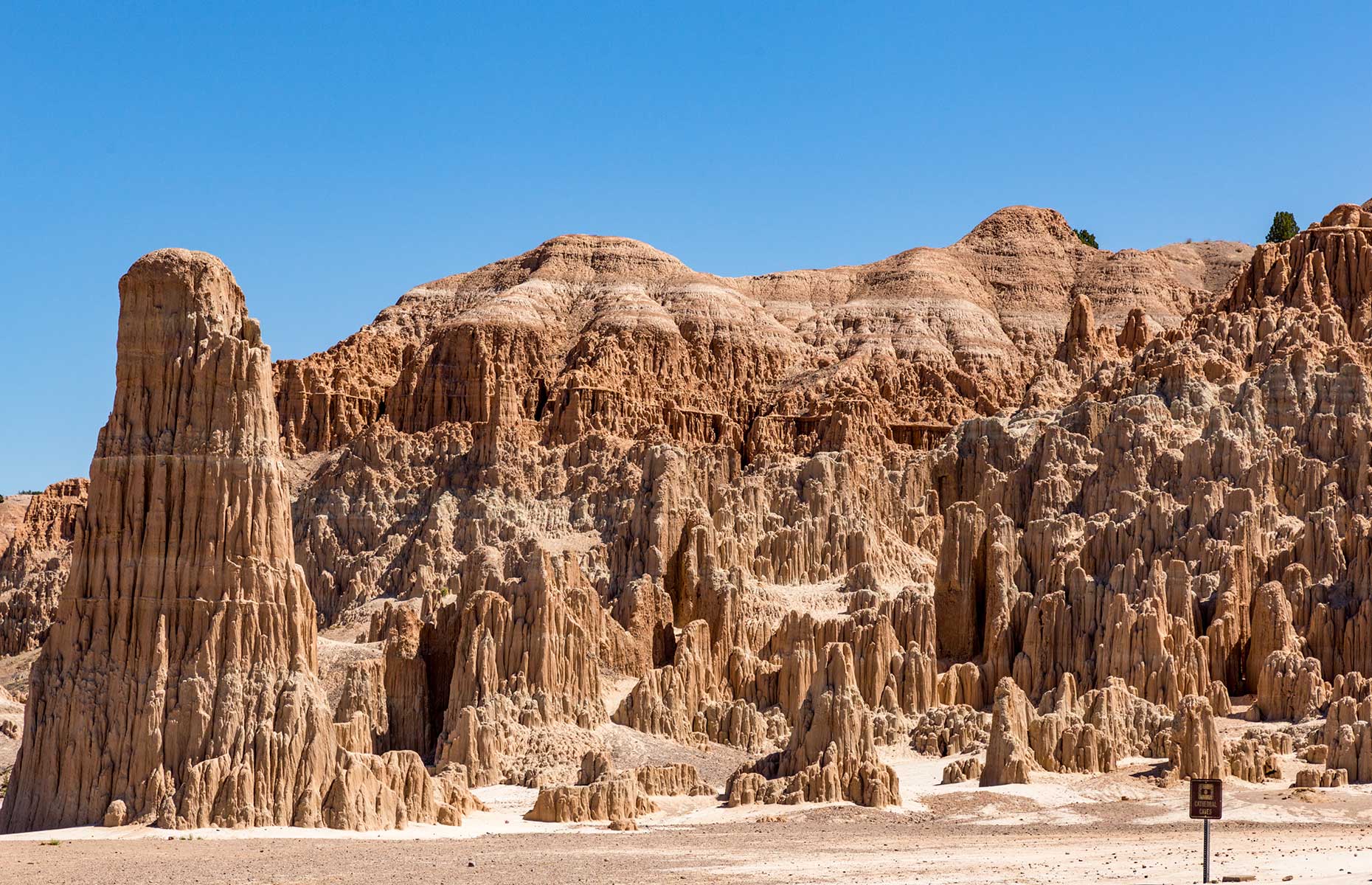 Mark Higgins/Shutterstock
These features are how the park got its name, explains Dawn Adone, the khaki-clad ranger who comes to greet me. The rocky crags reminded early explorers of Europe's great, Gothic sacred buildings – "though we call it 'Cathedral Gorgeous'", she chuckles.
Adone leads me through a maze of narrow slot canyons, pale yellow light coating their walls like melted butter. "This whole area was once covered by a lake," she says, which seems impossible to believe as dry dust kicks up under my shoes. "The landscape we see now was formed over many millions of years."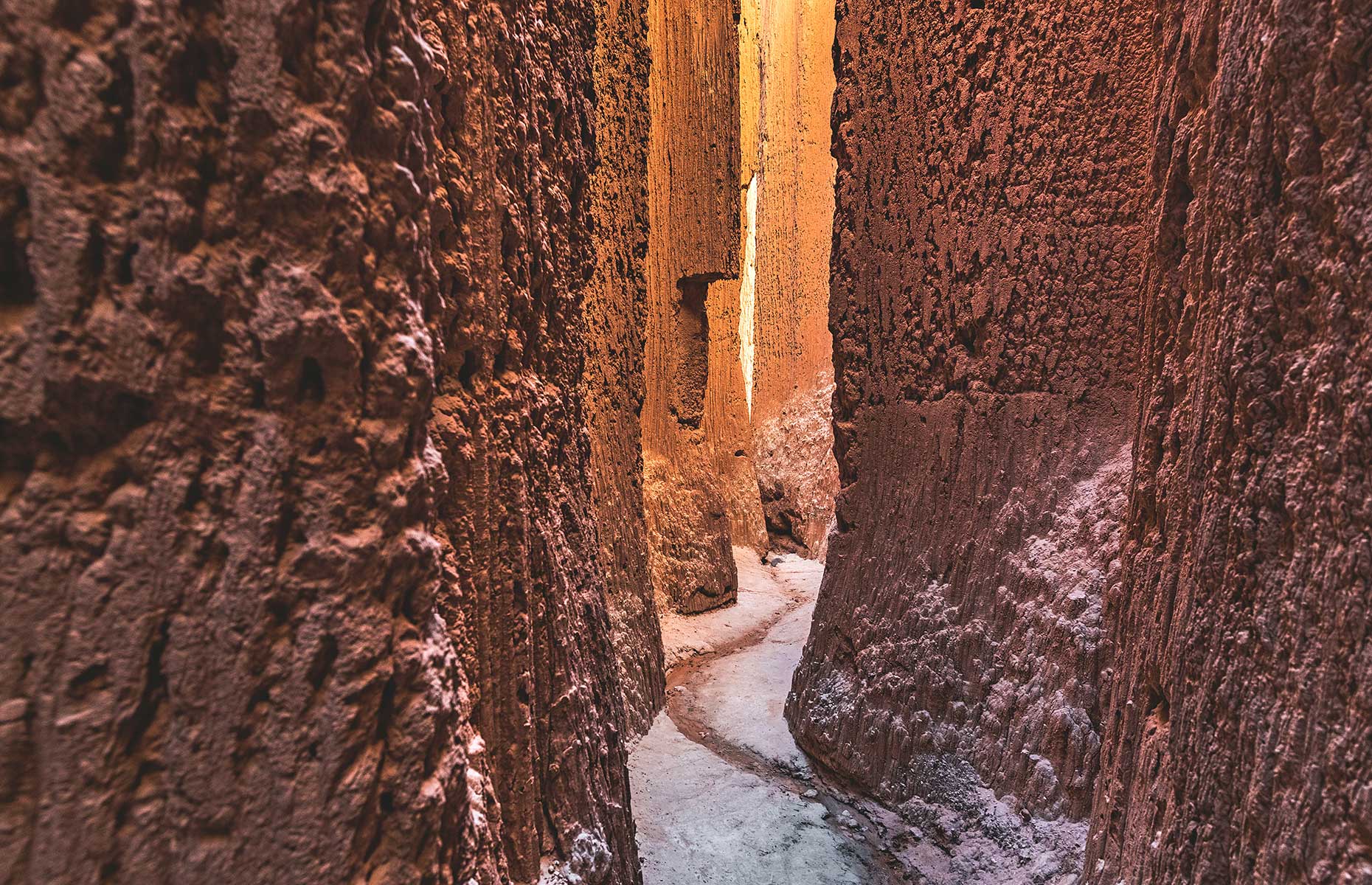 Abbie Warnock-Matthews/Shutterstock
The lake eventually drained, and fierce wind and water chiselled the exposed high-desert land into impressive rock sculptures. Indigenous tribes including the pre-Columbian Fremont people, plus the Anasazi and Southern Paiutes, used the area for hunting and gathering, but now the ancient lakebed's main residents are kangaroo rats and kit foxes. We spot tracks as we hike the trail towards the Miller Point Overlook, crowned by a gazebo built by the Civilian Conservation Corps in the 1930s.
Nevada, in many ways, is a humble kind of place. You might not know that it has more mountain ranges than any other contiguous US state – or that the Great Basin, after which a national park is named, is the largest desert located entirely within America. The state typically shows rather than tells, with quiet displays of beauty that unfold right beside the road.
But when Adone and I reach the overlook – after a leg-testing ascent – there's nothing quiet about the beauty at all. It's there in screaming red and ochre, a Tatooine-esque expanse of rock and scrub, whose highest points are bleached by sunshine. Its glorious name seems even more apt from up here.
Jeffrey B. Ross/Shutterstock
READ MORE: The best hiking trails in every state
Lawless lands
If the park is a cathedral, then its congregation can be found in Pioche, a stirring old silver-mining town that's eked out along a hillside eight miles (13km) north of the park. I roll into town as the sky turns candy-floss pink and my base for the night, the Overland Hotel and Saloon, makes itself known with a fiery vacancy sign.
Pioche mushroomed in the 1860s, after prospectors struck silver in the area. It was a lawless place, and the various grisly ways that its residents met their ends are detailed on tombstones in Boot Hill Cemetery. It's said that the plots here filled in such a hurry that the boots of the deceased protruded through the shallow earth. I wander about the huddle of tombstones and makeshift crosses and pause at a rusting aerial tramway, a cracking vestige of the town's mining history. A trek down Main Street reveals a dive bar, a diner and the Lincoln County Historic Museum, filled with wanted posters and medical instruments (there's an abandoned hospital just around the corner).
Bedtime looms and I put it off with a whiskey at the Alamo Club and Liquor Outlet. The Overland Hotel is notoriously haunted – plagued with tales of devilish ghosts who toy with unsuspecting guests – and I'd prefer to avoid any spectral bedmates for as long as possible. Happily, when I do retire, I escape without any ghostly rendezvous. But, over breakfast at the Historic Silver Café, fellow guests share stories of heavy footsteps and lights with a mind of their own.
Sydney Martinez/Travel Nevada
READ MORE: America's most haunted hotels
Alien activity
Lore is as rife as the cattle ranches here and legends run as deep as those old rivers of silver and gold. In some parts of the state, those legends have given rise to kitsch attractions like the Alien Research Center, an extraterrestrial-themed emporium filled with little green men on keychains. The gargantuan alien sculpture that guards the entrance makes quite the photo stop. You'll find it along Route 375 – otherwise known as the Extraterrestrial Highway – in the vicinity of the mystery-shrouded Area 51, a US Air Force facility where conspiracies about UFOs have long reigned supreme.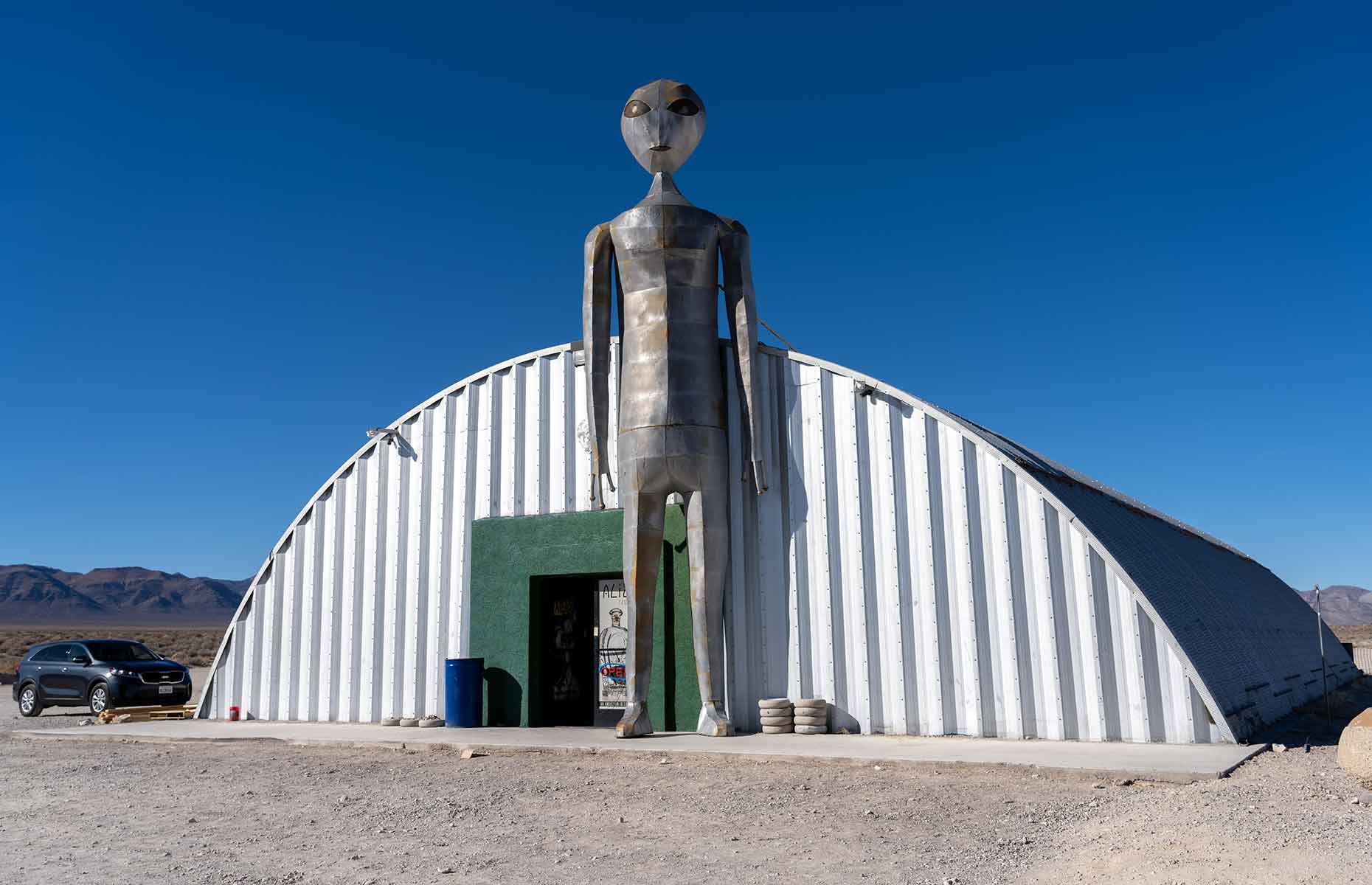 BrianPIrwin/Shutterstock
In E.T. Fresh Jerky, another alien-themed gift shop nearby, the cashier sits among bright packets of gummy sweets and yellowing newspaper clippings and tells me a tale about a woman in the 1980s, who saw flashing lights from her kitchen window.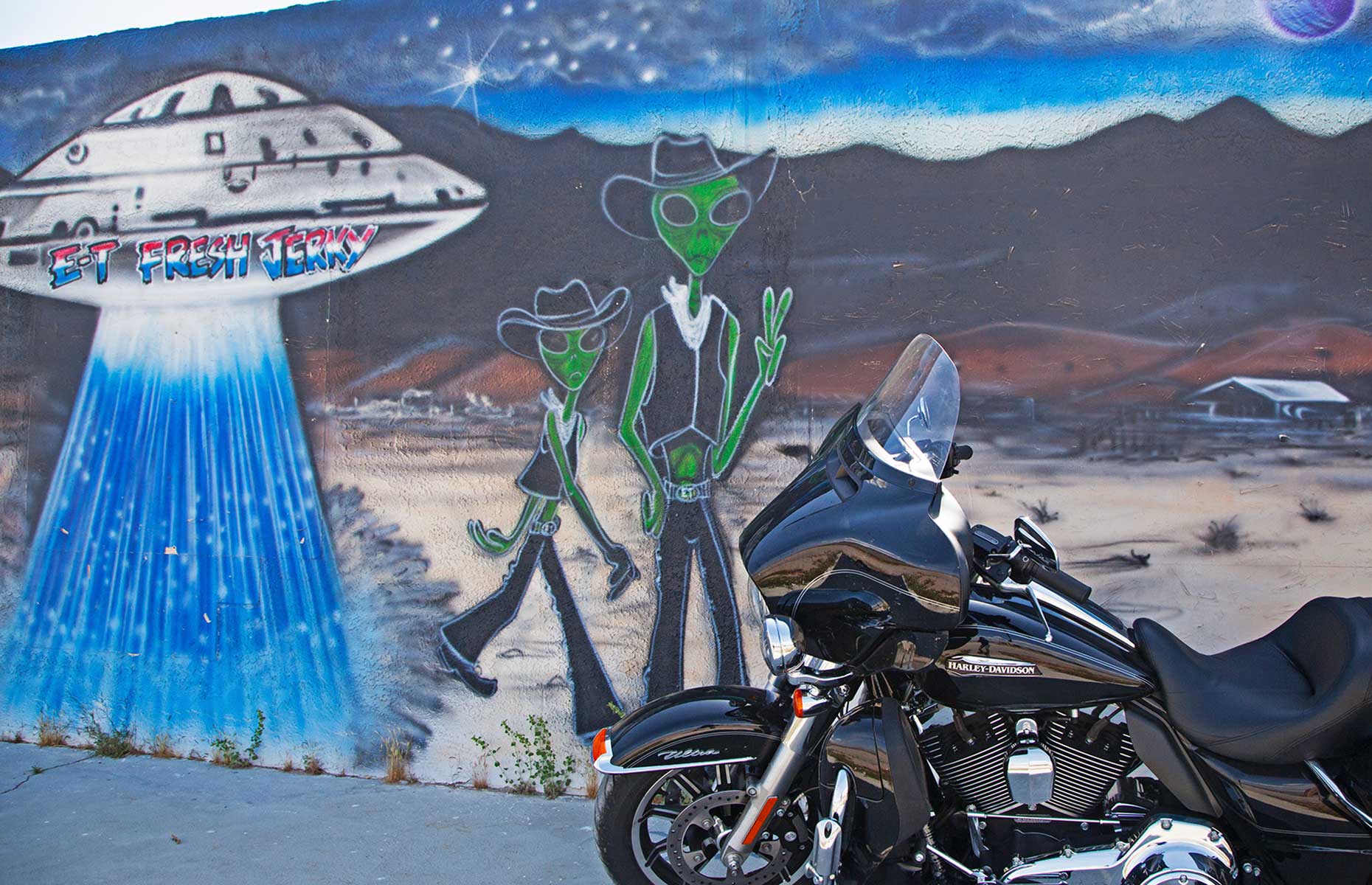 Sydney Martinez/Travel Nevada
READ MORE: Top alien hunting spots around the world
Star attraction
Whether you see aliens or not, it's worth looking up to the heavens. Nevada is home to some of the darkest skies in America, an inky canvas for the Milky Way. A celestial watercolour is painted above Ely, a mural-licked town that rises up just off US Route 50; the local Star Train leaves from the Nevada Northern Railway Museum at night and trundles under the galaxy.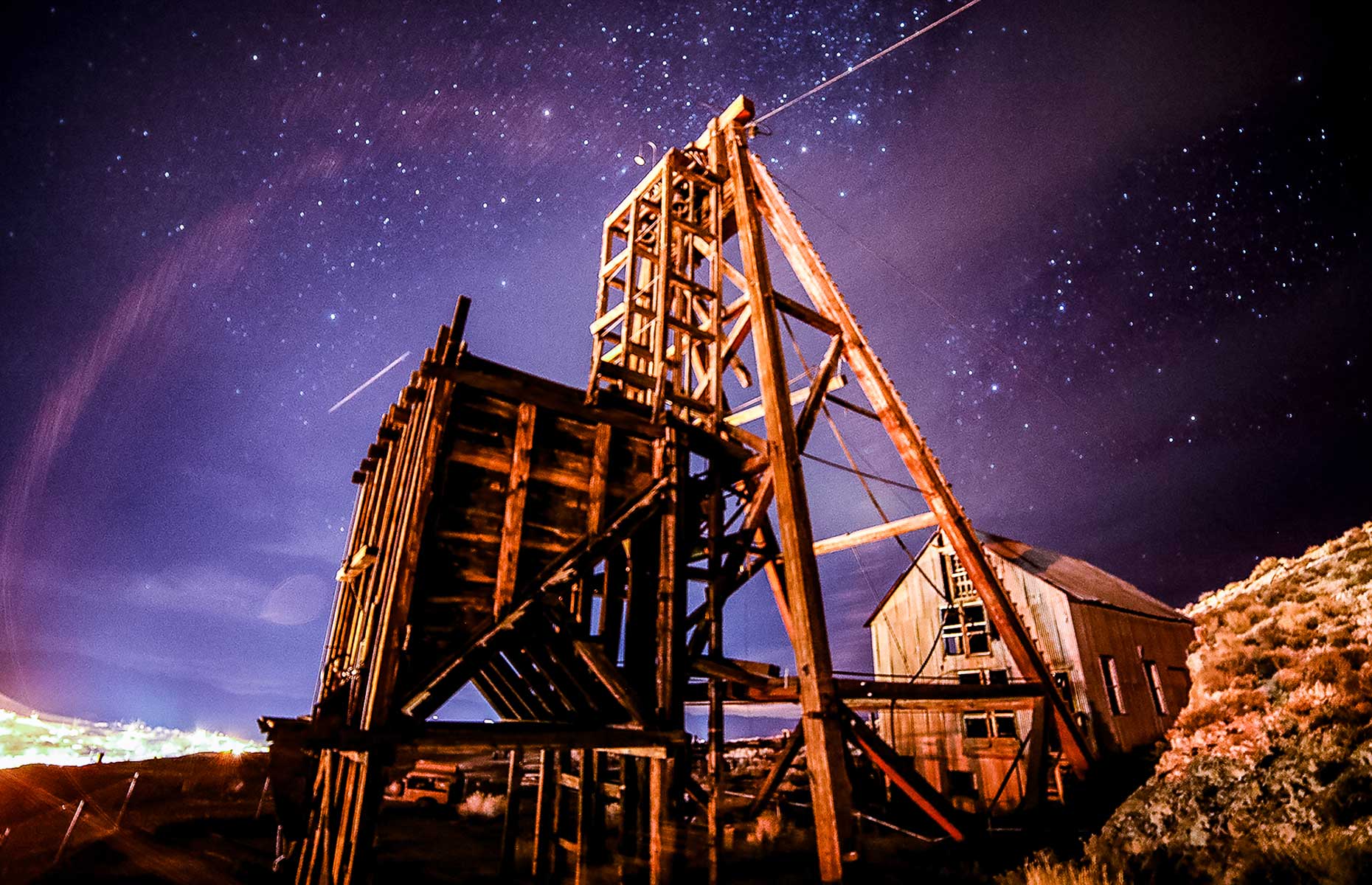 Sydney Martinez/Travel Nevada
One hour east of Ely, Great Basin National Park is another top place to see the stars, with astronomy programmes running from May through to September. But there's more beauty in the darkness here: below the ground, the Lehman Caves wriggle out for two miles (3km), an otherworldly limestone labyrinth that explodes in a riot of stalagmites and stalactites.
My ranger guide, Mary Sullivan, leads me through a tangle of rooms, pointing out "cave bacon" – long sheets that hang slack like animal hides – and "cave shields", ridged formations that ripple from the walls like jellyfish. It's an otherworldly sight, but Sullivan brings things back to Earth.
"The underground isn't another world – it's part of our world," says Sullivan. "The water here is the same water that comes down from the mountains; the same water that feeds our communities."
We wander into another chamber, this one graffitied by early spelunkers who used their candles to blaze their names onto the wall. "Beyond the awe and the wonder, the purpose of exploring these caves is learning where we fit in".
Sydney Martinez/Travel Nevada
That's true of raw, rambling rural Nevada as a whole. To travel here is to remind yourself of your place on the planet: a tiny human under a sea of stars, an earthling in the presence of the ethereal, or a quick flash in the passage of time. Nevada is out of this world – but it's all right here on Earth.
Getting there
British Airways and Virgin Atlantic offer direct flights from London Heathrow to Las Vegas. Stay at The Overland Hotel & Saloon in Pioche and Prospector Hotel in Ely.
For more information, visit travelnevada.com.
Main image: blutack/Shutterstock
Be the first to comment
Do you want to comment on this article? You need to be signed in for this feature