Step back in time at the new Modernism Museum in Palm Springs, California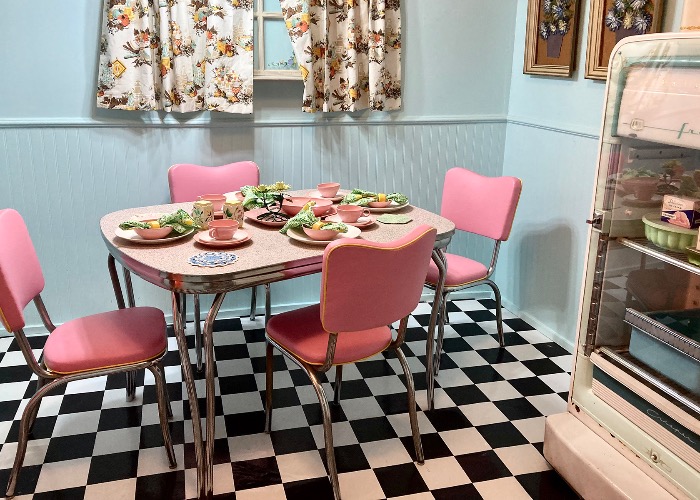 As the cinematic release of Don't Worry Darling welcomes Palm Springs back into the spotlight, Zoey Goto heads to the vintage-loving Californian city, where a new museum celebrating mid-century design has just swung open its colourful doors.
"I feel as if I was born into the wrong era," vintage style goddess Tracy Turco muses, plunging her gold lamé heels deep into the shag pile carpet. Around her, floral prints clash, handcrafted woolly owls stare down with beady glass eyes and a riot of tangerine orange, mellow yellow and earthy brown hues jostle for attention. If it weren't for the occasional interruption of Turco's smartphone, it would be tantalisingly easy to pretend that we'd time-warped back to the disco days of the 1970s.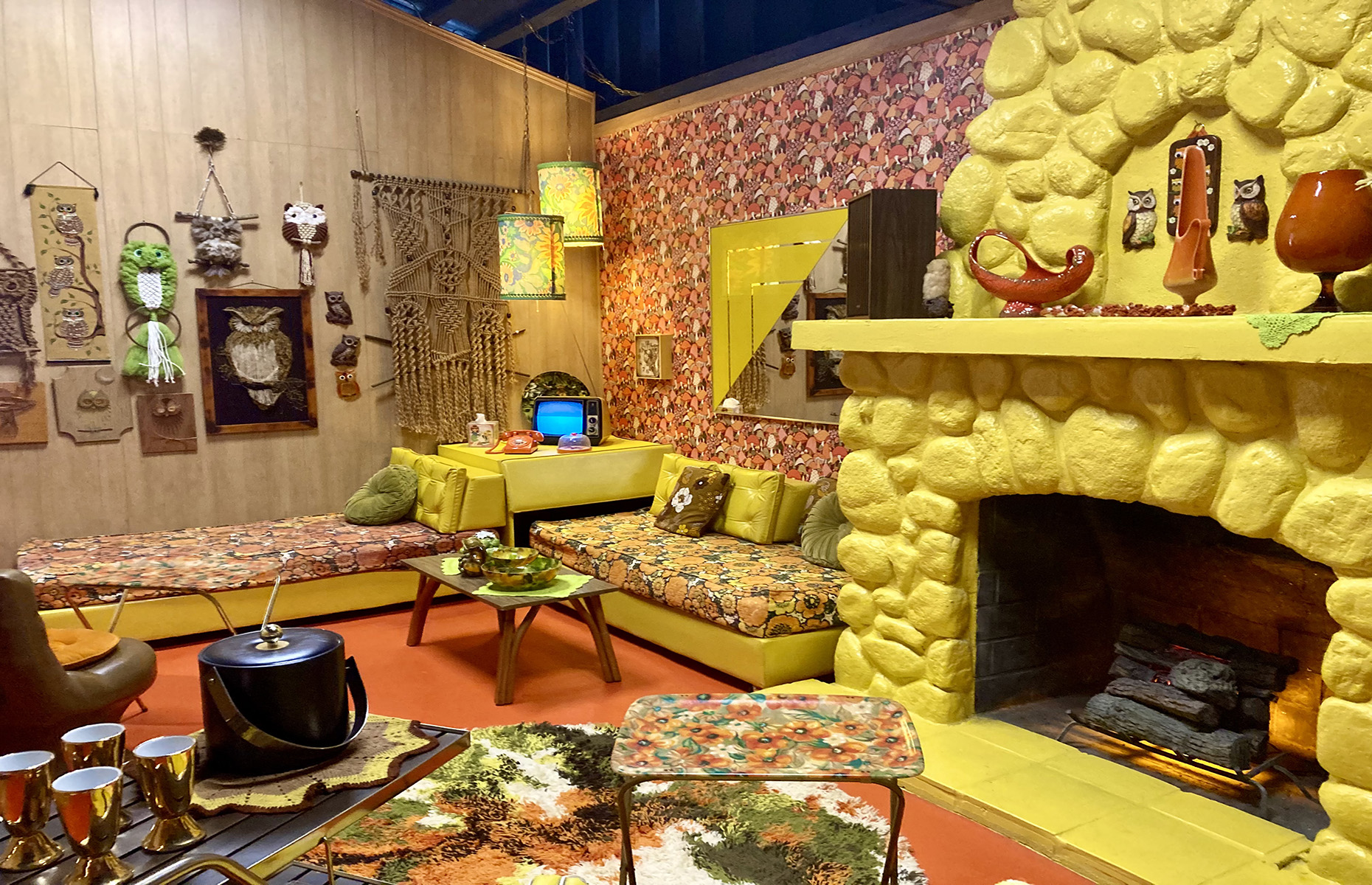 Zoey Goto
This is all part of designer and entrepreneur Turco's grand vision, with the opening of her latest Palm Springs venture, the retro-tastic Modernism Museum. It's situated on a bustling, palm-lined avenue in the heart of Palm Springs, which unfolds beneath the dramatic San Jacinto Mountains, about 100 miles (161km) from Los Angeles. At 12,000 square feet (1,115sqm), the highly immersive gallery is a vast, outrageously photogenic homage to bygone eras, spanning from the golden age glamour of the 1940s, through to the boogie down 1970s.
READ MORE: Explore Palm Springs with our full guide
I step over the threshold into the time-capsule galleries, which are divided into room sets, or 'vignettes' as Turco calls them. "It's like scenes from a movie, where you are the star," she says, running a finger along her cherry-red 1969 Jaguar, which takes pride of place at the museum's entrance.
Dressed in a twinkling gold jumpsuit, Turco leads me through the museum, stopping to pose for photos in the 1950s hairdressing saloon, throw bubblegum-pink balls in a heart-shaped bath and lounge around in sci-fi bubble chairs. There's even a roller-skating rink, crowned with a kaleidoscopic mirror ball that brings all the Saturday Night Fever vibes.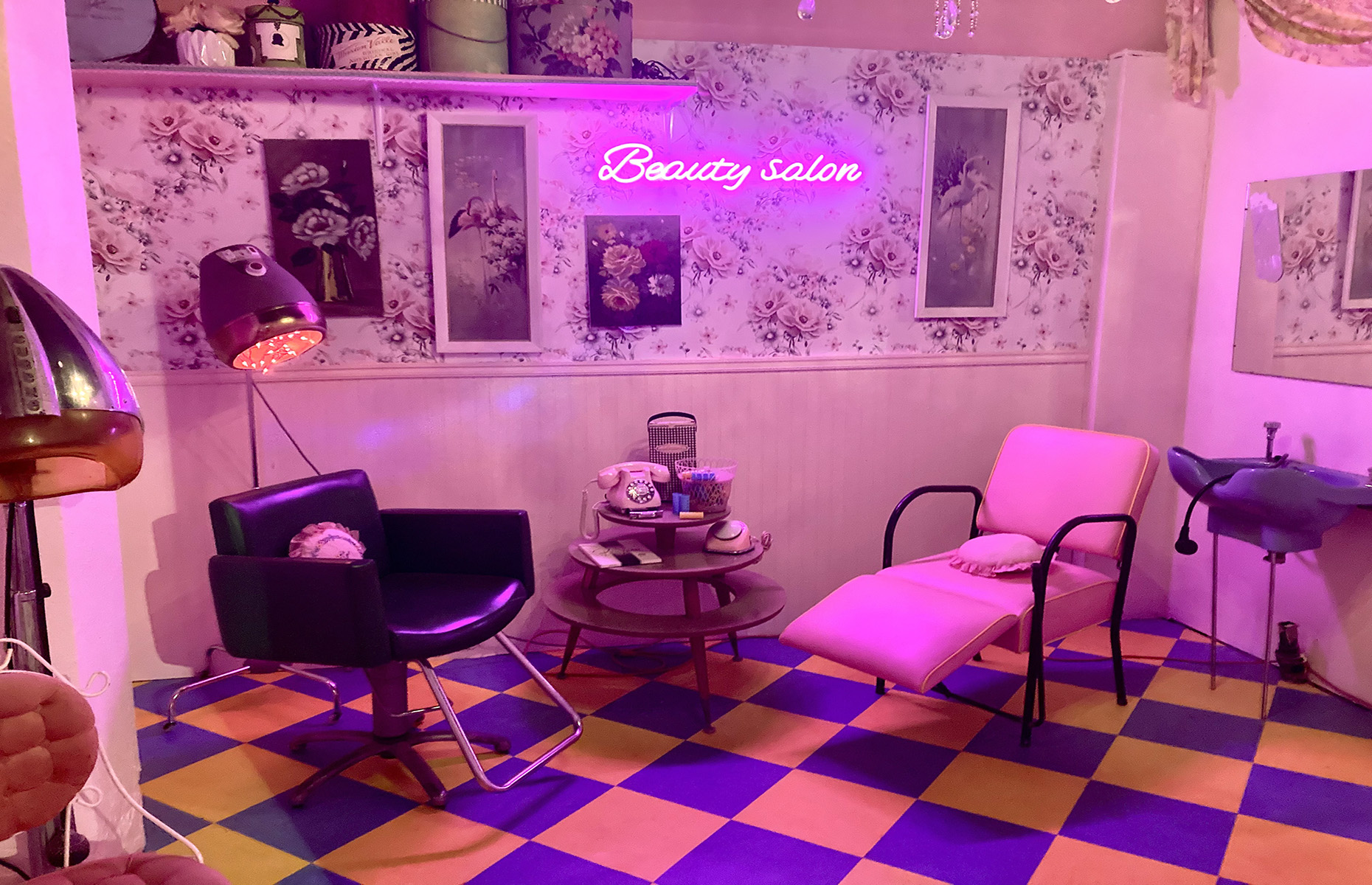 Zoey Goto
Pulling up a chair at the tiki bar installation, Turco is upfront about doing it for the 'gram. "The museum really appeals to the younger, Instagram generation. Every room has been designed to offer multiple photo opportunities," she says, as Elvis' "Blue Hawaii" softly serenades us over the speakers. "People come here to touch and interact with the vintage settings, then photograph themselves and share the images with their friends," Turco adds, leaning back on the bamboo bar decorated with a rainbow of hibiscus flowers. "Even through my own online presence, I've become a cheerleader for Palm Springs style, bringing it to a new generation".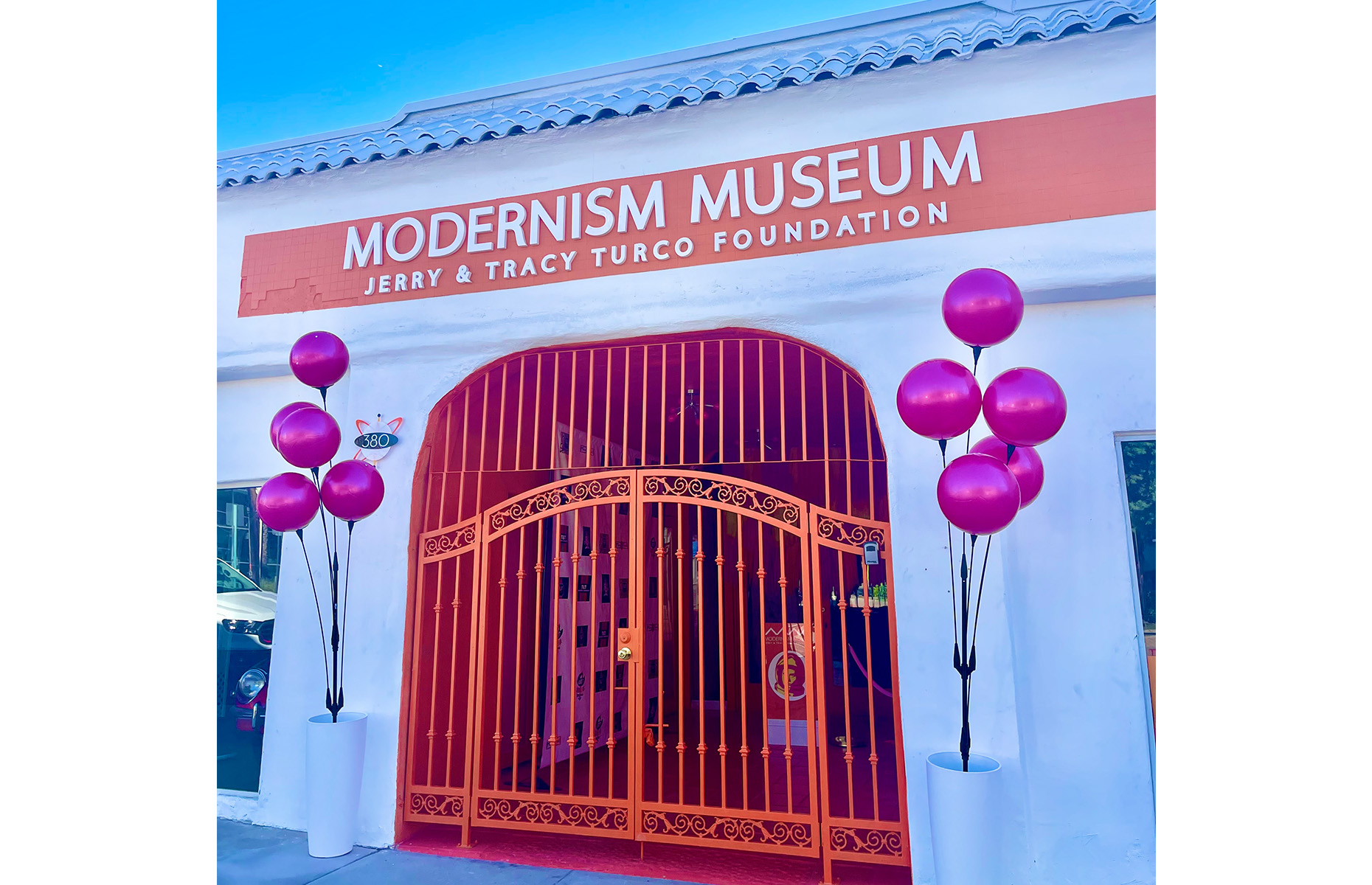 Zoey Goto
It makes perfect sense that Turco has based her Modernism Museum in the sun-soaked desert outpost of Palm Springs, a community that holds the vintage aesthetic in high regard. Sweeps of Palm Springs were originally built in the 1950s and 1960s, when it emerged as a dazzling leisure destination. Hollywood's elite soon descended too: Palm Springs became a playground for movie stars, after the studios decided they wanted their artists within a two-hour radius of the set at all times.
Thankfully, when the 1990s saw Palm Springs fall out of fashion, many modernist buildings were saved from demolition – not because they were particularly valued at the time, but because they were rarely thought-about second homes.
READ MORE: In search of the real Elvis on a road trip around the Deep South
The desert city now proudly boasts the highest concentration of mid-century homes in the world, many of which were used as backdrops in the recently released film Don't Worry Darling, starring Florence Pugh and man of the moment, Harry Styles. Showcasing the city's ravishing surroundings, the silver-screen thriller has helped renew interest in Palm Springs and its nostalgic charms. This renaissance has attracted both vintage-admiring tourists and a fresh wave of new residents, who often take a deep dive into the mid-century lifestyle with wardrobes filled with timeworn fashions and classic cars parked on the driveway.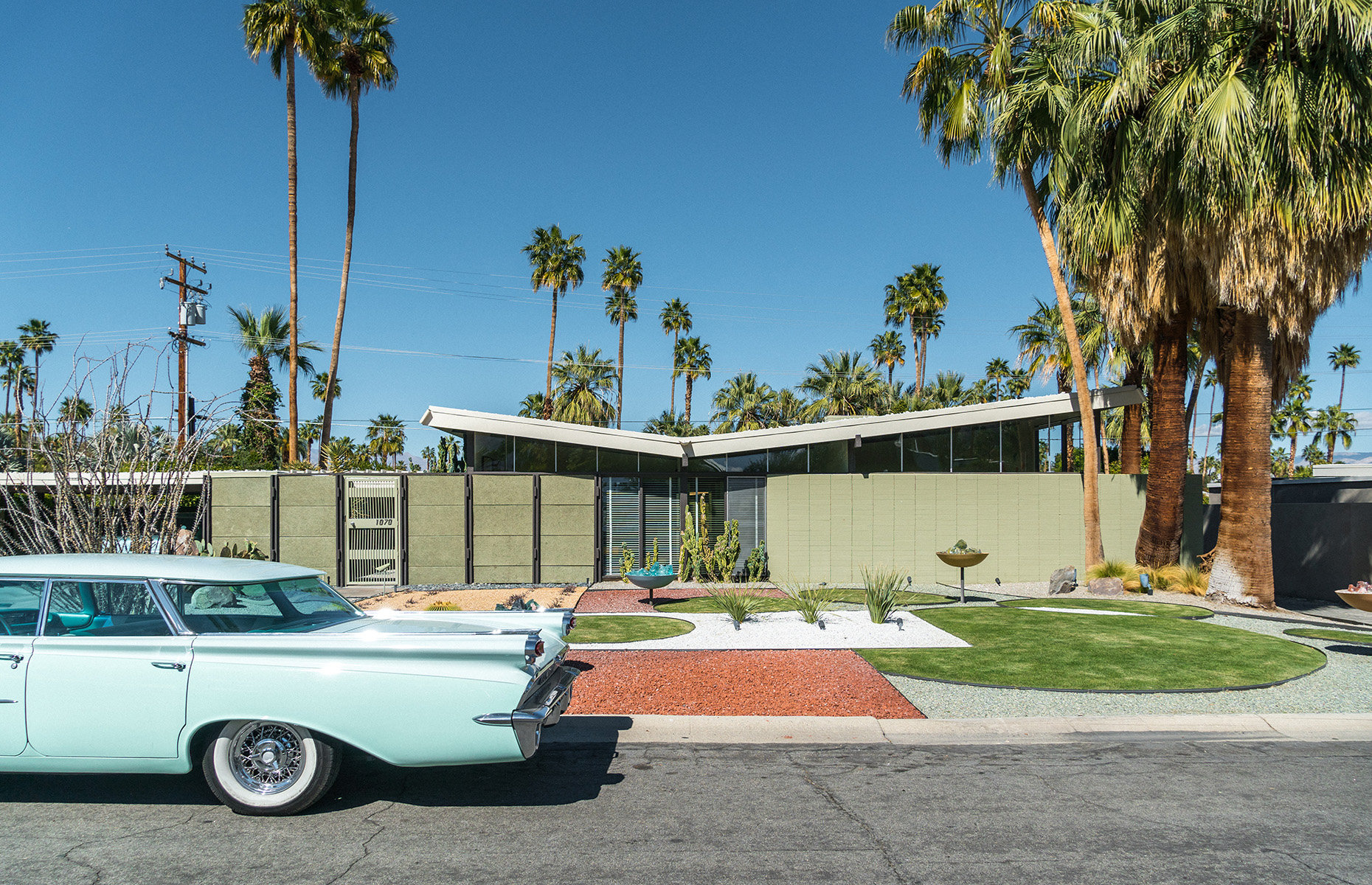 Stephanie Braconnier/Shutterstock
It's a world that Turco felt instantly at home in when she first visited Palm Springs five years ago for the bi-annual Modernism Week festival, a jam-packed celebration of design in the city. "But the festival only happens twice a year, so I could see there was potential for a year-round attraction appealing to vintage enthusiasts like myself," she says.
As we make our way through a flamingo-pink bedroom dedicated to the actress and Playboy Playmate Jayne Mansfield, Turco adds that her Modernism Museum is the culmination of a lifelong passion for all things retro. "I've been interested in this lifestyle since I was a kid. To finally see visitors interacting with galleries that I've been imagining for years, it really feels like a dream come true".
Entrance to the Modernism Museum is $10 (£8.49) for a two-hour session.
Five other mid-mod classics to visit in Palm Springs
The Trixie Motel, 210 W Stevens Rd
Drag artist Trixie Mattel, famed for star turns on RuPaul's Drag Race, has brought her distinctive high-camp vision to this mid-century holiday hub in the historic Old Las Palmas neighbourhood. The renovation of this hot pink oasis featured on a Discovery+ TV series, with Trixie collaborating with designer Dani Dazey on the retro-kitschy interiors. Each of the seven rooms is individually themed, including a psychedelic flower-power suite that could be plucked from a vintage episode of the Scooby Doo cartoon.
Parker Palm Springs, 4200 E Palm Canyon Dr
This storied hotel became the first Holiday Inn in California when it opened in 1959. It's since been given a multimillion-dollar makeover by celebrity designer Jonathan Adler, tapping into a groovy 1960s throwback vibe. If you can't afford the plush, four-poster guest rooms, book a table at hotel restaurant Norma's for some A-list people watching on the stylish terrace.
Palm Springs City Hall, 3200 E Tahquitz Canyon Way
Palm Springs simply refuses to do boring buildings. A case in point is its civic City Hall, which boasts three magnificent palm trees sprouting right through its roof. Designed in 1952 by the 'father of desert modernism' design, Swiss-born architect Albert Frey, this tantalising building is well worth a pitstop. Wander around the exterior and admire the symphony of steel and concrete.
JS Gordon-Moran/Shutterstock
The House of Tomorrow, 1350 Ladera Circle
One of Palm Springs' most iconic landmarks, the House of Tomorrow found fame when Elvis Presley carried his beehived bride Priscilla over the threshold in 1967. The newlyweds spent a short but sweet honeymoon here, amongst the futuristic décor and sparkling swimming pool. Following a recent switch of ownership, tours of the Space Age home have sadly paused, although curious visitors can still walk up to the façade and gaze up at the King's dreamy boudoir.
Ace Hotel & Swim Club, 701 E Palm Canyon Dr
This hipster hangout started life as a motor lodge and a Denny's burger joint. Much of the 1970s style has been retained, from the boulder walls in the diner to the macramé hangings strung throughout the lobby – although nowadays you'll also find DJs spinning Balearic beats by the poolside and drumming circles happening beneath a full moon.
For further trip ideas see visitgreaterpalmsprings.com.
READ MORE: America's most classic motels for your next trip
Lead image: Zoey Goto
Be the first to comment
Do you want to comment on this article? You need to be signed in for this feature